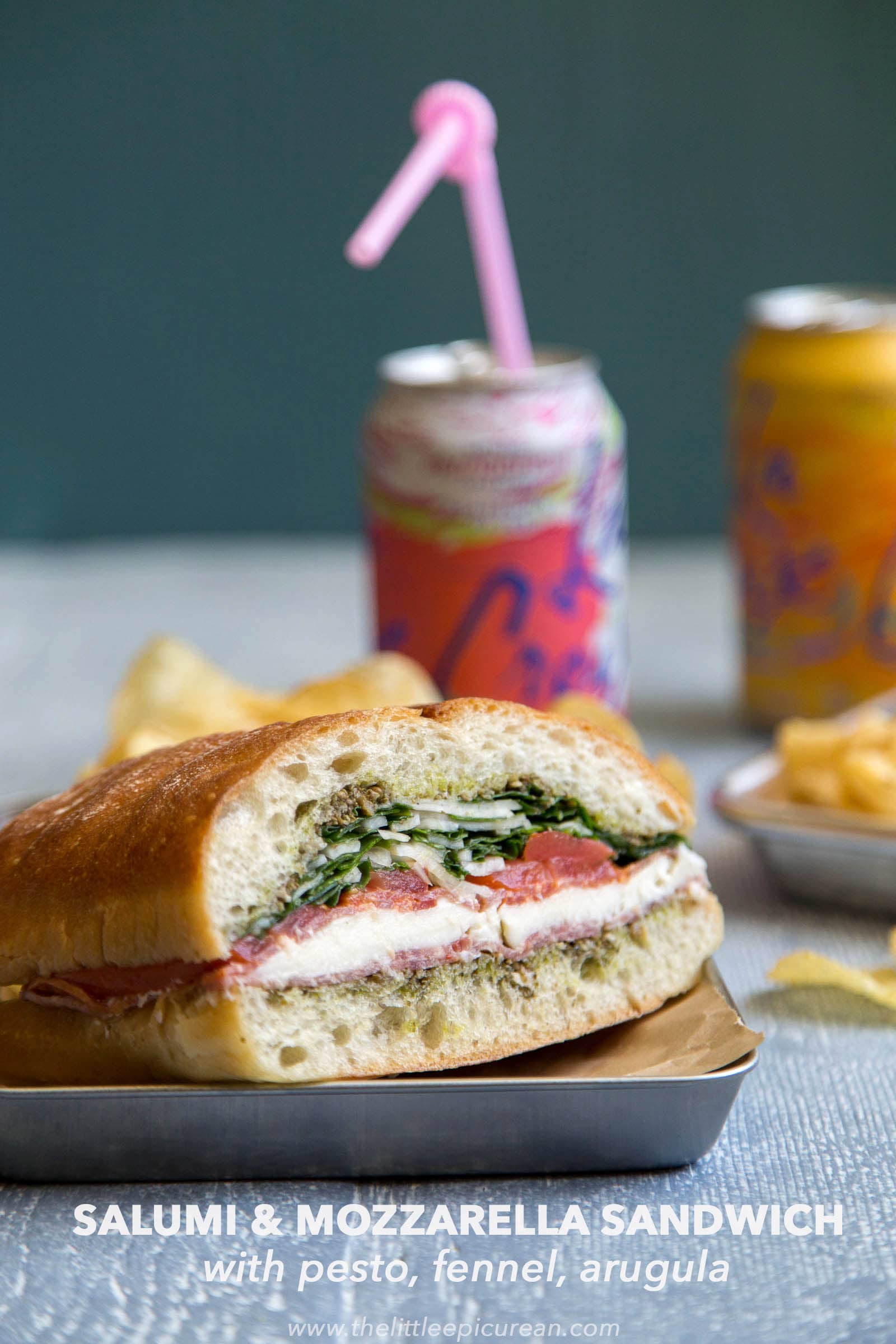 Every summer I try to experience as many shows and performances as possible at the Hollywood Bowl. It's hands down my favorite venue in Southern California. Whether you have bench seats in the back or fancy box seats up front, you're destined to have a great time at the Bowl. Live music, cool summer breeze, and a bottle of wine. What more could you want?!
While the Bowl has some excellent food options, I enjoy packing my own picnic. This salumi mozzarella sandwich is one of my go-to picnic staples. It's an adaptation of this marinated salumi sandwich from Giada. What makes this sandwich great for picnics? Asides from being delicious: 1.) It holds up really well and doesn't get soggy. 2.) It's a hearty sandwich that pairs well with beer or wine. 3) The sandwich can be prepared the night before or a few hours before serving.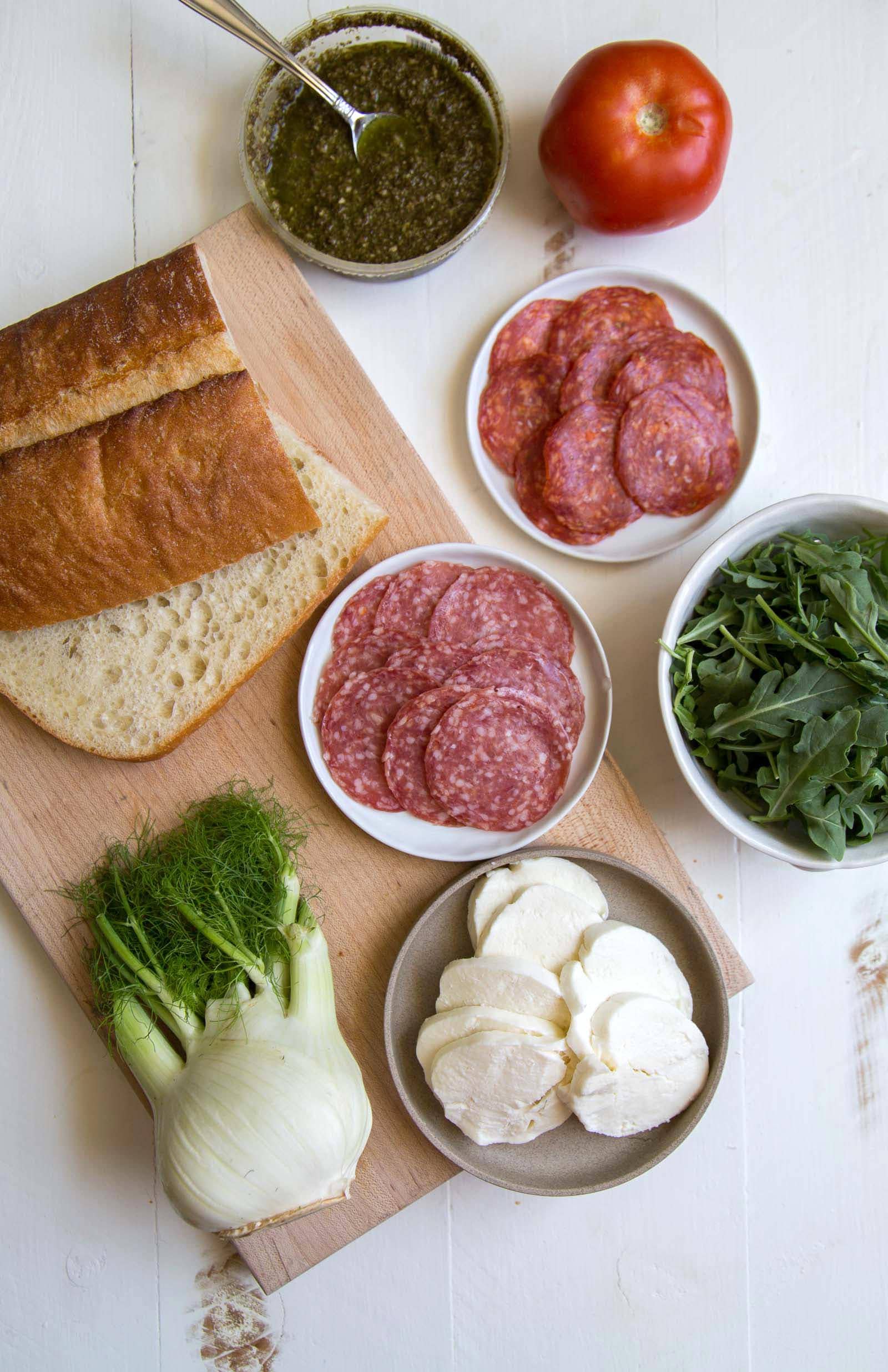 Salumi is the umbrella term that encompasses a wide range of cured and salted meats. Prosciutto, bresaola, and salami are all salumi. The original Giada recipe calls for hot coppa and finocchinoa, which may be difficult to procure. Instead, I subbed in more common salumi that can be easily found at your local super market. I used salami piccante (hot salami or pepperoni) and sopressata. Feel free to swap in your favorite salumi or cold cut meats. Sliced roasted turkey also works wonderfully in this recipe.
This salumi mozzarella sandwich is topped with sliced tomatoes and an argula-fennel salad tossed in red wine vinegar and olive oil. To finish it off, the ciabatta bread gets a generous spread of pesto genovese on both sides.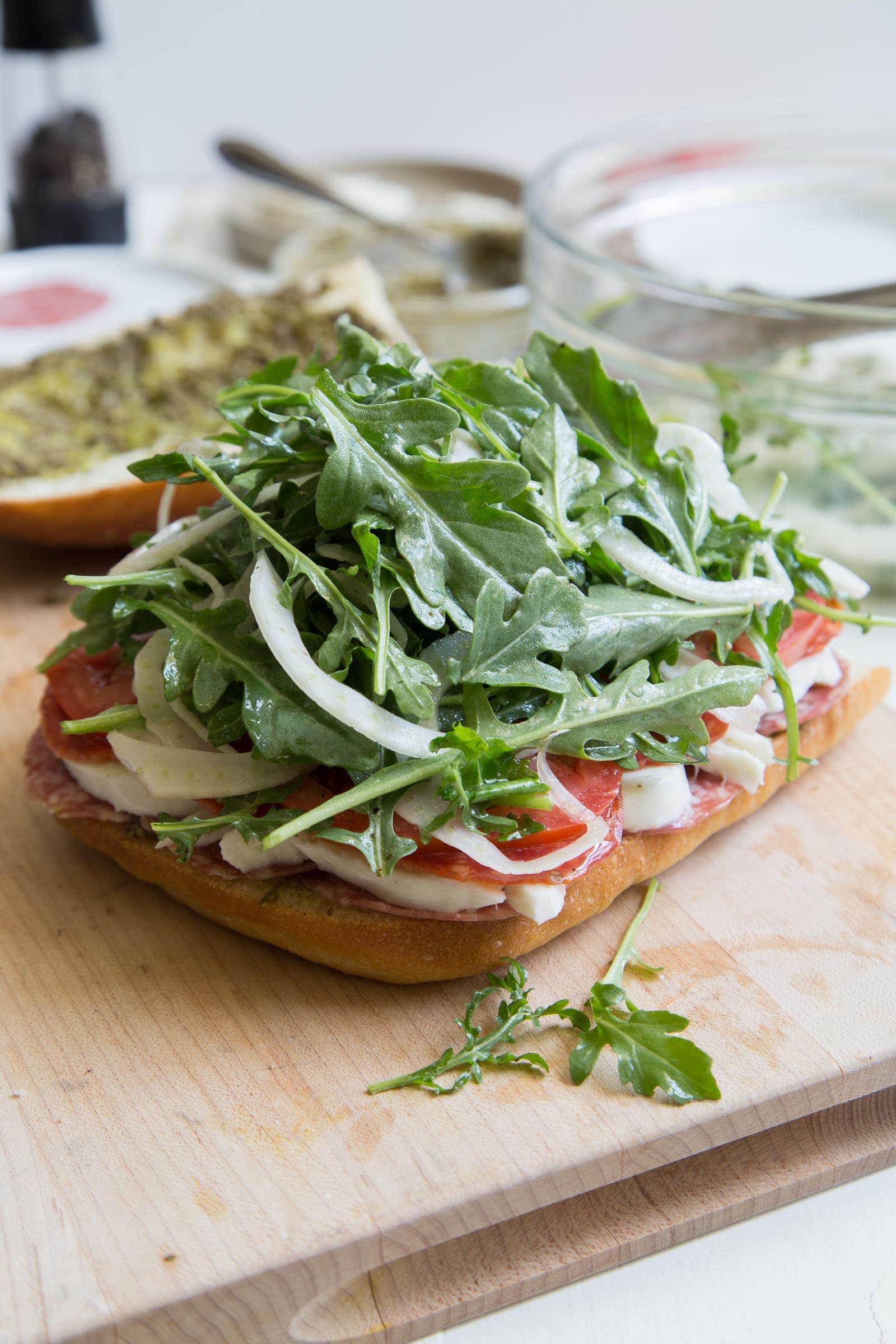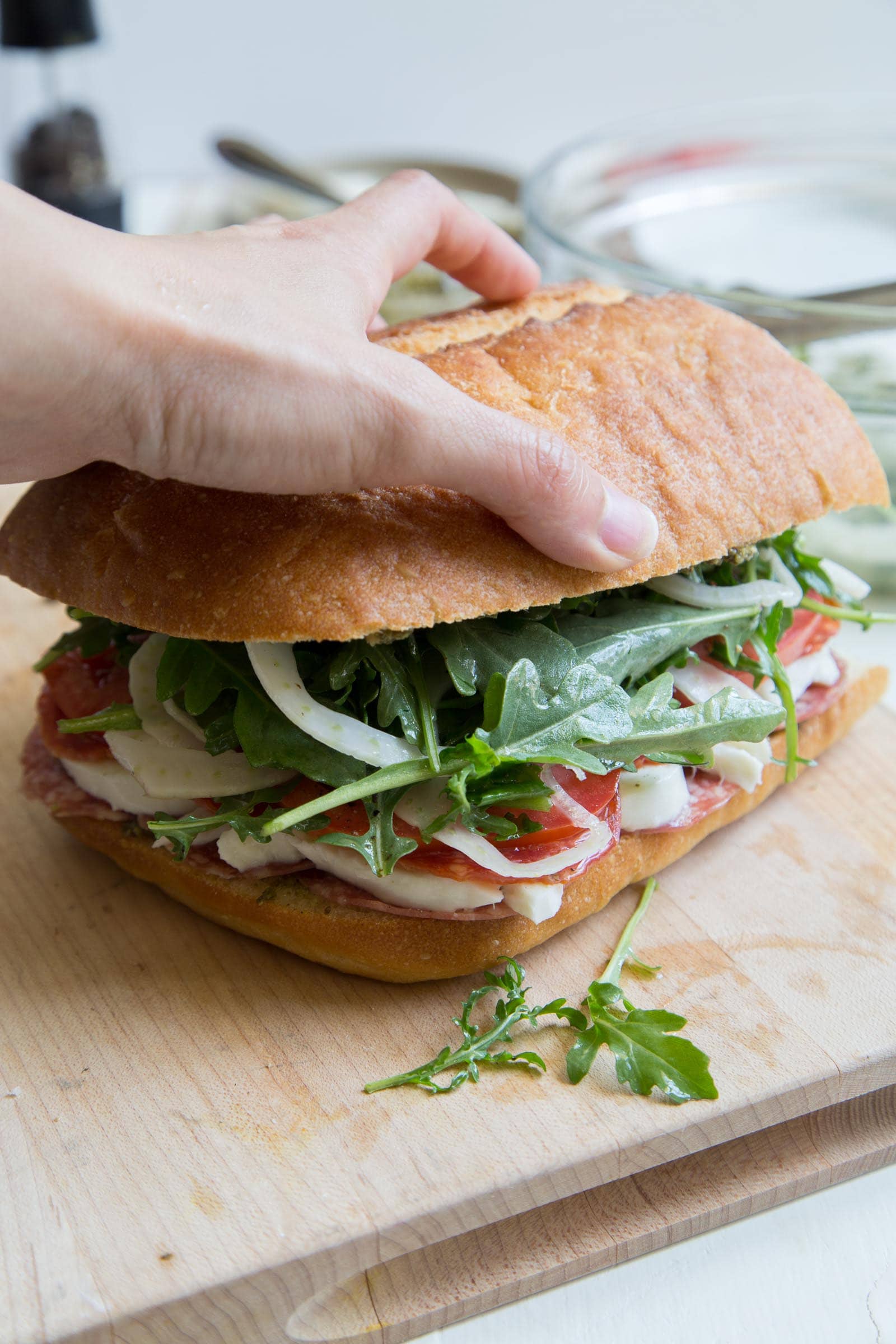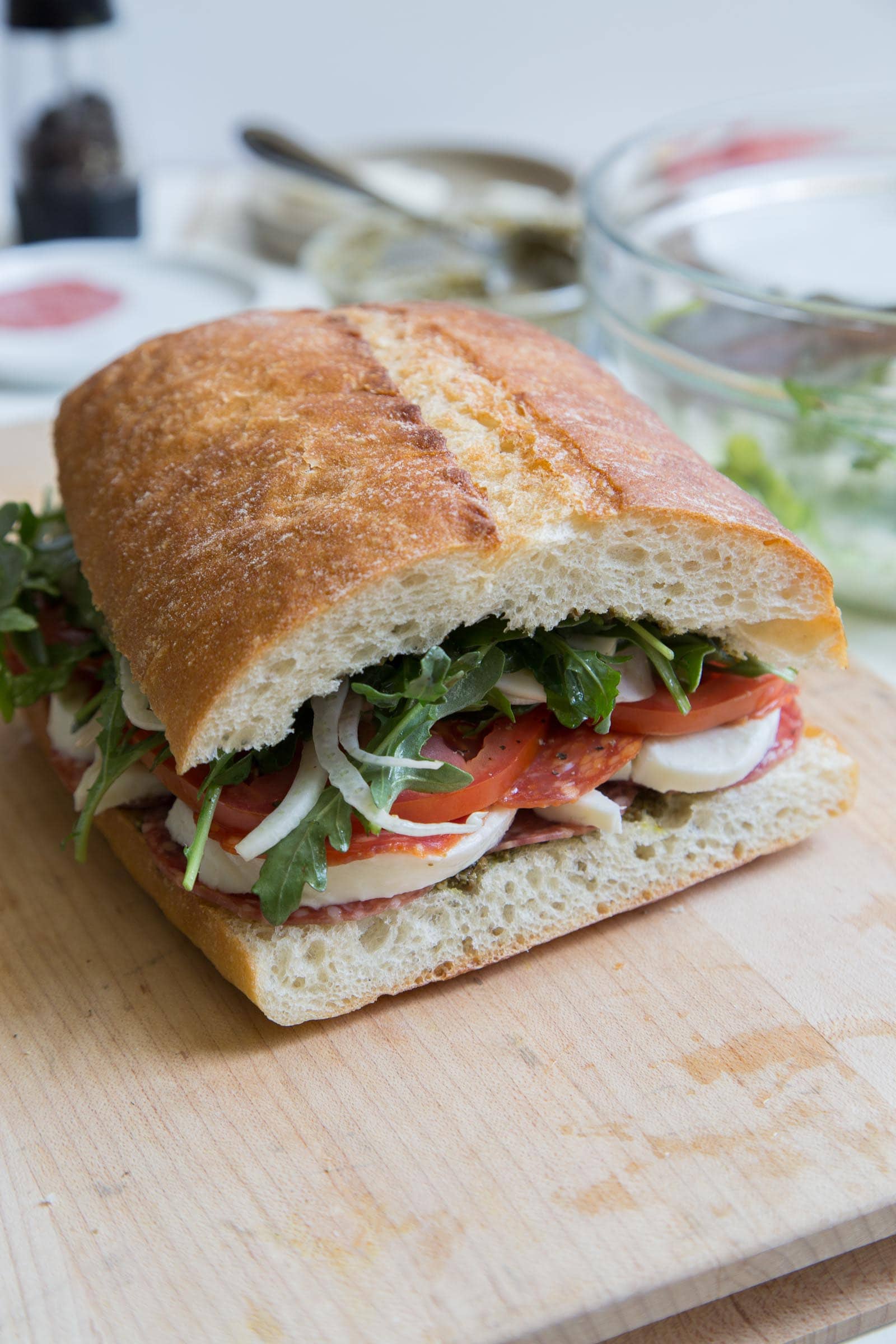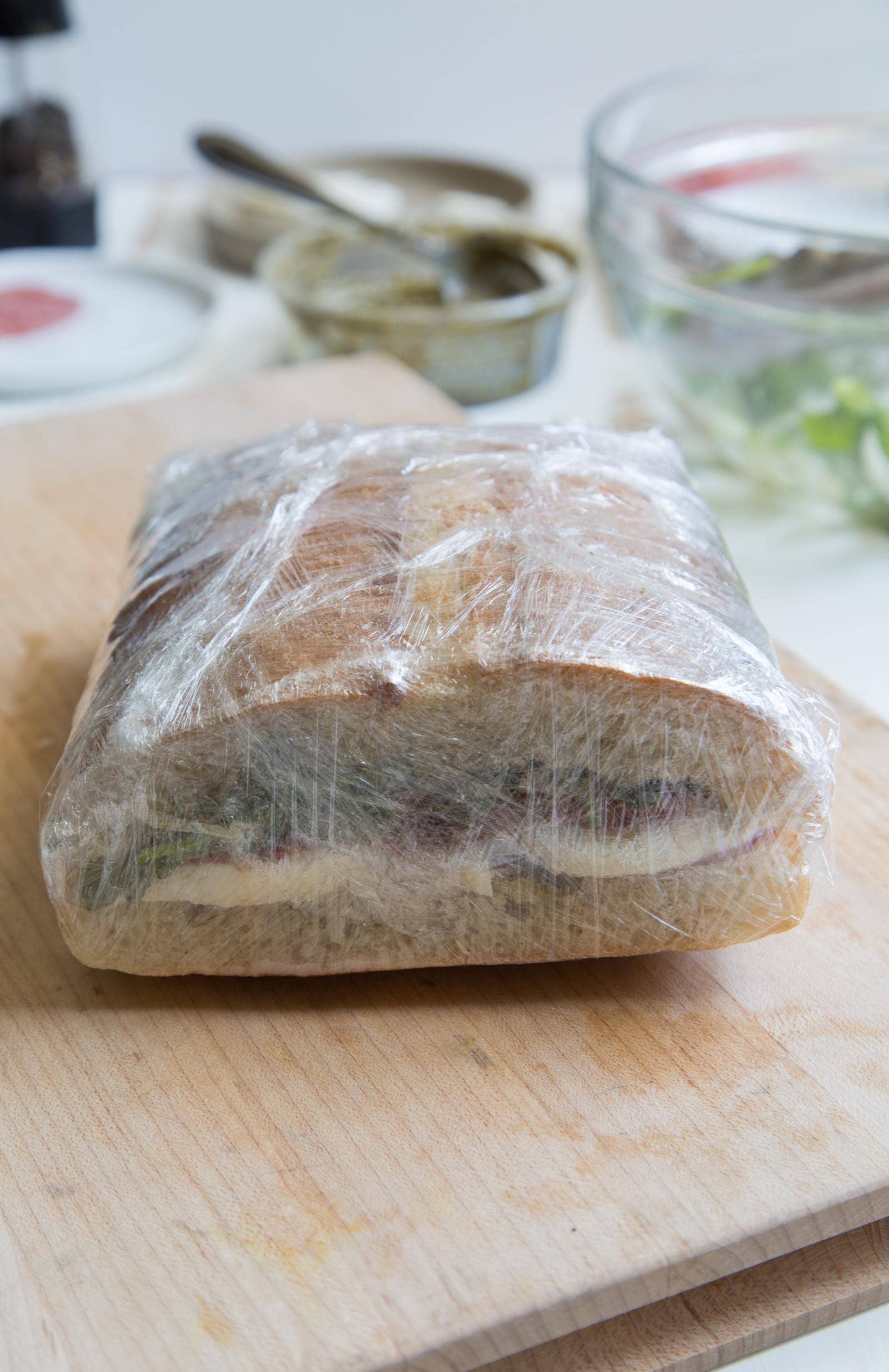 I like to prepare the sandwich either the night before or the morning of the event to give the sandwich plenty of time to marinate. Tightly wrap the assembled sandwich in plastic wrap and keep it chilled in the fridge until go time. Once the sandwich has had time to chill, it'll be much easier to slice into individual portions. Use a sharp knife (I prefer a serrated knife) to divide the sandwich. Enjoy the sandwich cold, or let it warm up to room temperature.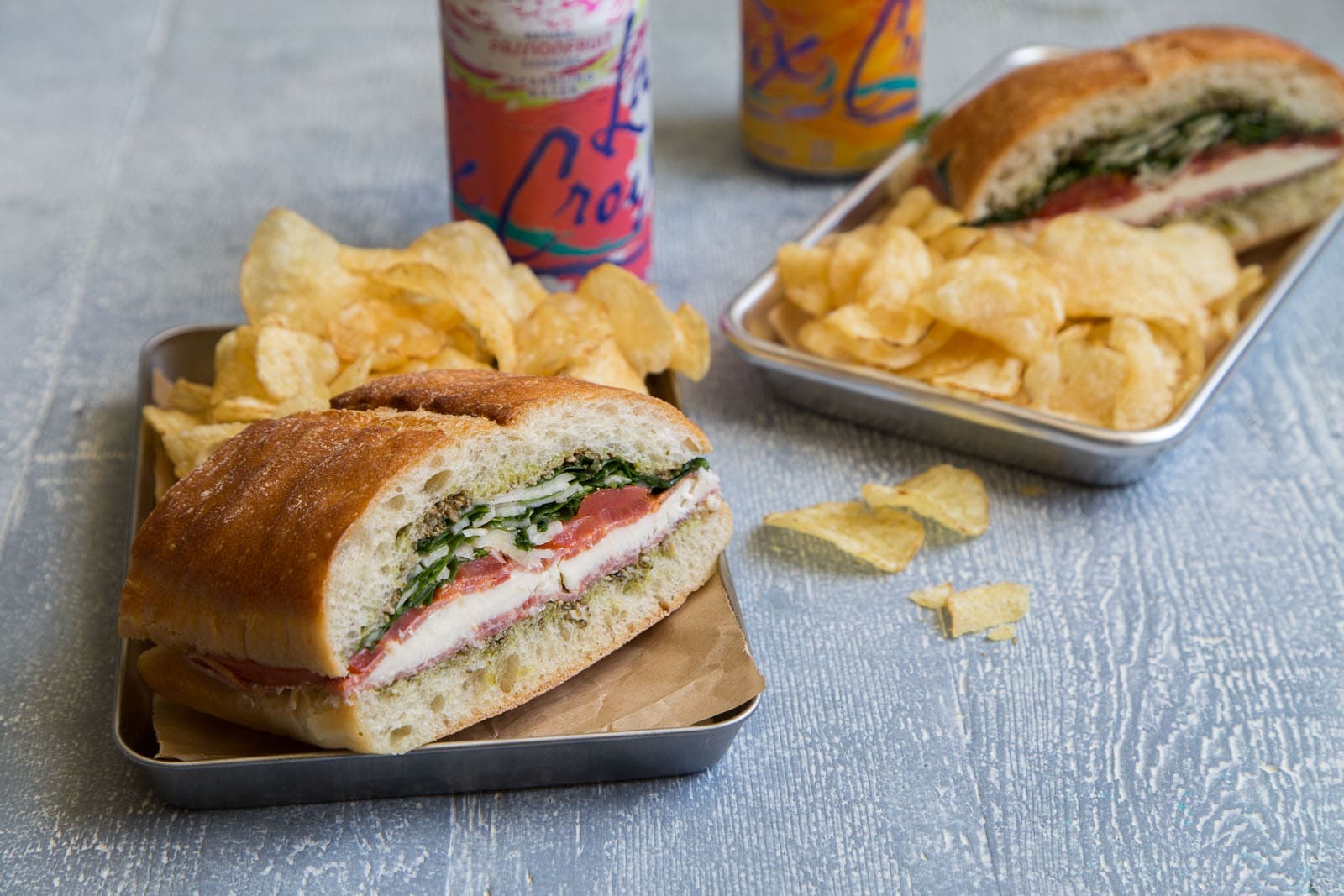 Interested in other picnic dishes? These vegetarian spring rolls , summer steak salad, and quinoa tabbouleh are some more favorites!
Salumi Mozzarella Sandwich
Ingredients
1 1/2

cups

arugula

1/2

small fennel bulb,

thinly sliced

2

teaspoons

red wine vinegar

1

Tablespoon

extra virgin olive oil

1/2

pound

loaf ciabatta bread

3-4

Tablespoons

pesto genovese,

store-bought or homemade

3

oz

thinly spiced salami piccante, or pepperoni

3

oz

sopressata

6

oz

fresh mozzarella,

thinly sliced

1

medium tomato,

sliced

kosher salt and freshly ground black pepper,

to taste
Instructions
In a small bowl, toss together arugula, sliced fennel, vinegar, and olive oil. Lightly season with salt and pepper. Set aside while you assemble sandwich.

Slice loaf horizontally. Remove about half of excess bread from inside of top loaf bun to slightly hollow out. Spread pesto evenly on top and bottom buns.

Layer salami piccante on bottom bun, follow with sliced mozzarella, then sopressata, and finish with sliced tomato. Lightly season tomato with salt and pepper.

Place salad on top of tomatoes and cover with top bun. Press sandwich together and tightly wrap in plastic wrap. Keep chilled in the fridge for at least one hour or overnight. Slice before serving. Enjoy chilled or allow sandwich to come to room temperature

RECIPE ADAPTED FROM FOOD NETWORK MAGAZINE