This coconut oil cinnamon swirl bread is drizzle with maple glaze. It is a sweet treat to enjoy anytime or any season!
This post was made in partnership with LouAna. LouAna offers a variety of cooking oils. Thank you for supporting our brand partners! As always, all opinions stated here are entirely my own.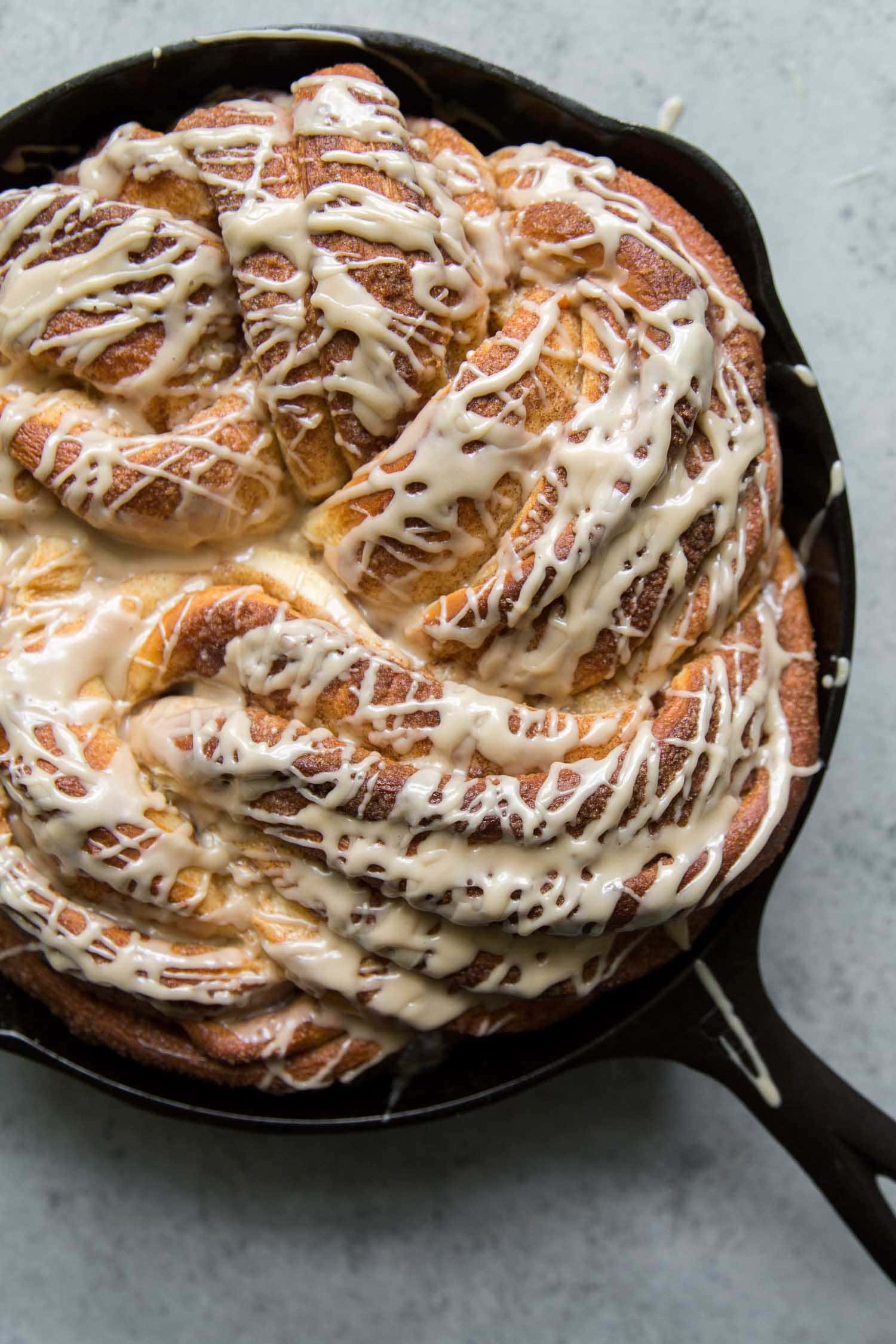 Cinnamon Swirl Bread
Is there anything more delicious than a slice of warm cinnamon bread, fresh from the oven? Nope. Based on the number of cinnamon roll variations I share, it's clear I have a soft spot for these sweet yeasted baked goods.
Forget the others. This coconut oil cinnamon swirl bread is special. It's different from anything else I've ever made. This recipe doesn't contain any butter!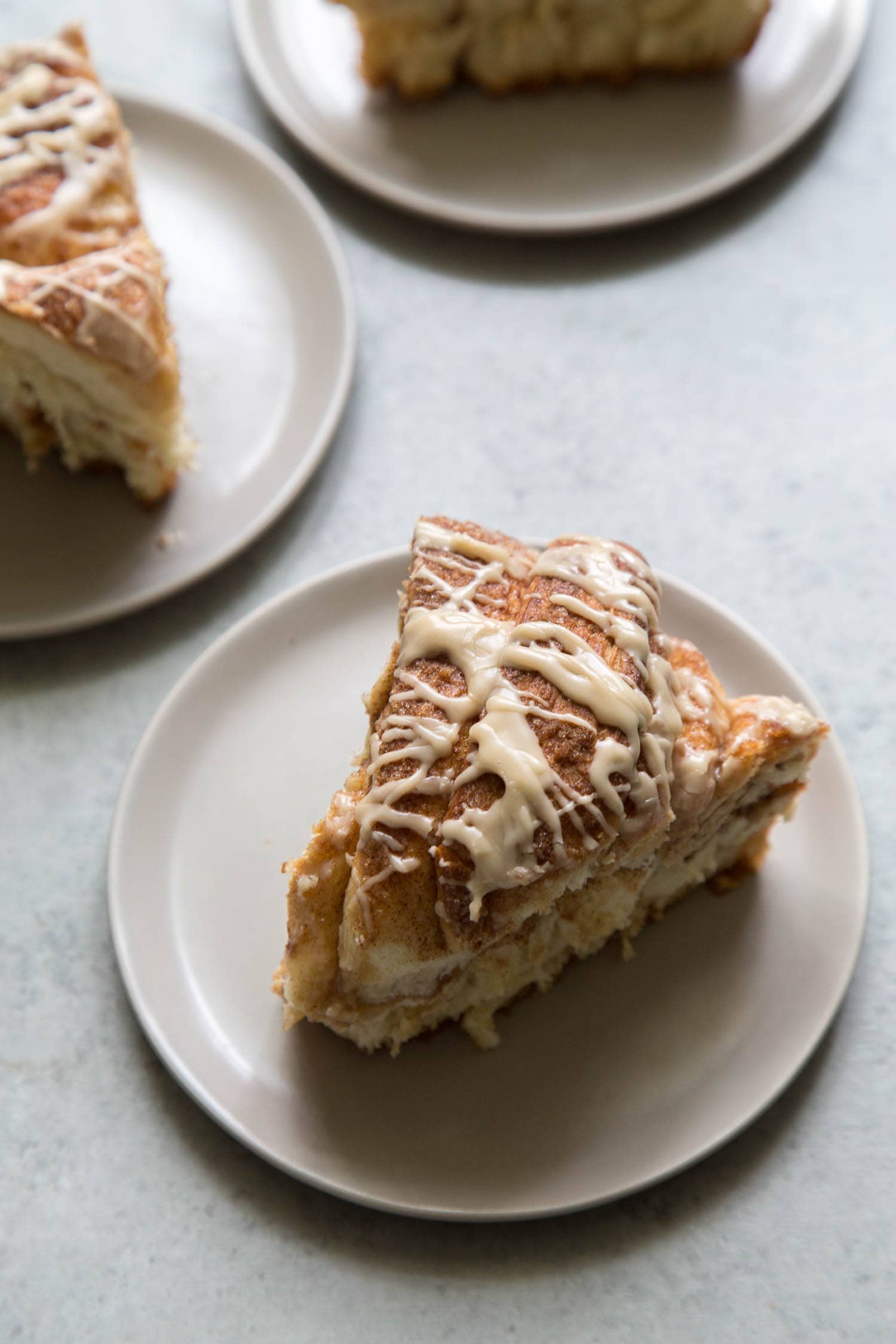 The dough starts off like any other yeasted bread. However, instead of adding softened butter, room temperature coconut oil is kneaded into the mix. Coconut oil incorporates easily into batters and doughs.
Coconut oil also used for the cinnamon sugar filling. At room temperature, coconut oil is smooth and pliable. It easily spreads onto the rolled dough without worrying about tearing the dough.
Why use coconut oil?
LouAna coconut oil is a great alternative for butter. Those with dairy issues can enjoy baked goods without worrying! (I'm lactose intolerant and I always have to take lactase enzymes prior to enjoying ice cream and such.)
Refined coconut oil works well in a variety of everyday cooking and baking. Simply substitute coconut oil one for one in baking recipes that use butter or oil.
The plant-based fats of coconut oil contain an element which may help reduce LDL (low-density lipoprotein), also known as "bad" cholesterol. Coconut oil also contains MCT (medium-chain triglycerides) which are easier to digest compared to the long-chain triglycerides in butter.
What's the difference between refined and unrefined coconut oil? Is one better than the other?
One major difference is taste. LouAna's refined coconut oil is flavorless, making it a wonderful neutral oil for baking and cooking.
Unrefined or virgin coconut oil will have a mild coconut flavor and coconut aroma. Unless you want your food to have a slight coconut flair, refined coconut oil is a better option.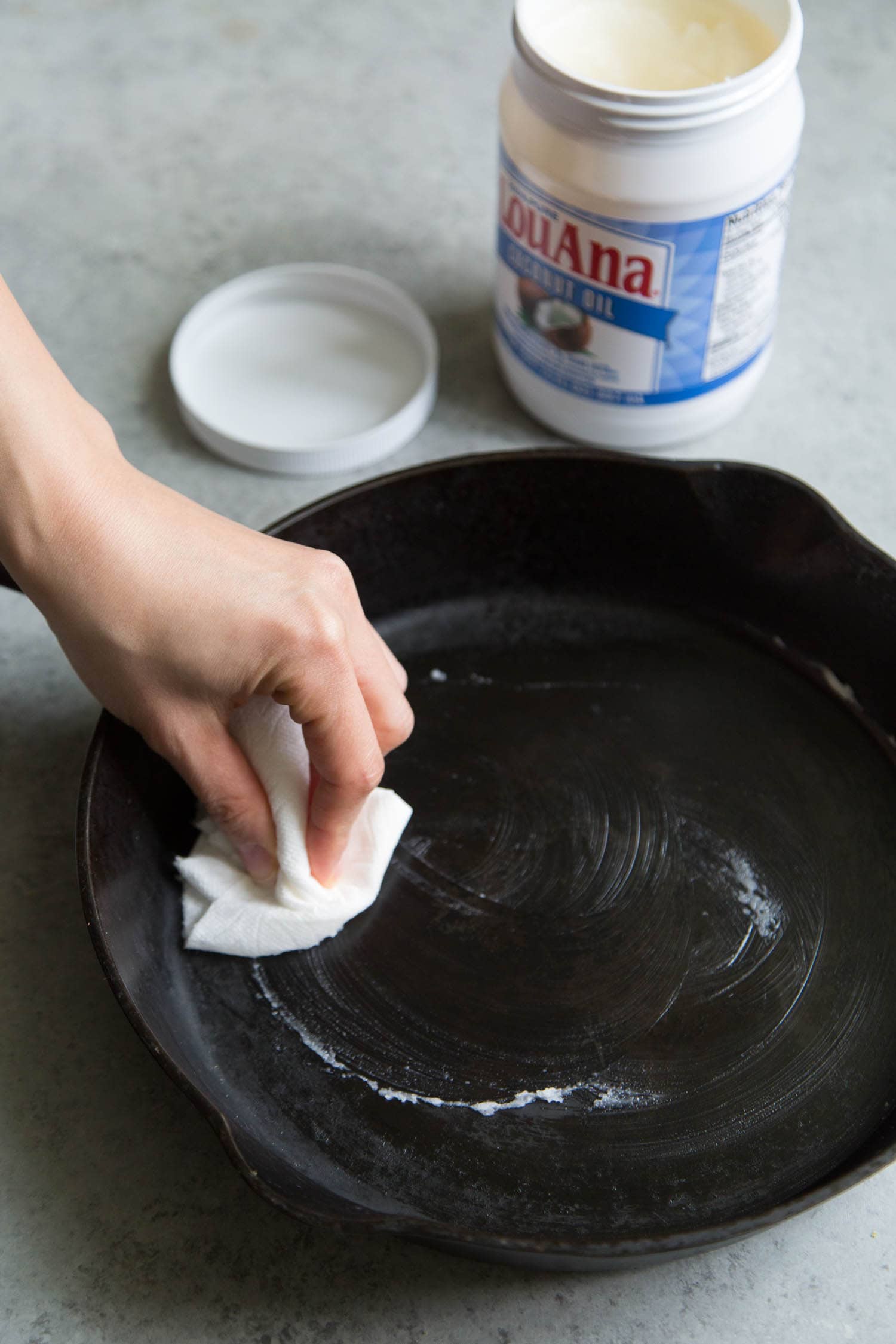 The many uses of coconut oil:
Asides from cooking, refined coconut oil can be used to season cast iron ware. I used LouAna coconut oil to grease my pan before baking. Because coconut oil is 100% fat (no water), it helps to create a nice crust on the bottom of these cinnamon swirl bread.
Coconut oil also has uses outside of the kitchen. It can be used a hand moisturizer or hair mask!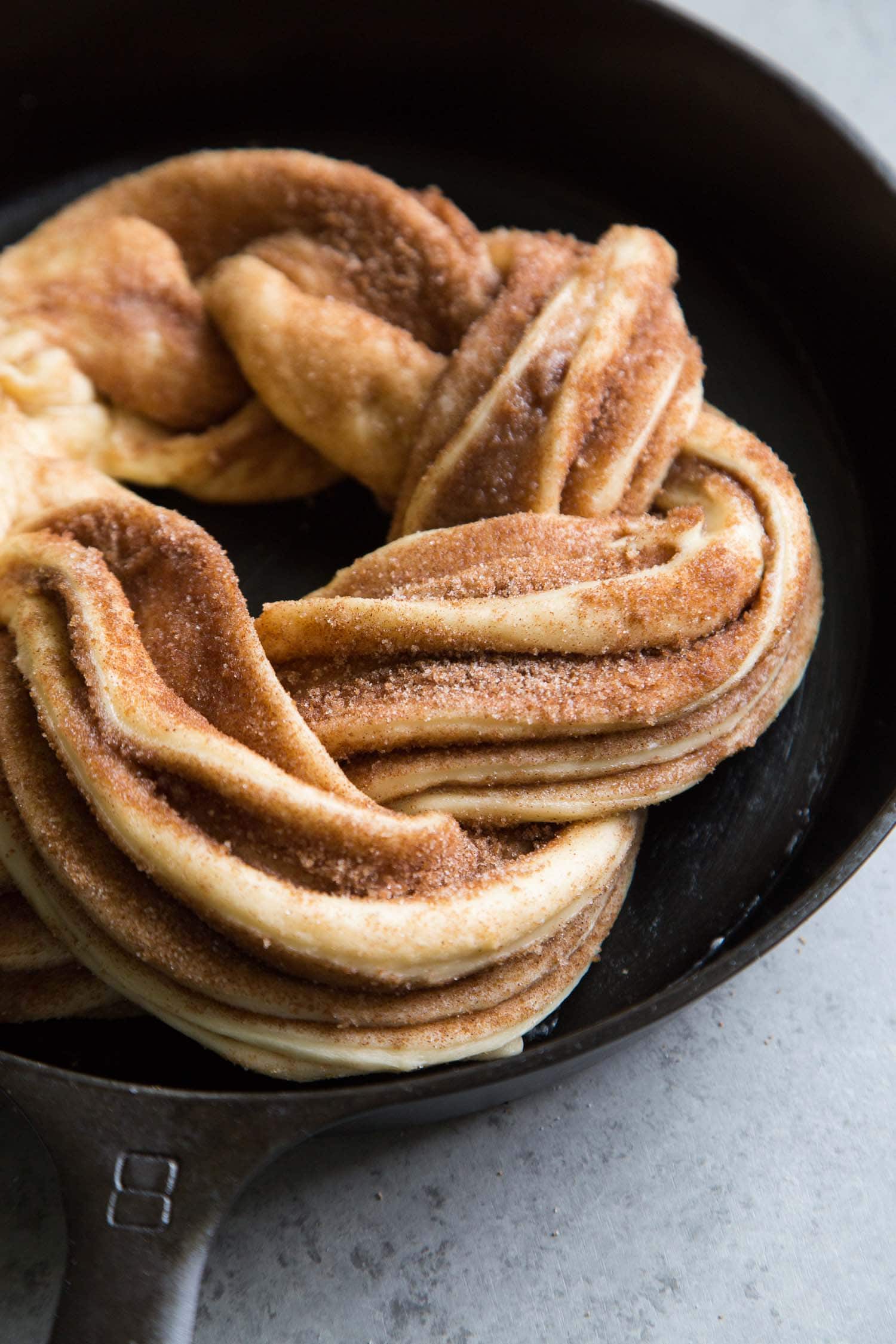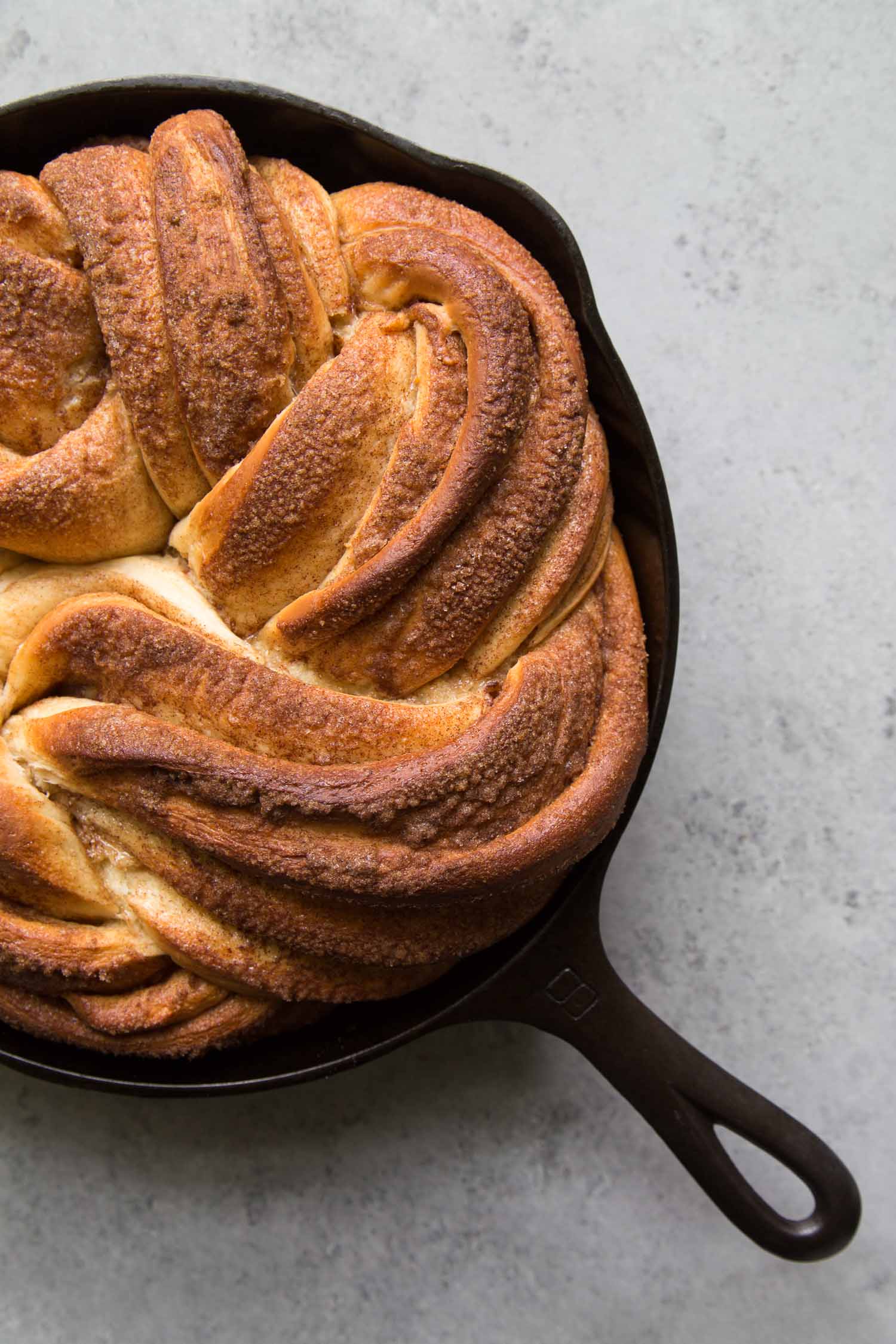 Cinnamon Swirl Bread Variations:
Follow the instructions in the recipe to form the braided swirl bread photographed above.
Or, slice the log into 12 equal parts and bake as cinnamon rolls. The cinnamon swirl bread can also be baked into two 9×5-inch loafs.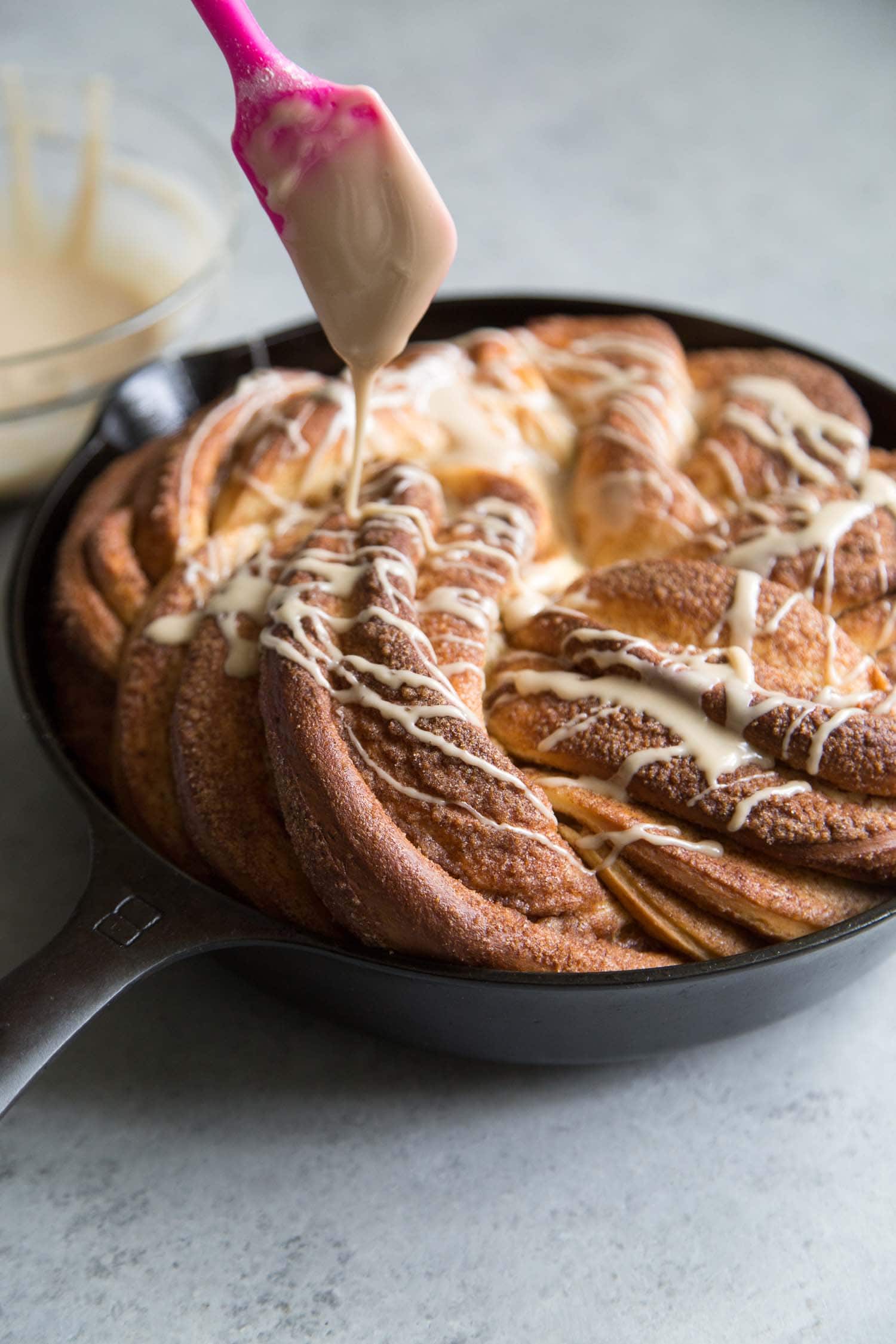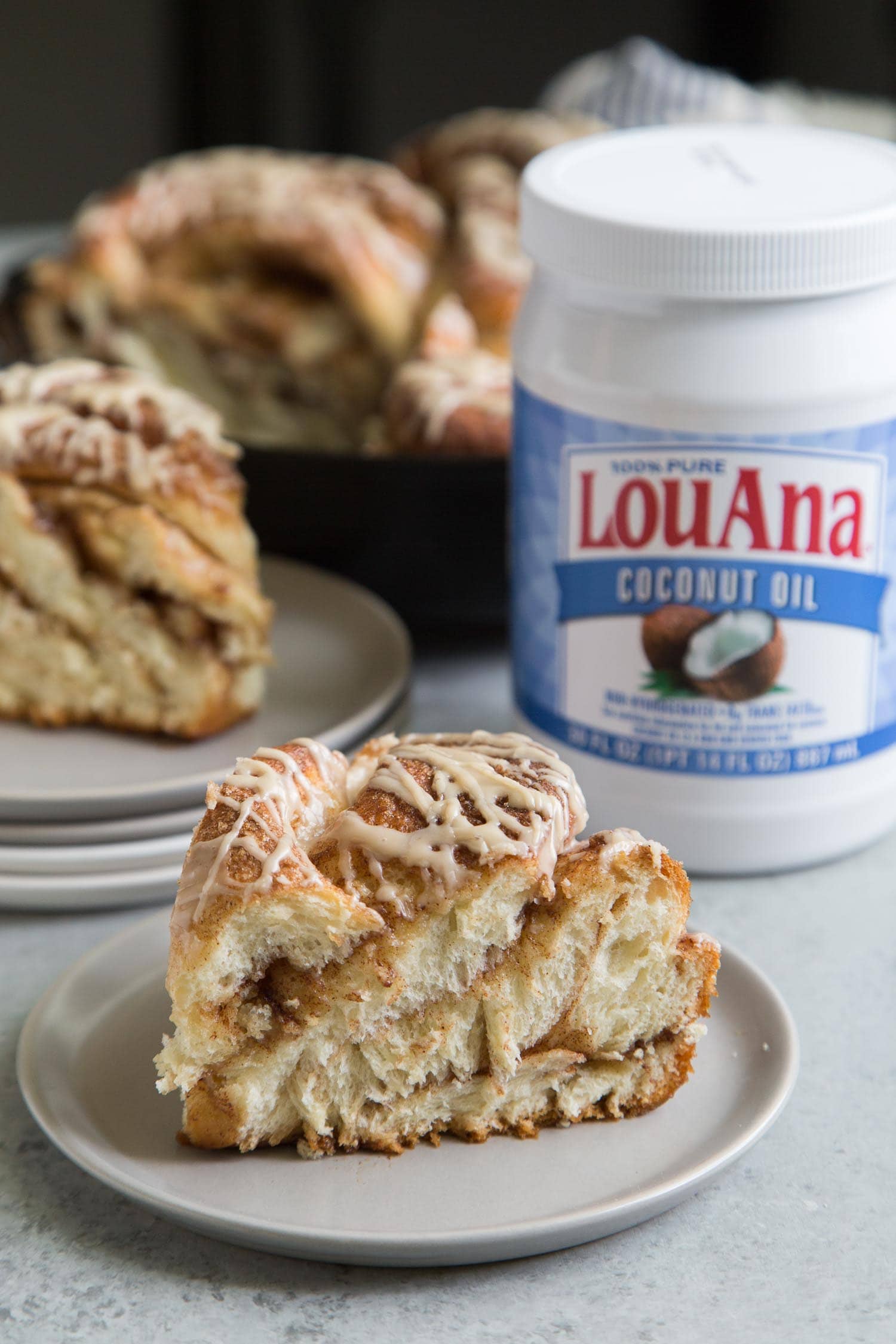 This coconut oil cinnamon swirl bread has a nice crisp exterior and a fluffy interior. The addition of the maple glaze adds the perfect amount of sweetness. Paired with a cup of coffee, a slice of this swirl bread is absolute heaven.
Stayed tuned for more coconut oil baking recipes. I'll be sharing more on Instagram in the upcoming weeks!
Coconut Oil Cinnamon Swirl Bread
Yield: 9- or 10-inch skillet
Ingredients
Dough:
3/4

cup

warm water,

about 110 degrees F

2 1/4

teaspoon

dry active yeast

1/3

cup

granulated sugar

2

large eggs,

room temp

3 1/2

cup

all-purpose flour

1/2

teaspoon

kosher salt

4

Tablespoon

LouAna refined coconut oil,

room temp
Filling:
3

Tablespoon

LouAna refined coconut oil,

room temp

1/4

cup

granulated sugar

1/4

cup

light brown sugar,

packed

1

Tablespoon

ground cinnamon

pinch

kosher salt
Glaze:
1 1/2

cup

confectioners' sugar

4

Tablespoon

dark maple syrup

1/4

teaspoon

maple extract

1

Tablespoon

warm water
Instructions
Dough:
In the bowl of a stand mixer, whisk together warm water, yeast, and 1/2 teaspoon of sugar. Let mixture stand for 5-7 minutes until fragrant and bubbly. Add remaining sugar and eggs. Whisk until smooth.

In a medium bowl, whisk together flour and salt. Attach dough hook to stand mixer. Add half of flour mixture to mixing bowl. Mix on low speed until paste-like dough starts to form. Add coconut oil and continue to mix on low speed until incorporated. Add remaining flour mixture. Continue to mix on low speed until dough forms.

Increase to medium speed and knead for about 3 minutes until dough is smooth, elastic, and no longer sticks to the sides of the bowl.

Transfer dough to a lightly coconut oil greased large bowl. Cover with plastic wrap and let dough rest for 45 minutes until doubled in volume.

Punch down risen dough. Roll dough to a rectangle about 18 x13-inches.
Filling:
Evenly spread coconut oil over dough. In a small bowl, whisk together sugar, brown sugar, cinnamon, and salt. Sprinkle cinnamon sugar mixture over dough.

Starting at the long end, roll dough into a tight log. Pinch seams together and place log seam-side down on work surface. Use a sharp knife to slice log in half lengthwise, leaving about 1-inch uncut on top.

Carefully twist the two pieces to allow the filling to face up. Gently braid the two pieces together. Take the two ends and pinch together to form a circle.

Place in prepared greased skillet. Cover with plastic wrap and allow dough to rest at room temperature for 45 minutes until dough has puffed up and expanded to fill the skillet.

Preheat oven to 350 degrees F. Remove dough cover and bake for 30 minutes, rotating skillet midway through baking. Allow bread to cool for 10 minutes before glazing. 
Glaze:
In a small bowl, mix together confectioners sugar, maple syrup, maple extract, and warm warm. Stir until smooth. Drizzle over baked cinnamon swirl bread.

Slice bread into desired serving portions. Enjoy warm or at room temperature.