These matcha madeleines put a fun and tasty spin on a classic French baked treat.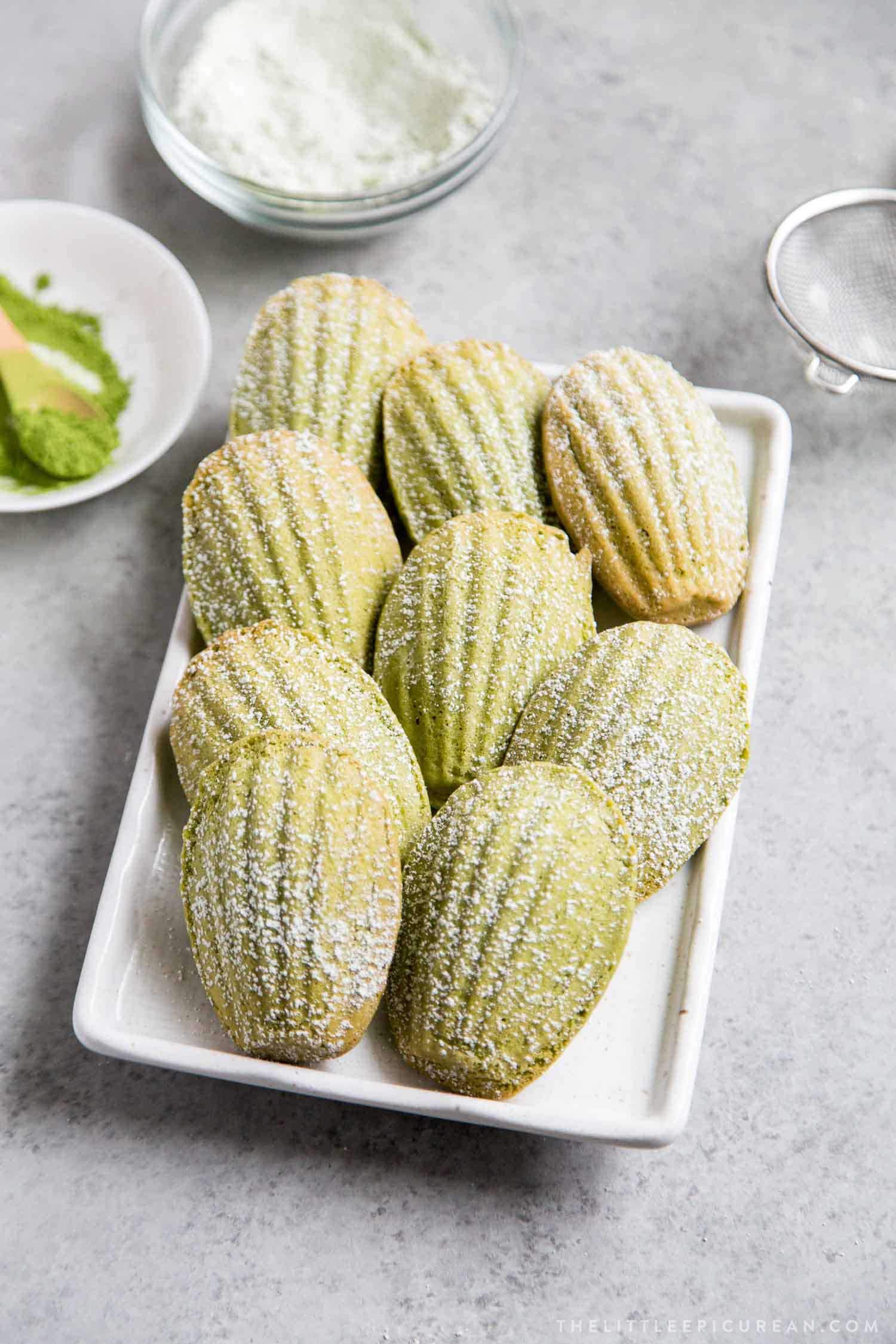 I have been playing and experimenting with matcha these past few weeks. In preparation and anticipation for my Japan trip later this month, I'll be sharing a number of matcha desserts!
First up are these matcha madeleines!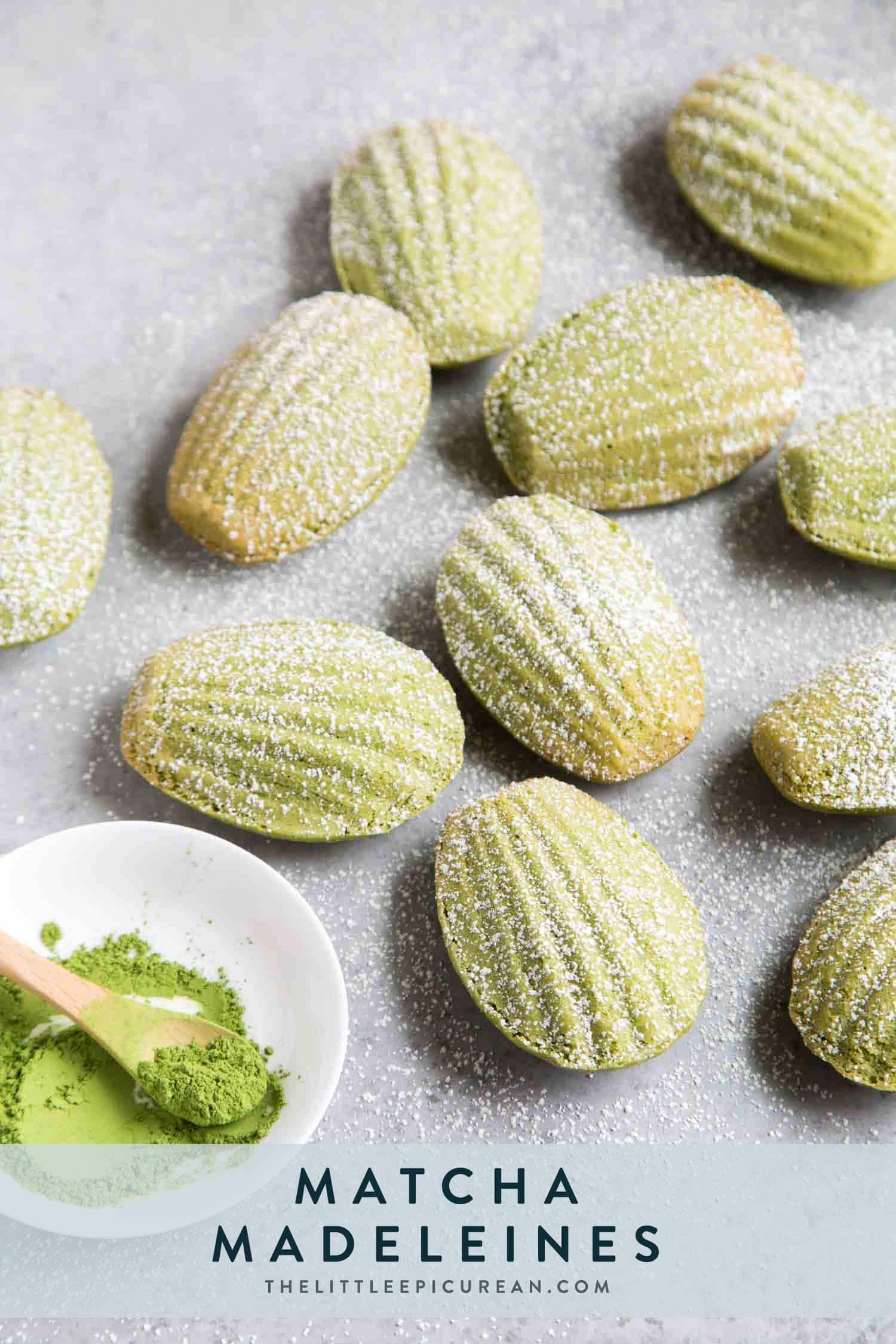 Matcha Madeleines
Small, dainty, and oh so tasty. Madeleines are a classic French baked sweet often served with tea or coffee.
Madeleines should have a crispy shell exterior and a moist, soft interior.
This recipe makes exactly one dozen matcha madeleines. Since madeleines are best enjoyed fresh, ideally the same day they are baked, a small batch is the way to go!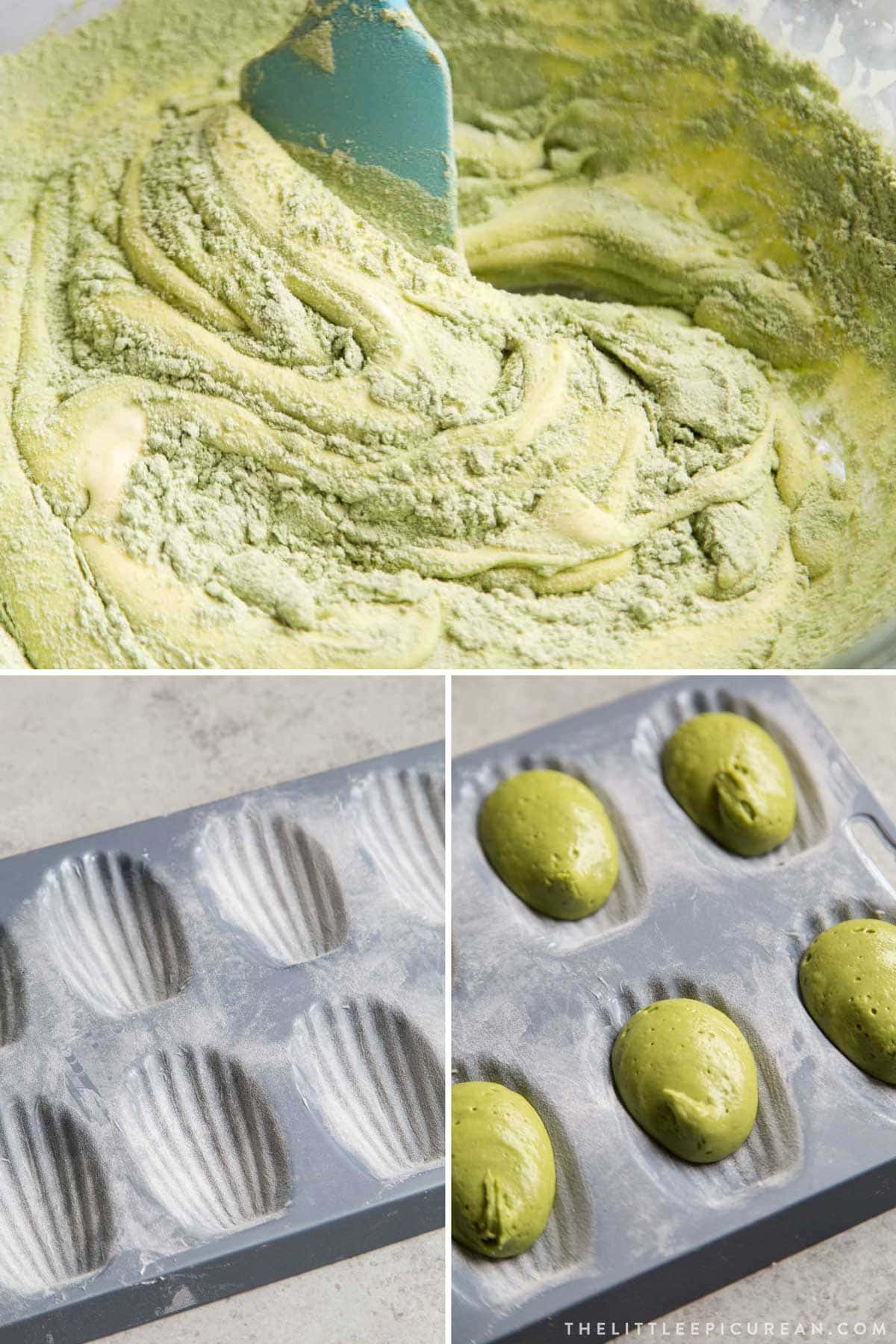 How to prepare madeleine pan
Madeleine pans come in various sizes and materials. I prefer the metal pans over the silicone ones. I use this 12 cavity madeleine pan I purchased from Amazon.
Greasing the madeleine pan is a crucial step! It is important to grease the pan with softened (or melted) butter and dust with flour. This will help with the unmolding of the baked madeleines.
Use a pastry brush to grease the pan with softened or melted butter. Dust the greased pan with flour. Tap out any excess flour. You just want a thin coating of flour.
Even if you are using a nonstick pan, I still suggest buttering and flouring the mold!
How to fill madeleine pans
There are several ways to fill the madeleine pan with batter. I find using a piping bag is the easiest and least messiest way.
A small cookie scoop is another way to ensure consistent batter amounts. Or, simply use two spoons to dollop in the batter.
Fill the madeleine pans about 3/4 full of batter.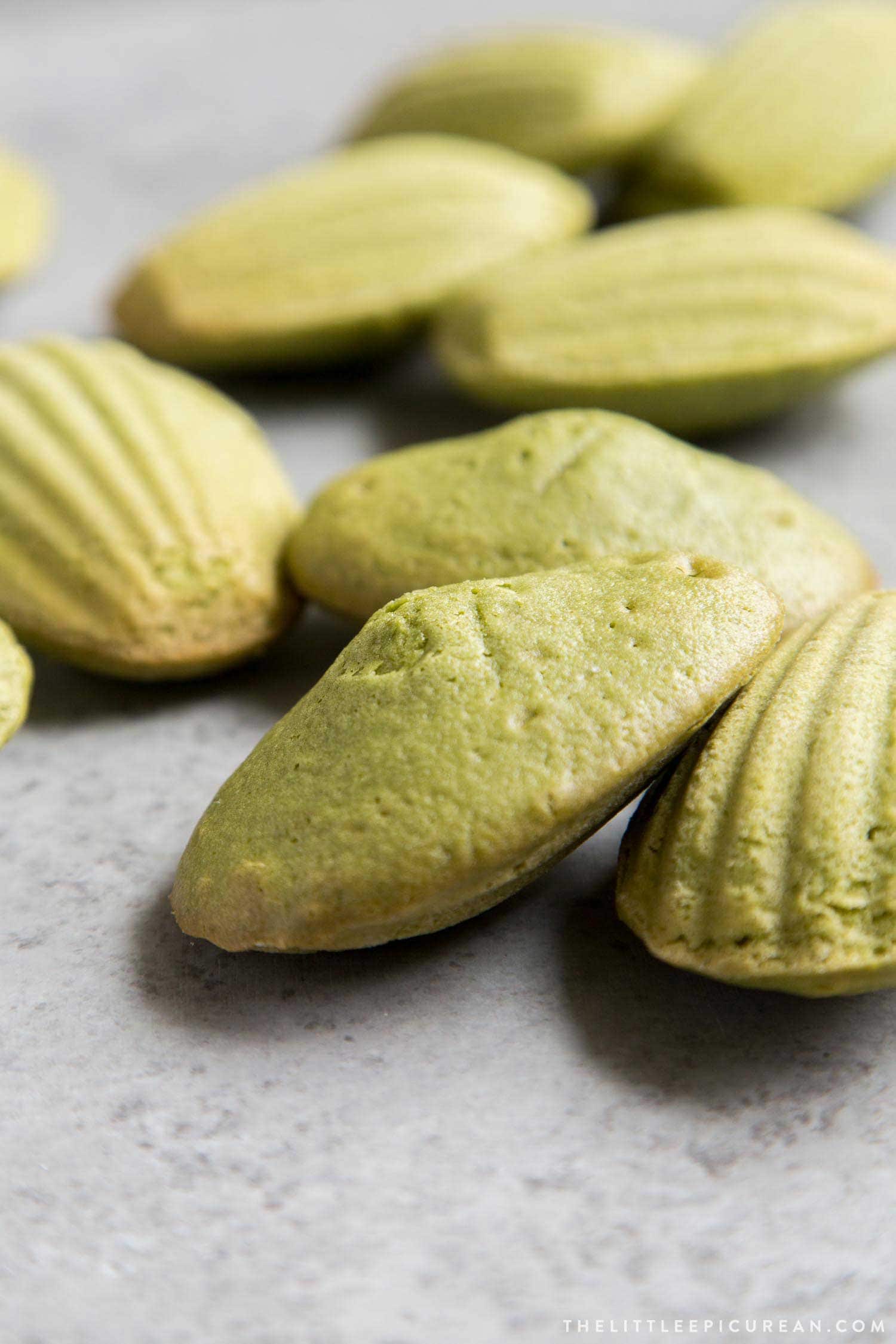 Why does madeleine batter need to rest
Allowing the matcha madeleine batter to rest gives the flour time to absorb the liquids in the batter. This thickens the batter and makes it easier to pipe later.
Also, resting the batter gives the madeleines their signature little hump during baking.
Let the batter chill in the fridge for at least three hours, preferably overnight. The batter can stay in the fridge for up to 48 hours. Any longer and the batter will dry out or start to separate.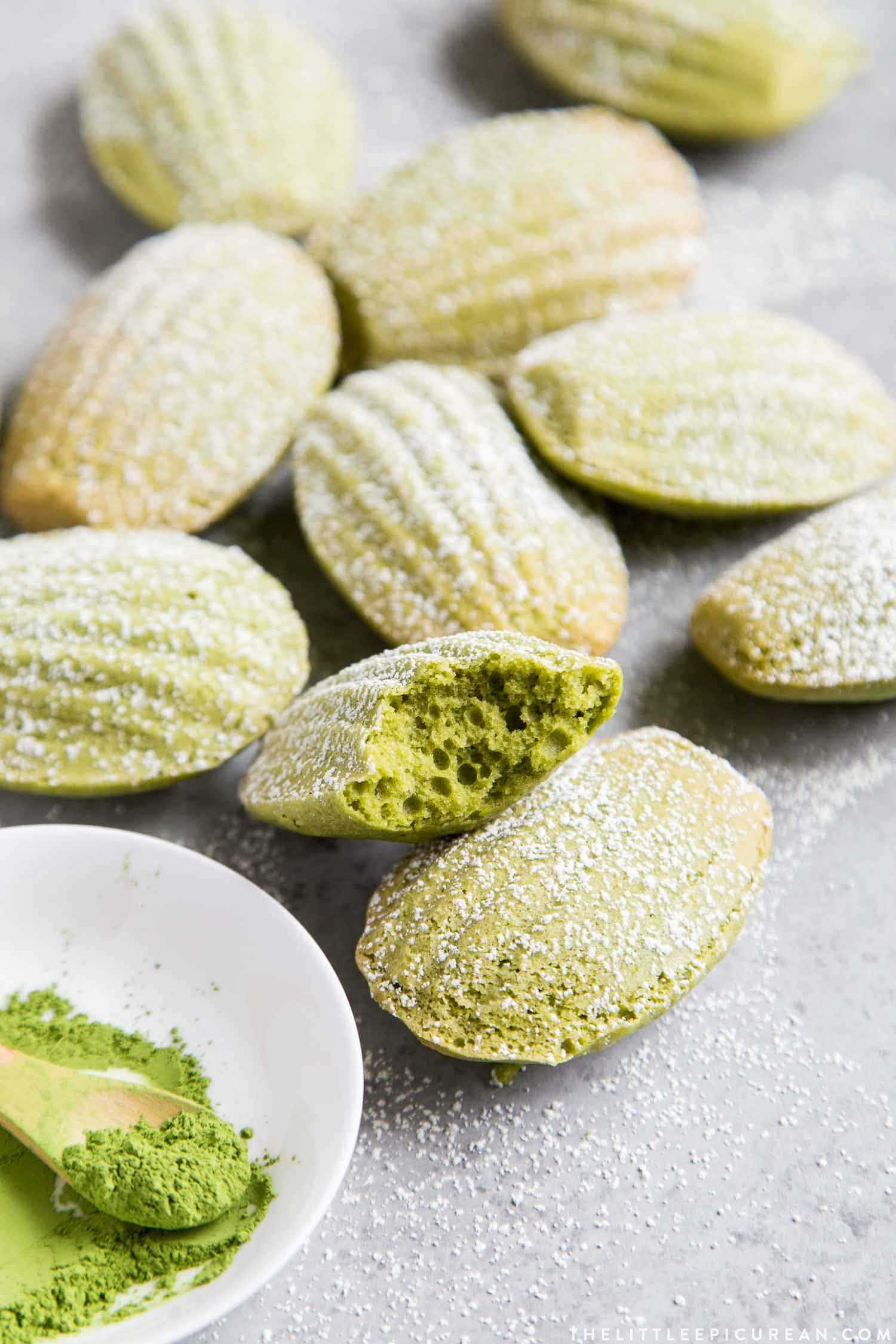 Traditional Madeleines vs Matcha Madeleines
Classic madeleines are made with melted brown butter (beurre noisette) and lightly flavored with citrus zest (either lemon or orange) or orange blossom water.
This modern spin on madeleines simples uses melted butter and flavors the sponge cake with matcha powder.
Traditional madeleines are leavened from the beating of the eggs. For these matcha madeleines, I have added a touch of baking powder to extra leavening.
Not all matcha powders are created equal.
As I've mentioned in these Matcha Sugar Cookies, there are a ton of different matcha powders available.
They range in taste, bitterness, and color. Regardless of whether the matcha powder is labeled as "culinary grade," pay attention to the color of the powder. The color is a big indicator of it's quality.
Make sure to use PURE matcha powder. Stay away from "matcha powder mix" which is sweetened with sugar or cut with milk powder.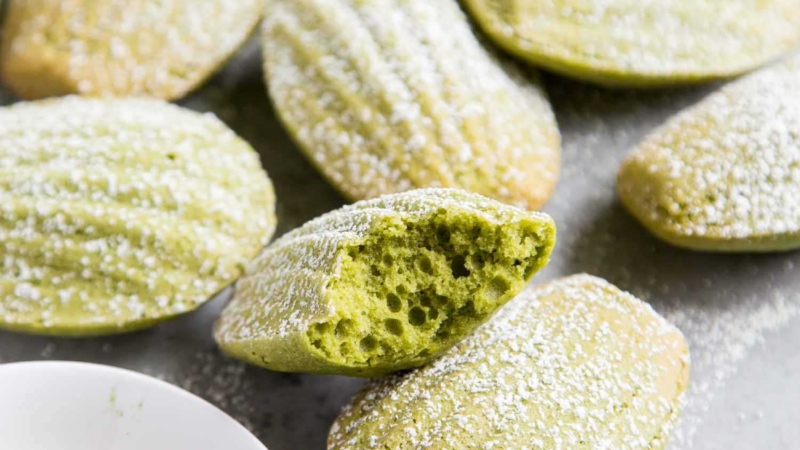 Matcha Madeleines
These matcha madeleines put a fun and tasty spin on a classic French baked treat.
Ingredients
6

Tablespoon

(85 g) unsalted butter,

melted and slightly cooled

2

large eggs

1

large egg yolk

⅓

cup

+ 2 Tablespoons (93 g) granulated sugar

½

teaspoon

pure vanilla extract

¾

cup

(90 g) all-purpose flour

2

teaspoon

matcha powder*

½

teaspoon

baking powder

¼

teaspoon

kosher salt

confectioners sugar,

for dusting
Instructions
Melt butter and allow to cool. Set aside.

In a large bowl, use an electric hand mixer to beat eggs and egg yolk until light in color. Slowly add sugar and continue to beat until mixture is thick and pale in color, about 3-5 minutes. Stir in vanilla.

In another bowl, whisk together flour, matcha powder, baking powder, and salt. Use a spatula to gently fold dry ingredients into egg mixture.

Add cooled melted butter in two additions. Fold until butter is absorbed into batter. Transfer batter to an airtight container. Let chill in the fridge for at least three hours, preferably overnight.

Fill madeleine pan ¾ full of batter. Use a piping bag, small cookie scoop, or two spoons to distribute the batter.

Bake for 10-12 minutes until cakes have a little hump and the top of cake springs back when gently pressed. Allow cakes to cool in pan for one minute before inverting and unmolding. Allow cakes to cool slightly before dusting with powdered sugar.

Eat as soon as madeleines are cool enough to pick up. Madeleines are best enjoyed the same day they are baked. 
Notes
Madeleines are best enjoyed the same day they are baked. They will dry out over time. 

I recommend using Rishi "teahouse matcha" or Rishi "barista matcha" to get the same vibrant green color as the matcha madeleines in this post. 
I used this 12 cavity madeleine pan by Fox Run from Amazon