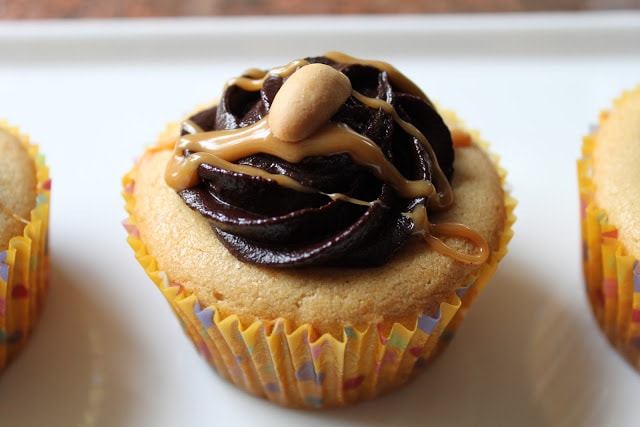 I'm not the biggest fan of cupcakes.  Yes, hard to believe but its true.  Most cupcakes are too sweet for my taste and covered with a ridiculous amount of frosting.  I could almost say I hated cupcakes until I came across the peanut butter cupcakes recipe in Carole Bloom's cookbook Bite-Sized Desserts.
Its a great book with the cutest mini desserts and petite fours that would sure win you lots of points from family and friends.   I tried out her peanut butter cupcakes and was very pleased with the results.  The cupcake isn't too sweet.  Its nice and moist, perfect to eat straight out of the oven, and oh so delicious with a glass of milk.  I topped it off with my own dark chocolate ganache recipe and drizzled some caramel I had left over from another baking project.  It was heavenly.
Its a perfect treat for adults and children. You can could even swap in milk chocolate ganache for children its dark chocolate is too bitter.  These cupcakes look classy and sophisticated.  They're a hundred times better than those from supermarket and take less time to make than driving to a trendy cupcake shop and waiting in line.  Plus, they're so easy to make.
I packaged a couple of them up and sent them to my friend Kathrina as a belated birthday treat.  I've know her her entire life, from the day she was born.  How could I not share and send her these scrumptious treats?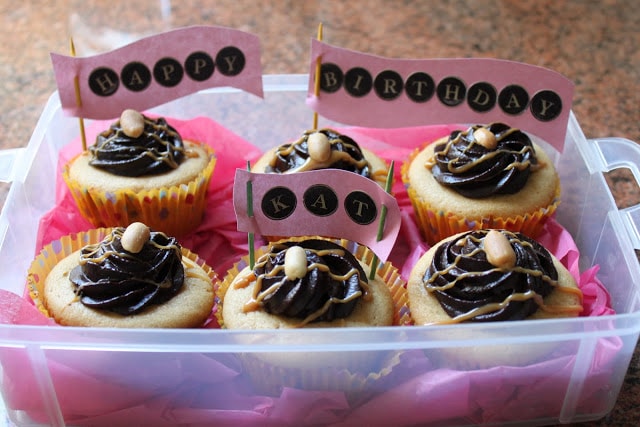 Peanut Butter Cupcakes with Dark Chocolate Ganache
Ingredients
Peanut Butter Cupcakes:
3/4

cup

all-purpose flour

1

teaspoon

baking powder

pinch fine sea salt

3

Tablespoons

unsalted butter, softened

1/3

cup

smooth peanut butter

1/3

cup

dark brown sugar, packed

1

extra-large egg, room temperature

1

teaspoon

vanilla extract, or vanilla paste

1/4

cup

whole milk

1/4

cup

heavy cream
Dark Chocolate Ganache:
6

oz

dark chocolate, finely chopped

3

oz

heavy cream
Instructions
Peanut Butter Cupcakes:
Preheat oven to 350 degrees F.

Sift together flour, baking powder, and salt in a medium-sized bowl. Set aside.

Cream the butter using an electric mixer at medium speed until light and fluffy. Add the peanut butter and continue to blend until smooth. Add all the brown sugar and beat until creamy.

Lightly beat the egg with the vanilla in small bowl. Slowly add this to the peanut butter mixture, stopping to scrape down the bowl to ensure ensure mixing. Make sure the egg is room temperature as not not curdle or break the peanut butter mixture.


Combine the whole milk and heavy cream (half and half blend). Add the flour mixture in three batches to the peanut mixture. Alternate with the half and half blend and mix well after each addition.

Use a large ice cream scoop to evenly divide the batter among the lined cupcake pan.


Bake for 20 minutes, until light golden. Be sure to test the center with a toothpick and make sure it comes out clean. Remove cupcakes from pan and let cool on rack before frosting.
Dark Chocolate Ganache:
Place chopped chocolate in a small bowl.

Bring the cream to a boil and pour over chocolate. Cover bowl with plastic wrap and let side for about a minute.

Using a heat-resistance spatula stir the mixture until smooth. Begin in one spot, stirring in a small circle, then gradually increasing size of circle. Cover the bowl with plastic wrap, letting the plastic rest directly on top of ganache to prevent skin formation. Let the ganache sit for about 20-30 minutes.

Take off the plastic wrap and stir up the ganache. It should have thickened to a pipeable consistancy. Fill a piping bag with a large star tip and pipe on cooled cupcake