No need to wait for Girl Scout cookie season. Enjoy your favorite samoa cookies all year long with this homemade version of the popular cookies!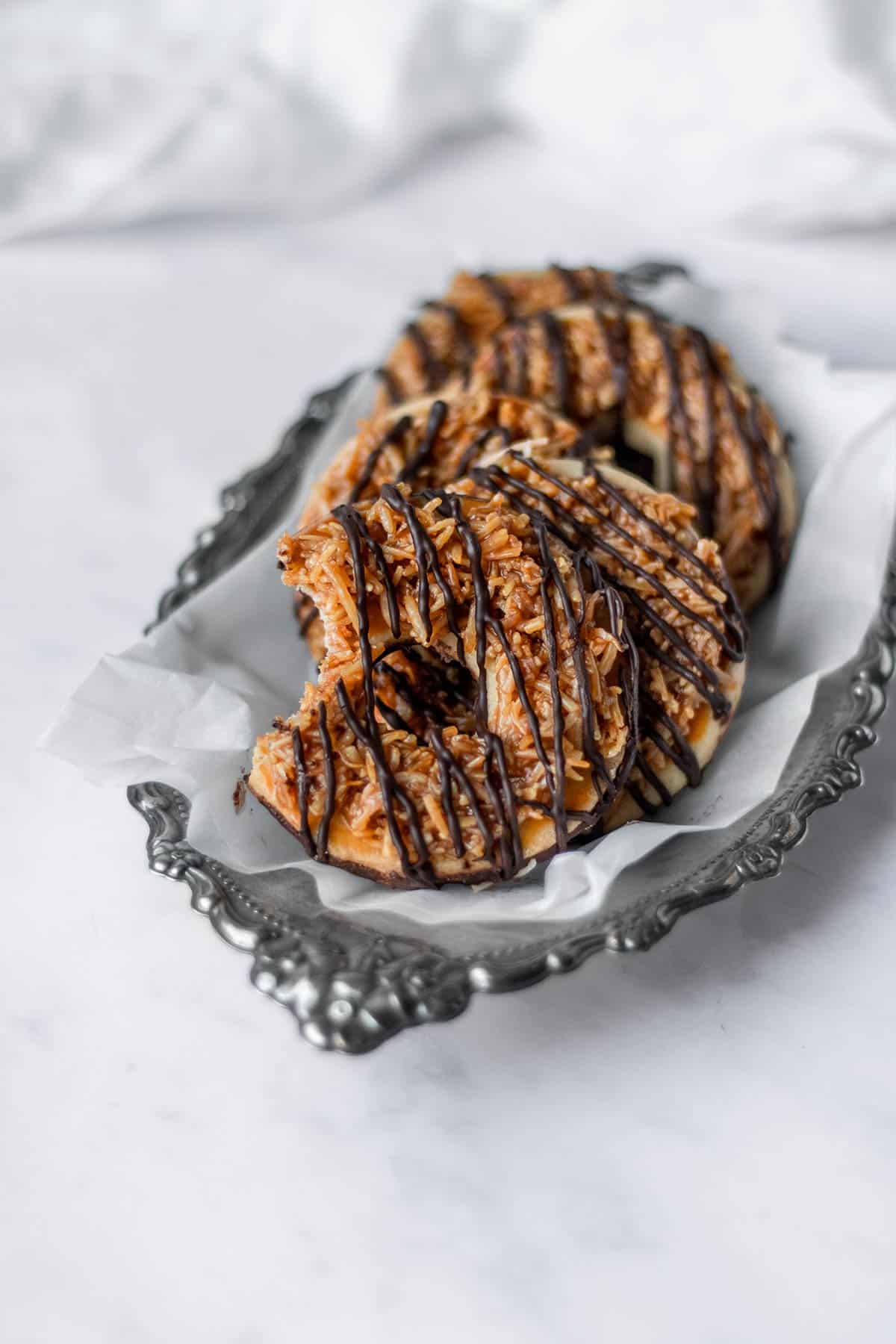 Check out the Girl Scouts official website to find out when these famous cookies are for sale in your neighborhood.
However, if you need your cookie fix now… continue to read how to make these delicious cookies at home!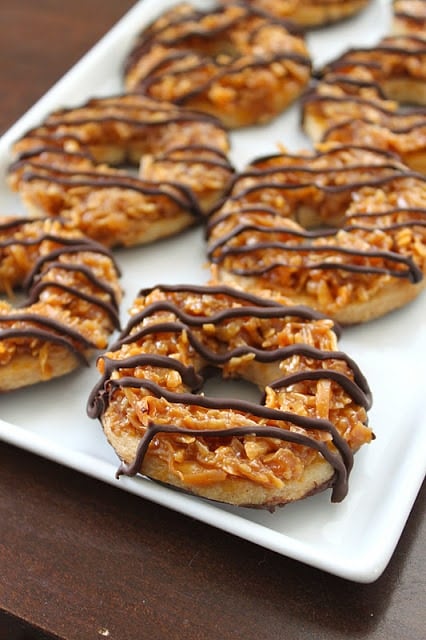 Samoa Girl Scout Cookies
These cookies taste like summer vacation. Eating these make me feel like I'm lounging on some tropical beach.
The sweet coconut, rich caramel, and decadent chocolate atop a buttery shortbread cookie equals pure deliciousness.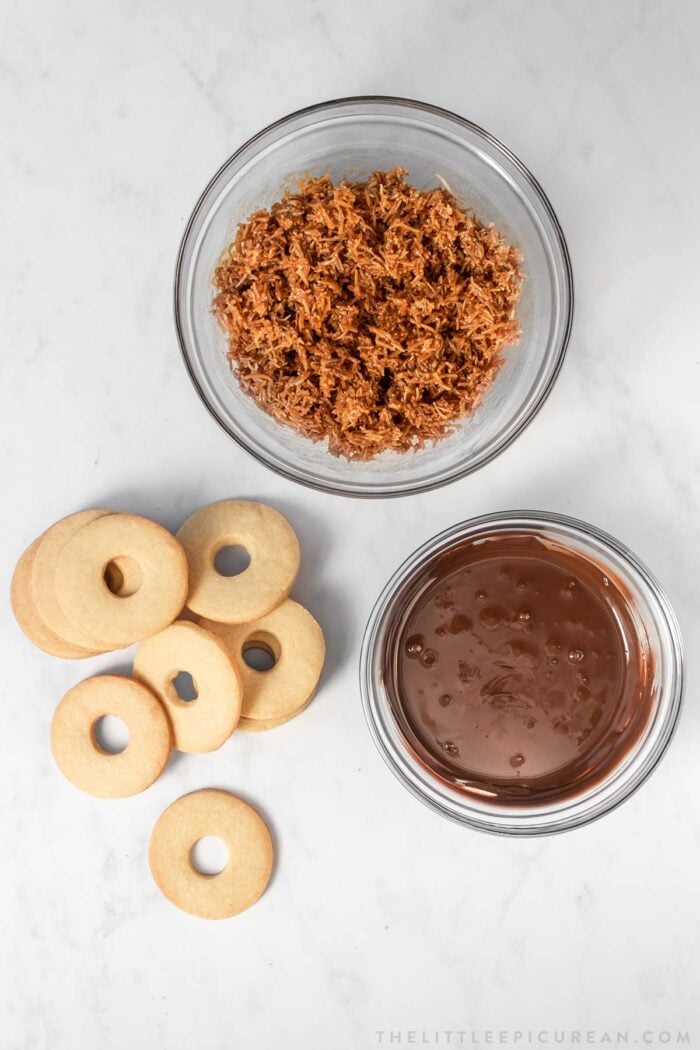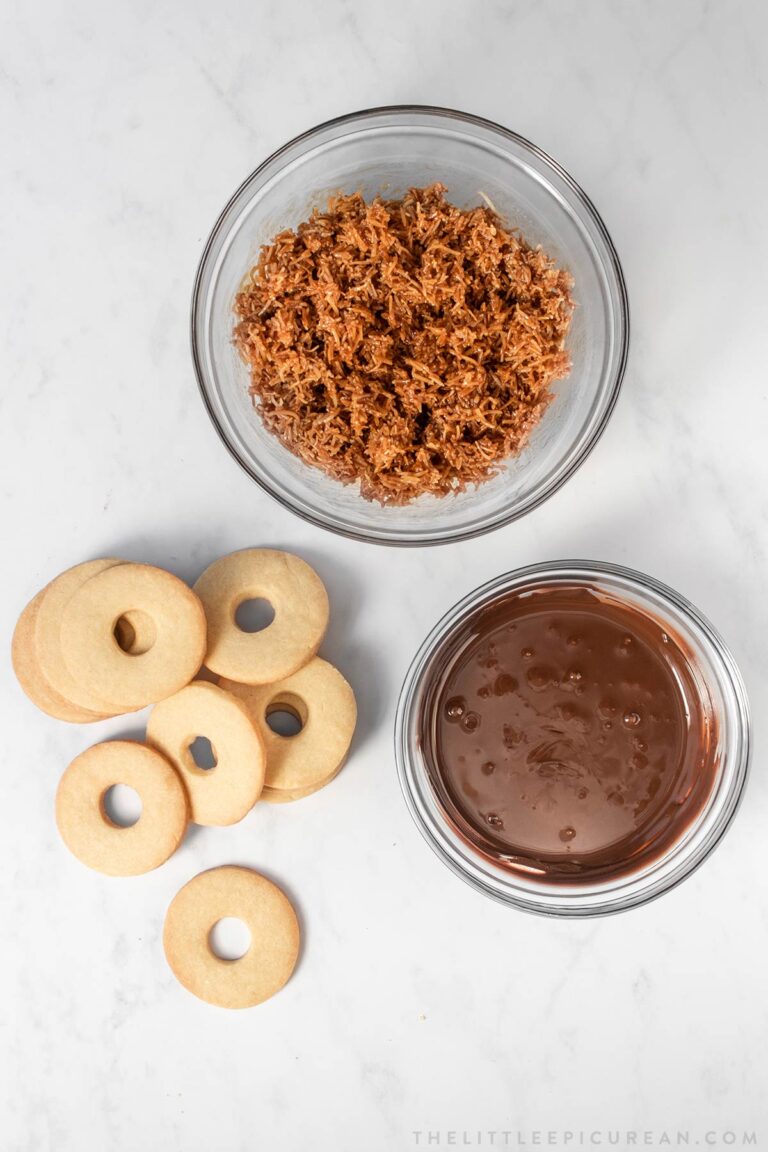 Samoa Cookies Components:
Shortbread Dough
Coconut Caramel Topping
Dipping Chocolate
Shortbread Dough
Use a stand mixer or electric hand mixer to beat together the shortbread cookie dough. Chill the dough in the fridge for 30 minutes, or quicken the process by freezing for 15 minutes.
The dough uses very few ingredients. Much of its flavor comes from the butter and vanilla. As such, use fresh, high-quality butter.
At all costs, do not use imitation vanilla extract. I suggest using vanilla paste, but high quality pure vanilla extract works just as well.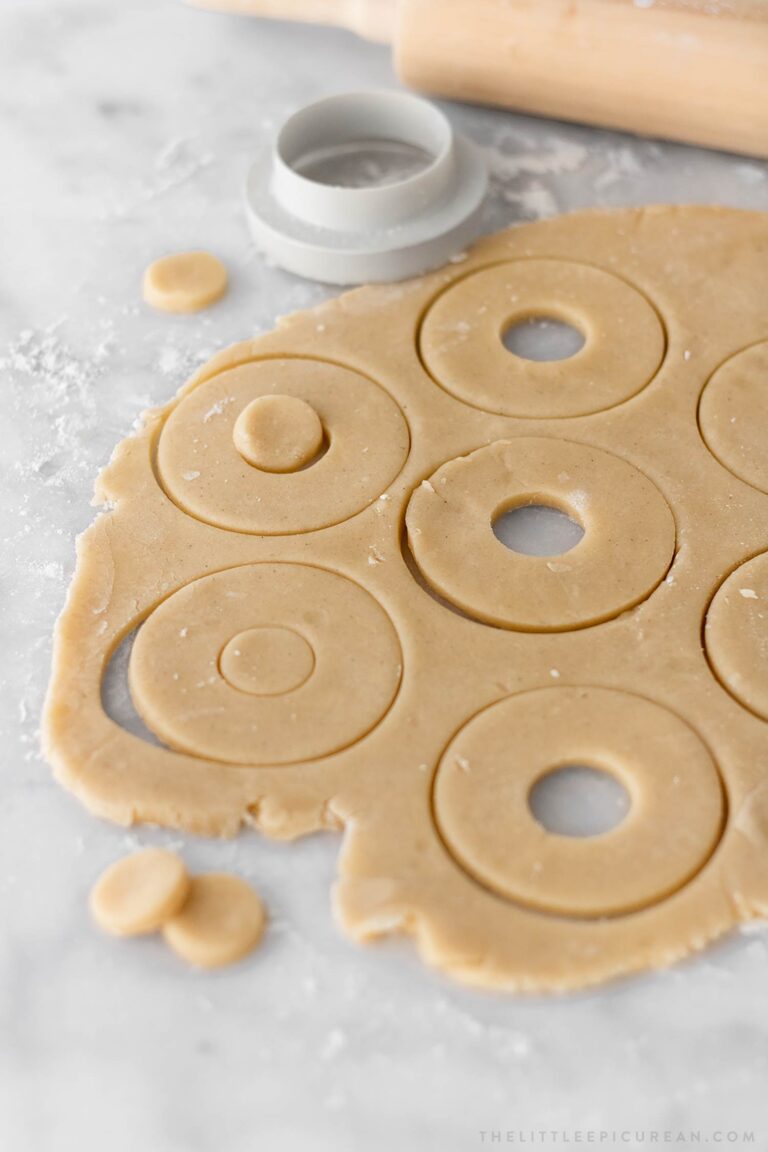 Roll dough to about 1/4-inch thick. Cut out circles using a floured 2 1/2-inch cutter. Then, punch out an inner circle with a smaller sized cutter of your choice.
Carefully transfer shortbread cookie rings onto a parchment lined baking sheet. Bake for about 15 minutes until lightly brown.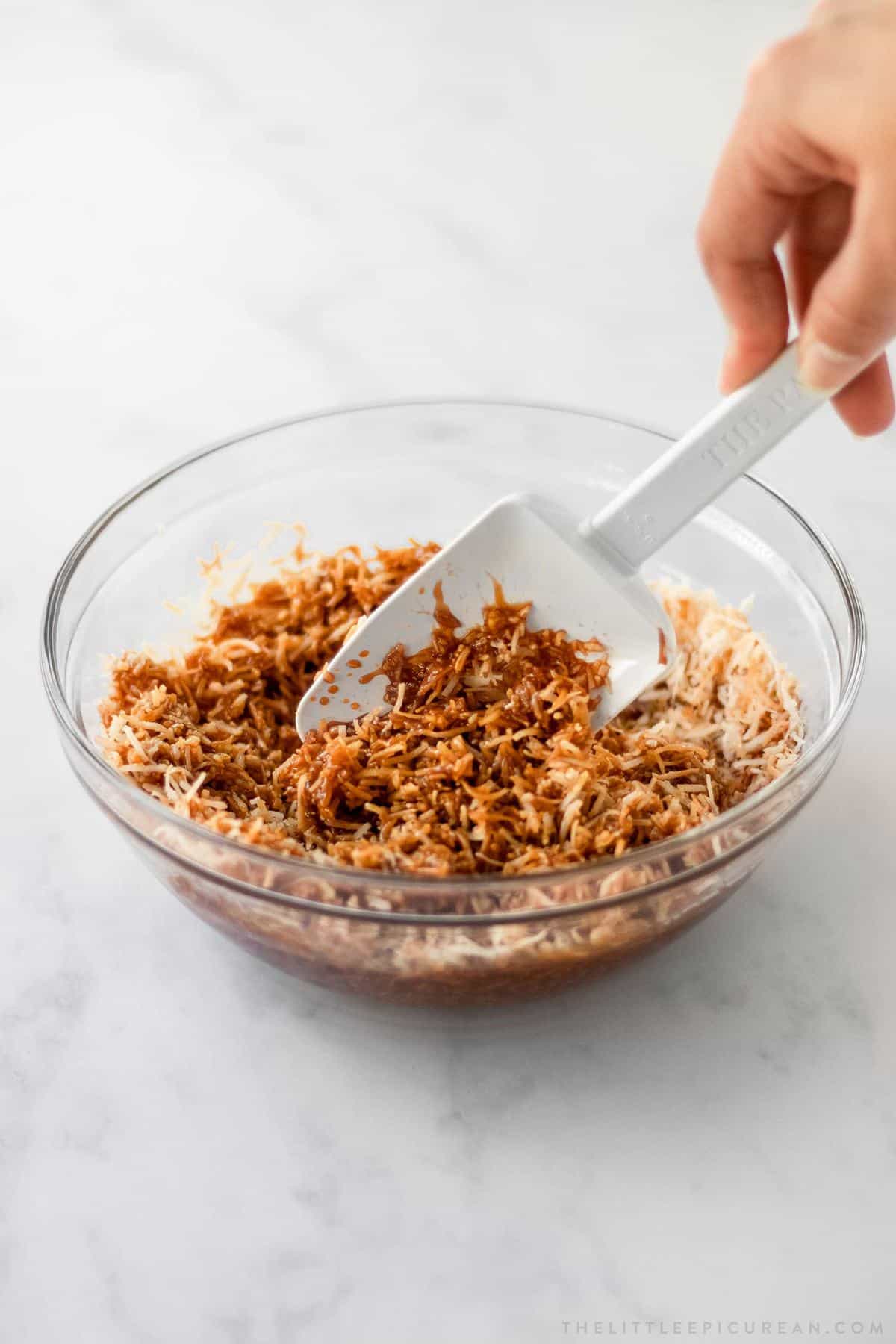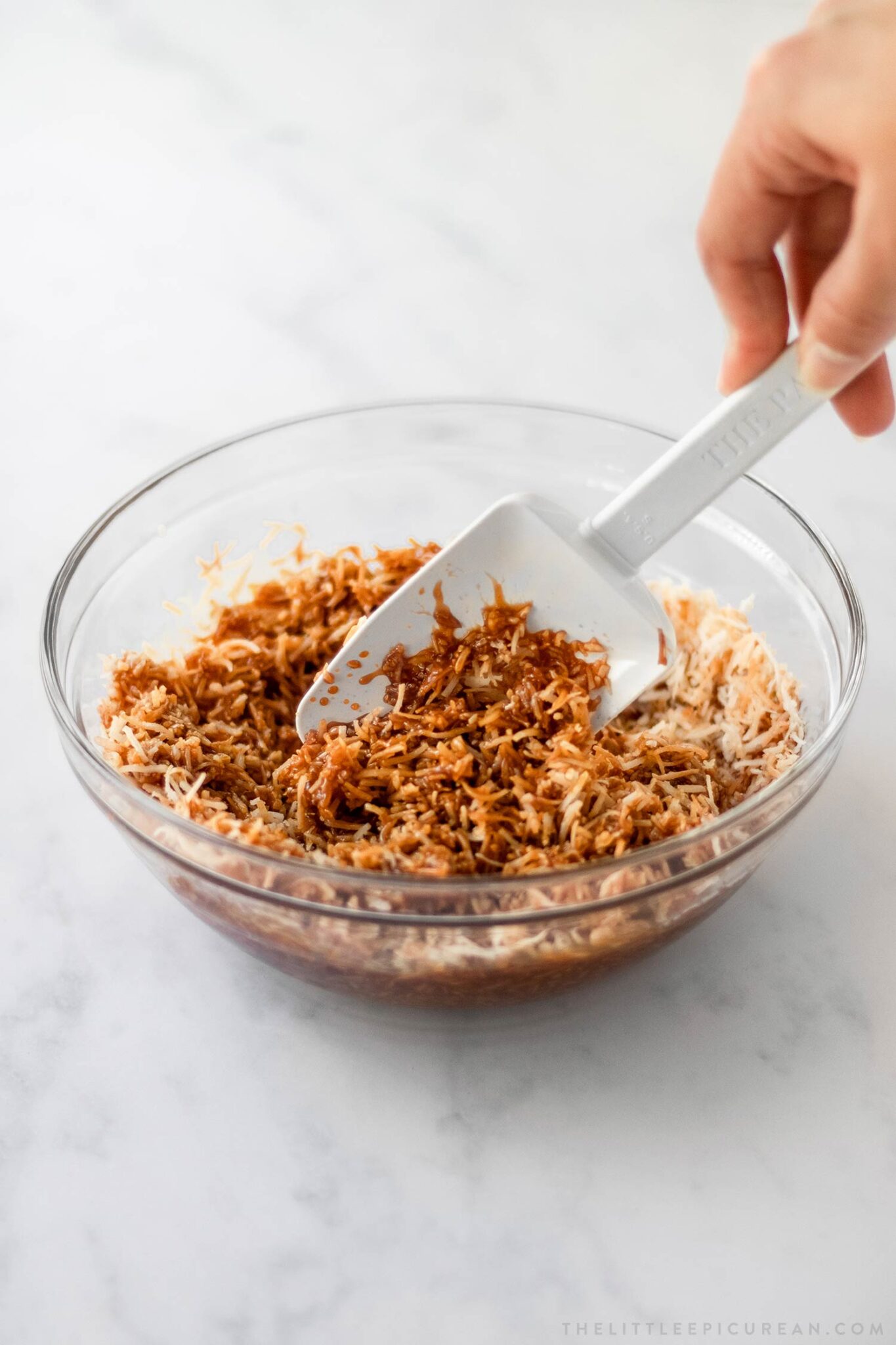 Coconut Caramel Topping
The coconut caramel topping is a very simple to make.
Fold together toasted sweetened coconut with an easy caramel sauce. The caramel sauce is a mixture of sugar, butter, and cream.
It is important to toast the shredded coconut. Toasting enhances the depth of coconut flavor.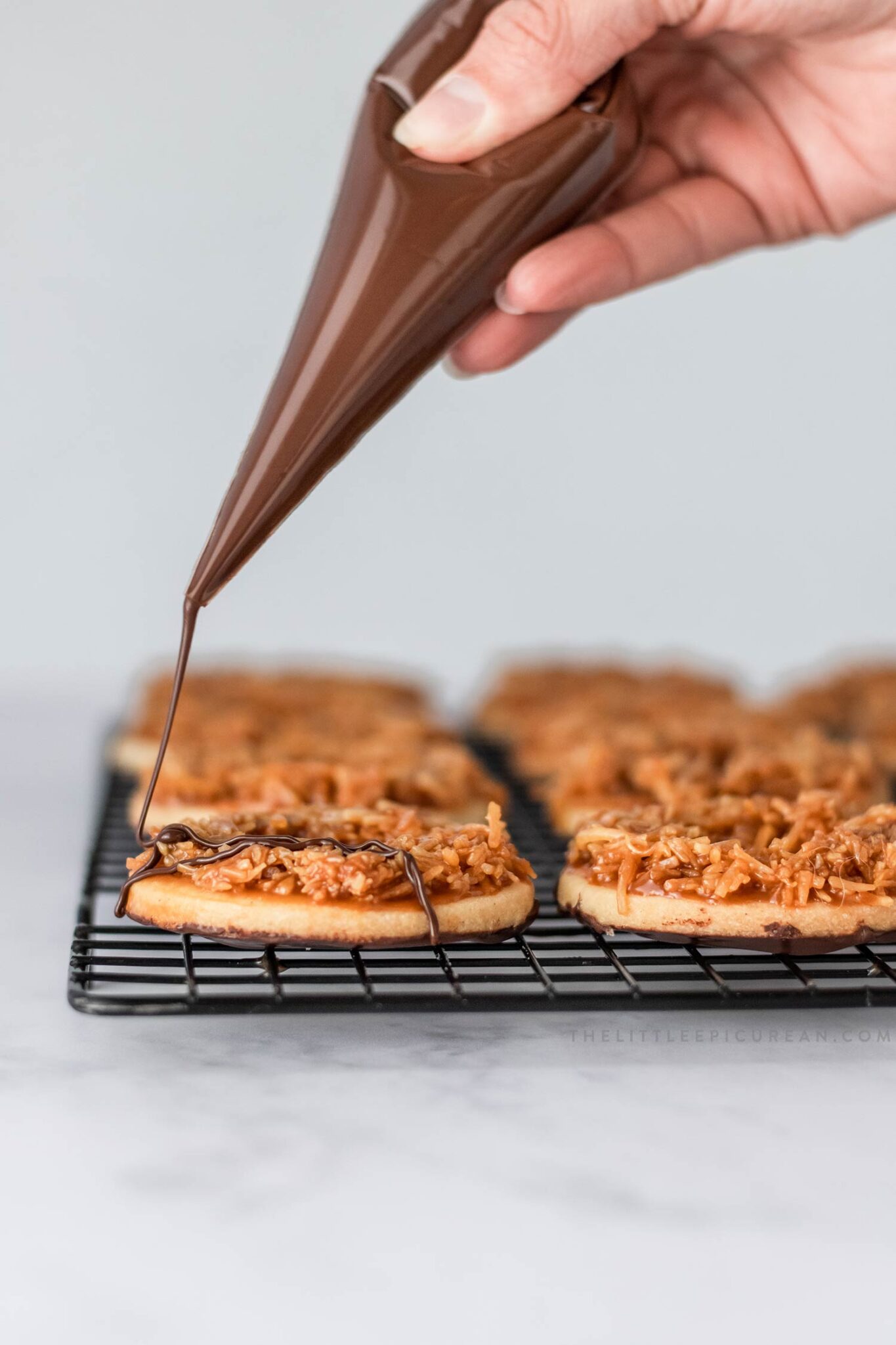 Dipping Chocolate
I suggest using dark chocolate. The slight bitterness of dark chocolate helps to cut through the sweetness of the coconut caramel topping. 
You may use chopped chocolate bars, chocolate chunks, or chocolate chips.
To keep the chocolate in temper, gently melt the chocolate in the microwave at half power, or over a simmering double boiler.
Be careful not to overheat the chocolate! Overheated chocolate will be taken out of temper. This will result in cloudy, grainy looking chocolate as it dries. 
For ease, use a small piping bag to drizzle chocolate over the assembled cookies.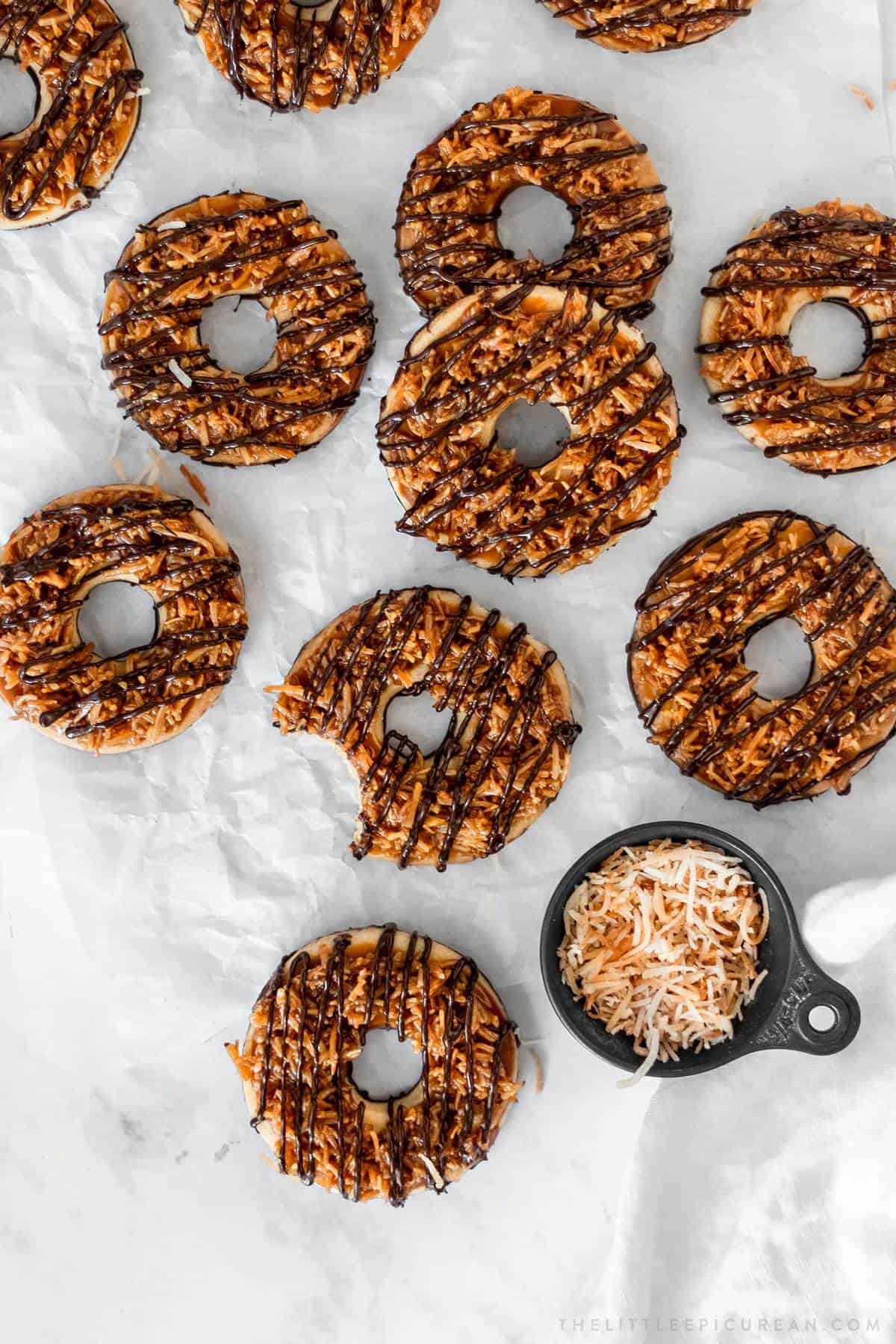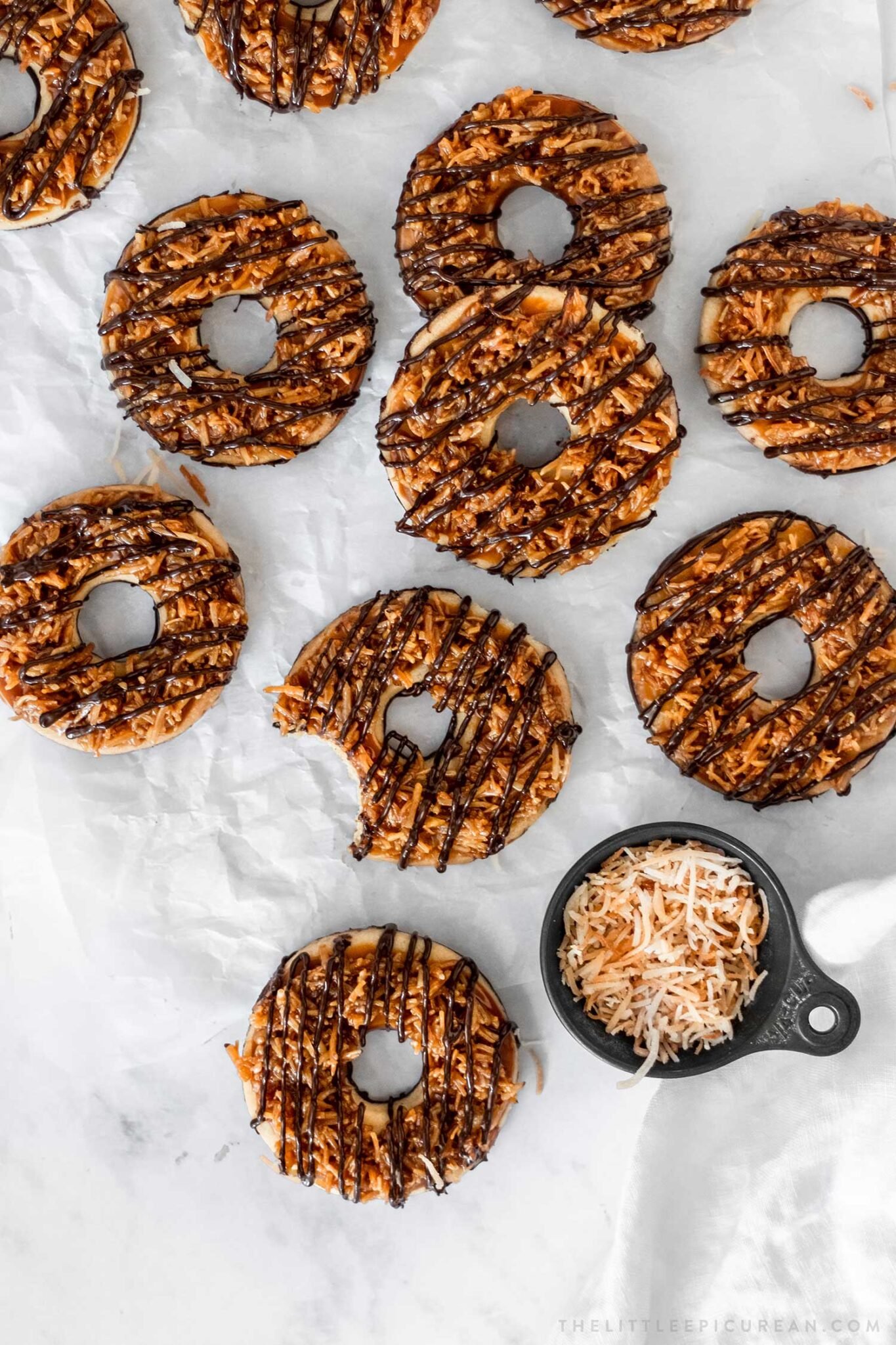 Final Notes
Yes, these samoa cookies are a bit time consuming. The cookies are comprised of several elements.
However, I assure you that these cookies are not difficult to make. It merely requires a bit of preparation and patience.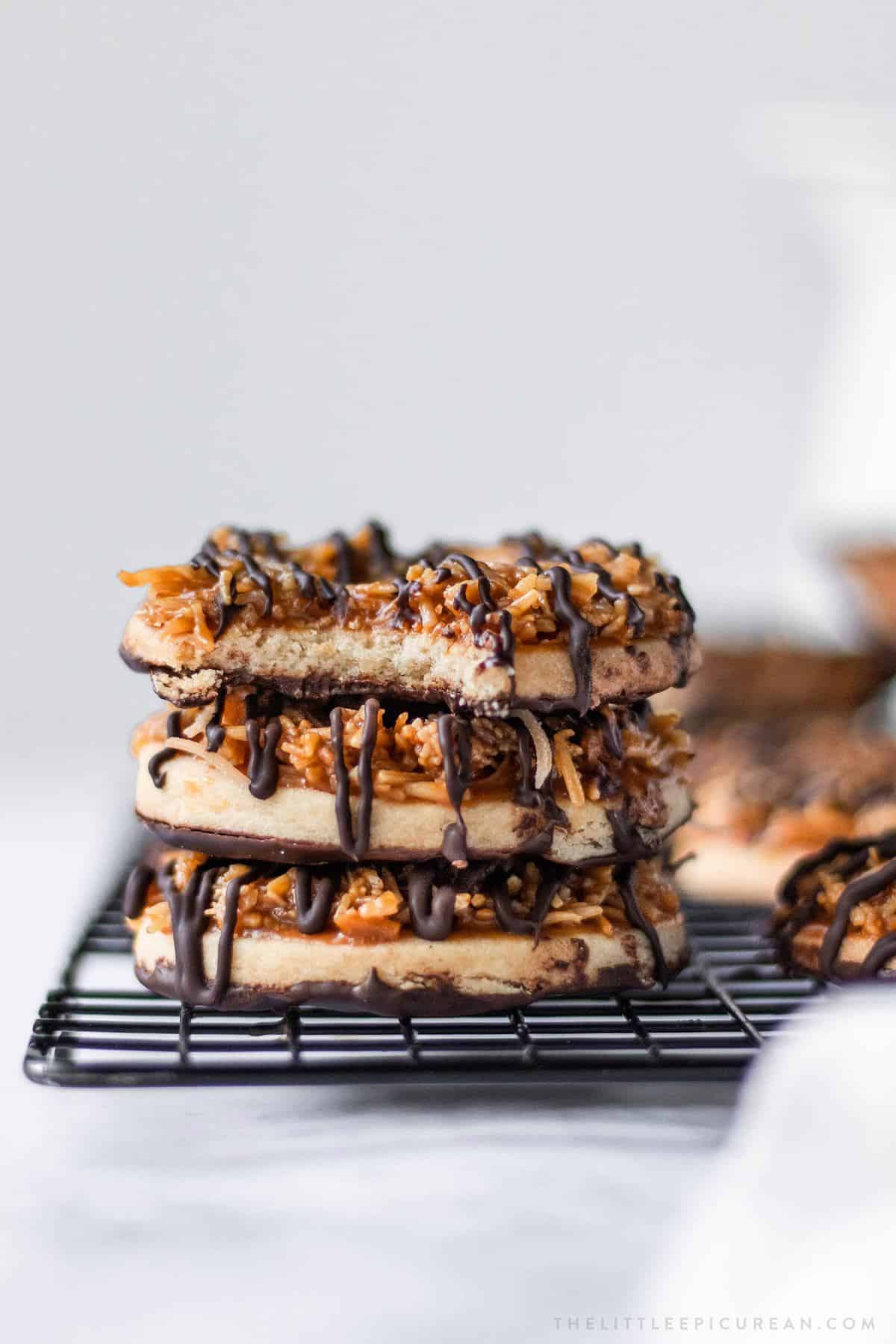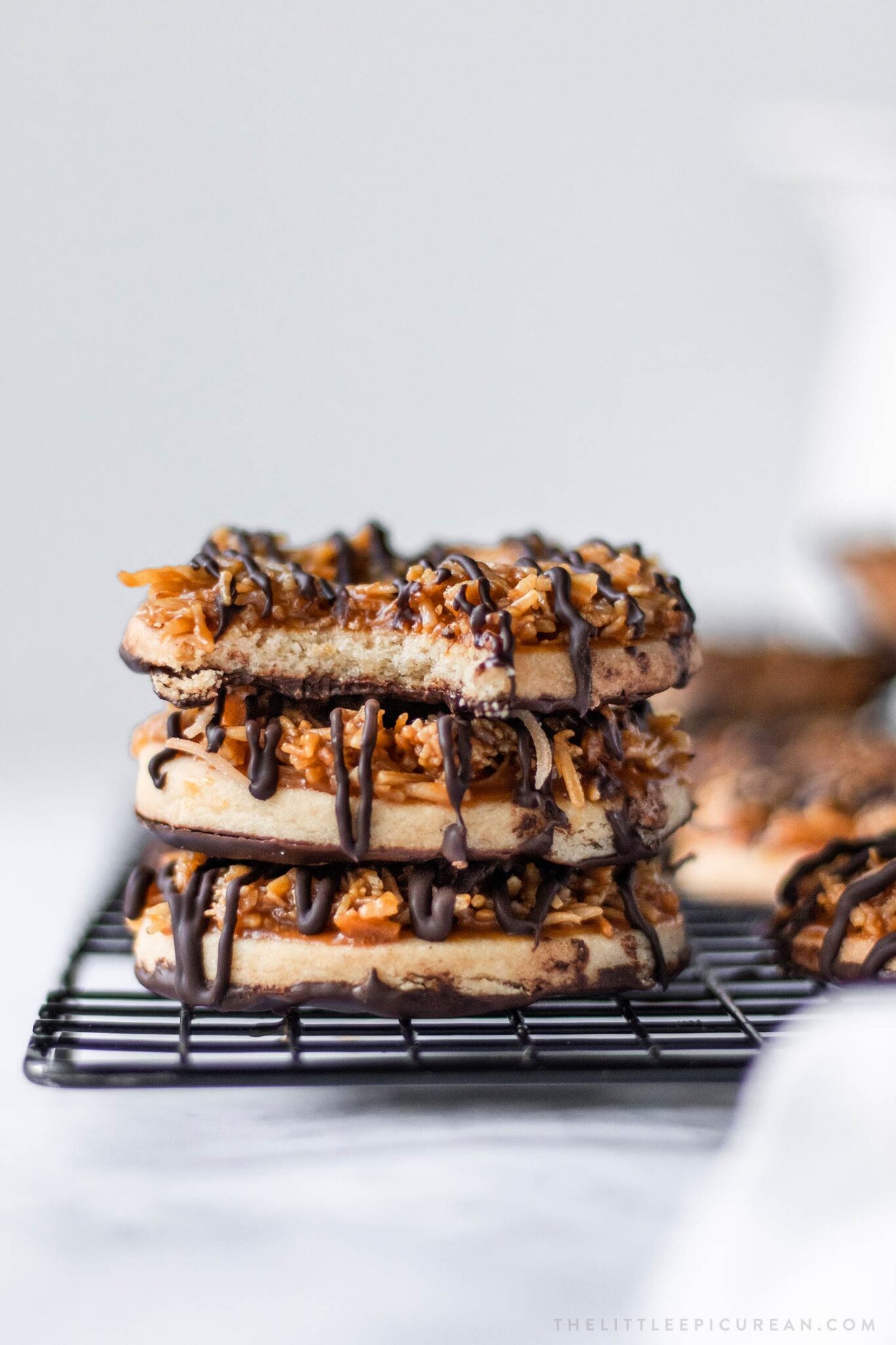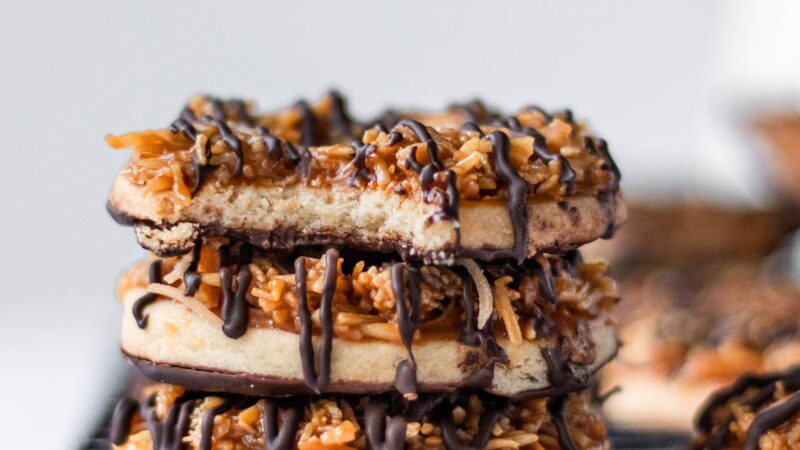 Homemade Samoa Cookies
No need to wait for Girl Scout cookie season. Enjoy your favorite samoa cookies all year long with this homemade version of the popular cookies! These cookies layer together shortbread cookie with coconut caramel topping and a chocolate drizzle.Yield: makes 3 dozen
Ingredients
Shortbread Cookie Dough:
1

cup

unsalted butter,

room temperature

½

cup

granulated sugar

1

teaspoon

vanilla paste

or pure vanilla extract

2

cups

all-purpose flour

¼

teaspoon

baking powder

¼

teaspoon

baking soda

½

teaspoon

kosher salt

1 ½

Tablespoons

whole milk
Caramel:
1

cup

granulated sugar

6

Tablespoons

unsalted butter

½

cup

heavy cream

pinch

kosher salt

3

cups

sweetened dried shredded coconut,

toasted
Dipping Chocolate:
10

oz

dark chocolate,

chopped
Instructions
Shortbread Cookie Dough:
 Cream together butter, sugar, and vanilla paste in the bowl of a stand mixer.

In another bowl, whisk together flour, baking powder, baking soda and salt.

All flour mixture to butter mixture. Add milk and mix until dough has formed. Divide the dough into two disks. Wrap in plastic wrap and chill in the fridge for 30 minutes or freeze for 15 minutes.

 Preheat oven to 350° F. Prepare parchment lined sheet trays.

Roll out chilled dough to ¼-inch thick. Cut out circles using a floured 2 ½ inch cutter. Punch out an inner with a smaller cutter of your choice. Lay the cookie cutouts on the parchment lined sheet trays and bake for 12-15 minutes until firm and lightly golden. Let rest on sheet tray until cool to the touch and then transfer to cooling racks.
Caramel:
Preheat oven to 325° F.  Line sheet tray with parchment paper.

Spread coconut into a thin and even layer on prepared sheet tray. Bake for 10 minutes. Rotate pan and stir coconut. Continue to bake at 5 minute intervals, rotating the pan and stirring the coconut until golden in color. Once toasted, let cool to room temperature.

In a medium sauce pan, add sugar. Cook over medium high heat until sugar begins to melt. Once sugar begins in liquefy, reduce heat to medium or medium-low. Do not over agitate the sugar, but swirl the pan once in a while to make sure sugar melts evenly. Continue to melt the sugar until liquid is amber brown and aromatic.

Add butter to sauce pan. Whisk until all the butter has melted.

Remove sauce pan from heat and slowly add the heavy cream. Continue to whisk until cream and sugar mixture are homogeneous. Be careful, once you add the cream, the sugar mixture will bubble and rise quite a bit. Be sure the sauce pan is away from heat before you add the cream.

Continue to whisk until caramel is thick and smooth. Let cool until slightly warm to the touch. Reserve about ⅓ cup of the caramel in a separate bowl. Then add the salt and toasted coconut. Fold into the coconut until thoroughly distributed.
Dipping Chocolate:
Slowly melt chocolate in the microwave. Place chocolate in a microwave safe bowl and heat for 45 seconds on full power. Stir chocolate and continue to heat at 30 second intervals at half power until chocolate is melted. Make sure not to overheat the chocolate which will bring it out of temper.
Assembly:
Once shortbread cookies are cool, dip one side into reserved caramel sauce. Then spread about 1 ½ teaspoons of coconut caramel mixture on top of cookie. Dipping the cookie first into the reserved caramel sauce helps the coconut mixture to adhere to the cookie. Let cool on rack.

Dip the bottoms of the cookies into the melted chocolate. Let cool on rack upside down (coconut mixture side down) until chocolate has hardened and set.

Once chocolate is set, turn cookie right side up. Transfer remaining dipping chocolate into a small parchment bag or piping bag. Cut a small tip and drizzle chocolate over the tops of the cookies. Let cookies sit out until drizzled chocolate has set and then enjoy!
Notes
Assembled cookies will keep in an airtight container for up to three days.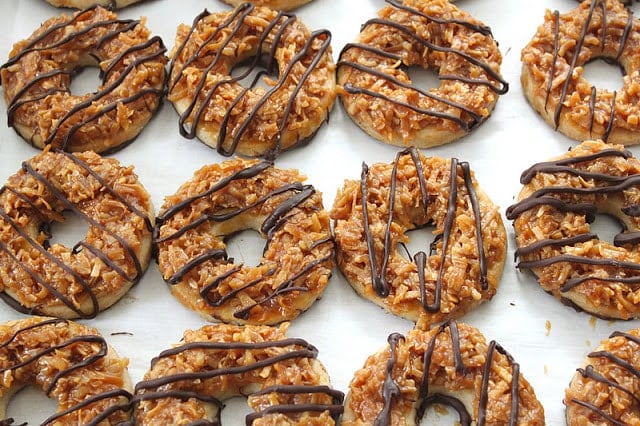 Here are some more coconut and chocolate recipes:
A tropical take on banana cream tart, this coconut cream tart is layered with coconut caramel, coconut pastry cream, and toasted shredded coconut. 
This chocolate caramel coconut cake is comprised of two coconut cake layers with a shredded coconut caramel filling. The cake is finished with both chocolate buttercream and chocolate ganache.