Peanut butter banana bacon cake layers together banana cake with banana filling and peanut butter frosting.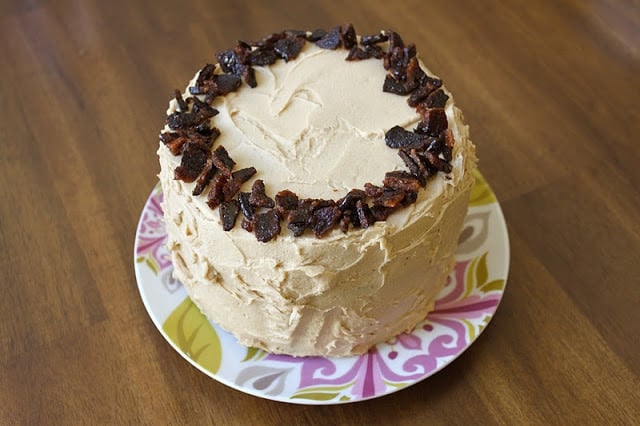 Today is one of my best friend's birthday. She happens to share her birthday with Elvis. Elvis made famous the peanut butter, banana, and bacon sandwich. Its a delicious combination. The creamy peanut butter, caramelized sweet bananas, with the smokey and savory bacon creates a sweet and salty paradise. The flavor profiles work so well with each other that I decided to translate that sandwich into a special birthday cake.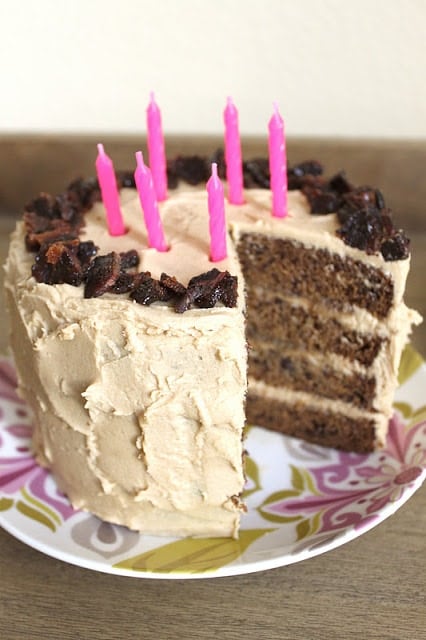 So back to my best friend. I've know her since I was seven years old. Its hard to imagine we've known each other for 20 years. Don't do the math. Let's just say we're turning 21 this year and every year until I say otherwise.
As children we would bake cookies at my house all the time. Unfortunately, we were terrible in the kitchen.
This one time, we measured out a cup of salt instead of a cup of sugar for a snickerdoodle recipe.
And then this other time, our oven mitts caught on fire while we removing a sheet tray from the oven.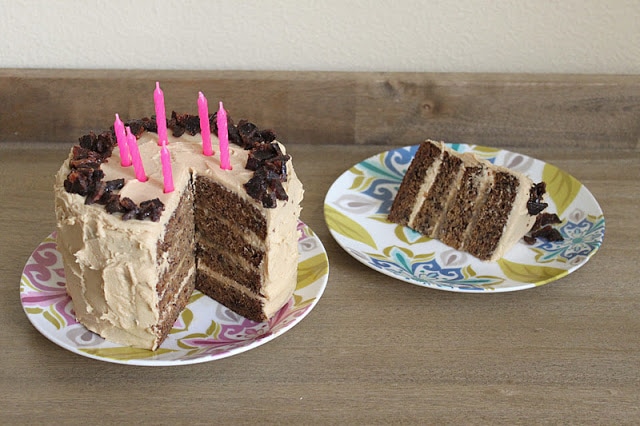 Over the years, we have had our share of adventures, travels, and experiences together. I cherish the fact that my memories with her are full of smiles and laughter. She has always been my partner in crime. Our friendship will stand the test of time, very much like peanut butter/banana/bacon. Plus, we know way too much blackmail information about each other to ever stop being friends.
Happy birthday, Gina! (aka Beau, Dancing Queen, Laughing Hyena) xoxo, Peppy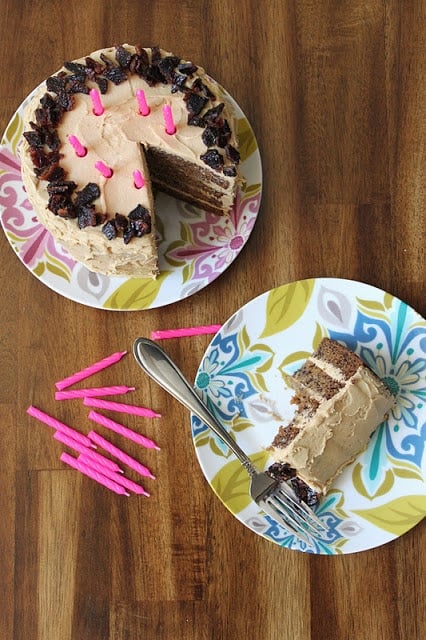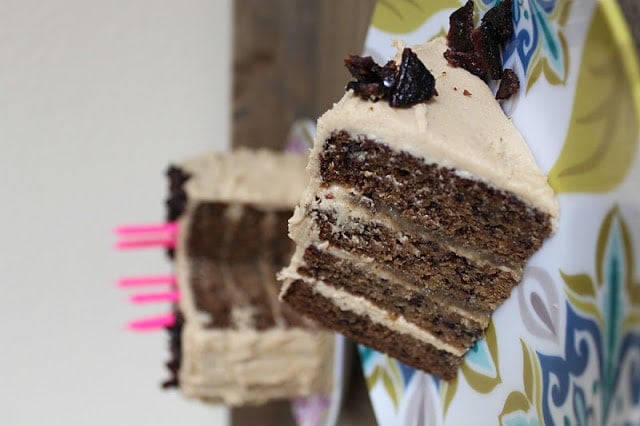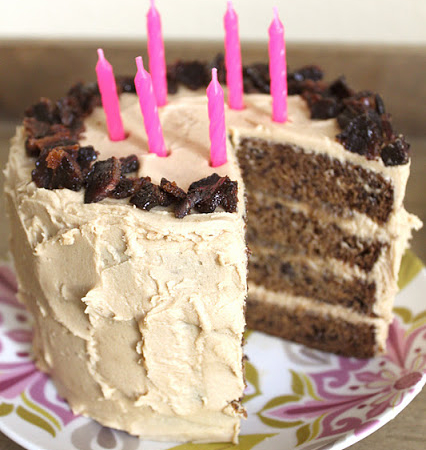 Peanut Butter Banana Bacon Cake
Yield: 6-inch cake
Ingredients
Banana Cake
1 1/2

cups

all-purpose flour

2

teaspoons

baking soda

1

teaspoon

baking powder

1/4

teaspoon

fine sea salt

1/4

cup

unsalted butter, room temp

1/2

Tablespoon

honey

1/2

cup

granulated sugar

1/2

cup

dark brown sugar, packed

2

large eggs

2

ripe bananas, mashed

1/3

cup

whole milk, room temp
Banana Filling
2

Tablespoons

unsalted butter, browned

1

ripe banana, mashed

1

Tablespoon

dark brown sugar

pinch of salt
Peanut Butter Frosting
1/2

cup

unsalted butter, room temp

1/4

cup

peanut butter, smooth

2

cups

confectioners' sugar, sifted

1/2

teaspoon

vanilla paste

3-5

Tablespoons

heavy cream, depending on desired consistency
Candied Bacon
3

strips bacon

dark brown sugar

granulated sugar
Instructions
Banana Cake
Preheat oven to 350 degrees F. Line two 6" cake pans with parchment and lightly grease the sides.

Whisk together flour, baking soda, baking powder, and salt. Set aside.

In the bowl of a stand mixer, cream together butter, honey, sugar, and brown sugar until well combined. Add the eggs one at a time. Add the mashed bananas.

Alternate adding the flour mixture and whole milk. Start with the flour and end with the flour. Mix until just combined.

Divide the batter evenly between the two prepared cake pans.

Bake for 30-45 minutes until toothpick inserted in the center comes clean. Let cool in pan for a couple minutes before unmolding and transferring to cooling rack. Let cool to room temperature before slicing layers.
Banana Filling
In a small pan, melt the butter oven medium heat. Brown the butter until it produces nutty aroma. Let cool slightly.

In another pan over medium heat, combine mashed bananas and brown sugar. Heat mixture until sugar has dissolved and banana mixture has cooked down.


Add melted brown butter to banana mixture. Cook until fragrant. Remove from heat and add salt to taste. Allow mixture to cool before using.

Peanut Butter Frosting
Cream together softened butter and smooth peanut butter. Slowly add sifted confectioner's sugar. Add vanilla paste and continue to mix. Add tablespoons of cream until you reach your desired consistency.

*note: I used 5 tablespoons of cream
Candied Bacon
Preheat oven to 325 degrees F. Prepare a parchment lined baking sheet

.

Lay strips of bacon onto baking sheet. Sprinkle with brown sugar and sugar. Flip bacon and coat other side with brown sugar and sugar. Let side for a couple minutes until sugars slightly dissolve into bacon.

Bake for 15 minutes. Remove from oven and flip bacon strips. If desired, sprinkle more sugar. Return to oven and bake for another 15 minutes until bacon is crisp and caramelized.


Remove bacon from baking sheet and transfer to cooling rack. Once at room temperature, break up the bacon into small pieces.

Assembly
Split each banana cake into two equal layers. End up with four equal layers.

Place one layer of cake on cake board. If desired, lightly soak cake layer with a rum or whiskey. With an offset spatula slather on a thin layer of peanut butter frosting, followed by a thin layer of banana filling. Add another layer of cake and repeat adding frosting and banana filling. Continue to repeat until last layer of cake is on top.

Coat the top and sides of the cake with remaining peanut butter frosting. Garnish top of the cake with candied bacon.