This classic chocolate cake recipe makes a two layer 8-inch cake or a three layer 6-inch cake. It is frosted with a simple chocolate American buttercream and decorated with rainbow sprinkles.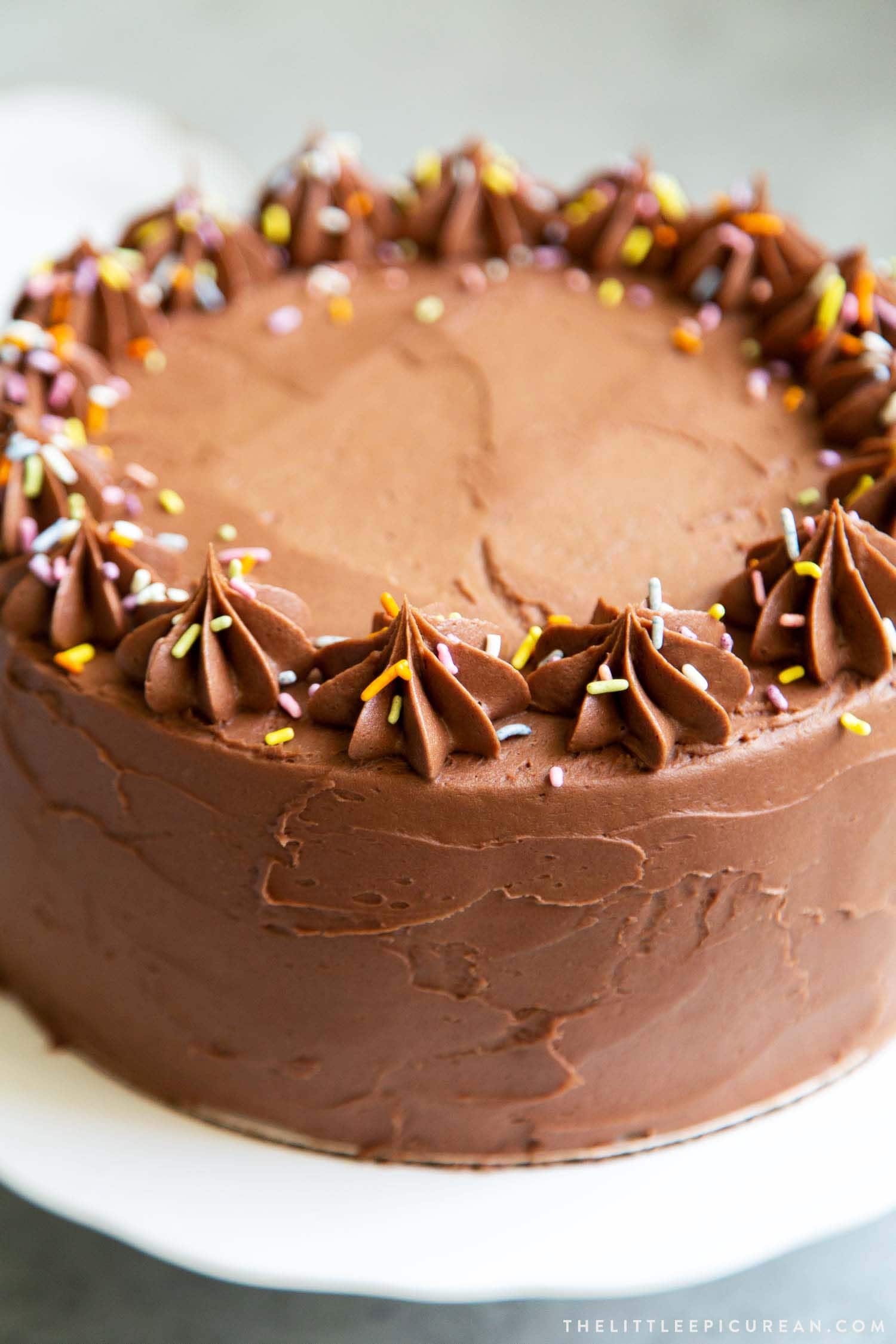 It's hard to beat a classic!
This post is the first in a series of basic cake recipes and tutorials. More classic cake recipes to follow include: yellow cake, white cake, and sponge cake (aka gateau genoise).
We're starting with my favorite go-to classic chocolate cake recipe!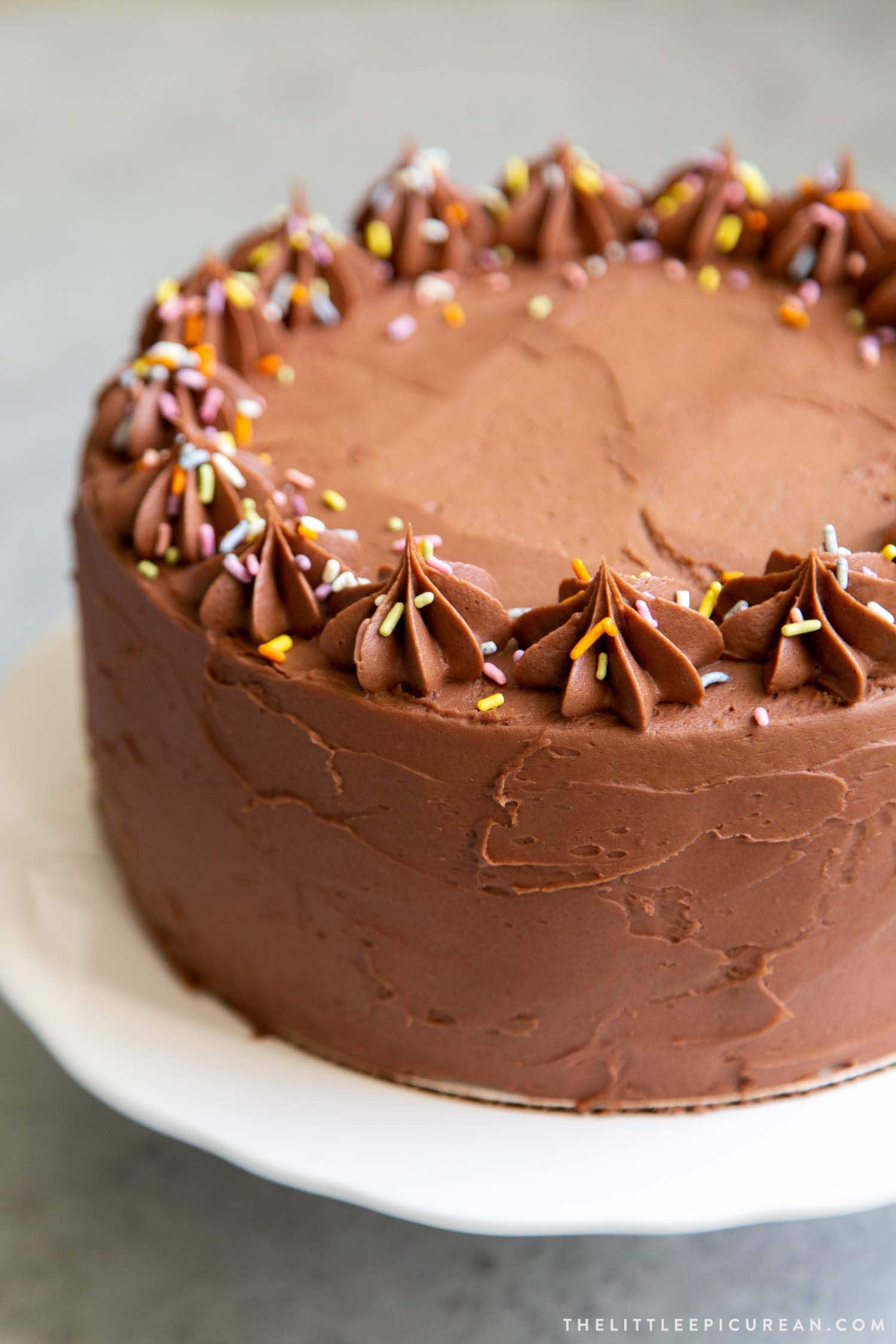 Easy Chocolate Layer Cake with American Buttercream
No matter what the occasion or season, it's always a good time for chocolate cake!
This easy to make chocolate cake is perfect for novice bakers. It's a fool-proof cake that anyone can successfully make.
The cake batter can be mixed together by hand, using an electric hand mixer, or a traditional stand mixer.
It's a rich cake with intense chocolate flavors. It's not overly sweet, and perfect with a glass of milk or an ice coffee!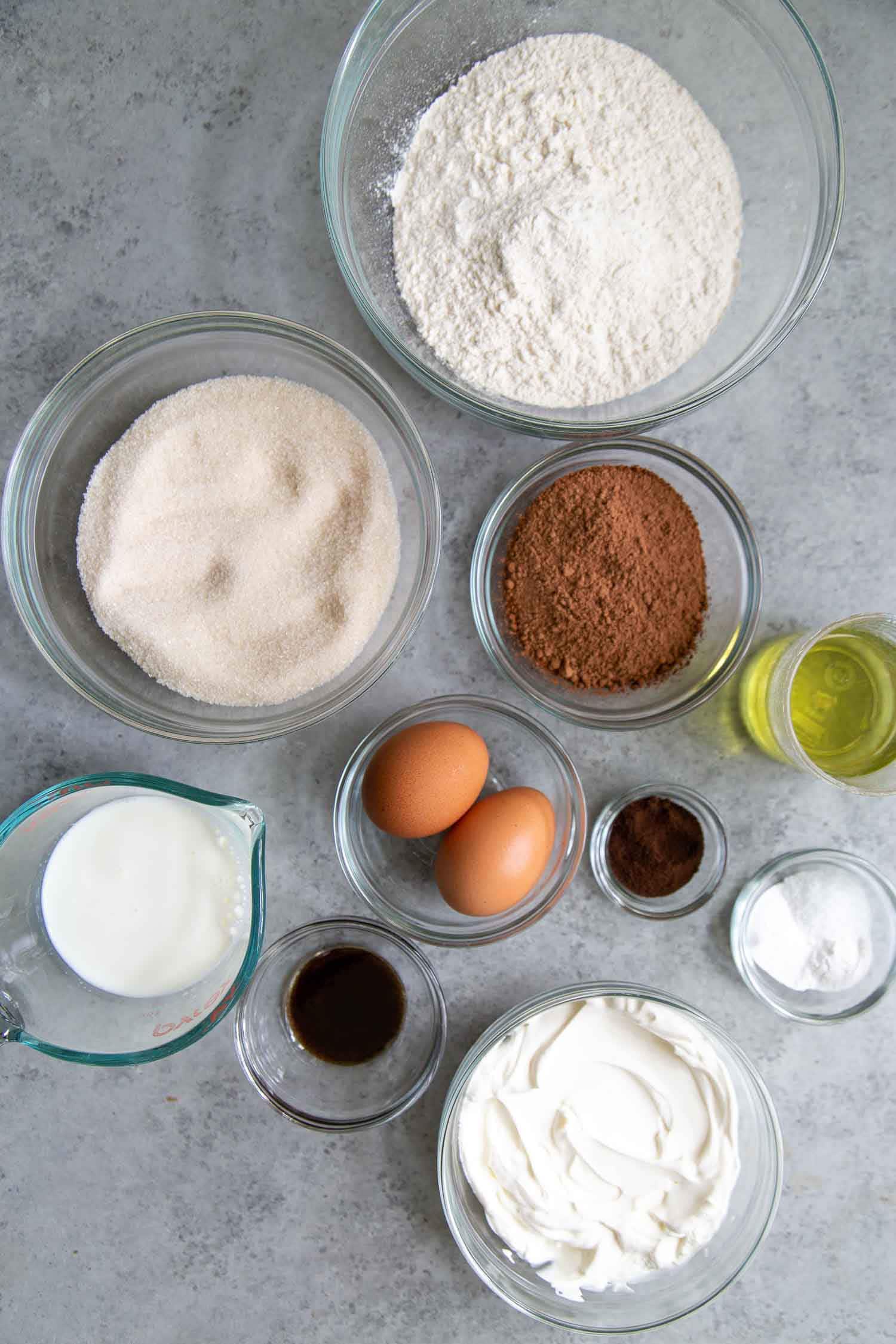 Chocolate Cake Ingredients and Substitutions:
All-Purpose Flour
Unsweetened Cocoa Powder
Instant Espresso Powder
Baking Powder, Baking Soda, and Kosher salt
Grapeseed Oil or Vegetable Oil
Granulated Sugar
Eggs
Pure Vanilla Extract
Whole Milk and Sour Cream
Flour
I exclusively use King Arthur Flour all-purpose flour for consistency. However, any brand will work.
Feel free to sub in gluten-free all-purpose flour mix. Unfortunately, almond flour does not substitute well for this recipe.
Unsweetened Cocoa Powder
There are several choices of unsweetened cocoa powder to choose from: natural cocoa, Dutch-processed cocoa, or black cocoa.
For this recipe, I used natural cocoa powder from King Arthur Flour. 
Instant Espresso Powder
Espresso powder is the not-so-secret ingredient that helps to intensify chocolate flavored desserts.
Oil
There are several options to use. I prefer grape seed oil because of its neutral flavor and moderately high smoking point. It keeps the cake soft and moist.
Substitute in vegetable oil, canola oil, or coconut oil.
DO NOT use olive oil. Olive oil's strong flavor will alter the chocolate cake flavor.
Melted butter may also be used. However, the cake will not be as moist as when oil is used.
Sugar
Use standard granulated sugar or superfine bakers sugar. Sub in light brown sugar for a warmer, molasses flavored cake.
*I have not tested this recipe using sugar substitutes.
Vanilla
Always use high quality pure vanilla extract. None of that imitation vanilla, unless the recipe specifically calls for it, like in these Birthday Cake Madeleines.
Dairy
Low fat or reduced fat milk may be used in place of whole milk. However, I have not tested this recipe using non-dairy milk substitutes such as soy milk or almond milk.
Do not omit the sour cream. Sour cream helps to keep this cake moist. The fat from sour cream also aids in flavor development.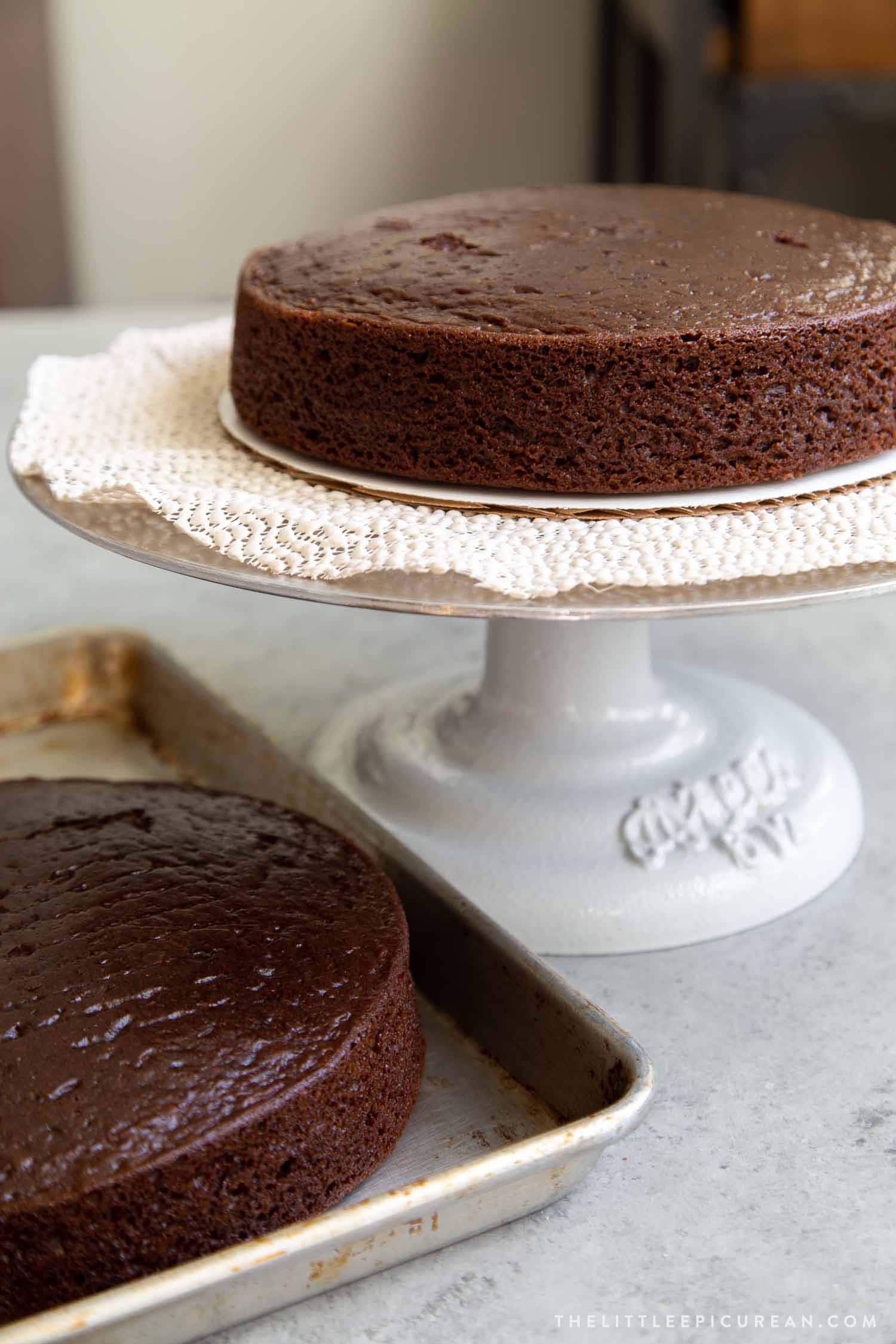 How to assemble layer cake:
This chocolate cake recipe makes either three 6-inch cake rounds or two 8-inch cake rounds.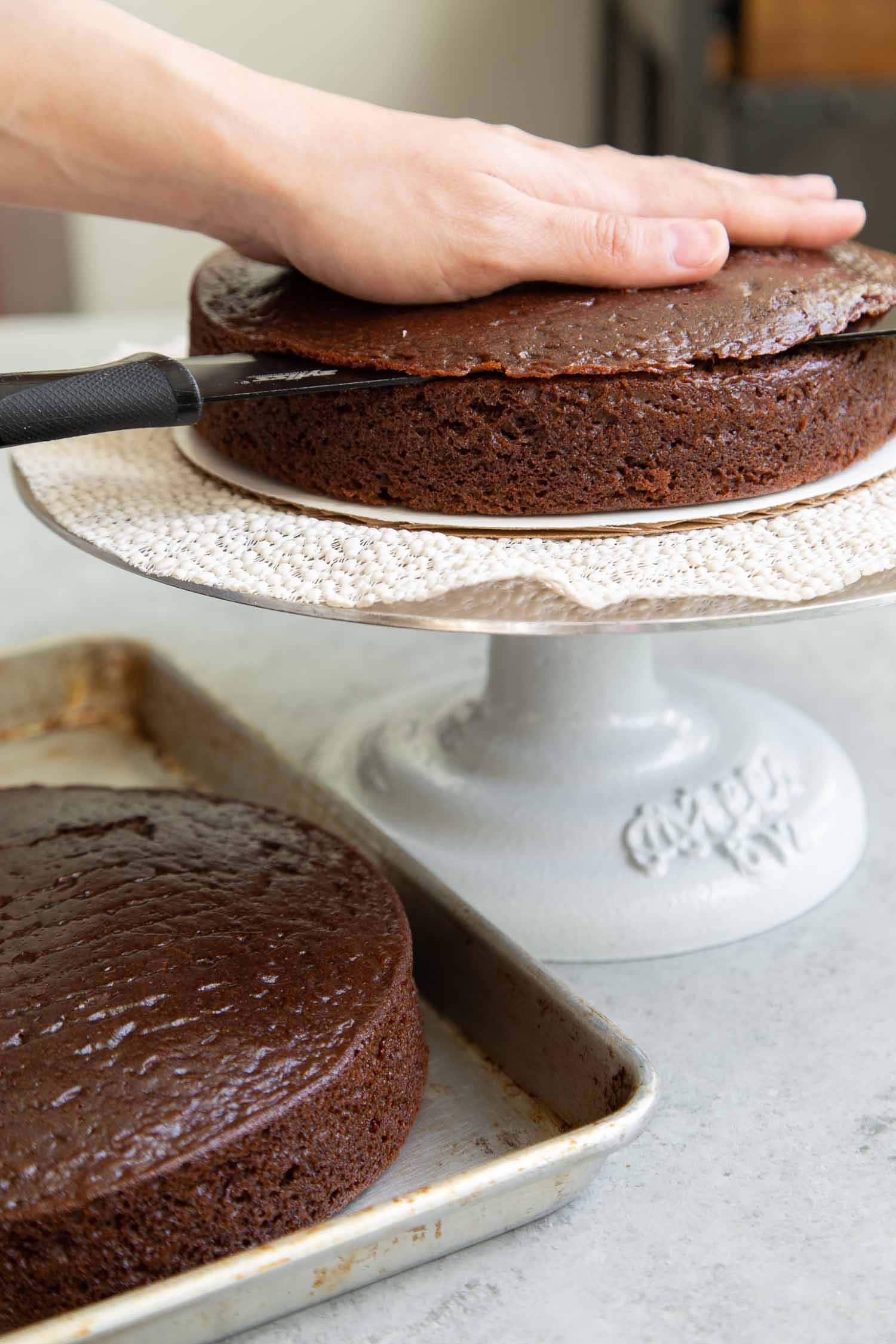 If necessary, level cake layers using a long serrated knife.
Otherwise, this cake recipe bakes up fairly flat and even surface.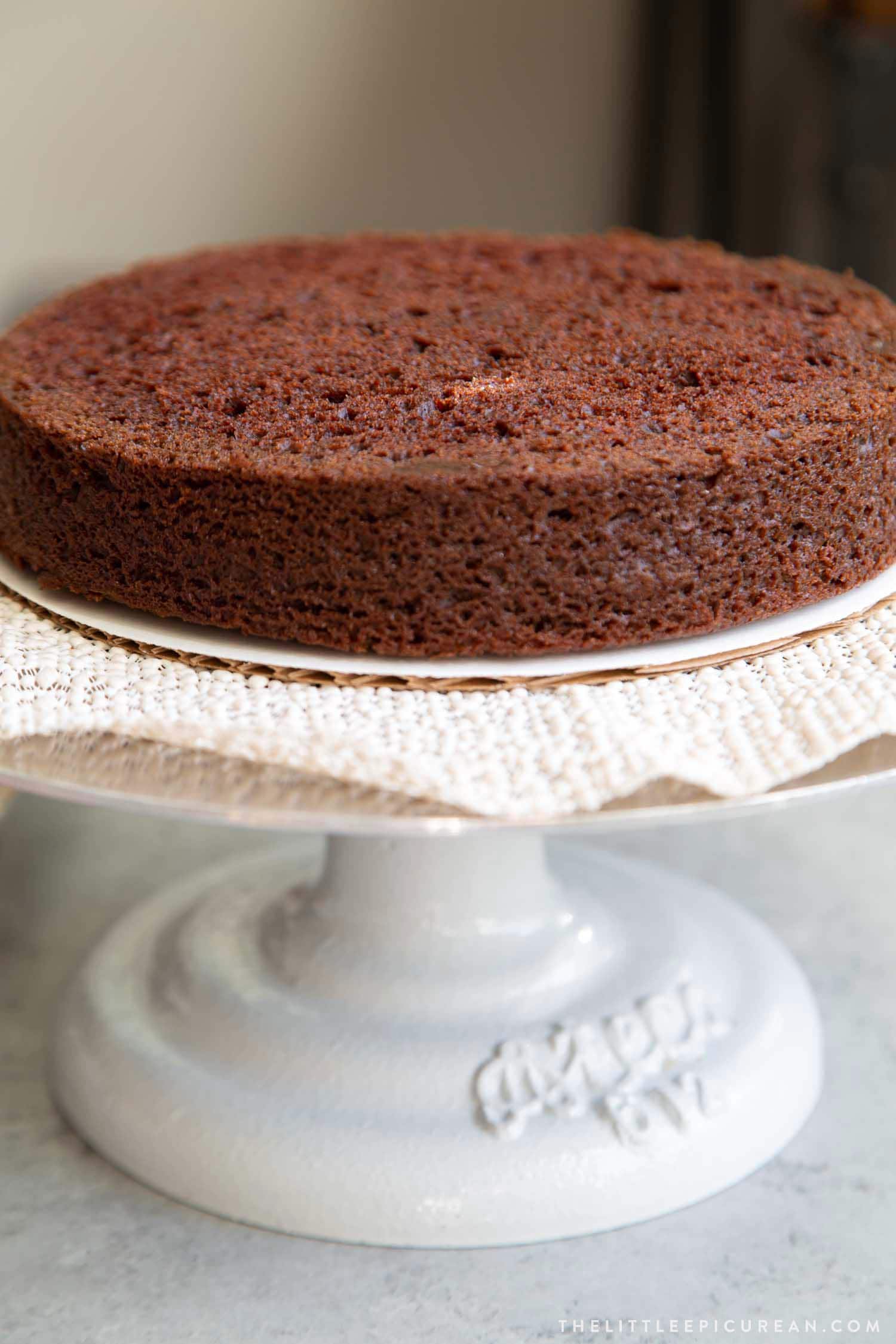 Place one cake layer on turn table or cake stand. Add chocolate buttercream.
Spread buttercream into an even layer.
Add next cake layer. Repeat spreading buttercream layer.
Spread a thin layer of buttercream to crumb coat the cake. This is done to seal in any loose cake crumbs. Pop in the fridge for 15-30 minutes to allow buttercream frosting to harden.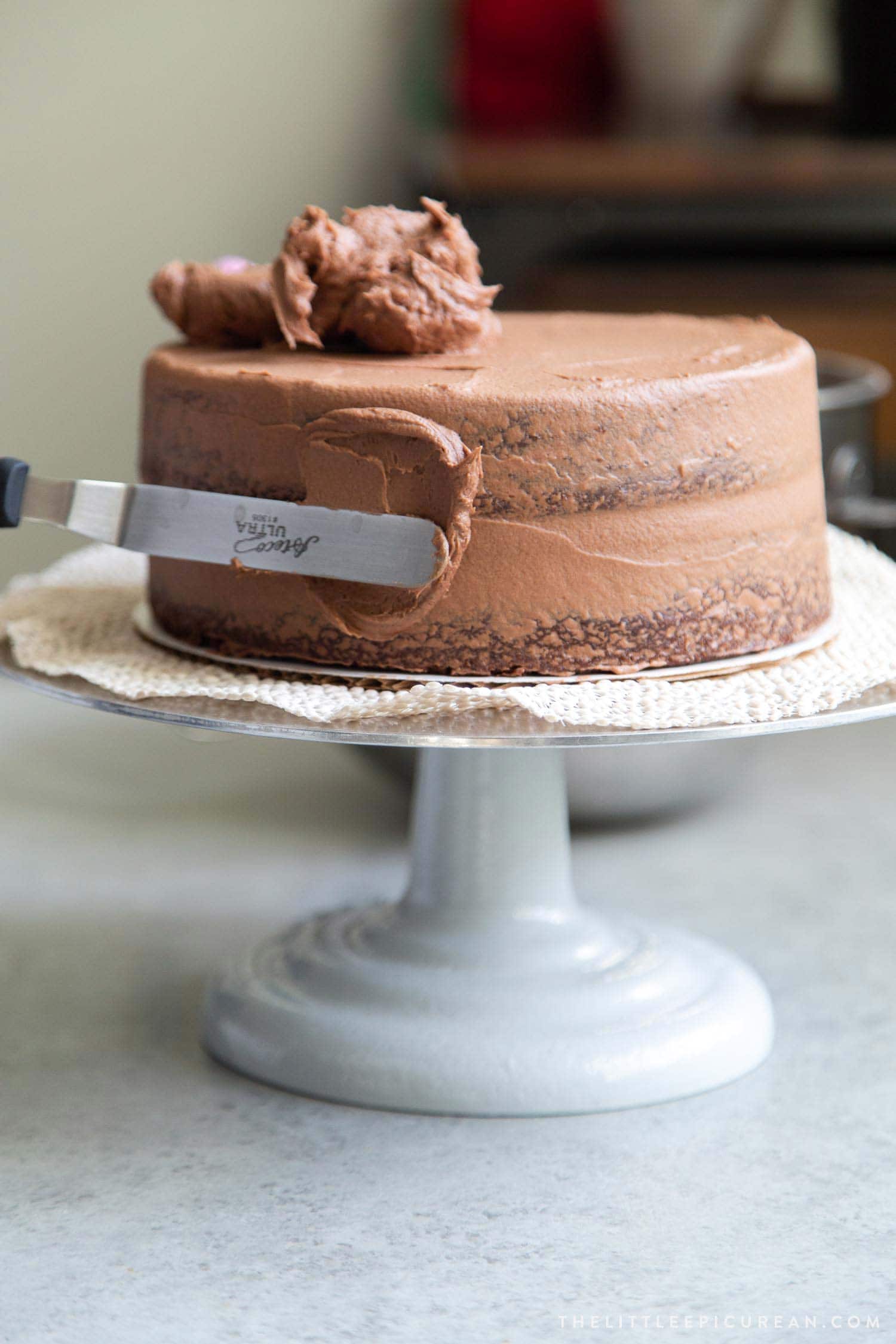 Use remaining buttercream to add a thicker layer all over the cake.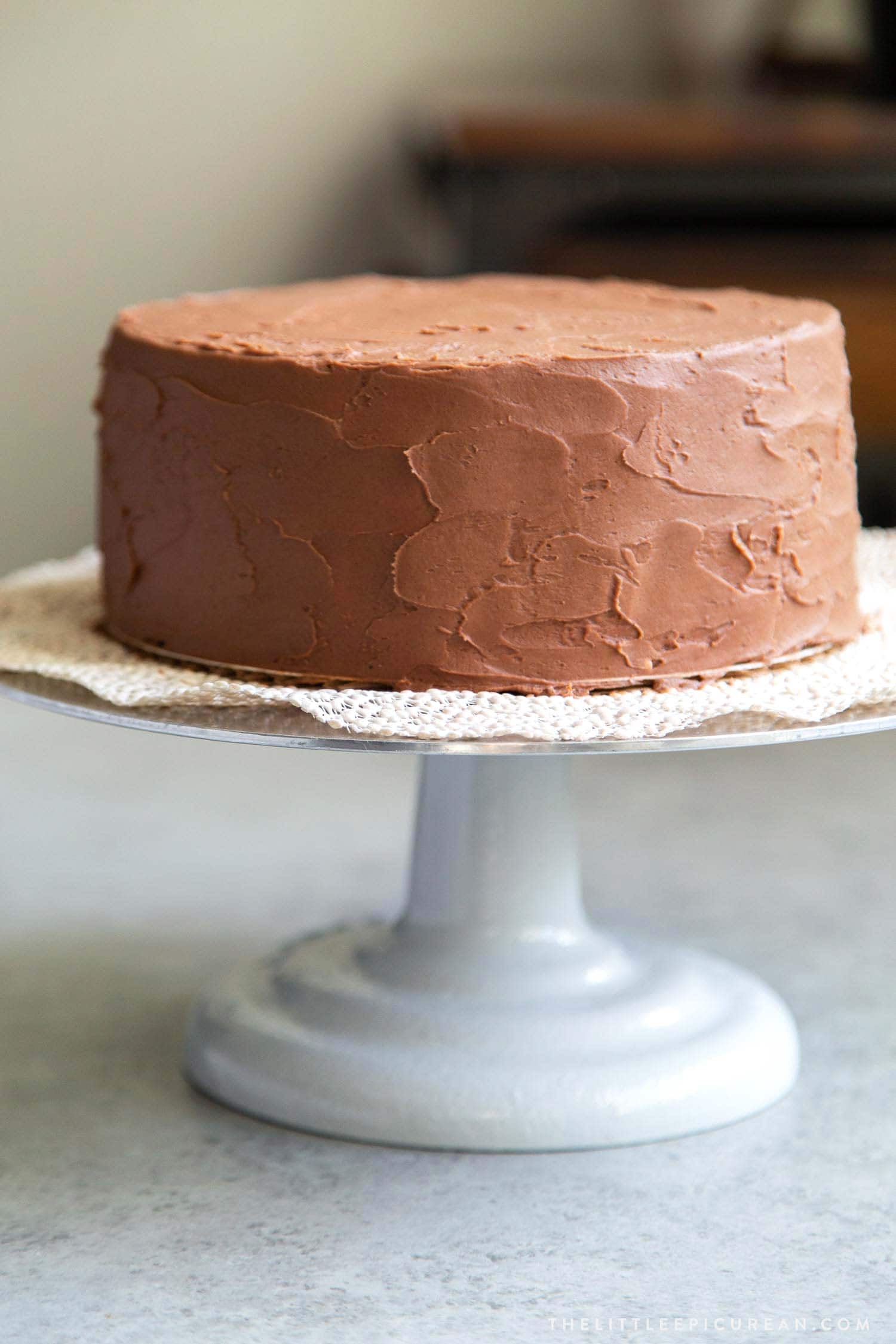 Easy Chocolate American Buttercream
American buttercream is a simple mixture consisting of softened butter and powdered sugar (also known as confectioners' sugar). It is often flavored with vanilla.
This chocolate buttercream recipe is naturally colored and flavored with unsweetened cocoa powder. For a richer version, you may use melted unsweetened chocolate.
Add tablespoons of milk as needed to the buttercream to achieve the perfect spreadable consistently.
American buttercream is sweet and thick. Try Chocolate Swiss Buttercream for a less sweet and more airy buttercream.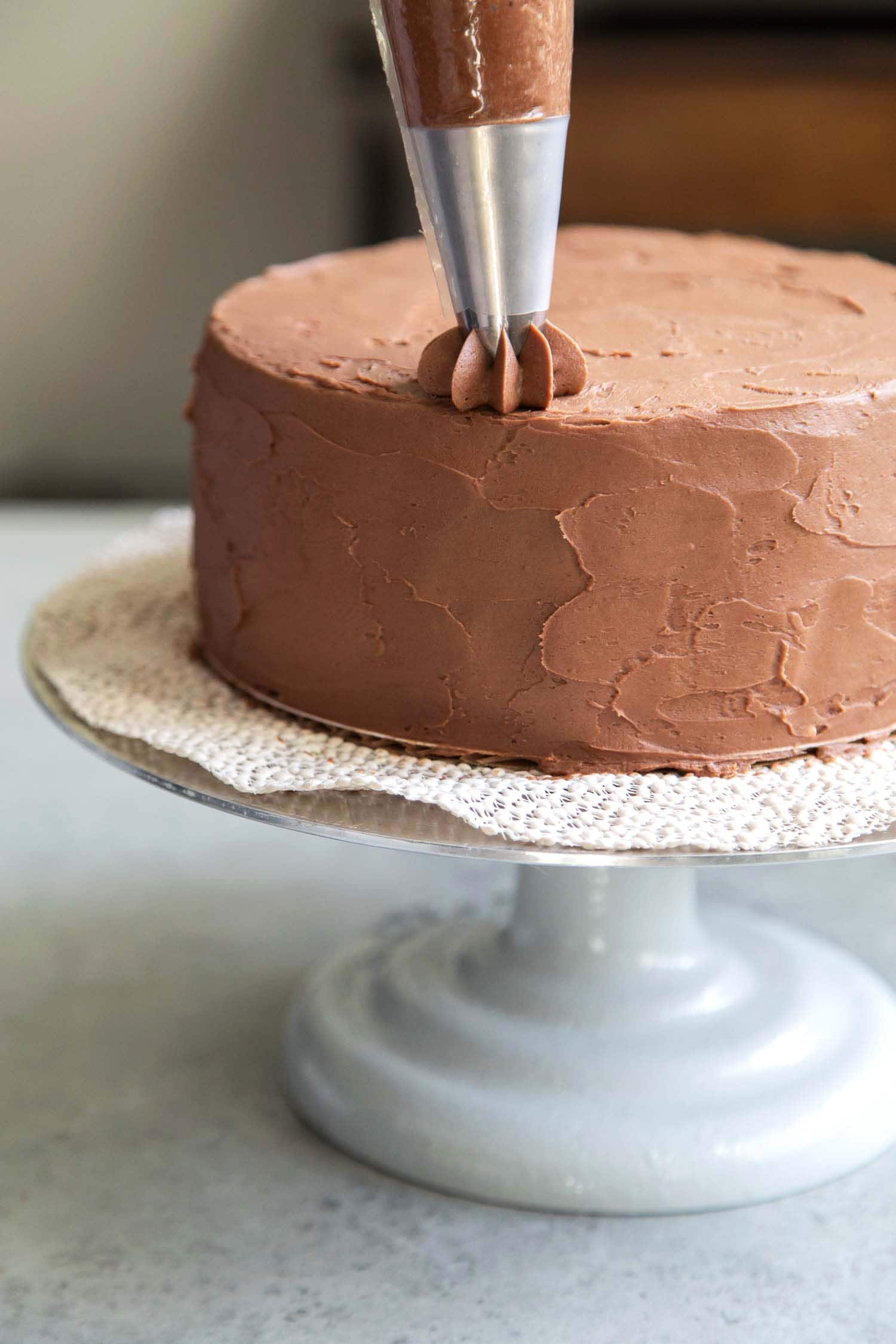 Simple Cake Decor Option:
Fit a piping bag with a medium or large star tip. Fill piping bag with any remaining buttercream.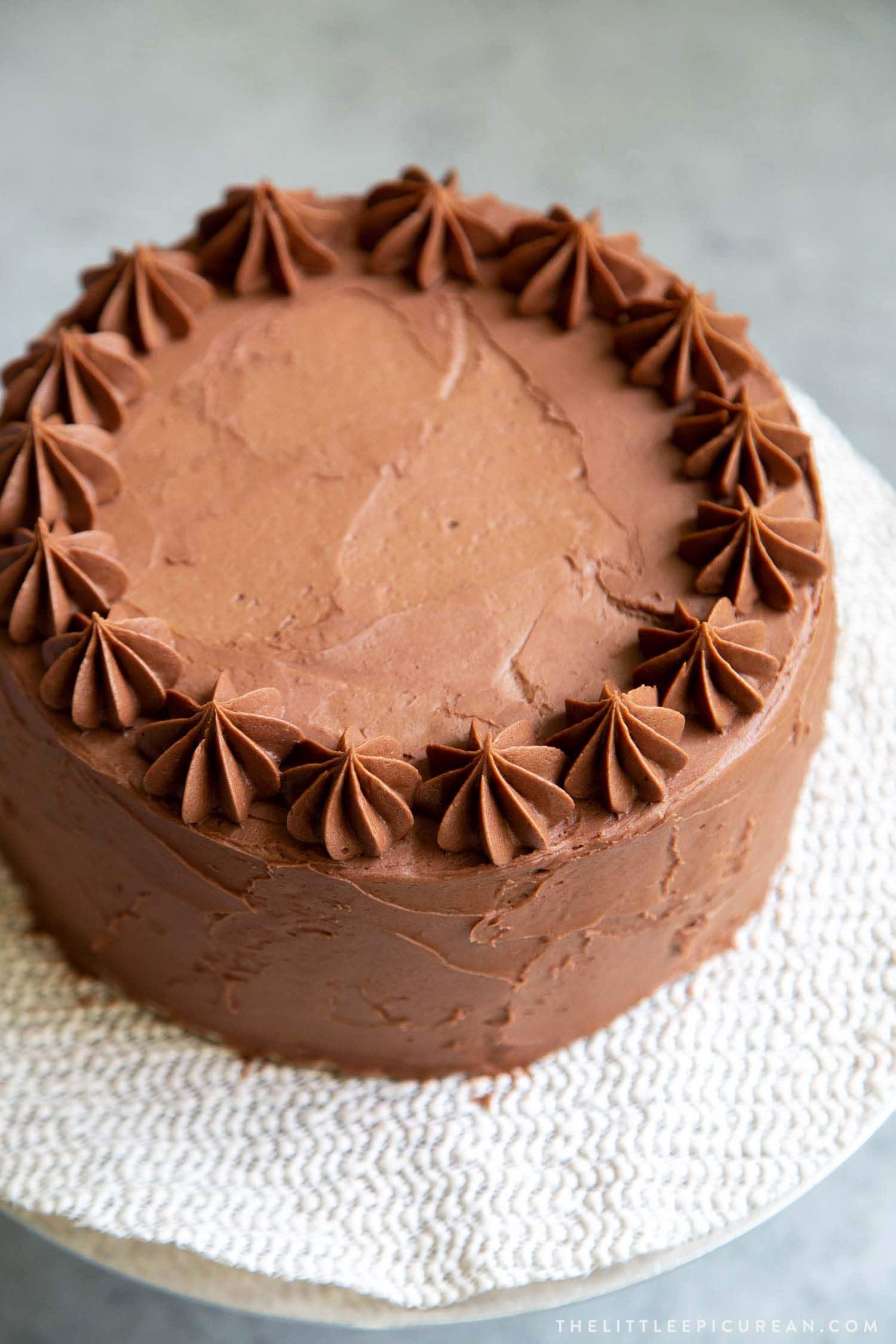 Pipe little dollops of stars along the perimeter of cake top. Decorate with sprinkles as desired.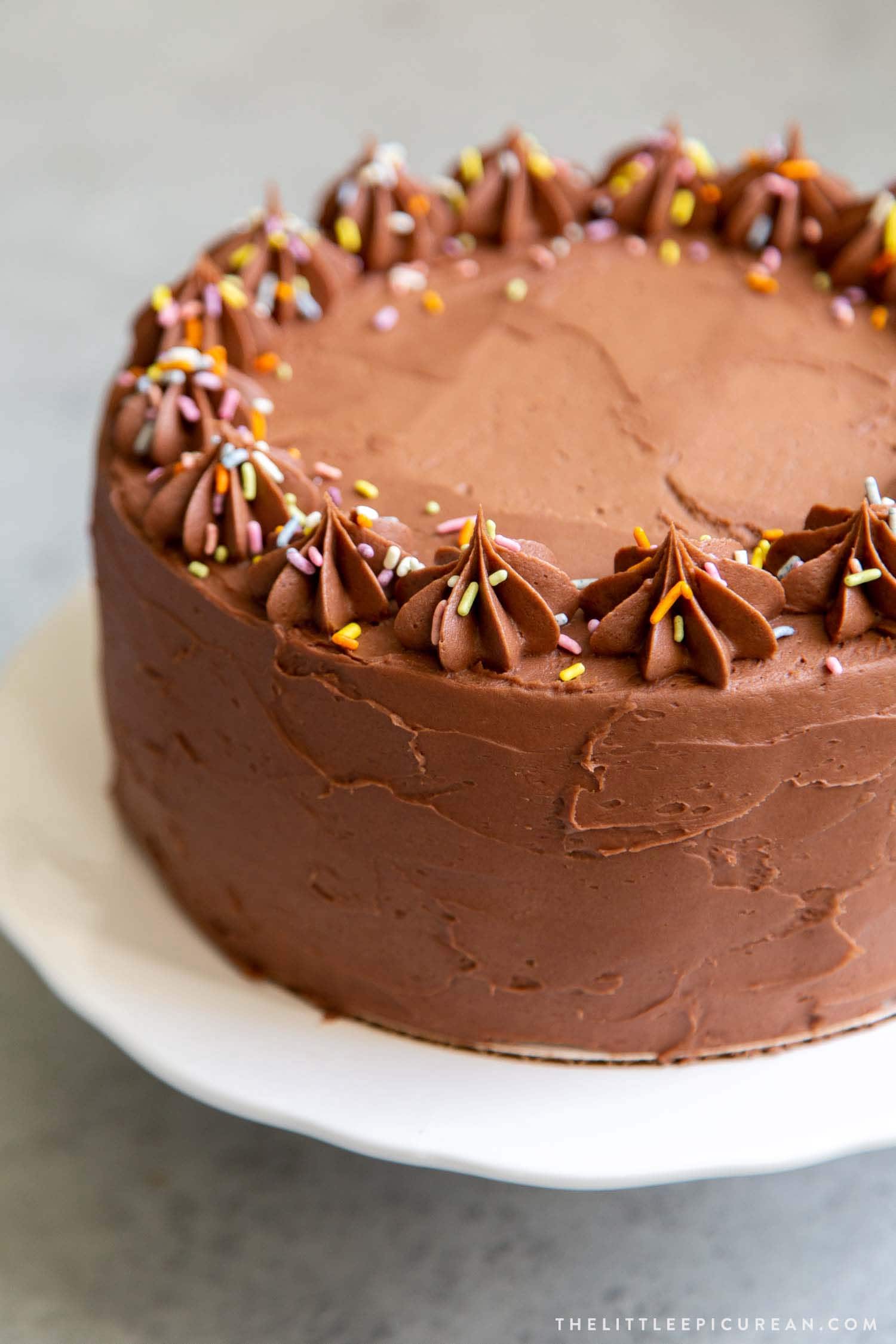 Slicing and Serving Cake:
Cake is easier to slice when cold. This will result in cleaner slices.
Allow cake slices to sit at room temperature for 10-15 minutes before serving to allow cake and buttercream to soften.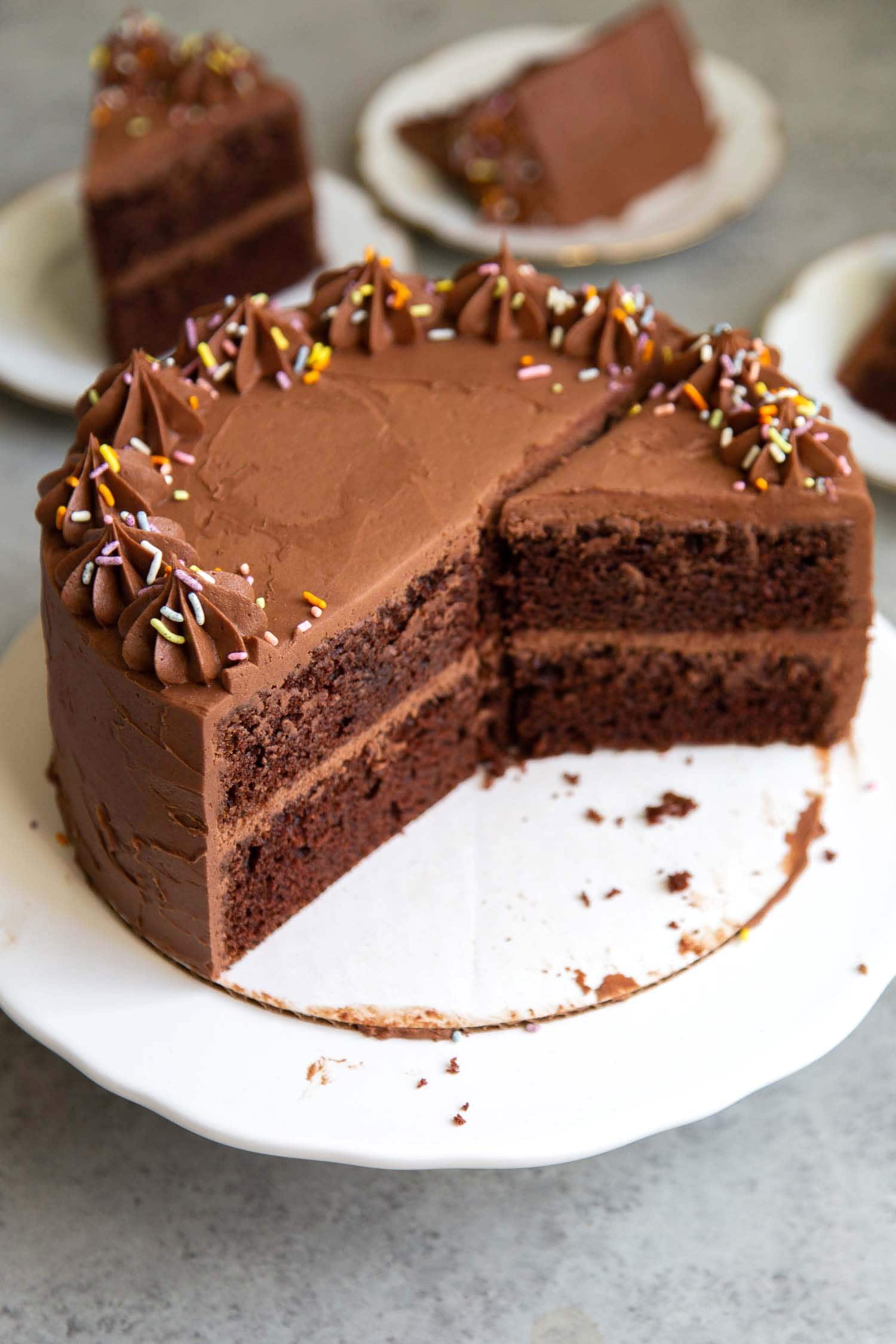 Cake Storage and Leftovers:
Store assembled frosted cake in the fridge for up to 24 hours before serving.
Use an airtight container to store sliced cake in the fridge for up to 3 days. It is important to use an airtight container because the buttercream will absorb the smells and flavors of your fridge.
Use a small piece of wax paper or parchment paper to cover exposed cake slice to prevent cake layers from drying out.
Other Recipes Using Classic Chocolate Cake:
Use this versatile chocolate cake recipe for all sorts of occasions.
Make this Caramel Fig Chocolate Cake during peak fig season.
This Espresso Chocolate Cake can be enjoyed year round and it's the perfect celebration cake for coffee and espresso lovers.
And, you can also use this cake recipe to make this Chocolate Spider Web Cake for Halloween or anytime you're feeling spooky!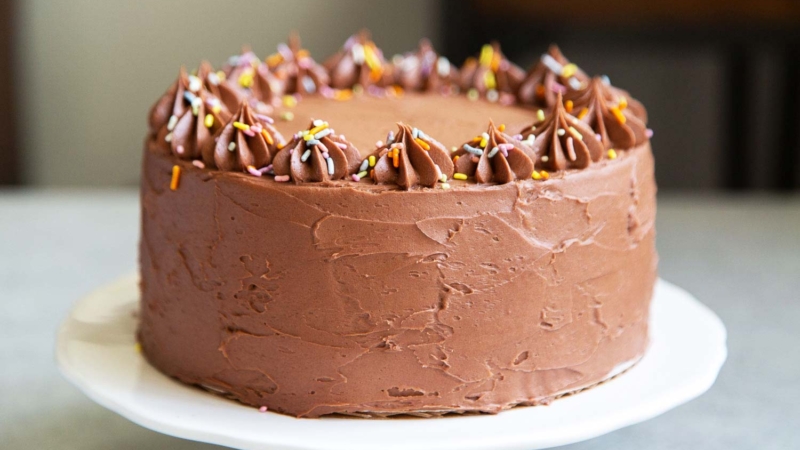 Classic Chocolate Cake
Classic Chocolate Cake with simple chocolate American buttercream. Yield: two 8-inch cake layers or three 6-inch cake layers
Ingredients
Chocolate Cake:
2

cup

(260 g) all-purpose flour

½

cup

(40 g) unsweetened cocoa powder

*

½

Tablespoon

instant espresso powder

1

teaspoon

baking powder

1

teaspoon

baking soda

1

teaspoon

kosher salt

½

cup

grape seed oil,

or vegetable oil

1 ¼

cup

(250 g) granulated sugar

2

large eggs,

room temp

1

teaspoon

pure vanilla extract,

or vanilla paste

⅔

cup

(150 g) whole milk,

room temp

1

cup

(240 g) sour cream,

room temp
Chocolate American Buttercream:
2

cup

(450 g) unsalted butter,

softened, room temp

6

cup

(680 g) confections sugar

1

cup

(80 g) unsweetened cocoa powder

½

teaspoon

kosher salt

8

Tablespoon

whole milk
Instructions
Chocolate Cake:
Preheat oven to 350°F. Line three 6-inch cake rounds or two 8-inch cake rounds with parchment paper. Lightly grease and set aside.

In a large bowl, whisk together flour, cocoa powder, espresso powder, baking powder, baking soda, and salt. Set aside.

In the bowl of a stand mixer fitted with a paddle attachment (or using an electric hand mixer), beat together oil, sugar, eggs, and vanilla until well combined.

On low speed, alternate adding dry flour mixture and milk. Add about 1/3 of flour mixture. Mix on low speed until almost incorporated. Follow with 1/2 of milk. Mix on low speed. Repeat adding another 1/3 of flour and then remaining 1/2 of milk. Scrape down bowl as needed to ensure thorough mixing. Add sour cream and remaining 1/3 of flour. Mix on low speed until there are no longer any streaks of dry flour.

Divide batter among prepared cake pans. Level batter. Bake for 25-28 minutes until toothpick inserted in center of cake comes out clean. Rotate cakes midway through baking to ensure even cooking.

Allow cake to cool in pan for 5 minutes. Run mini offset spatula around perimeter of cake to loosen from pan. Unmold cake. Let cake layers cool to room temperature on wire rack.
Chocolate Buttercream:
In the bowl of a stand mixer fitted with a paddle attachment (or using an electric hand mixer), cream butter until smooth. Add confectioners' sugar, cocoa powder, salt, and milk. Mix until buttercream is smooth.
Assembly:
Level cooled cake layers, if desired. Place one cake layer on cake stand or serving place. For 8-inch cake: spread about 1 ¼ cup chocolate buttercream over cake. (see notes for 6-inch cake).

Place second cake layer on top. Spread another 1 ¼ cup buttercream on top. Spread a thin layer of buttercream around the sides of cake to seal in the crumbs (crumb coat). Place in the fridge and allow to chill for 15-30 minutes to set buttercream.

Coat cake with final thicker layer of buttercream.

Fit a piping bag with a medium or large star tip. Fill bag with any remaining buttercream. Decorate the top of cake with piped star boarder. Garnish with sprinkles as desired. Store cake in the fridge until ready to serve.
Notes
Ingredient Notes:
I used natural cocoa powder from King Arthur Flour. I also recommend the unsweetened cocoa powder from Trader Joe's. Other cocoa powder options includes: Dutch-processed cocoa or black cocoa. These will produce slightly different results.
Instant espresso powder highlights and intensifies the chocolate flavor. You may omit if you cannot find this ingredient. 
Canola oil, vegetable oil, or melted coconut oil can be used in place of grapeseed oil. Melted butter can also be used, but will result in a less moist cake. 
Assembly Notes:
For 6-inch cake: use about 3/4 cup buttercream for layers.