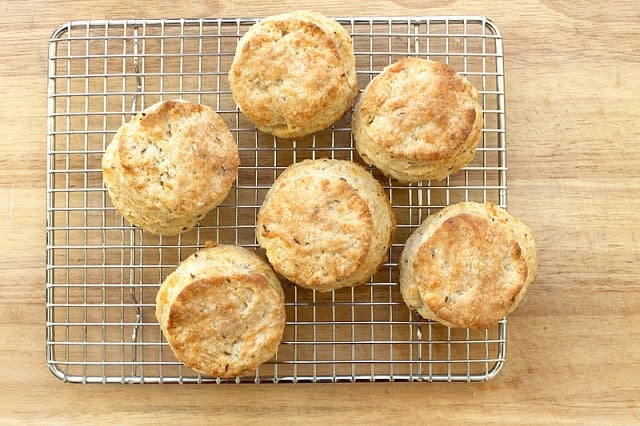 I have no problem eating sweets for breakfast all the time– be it chocolate chip pancakes, ricotta stuffed french toast, or blueberry muffins.  
But once in a while I crave something savory.
When I wake up early enough, I like to bake while everyone is still sound asleep.  
I like surprising my family with breakfast.  This morning, I whipped up some buttermilk biscuits.  
These aren't just any biscuits.  
These are super savory and satisfying Swiss cheese and caraway seed buttermilk biscuits.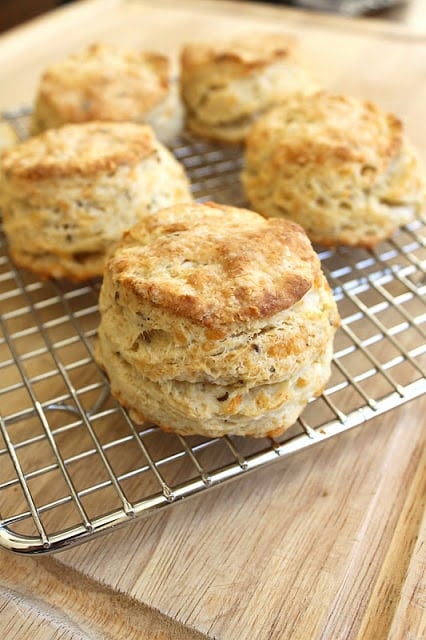 Can you imagine waking up to the smell of these biscuits?  Even my dog, Charlie, was sniffing around the kitchen as I baked these.
Biscuits are very easy and fast to make.  
And even better, you can prepare them ahead of time and keep them in the fridge until you are ready to bake.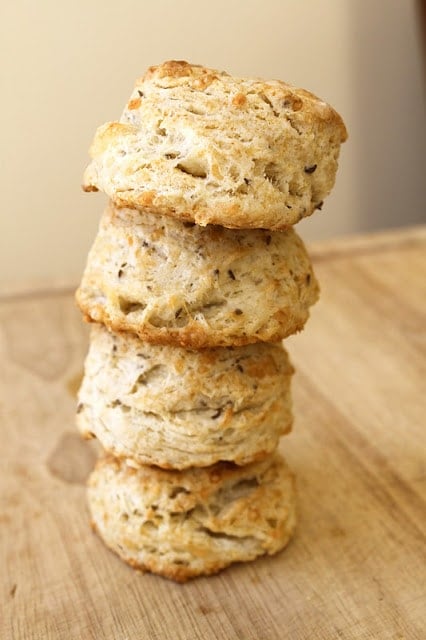 The secret to great biscuits is in the mixing.  
Over mixing the dough will create a tough and chewy biscuit because of development of too much gluten.  Make sure your fat (be it butter, shortening or lard) is cold.  
Cut the fat into the flour quickly so you do not melt or warm up the fat.  You can do this with a pastry blender, forks, or food processor.  
I prefer to use my fingers, as I tend to have cold hands.  To control the development of the biscuit dough, I like to hand stir instead of using a mixer.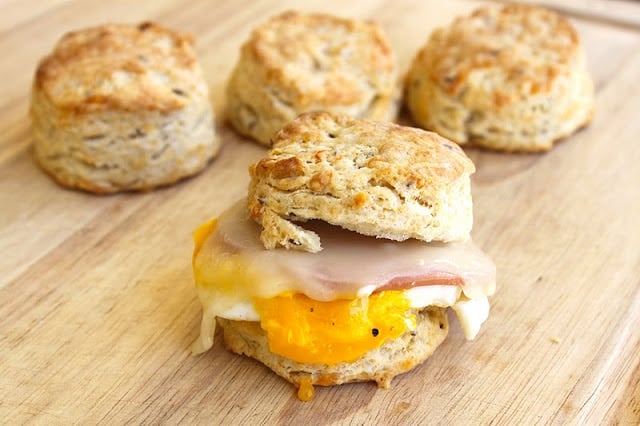 Once the dough is formed, gently knead the dough just enough to bring it together.  
Push all the crumbs and little bits together without overworking the dough.   The dough should be soft.  
If you end up overworking the dough, let it sit a couple minutes to let the gluten relax.  
Cut out the biscuits with a floured cutter pressing straight down.  
Do not twist the cutter.  This will seal the edges of the biscuits and prevent it from rising evenly.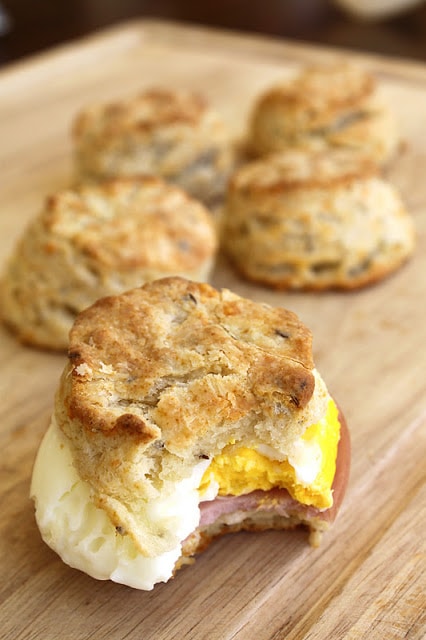 Once you have mastered mixing the dough, take this biscuit to another level and make it into a delicious breakfast sandwich.  
This biscuit taste very much like rye bread because of the combination of Swiss and caraway.  Pastrami and eggs would go very well with this biscuits.  
Too bad I didn't have any.  Instead I opted for Canadian bacon with a peppery fried egg and some melted Swiss cheese.  
Delicious!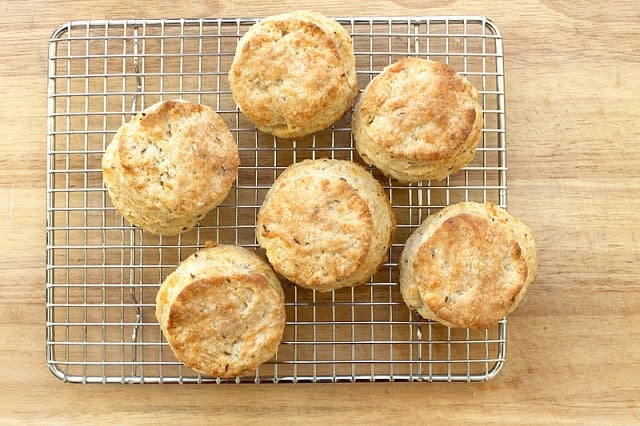 Swiss and Caraway Buttermilk Biscuits
Ingredients
6

Tablespoons

unsalted butter, cut into half inch cubes

1 1/2

cups

all-purpose flour

1/2

Tablespoon

granulated sugar

1/2

Tablespoon

baking powder

1/2

teaspoon

fine sea salt

1/4

teaspoon

baking soda

1/3

cup

Swiss cheese, shredded

1/2

Tablespoon

caraway seeds, lightly toasted

1/2

cup

buttermilk
Instructions
Refrigerate butter for 30 minutes or freeze for 15 minutes, until cold.

Preheat oven to 425 degrees F. Prepare a parchment lined baking sheet.

Whisk together flour, sugar, baking powder, salt, and baking soda. Cut in chilled butter with a fork or your fingers until mixture resembles coarse sand.

Fold in cheese and seeds. Stir in buttermilk until combined. Turn dough onto a lightly floured surface and knead gently to form a smooth ball. Roll out to 3/4 inch thickness.

Cut biscuits using a 2 1/2 inch cutter dipped in flour. Arrange biscuits upside down on prepared baking sheet. Gather remaining dough and roll out again.

Bake for about 5 minutes until biscuits begin to rise. Rotate pan and reduce oven temperature to 400 degrees. Bake for 10-12 minutes until golden brown. Transfer to wire rack and let cool slightly. Serve warm