Rich, buttery savory scones flavored with parmesan cheese and freshly ground black pepper.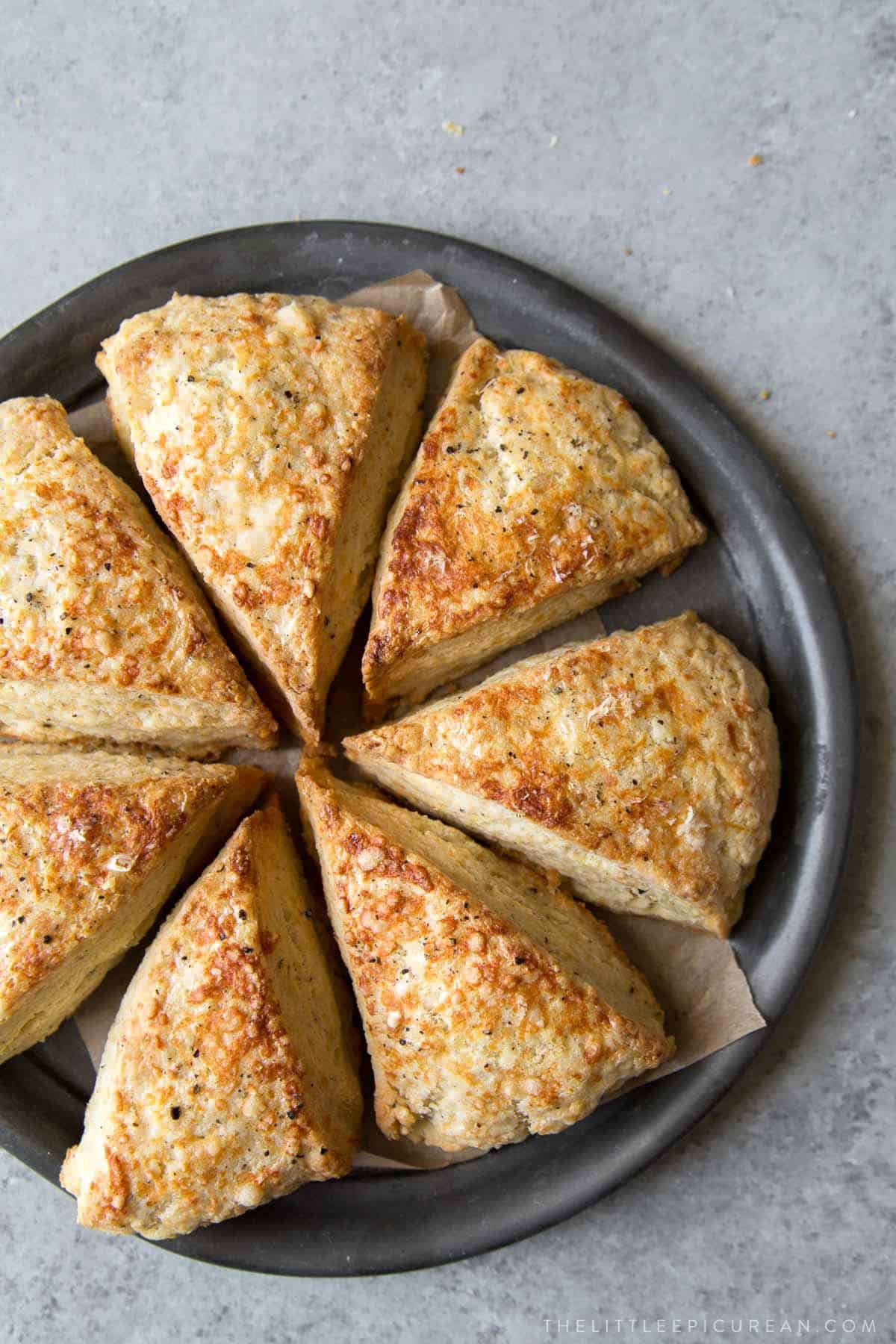 These savory cheese scones are perfect on their own, or an excellent companion to soup or salad!
It pairs wonderfully with green pea soup or shaved Brussels sprouts salad.
I've always associated scones with sweet flavors such as white chocolate strawberry scones or brown butter peach scones.
But, scones can be so much more!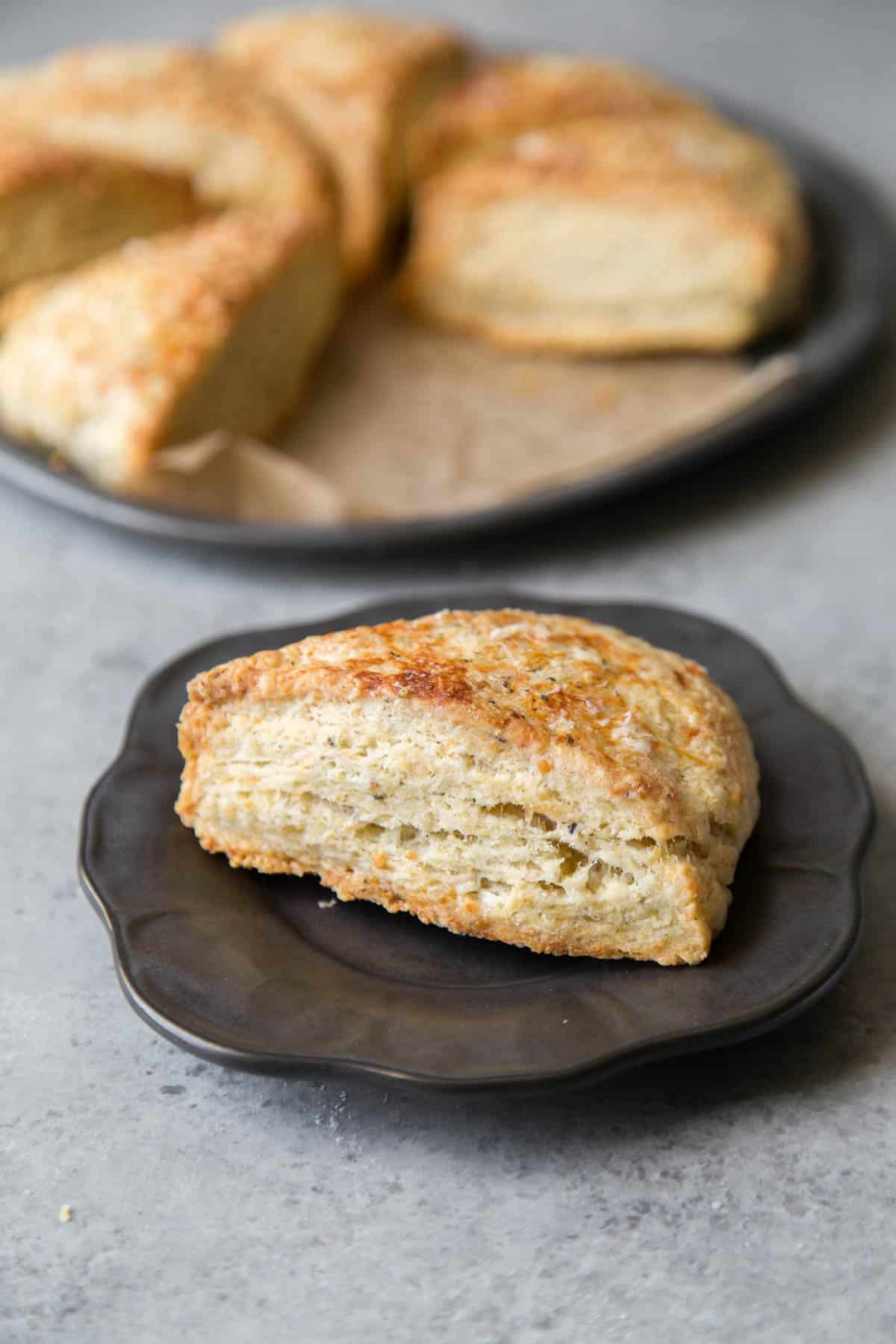 Savory Cheese Scones
Let's skip the sugar. Instead, add flavor and intrigue through the addition of cheese and spices!
A savory spin on the classic scone. This version uses a combination of fresh grated parmesan cheese, black pepper, onion powder, and garlic powder.
Use your choice of shredded cheese. Pair it with herbs such as rosemary, thyme, or basil.
The Difference Between Biscuits and Scones
Biscuits are an American quick bread known for its flakey texture.
It is traditionally savory, made without sugar. And, it is leavened with baking powder.
Scones are a Scottish quick bread with a golden crust and soft, delicate interior. It can sweet or savory.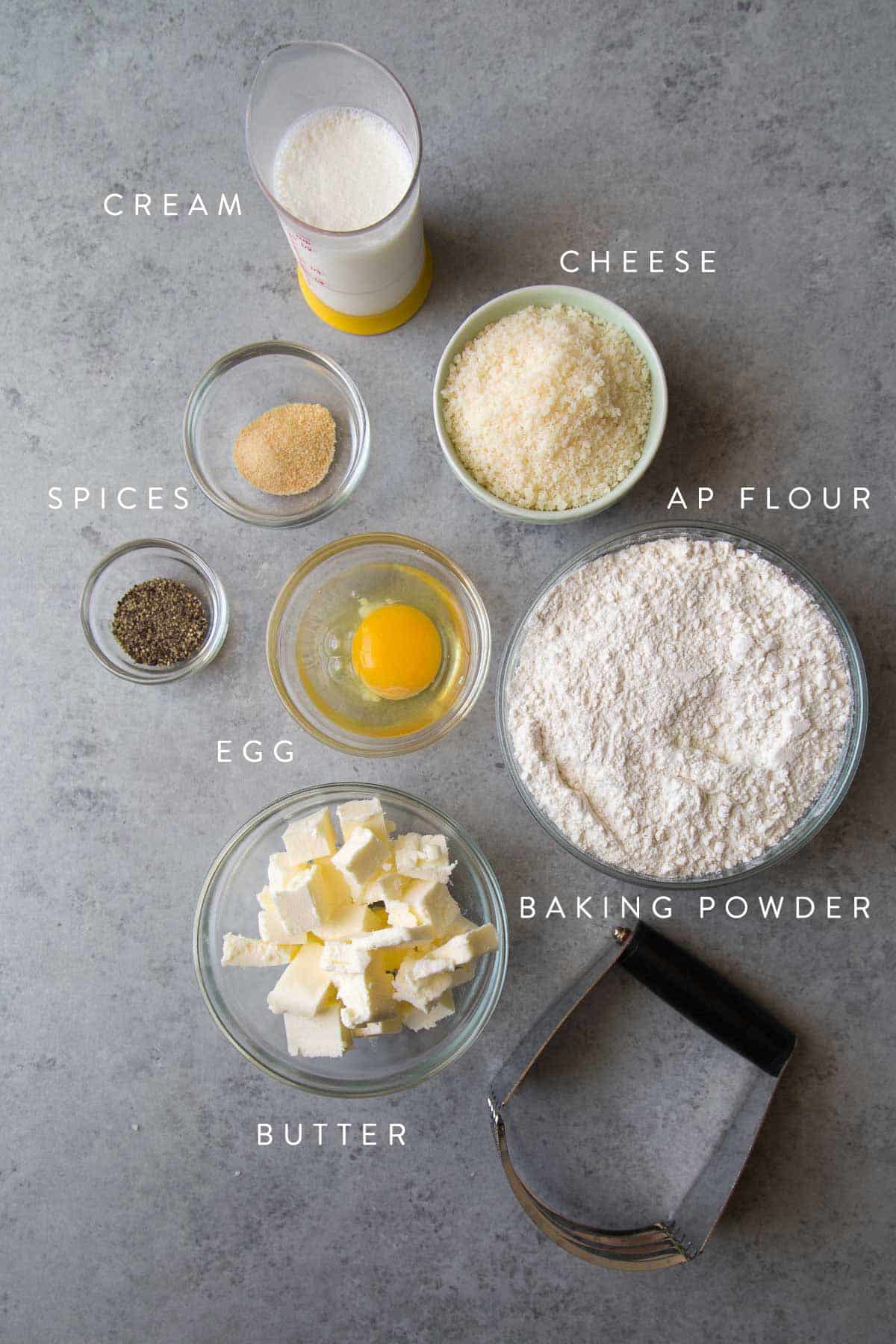 Ingredients
Scottish scones tend to be a bit drier in texture with a crumbly, delicate interior.
American scones often include egg, which creates a softer, muffin like texture.
*Omit the egg if you want a drier, crumblier scone.
For best results, work with cold ingredients!
The base dough is made with flour, baking powder, salt, egg, butter, and heavy cream.
From there, you have the choice to add in whatever cheeses or herbs/spices you prefer.
Savory Cheese Scone
Flavor Options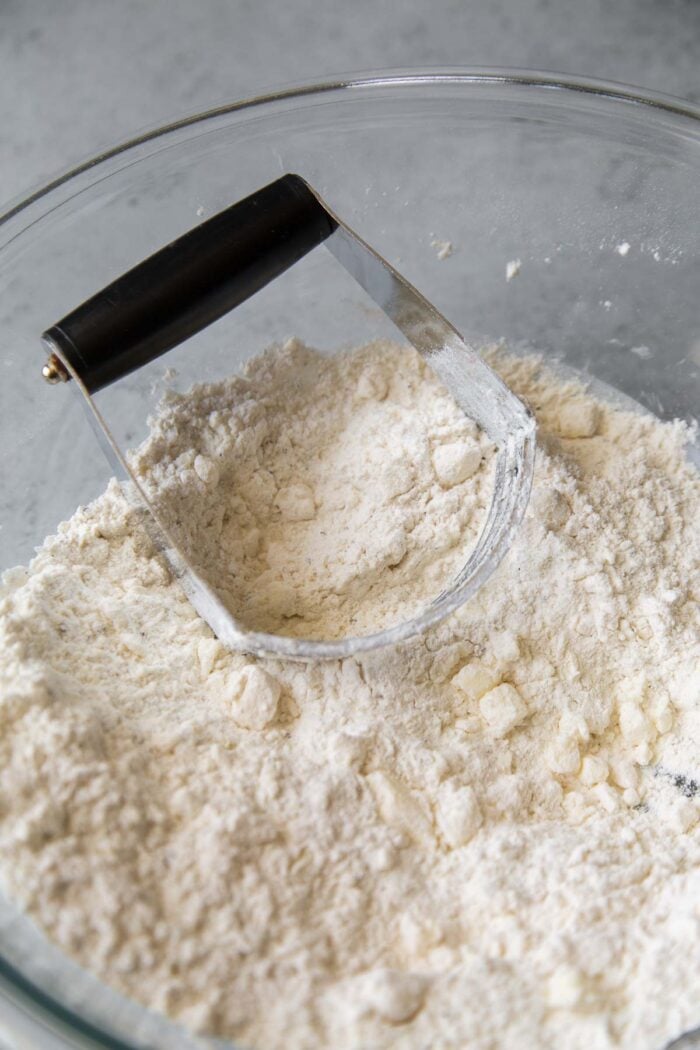 Mixing Method
Scones are mixed together like biscuits and pie dough.
First, the dry ingredients are mixed together. Then, the fat is quickly cut into the dry mixture.
Liquid (such as milk or cream) is added and the dough is mixed together until just barely combined.
Scones benefit greatly from COLD INGREDIENTS.
Not just cold butter. Chilling all the ingredients (flour, egg, cream), really makes a difference in keeping the butter cold during mixing.
Scones 101
The importance of cold ingredients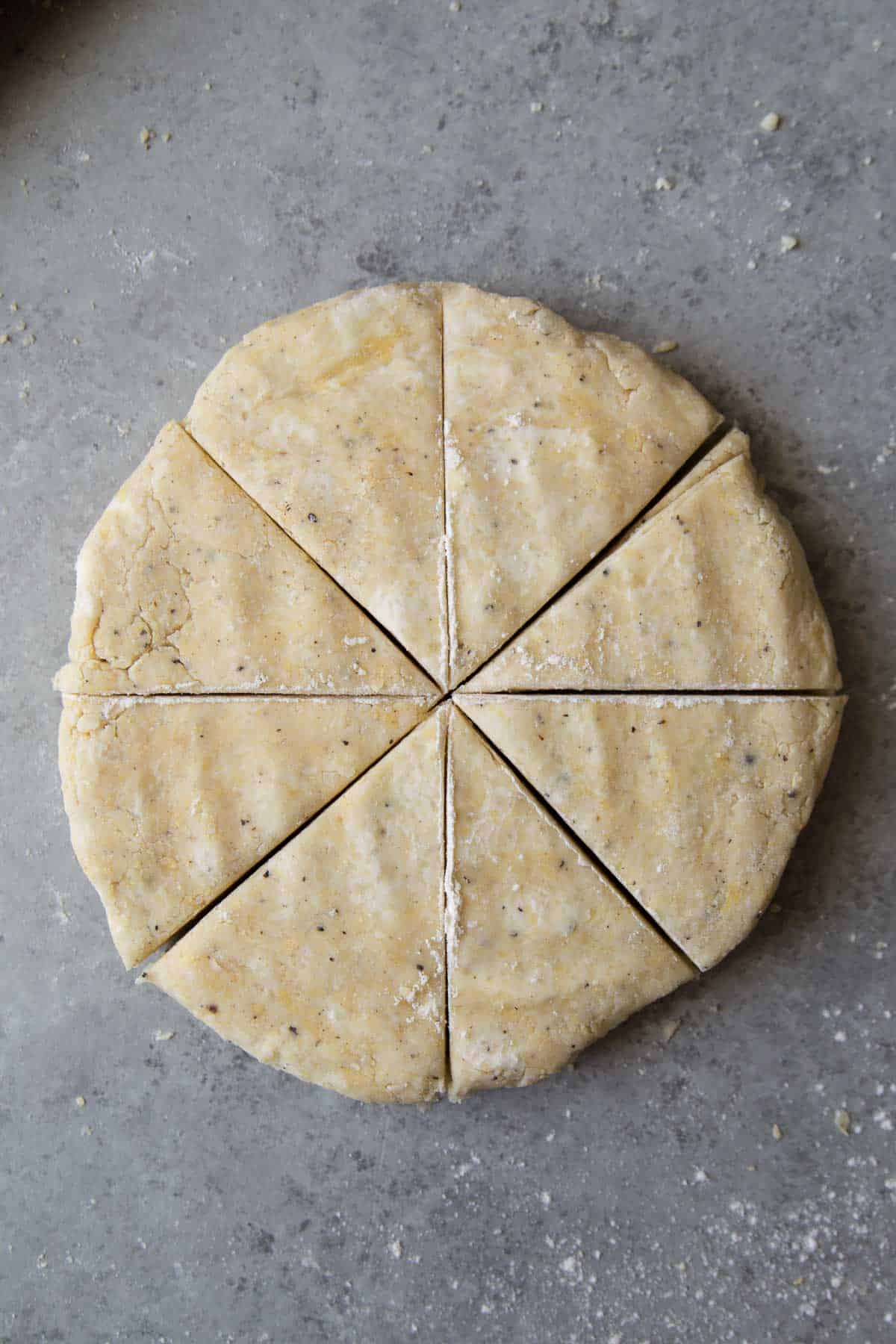 Pat the dough into an 8-inch circle about half an inch in thickness. Slice into 8 equal wedges.
At this point, you have two options:
Proceed to bake off the scones
Wrap up the scones and freeze for later use
Make Ahead and Freeze Scones for Later
Prepare scone dough ahead of time:
Make scone dough as directed and portion out into wedges.
Securely wrap individual scone wedges in plastic wrap. Place on a flat baking sheet and pop in the freezer for a few hours until firm.
Once solid, transfer all the wrapped scones into a large freezer safe zip-top bag or other freezer safe storage container.
When ready to bake:
Defrost frozen scones at room temperature for about 45 minutes.
Bake according to original recipe instructions.
Scones may be frozen in airtight containers for up to a month. After a month, the quality and flavor of the ingredients does tend to diminish.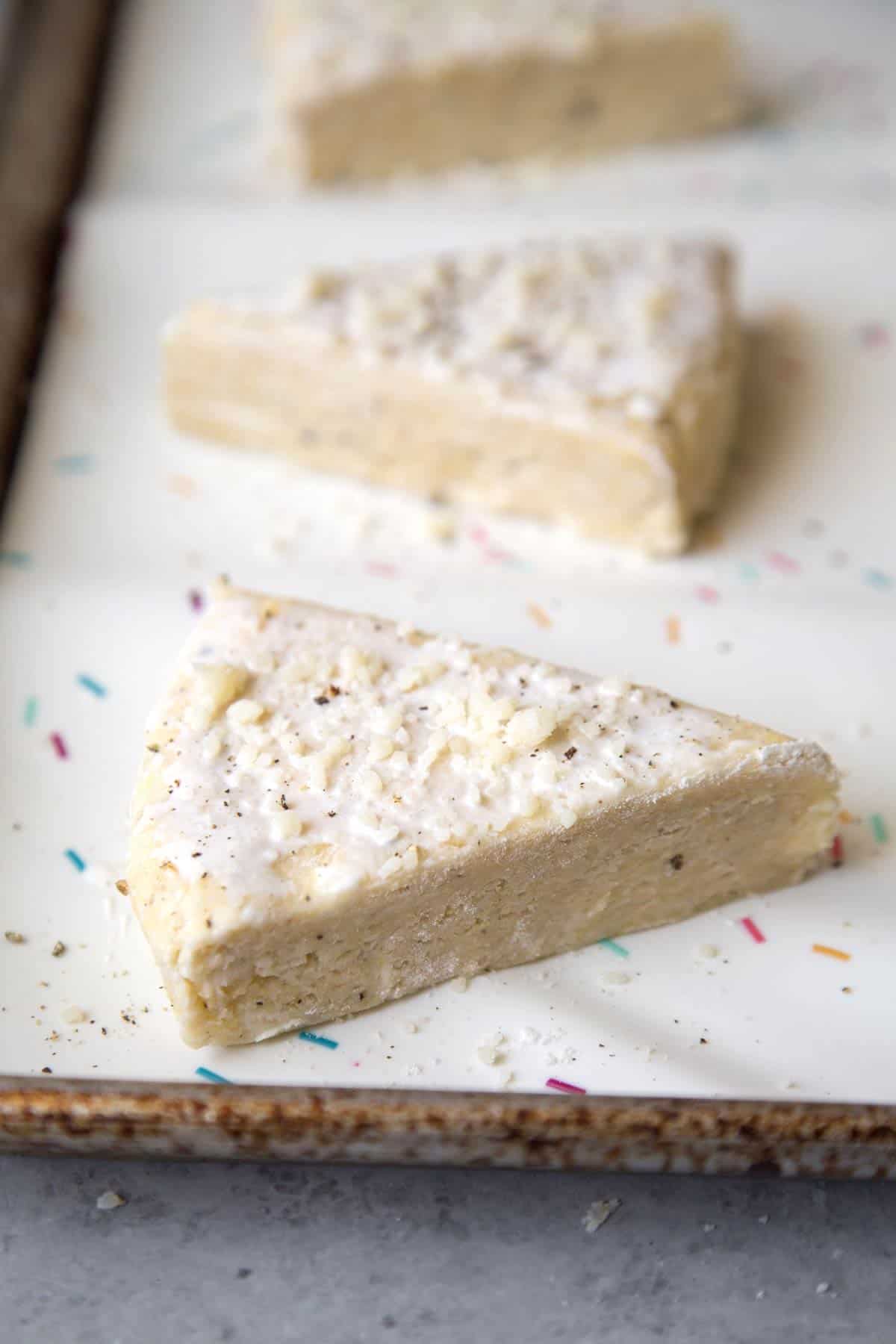 Brush the ready to bake scones with heavy cream. Alternatively, use an egg wash for more color and sheen.
Sprinkle addition cheese (and any spices used) on top.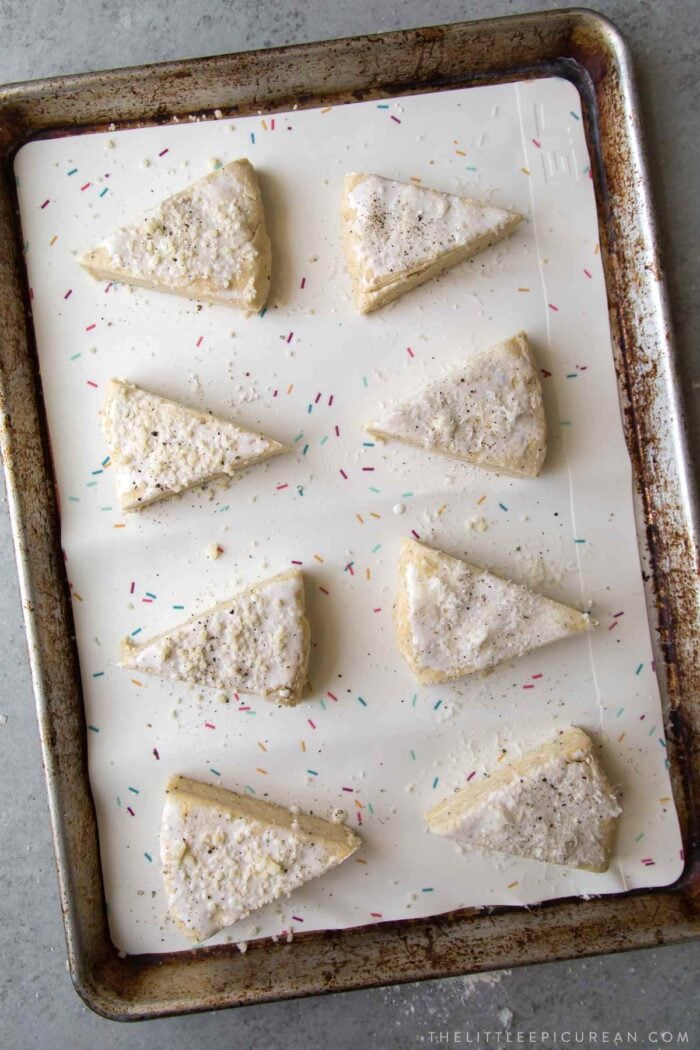 Be sure to space the scones at least 2-inches apart. This allows the hot oven air to evenly cook the scones.
Note: I'm using this reusable baking mat. It's so cute and fun with the rainbow sprinkles!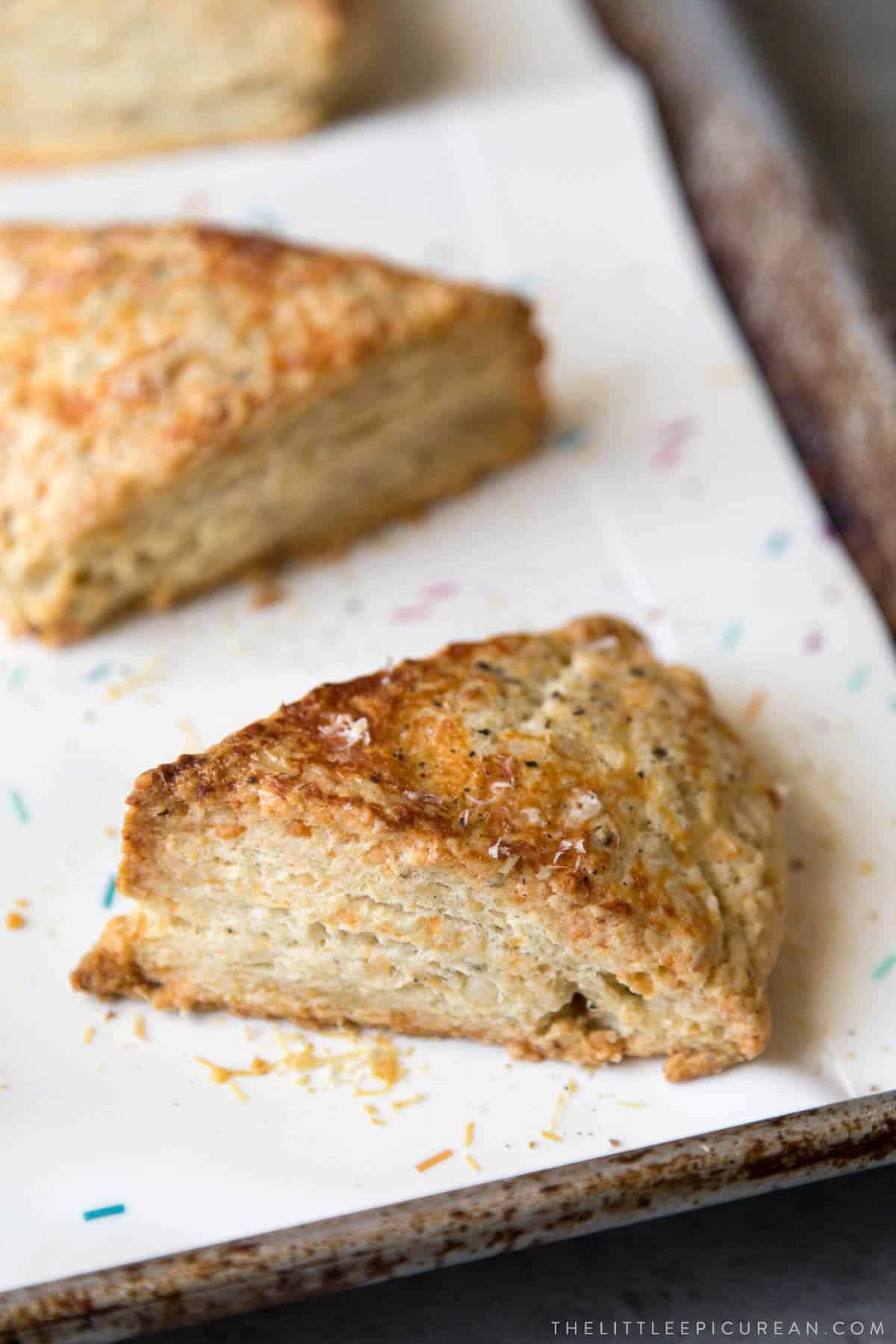 Cool scones in the baking sheet pan for a few minutes before transferring to wire rack.
These savory scones are best served warm. However, they're still just as delicious at room temperature.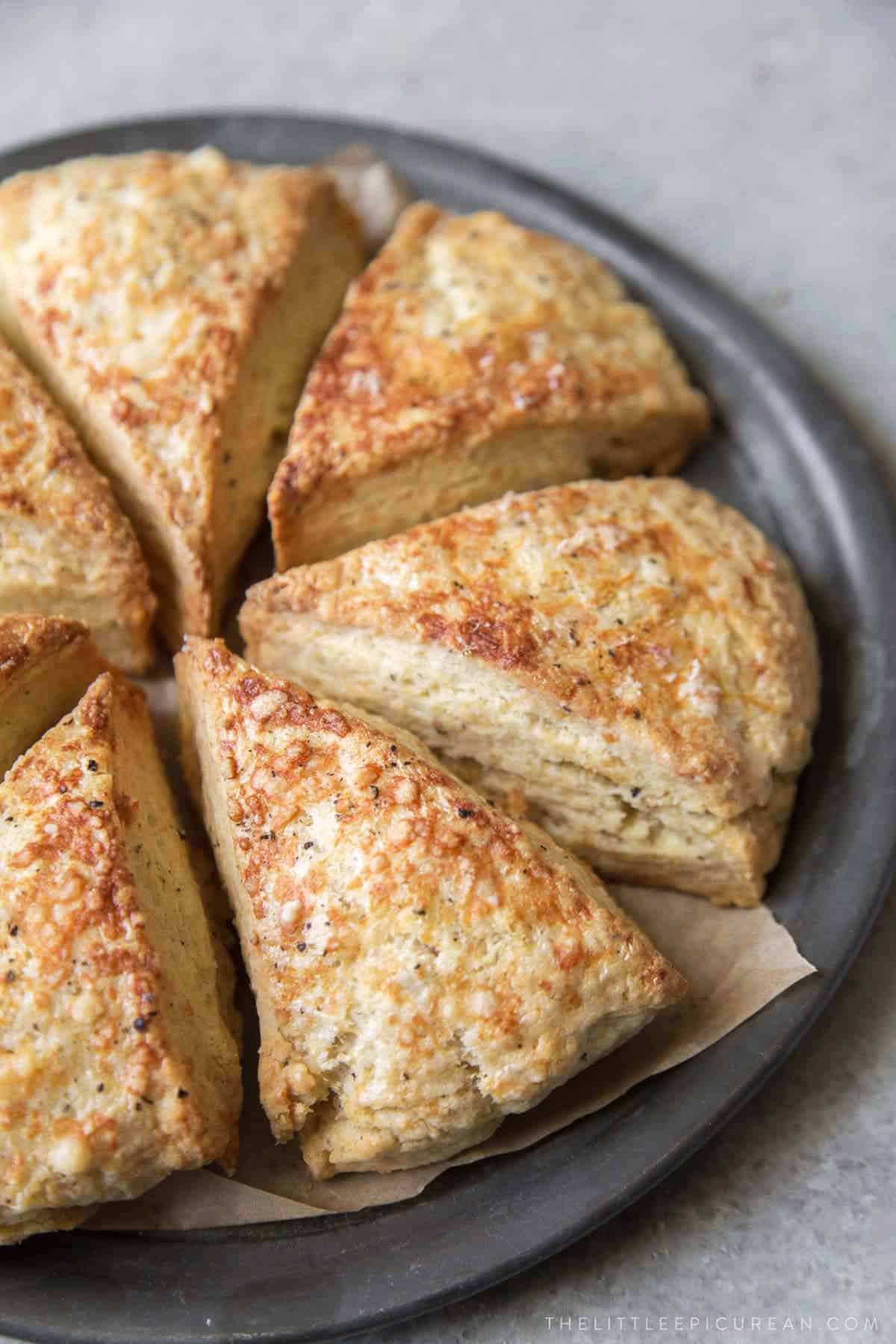 Storing and Reheating Scones
Store cooled cheese scones in an airtight container at room temperature for up to two days.
Alternatively, keep in the fridge up for 4 days.
To reheat room temperature scones:
Place scone on a microwave safe plate and heat in the microwave for 10 second intervals until warm.
Or, pop in a toaster oven for 3-5 minutes.
For longer storage:
For longer storage, individually wrap scones in plastic wrap and keep in an airtight zip-top freezer bag. Savory scones will keep in the freezer for up one month. Defrost at room temperature.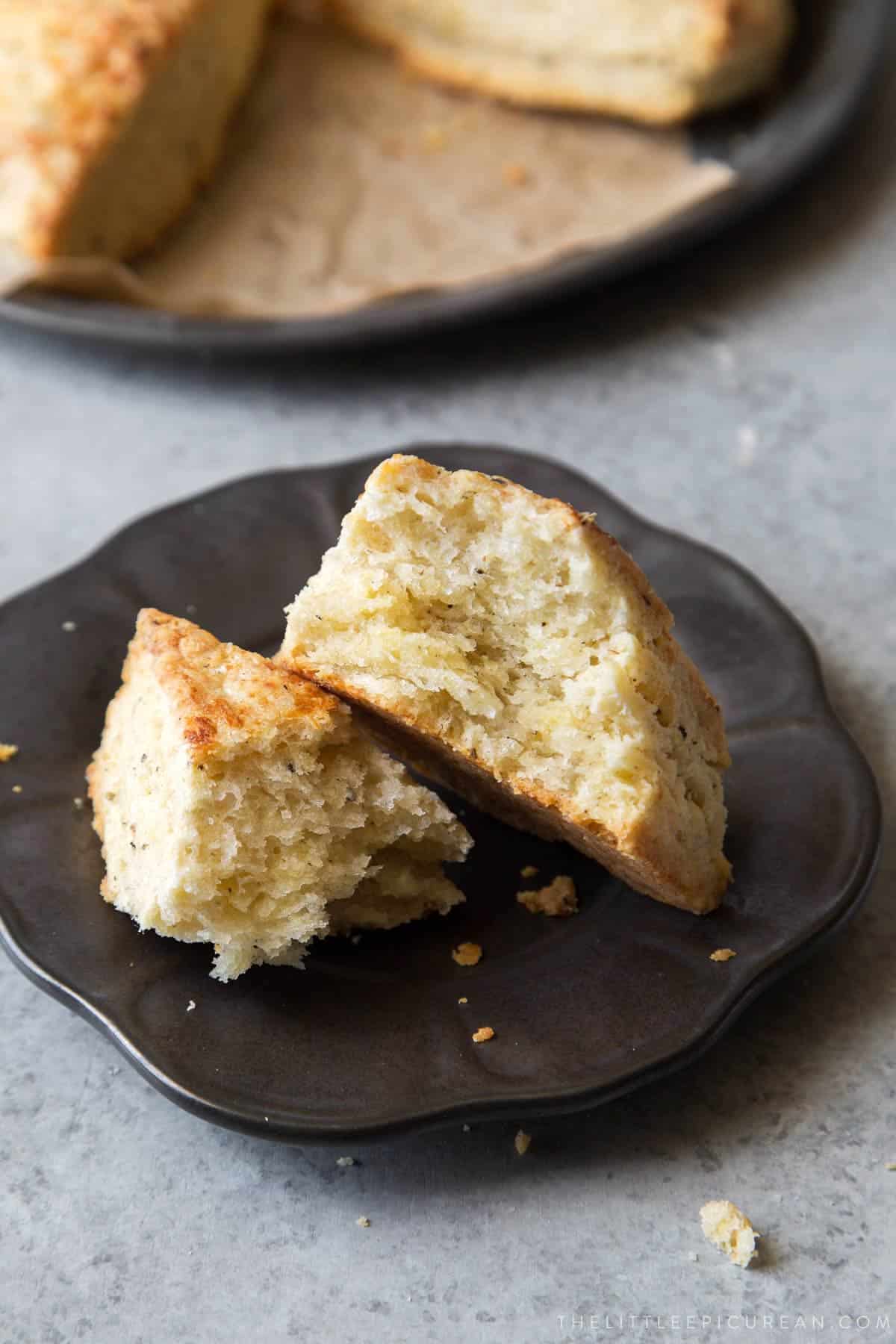 Related Recipes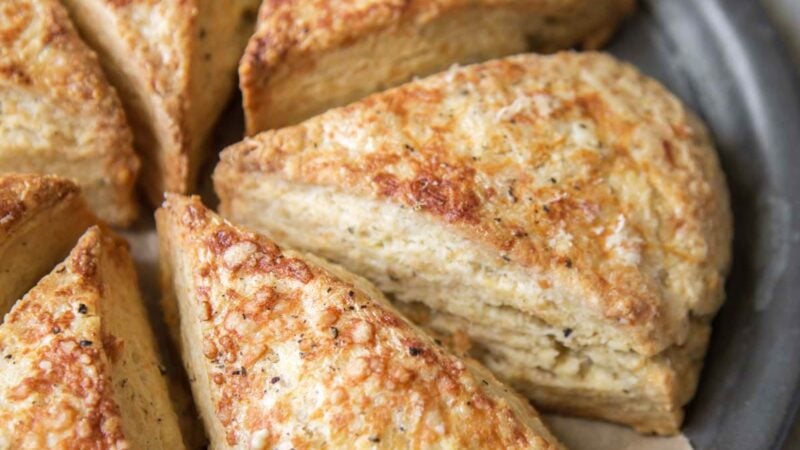 Savory Scones
Rich, buttery savory scones flavored with parmesan cheese and freshly ground black pepper. Swap in your choice of cheese, herbs, and spices.
Ingredients
2

cups

all-purpose flour

(260 g)

2

teaspoons

baking powder

(8 g)

½

teaspoon

kosher salt

2

teaspoons

freshly ground black pepper

(3 g) optional, see notes

½

teaspoon

onion powder

optional, see notes

½

teaspoon

garlic powder

optional, see notes

½

cup

unsalted butter

(113 g), cold, cut into small cubes

1

cup

grated or shredded parmesan cheese

(120 g) see notes

½

cup

heavy cream

(114 g), cold

1

large egg,

cold
Topping:
heavy cream

for brushing tops

additional cheese

for topping

additional spices

for topping
Instructions
Preheat oven to 375℉. Line baking sheet with parchment paper or reusable silicone baking mat. Set aside.

In a large bowl, whisk together flour, baking powder, salt, and spices. Toss in cubed butter. Cover and keep in the freezer for 15-30 minutes until ingredients are cold.

Remove bowl from freezer. Using a pastry cutter (pastry blender) or two forks, cut butter into flour until mixture resembles coarse sand. Mix in cheese.

Add in cream and whisked egg. Use a sturdy spatula to fold mixture together until a "shaggy mess" dough forms.

Dump coarse dough onto a clean work surface. Working quickly, knead dough together until cohesive. Be careful not melt the butter with your warm hands.

*Alternatively, work on a large sheet of parchment paper. Use the edges of the parchment paper to held fold and knead the dough together.

Pat dough out into a flat 8-inch round, about ½-inch thick.

*If you have hot hands, use a lightly floured rolling pin.

Use a sharp knife or a bench scraper to slice round into 8 equal sized wedges.

Transfer cut scones onto prepared baking sheet, allowing at least 2-inches between scones. Lightly brush scone tops with heavy cream. Sprinkle additional cheese and spice on top.

Bake for 18-20 minutes until scones have puffed up and are golden brown in color. Cool slightly on baking sheet before transferring to wire rack. Serve scones warm.
Notes
Ingredients:
I used a combination of black pepper, onion powder, and garlic powder. You may swap in your choice of spices depending on your choice of cheese.
I used grated parmesan cheese. Mixed with the onion and garlic powder, this combination tastes like Cheez-it crackers. 
Other great cheese and spice/herb pairing include:

Pecorino Romano + black pepper (like Cacio e pepe!)
Pepper Jack + garlic powder + oregano
Cheddar + thyme
Cheddar + rosemary
Cheddar + Old Bay seasoning 

Use 1 cup of grated or shredded cheese + 1 Tbsp dried seasonings or 1/2 Tbsp fresh seasonings
Storage and Reheating:
Store cooled scones in airtight container at room temperature for up to two days or in the fridge for up to four days.
Reheat scones in microwave for 10 second intervals until warm. Or, place in toaster oven for 3-5 minutes until warm.
For longer storage- individually wrap scones in plastic wrap, then store in an airtight zip-top freezer bag. Keep in the freezer for up to one month. Defrost at room temperature