These Valentine's Day Lemon Honey Cookies are sweetened with honey powder and frosted with royal icing.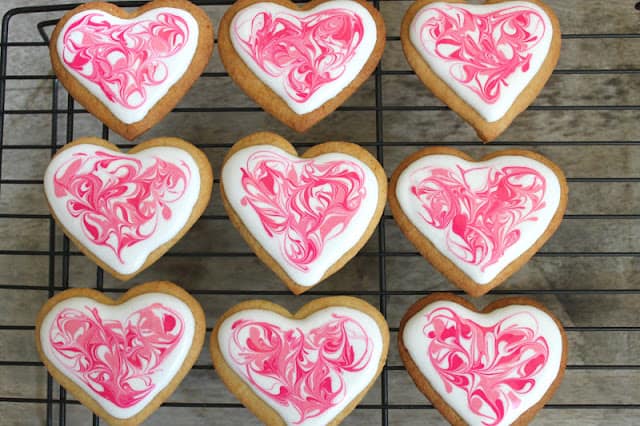 I hated Valentine's Day during my emo teenage years.
I couldn't understand why a boy like Chris Carrabba from Dashboard Confessional wasn't outside my window serenading me with silly love songs on his acoustic guitar.
Thank goodness those days are long gone.
As you get older, you realize it is just another day. That is, until you meet someone that gives it meaning.
I'm very lucky to have two Valentines this year. I guess it makes up for all my lonely teenage Valentine's Days. (More on the two boys in later posts.)
February 14 may be a commercial driven fabricated holiday, but its a day I still look forward it and enjoy celebrating.
Who cares if its all about chocolates, roses, hearts, and hard to get dinner reservations? It is also a day when it's okay to make a fool of yourself for the sake of love. I'm all about that.
And more importantly, its an excuse to call in sick, watch sappy romantic comedies and bake these lovely lemon honey cookies!
How to Decorate Lemon Honey Cookies with Royal Icing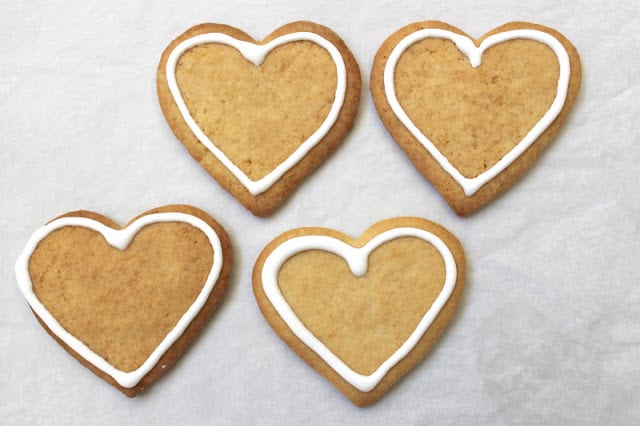 Prepare three colors of royal icing; white, pink and hot pink.
Pipe white royal icing around the edges of each cookie to form the border.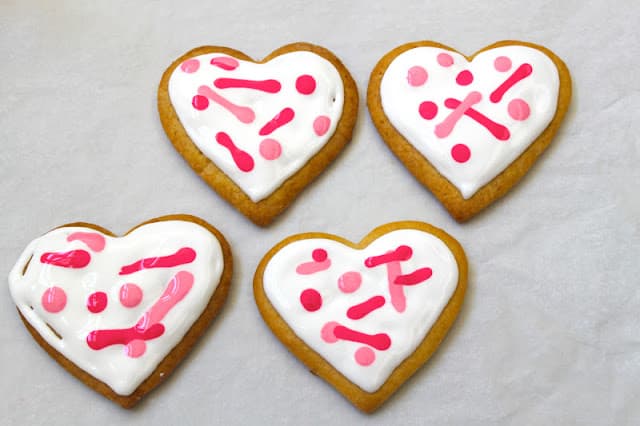 Pipe white icing into the middle of the cookie, allowing it to run to the edges of the border.
While the white icing is still wet, pipe random sizes of dots and lines using the pink and hot pink icing.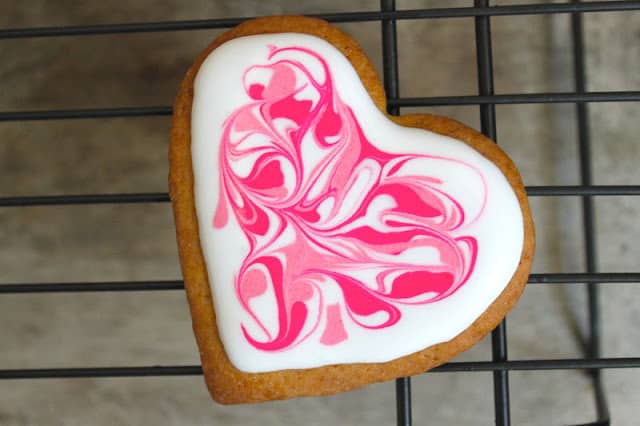 Using a toothpick, quickly swirl the colors together until you get your desired look.
Let cookies dry completely. This may take anywhere from 2 hours to overnight.
Other Valentine's Day Favorite Treats
Nothing says I love you like a box of glazed letter donuts! Spell out your message using donuts for the ultimate Valentine's Day sweet treat.
This 4-ingredient lava cake is a great dessert to share with loved ones.
And lastly, this strawberry prosecco jelly is an easy no bake dessert you can make ahead of time!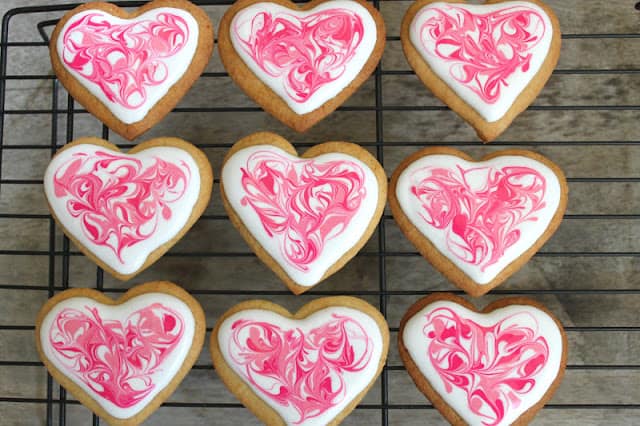 Lemon Honey Cookies
Lemon infused sugar cookies sweetened with honey powder and frosted with royal icing.
Ingredients
3

cups

all-purpose flour

3/4

teaspoon

baking soda

1/2

teaspoon

baking powder

1/2

teaspoon

fine sea salt

3/4

cup

(6 oz) unsalted butter, room temperature

3/4

cup

granulated sugar

1/4

cup

honey powder*

finely grated zest from 2 lemons

1

large egg, room temperature

juice from 1 lemon, about 2 Tablespoons

3

Tablespoons

whole milk
Royal Icing: (makes about 1 cup)
1 1/2

Tablespoons

meringue powder

2 1/2

cups

confectioners' sugar

1/4

cup

warm water

lemon oil, vanilla extract, or almond extract, if desired

pastel pink and electric pink gel-paste food coloring, as needed
Instructions
Whisk together flour, baking soda, baking powder and salt. Set aside.

In the bowl of a stand mixer fitted with a paddle attachment, cream together butter, sugar, honey powder, and lemon zest. Add egg and combine.

In a small bowl, whisk together lemon juice and milk. Set aside.

Alternate adding flour mixture and milk mixture into the creamed butter. Start and finish with the flour. Mix until just combined.

Turn dough out into a lightly floured surface. Divide dough into three disks. Plastic wrap and chill in the refrigerator for 1 hour, or overnight.

Preheat oven to 350 degrees F. Line sheet trays with parchment paper

On a lightly floured surface, roll dough out to 1/4 inch thick. Cut out desired shapes using a floured cutter. Transfer cut outs to prepared sheet trays.

Bake for 13-15 minutes until the edges are golden brown. Let cool on sheet for a couple minutes before transferring to wire racks to cool completely.
Royal Icing:
In the bowl of a stand mixer, combine meringue powder, confectioners' sugar, and warm water. Also add extract, if using any. Mix on medium speed until mixture is fluffy and has thickened.

Add water to thin out icing to desired consistency. Add water 1 teaspoon at a time. (*Note: To test consistency, drizzle a little of icing onto a bowl. A ribbon should remain on the surface for about 5 seconds.)

Divide royal icing in half. Keep one half white. Divide the remaining half into two. Color one pink and the other hot pink. Transfer royal icings into piping bags or parchment bags. To decorate, follow photos and directions above.