Use Letter Donuts to create your own messages. This is a popular way to celebrate birthdays, make announcements, or surprise loved ones!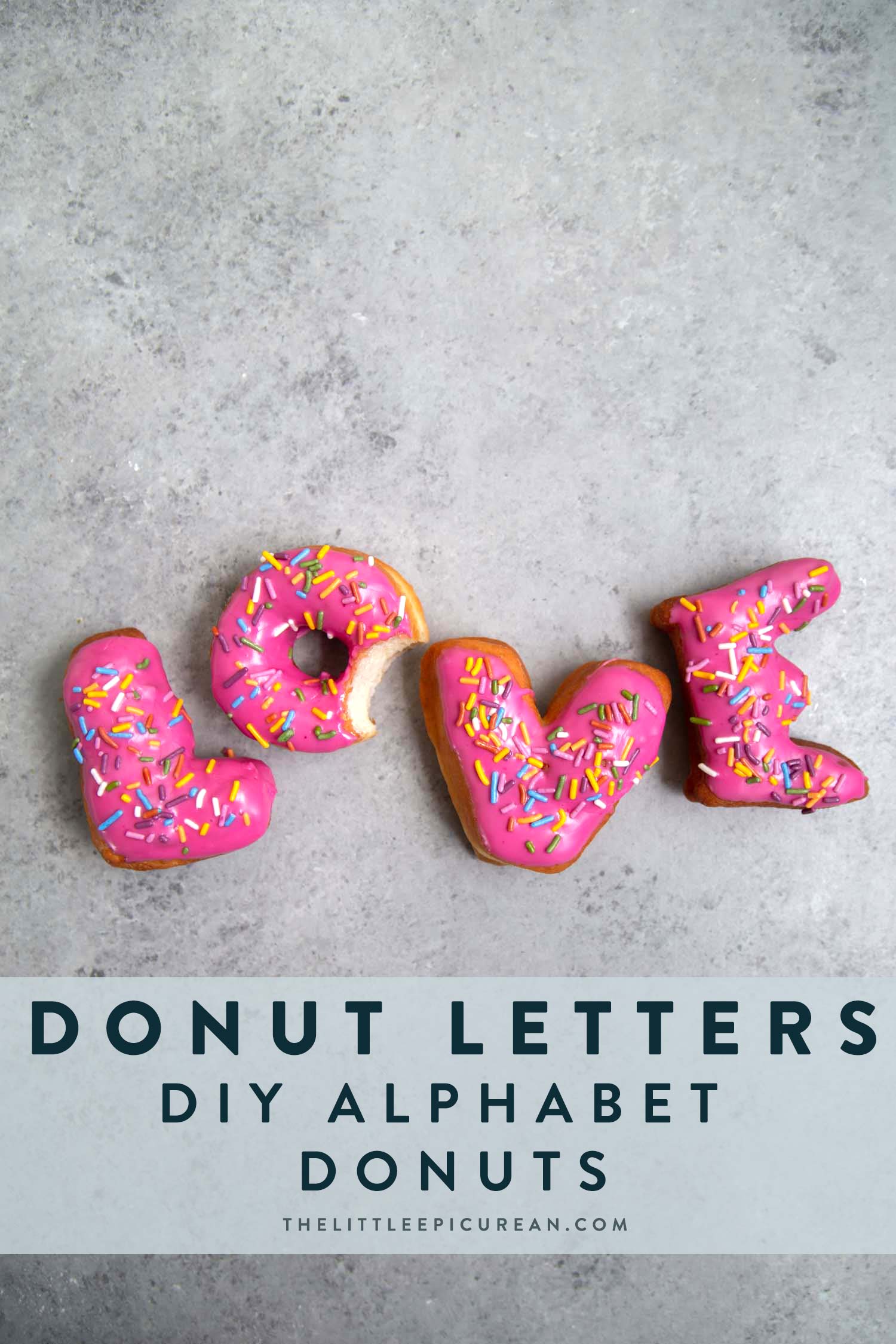 DIY Letter Donuts
I'm sure you've seen these letter donuts on social media. Be it a birthday celebration, prom-posal or marriage proposal, or even a baby announcement, these letter donuts are becoming very POPULAR!
California Donuts started the craze a few years ago by offering custom message donuts.
Since then, many other donut shops have created their own versions of these alphabet donuts. However, donut shops usually require you to order these custom donuts at least three days in advance, some even over a week.
Here's an easy homemade version that you can finish in a few hours!
These DIY letter donuts are made with a from scratch yeast dough that is deep fried until golden. The cooked donuts are dipped in glaze and finished with sprinkle toppings.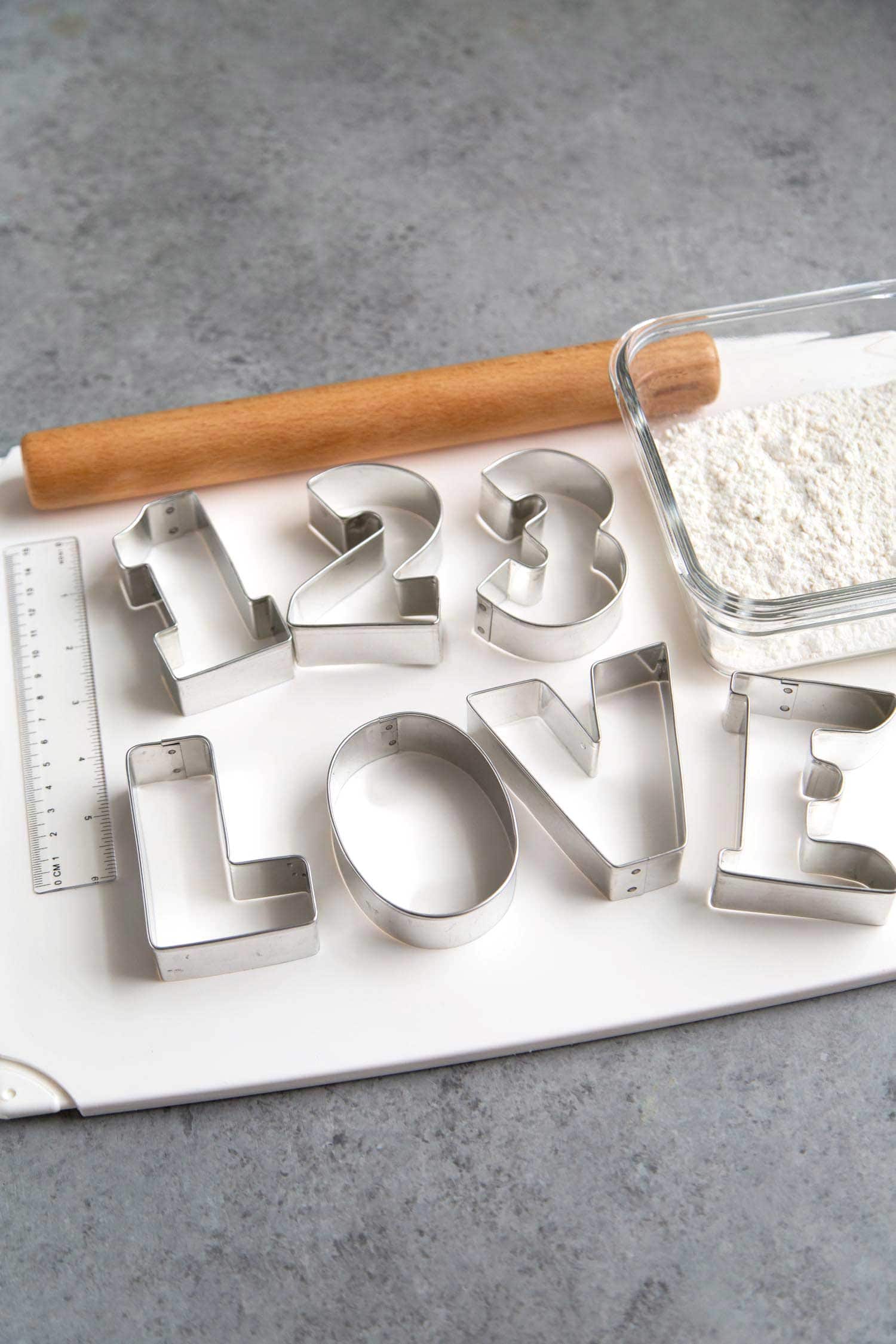 In order to make these letter donuts at home, you're going to need some cookie cutters.
What kind of cutters should I use?
Plastic or metal cookie cutters will work. Just make sure to apply enough pressure to cut clean lines. (More information on stamping out shapes further down the post.)
I used these Ann Clark 3-inch metal cookie cutters from Amazon. Use cutters that are least 3-inches tall. Use cutters with clean shapes, preferably block letters.
Avoid cursive, script, or any font without straight distinct lines.
Asides from letters, feel free to use numbers or basic shapes (square, triangle, etc).
Can I use a knife to slice out shapes?
No. Unless your knife is super sharp, the knife will drag across the dough pulling and stretching it out. The shapes will likely be warped and uneven. Stick to cookie cutters.
The cookie cutters create clean, uniform shapes. It's better to fry together relatively equal sized items for even cooking.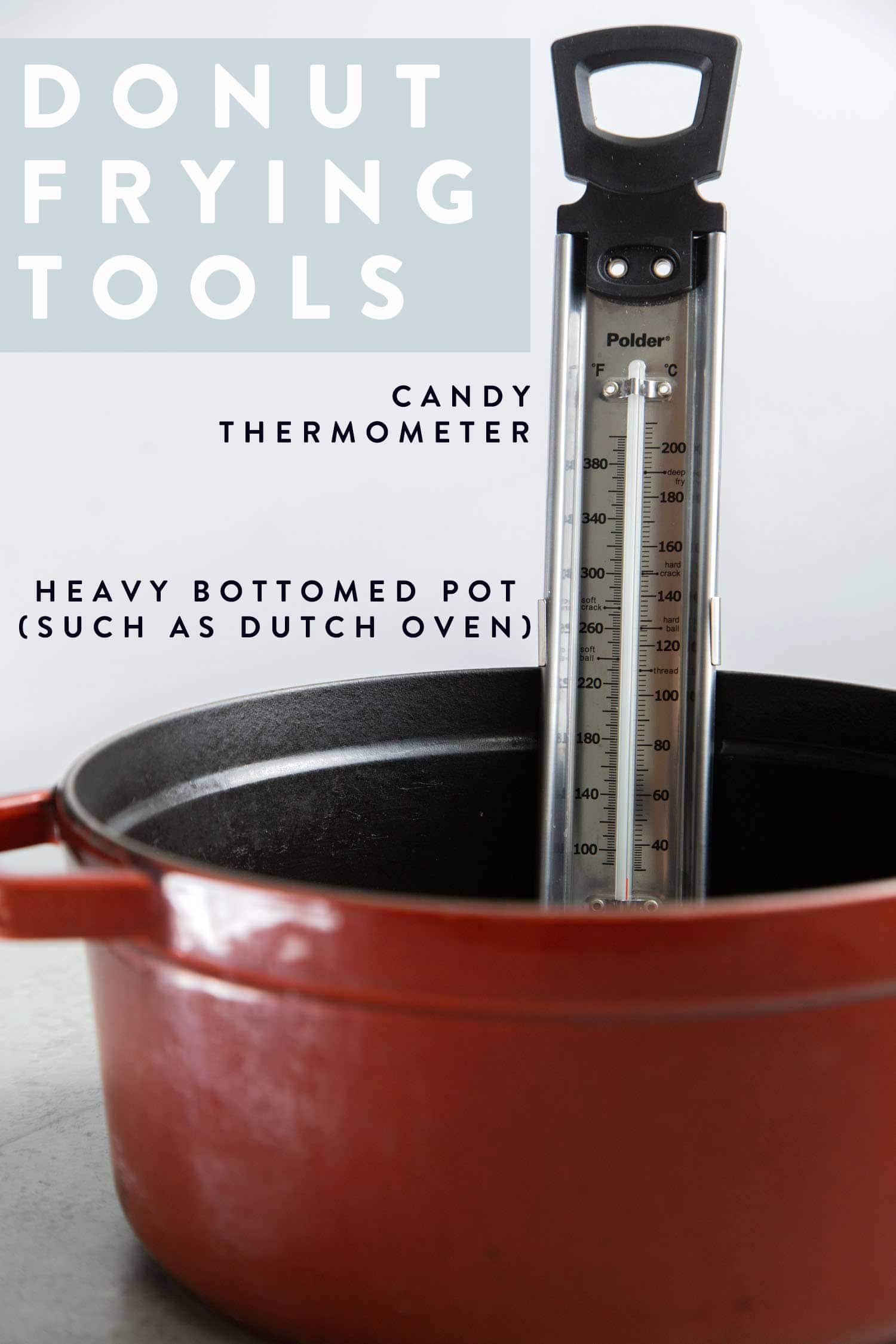 This donut recipe is for fried donuts. Do not try baking these. They will not produce the same results.
However, I am working on an airfryer donut recipe. I hope to share that recipe next month!
Important Donut Frying Tools:
Thermometer
Oil temperature is very important when frying. Even consistent oil temperature will produce properly cooked donuts. Attach a candy thermometer (or deep fry thermometer) to the pot to maintain the oil temperature.
As more raw donuts are placed the oil, the temperature will decrease. Adjust the heat accordingly to maintain consistent temperatures.
Heavy Bottomed Pot
I used this 5.5 quart Staub. This particular pot works over fire, electric, or induction burners. This pot is well insulated and does a great job maintaining cooking temperature.
However, any heavy bottomed pot will do. It doesn't have to be a fancy Dutch oven pot. Just make sure the pot has a thick bottom to prevent oil from scorching or overheating.
Timer
These donuts take about 90 seconds to cook on each side. Use a kitchen timer or use your smartphone's timer to ensure even cooking.
Stainless Steel Fish Spatula
Fish spatula for donuts? YES! It's a great kitchen gadget with uses beyond fish.
The stainless steel fish spatula is perfect for lowering the raw dough into the hot oil. It's also great for flipping the donuts, as well as removing the cooked donuts from the hot oil.
Asian markets often sell very inexpensive fish spatulas and spider strainers.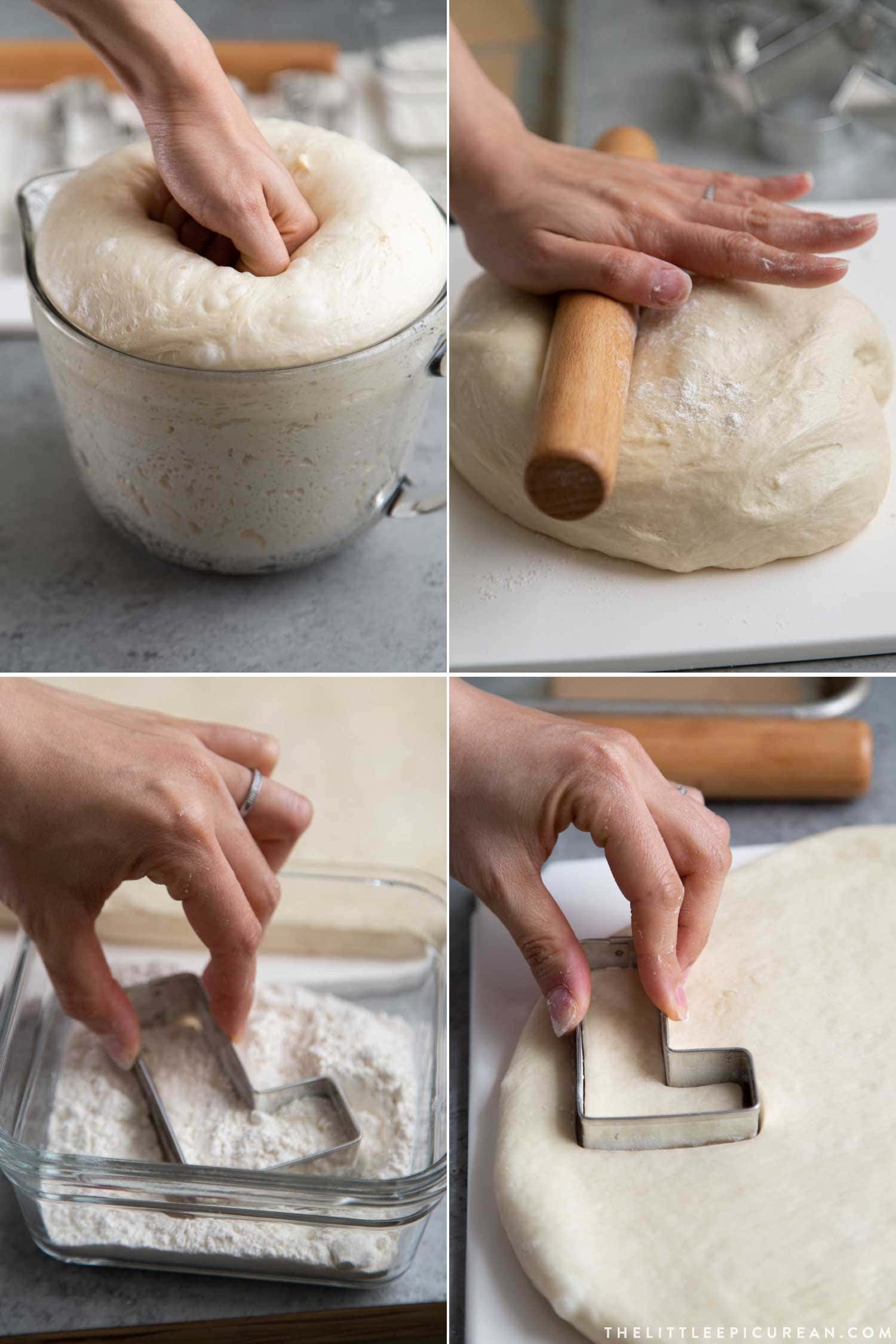 Preparing The Yeast Dough
The dough starts like any other yeast dough. It's best to mix this dough in a stand mixer. However, with a bit of elbow grease, it is possible to knead the dough together by hand.
The mixed dough is covered and allowed to rest for 30-45 minutes at room temperature. Once risen and puffy, the dough is punch down to remove the air bubbles.
Dough is covered once again and transferred to the refrigerator. Let the dough chill for about 30 minutes until cold. Working on a lightly floured surface, roll chilled dough to 1/2-inch thickness.
Generously flour cookie cutter each time you punch out shapes.
Use floured cookie to punch out letters, numbers, or shapes. Apply firm, even pressure to ensure clean cuts. If the cookie cutter edges hurt your fingers, run a rolling pin over the cookie cutter.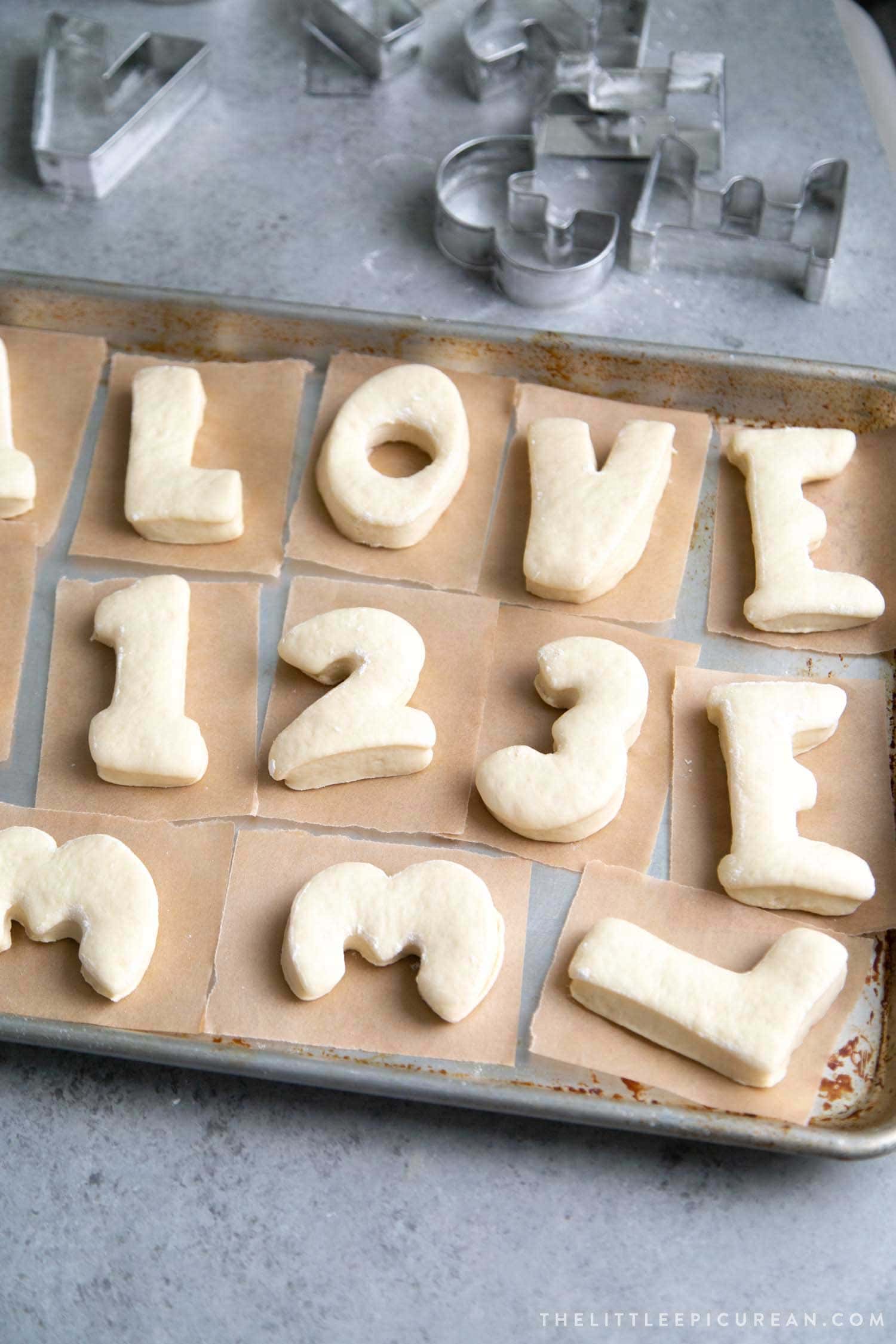 How to keep the donuts shapes from distorting?
These letter donuts are cooked similar to cruller donuts. The cutout shapes are placed on small individual sheets of parchment paper. No need to flour or grease the paper.
Once oil is ready, use the fish spatula to gently lower dough with parchment into the frying out.
The parchment will separate from the dough in about 10-15 seconds. Use kitchen tongs or chopstick to discard the parchment paper.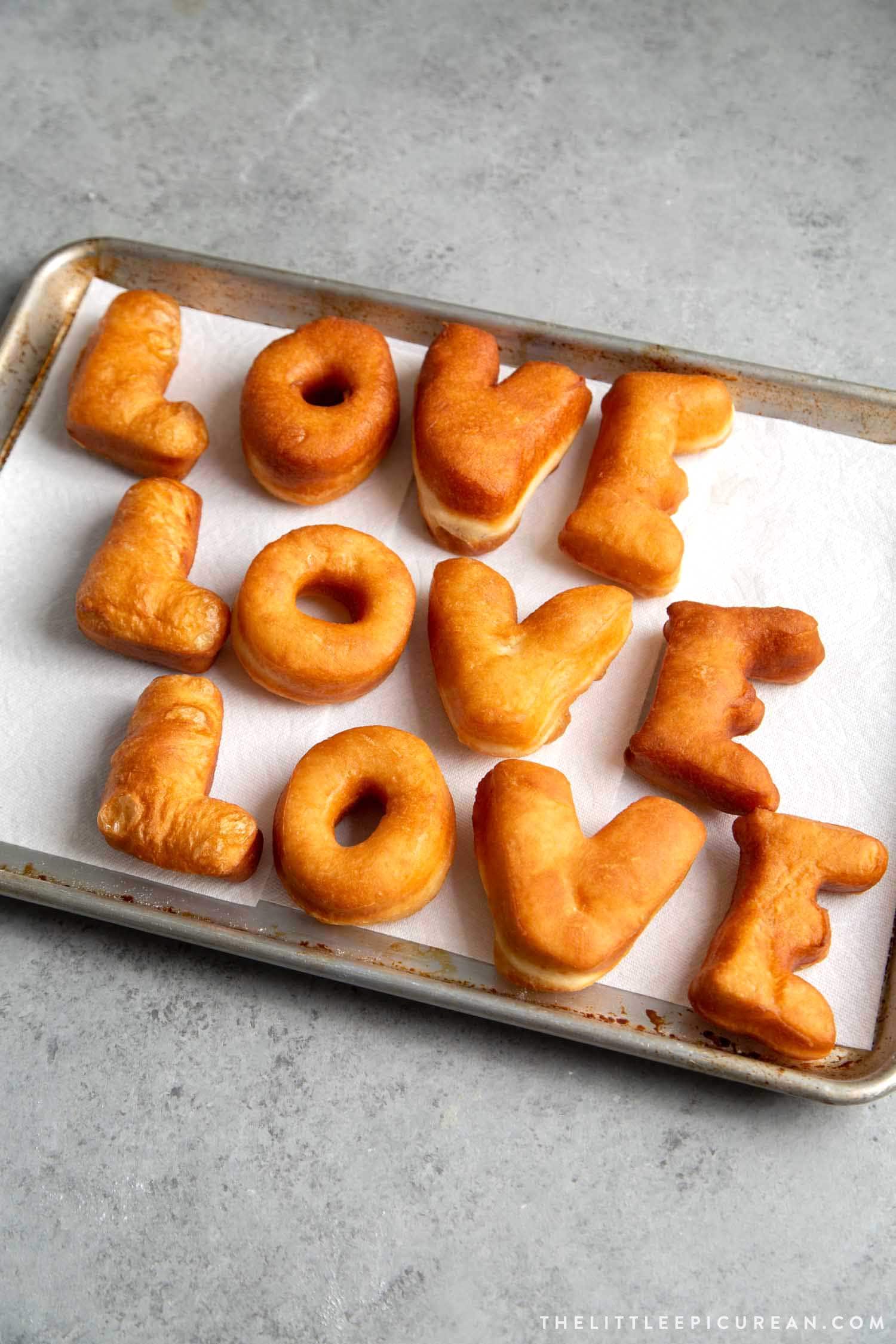 Donut Troubleshooting:
Q1. My donuts are brown on the outside, but raw on the inside.
A1: Check your oil temperature. The temperature may be too high causing the donuts to quickly brown on the outside. Use a timer to ensure dough is evenly cooked on both sides.
Q2. My cooked donuts have bubbles and are wrinkly on the outside.
A2: Make sure to completely deflate the donut dough during the initial rise. Dough will have a second rise in the fridge. Make sure to roll out any air bubbles before punching out shapes.
Q3. I followed the exact cooking times but my donuts are overcooked or raw inside.
A3: Do not overcrowd the pot during frying. The doughs should have space to move freely. Overcrowding the pot will significantly lower the oil temperature. Also, fry similar shapes together. Don't try to cook all the donuts all at once. Cook the donuts in batches.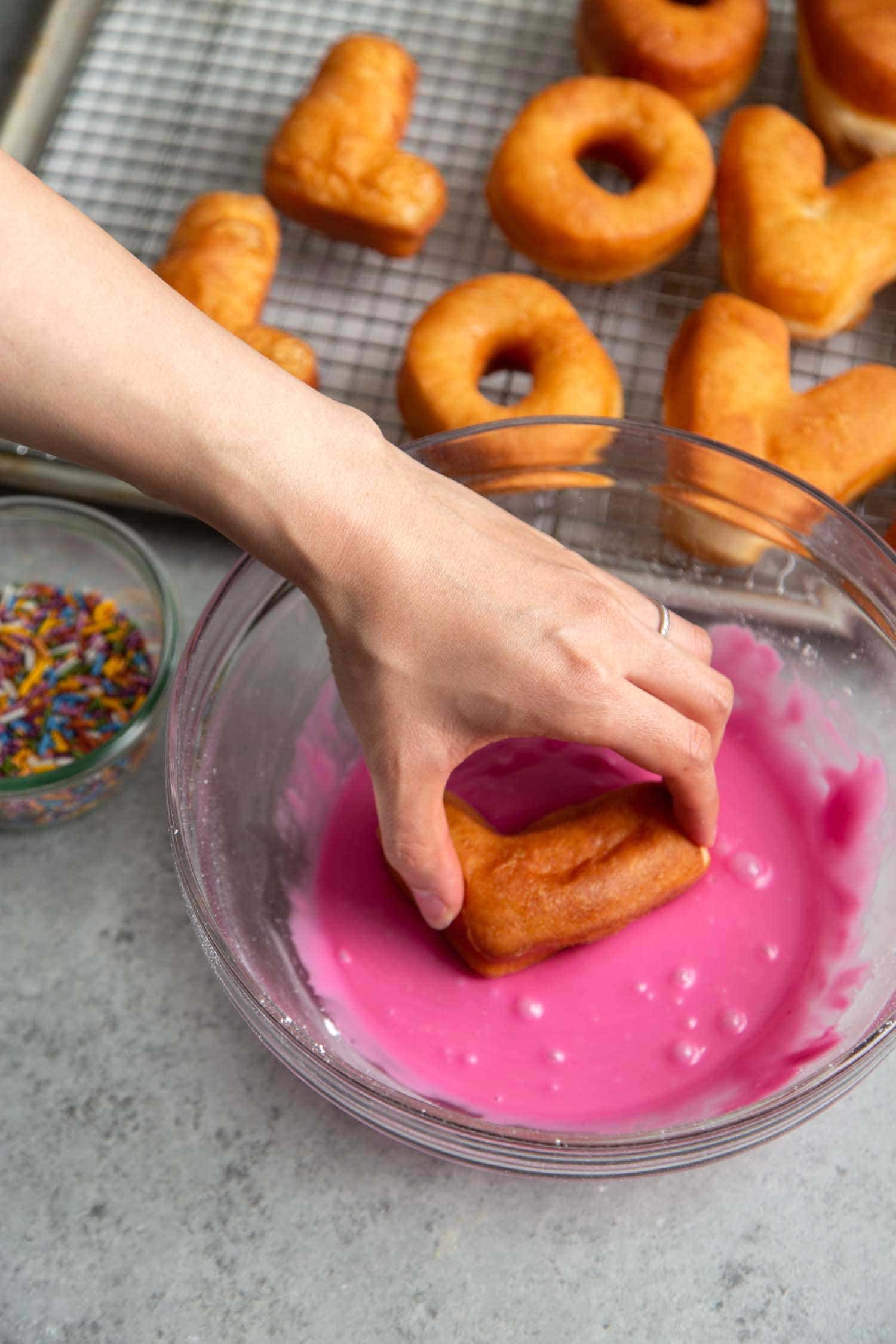 All Natural Pink Glaze
The cooked donuts are dipped in this vibrant all-natural pink glaze. The glaze is naturally colored using beet powder.
I used this powder from ColorKitchen. It's a vegan plant-based food coloring powder. The pink color is made from a mixture of beet powder and maltodextrin. (The maltodextrin prevent clumping.)
You may also use straight up beet powder. Use this sparingly because the coloring is very vibrant and intense. Also, be careful because this powder stains.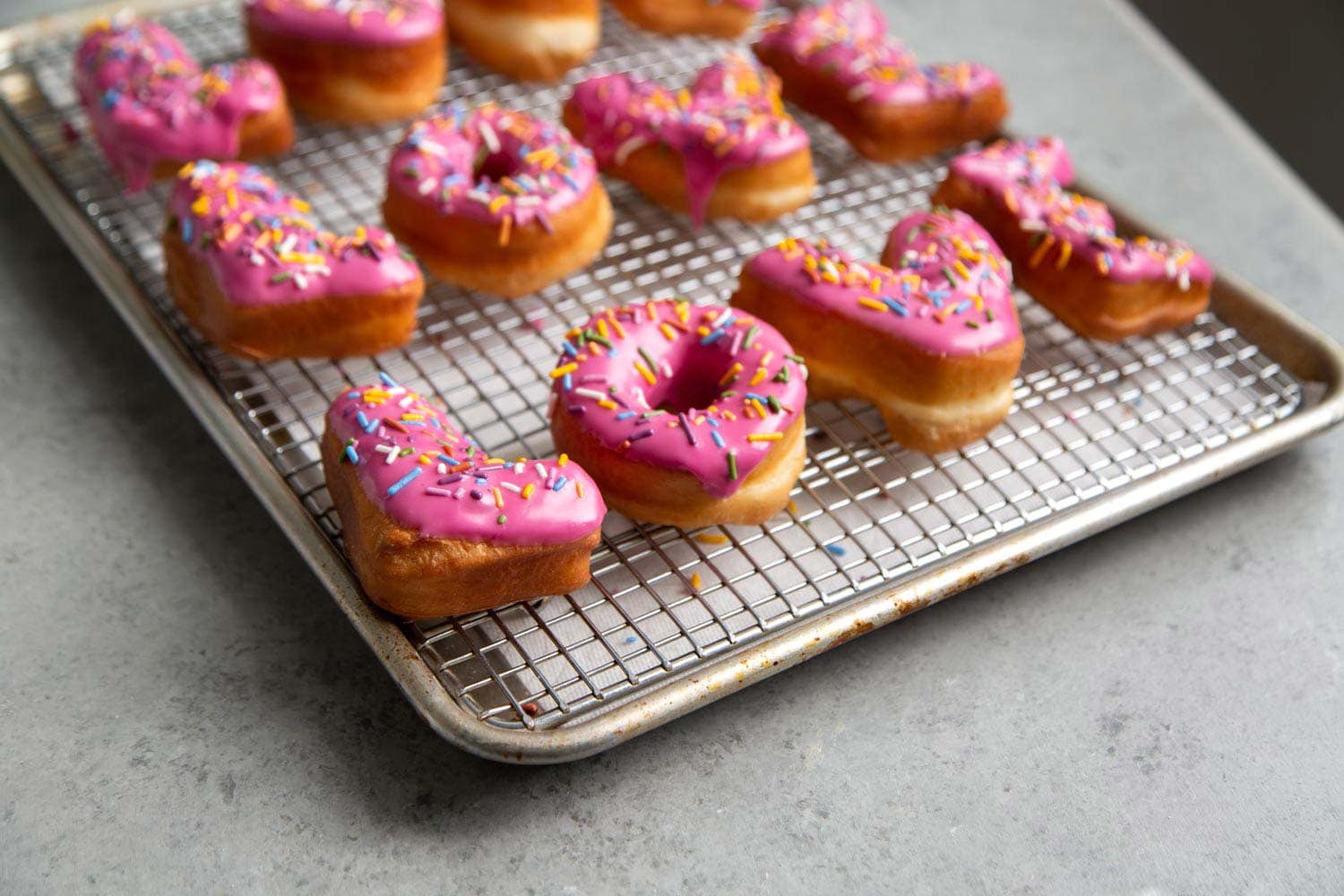 All Natural Rainbow Sprinkles
Since we're using natural food coloring for the glaze, you might as well use naturally colored sprinkles!
For these images, I used Watkins Rainbow Sprinkles, which I purchased from Sprouts Market. I also recommend these India Tree Nature's Colors Carnival Sprinkles from Amazon.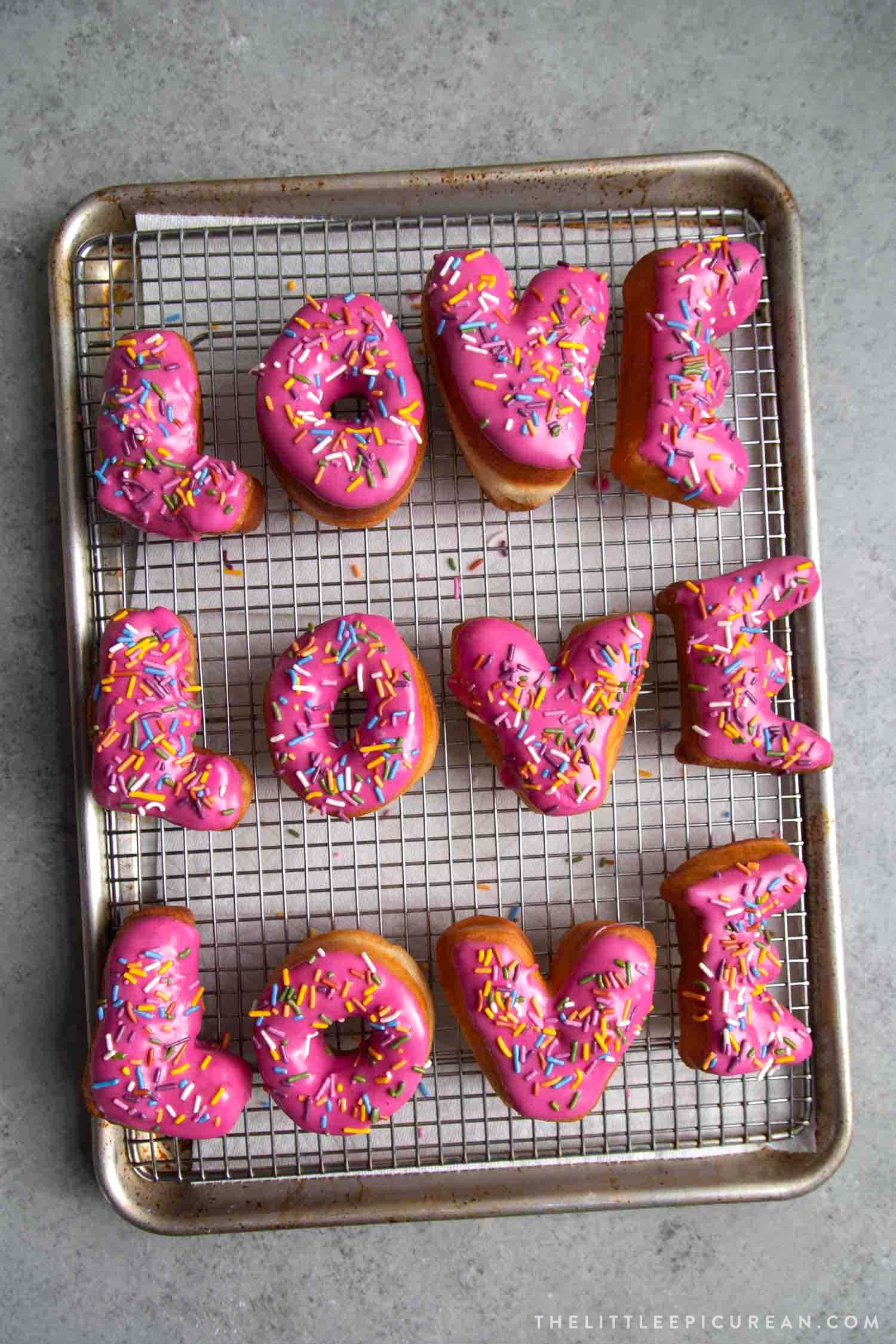 How long do these Letter Donuts keep?
These glazed letter donuts are best enjoyed the same day the are fried. Fried foods are best consumed immediately. Try to eat these within 8 hours of frying. Overtime, the donuts will stale.
If you'd like to keep the donuts longer, I suggest frying them in shortening instead of oil.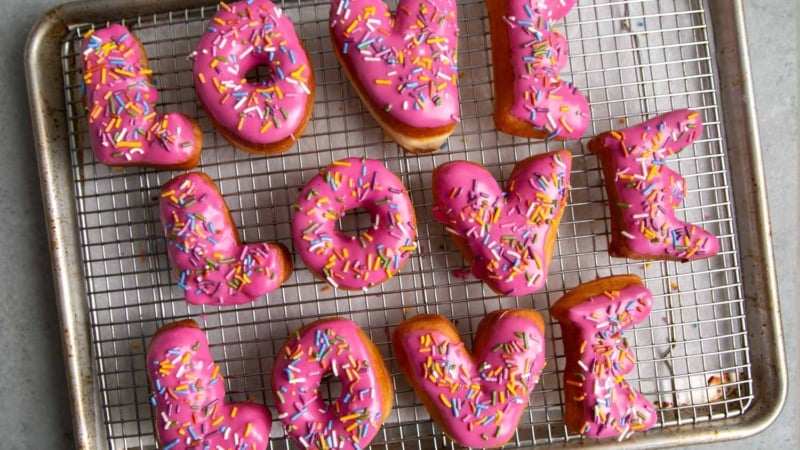 Letter Donuts
Yeast raised donuts fried until golden, dipped in pink glaze, and topped with rainbow sprinkles. These letter donuts are a fun way to display messages to friends and family. Best of all, you can eat the message once it's been sent!
Servings:
24
3-inch letters
Ingredients
Dough:
1 ½

cup

whole milk,

warmed to 110°F

1

Tablespoon

dry active yeast

3

Tablespoon

granualted sugar

1

large egg,

room temp

4

cups

(560 g) all-purpose flour

2

teaspoon

kosher salt

3

Tablespoon

unsalted butter,

room temp

3

Tablespoon

vegetable shortening

*
Glaze:
4 ½

cups

(472 g) confectioners' sugar

(powdered sugar)

food coloring*,

as needed

2

teaspoon

light corn syrup

¼

teaspoon

kosher salt

½

teaspoon

pure vanilla extract

¼

cup

hot water
Instructions
Dough:
Pour warm milk into the bowl of a stand mixer. Add yeast and one tablespoon of sugar. Whisk to combine. Allow mixture to sit for 5-7 minutes until fragrant and bubbly.

Whisk in egg and remaining sugar.

In a medium bowl, whisk together flour and salt. Add ⅓ of flour mixture to mixing bowl. Using a hook attachment, mix together for about 30 seconds on low speed.

Add another ⅓ of flour mixture. Mix on low speed for about 45 seconds until dough starts to form. With the mixer running on low, add butter and shortening one tablespoon at a time. Once all the fat has been added, add in remaining flour. Mix on low speed until dough forms.

Increase to medium speed and knead dough for 3-5 minutes until smooth. Dough should pull away from the sides of the bowl. Dough will be a little sticky. Do not be tempted to add more flour.

Transfer dough to a large greased bowl. Cover bowl with plastic wrap. Allow dough to rest for 30-45 minutes until doubled in volume. Punch down risen dough. Cover dough and let chill in the fridge for another 30 minutes until cold.

Meanwhile, prepare oil and pot. Attach candy thermometer to a large heavy bottomed pot (cast-iron or Dutch oven, preferred). Fill pot about 3-inches deep with vegetable oil or vegetable shortening. Set over medium heat until oil reaches 365°F.

Remove dough from fridge. Punch down chilled dough. Transfer to a floured work surface. Use a rolling pin to roll dough to ½-inch thickness. Make sure to roll out any air bubbles. Use floured 3-inch cookie cutters, stamp out desired letters, numbers, or shapes. Transfer donuts to small individual parchment papers.

Gather dough scrapes and knead together until smooth. Cover with plastic wrap and let dough rest for 15 minutes before re-rolling. Repeat punching out shapes.

Once oil comes to tempearture, carefully place 2-4 similar shaped donuts (with parchment paper attached) into hot oil using stainless steel fish spatula or something similar. Do not overcrowd the pot. Cook for 80-90 seconds on each side, until golden in color. The parchment paper will detach from the dough. Use kitchen tongs or chopsticks to discard parchment paper.

Drain cooked donuts on paper towel lined baking sheet. Keep an eye on thermometer and adjust heat accordingly to maintain even cooking temperature. Cooking oil should hover between 360-375°F.
Glaze:
In a medium bowl, whisk together confectioners sugar, powdered food coloring, corn syrup, salt, vanilla, and hot water until smooth. If glaze is too thick, add additional hot water one teaspoon at a time until desired consistency is achieved.

Dip cooked donuts into glaze. Allow any excess glaze to drip back into bowl between inverting. Set glazed donut on wire rack. Immediately top with sprinkles. Allow galze to set. Enjoy donuts warm or at room temperature.
Notes
Inspired by California Donuts
Storage and Leftovers:
Donuts are best enjoyed the day they are fried. Store any leftover donuts in a breathable box (like a cardboard bakery box or container with the lid slightly jar). The glaze needs air circulation, otherwise it will melt.
Ingredient Notes:
Equipment & Tools Notes:
Use cutters that are at least 3-inches tall.
Heavy bottomed pot helps to maintain even oil temperature.