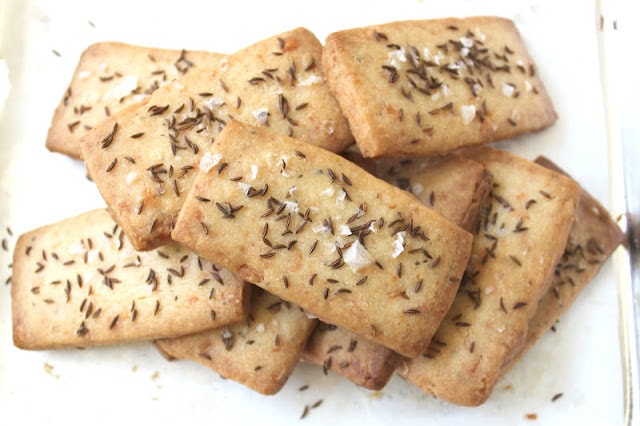 I know its hard to believe. Once in while, I actually do crave something salty and savory.
This recipe is from Blue Bottle Coffee, one of my favorite coffee houses in San Francisco. I am a big fan of Intelligentsia and I am madly addicted to the Angelino, but there is something really special about Blue Bottle Coffee. Sadly, they only have locations in Northern California and New York City. I can't wait until they open up in Los Angeles.
Aside from their amazing coffee and friendly service, what makes Blue Bottle so great? They have delicious pastries and inventive snacks. Your typical fare at coffee shops include scones, muffins, and cookies. Blue Bottle servers these amazing Parmesan shortbreads that goes great with iced coffee. I think they make the perfect little pick me up snack.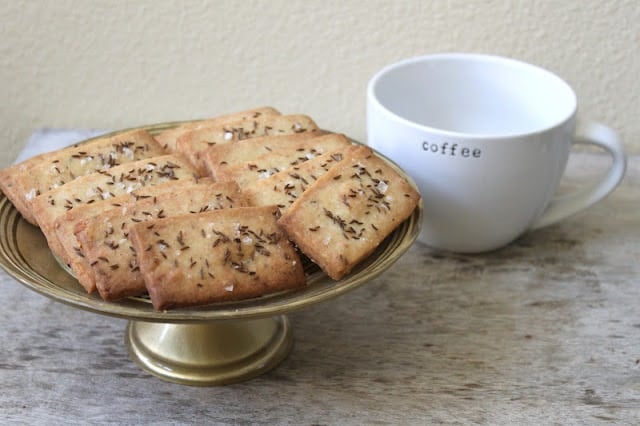 The richness of the butter, tang of the cheese, mixed with the hint of caraway and salt, brings out all sorts of new flavors in my black coffee. Its a nice break from the usual maple scone or chocolate almond biscotti I normally enjoy with my coffee.
And if love stinky Parmesan, you will love this shortbread. However, I must warn you. Your kitchen (and maybe your entire house) will be filled with the intoxicating aroma of cheese. While the original recipe listed in Bon Appetit calls for fennel, I substituted caraway seeds. If you don't have either, anise seeds, cumin or dill are also good substitutes.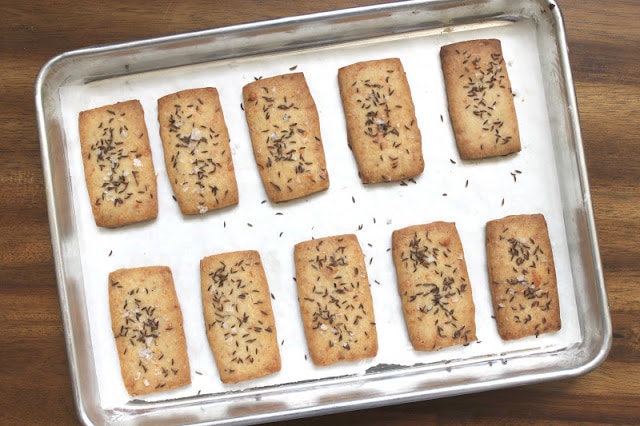 Parmesan Shortbread with Caraway and Sea Salt
Yield: makes 15- 1 1/2 x 3" rectangles
Ingredients
1/2

cup

unsalted butter, softened, room temp

1/4

cup

confectioners' sugar

1/4

teaspoon

ground black pepper

1/2

teaspoon

fine sea salt

1

cup

all-purpose flour

1/2

cup

Parmesan cheese (or parmesan, romano, asiago cheese blend)

1/2

Tablespoon

caraway seeds

1/2

teaspoon

coarse sea salt

1

Tablespoon

olive oil
Instructions
In the bowl of stand mixer fitted with a paddle attachment, cream butter until smooth. Add confectioners' sugar, black pepper and salt. Beat until light and fluffy. Scrape down sides of bowl.

Add flour and cheese. Mix on low until dough just comes together.

Wrap dough in plastic wrap and flatten into a rectangle. Refrigerate until firm, about two hours.

In a small bowl, mix caraway seeds and sea salt. Set aside.

Preheat oven to 350 degrees F. Line baking sheet with parchment paper

Roll out chilled dough on a lightly floured surface to a 5×4-inch rectangle about 1/4" thick. Cut into 1 1/2×3" rectangles, or stamp out desired shapes with cookie cutter.

Arrange cut out cookies on prepared baking sheet. Brush cookies with olive oil, then sprinkle with caraway salt mixture.

Bake for 20 minutes, rotating sheet tray halfway through, until cookies are golden brown. Let cool on sheet tray for 10 minutes. Serve warm or at room temperature.
Notes
 recipe adapted from Bon Appetit March 2012