Rose water shortbread cookies dipped in chocolate and spiked with a hint of floral rose water. They're perfect for afternoon tea!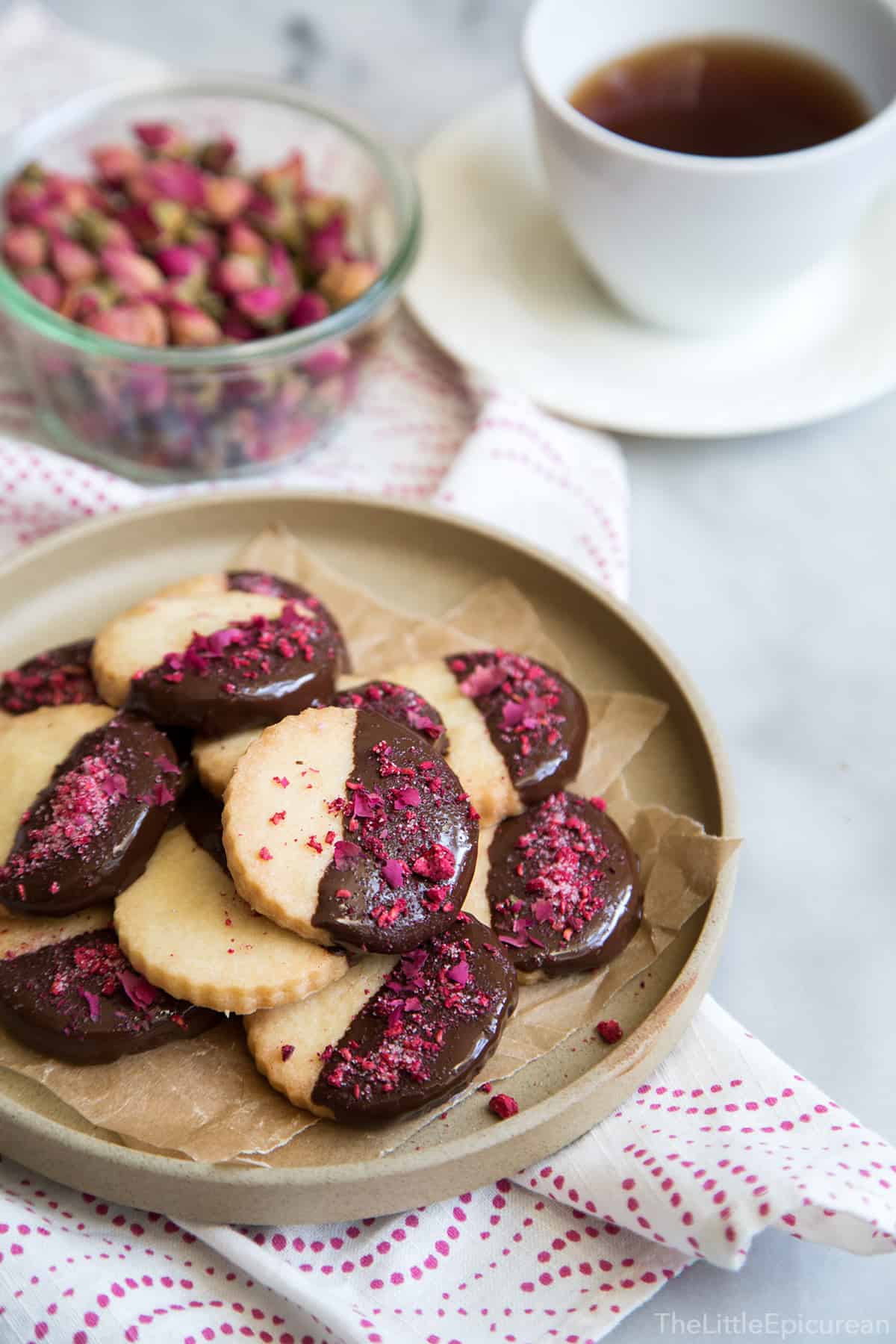 Rose flavored sweet treats are blooming everywhere!
Last week, we enjoyed these romantic rose yogurt creme brûlée (perfect for Valentine's Day or Mother's Day).
The rose trend continues with these chocolate dipped rose water shortbread cookies.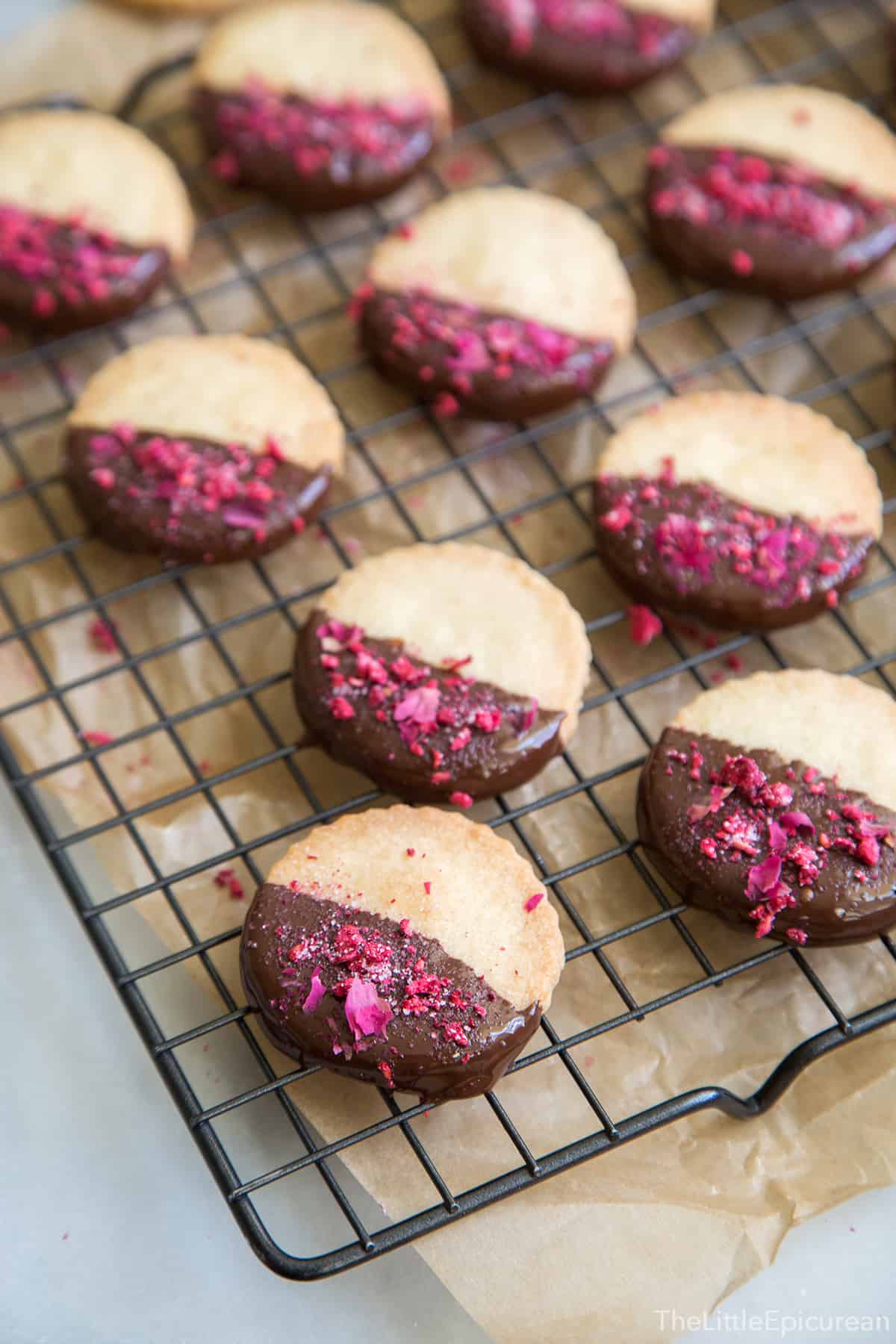 Rose Cookies
As with all things rose flavored, less is more.
The use of rose water requires a fine balance and very delicate hand.
The goal is a hint of that sweet floral rose note. It's definitely one of those instances when a little goes a LONG way.
With a heavy hand, these rose water shortbread cookies go from pleasant to potpourri. ((I speak from experience. It took me a few tries to get the right amount of rose in these little cookies!)
Rosewater is produced by distilling roses. Be sure to purchase food grade rose water.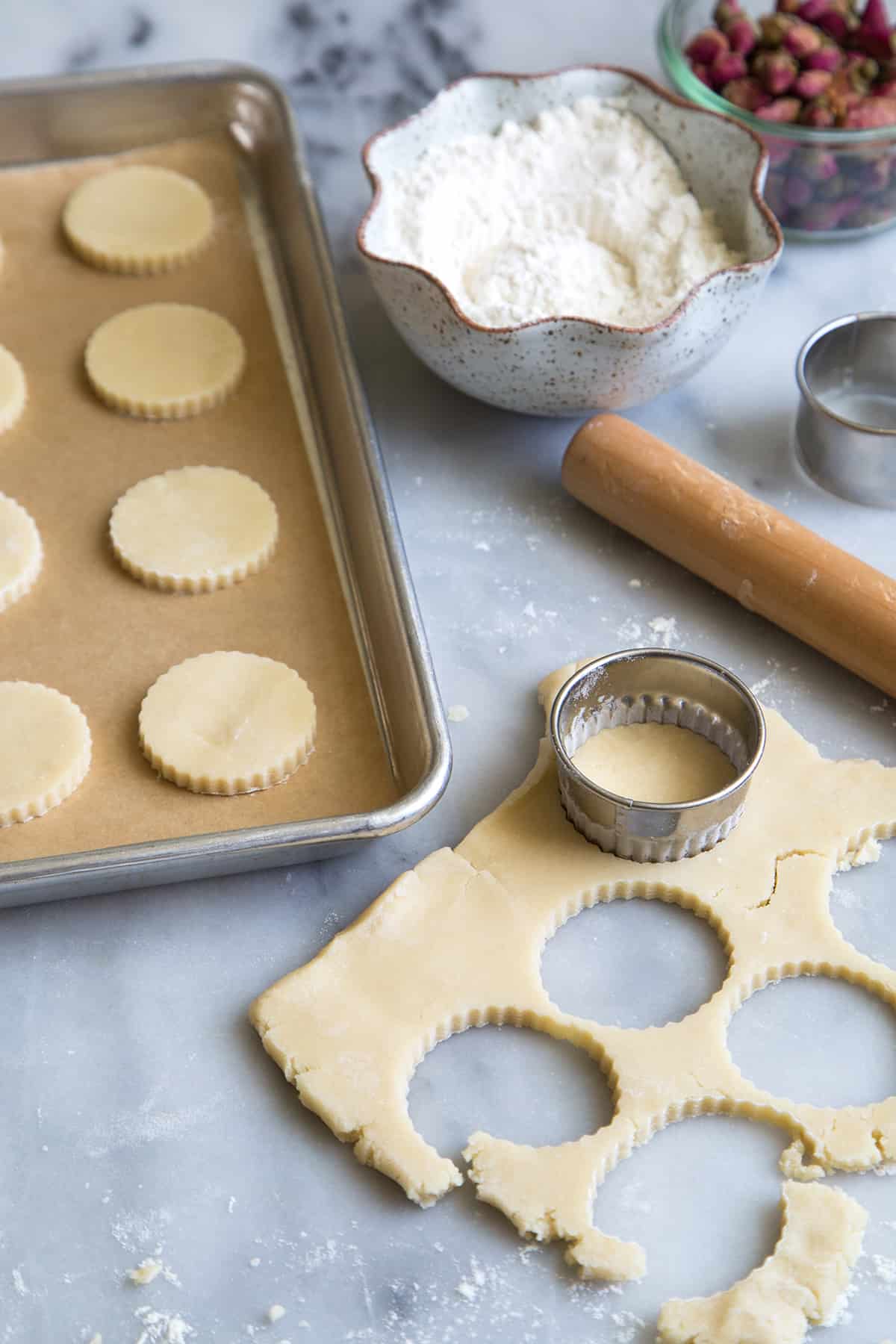 Equipment and Tools
Stand mixer or electric hand mixer
Round cookie cutters (smooth or fluted)
Rolling pin
Wire cooling rack
Mixer: Easily mix the cookie dough together using a stand mixer. I don't recommend mixing the dough by hand.
Cookie Cutters: I recommend using 2-inch fluted round cutters. Plain edge round cutters or squares are also great options.
Rolling Pin: Use an even rolling pin to flatten the dough into an even layer. Dough leveler sticks help ensure the dough is level throughout.
Wire Rack: The fresh baked cookies are cooled directly on the baking sheet. The wire rack comes handy after dipping the cookies in chocolate.
Set chocolate dipped cookies on wire rack to allow excess chocolate to drip. More importantly, the wire rack allows for air flow helping the chocolate set and harden.
Edible Rose Petals
Immediately sprinkle rose-raspberry sugar over chocolate dipped rose water shortbread cookies.
The colorful sugar mixture is made by combining freeze dried raspberries, granulated sugar, and edible rose petals.
Freeze dried raspberries are available at Trader Joe's, Target, and many supermarket chains. Of course, you may also purchase them online.
Edible rose petals may be more difficult to find in stores. Culinary use rose petals are usually labeled as "dried rose petals" or "rose petal herbal tea."
Here are some online options: dried rose petals, rose petals for tea or baking, and dried rose buds.
Otherwise, simply omit the rose petals!
NOTE: Do not gather roses from your garden. You need rose petals that are specifically bloomed for culinary use. Otherwise, you may be consuming unwanted pesticides and gardening chemicals.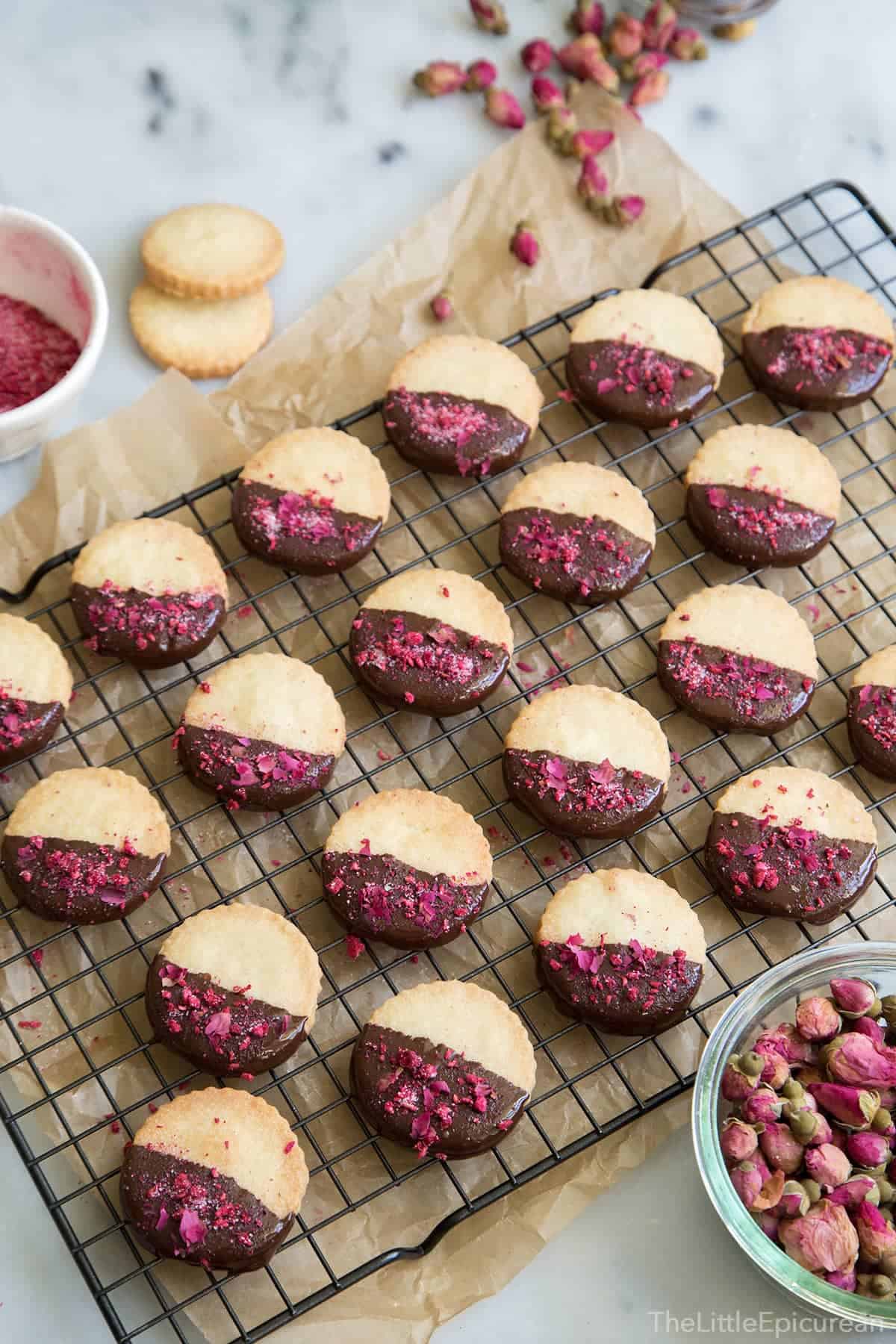 I'd say these cookies fulfill all the necessary Valentine's Day qualifications.
You've got a buttery cookie, dark chocolate, a little sprinkling of (freeze dried) raspberries, and a delicate touch of rose petals on top.
This recipe makes a batch of 4 dozen shortbread cookies.
Go ahead a share these rose water shortbread cookies with your loved ones this Galentine's Day, Valentine's Day, and beyond!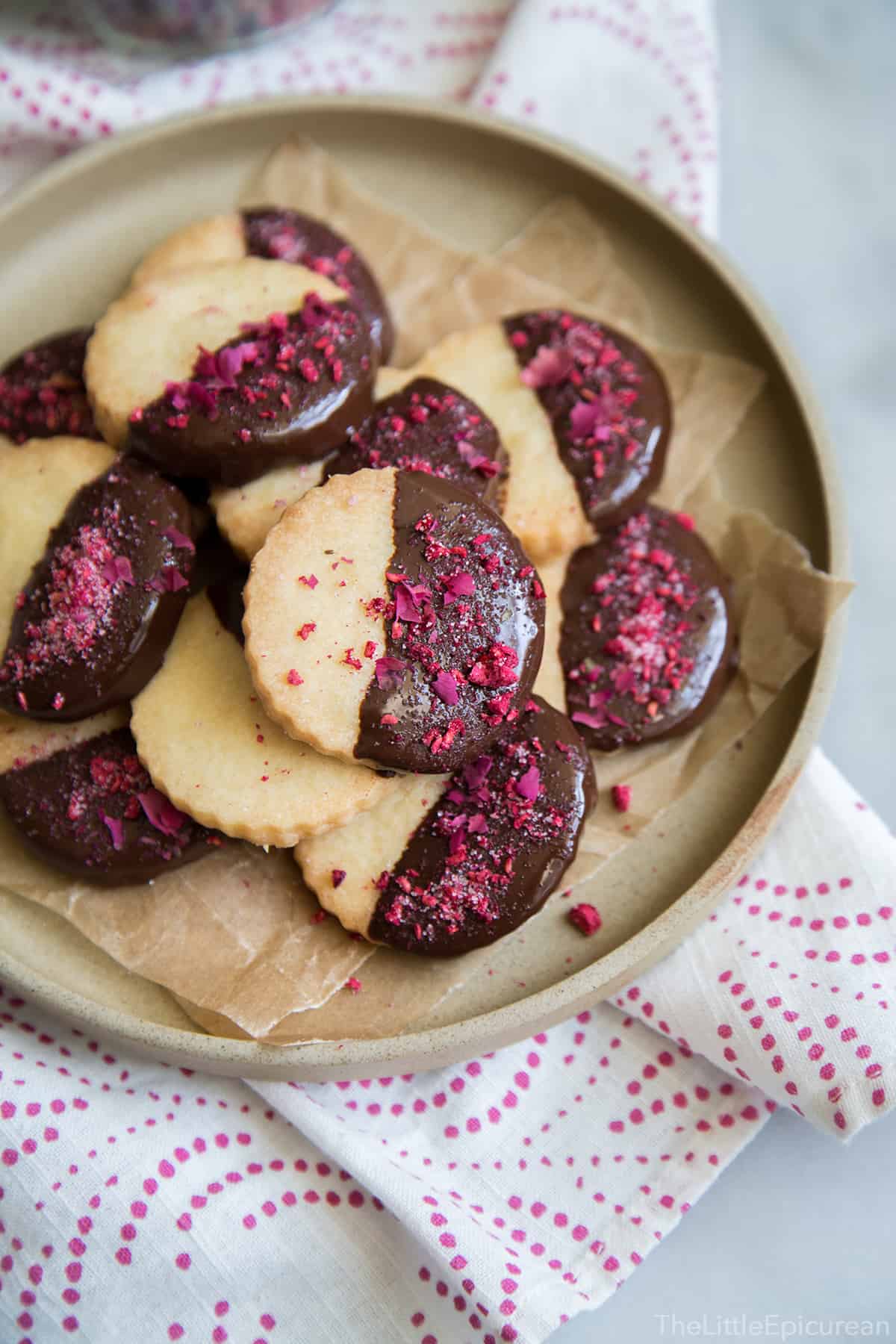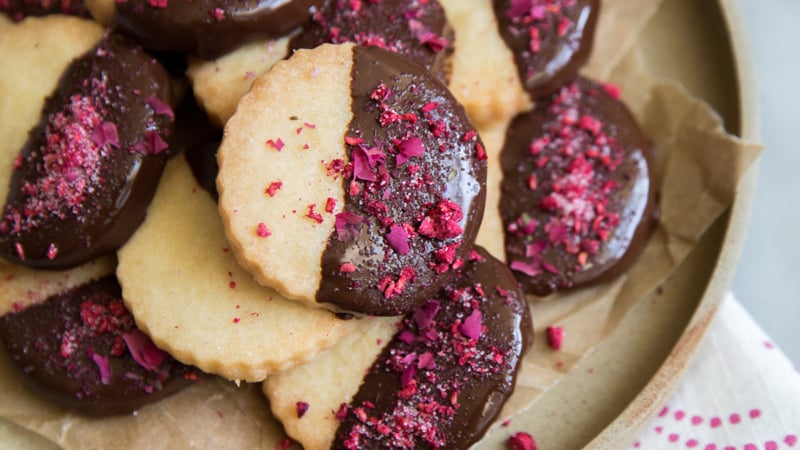 Chocolate Dipped Rose Water Shortbread Cookies
Chocolate dipped shortbread cookies spiked with a hint of rose water. They're the perfect accompaniment for afternoon tea!
Yield: makes 4 dozen 2-inch cookies
Servings:
4
dozen cookies
Ingredients
1

cup

(227 grams) unsalted butter, room temp

⅔

cup

(131 grams) granulated sugar

1

teaspoon

rose water

½

teaspoon

vanilla extract

2 ⅓

cups

(285 grams) all-purpose flour

¼

teaspoon

fine sea salt
Toppings:
melted dark chocolate

freeze dried raspberry sugar mixture*

dried rose petals (rose tea)
Instructions
In the bowl of a stand mixer fitted with a paddle attachment (or using a hand mixer), cream together softened butter and sugar until smooth. Mix in rose water and vanilla extract.

Whisk together flour and salt. Add dry mixture to creamed butter. Mix until there are no longer any dry streaks of flour. Dough will be slightly dry and a bit crumbly.

Wrap dough in plastic wrap and let chill in the fridge for 1 hour (up to overnight).

Preheat oven to 350℉. Allow dough to rest at room temperature for 10-15 minutes to soften. Roll dough out on a lightly floured work surface to a thickness of ¼-inch. Stamp out rounds using a 2-inch fluted circle cutter. Gather dough scraps and press together to roll out additional cookies. Place cookies on a parchment lined baking sheet, spacing cookies about 1-inch apart.

Bake for 18-20 minutes until the edges of the cookies are golden brown. Allow cookies to cool on baking sheet.
Assembly:
Once cookies have cooled to room temperature, gently melt dark chocolate over a double boiler.

Dip half of cookie into melted chocolate. Set on a wire rack and immediately sprinkle freeze dried raspberry sugar mixture and dried rose petals over chocolate. Allow chocolate to harden and set before serving.
Notes
All images and text ©The Little Epicurean
Related shortbread cookie recipes