These petite almond scones are studded with rolled oats, dried tart cherries, and toasted sliced almonds. They're the perfect little companion for your cup of coffee or tea.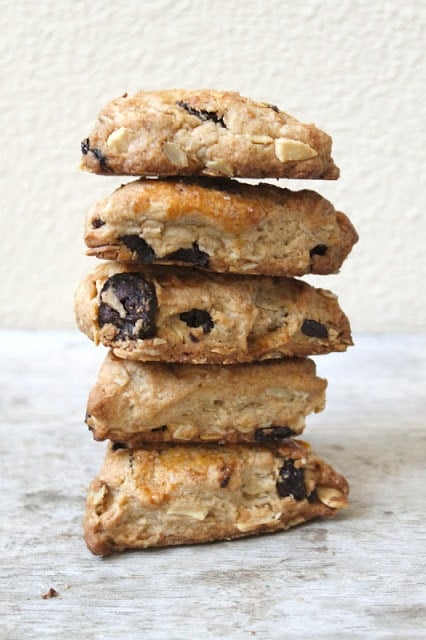 Next to breakfast, afternoon snack is my favorite time of day.  What baked good or pastry can fill both meals?  Scones!
I don't know why I don't make scones more often.  They are so delicious.  Scones are such a breeze to make.  I can have a batch of scones ready for the oven in the same time it takes me to drive down to a coffee shop, wait in line, and order.
You don't need a mixer or a bowl. You don't even need any tools.  You can make excellent scones on the table with your hands!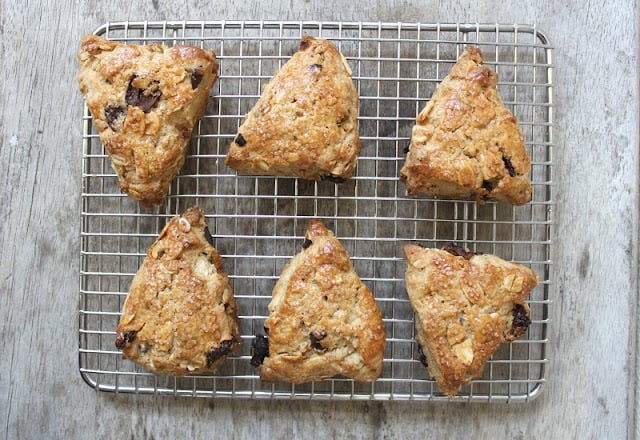 Just like cookies and muffins, scones are very easy to customize with a multitude of toppings and fillings.  Anything you can put into a cookie translates well into a scone.  Plus, you can also make savory scones with filings like ham, cheese, or roasted vegetables.
Unfortunately, many scones you can buy at bakeries and coffee shops are hard dense little hockey pucks pretending to be pastries.  These scones are nothing like that.  They are soft, crumbly, and full of flavor.
I like contrasting textures in my food.  I can't stand all mushy or all crunchy.  You get it all with these almond scones.  A little crunch from the turbinado sugar and toasted almonds, a little tart from the cherries and some chewy from the rolled oats.  You definitely won't get bored eating these.
These petite almond scones are perfect any time of day.  They aren't too sweet like a cinnamon roll, or as rich as a slice of cake, but a nice balance that goes well with coffee or tea.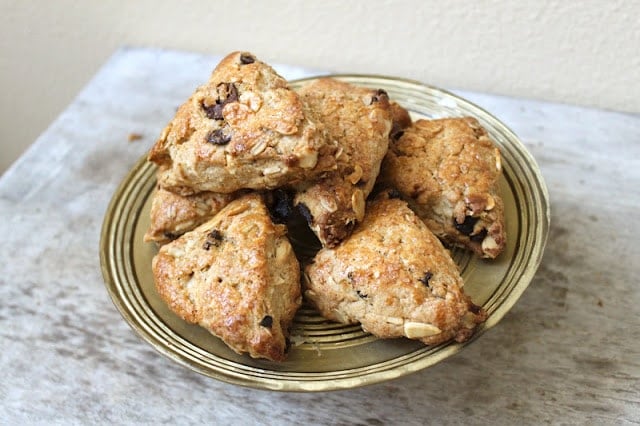 Tart Cherries and Toasted Almonds Scones
Yield: makes 8 petite scones
Ingredients
1

cup

all-purpose flour

1

teaspoon

baking powder

1/2

teaspoon

fine sea salt

1/3

cup

light brown sugar, packed

1/2

teaspoon

ground cinnamon

1/4

cup

unsalted butter, cut into small cubes, cold

1/2

cup

heavy cream, cold

1/4

cup

rolled oats

1/4

cup

dried tart cherries, chopped

1/4

cup

toasted sliced almonds, or nuts of your choice

turbinado sugar, to top
Egg Wash:
1

large egg

1/4

teaspoon

fine sea salt

2

teaspoons

water

1

Tablespoon

heavy cream
Instructions
Preheat oven to 350 degrees F. Line sheet tray with parchment paper.

In a medium bowl, whisk together flour, baking powder, salt, brown sugar, and cinnamon. Cut butter into dry mixture using a pastry blender, fork, or your fingers until mixture resembles coarse sand.

Make a well in the dry ingredients. Add cream. Fold until almost combined. Add oats, cherries, and nuts. Fold until incorporated and all the dry has been hydrated.


Turn out dough onto a lightly floured surface. Pat into a circle about 1 inch thick. Using a sharp knife, cut circle into 8 equal slices.


To make the egg wash, whisk together the egg, salt, water, and heavy cream.

Transfer to prepared sheet tray. Brush each scone with egg wash and sprinkle with turbinado sugar. Bake for 20-30 minutes until golden brown. Let cool on sheet tray for at least 5 minutes. Enjoy warm or at room temperature.