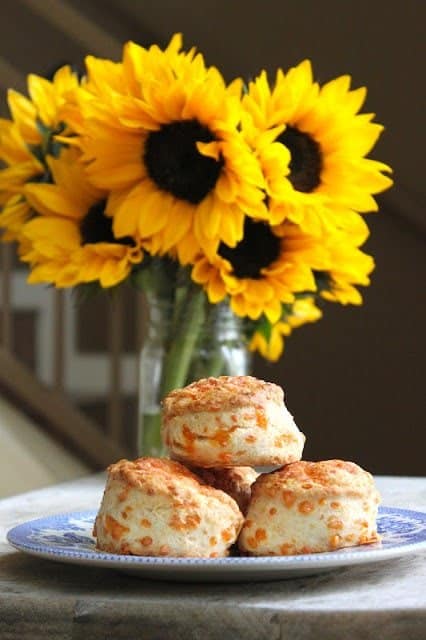 I wake up hungry.  I often don't need an alarm clock to get me up in the morning.  My stomach does the job for me.  I've been on an oatmeal and flax seed diet for the past week.  Although it is a fast and easy breakfast, it never quite hits the spot.
With only a handful of items in my fridge and pantry and less than half an hour to spare, I was able to make scrumptious biscuits.
My favorite thing about making biscuits is that it requires so little preparation.
Whenever you get the inkling to make some, you just whip out the ingredients and start baking.  The cream is good right out of the fridge, no need to let the eggs or butter come to room temperature.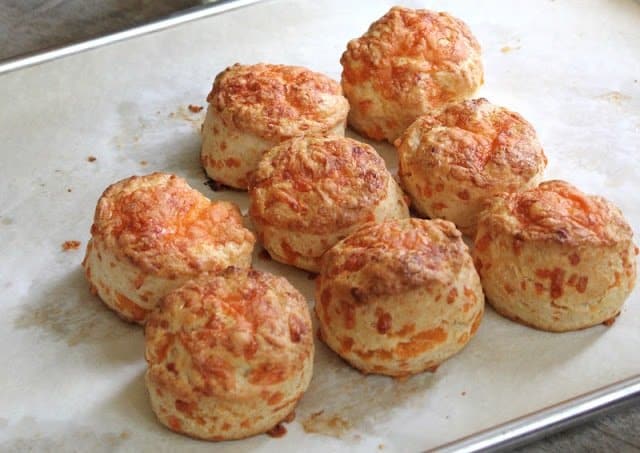 Cheddar Cheese Cream Biscuits
Unlike the traditional biscuits that cut in butter (or shortening or lard), these special biscuits are made entirely with cream.  Somewhat similar to the method for making scones, yet these biscuits have nice layers and rise up like butter biscuits.
No need for a fancy mixer or a food processor to make this dough.  You don't even need a biscuit cutter.  A glass or mug can easily punch out the rounds.
Or better yet, just cut the biscuits into squares with a knife.  Who said biscuits need to be round, anyways?
These biscuits are best eaten fresh from the oven, while its still warm and the cheese is still gooey.  If the biscuits do get a little cold, just pop them in the microwave for a 10-15 seconds to restore it back to its former glory.
These cheddar cheese cream biscuits can be devoured all by themselves or enjoyed with ham, bacon, and eggs.  Its a treat for breakfast, an accompaniment to a salad lunch or a starter for a nice sit down dinner.  It is sure to hit the spot and satisfy your salty and savory cravings.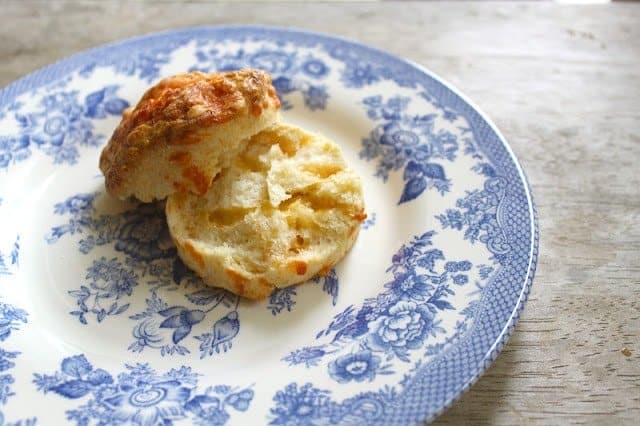 Cheddar Cheese Cream Biscuits
Ingredients
2

cups

all-purpose flour

1 1/2

teaspoon

granulated sugar

2

teaspoons

baking powder

1

teaspoon

fine sea salt

3/4

cup

cheddar cheese, shredded

1 1/4

cup

heavy cream
Instructions
Preheat oven to 425 degrees F. Line sheet tray with parchment paper.

In a medium bowl, whisk together flour, sugar, baking powder, salt and cheese. Add cream and stir with a wooden spoon until dough just comes together.

Turn dough out onto a lightly floured counter top. Knead dough together by hand until smooth. Pat dough into a 3/4-inch thick circle.

Punch out dough rounds with a 2 1/2 inch cutter. Push together remaining scraps of dough and pat until 3/4-inch thick. Punch out as many rounds. Discard remaining scraps. If you try to push scraps together again, they will not bake up as high and even as the other biscuits.

Place biscuits on prepared sheet tray. Brush tops of biscuits with heavy cream. Sprinkle more cheddar cheese on top, if desired. Bake for 20-22 minutes, rotating halfway, until biscuits are golden brown. Serve immediately.