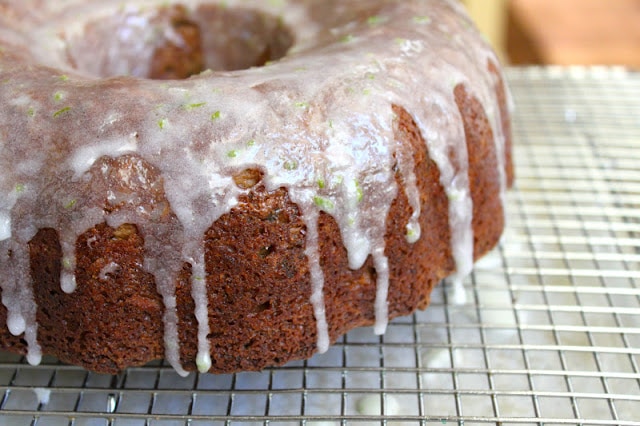 Bundt.  I think that's such a funny word.  I smile a little bit every time I hear bundt cake.  Maybe its because of the movie My Big Fat Greek Wedding.  There is this part when the groom's parents bring the bride's family a bundt cake.  The bride's Greek mother doesn't know why there is a hole in the middle of the cake.  Before serving the cake she places a potted plant in the hole.  I thought it was hilarious.  But then again, I'm a sucker for romantic comedies so I enjoyed the entire movie.
This is unlike the traditional bundt cake from the movie.  This is a tropical inspired bundt cake to celebrate the first day of summer!
The cake is made with extra virgin olive oil instead of butter.  To lighten up the flavors, the cake is packed full of zucchinis, shredded coconut, and toasted walnuts.  Its an extremely moist cake topped with a delicate and crunchy lime glaze.  Its quite possibly my favorite bundt cake.
I was a little hesitant to use olive oil in a cake.  I'm afraid that the taste would be too strong and overpower the rest of the ingredients.  When I sampled the raw batter, the olive oil was so assertive.  However, after baking, it did mellow out a great deal and rather complemented the sweet coconut.
Speaking of My Big Fat Greek Wedding and olive oil, I'm super excited to tell you that I'll be going to Greece and Italy next month for my birthday!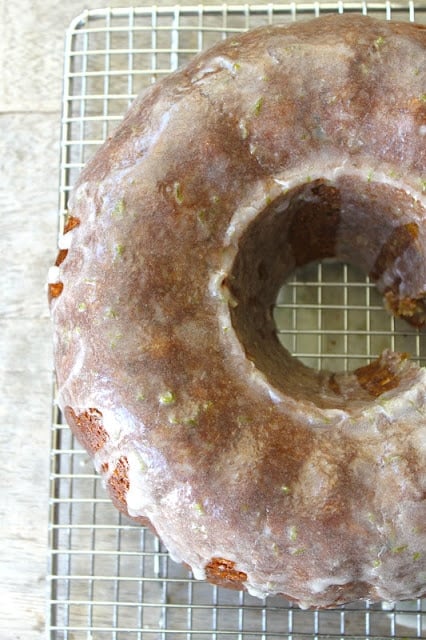 Zucchini Coconut Cake, adapted from David Lebovitz
makes 1 bundt cake
Ingredients

1 cup walnuts, lightly toasted, chopped
2 cups all-purpose flour
1 tsp baking powder
1 tsp baking soda
3/4 tsp fine sea salt
1 cup granulated sugar
3/4 cup dark brown sugar, packed
1 cup extra virgin olive oil
3 large eggs, room temperature
1 1/2 tsp vanilla paste
1 1/2 cup sweetened shredded coconut
2 1/2 cups zucchini, shredded, squeezed of excess moisture
Method

1.  Preheat oven to 350 degrees F.  Grease bundt cake pan.
2.  In a medium bowl, whisk together flour, baking powder, baking soda, and sea salt.  Set aside.
3.  In the bowl of a stand mixer fitted with a paddle attachment, mix together sugars and olive oil.  Add eggs one at a time until incorporated.  Add vanilla paste and mix until smooth.
4.  Add flour mixture.  Mix on low until almost combined.  Add walnuts, coconut and zucchini.  Mix until thoroughly combined.
5.  Transfer batter to prepared bundt pan.  Make sure batter is level.  Bake for 45-50 minutes until toothpick inserted in center of cake comes out clean.  Let cool slightly on cooling rack then invert and allow to cool to room temperature.
Lime Glaze

Ingredients

1/4 cup fresh lime juice
1/3 cup granulated sugar
1 cup confectioners' sugar
Method

1.  Whisk together all the ingredients.  Brush glaze over cooled cake.