Kick off autumn baking with this moist and flavorful pumpkin bundt cake. Finish the cake with a generous drizzle of spiced glaze!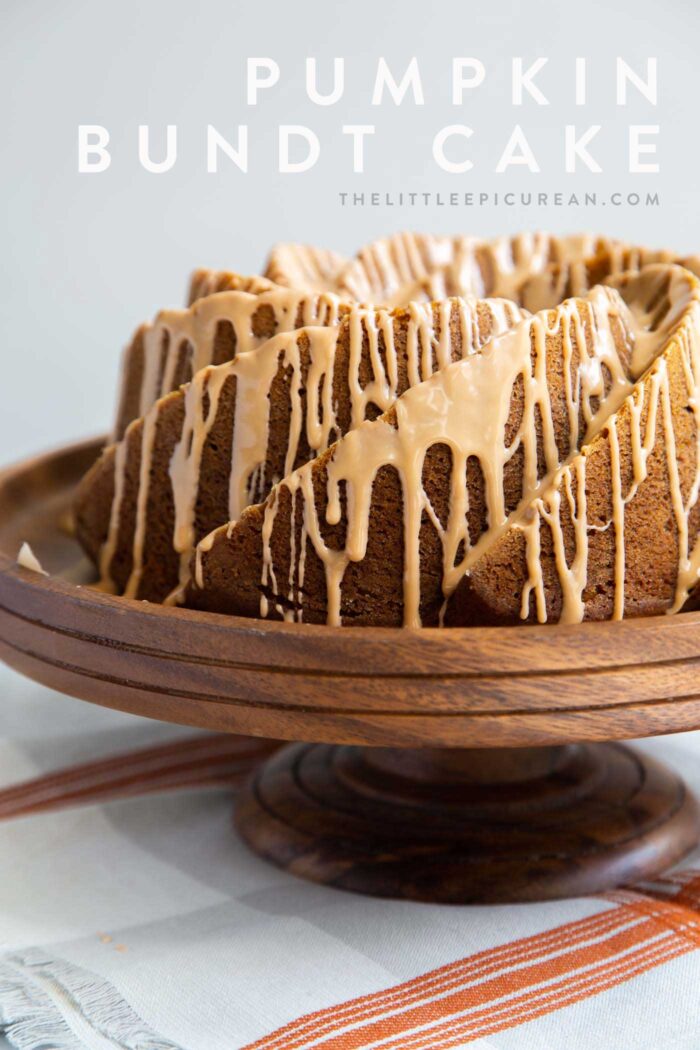 Pumpkin tastes rather bland on its own.
Sure, it has earthy flavors similar to its squash family members like butternut squash and acorn squash. But, the flavor we have come to associate with pumpkin is due to added spices.
Without the combination of warm spices, pumpkin baked treats aren't as delicious or exciting. This pumpkin bundt cake takes those spices to another level!
This bundt cake is finished with a boozy spiced glaze! (Of course I have included an alcohol-free version as well!)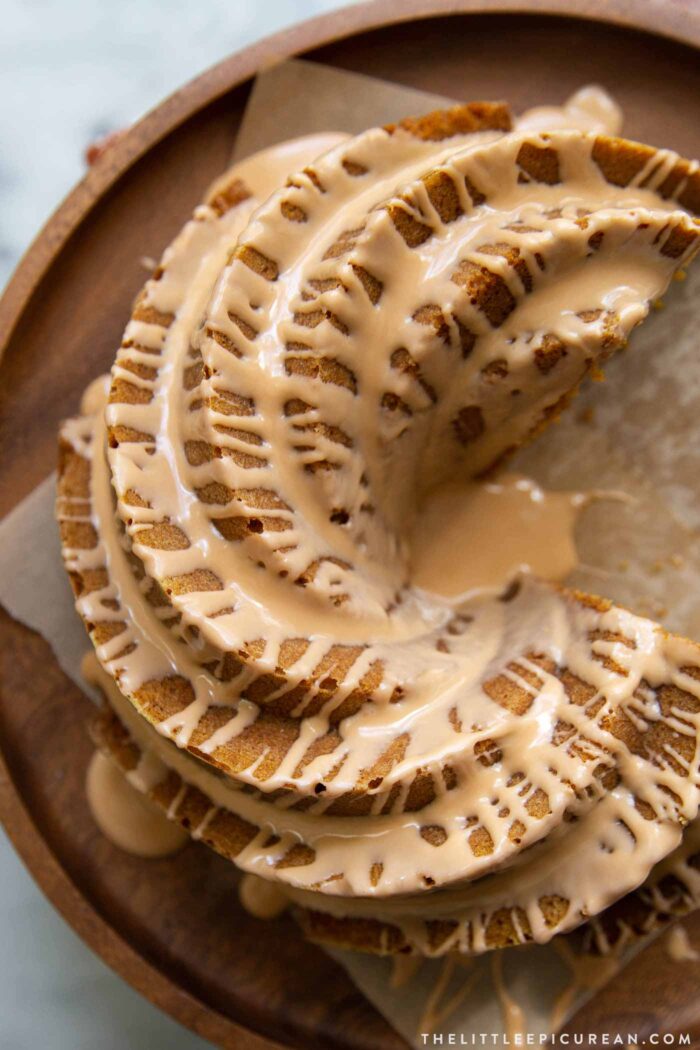 This is the perfect recipe to kick off the fall baking season!
Pumpkin bundt cake is a straightforward recipe that can be easily mixed by hand (or in a stand mixer). If you don't have a bundt cake, you can still bake this batter in a loaf pan or round cake pan.
Ingredient Notes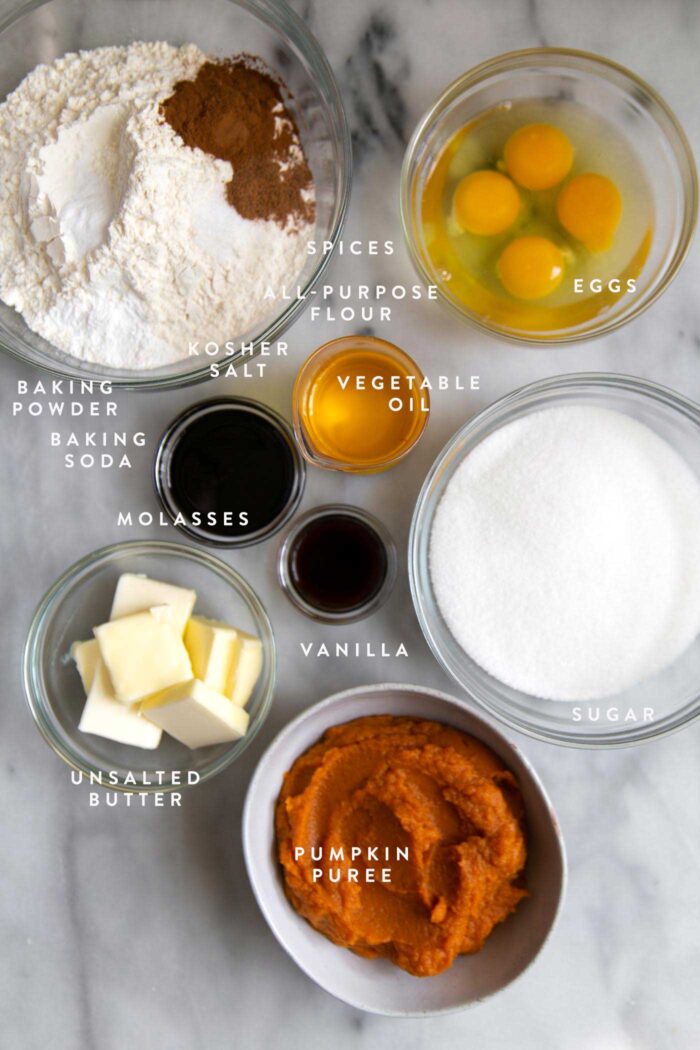 This bundt cake batter uses a combination of butter and oil. Butter adds flavor and richness, while the oil provides moisture.
In conjunction with the oil, pumpkin puree lends added moisture to baked goods, the same way that shredded zucchini or mashed bananas does.
For best results, measure dry ingredients by weight using a kitchen scale. If you prefer to measure by volume, use the stir and spoon method.
All-Purpose Flour : For consistency, all recipes shared on this site are created and tested with King Arthur all-purpose flour. One cup equals 130 grams.
Spices : Cake batter is spiced with a combination of ground cinnamon and ground nutmeg. Alternatively, you may use pumpkin spice mix.
Oil : Use any neutral flavored cooking oil such as vegetable oil, grape seed oil, or avocado oil.
Molasses : Adds flavor and coloring. Use light, dark, or blackstrap molasses.
Pumpkin Puree : Use canned 100% pure pumpkin puree. Read the label! Don't get pumpkin pie puree. I don't recommend homemade pumpkin puree because it tends to have more liquid.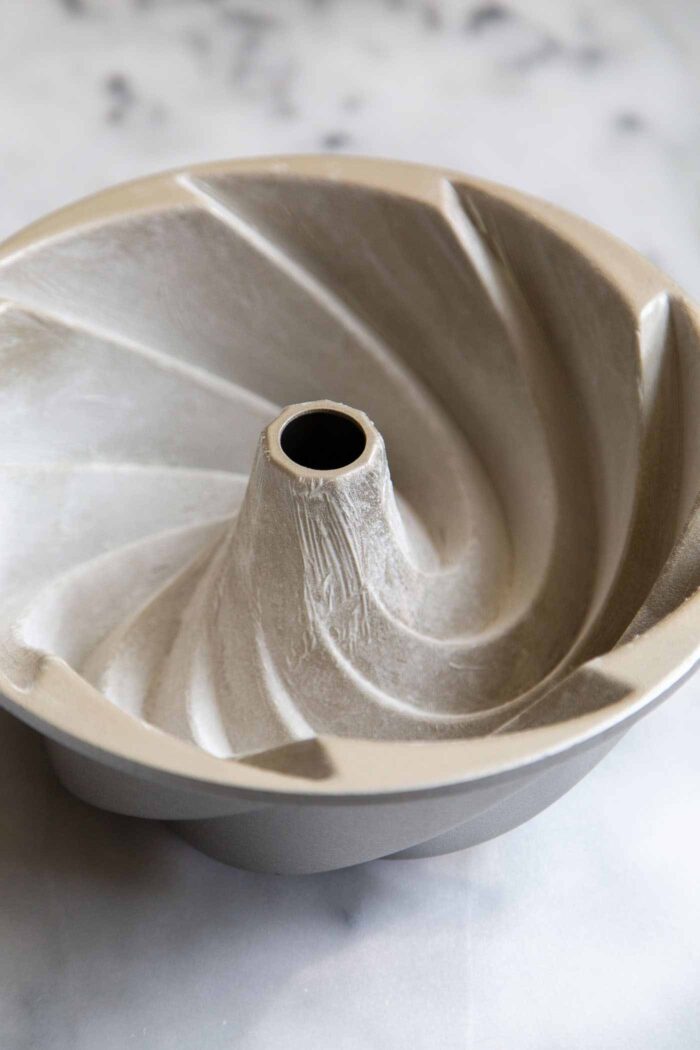 How to Prep Bundt Pan
Every bundt cake will benefit from being baked in a greased bundt pan. Even nonstick bundt pans should be greased. There are several greasing options: butter, oil, or spray.
I prefer using butter. Soften butter until it has the consistency of mayonnaise. Use a silicone pastry brush to coat all the nooks and crannies of the bundt pan.
Add a tablespoon or two of flour into the buttered bundt pan. Turn and swirl the pan around to distribute the flour. Tap out any excess flour.
That's it! The bundt pan is ready for batter and baking!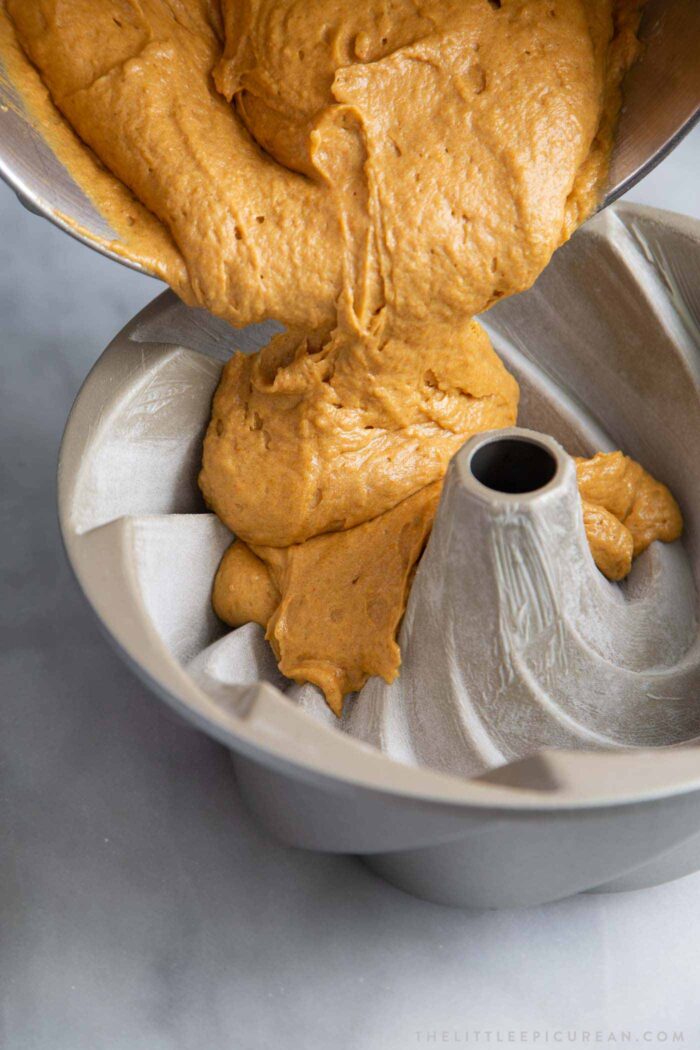 Thick Cake Batter
The batter for this pumpkin bundt cake is rather thick. Pour batter into the prepared bundt pan.
Then, forcibly tap the bundt pan against a hard surface to ensure the batter has filled all the nooks of the pan (and also to remove excess air bubbles).
Level the top of the batter with an offset spatula or the back of the spoon.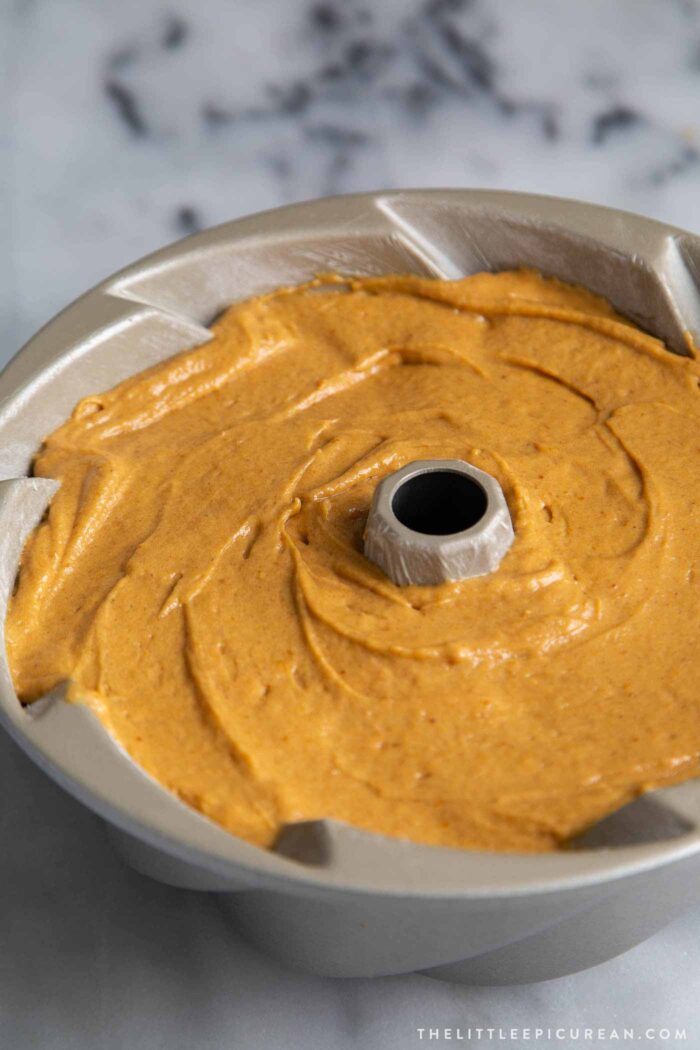 Recommended Bundt Cake Pan
This recipe was tested in a 10-inch bundt cake pan (10-cup capacity). You may use up to a 14-cup capacity pan with no problem.
I recommend this non-stick 10-cup capacity bundt pan by Nordic Ware. It has a classic shape and design that is easy to clean and use.
This classic bundt pan is always yields great results as well.
Tips For Unmolding Cake
It's important to grease and flour the pan before adding the batter for baking. This step helps in the unmolding process!
After baking, let the cake cool in the pan for 10-15 minutes. This time allows the cake to slightly pull away from the edges of the pan. The cooling time also helps the cake set up and regain its strength.
NEVER unmold a hot cake directly out of the oven. A hot cake is fragile. This will only end in disaster.
To unmold, place wire rack over the bundt pan. Invert the pan with the rack. Tap on the pan, if necessary. The cake should just slide out of the pan onto the wire rack.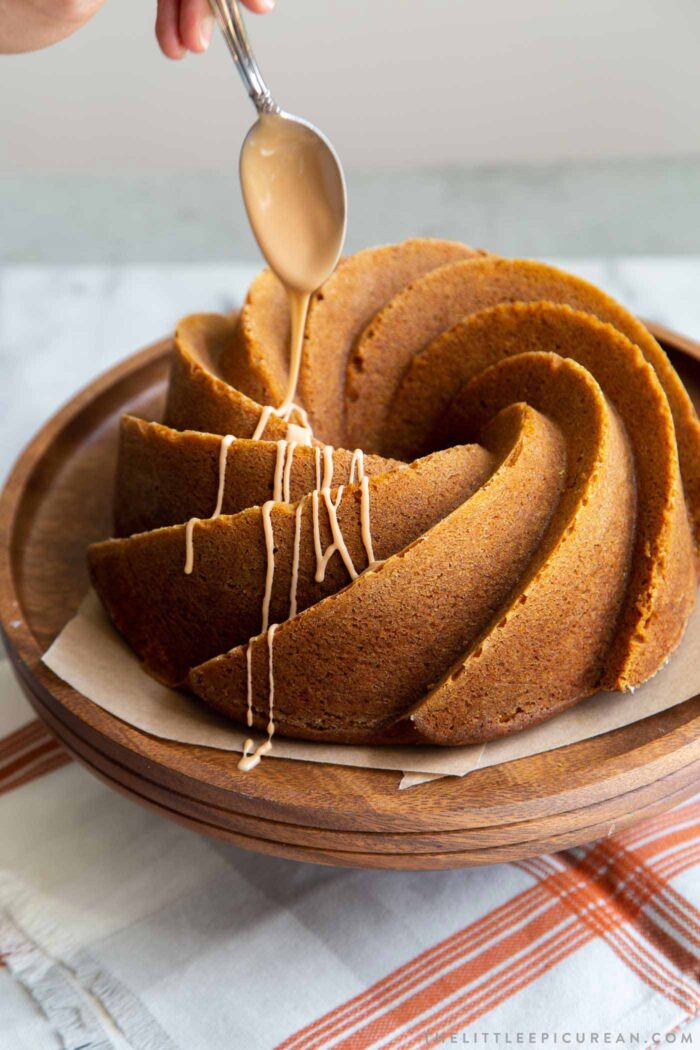 Pumpkin Spice Latte Glaze
There are two ways to make the pumpkin spice glaze: a family-friendly version and a festive boozy version!
The family friendly version is flavored with pumpkin spice mix. Pumpkin spice or pumpkin pie spice is a mixture of ground cinnamon, nutmeg, ginger, and cloves.
Baking Tip:
DIY Pumpkin Spice
Pumpkin spice mix is mixed together with confectioners' sugar and milk to create this sweet luscious glaze.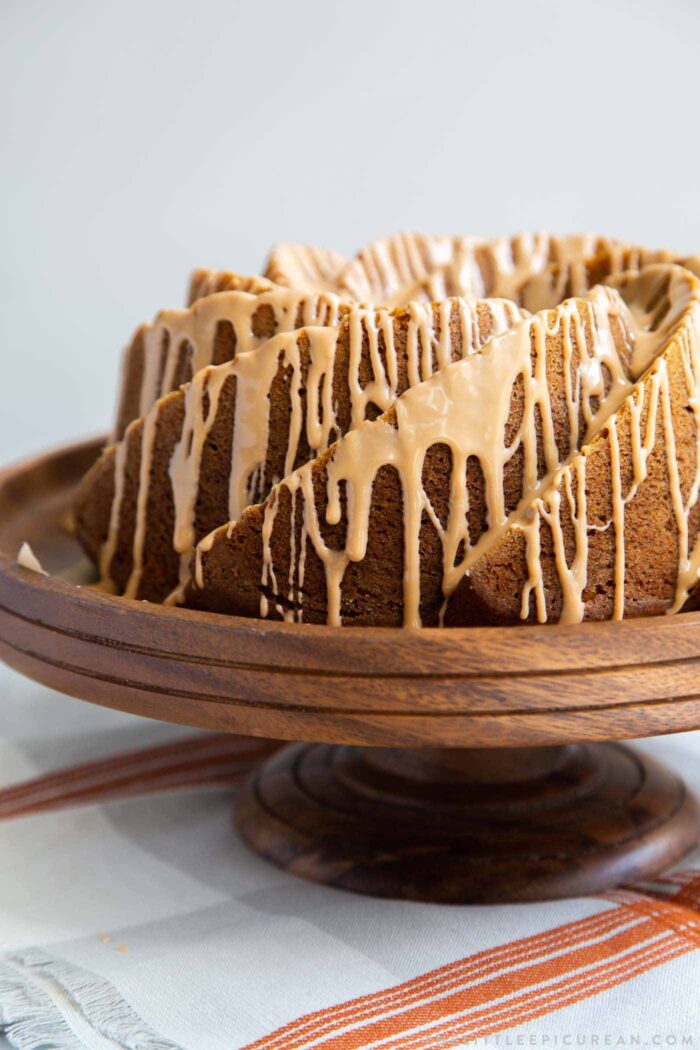 Boozy Glaze Option
The festive boozy glaze is made with pumpkin spice liqueur! There are many options to choose from.
The Sugarlands Distilling Company Pumpkin Spice Latte Sippin' Cream is my personal favorite!
Other options include: Kahula Pumpkin Spice Liqueur (combination of rum, coffee, and spices), Baileys Pumpkin Spice Liqueur, or Trader's Joe's Pumpkin Spice Cream Liqueur.
Pumpkin spice cream liqueur mixed with confectioners' sugar creates a magical glaze! You'll want to use this on all sorts of autumn baked goods such as scones, muffins, cookies, and layer cakes!
It's already great drizzled on pancakes or French toast!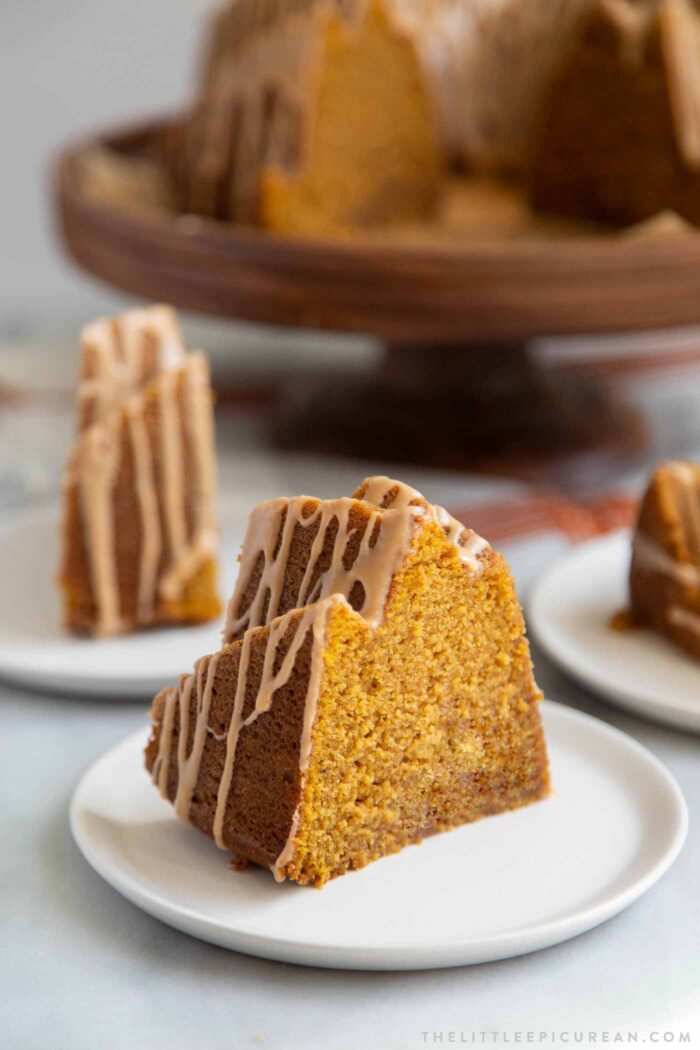 Cake Storage and Leftovers
Store leftover cake in an airtight container for up to three days. Overtime, the cake will dry out. Better enjoy it while it's fresh! 
Here are some recommended cake carriers: cake keeper or deluxe bundt cake keeper.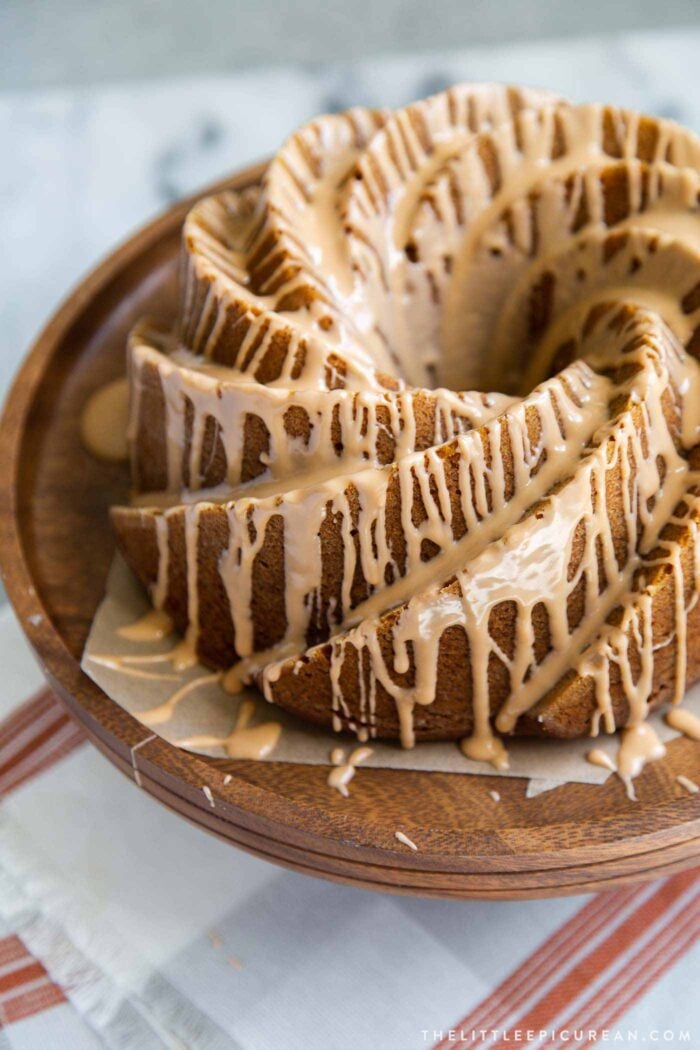 Related Pumpkin Recipes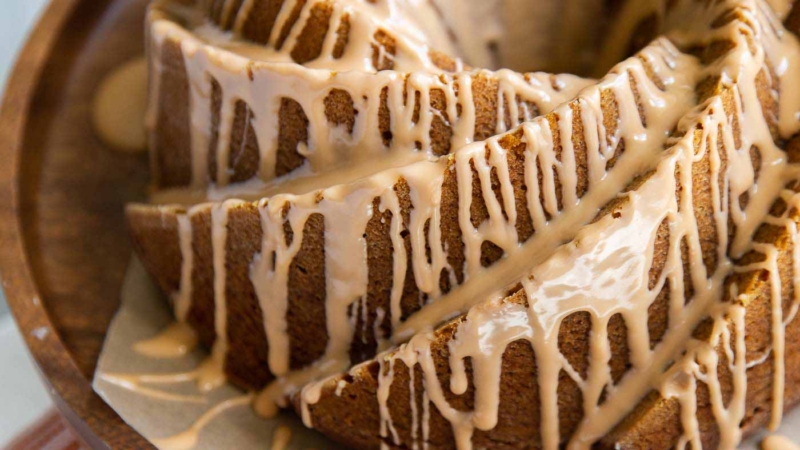 Pumpkin Bundt Cake
Kick off autumn baking with this moist and flavorful pumpkin bundt cake. Finish the cake with a generous drizzle of spiced glaze!Yield: 10-inch bundt cake
Ingredients
113

grams

(1/2 cup) unsalted butter,

softened

100

grams

(1/2 cup) vegetable oil

400

grams

(2 cups) granulated sugar

65

grams

(3 Tbsp) molasses

2

teaspoon

pure vanilla extract

4

large eggs

room temp

390

grams

(3 cups) all-purpose flour

1

teaspoon

baking powder

1/2

teaspoon

baking soda

1/2

teaspoon

kosher salt

1 ½

teaspoon

ground cinnamon*

1/4

teaspoon

ground nutmeg*

454

grams

(16 oz) canned pumpkin puree*
Boozy Glaze:
115

grams

(1 cup) confectioners' sugar

3

Tbsp

Pumpkin Spice Cream Liqueur

*
Pumpkin Spice Glaze:
115

grams

(1 cup) confectioners' sugar

3

Tbsp

milk or cream

1/2

teaspoon

pumpkin spice mix

1/2

teaspoon

pure vanilla extract
Instructions
Cake:
Preheat oven to 350°F. Generously butter and flour 10-cup bundt cake pan. Tap out excess flour. Set aside.

In the bowl of a stand mixer fitted with a paddle attachment (or using a handheld mixer, cream together butter, oil, sugar, molasses, and vanilla. Scrape down bowl as needed.

Add eggs one at a time, ensuring each egg is incorporated before adding the next. Mix on medium speed until well blended.

In a large bowl, whisk together flour, baking power, baking soda, salt, and spices. Set aside.

Add the dry flour mixture in three additions, alternating with the pumpkin puree. Begin and end with the flour mixture. Mix on low speed until thoroughly combined. Scrape down bowl as needed to ensure even mixing.

Pour batter into prepared bundt cake pan. Level batter. Bake for 55-65 minutes until cake springs back to touch and a toothpick inserted in cake comes out clean.

Allow cake to cool in pan for 10-15 minutes. Invert bundt cake onto a wire rack. Unmold and cool cake to room temperature.
Glaze:
Whisk together all ingredients until smooth. Pour or drizzle over cooled bundt cake.
Notes
Bundt Cake Ingredients:
Cinnamon and nutmeg can be replaced with equal amount pumpkin spice mix
Be sure to use canned pumpkin puree, NOT pumpkin pie mix. Pumpkin should be the only ingredient on the label.
Boozy Glaze: I recommend using Sugarlands Distilling Company Pumpkin Spice Latte Sippin' Cream. Other options include- Kahlua Pumpkin Spice Liqueur, Baileys Pumpkin Spice Liqueur, or Trader Joe's Pumpkin Spice Cream Liqueur. 
Homemade Pumpkin Spice Mix: 1 Tbsp ground cinnamon, 1 teaspoon ground nutmeg, 3/4 teaspoon ground cinnamon, and 3/4 teaspoon ground cloves or ground allspice.