Last year, I was addicted to Intelligentsia Coffee. I can't tell you how many times I would stop by to get an Angelino. Thanks to my new Nespresso machine (that I gave myself for Christmas), I can make my own lattes, cappuccinos, and espresso shots anytime I want. Naturally, coffee drinks need a pastry or baked good of some sort. With all this caffeine in my system, I definitely need something of substance to keep me from bouncing off the walls.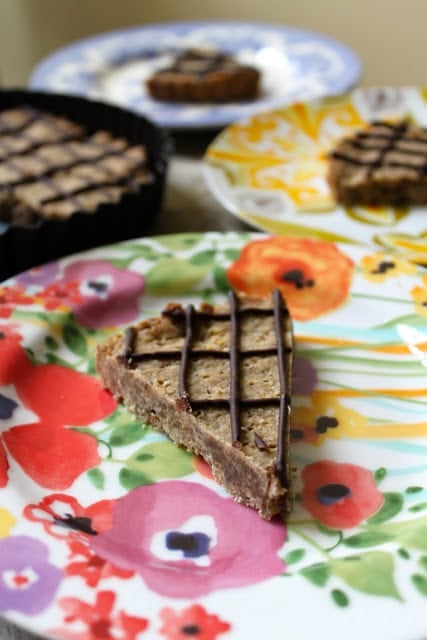 I'm not a big fan of biscotti. Its too hard, dense, and tough for me. Sometimes, I like scones. But they have to be maple iced scones, otherwise count me out. I'm more keen to the fragile, more dainty, and sweeter coffee treats.
Shortbread. Shortbread is the perfect mid-morning cappuccino accompaniment. And this shortbread is special. This shortbread has a big surprise. This shortbread is made with beans. Yes, BEANS!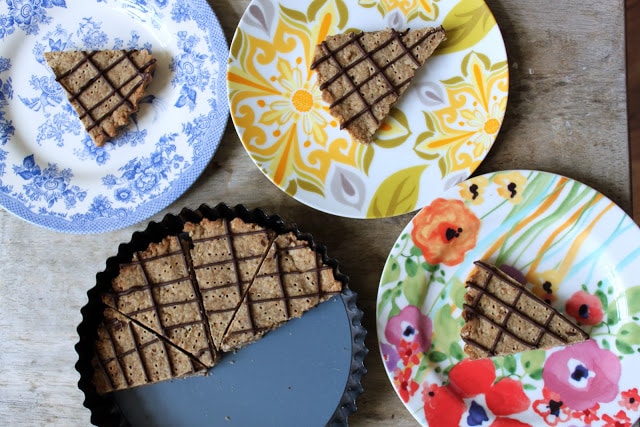 I stumbled upon this amazing cookbook, Spilling the Beans. Its fascinating and intriguing cookbook. Beans of all sorts are incorporated into favorite dishes. I've bookmarked a bunch of recipes I can't wait to try.
This pecan shortbread is amazing. It's so addicting and super tasty. The original recipe called for melted butter but I went a step further and used browned butter. I love using brown butter in baked goods. It adds an intoxicating, warm nutty flavor that makes my tastebuds dance.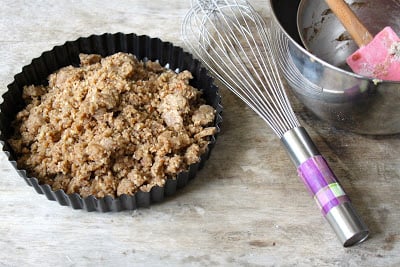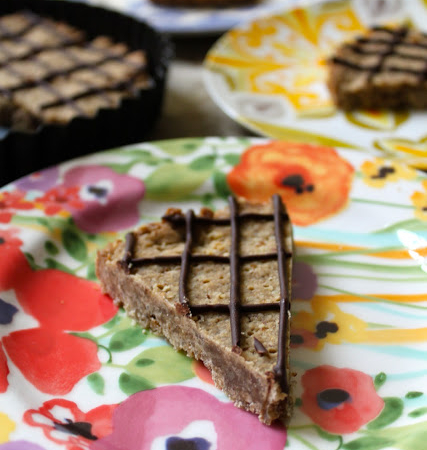 Surprise Pecan Shortbread
Ingredients
½

cup

toasted pecans

½

cup

+ 2 Tbsp unsalted butter

½

cup

light brown sugar,

packed

½

cup

canned white beans

rinsed and drained

¾

cup

all-purpose flour

2

Tbsp

cornstarch

½

teaspoon

kosher salt

¼

cup

chocolate chips,

melted
Instructions
In a food processor, grind pecans until sandlike in texture.  Set aside.

Melt ½ cup butter in a sauce pot over medium heat.  Continue to cook and brown the butter until fragrant.  It will smell very nutty.   Be careful not to burn the butter.  Remove from heat.

Back to the food processor, puree cooled butter, brown sugar, and white beans together.  Pour puree into the sauce pot and cook over medium heat.  Stir constantly.  Cook puree until it boils and because thick and gummy.  This should take around 5 minutes.  Remove from heat.  Transfer to a bowl and let cool for 10 minutes

In a medium bowl, whisk together flour, cornstarch, and salt.  Add cooled puree to dry ingredients and fold to combine.

Press dough into a 9-inch round cake pan.  Lightly cover pan with plastic wrap and chill in the refrigerator for 2 hours, until dough is firm.  To speed up the process, you can also freeze the dough for 30 minutes.

Preheat the oven to 325 ° F.  Remove dough from the refrigerator and dock all over with a fork.  Bake in the preheated oven for 30-35 minutes, until shortbread is set and lightly golden in color.  Let cool.  Melted chocolate chips and drizzle over cooled shortbread.  Cut into wedges and serve.
Notes