Sweet, rich, and creamy homemade red bean ice cream. This easy to make ice cream is a delicious treat perfect for any season.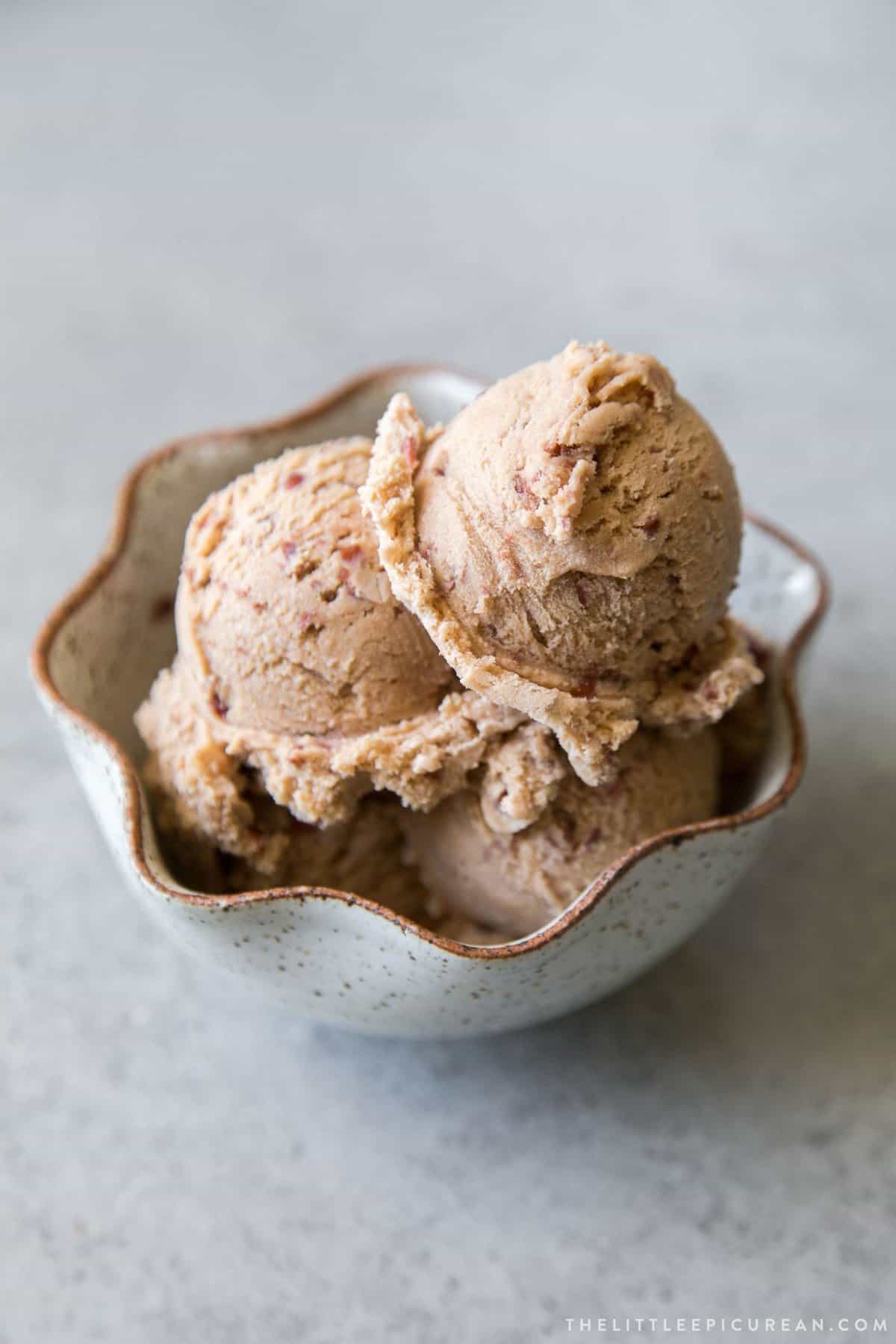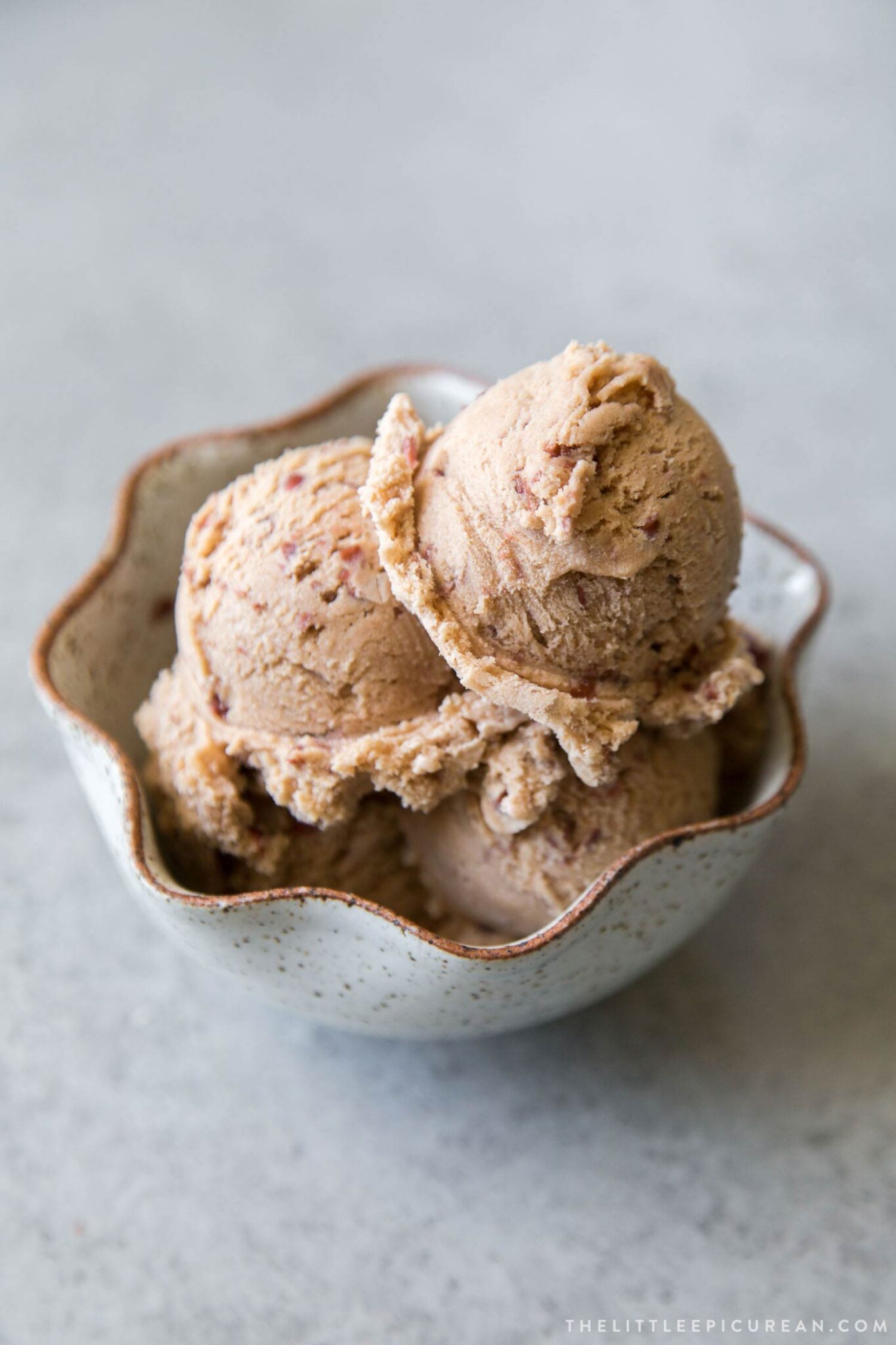 Beans for dessert? Yes!
Sweet beans are popularly used in many Asian desserts.
Red beans are often used as filling for steamed buns, sweet dumplings, and bread pastries.
Filipino halo-halo layers shaved ice with sweet red bean, sweet white beans, and ube ice cream.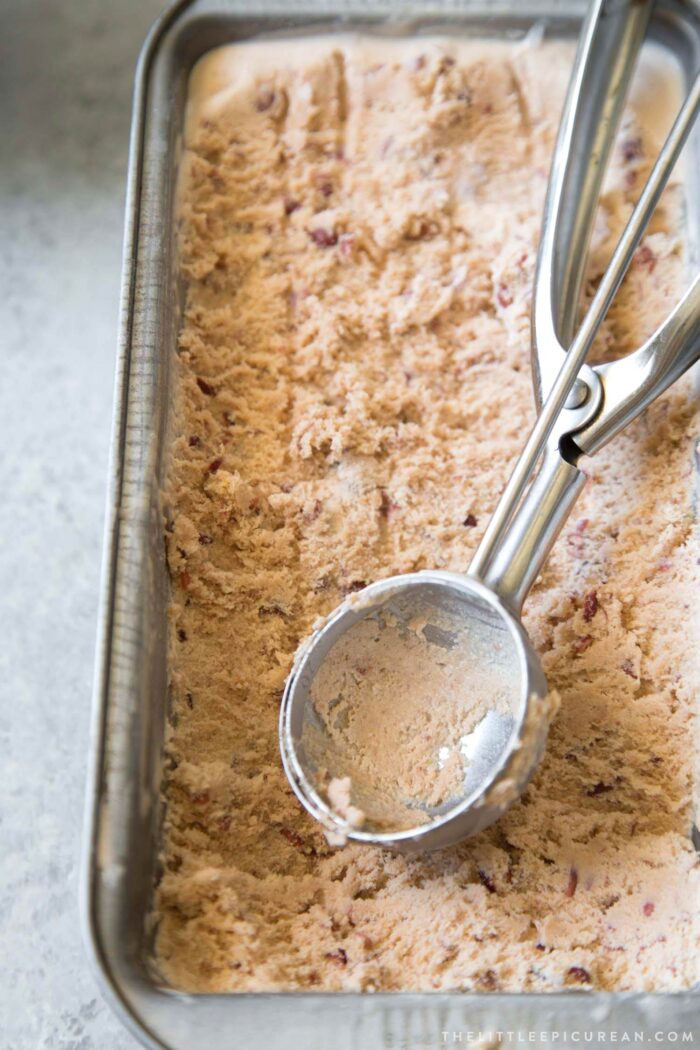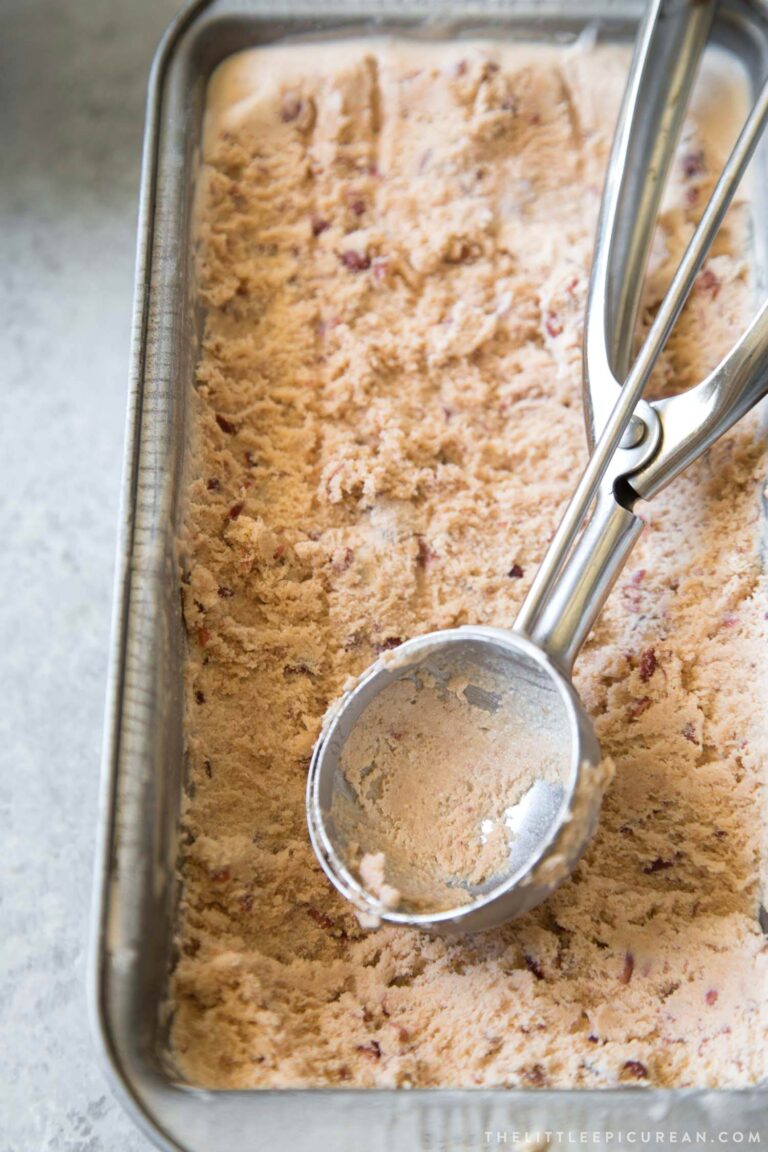 Azuki Ice Cream
Ice cream is the perfect vehicle for trying new flavors.
It blends together the familiar with a touch of the unknown in an enjoyable experience.
Once you fall in love with red bean ice cream, you should try it with matcha!
Red bean is often paired with matcha to make layer cakes, mousse cakes, and ice cream sundaes.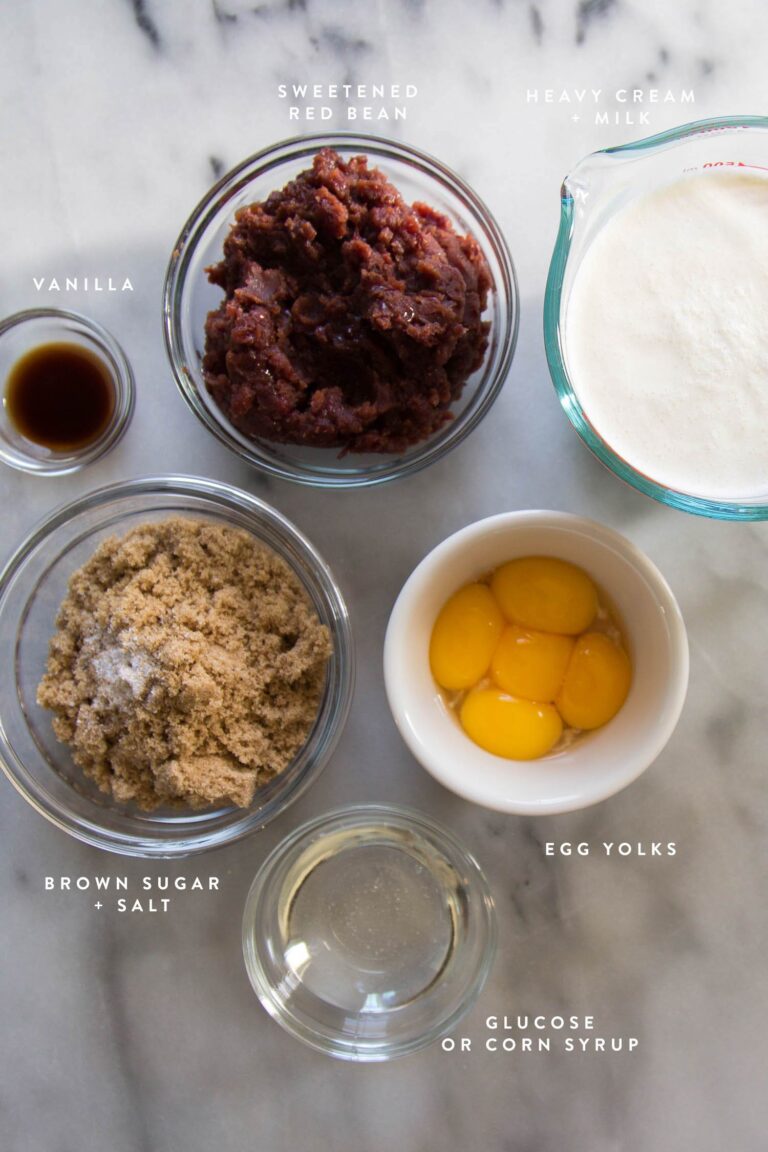 Turn Light Corn Syrup into Glucose Substitute
Make an easy homemade version of glucose syrup in the microwave using light corn syrup.
Bring one part light corn syrup to a boil in the microwave (or over a stove). Remove from heat and add another one part light corn syrup.
The resulting mixture will have the same consistency as glucose!
What is glucose? Why use glucose in homemade ice cream?
Glucose is an invert sugar. It minimizes the formation of large ice crystals.
As such, glucose makes ice cream and sorbets softer, creamier, and easier to scoop.
Glucose helps to ensure your homemade ice cream doesn't turn into a hard lump of ice.
This ingredient is used in a wide range of food applications. It gives luster and shine when used in chocolate sauces or ganaches. In candy making, it prevents the formation of unwanted sugar crystals.
Glucose is sold in giant containers specifically meant for candy stores, bakeries, or restaurants. It is not suited for infrequent home use.
Therefore, homemade "glucose" or reduced corn syrup is a wonderful alternative!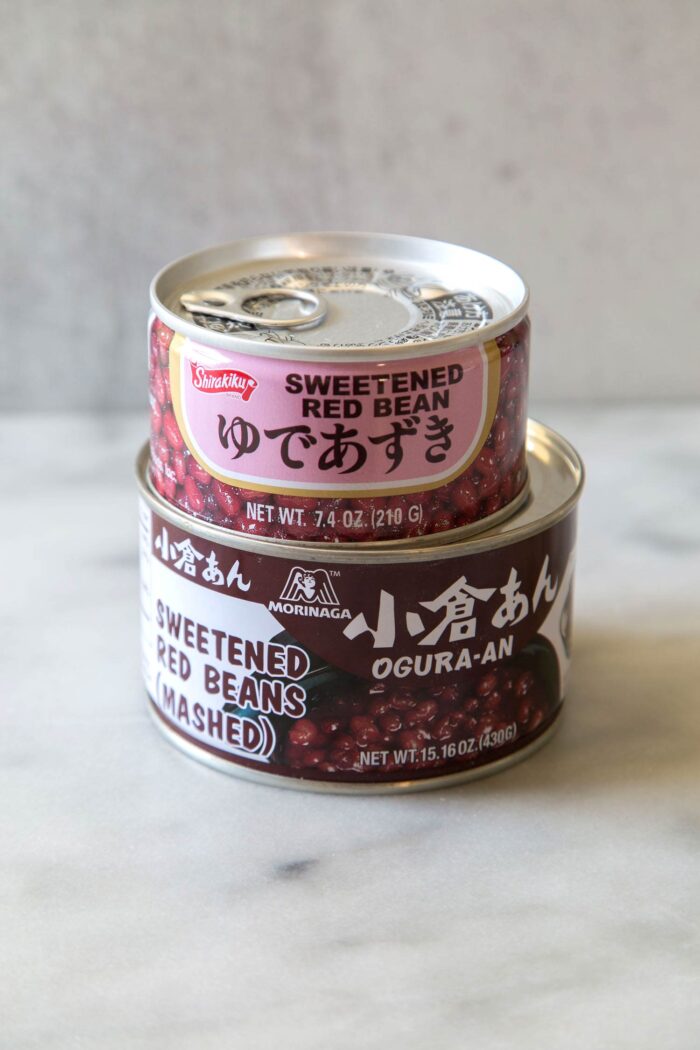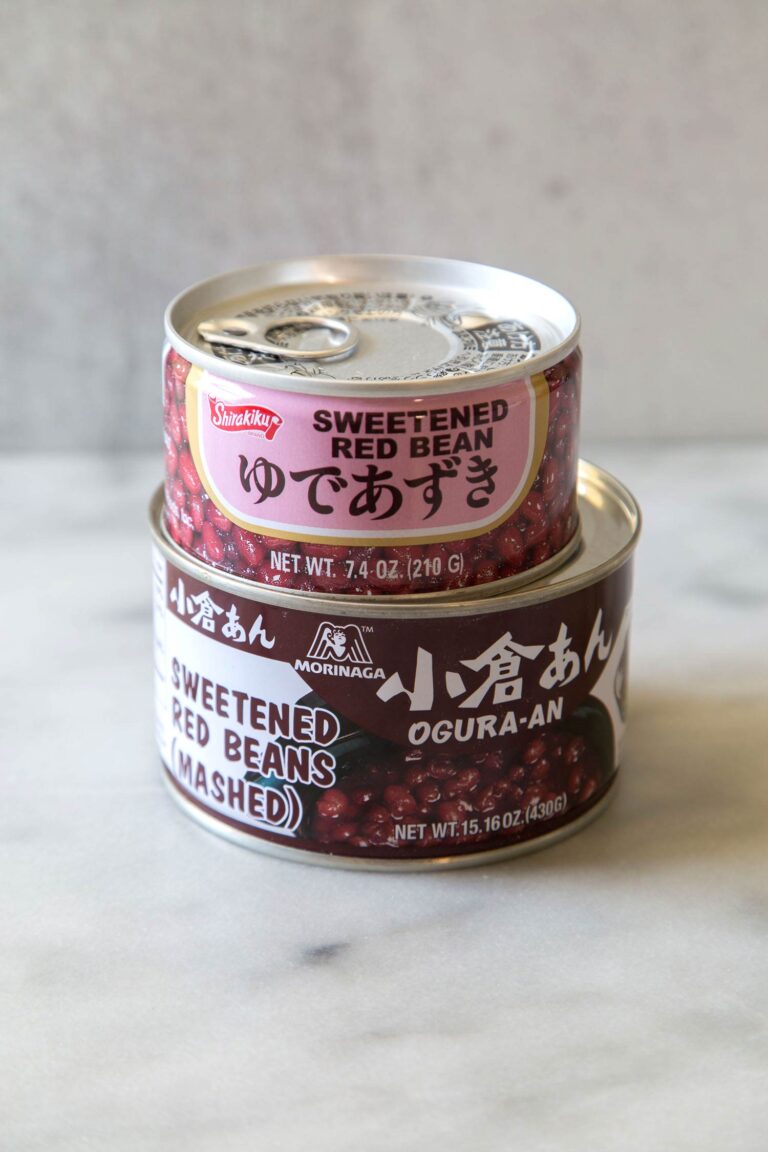 Canned Red Bean Options
I prefer the Shirakiku sweetened red bean showed above. It is labeled as "yude azuki," "prepared red bean," or "sweetened red bean."
Asian supermarkets carry a wide variety of canned sweet red beans. Be sure to get one that is sweetened! It might also be labeled as "prepared sweet azuki" or "azuki red beans."
There are three preparations of red bean: whole, mashed, or puree. I suggest using whole or mashed.
Your choice in red bean preparation will determine the texture of the red bean ice cream.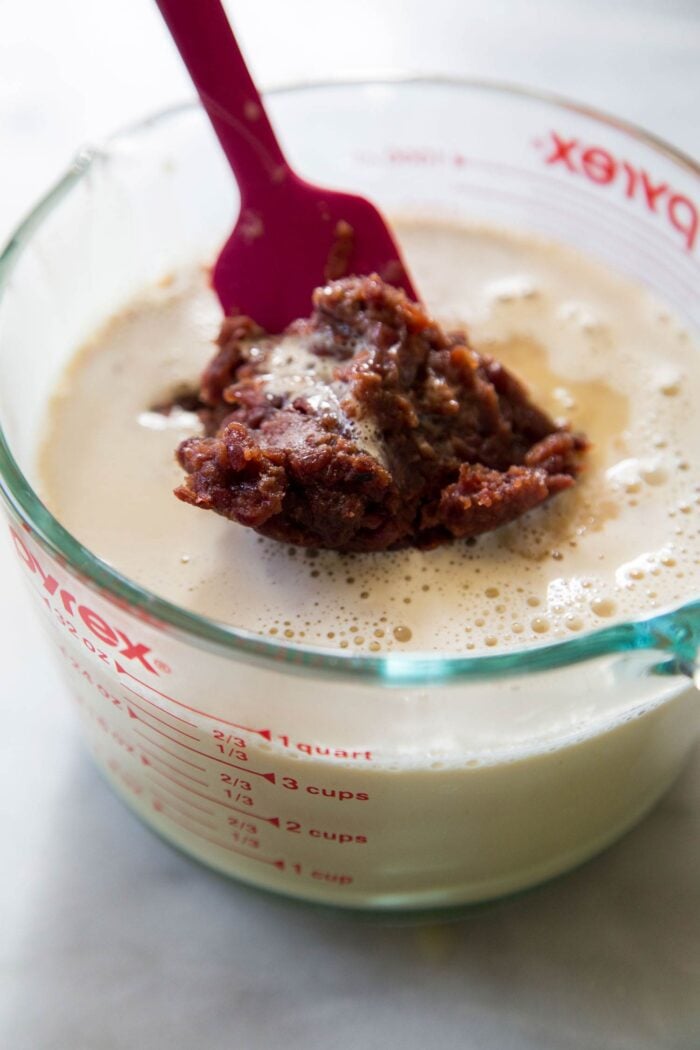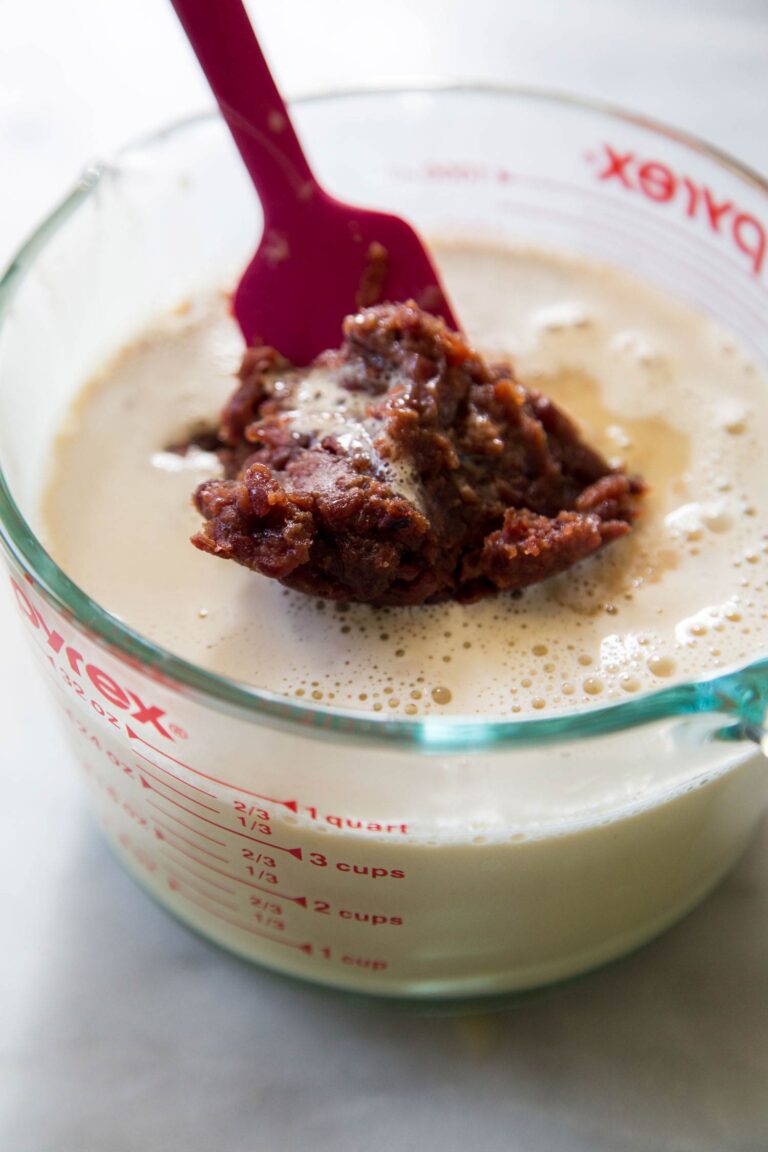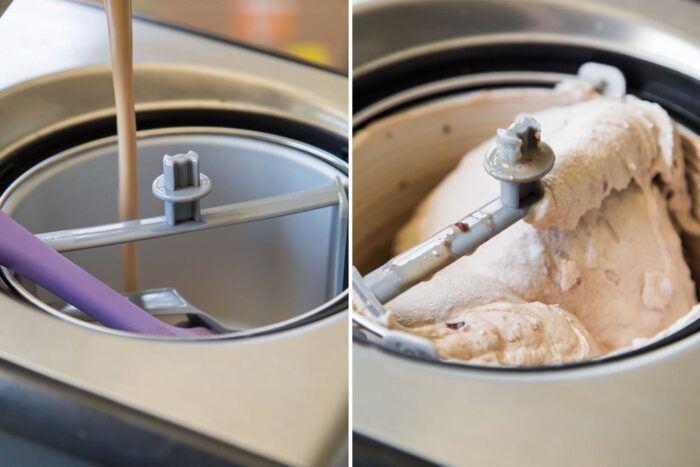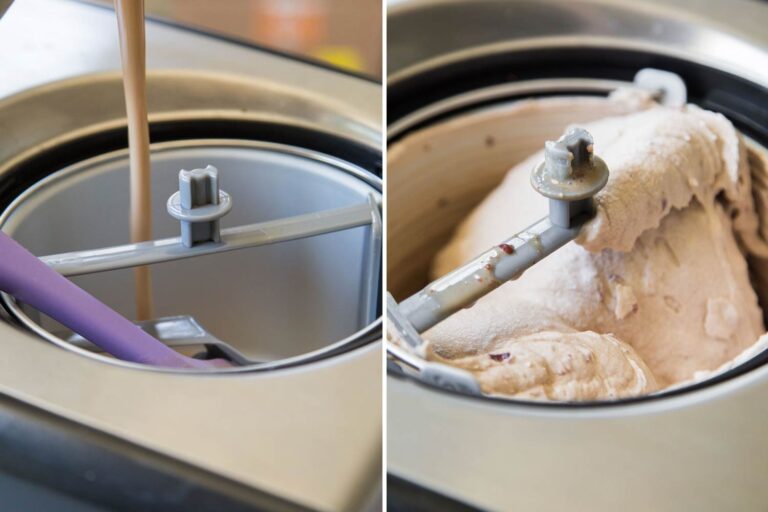 Recommended Ice Cream Equipment
Over the years, I have used a variety of different ice cream machines.
This compressor ice cream machine is my personal favorite. It is very easy to use and super convenient because it does not require additional prep.
Compressor ice cream machines are generally more expensive and have a larger footprint compared to simpler ice cream machines.
However, keep in mind that simpler ice cream machines require you to freeze the ice cream canister ahead of time. Those canisters usually need to be stored in the freezer 24 hours before use.
The compressor machine automatically chills the canister as it churns the ice cream mixture. You'll have fresh churn ice cream ready within 30 minutes!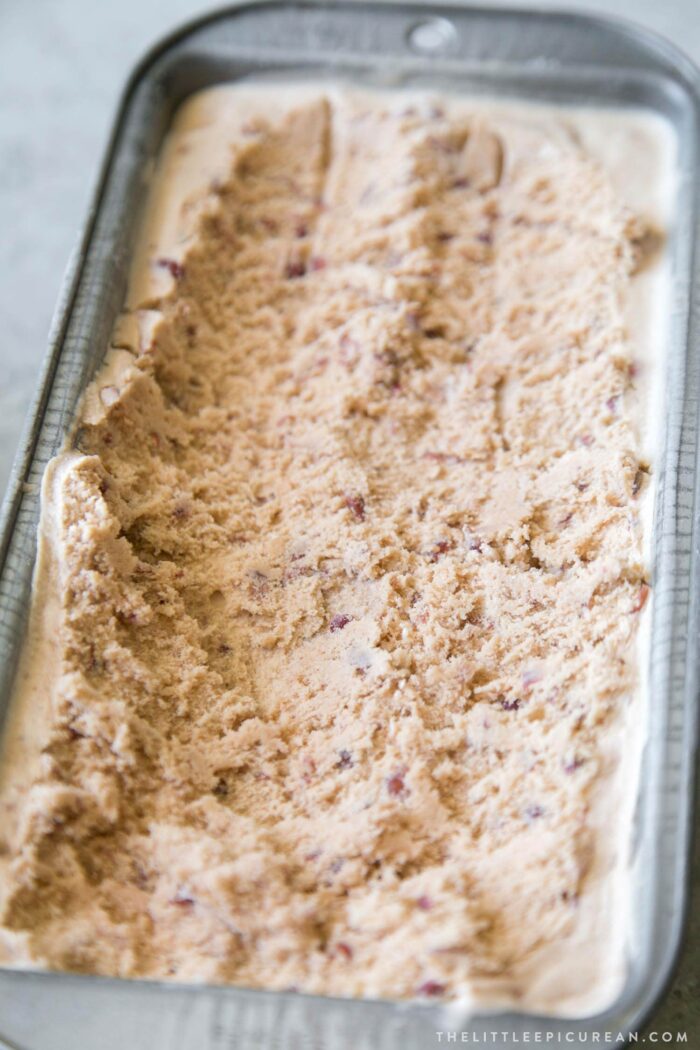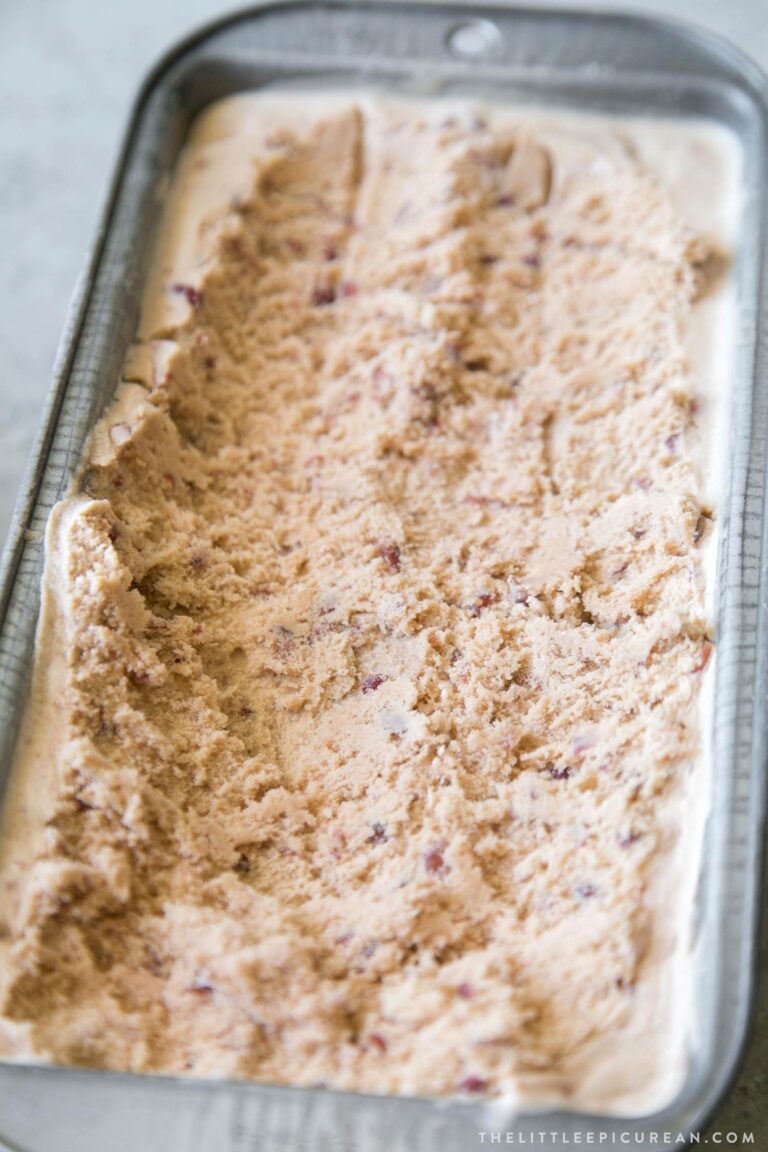 How to Store Homemade Ice Cream
The fresh churned red bean ice cream may be eaten straight from the machine canister. However, it will have the consistency of soft serve ice cream.
For the traditional ice cream texture, spread the churned ice cream into a freezer safe container and freeze for a few hours until thickened.
There are many options for freezer safe containers. Ideally, the container should have a lid or cover.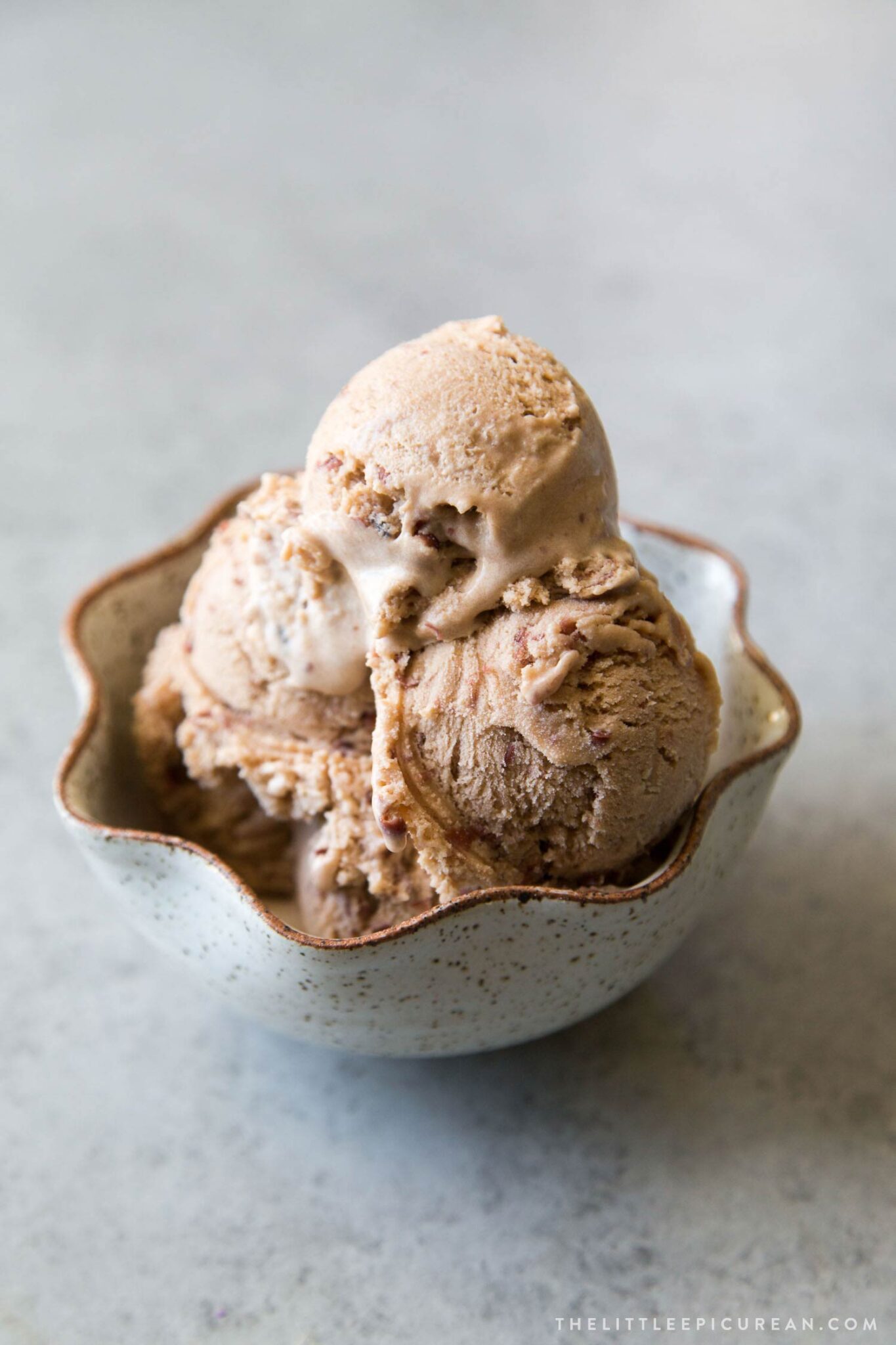 I like to use a 9×5-inch loaf pan like the image above. Cover well with plastic wrap.
It's a good habit to press the plastic wrap directly onto the surface of the ice cream. This will help prevent freezer burns and ward off any unwanted flavors from seeping in.
An airtight freezer safe container is the best option. I like these stackable containers.
Store ice cream in the coldest part of the freezer, usually the very back of the freezer. This homemade red bean ice cream will stay fresh for about a week.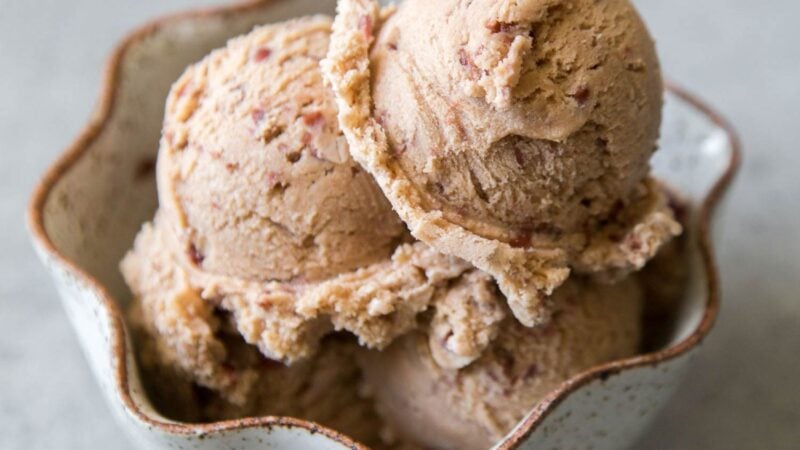 Azuki Red Bean Ice Cream
Equipment
digital kitchen thermometer

ice cream machine
Ingredients
1 ¼

cup

heavy cream

(285 g)

¾

cup

whole milk

or 2% milk (170 g)

½

cup

light brown sugar

(100 g)

5

large egg yolks

(70 g)

¼

teaspoon

kosher salt

1 ½

teaspoon

pure vanilla extract

2

Tablespoon

reduced corn syrup*

(42 g) see notes

1

cup

canned prepared sweetened red bean

(300 g)
Instructions
In a medium sauce pot, combine cream, milk, and about one tablespoon of sugar. Set over medium heat and bring to a simmer.

Meanwhile, in a large bowl, whisk together remaining sugar with egg yolks, and salt. Once milk mixture has almost come to a boil, lower heat. Temper hot milk into sugar-yolk mixture.

To temper: slowly add hot milk into sugar-yolk mixture about ¼ cup at a time, whisking immediately to distribute heat. Continue adding hot milk to yolk mixture until only a few tablespoons of milk remain in the pot.

Pour all tempered egg mixture back into the sauce pot. Stir over medium-low heat until mixture reaches nappe consistency or 180°F (82°C) on kitchen thermometer. Be sure to scrape along the sides of the pot often to ensure mixture does not burn along the edges. Turn off heat and remove pot from heat source.

Stir in vanilla extract and reduced corn syrup. Stir in red bean until well combined. Transfer mixture to a heat-safe container. Place plastic wrap directly onto ice cream base. Cover container and keep in the fridge until cold, at least 4 hours, ideally overnight.

Once mixture is cold, churn ice cream base according to your ice cream machine's instructions.

*the red bean will settle to the bottom of the container. Give the ice cream base a good stir before pouring into the ice cream machine.

Churn until the volume of the ice cream mixture has increased by half and has thickened to a soft serve consistency. Transfer ice cream to a freezer safe container. Press a piece of plastic wrap on the surface of the ice cream, cover container, and keep in the coldest part of the freezer for at least one hour to firm up.
Notes
TO MAKE REDUCED CORN SYRUP: Pour 80 grams (1/4 cup or 59 ml) light corn syrup into a glass measure with a spout. Bring to full boil in the microwave. Remove from microwave and stir in an equal weight or volume of corn syrup. This will result in the same consistency of glucose.
I used a 1100W microwave to heat the light corn syrup on high power for 3o second intervals until boiling
Ingredient Notes:
Heavy cream is also labeled as heavy whipping cream.
Whole milk (5% fat) may be substituted with reduced-fat milk (2%). Do not use non-fat milk; this will create an icy texture.
This recipe was tested and created using Diamond Crystal Kosher Salt. Keep in mind that different kosher salt brands having varying degrees of volume. Diamond Crystal = 10 grams per tablespoon, Morton Kosher Salt = 15 grams per tablespoon, and table salt = 19 grams per tablespoon.
Use high quality pure vanilla extract. Do not use imitation vanilla for this recipe.
Canned red bean comes in 3 preparations: whole, mashed (chunky), or puree. Your choice in preparation will determine texture of the ice cream. Be sure the label says "prepared red bean" or "sweetened red bean."
Storage:
Keep in an airtight container in the coldest part of the freezer for up to one week.