Cacio e pepe is the perfect weeknight meal. It's quick and easy to make. Best of all, this pasta dish just requires a handful of ingredients!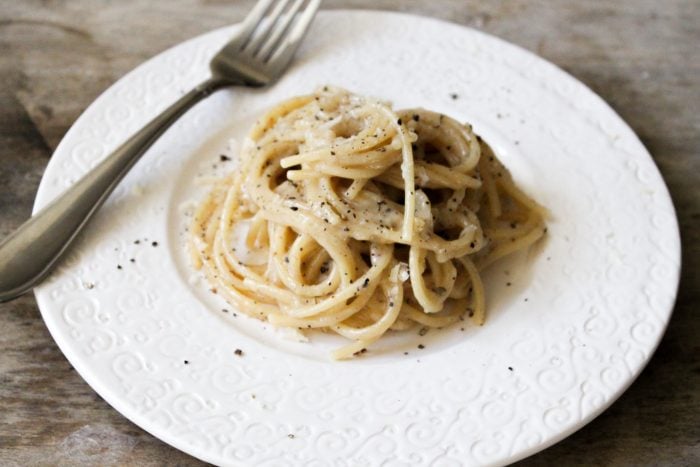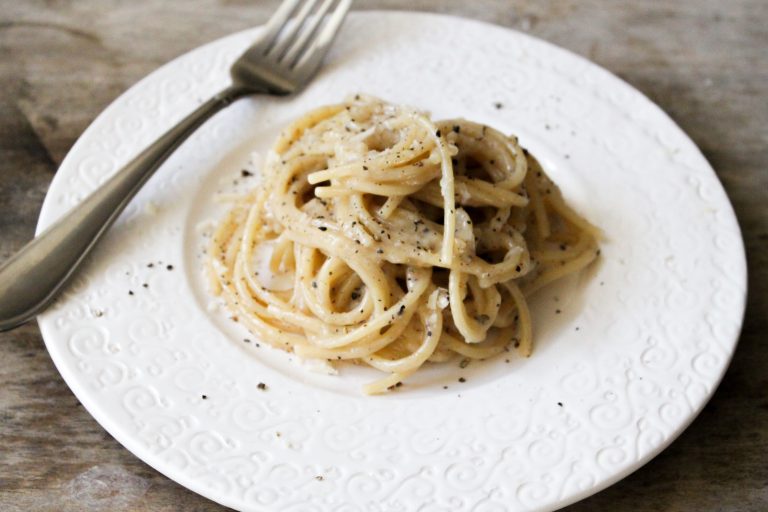 Cacio e Pepe translates to cheese and pepper.
That's all you need to make a deliciously satisfying pasta dish.  
Adding a couple of tablespoons of butter doesn't hurt either.
I learned about this pasta when I was preparing for my Rome trip last summer.
Rick Steve's Italy travel guide mentions Bucatini all'amatriciana and Cacio e Pepe as two of Rome's most iconic dishes.  
On the last night of my trip, I found the most amazing Cacio e Pepe at a local hot spot, just a couple blocks away from my hotel.
I was blown away by the intensity of the flavors and the simplicity of the dish. Needless to say, I didn't want to share my plate.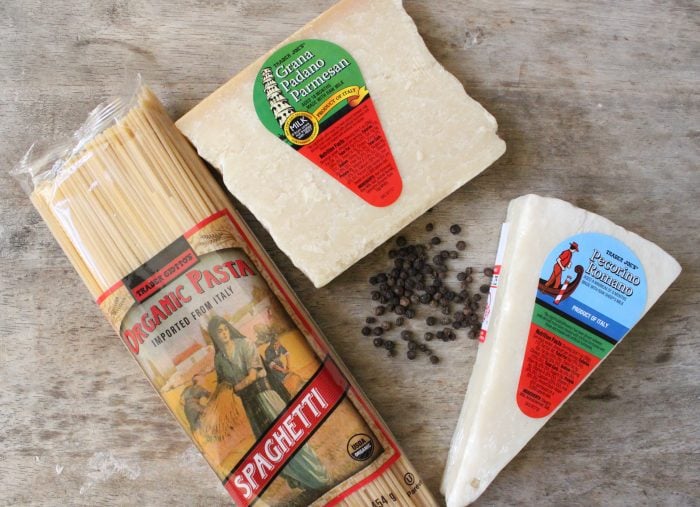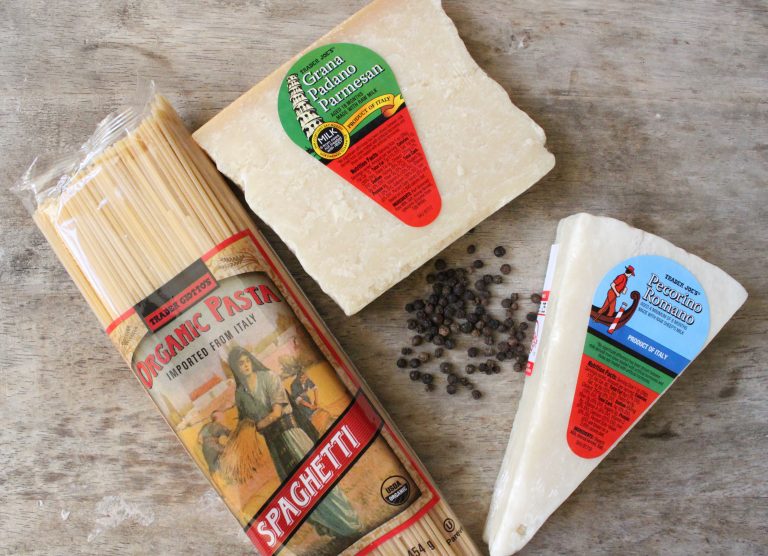 This dish very simple and easy to make. You can totally impress friends, family, and dinner dates with this recipe.
I found all the ingredients at Trader Joe's. The cheeses can be a little pricey, but you only need a little bit.
Cacio e Pepe Ingredients
Pasta
Grana Padano cheese
Pecorino Romano cheese
Black Pepper
Butter
Pasta Options
Spaghetti, bucatini, or linguine work best.
Stay away from angel hair pasta which is too delicate for this dish. 
Cheeses
Grana Padano Parmesan is a cow cheese similar to Parmigiano-Reggiano. It's a semi-fat hard cheese.
Younger grana padano is milder in flavor, while the longer aged ones are more complex.
Pecorino Romano is made from sheep's milk. It is a hard, salty cheese that gives cacio e pepe is iconic flavor.
Black Pepper
It is best to use freshly cracked black peppercorn. Adjust your pepper grinder to your desired coarseness. (I prefer a medium-coarse grind.)
At all costs, do not use pre-ground black pepper. It won't taste as good in this dish!
Butter
Butter adds a nice round richness to this dish.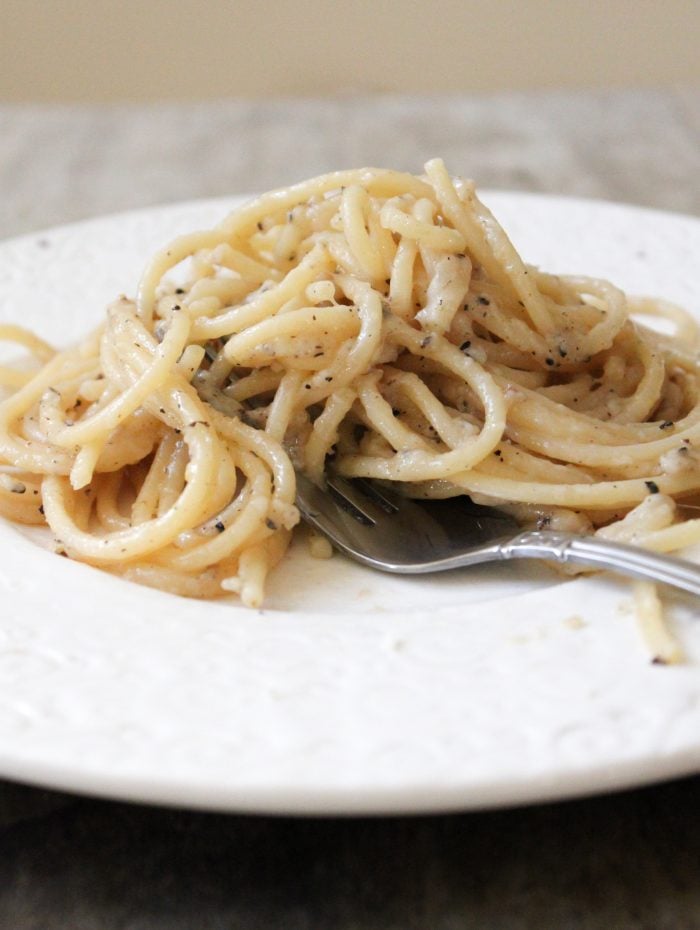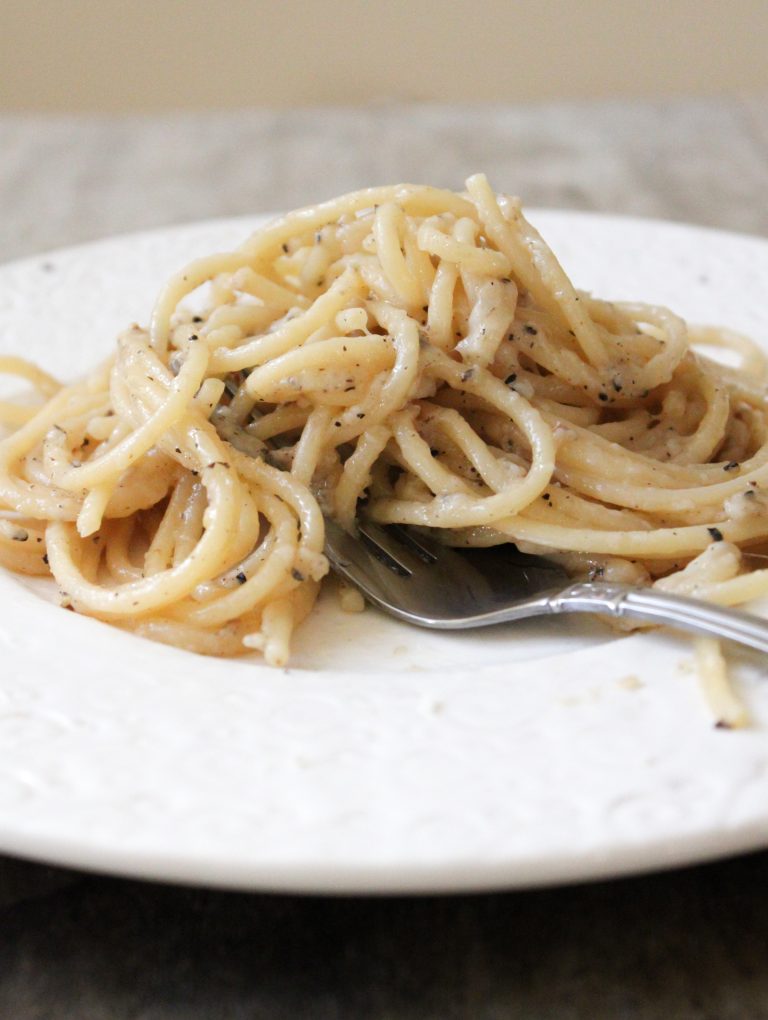 I'm afraid to order this in restaurants back home for fear it will spoil my perfect memory of the dish.
I'm happy to have found a recipe that replicates the dish. All that is missing is the ambiance and romance of Rome.
To compensate, serve this dish over a candlelit dinner with some soft music in the background. Make tiramisu for dessert. And be sure to invite me over.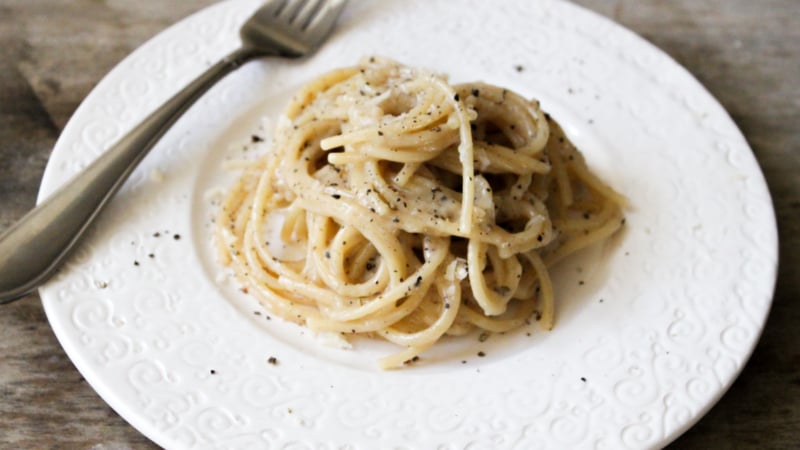 Cacio e Pepe
Cacio e pepe translates to cheese and pepper. That's all you need to make this deliciously satisfying pasta dish. This is a quick and easy weeknight meal!
Ingredients
8

oz

spaghetti

¼

cup

unsalted butter

4

oz

Grana Padano cheese, grated, about 1 ¼ cup

3

tsp

freshly ground black pepper, more to taste, if desired

1

oz

Pecorino Romano cheese, grated, about ¼ cup

½

cup

salted pasta water,

reserved

extra-virgin olive oil, for drizzling
Instructions
Generously salt a large pot of water. Bring to a boil. Add pasta and cook very al dente, about 2-3 minutes less than the pasta package instructions. (You will continue to cook the pasta in the skillet as you make the sauce.) Before you drain the cooked pasta, reserve 1 cup of pasta water.

Transfer drained pasta to a large skillet (12-inch non-stick is best). Add the butter and ½ cup of pasta water. Heat over medium heat until water starts to simmer. Reduce heat to low and add in Grana Padano and black pepper. Toss and stir pasta and cheese together. As the cheese melts continue to toss pasta with tongs and evenly coat it with sauce. Continue to heat until sauce slightly thickens and pasta is cooked.

Remove from heat. Toss in Pecorino Romano. If pasta looks dry, add a little more pasta water, a tablespoon at a time until the pasta looks glossy. Drizzle with high quality olive oil and garnish with more freshly ground black pepper. Serve immediately.
Interested in more quick and easy pasta recipes? Try these out: