This Spring Cake consists of three layers of Citrus Butter Cake frosted with Swiss Buttercream.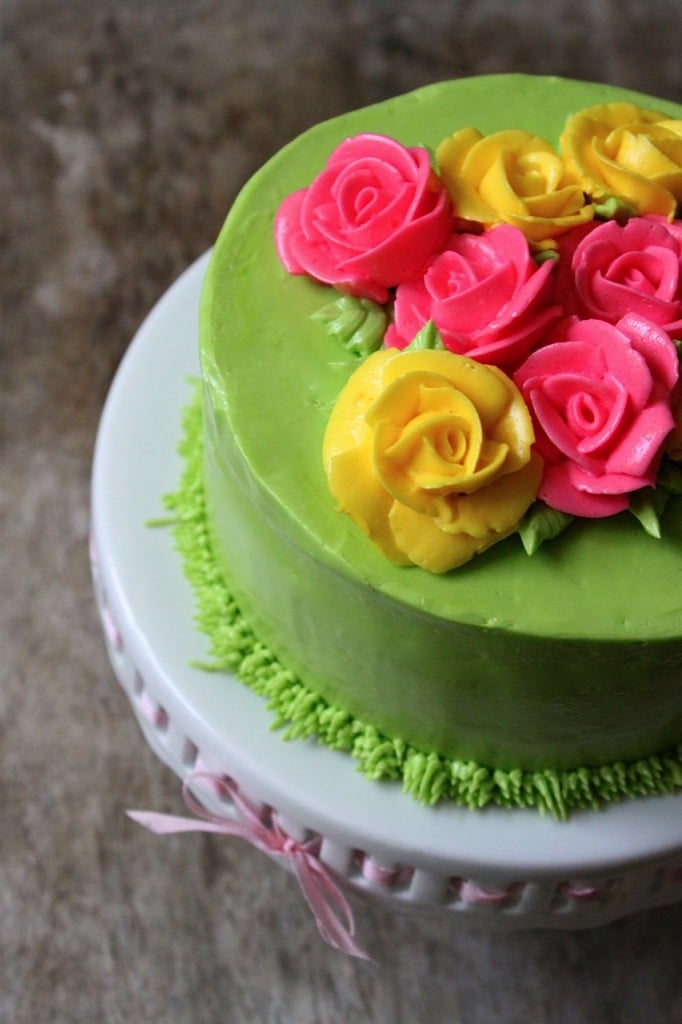 Spring has sprung! or so the calendar says.
Who doesn't love springtime?  Love is in the air, butterflies are emerging, flowers are blooming, and picnics and barbecues are on the way.  What better way to celebrate the new season than with this colorful and festive spring cake?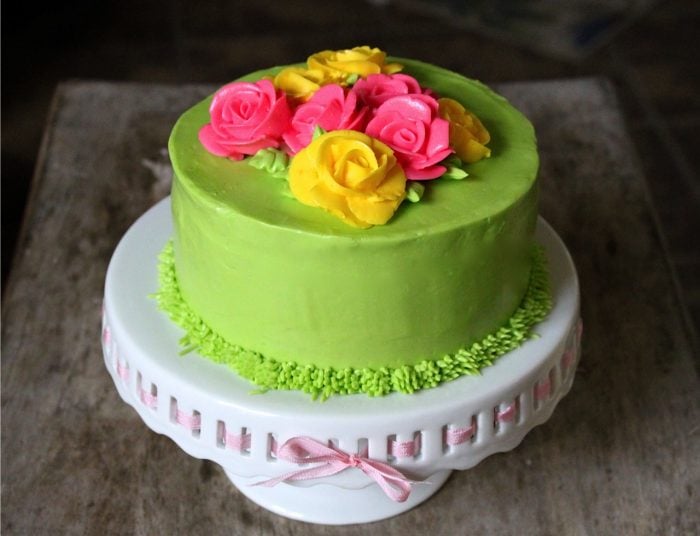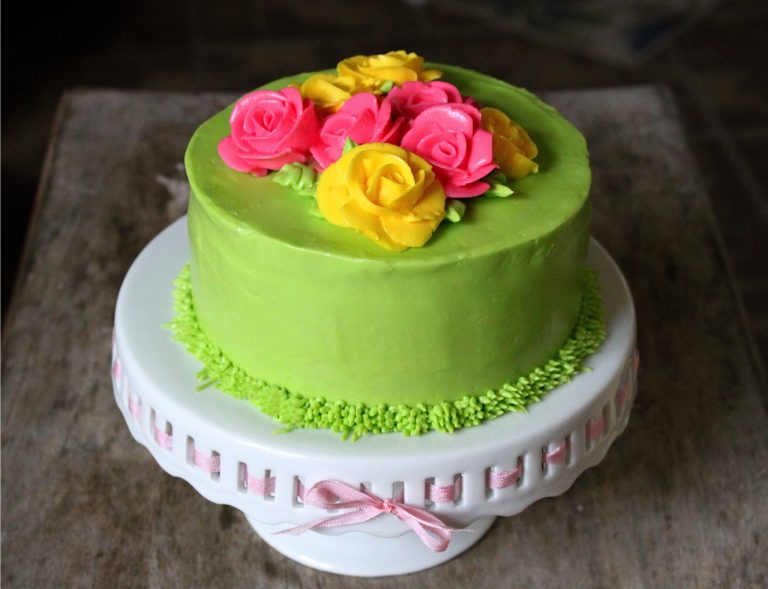 When I started making this cake batter, I had intended to do a plain vanilla cake.  As I was getting my mis-en-place together, I noticed that I had a bunch of citrus lying around.  As a result, the citrus butter cake was born.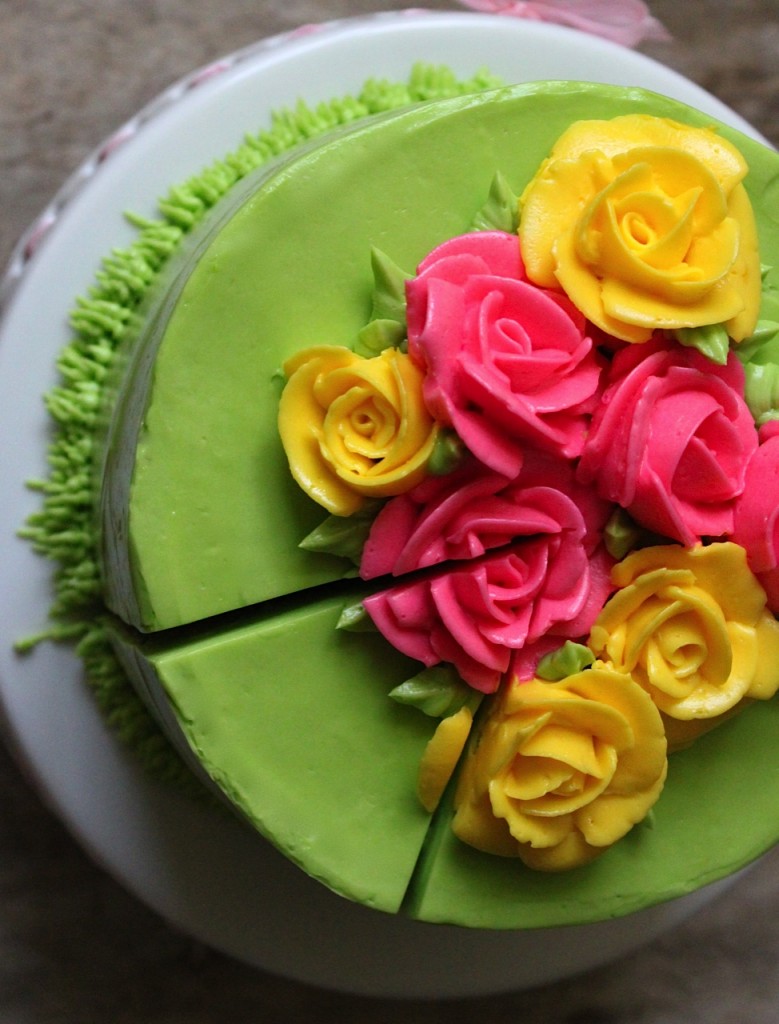 I combined the zest of an orange, lemon, and lime.  It adds a nice punch to the cake and cuts the sweetness of a regular butter cake.  As the cake bakes it fills the kitchen with a pleasant fruity aroma.  Surprisingly, the baked cake tastes very similar to Fruit Loops or Trix cereal.   The cake tasted so good out of the oven that my boyfriend and I ended up snacking on a layer of the cake.
You should be able to get four layers of cake out of the recipe.  Not three layers, like pictured below.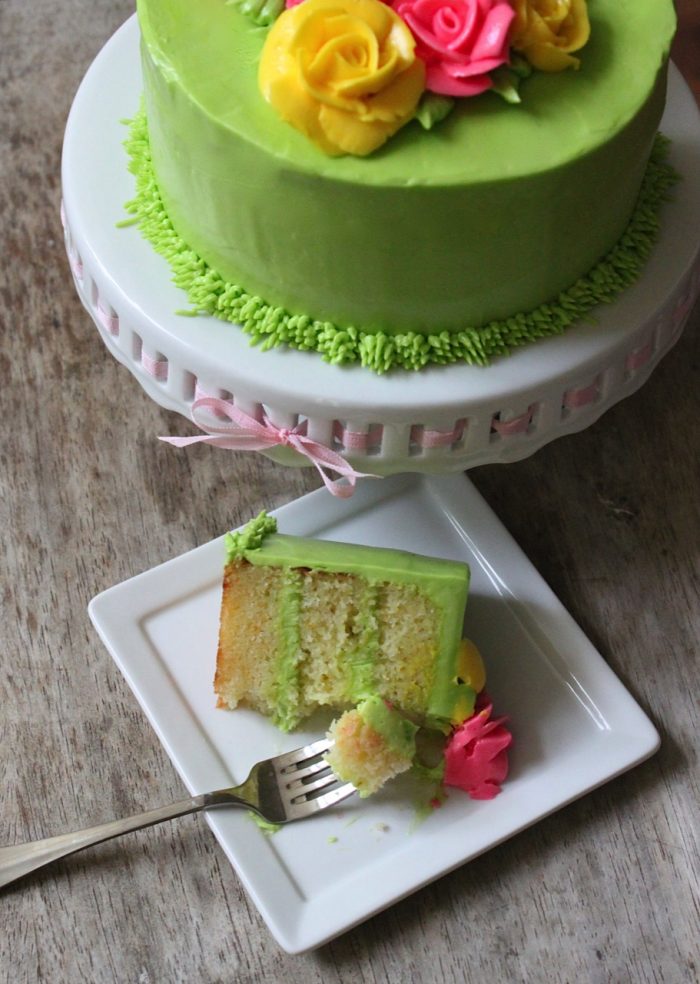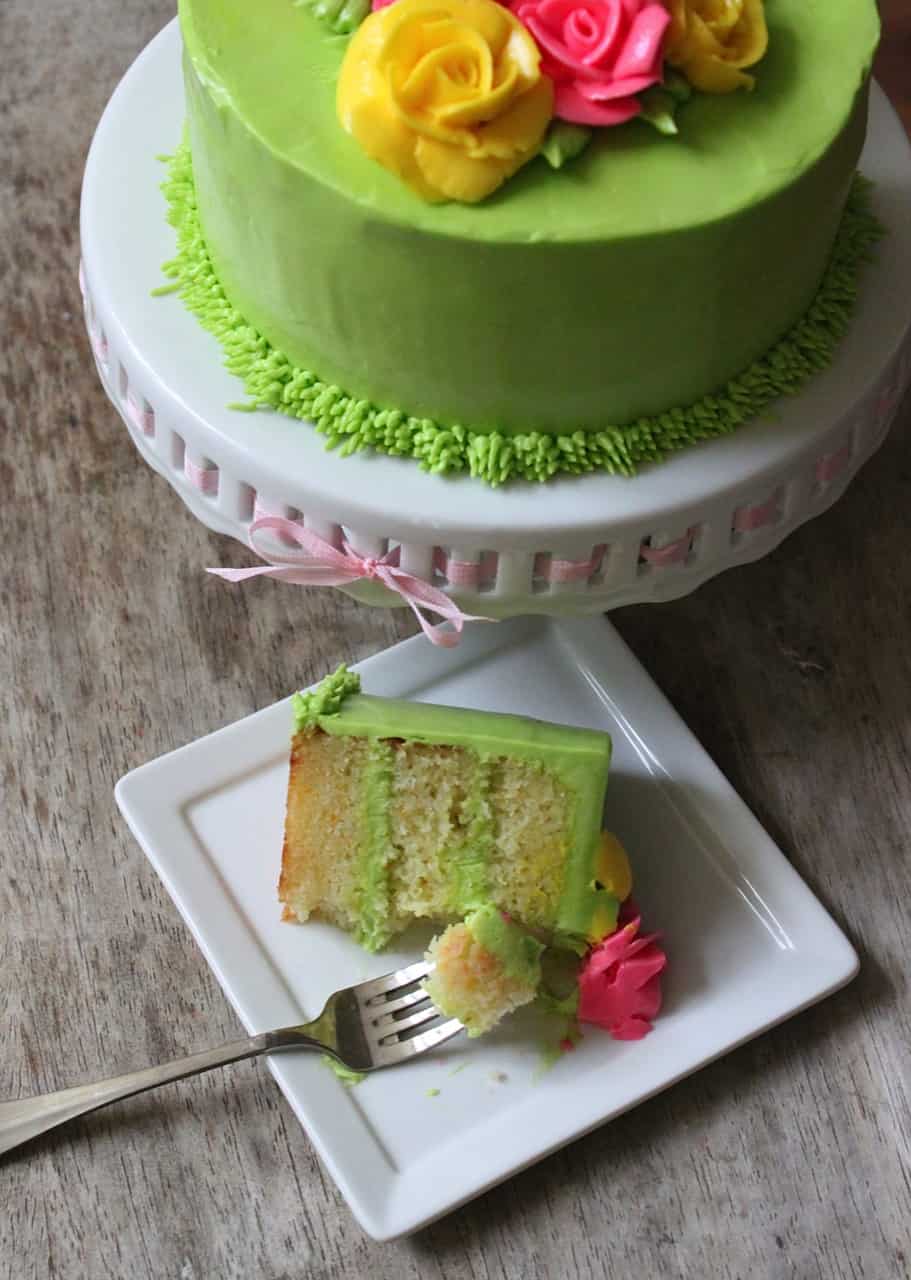 The finished spring cake turned out better than I expected.  I usually prep ahead of time and draw out what I'd like to accomplish.  This was all put together on whim.  Overall, I'm pleased.  It has been a long time since I pipped any buttercream flowers.
This would be a great cake for Easter, Mother's Day, or any springtime celebration.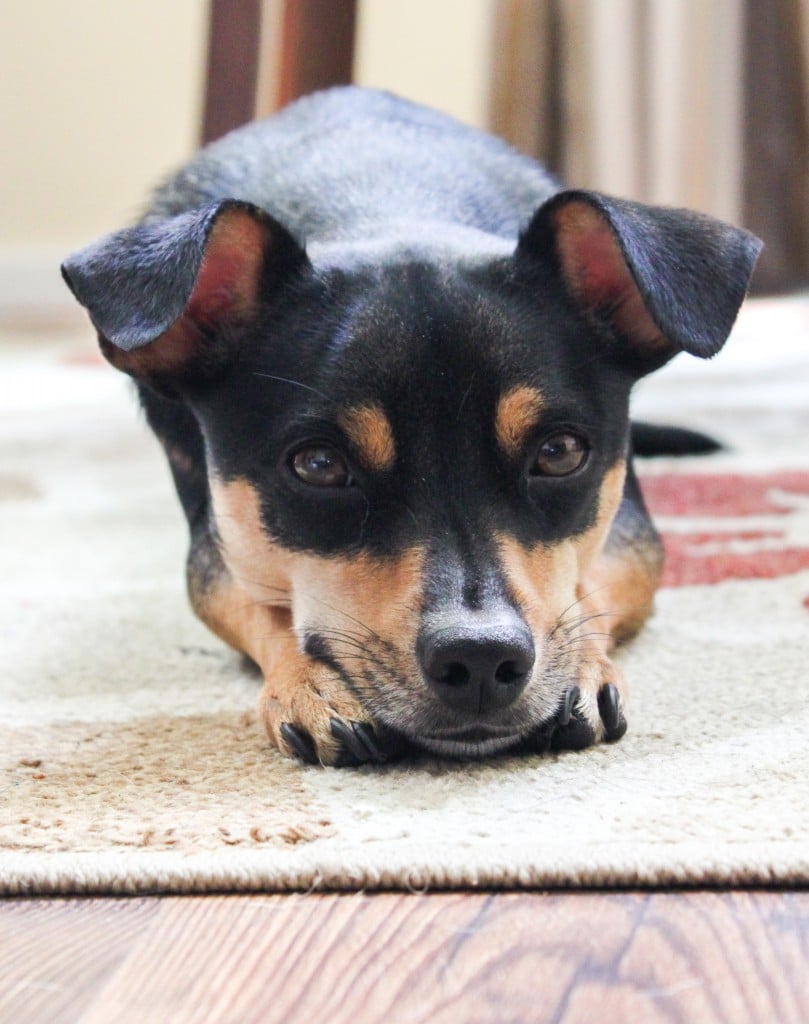 * It has been a long time since I've posted any pictures of Charlie.  He's grown up a lot since his appearance on the dog bone biscuits.  He continues to be adorable and such a joy to have around.  He really enjoyed the smell of the baking citrus butter cake.  As you can see, he is patiently waiting in the kitchen hoping to score some crumbs.
Citrus Butter Cake
Yield: two 6-inch cake layers
Ingredients
Cake:
3/4

cup

unsalted butter, softened

1 1/2

cup

granulated sugar

finely grated zest from 1 orange

finely grated zest from 1 lemon

finely grated zest from 1 lime

3

large eggs, room temperature

1

cup

cake flour

1

cup

all-purpose flour

2

teaspoons

baking powder

1/2

teaspoon

fine sea salt

1

cup

whole milk
Swiss Buttercream:
6

large egg whites, about 1 cup

1 1/2

cup

granulated sugar

2

cups

unsalted butter, cut into tablespoons, softened

food gel colors in electric green, electric pink, and yellow
Instructions
Cake:
Preheat oven to 350 degrees F. Butter two-6-inch round cake pans. Line with parchment paper and set aside.

In the bowl of a stand mixer fitted with a paddle attachment, cream together butter and sugar. Add zest of orange, lemon and lime. Continue to mix until incorporated into butter mixture.

Add eggs one a time, ensuring that each egg is incorporated before adding the next.

In a medium bowl, whisk together cake flour, all-purpose flour, baking powder, and salt. Add dry mixture to bowl in three additions, alternating with the milk. Start and end with the dry mixture. Mix until just combined.

Transfer batter to prepared cake rounds. I prefer to weight the batter and then distribute them equally according to weight. Bake in preheated oven for 25-30 minutes until cakes are set and toothpick inserted in the center comes out clean.

Let cool in pan for a couple of minutes. Run a knife or an offset spatula along the edges of the cake to loosen from the pan. Invert into a wire rack and let cool to room temperature. Once cakes are cool, divide into layers and build cake.
Swiss Buttercream:
The bowl of a stand mixer, whisk together egg whites and sugar. Place over a double boiler and continue to whisk until the temperature of the mixture is 120 degrees F. Alternatively, if you don't have a thermometer, heat the mixture until all the sugar has melted. You can test this by dipping your pointer finger into the warm mixture and rubbing it together with your thumb. The mixture should be smooth. You should not be able to feel the granules of sugar.

Return bowl to stand mixer. With a whisk or paddle attachment, beat mixture at medium-high speed until it cools to a little warmer than room temperature. Reduce speed to medium and add butter one tablespoon at a time.

Once all the butter is in, increase speed to medium-high and continue to beat until buttercream is light and fluffy. Divide and distribute buttercream into smaller containers. Add gel paste food coloring to get your desired look.
Notes
I used pipping tip #104 for the flowers and #233 for the grass.