Treat your fur baby dogs with homemade dog bone biscuits! These biscuits are flavored with peanut butter and oats.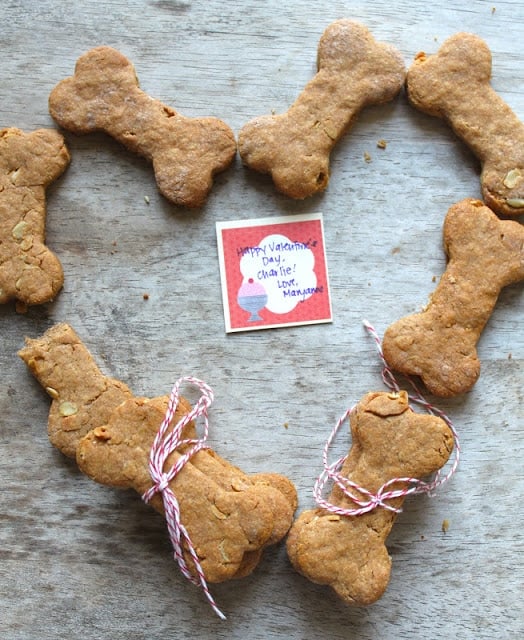 Have you met
Charlie
? He is now 7 months old and he is turning out to be the sweetest, most loving, most adorable little thing ever. Its no surprise that he is my Valentine. We're going to have a play date at the dog park Tuesday afternoon.
Charlie likes long walks around the lake, sunbathing, stealing socks, candle lit rooms, and warm fuzzy blankets.
He enjoys lounging on the couch and watching TV with me after dinner. It's fun watching Modern Family with him because he has a little crush on Stella.
We go through dog bone biscuits fast in this house! As we're training Charlie about the do's and don't of the house, he gets these dog bone biscuits for rewards. And, HE LOVES THEM!

Dogs love peanut butter!
Probably like any other dog, Charlie absolutely loves peanut butter. He gets all excited when he sees me pulling out the peanut butter jar from the cupboard.
He gets sad when I make a peanut butter jelly sammie for myself without letting him have a lick of the spoon.
However, try to use salt-free and sugar-free peanut butter when serving your dogs.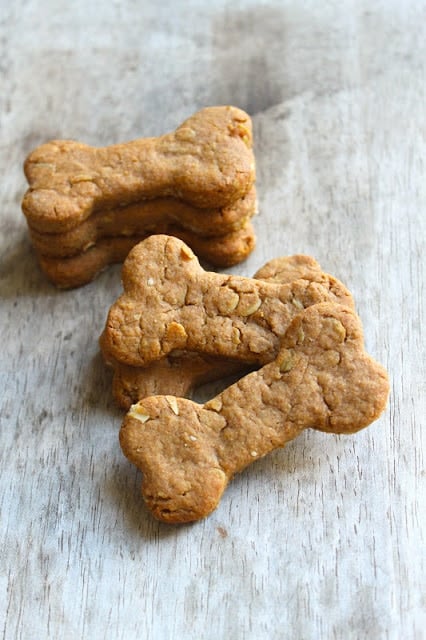 Homemade Dog Bone Biscuit Treats
These doggie biscuits are super easy to make. The dough is very forgiving. You can keep re-rolling the dough over and over to cut out your shapes.
They make the whole house smell like peanut butter. Charlie was going insane in the kitchen because of the aroma.
He sat and watched the oven waiting for my timer to go off. He was more polite than usual. Once I pulled the biscuits out of the oven, he patiently waited until I offer him a piece.
He sat without whining while I took photos of the biscuits.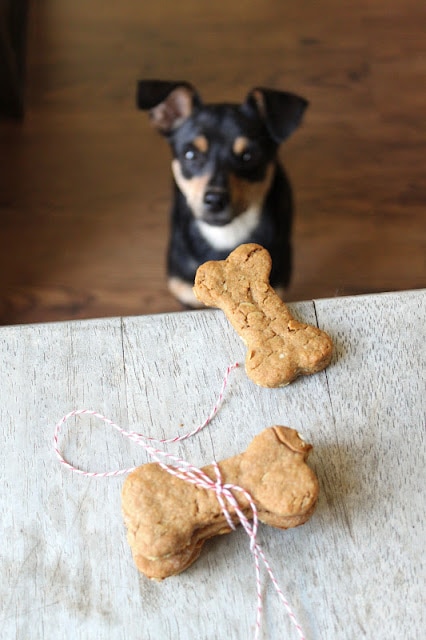 How to store dog bone treats?
These treats last up to two weeks in an airtight container at room temperature or up to four weeks if kept in the airtight container in the fridge. Treats may also keep frozen up for up to six months.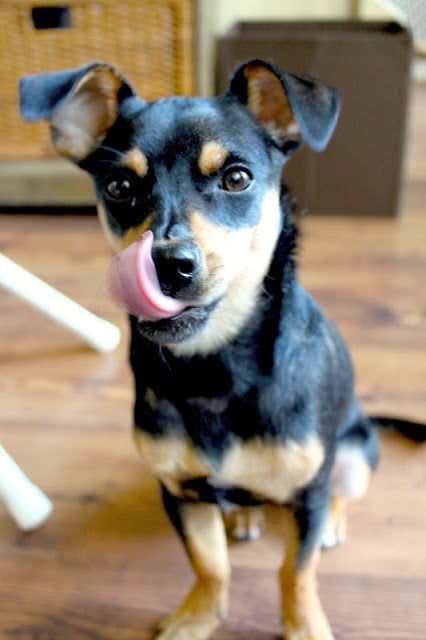 I could tell you that Charlie loved the biscuits, but I think the photo below explains it all.
Just look at that precious face. How can you not fall in love with the little guy?
Interested in more treats for your furry friends? Here are some of our favorites: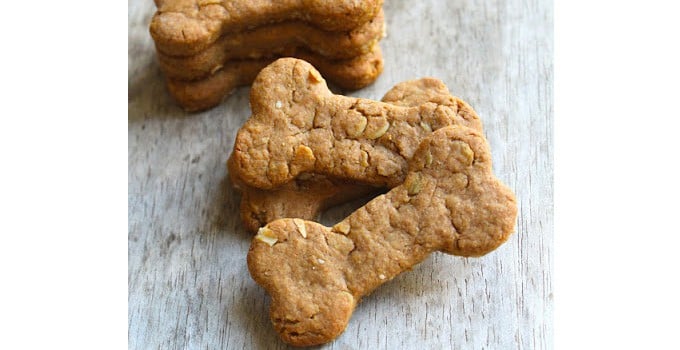 Peanut Butter and Oats Dog Bone Biscuits
Treat your fur baby dogs with these homemade dog bone biscuits flavored with peanut butter and oats. 
Ingredients
¾

cup

whole wheat flour

¼

cup

old fashioned rolled oats

½

teaspoon

baking powder

½

cup

soy milk

or milk of your choice

½

cup

smooth peanut butter*

½

Tablespoon

honey
Instructions
Whisk together flour, oats, and baking powder in a medium bowl. Add milk, peanut butter, and honey. Stir until combined.

Turn out onto a lightly floured surface and gently knead until a soft dough forms. Roll out to ⅓" thick and cut out with a floured dog bone cookie cutter, or desired shape. Gather scrapes and re-roll dough as necessary.

Transfer to parchment lined baking sheets.  Bake for 15-20 minutes until cookie is firm to touch.  Let cool slightly on baking sheet before letting cool completely on wire rack.
Notes
*Notes: Try to use salt free and sugar free peanut butter.  These treats last for 2 weeks in airtight container or up to 4 weeks if refrigerated.  Treats can also be frozen for up to 6 months. 
ADAPTED FROM 
DOG TREAT KITCHEN