Leek pesto crostinis are the perfect hors d'oeuvres to serve for any gathering! Dress them up for elegant affairs or dress them down for more casual events.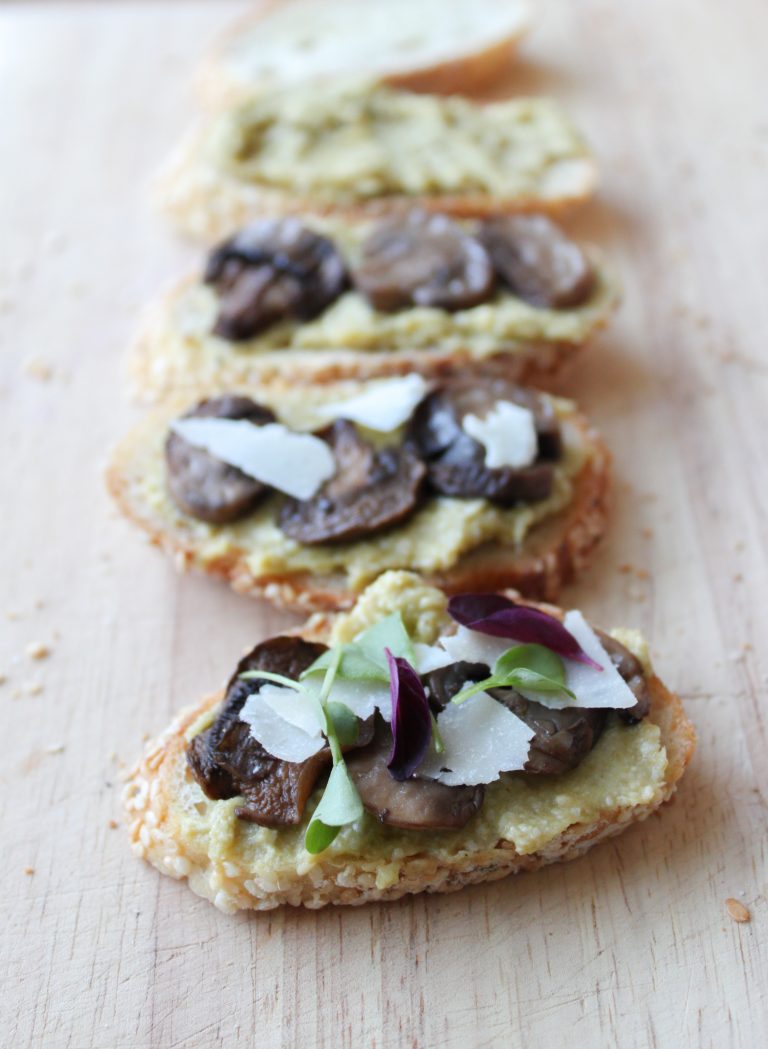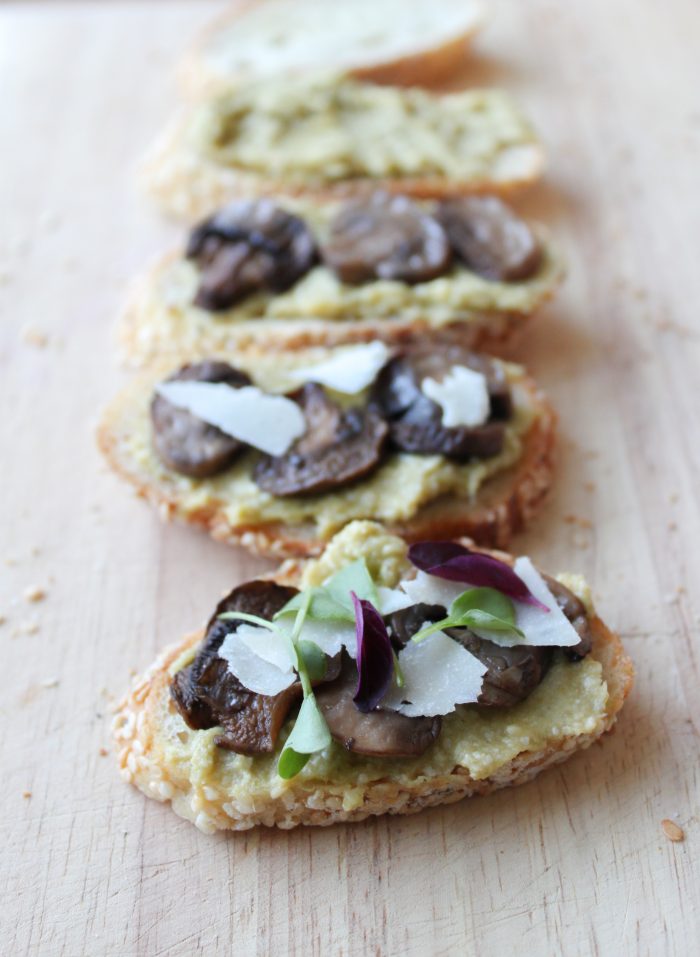 Spring cleaning isn't just cleaning out the house and throwing out clutter. I think it's also a time to do some good for yourself by cleansing yourself mentally and emotionally.
Its time to let go of old baggage, let go of any hate or anger, let go of fear and whatever else may be holding you back.
And once you've done that, its time to invite friends over and celebrate!
In my opinion, it's not a real party unless there is good food.
Sure, parties have plenty of beer and cocktails, but it really are the snacks and finger foods that make a great party.
Crostinis are the perfect hors d'oeuvres to serve! I am hitting 30 soon and bags of potato chips and dip just doesn't cut it anymore. I need sophisticated and fancy little snacks to serve my almost full-fledged adult friends.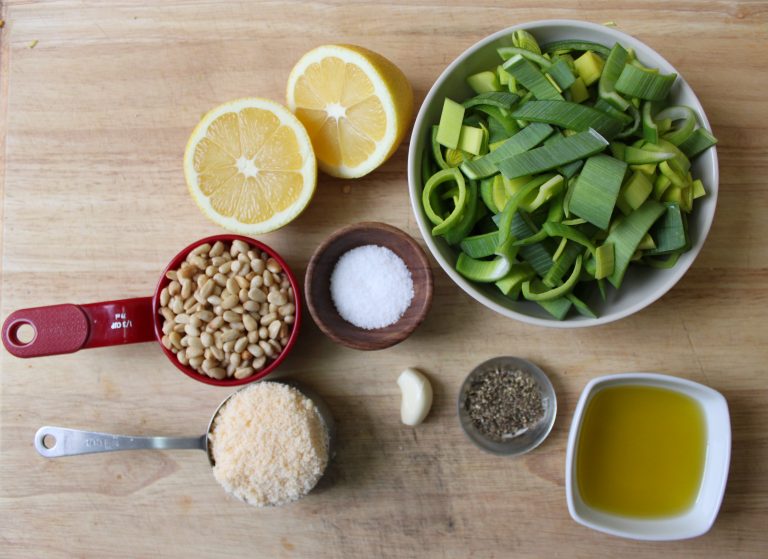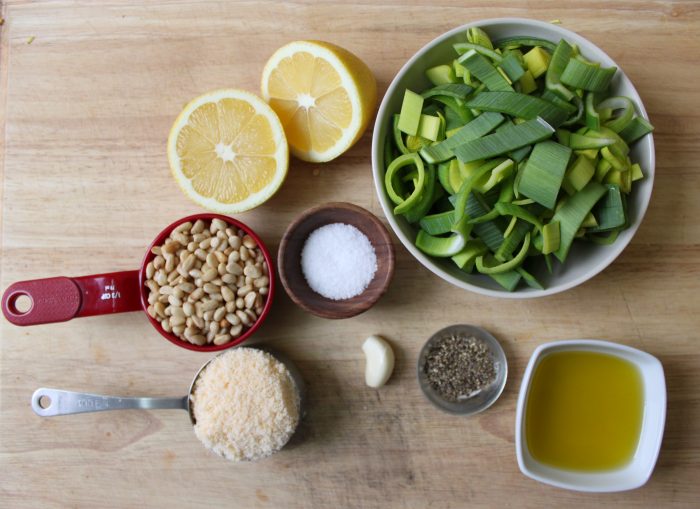 Leek Pesto
Have you made basil pesto? Leek pesto is processed the exact same way. Instead of basil, we are subbing in sliced leeks.
Leeks are my new favorite vegetable. I'm a sucker for leeks whenever I see them at the market.
How to use leeks
However, most recipes only call for the white or light green ends of the leeks. I feel terrible throwing away the tough green parts. This leek pesto solves that dilemma.
In order to make the tough green leek parts edible and pleasant, you have to blanche them to get them soft.
Leeks have a mild-onion like taste, but are slightly sweeter with a more delicate flavor. The use of leeks allows other ingredients of the pesto to also shine through.
Fresh garlic and lemon juice makes the pesto taste quite fresh and sharp. It's very eye-opening, especially because not many people have had pesto that doesn't have basil.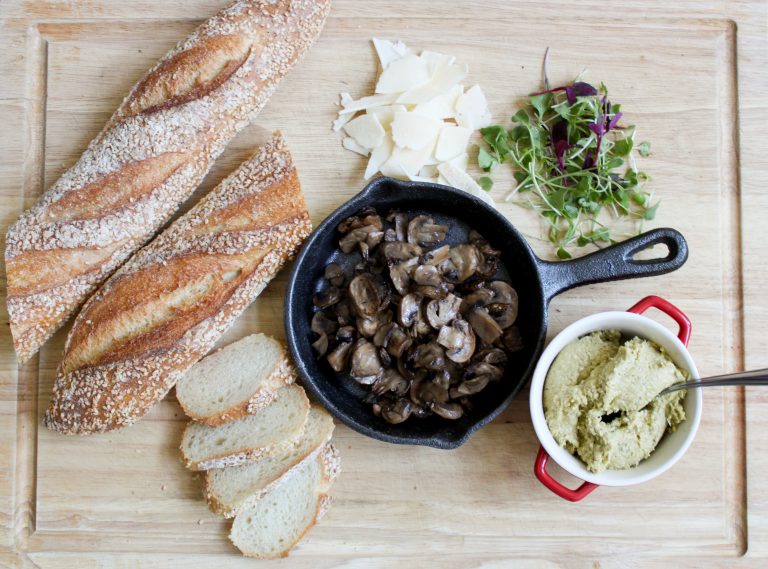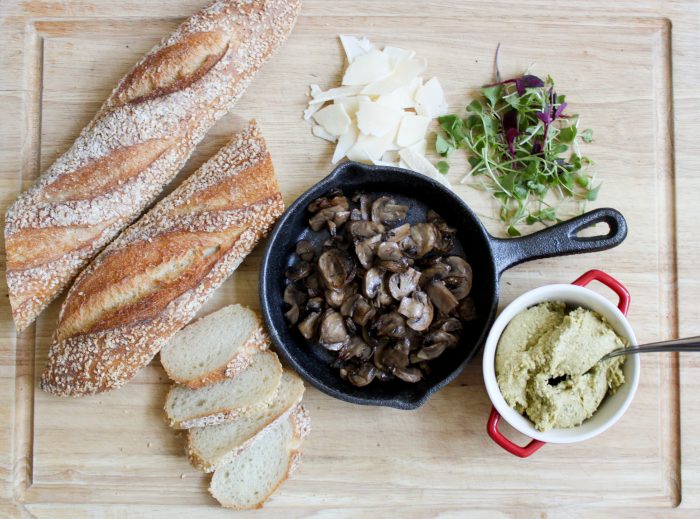 What is a crostini?
Crostini means "little toast" in Italian. It is quite similar to tartine, French for an open-faced sandwich.
These leek pesto crostinis are a breeze to set up and serve. All the components of the crostini play off each other. I choose a crusty baguette with sesame seeds because the nutty, savory flavors complements the fresh and acidic leek pesto.
The earthy mushrooms balances the salty and umami of the shaved parmesan cheese. And finally, the micro greens* brings it all together by adding a hint of color and a clean fresh taste.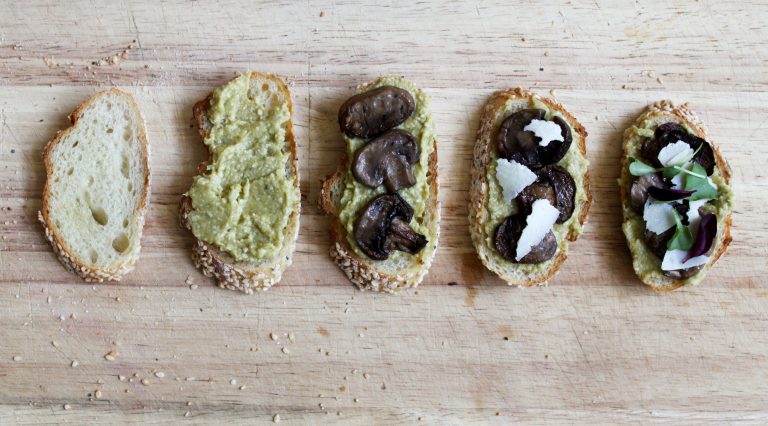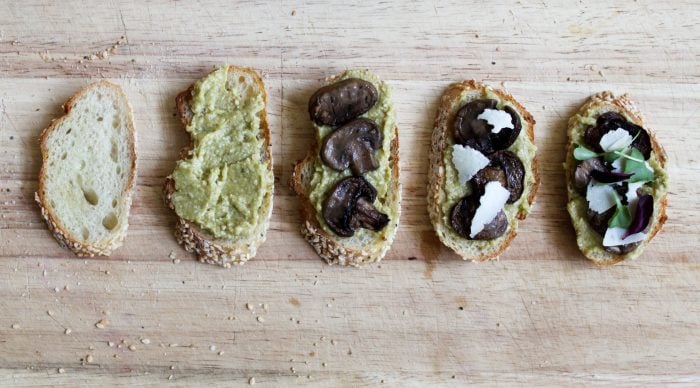 It's never too late to be happy. Start cleaning and lessen your load. Spring brings a fresh start every year. It's time to celebrate, feast, and party with your best friends.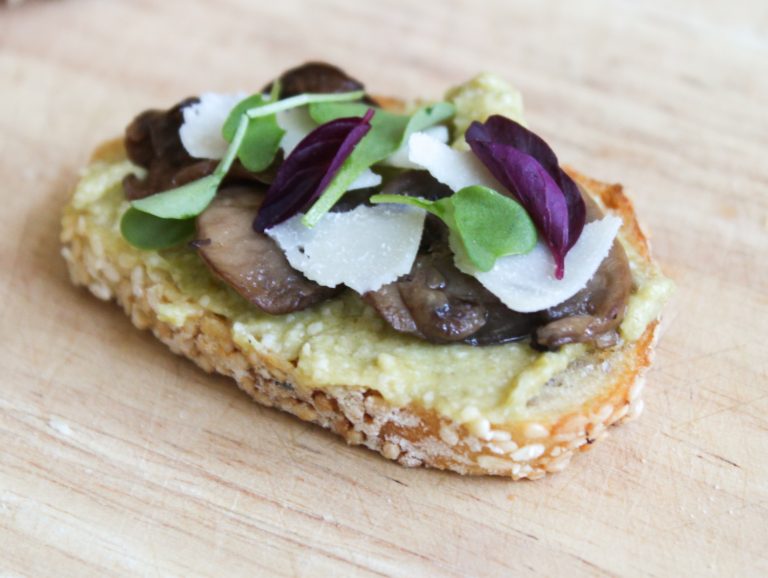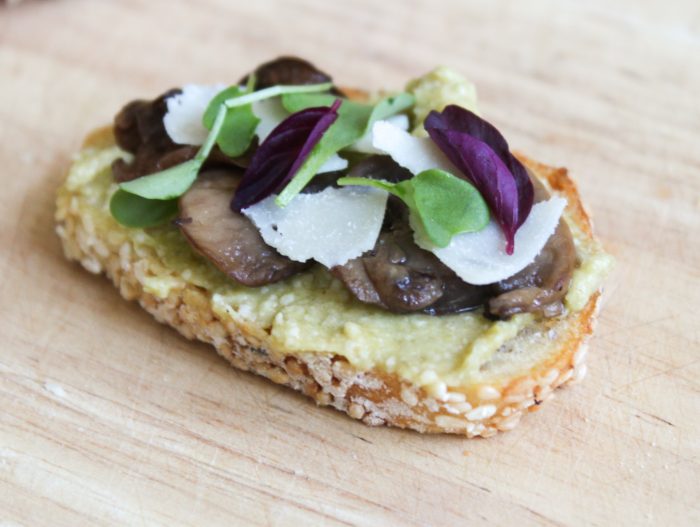 Leek Pesto Crostini with Roasted Mushrooms, Shaved Parmesan, and Micro-Greens
Ingredients
1

crusty baguette, preferably seeded

olive oil

leek pesto, recipe follows

roasted sliced mushrooms

shaved parmesan cheese

micro-greens
Leek Pesto:
2

bunches leeks, greens, sliced

1

garlic clove

1/3

cup

pine nuts, lightly toasted

2/3

cup

parmesan cheese, grated

1

lemon, juiced

1/4

cup

olive oil

salt and pepper, to taste
Instructions
Preheat oven to 350 degrees F. Slice baguette into 1/3" thick slices. Place slices on a parchment lined baking sheet. Lightly drizzle baguette slices with olive oil. Bake for 5-8 minutes until slices are warm and crisp.

Spread leek pesto onto warm baguette slice. Arrange sliced mushrooms over pesto, followed by shaved parmesan cheese, and top with micro-greens. Serve immediately
Leek Pesto:
Fill a large saucepot with water and bring to a bowl. Add cleaned, sliced leek green. Cook for 5 minutes until leeks are soft and tender. Drain and set aside.

In the food processor, pulse the garlic. Add toasted pine nuts and pulse pulse until combined. Add parmesan cheese, lemon juice, and salt and pepper. Pulse until combined. Slowly add olive oil while the food processor is in motion. Continue to mix until pesto is smooth and homogenous.
Notes
*I bought my micro greens from Trader Joe's.  They sell a small package of mixed micro greens that consist of a mix of broccoli, purple kohlrabi, kale, mizuna, red mustard, and red cabbage.  They are great to toss into salads, sandwiches, and soups.