By far the most delicate and sophisticated of cookies, these sea salt caramel macarons are the perfect little treats for all sorts of occasions.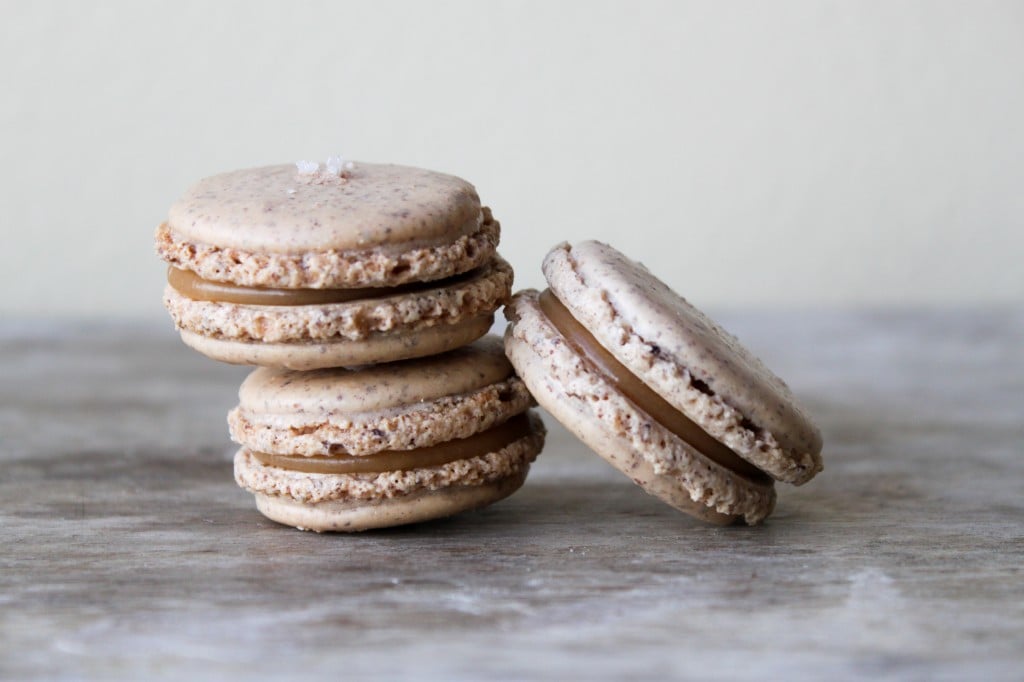 No matter how to spell it (macarons or macaroons) or how you pronounce it, French macarons are by far one of the most beautiful bite sized desserts out there.
I was first introduced to macarons in high school, during a French Club field trip to Paris.  This was circa 1999, prior to the big macaron boom in the United States.
I had no idea what a macaron was, except for those sweet coconut macaroons that my mom would make.  Back then I don't think my palette was refined enough to enjoy the macaron.
It made little impact on me because I was in my omg-I-love-dark-chocolate phase, and Paris had plenty of chocolatier and patisserie shops to fill my obsession.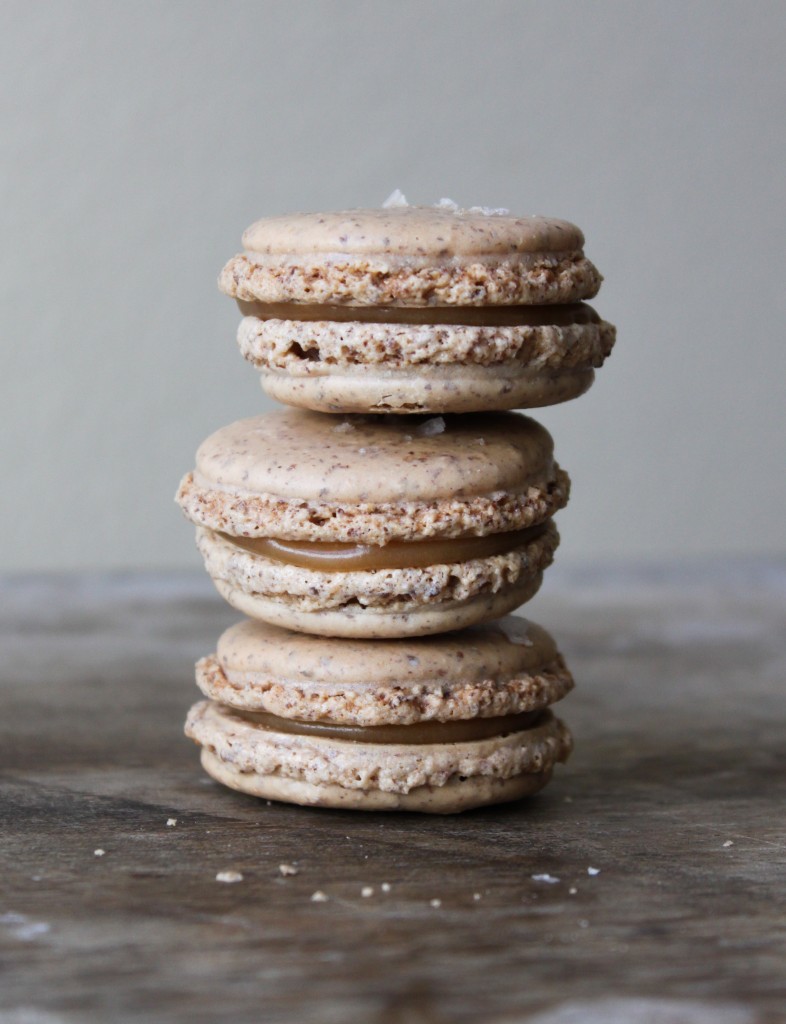 By the time I graduated from college in 2007, cupcakes were all the rage.  It seemed like the bubble was never going to burst until French macarons started to make their appearance at dessert tables at weddings, baby showers, and the sort.
At this time, I, too, was allured by the magical qualities of a perfect French macaron.  I made it a mission to try as many of the macarons sold around Los Angeles and Orange County.  It was a pricey yet satisfying adventure.
Since then, I say that I'm over it.  I'm over you, French macaron.  But then I see a display case full of these colorful, fragile, little jewels and all of a sudden, I relapse.  Its one of those love-hate relationships.  I love the way they taste, the way they fit between my fingers, but I hate how much they cost at bakeries and speciality stores.
I understand that almond flour, especially blanched almond flour, is expensive, but I don't get how some places charge more than $2 a piece for their macarons.  My first birthday with my boyfriend he bought me 2 dozen macarons from Paulette (now called 'lette); that's when I knew he was totally head over heels in love with me.
But seriously, what's not to love about these precious little things.  You get the crunchy shell, the decadent filling, and the explosion of flavor and textures in your mouth.  I really like the combination of the sweet almond cookie against the salty, buttery caramel.  Its amazing, and once I again, I love caramel macarons.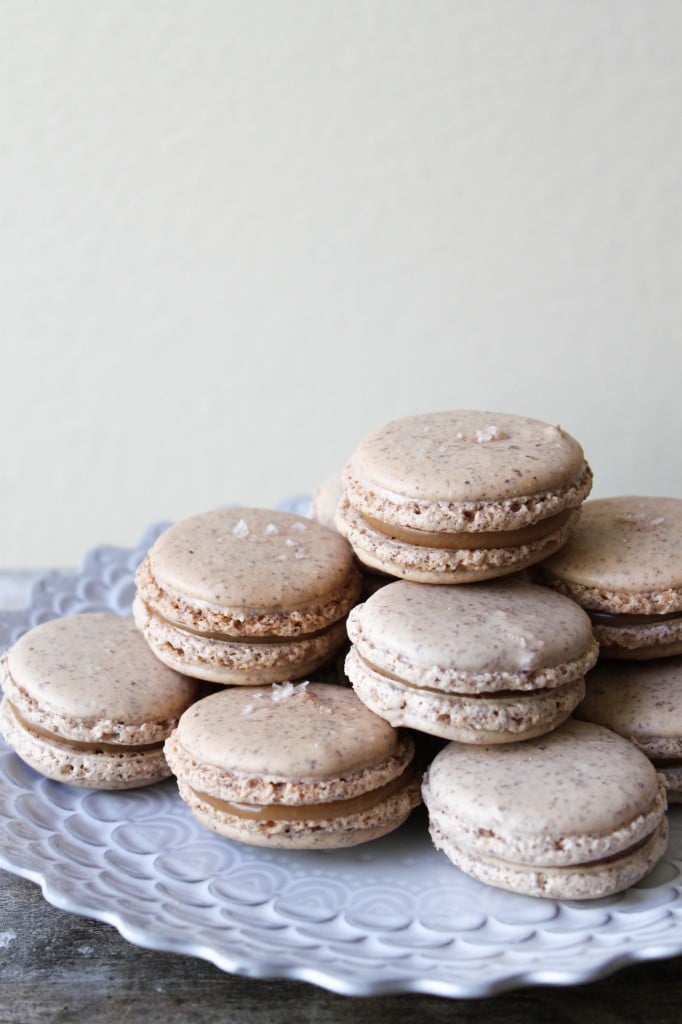 Its best to measure all the ingredients out by weight, but if you don't have a scale I've also included the approximate measurements in cups.  Although if you want to be a serious macaron making machine, I highly suggest buying a kitchen scale.
Sea Salt Caramel Macarons
Yield: about 2 1/2 dozen
Ingredients
French Macarons:
250

grams

(about 2 1/2 cups) almond flour*

250

grams

(about 2 cups) confectioners' sugar

190

grams

egg whites (about 6 large egg whites)

65

grams

(5 Tbsp) water

250

grams

(1 cup + 2 Tbsp) superfine sugar

1

teaspoon

dried egg white powder
Sea Salt Caramel:
250

grams

(about 1 cup) heavy cream

350

grams

(about 1 3/4 cup) superfine sugar

2

teaspoons

fine sea salt

350

grams

(about 1 1/2 cups) unsalted butter, cut into tablespoons
Instructions
French Macarons:
In a food processor, pulse together almond flour and confectioners' sugar. Sift twice to ensure you will have a nice, smooth shell.

Divide egg whites into two containers, 95 grams each. Take one portion and pour over sifted almond sugar mixture. Let egg white sit on top and set mixture aside.

In the bowl of a stand mixer fitted with a whisk attachment, whip together second portion of egg whites and dried egg white powder. Whip on low-medium speed.

Meanwhile, in a medium saucepan mix together water and superfine sugar. Bring to a boil over high heat. Cook mixture to 250 degrees F. Do not stir or agitate the mixture while it is heating up. If you must, you have gently swirl the pan by hand. Stirring it will cause sugar crystals to form.

Once sugar mixture has reached desired temperature, remove from heat and pour a steady stream into the whipping egg whites. Add this point, the egg whites should be foamy before you add the sugar. After all the sugar has been added, increase speed to high until mixture doubles in size. Turn down to half speed and cool down to thicken. When mixture has cooled to about 120 degrees F is it ready to use. While you are waiting for the mixture to cool down, take the almond sugar mixture and fold into the egg whites sitting on top. Mix until the dry mixture is moist and wet.

Fold 1/3 of whipped meringue into the almond sugar mixture. Continue to add 1/3 of meringue until all has been incorporated. Continue to fold mixture until the batter is not too liquidly and not too stiff. If you pull a line in the batter, it should slowly sink back together. Others have said it should flow like magma.

Transfer batter to a piping bag fitted with an 11mm plain round piping tip. Line a couple of baking sheet trays with parchment paper or a silpat mat. Pipe batter onto prepared baking sheet trays. I like to pipe 2 inch rounds, but you can choose to go smaller or larger. Pipe rounds at least 1/2 inch apart from each other. Once you are finished with one tray, tap the bottom of the tray against the table to release any air bubbles. Let shells air dry until shells form a skin. Depending on the temperature and humidity of your room, drying time can vary.

Bake in a preheated 315 degree F oven. Bake for 8 minutes to allow feet to form. Then rotate the pan and bake for another 8-10 minutes until macarons are done. Remove sheet tray from oven and transfer to cooling rack. Let cool for 5-10 minutes before peeling macarons off parchment. Once macarons are cooled to room temperature, pair similar sized/shaped macarons together then fill with caramel.
Sea Salt Caramel:
Using a heavy bottomed sauce pan, heat the sugar on high until it melts. Lower the heat and allow the syrup to color. Make sure not to agitate the sugar to prevent crystallization. Remove from heat once syrup is aromatic and amber in color.


Warm up heavy cream in the microwave for 45 seconds-1 minute. Add in warm cream to sugar syrup and whisk. Be careful as the mixture will bubble and steam vigorously. Continue to whisk until mixture has slightly cooled. Add in the butter and salt. Continue to whisk until homogenized. Let cool to room temperature.
Notes
You can use blanched or raw almond flour.  I used raw almond flour (from Trader Joe's) which results in that speckled brown shell.  If you want a clean colored macaron shell, go with blanched almond flour.

Caramel fillings should be heated to between 250-265 degrees F. Be careful not to heat beyond 270 degrees because the caramel will separate.  Otherwise, if you have runny caramel thats more like caramel sauce.