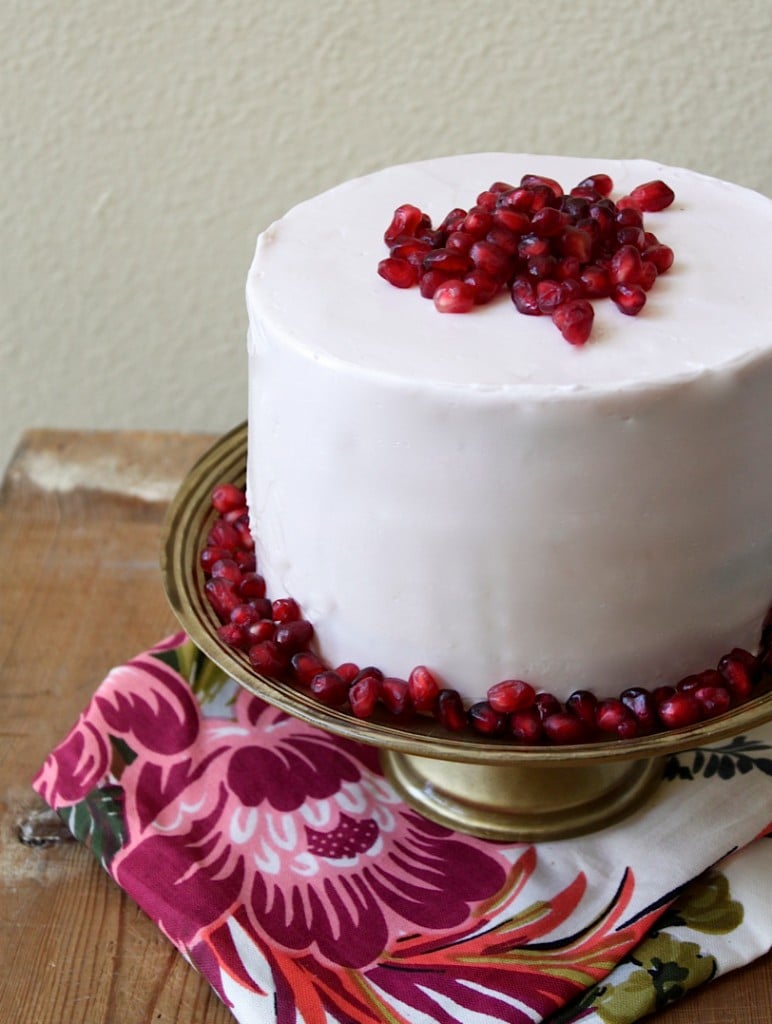 When in doubt, take small steps.
I bought pomegranate seeds the other day.  I thought I'd sprinkle it some yogurt, toss it in a salad, or maybe brighten up my morning oatmeal.  I did all of that and still had some seeds leftover.  What else was I supposed to do with them?
When I'm in doubt, I make a cake.  This time, a pomegranate cake.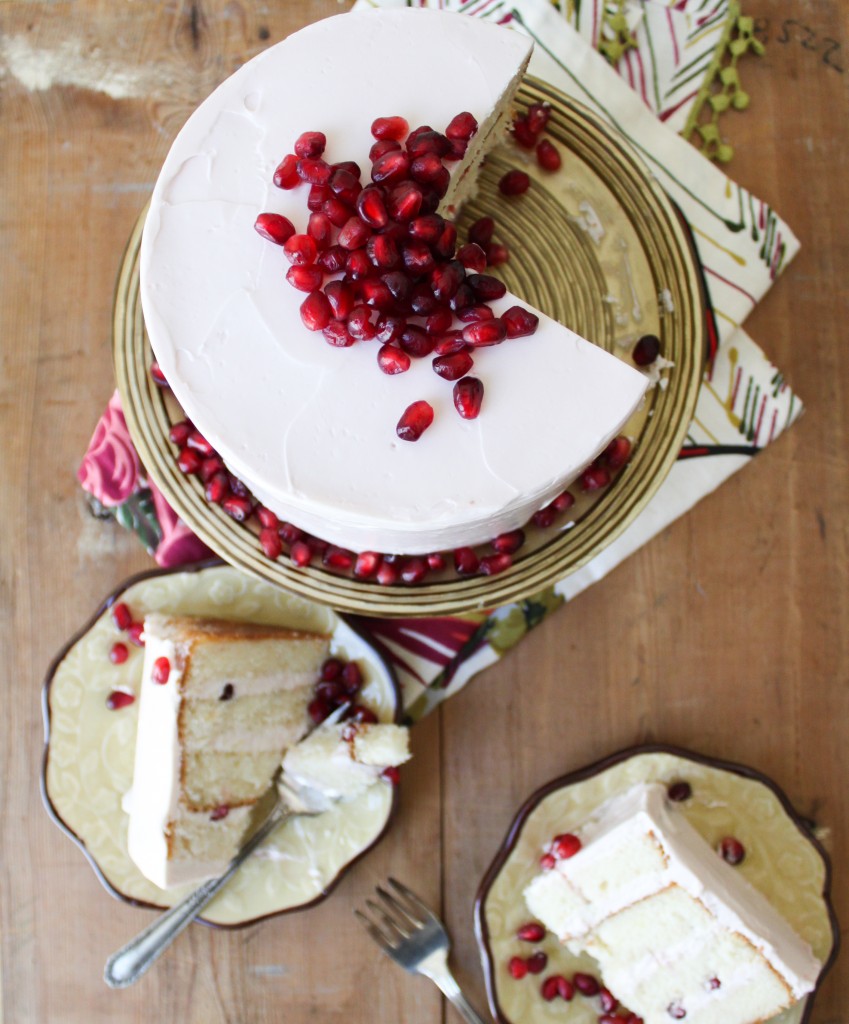 Cake is what I love to do best. I enjoy making layered cakes because it is a process that takes time.  There are multiple components that come together at the last-minute to become one cohesive unit.  Plus, with cakes there is always a solution to fix whatever may have gone awry.
The pomegranate seeds add a nice crunch to the soft and delicate white cake.  Its brings an element of surprise and a lively spring of color and life to an otherwise pretty plain cake.  I also used a little bit of pomegranate juice to give the buttercream a faint pink color.  The white cake is flavored with a substantial dose of lemon zest.  It remains light and refreshing because the cake does not contain egg yolks.  Its one of my favorite cake batters.
I think pomegranate seeds are so pretty.  I love the vibrant red color of the seeds, especially against the stark blank buttercream frosting.  This cake would  be nice for tea parties and garden gatherings.  It's so frilly and dainty.
I feel like in cake making (and life) you can either take it slow one step at time or go crazy and frantically makes things fit together.  Unless you are in a race to the finish line, there is no need to hurry yourself.  Overtime those small steps will become larger ones with more confidence, experience, and knowledge.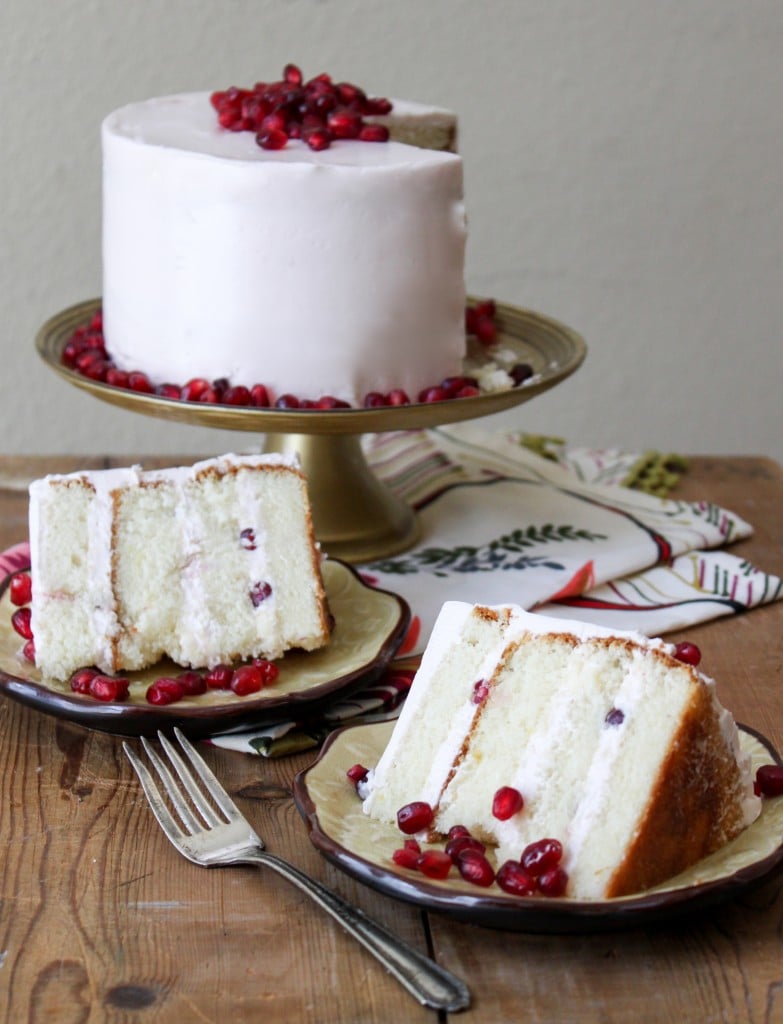 Pomegranate Cake
Ingredients:
White Layer Cake:
1 2/3 cup cake flour
1 1/2 cup granulated sugar
1 Tbsp baking powder
3/4 tsp fine sea salt
10 Tbsp unsalted butter, cut into tablespoons, softened
4 large egg whites, room temperature
3/4 cup whole milk, room temperature
1 tsp vanilla extract
zest of 1 lemon
Buttercream:
4 large egg whites
1 cup granulated sugar
1/4 tsp fine sea salt
1 pound (4 sticks) unsalted butter, cut into tablespoons, room temperature
1/4 cup pomegranate juice, optional
Toppings:
pomegranate seeds, as needed to decorate
Directions:
Cake:
Preheat oven to 350 degrees F. Butter and flour 2- 6 inch cake pans. Set aside.
In the bowl of a stand mixer, combine cake flour, sugar, baking powder and salt. Mix with a paddle attachment on low speed. Add butter and mix on low speed until crumbly.
In another bowl, whisk together egg whites, milk, vanilla, and lemon zest. Slowly add to mixer on low speed. Mix until low speed until batter is thoroughly combined. Divide equally between the two prepared cake pans.
Bake for 30-40 minutes until cake springs back when touched and toothpick inserted in center of cake comes out clean. Let cool in pan for a couple of minutes. Run a mini offset spatula around the cake and unmold. Let cool completely on wire rack before splitting cakes in half.
Buttercream:
In the bowl of stand mixer, whisk together egg whites, sugar, and salt. Set over a bain-maire and continue to whisk until the temperature of the mixture registers 120 degrees F on a thermometer.
Return bowl to stand mixer. With a whisk or paddle attachment, beat mixture at medium-heat speed until it cools to slightly warmer than room temperature, about 80 degrees F. Reduce speed to medium and add butter one tablespoon at a time.
Once all the butter has been added, increase speed to medium-high speed and continue to beat until buttercream is light and fluffy. If using pomegranate juice, whisk into buttercream. Whisk at high speed until juice is incorporated in. The mixture my separate but it will come back together with whisking.
Assembly:
Slice each cake into two equal halves. Place one cake slice on a cake turntable. Spread about 1/4 cup of buttercream on the cake using a small offset spatula. Spread buttercream evenly and allow a little to extend over the edges of the cake. Sprinkle a rounded tablespoon of pomegranate seeds over buttercream, follow with another 1/4 of buttercream and spread evenly. Repeat with remaining layers.
Create a "crumb coat" layer around the cake to seal in any crumbs. Chill cake in the refrigerator for 15-20 minutes.
Generously coat the chilled cake with more buttercream frosting. Spread the frosting until cake is coated and smooth. Chill cake if not serving, immediately. Let cake sit at room temperature for 15-20 minutes before serving, to allow buttercream to soften. Top with pomegranate seeds before serving.