This raspberry almond layer cake uses crumbled muffin pieces to create a naked layer cake a la Momofuku Milk Bar style!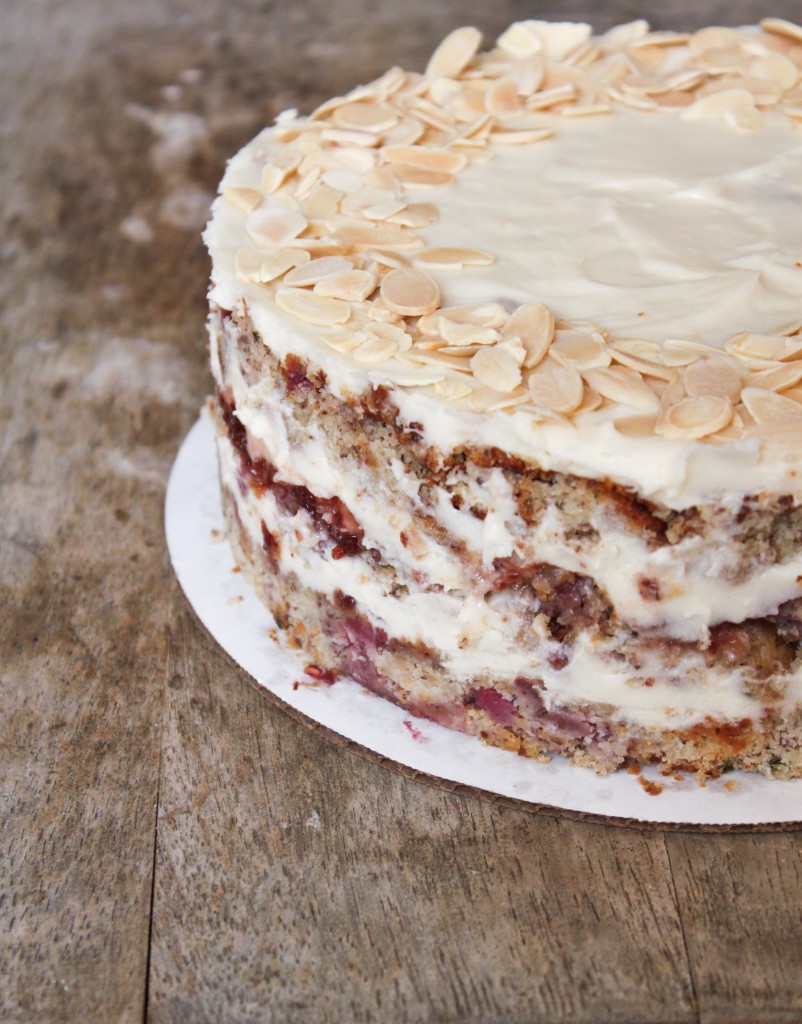 Baking is a science.
I have learned over and over again that baking is a science.  Not everything I bake turns out pretty and delicious.  I have had many baking failures.  There are many factors that can affect the outcome of your product.
Sometimes the oven temperature is incorrect, the batter is mixed too much or not enough, or there is too much leavening agent. Formulating a new recipe is similar to coming up with a hypothesis.
Through a series of testings, trial and error, tastings and observations, you eventually can perfect a recipe.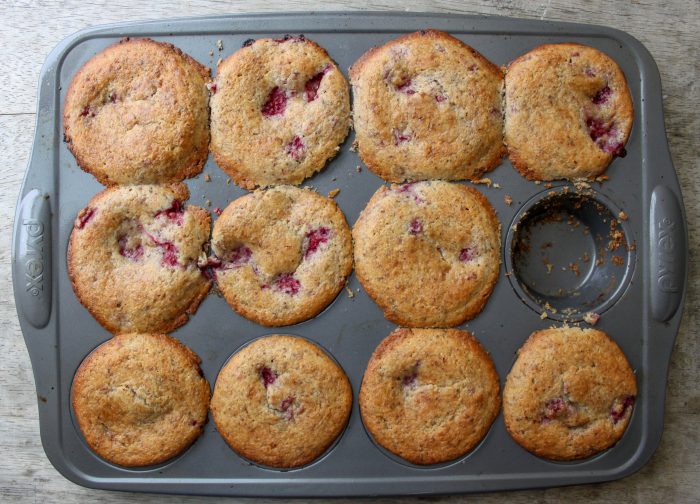 How to turn a baking failure into a baking win:
I had it all planned out.  I decided to use a muffin batter that I had experience making before, except this time adding raspberries and some almond flour.  No biggie.
The batter tasted amazing as I was mixing it together.  I was so excited for this new recipe.  I usually use cupcake liners, but I opted to grease the muffin tins because I wanted the muffins to look natural and rustic.
Apparently, I didn't use enough baking spray because my muffins did release from the tin after baking.
It was a struggle.  I tried to invert the muffins and tap them out.  No luck.  I ran a mini offset spatula along the edges to loosen the muffins out.  No use.
The bottoms of the muffins still stuck to the pan.  My muffins were ruined.  Although the broken muffin bits tasted great, they were ugly and embarrassing to even give away.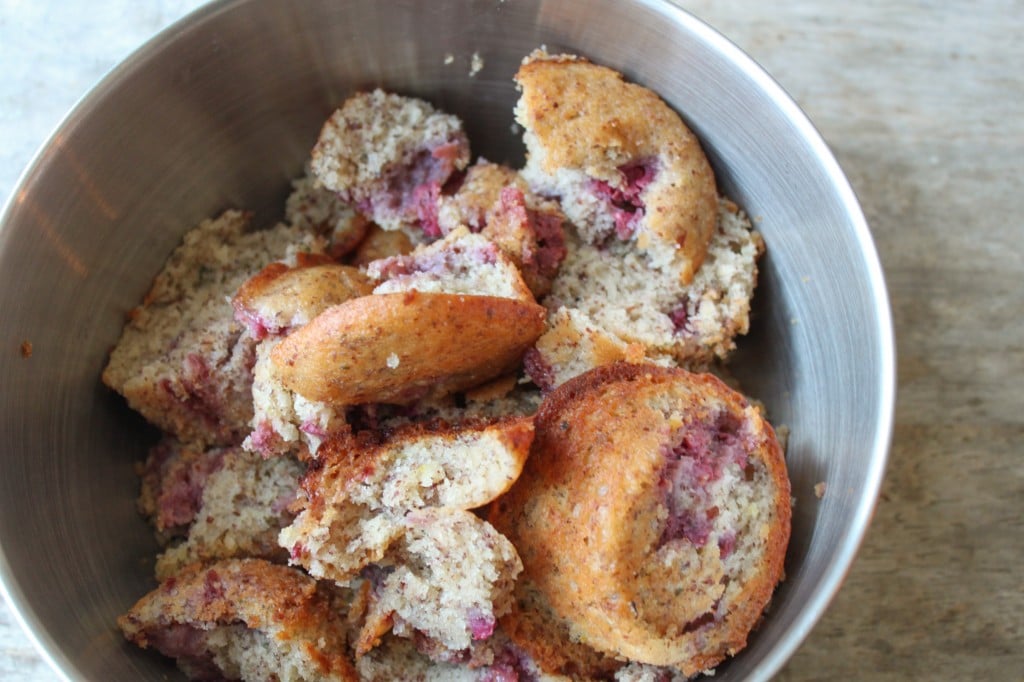 Turn that broken muffin mess into a raspberry almond layer cake:
Sometimes plans fail and its back to the drawing board.  That's why I believe you should always have a plan B (C, D, and E, if necessary).
My muffins failed, but I'm not going to cry and pout about it.  NO!  I'm not even going to throw them away.  I'm going to find a better use with what I've already got.
I went back into the kitchen and whipped up something amazing.  I made this raspberry almond layer cake a la Momofuku Milk Bar style!  I think Chef Christina Tosi would be proud.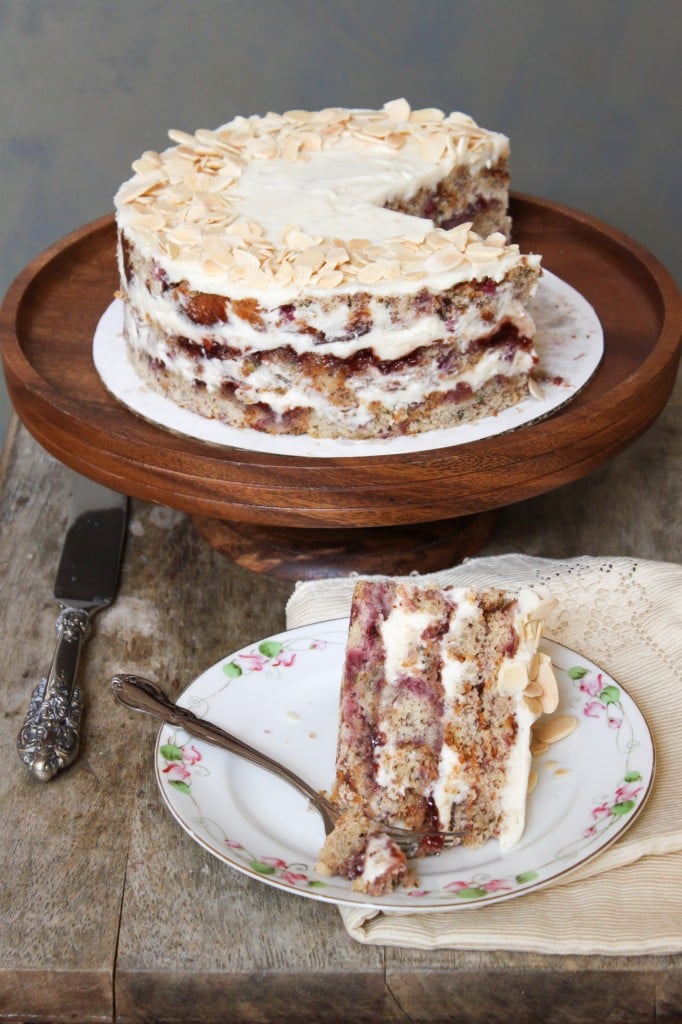 I think Christina Tosi is a genius.  I love, love, love her Momofuku Milk Bar cookbook.  She is so inventive and creative with her flavor combinations.
Her cookbook is never on my shelf.  It has a permanent spot on my desk because I am always thumbing through it.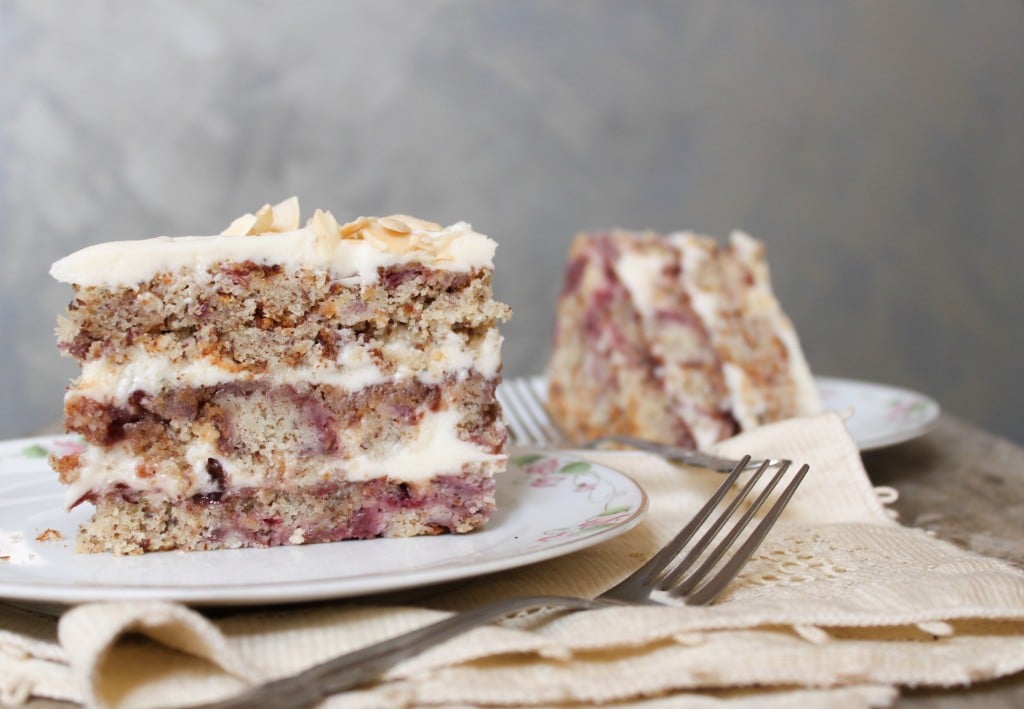 Raspberry Almond Layer Cake
Yield: 8-inch round layer cake
Ingredients
Raspberry Almond Muffins:
2

cups

all-purpose flour

1 1/2

cups

almond flour

1/2

teaspoon

baking soda

1

Tablespoon

baking powder

1/2

teaspoon

fine sea salt

2

large eggs, room temperature

1

large yolk, room temp

1 1/3

cup

granulated sugar

1/2

cup

unsalted butter, melted

1

cup

whole milk, room temp

1

cup

sour cream, room temp

2

teaspoons

pure vanilla extract

1

Tablespoon

lemon thyme leaves, chopped (optional)

zest of half a lemon

2

cups

raspberries
Cream Cheese Frosting:
1/2

cup

unsalted butter, room temp

8

oz

cream cheese, softened

pinch salt

1

teaspoon

pure vanilla extract

2-3

cups

sifted confectioners' sugar (amount dependent on desired consistency)
Other Components:
sliced blanched almonds, lightly toasted

raspberry jam
Instructions
Raspberry Almond Muffins:
Preheat oven to 350 degrees F. Grease a 12-cup muffin tin or line with cupcake liners. Set aside.

In a large bowl, whisk together flour, almond flour, baking soda, baking powder, and salt. In another bowl, whisk eggs and yolk. Add in sugar, melted butter, milk, sour cream, and vanilla extract. If using, add lemon thyme leaves and lemon zest. Whisk until fully combined.

In three additions, pour wet mixture into large bowl with the dry ingredients. Fold together until combined. Gently fold in raspberries. Divide batter into prepared muffin tin.

Bake for 30-35 minutes until muffins are golden in color and a toothpick inserted in center of muffin comes out clean. Let cool in pan for 5-10 minutes before removing and allow muffins to cool on wire rack.
Cream Cheese Frosting:
In the bowl of a stand mixer fitted with a paddle attachment, cream together butter and cream cheese until smooth. Add salt and vanilla. Mix until combined. Slowly add sifted confectioners' sugar. Mix until smooth and desired consistency is achieved.

Layer Cake Assembly:
Take an 8-inch cake ring and place on a slightly larger cake board. Alternatively, place it on a sheet pan lined with parchment paper. Cut a 3-inch wide acetate strip to line the inside of the cake ring.

Take the raspberry muffin scraps and divide it into three equal parts. Take one part of the scraps and make the first layer inside the ring. Use the palm of your hands, the bottom of a drinking glass, or a tamper to push the scraps together into a flat and even layer.

Spread about 1/4 cup of raspberry jam in an even layer over the cake.


Spread about 1/3 of cream cheese frosting over the raspberry jam layer.

Add another layer of cake scraps. Repeat the process for the first layer. Add the third layer of cake and cover with the remaining 1/3 of cream cheese frosting. Garnish with toasted sliced almonds.

Let cake rest in freezer for at least 1 hour. Gently remove cake ring and gently peel off the acetate strip while cake cold. Let cake defrost in fridge for a couple of hours before serving.