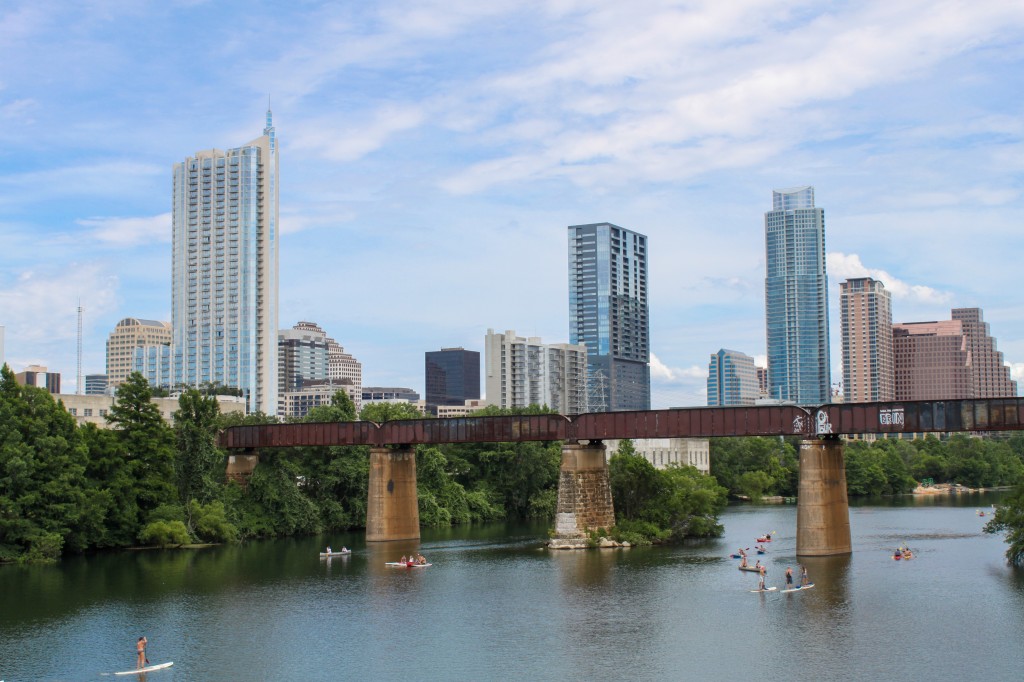 BlogHer Food 2013: two days packed with workshops, panel discussions, and opportunities to sample lots of food.  As my first BlogHer conference, I didn't know what to expect.  It was much more than I had hoped for.  I am looking forward to participating in future conferences.
My mind and my notebook are overflowing with all sorts of new ideas.  I learned all sorts of ways to improve my blog, better my writing, expand my content, and hone my photography skills.  I learned about networking and the importance of sharing and building a community.  It was a bit overwhelming at times, but definitely worth the trip.
I am still fairly new to the blogging sphere and I found it very encouraging and reassuring to hear seasoned bloggers talk about their beginnings.  The candor and sincerity of the speakers showed their dedication and their willingness to help others.  I left the conference energized, motivated, and inspired.
Thanks to this year's conference location, I was finally able to visit Austin.  I stayed an additional three days to wander the city.  Needless to say, much of my exploration revolved around food.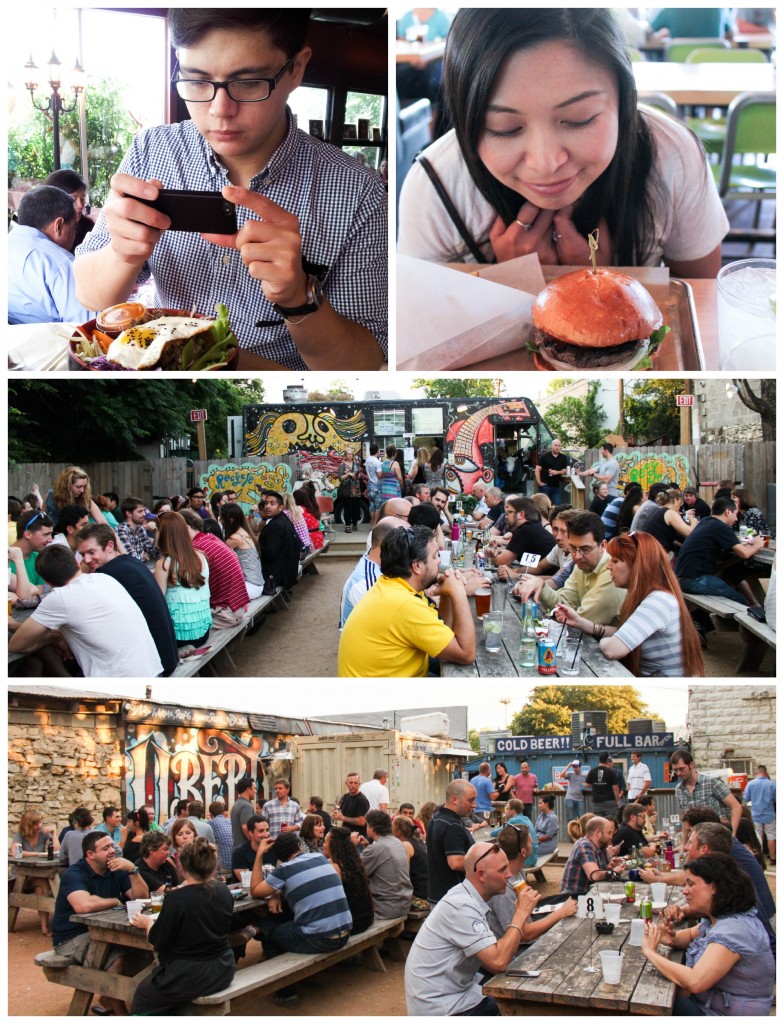 My boyfriend accompanied me on the trip.  I think the conference rubbed off on him.  Look at him taking pictures of his food.
Austin has some of the friendliest people I've ever encountered.  The locals we met were so welcoming. The following is a snippet of my trip.  Austin has so much more to offer, the following pictures are just a small sample what I experienced out there.  (pictured above: Alex taking photo at Koriente, Me admiring my burger from Hopdaddy, table views of The Liberty and East Side King.)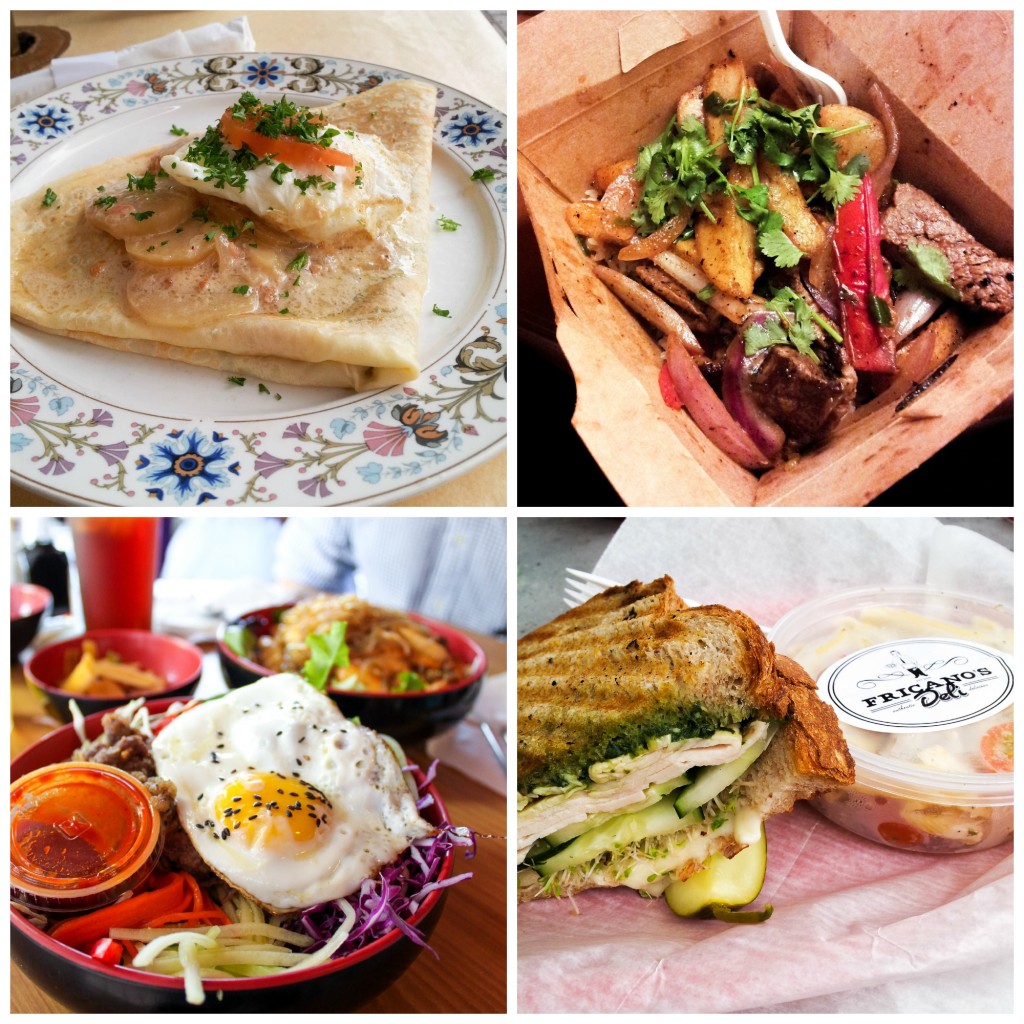 Austin has the tastiest and most eclectic food scene.  The combination of food trucks/trailers, restaurants, and bars provides a plethora of dining options.  In one day we had French crepes, Peruvian lomo saltado, Korean bibimbap, and grilled sandwiches.   Talk about variety.  Most places are within walking distance and moderately priced.  (** Find food index with locations and websites at end of post.)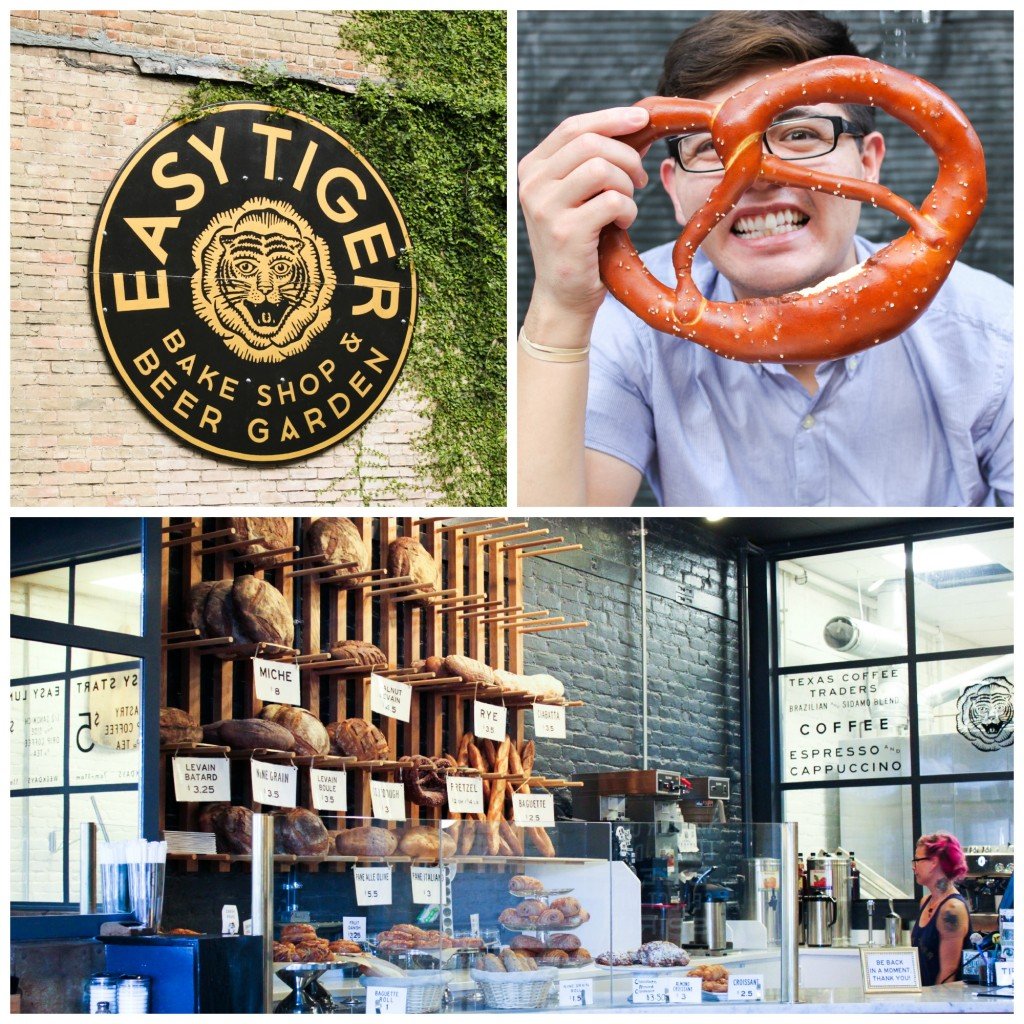 Easy Tiger was the first place we ate when we arrived in Austin.  We liked the place so much we had to visit twice.  I think everyone that attended the conference landed at Easy Tiger.  It's a bake shop and beer garden open all day and all night.  They have a bakery upstairs selling fresh breads and pastries.  Downstairs, you'll find the main bar and seating area.  But the outdoor patio (beer garden area) is the place to be.  There are rows of communal tables constantly full and alive with people and chatter.  There is also a couple ping-pong tables available.  They  have a rotating and expansive beer list, most of which is on tap.  I was happy to find a good selection of whiskeys.  Oh, and did I mention they have giant pretzels that they serve with beer cheese and a variety of sausages? Yes. They were worth all the carbs and calories.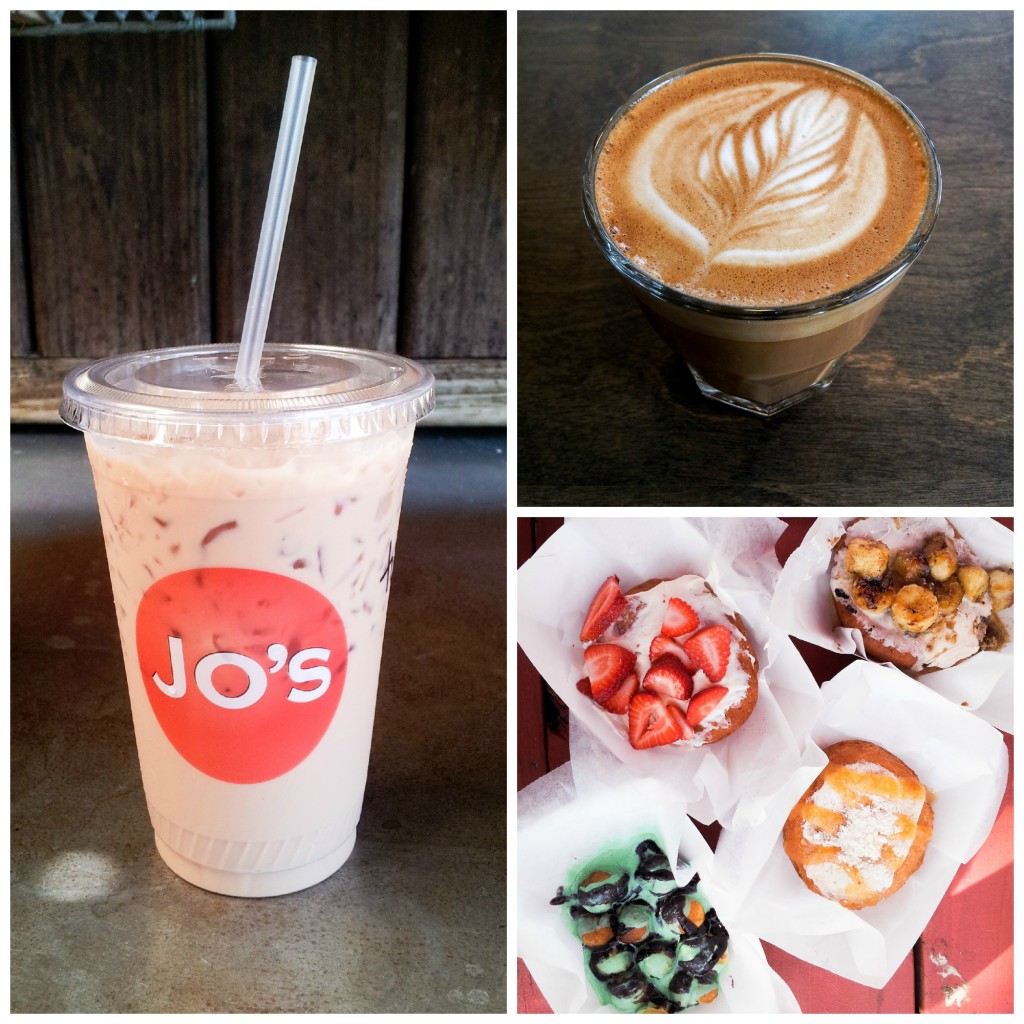 I wish I had time to check out more coffee shops, brunch spots, and restaurants.  My stomach could only handle so much, so I really had to be selective.  I definitely recommend the coffee at Jo's and Houndstooth Coffee.  I ordered the Iced Turbo at Jo's.  It's a delightful mixture of coffee, espresso, hazelnut, chocolate, and cream.  Doesn't it just sound amazing?  Yes, it was and it was perfect for the hot weather.  I also really liked the Cortado (espresso cut with a small amount of warm milk) from Houndstooth.
And one of the best sweets from the trip– donuts from Gourdough's.  I've never had fresh made-to-order donuts like these.  Who doesn't love donuts?  It's a breakfast food, a snack, and a dessert.  Gourdough's has over 20 donut creations on their menu, but you can also opt to customize your own.  Best part, they are open late, really late on weekends, we're talking 3 AM late.  We tried the Miss Shortcake, Funky Monkey, Blue Balls, and Son of a Peach.  It was really difficult narrowing it down to four.  I am definitely coming back here next time I am in town.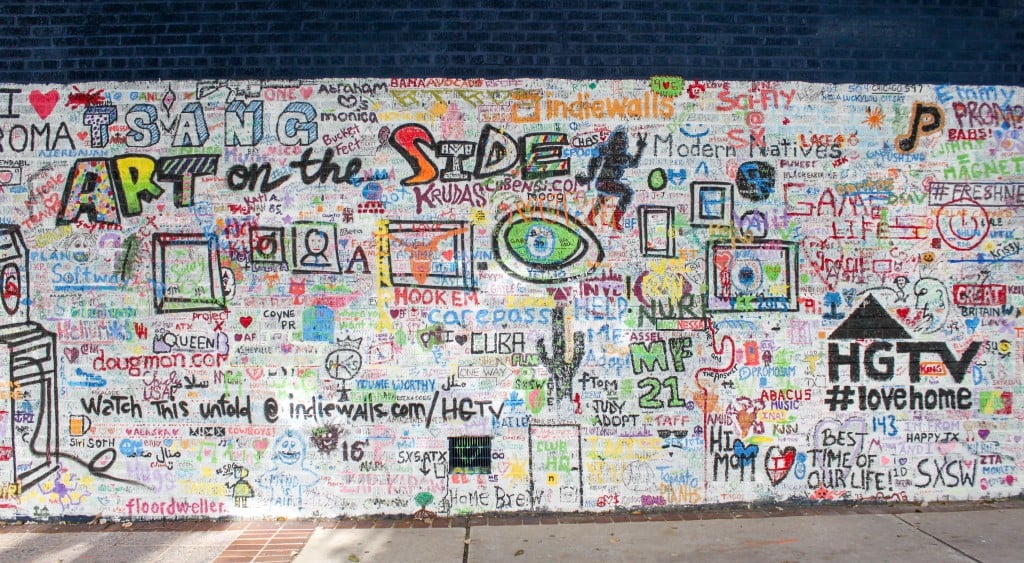 The boyfriend and I walked everywhere.  Along the way we found a lot of welcomed graffiti art.  These are just a few of my favorites.  The one with the HGTV tag made me smile.  I like the message of the one pictured below: What starts here, changes the world–be somebody.  And of course I like the ones with the animals, specifically the one with the flying dog we found on the exterior of a pet adoption building.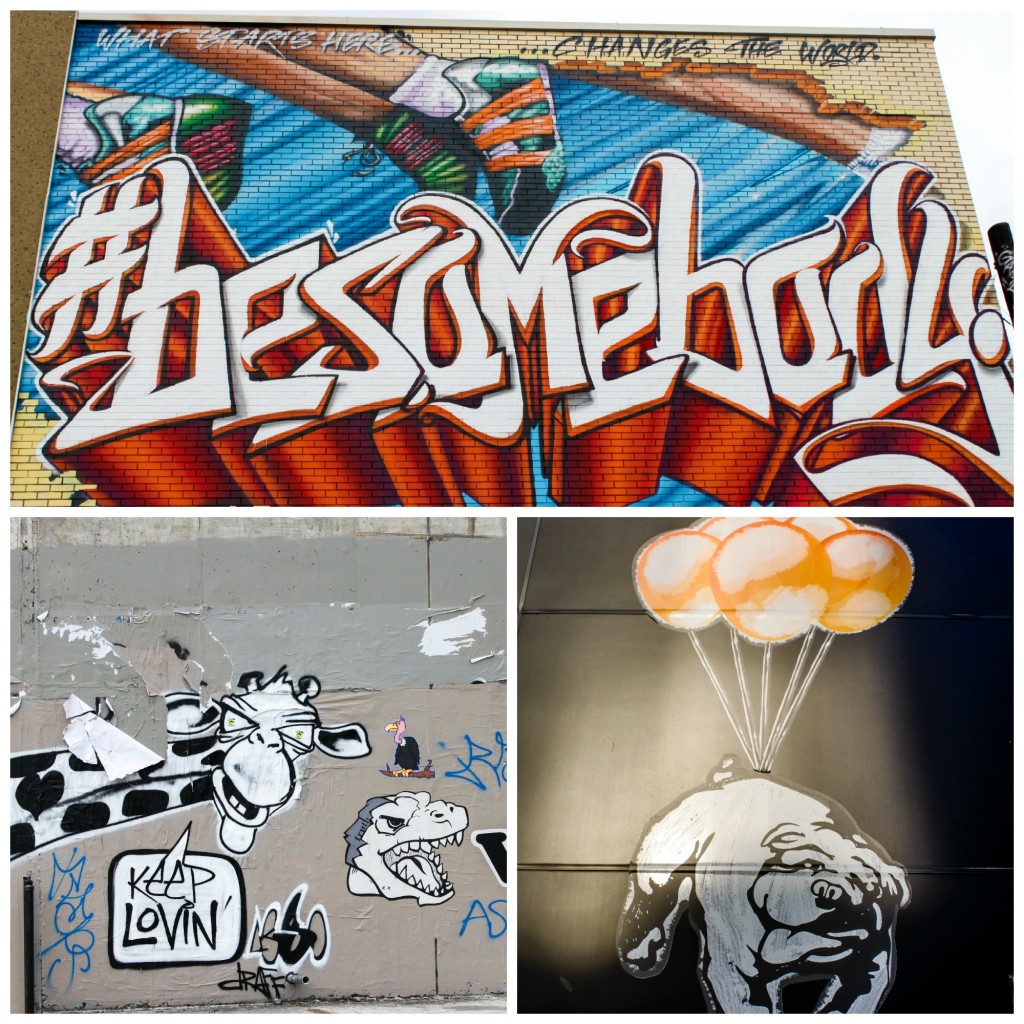 We ended our trip with on high note at Uchiko.  From the beginning, Uchiko was a top priority for our trip.  I made sure to make reservations ahead of time and study the menu so I would know exactly what to order.  It ranks high up there with my favorite restaurant experiences.  Everything was cooked perfectly and presented beautifully.  Our server was also very polite, informative, and made our meal even more memorable.  Some meals need your undivided attention, hence no pictures.  I can't wait to come back and try Uchi and Paul Qui's new restaurant, Qui.
Luckily, I also happen to meet Chef Paul during one of our excursions.  I told him about how much I loved him on Top Chef.  Yes, I am one of those embarrassing fans.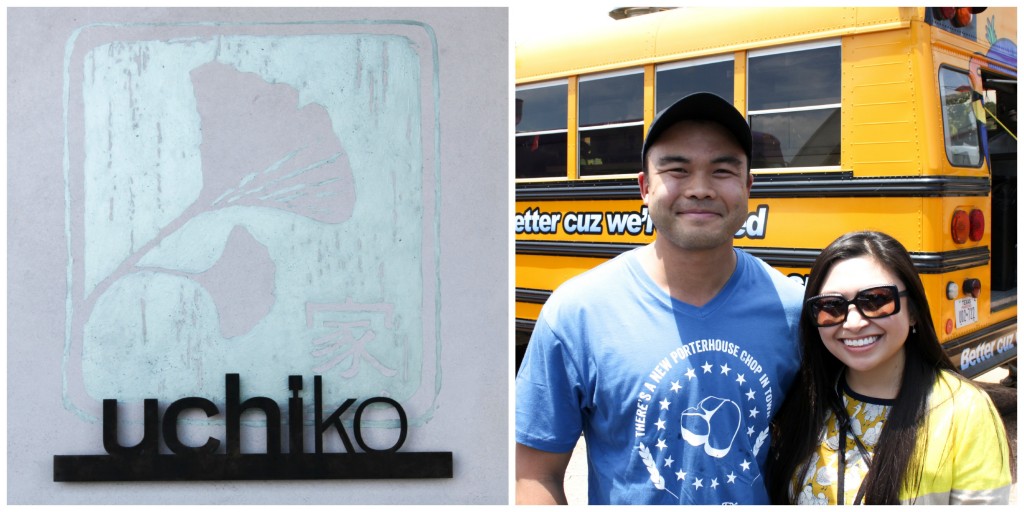 Five days were not enough.  There is still so much to eat and explore in Austin.  We were only able check out a couple of bars and see a couple bands.  I would love to come back for SXSW.  I can totally understand why its held in Austin.  I had a lot of fun shopping for antique props, looking for cowboy boots, and visiting quirky little shops.  I didn't get to see the bats at Congress Bridge or eat at the famous Franklin BBQ.  But no worries, I'll definitely be back.
Austin Food Index: Eats. Sleeps. Shops. 
Food Trucks/Trailers
East Side King, various locations
Gordoughs, 1503 S. 1st Street
Llama's Peruvian Creole , 611 Trinity
Coffee Shops
Houndstooth Coffee,  401 Congress Ste 100C, try the Cortado and iced toddy
Jo's, 1300 South Congress Ave, try the Iced Turbo
Restaurants
Cafe Crepe, 200 San Jacinto Blvd
Easy Tiger, 709 E. 6th Street
Fricano's Deli, 2405 Nueces Street, Ste. G
Hopdaddy, 1400 S. Congress Ave
Koriente, 621 E. 7th Street
Stubb's BBQ, 801 Red River
Uchiko, 801 South Lamar
Hotels
Hilton-Downtown Austin, 500 E. 4th Street, location of conference
The Driskill, 604 Brazos Street, historic hotel
Shops
Allens Boots, 1522 S. Congress Ave.
Serve: Gourmet Gadgets and Goods, 241 W. 3rd Street
Stag, 1423 S. Congress Ave
Uncommon Objects,1512 S. Congress Ave– antiques, vintage goods
Whole Foods Market,525 N. Lamar Blvd– Austin Flagship store located near the first Whole Foods location, amazing walk-in beer fridge