First timer's guide to Tokyo DisneySea in Japan. Tips for attractions, dining options, and how to plan for a successful day!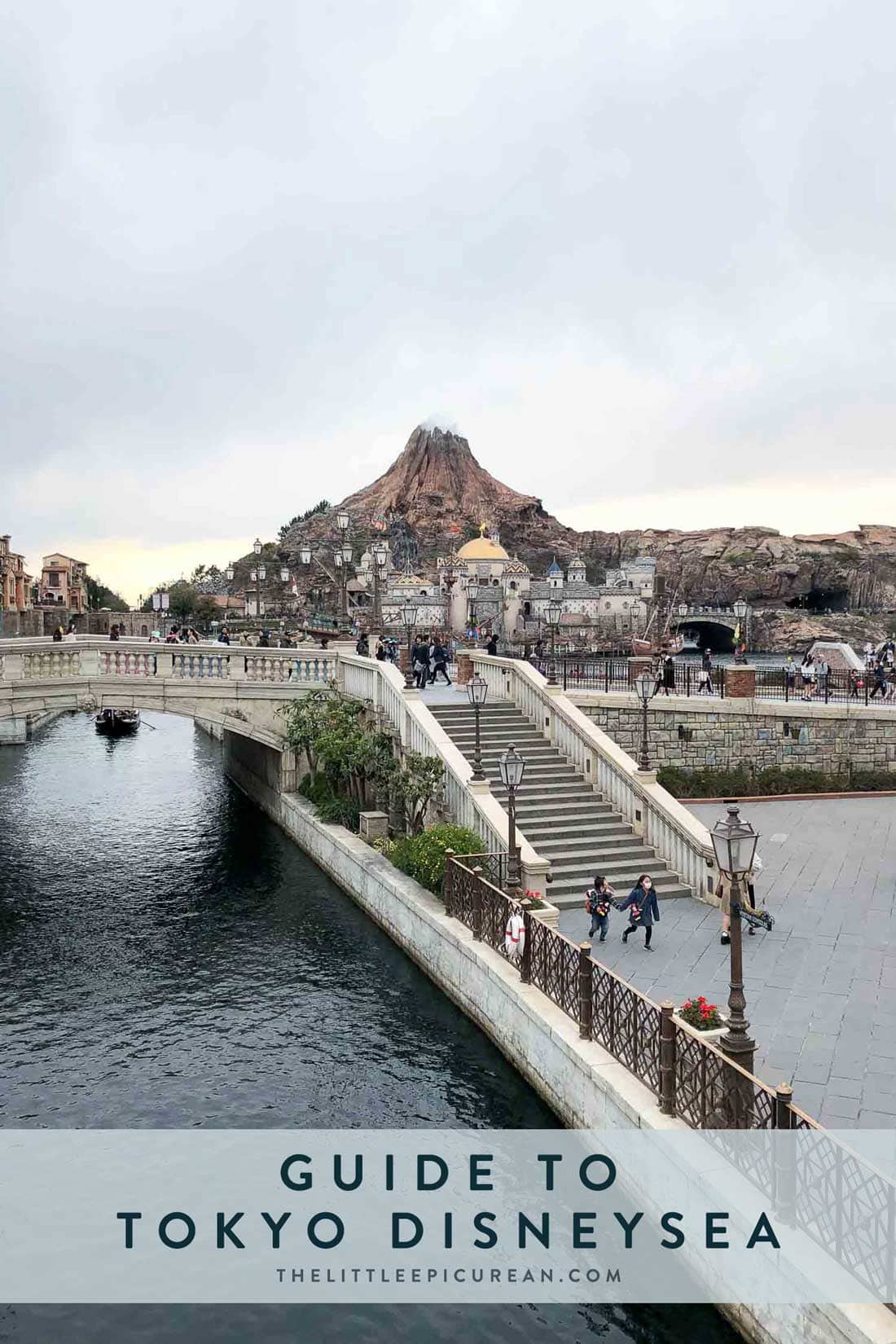 Tokyo Disney Resort does not offer "park hopper" passes like those for sale at Disneyland Resort in California or Walt Disney World in Florida.
In order to visit both Tokyo Disneyland and DisneySea in one day, you'll have to purchase a one day ticket to one park and then purchase a Starlight Passport (for use after 3pm on weekends) or an After 6 Passport (for use after 6pm on weekdays).
I don't suggest trying to visit both parks in one day. It's better to fully enjoy one park to the max.
Land or Sea?
When you can only spare one day at the Tokyo Disney Resort, should you go to Disneyland or DisneySea?
DisneySea is unlike any other Disney theme park. Tokyo Disneyland, Paris Disneyland, and Hong Kong Disneyland all try to mimic the original Disneyland in Anaheim.
DisneySea is truly one of a kind.
The Tokyo Disney Resort is located in Urayasu on Tokyo Bay. As such, it makes sense to create a nautical themed park like DisneySea.
Port of Call
DisneySea is divided into seven Ports of Call: Mediterranean Harbor, Mysterious Island, Mermaid Lagoon, Arabian Coast, Lost River Delta, American Waterfront, and Port Discovery.
Download a copy of the park map ahead to time to familiarize yourself with the lay of the land before arriving.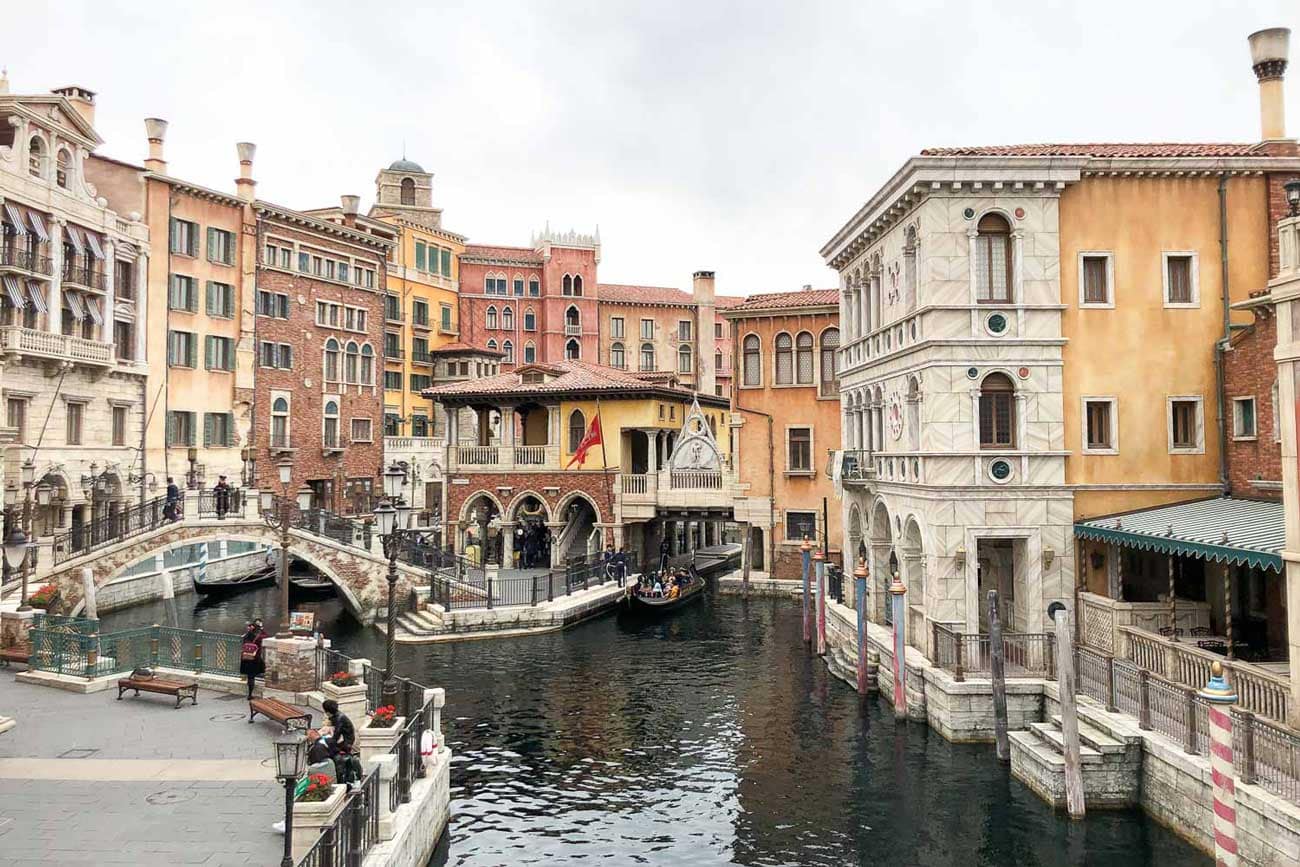 1. Mediterranean Harbor is fashioned after Venice, Italy. The gondola ride is located here. There are also several Italian food options here, as well are numerous beautiful photo opportunity spots!
2. Mysterious Island is hard to miss. It's the giant volcano in the center of the park. This area houses the attractions Journey to the Center of the Earth and 20,000 Leagues under the Sea.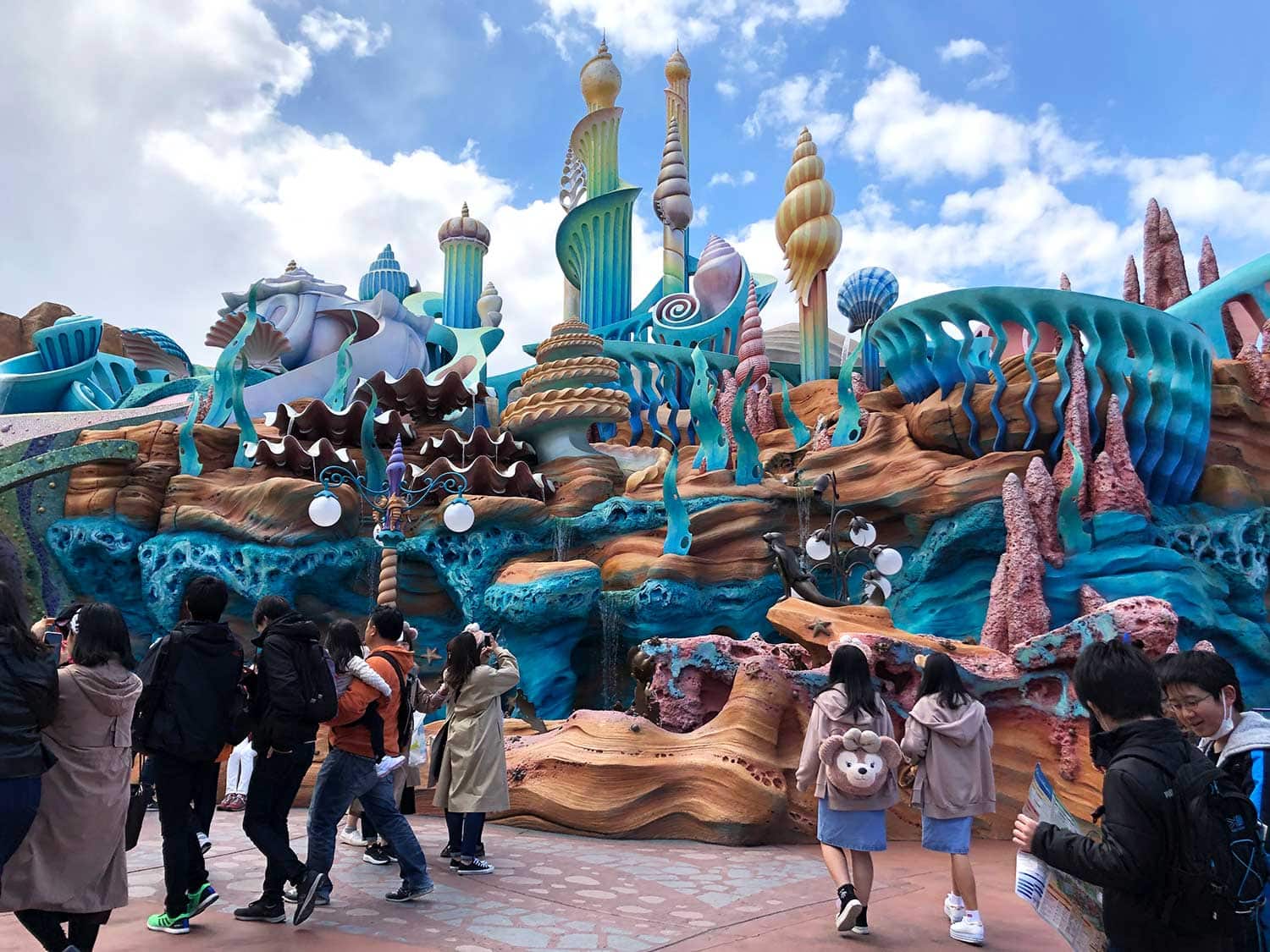 3. Mermaid Lagoon is home to The Little Mermaid (Ariel) and all her sea friends. You enter through King Triton's colorful coral and seashell adorned palace and walk underground into a magical ocean world.
There are various kiddie rides here as well as a full service restaurant and a show theater. Be sure to explore Ariel's Playground and look for the statue of Prince Eric!
4. Arabian Coast focuses on the characters of Aladdin and the stories and histories from 1001 Arabian Nights. Here you will find Jasmine's Flying Carpet ride and Sindbad's Storybook Voyage.
5. Lost River Delta contains an Aztec pyramid which houses the Indiana Jones ride. The roller coaster Raging Spirits is also found in this area.
6. American Waterfront represents early 20th century United States, specifically New York City and Cape Cod. This area features Tower of Terror, Toy Story Mania, and the S.S. Columbia.
7. Port Discovery is home to the Marine Life Institute from Finding Nemo. Nemo & Friends SeaRiders is a new attraction that opened in 2017. It replaced the ride StormRider. It's a simulator ride similar to Star Tours.

Purchasing Tokyo Disney Tickets:
While you can certainly purchase tickets at the resort ticket booth, I highly suggest getting your tickets in advance elsewhere.
I cannot emphasize it enough: PURCHASE YOUR TICKETS IN ADVANCE.
There will be a line at the ticket booth in front of the park entrance. Don't wait your precious time waiting in line. You can purchase your tickets ahead of time online or in various stores throughout Tokyo.
ONLINE: In order to get Tokyo Disney Resort tickets online, you will need a credit card issues from an Asian country.
IN STORE: Certain Disney Stores throughout the country sell Disney Resort tickets. I suggest going to the large Disney Store in Shibuya. Tickets are available at the 3rd level. Best of all, they speak English!
Tickets can also be purchased at "conbini" (Japanese convenience stores) such as FamilyMart, Lawson, and 7-11. Simply look for the ticket kiosk. Asides from Disney tickets, you can use this kiosk machines to purchase tickets to baseball and other events.
How much does a ticket to Tokyo Disney cost?
At both Tokyo Disneyland and Tokyo DisneySea, a one day passport costs ¥7,400. That's roughly $66. That's a bargain compared to Disneyland Anaheim prices!
A one-day one-park ticket at Disneyland Anaheim starts at $104 during "value days" and up to $149 on "peak days."
Best time to visit Tokyo DisneySea?
It's advisable to go on a weekday, preferably Tuesday, Wednesday, or Thursday.
Expect big crowds on weekends. Make note of any school holidays or national holidays such as Golden Week and Obon (aka Bon Festival).
During these peak seasons, if the park's capacity is reached, you will not be able to purchase tickets at the gate.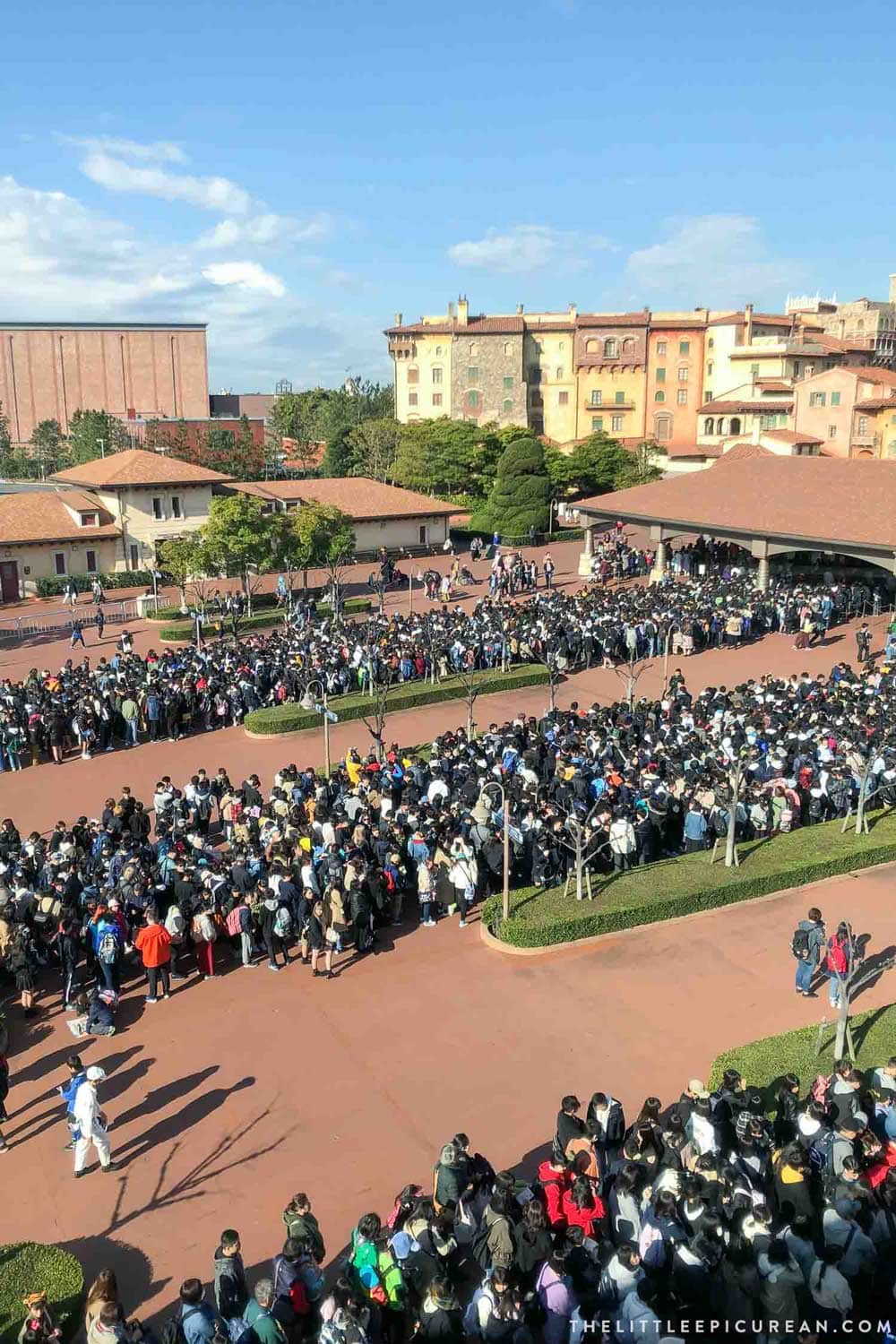 Arrive Early:
When it comes to the Tokyo Disney Resort, early does not mean a few minutes before park opening. The photo above was taken 15 minutes before park opening.
Arrive at least 30 minutes to one hour early.
Grab some drinks (cold tea, hot tea, milk tea, coffee, etc) and snacks at the vending machines in the train station in case you get hungry waiting in line.
FastPass System and Rides to Prioritize:
Save time and take advantage of the FastPass system. Before arriving at the park, familiarize yourself with the rides and attractions that offer this service.
At park opening, about 75% of the guests will race to Toy Story. I suggest you head towards Mysterious Island and grab a FastPass for Journey to the Center of the Earth.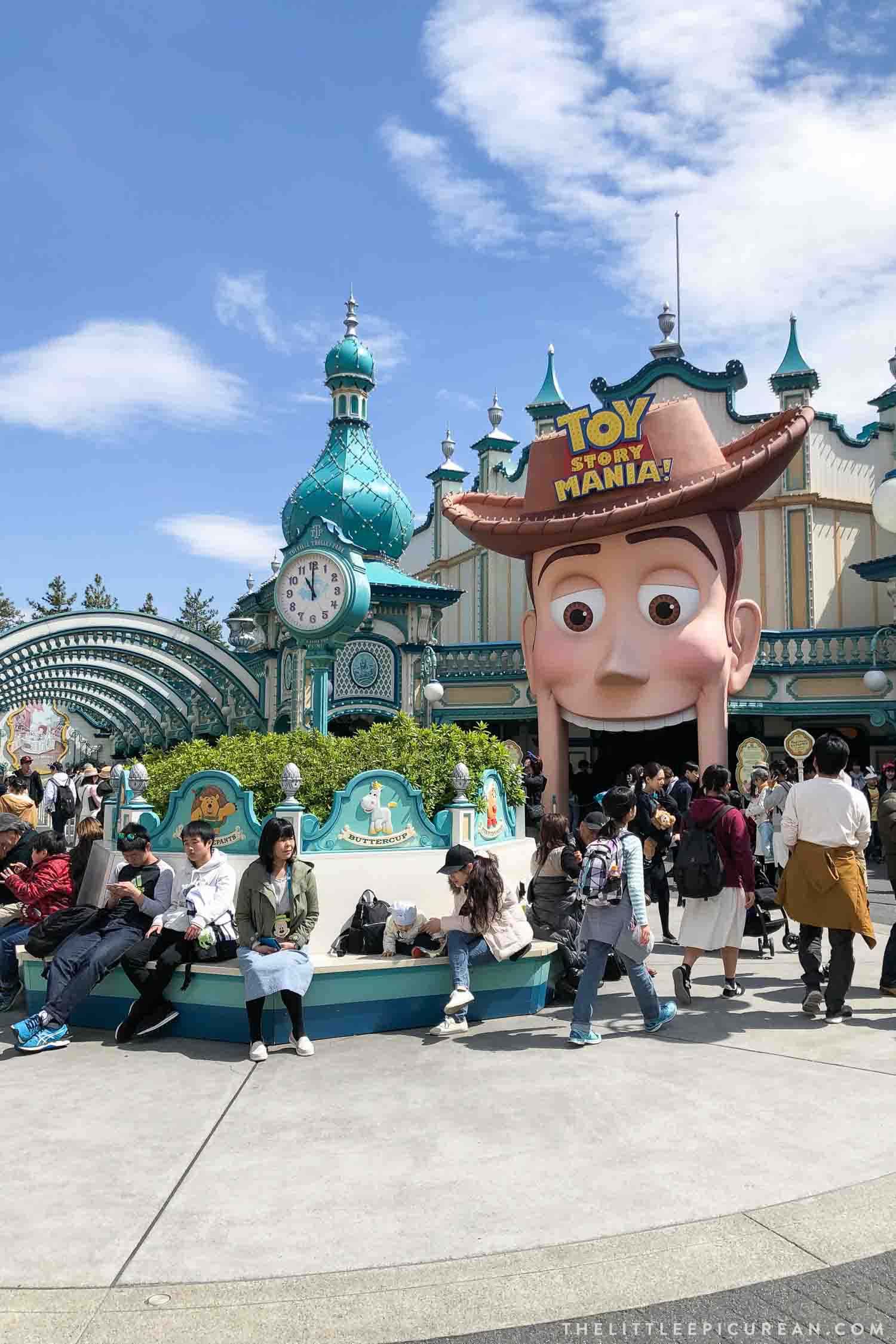 Toy Story Mania is the MOST POPULAR attraction at DisneySea. It is located in the American Waterfront. On a busy day, the FastPass tickets for this ride runs out well before noon.
However, you have experienced Toy Story Mania at Disney's California Adventure or Walt Disney World, I suggest you skip this ride. It's essentially the same, except it's in Japanese.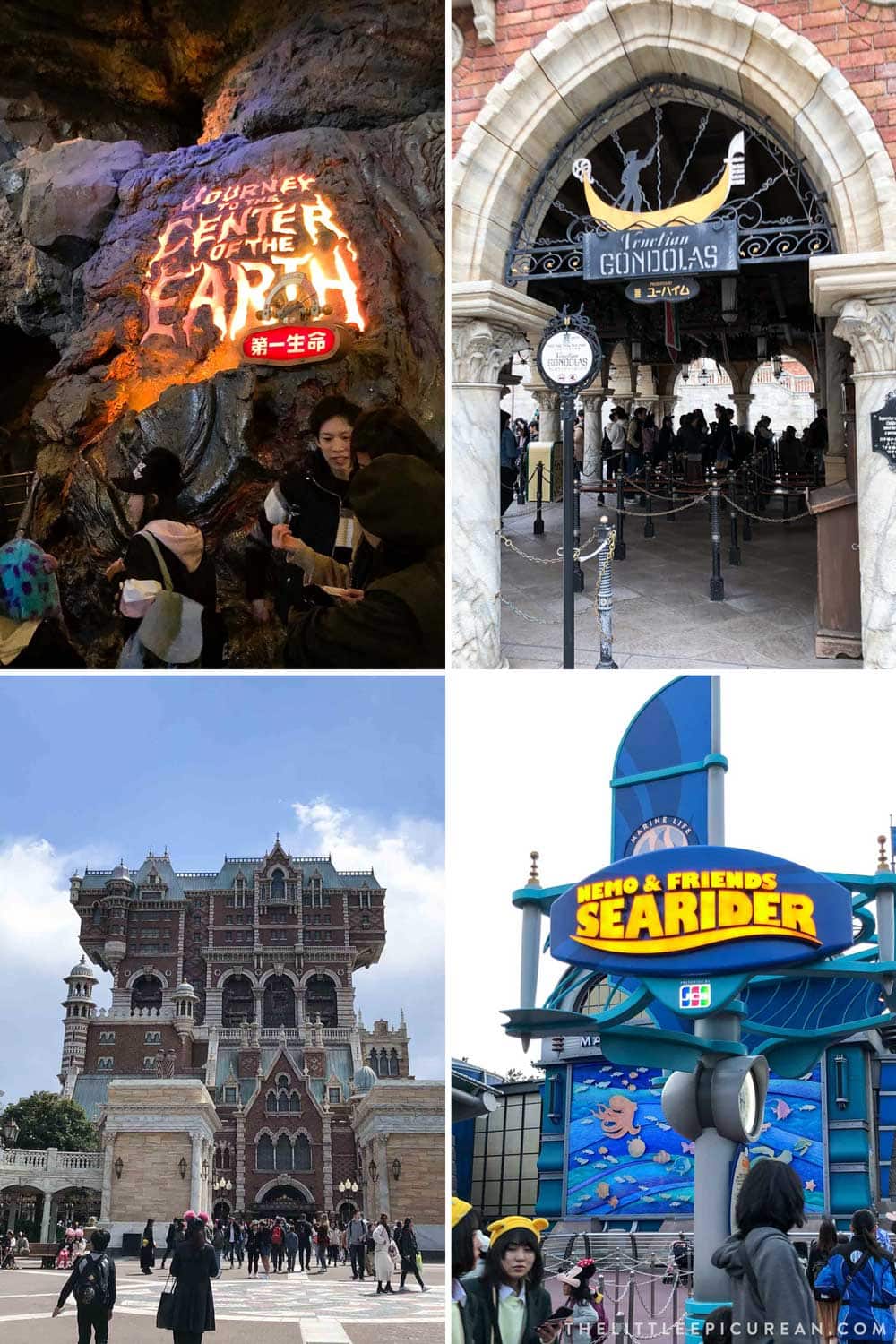 Rides to Prioritize:
Journey to the Center of the Earth (FP)
Tower of Terror (FP)
Nemo and Friends SeaRider (FP)
Venetian Gondolas
20,000 Leagues Under the Sea (FP)
Raging Spirits (FP & Single Rider)
Indiana Jones: Temple of the Crystal Skull (FP & Single Rider)
Sindbad's Storybook Voyage
*FP refers to rides with FastPass tickets.
*During busy days, certain rides open up a Single Rider Line. If you're in a party of 2 or 3 and don't mind being split up, the Single Rider option is usually faster than the regular stand-by line. Simply ask the cast member posted at the front of the attraction for directions.
Sinbad's Storybook Voyage may be a slow-paced kiddie ride (think Small World or Ariel's Undersea Adventure), but it's entertaining and a great ride to relax on! Best of all, the line is always short AND more importantly, the ride is located near one of THE BEST POPCORN flavor.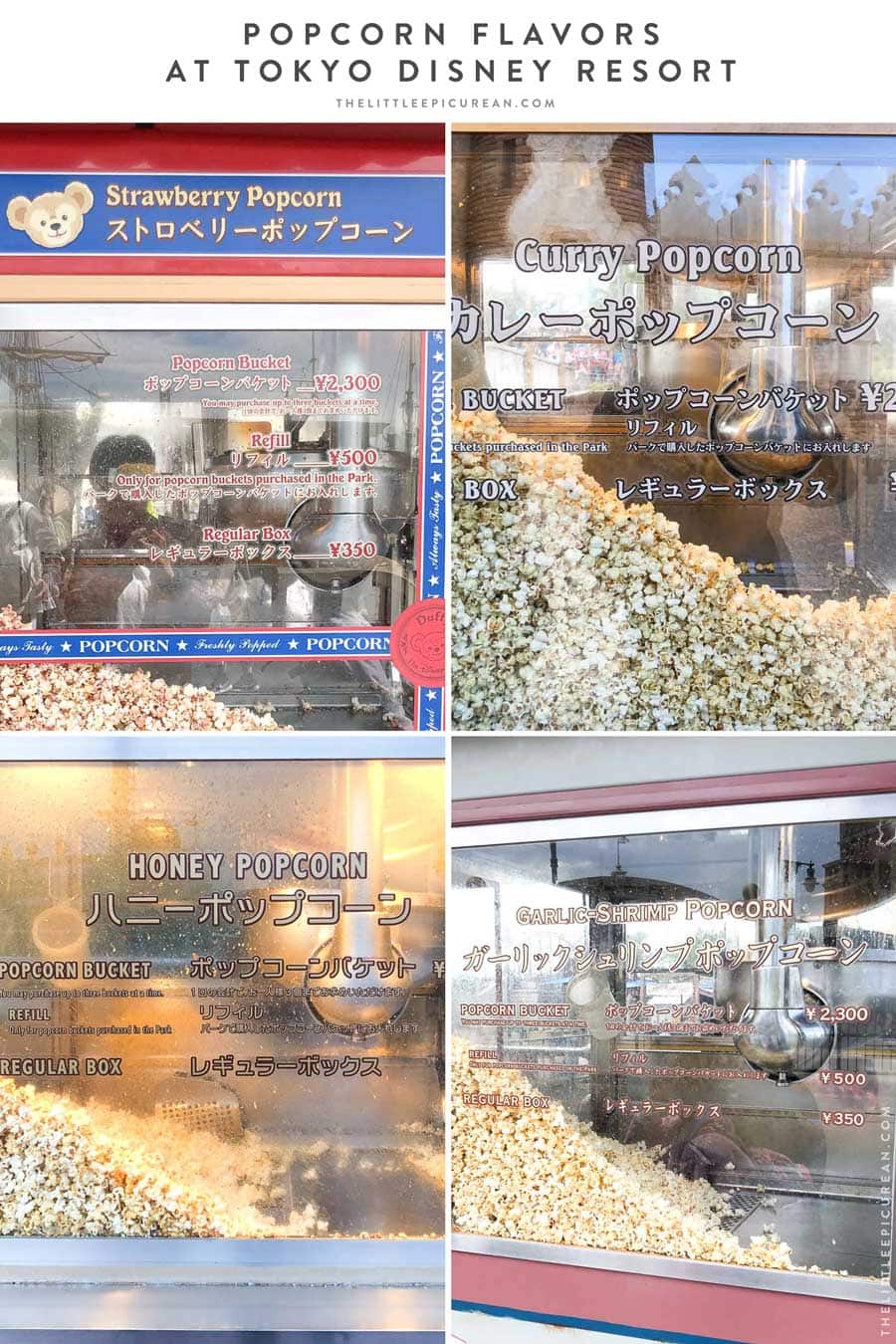 Tokyo Disney Popcorn Flavors:
At Disneyland and Walt Disney World, we have butter popcorn, kettle corn, and caramel corn. Within the Tokyo Disney Resort, there are over a dozen different popcorn flavors to choose from!
Popcorn flavors vary between Tokyo Disneyland and DisneySea. They also rotate flavors in and out depending on the season.
As of April 2019, these flavors can be found at
DisneySea:
Strawberry Popcorn
Curry Popcorn
Honey Popcorn
Garlic-Shrimp Popcorn
Milk Chocolate Popcorn
Disneyland:
Soy Sauce Popcorn
Barbecue Popcorn
Corn Potage Popcorn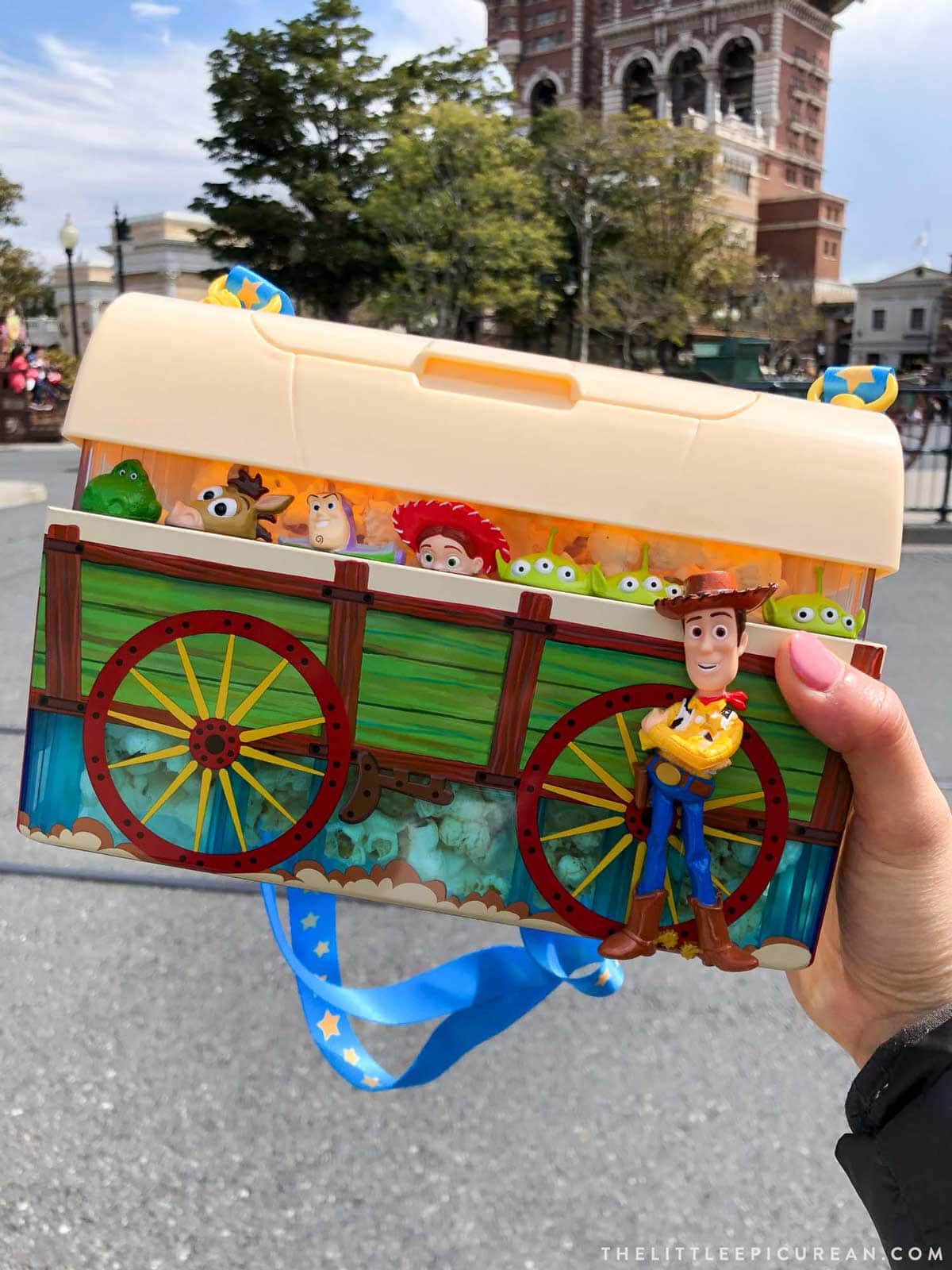 There are also a number of limited run popcorn buckets available at each park. They range from ¥2,300 (about $21 USD) to ¥3,000 (about $27).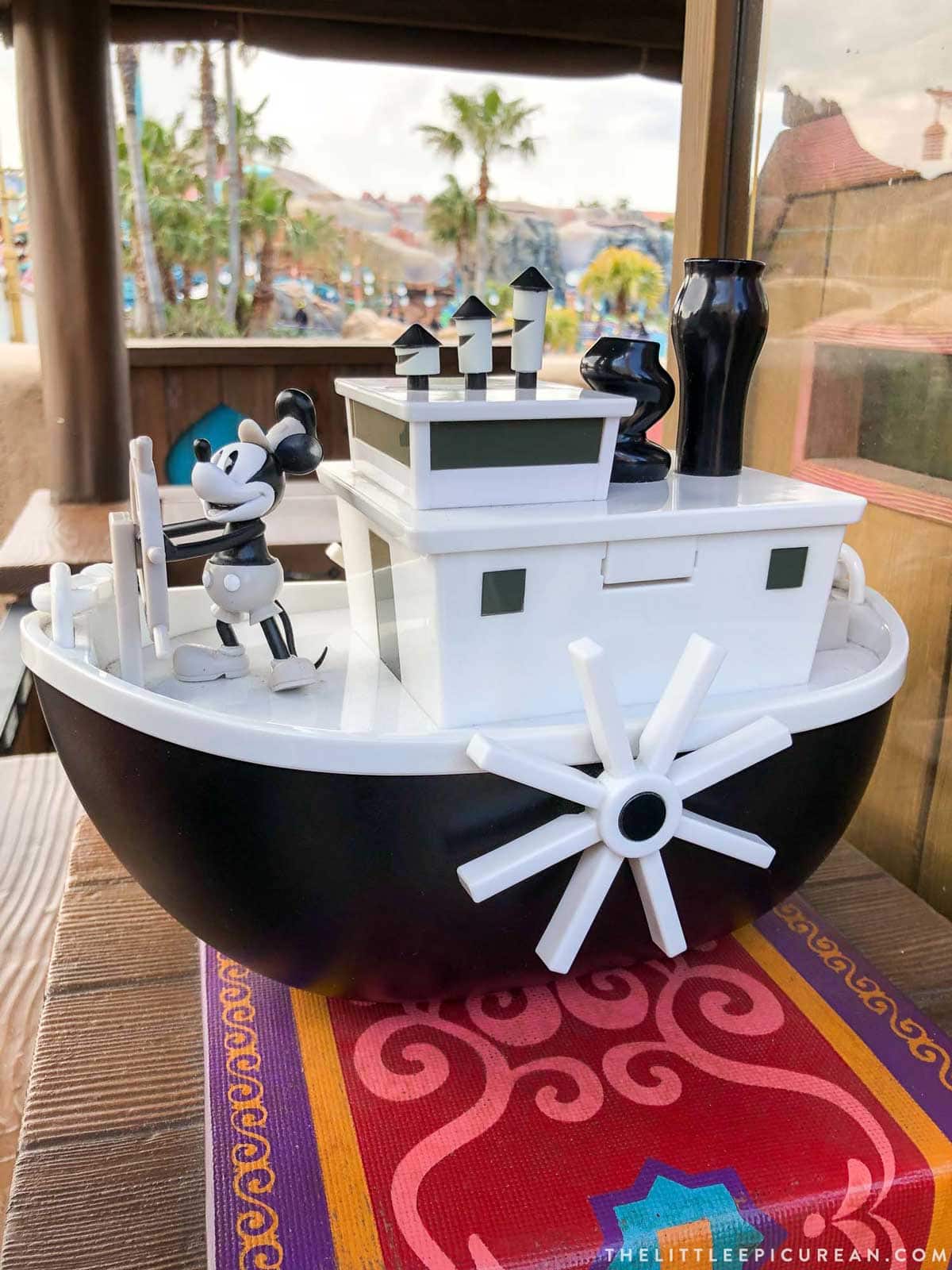 Eat all the Disney Snacks!
Asides from fun popcorn flavors, there are a variety of themed foods. Definitely try the Little Green Aliens mochi.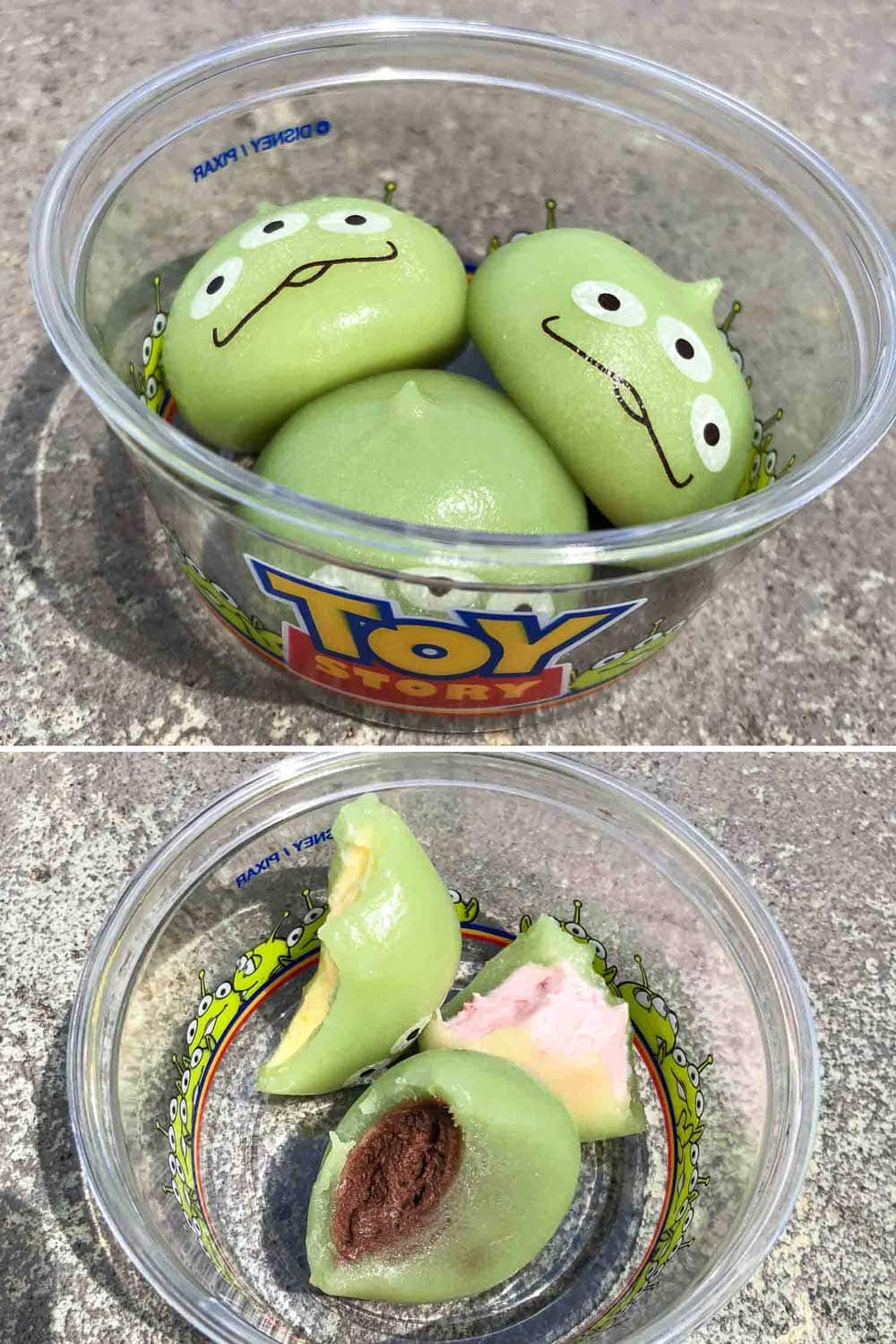 You'll find these Little Green Aliens at various food carts throughout the park. They also sell them at the bakery.
These sweet rice dumplings (mochi) come in a pack of three. You get one of each flavor: mango, strawberry, and chocolate.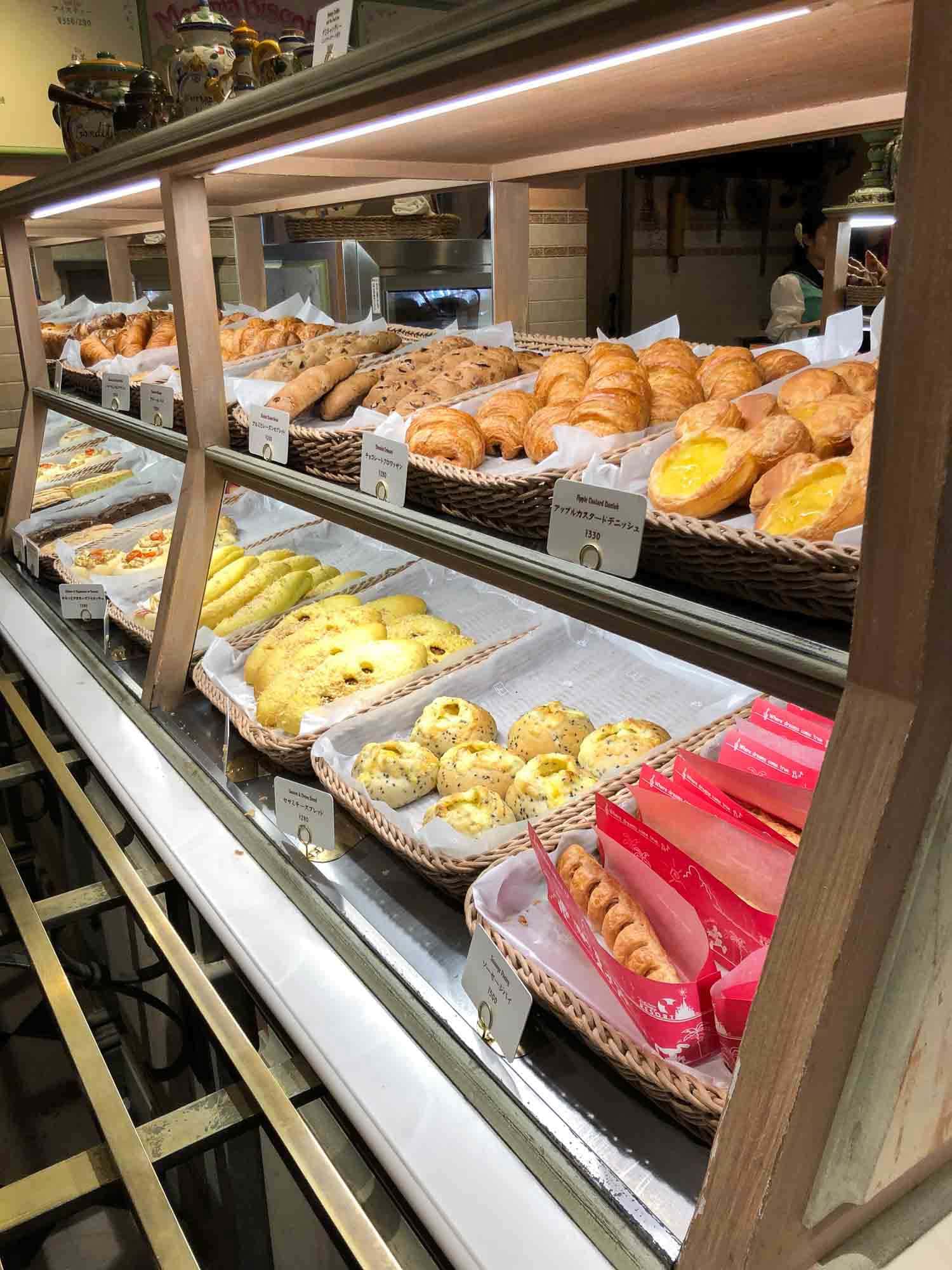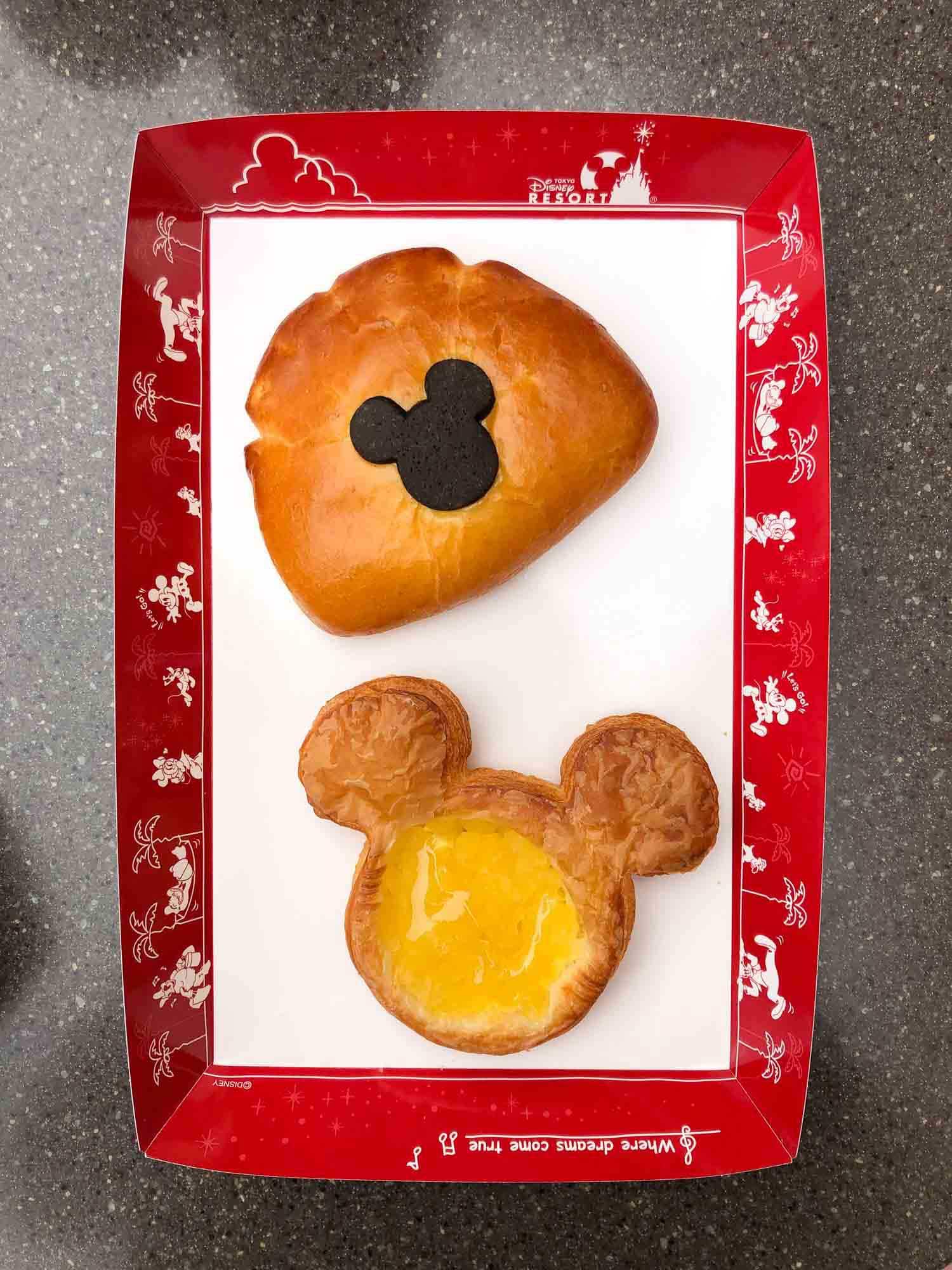 Mamma Biscotti's Bakery
Mamma Biscotti's Bakery is a counter service cafe located in Mediterranean Harbor. It is very close to the entrance and next to all the shopping!
They offer a selection of self-serve breads and pastries. You can also order a variety of sandwiches and coffee drinks.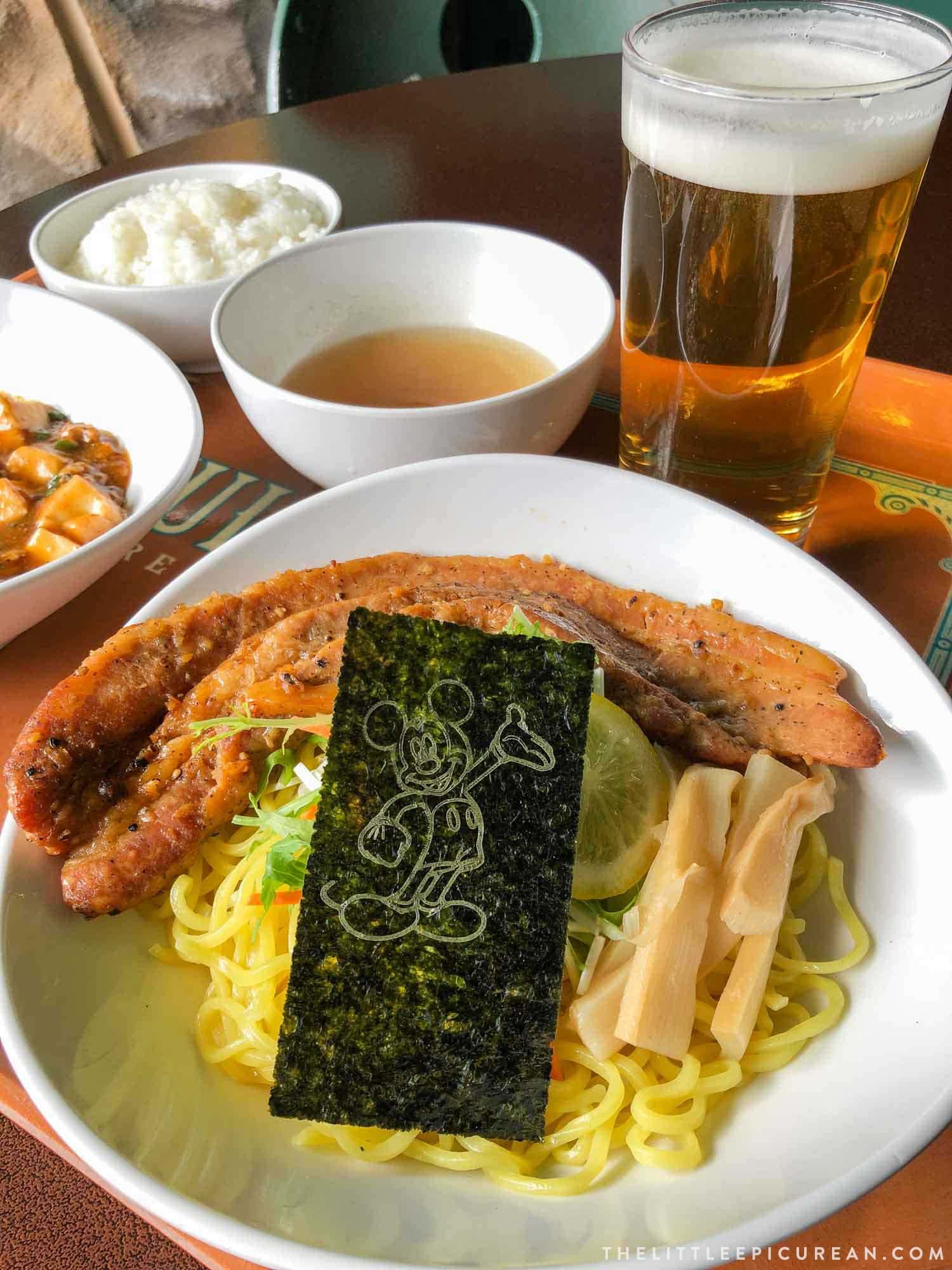 Vulcania Restaurant
Vulcania Restaurant is located within Mysterious Island. It is a semi self-service restaurant featuring Japanese style Chinese fare.
The menu challenges seasonally. However, staple items include: a variety of dim sum choices, mapo tofu, and fried rice.
My favorite was the dipping noodles served with braised pork belly (photographed above).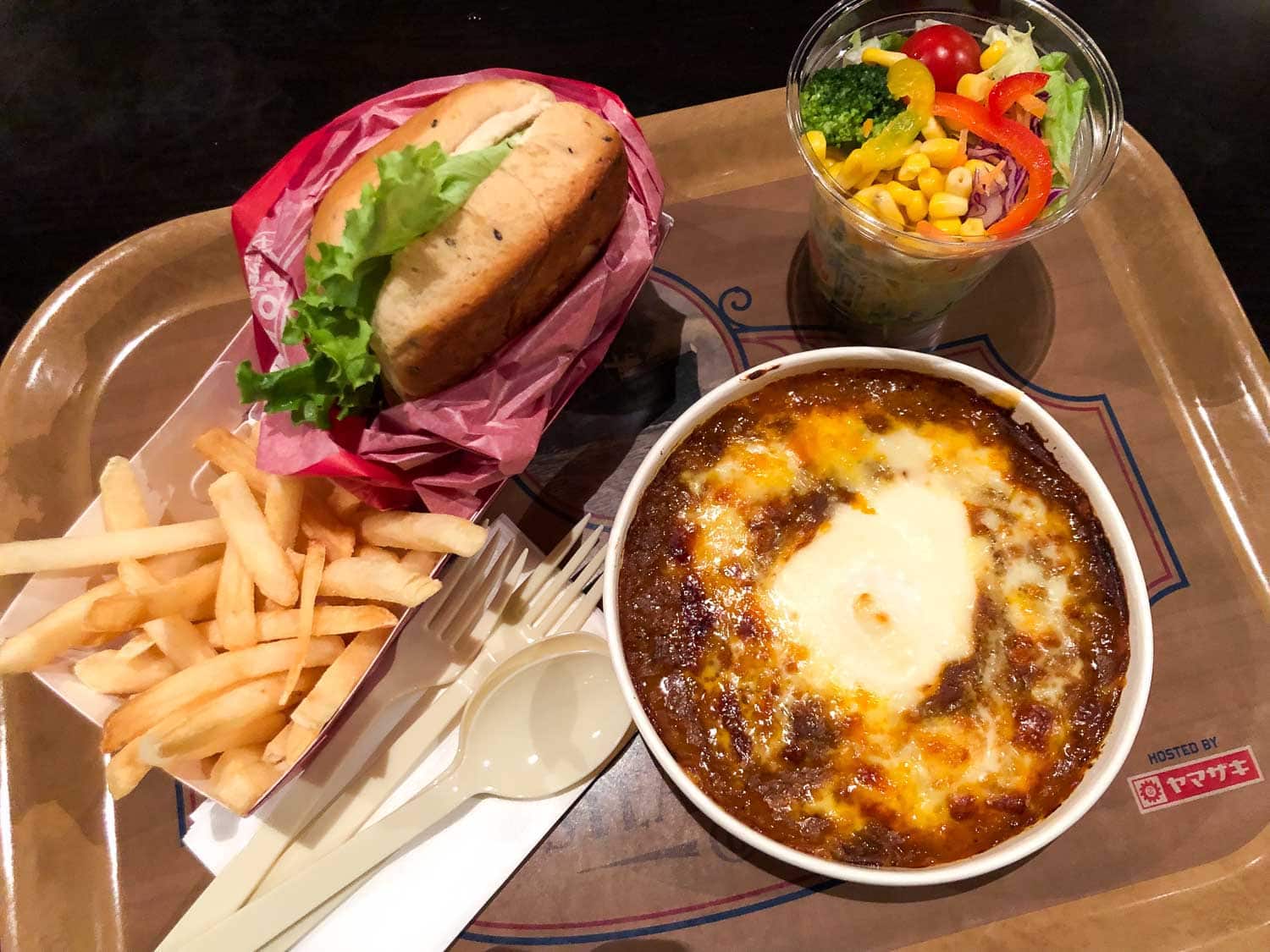 Dockside Diner
Docksider Diner is a relatively new addition to the American Waterfront next to S.S. Columbia. It is a counter service cafe that opened in summer 2018.
The menu features a selection of American inspired sandwiches and fried chicken options.
However, MY FAVORITE is the seasonal Curry Pilaf photographed above. It may not look pretty, but it's the most delicious thing I ate at DisneySea. It's Japanese curry mixed with rice and baked with cheese and a soft poached egg. SO DELICIOUS.
Chill out and relax with a drink:
After a long day exploring DisneySea, wind down with a drink. Luckily, there are several options to choose from.
Table service restaurants as well as several counter service eateries offer alcoholic beverages.
For those that want a more relaxing and intimate atmosphere, there are two lounges to choose from: Magellan's Lounge and the Teddy Roosevelt Lounge.
I recommend the Teddy Roosevelt Lounge.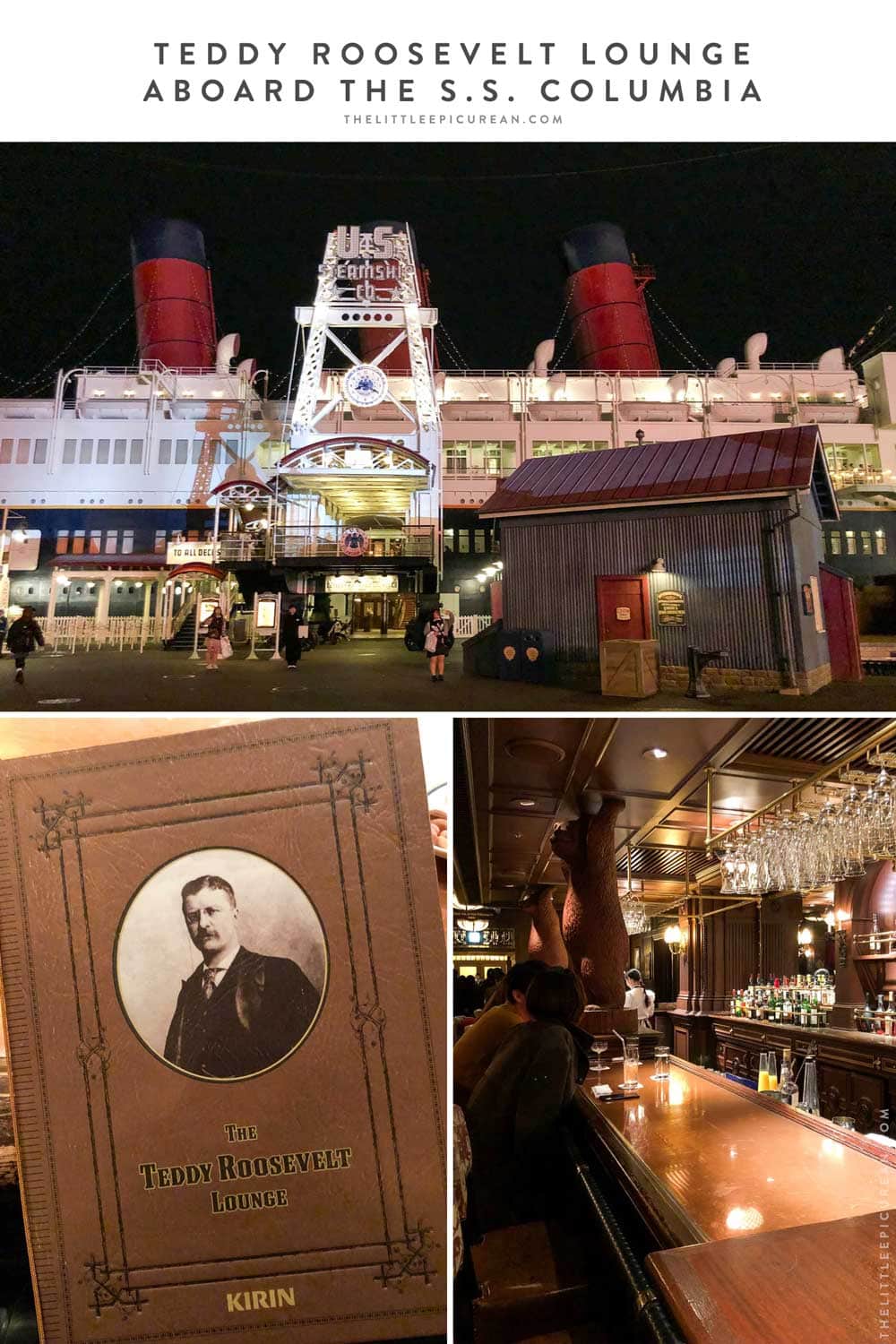 The Teddy Roosevelt Lounge
The Teddy Roosevelt Lounge is located onboard the S.S. Columbia. Take the stairs up to the second floor to enter the lounge.
Asides from drinks, the lounge offers a variety of small snacks and appetizers.
The drink menu is quite extensive. They every classic cocktail you can name from Vokda Tonic to Sidecar to XYZ.
Each cocktail is meticulously mixed at the long wooden bar. It's a show in itself waiting the bartenders craft the perfect cocktail.
Why is there a bar in Japan featuring an American president?
Perhaps it just fit the theme of the land? Or perhaps becauseTheodore Roosevelt Jr, the 26th president of the United States, played a massive role in the negotiations that ended the Russo-Japanese War.

Who is Duffy?
Duffy is known as "The Disney Bear" and "the bear of happiness and luck."
Duffy has numerous backstories. In one version, Duffy was created by Tinkerbelle. That one didn't stick.
The popular story goes: Minnie made the teddy bear for Mickey to keep him company as he traveled the world. The bear was tucked away into Mickey's duffel bag during his journeys. And as such, the teddy bear became known as Duffy!
Is Duffy in other Disney Parks?
Duffy used to be a prominent character during the early years of Disney's California Adventure. He even had dedicated photo opp area in Paradise Pier (as of 2018, it has been re-fashioned as Pixar Pier).
Unfortunately, Duffy never caught on. People had no idea who he was, or how he fit into the Disney theme.
Duffy was also placed at Epcot in Walt Disney World, but wasn't popular there either.
As of now, Duffy is only present at Tokyo Disney Resort, Hong Kong Disneyland, and Shanghai Disneyland.
Duffy is beyond popular in Tokyo. Dare I say, even more popular that Mickey!
Japan's Love for Duffy the Bear:
When new Duffy merchandise is realized in Tokyo, a mad frenzy ensures. Expect super long lines and sold out merch in a matter of minutes.
Given the extreme popularity of Duffy, several new fluffy friends have been created to keep him company.
SheilaMae (the pink version of Duffy) is his girlfriend. Next up, is Gelatin the cat, who is an avid painter. The most recent addition to their group at DisneySea is StellaLou. She's a bunny ballerina.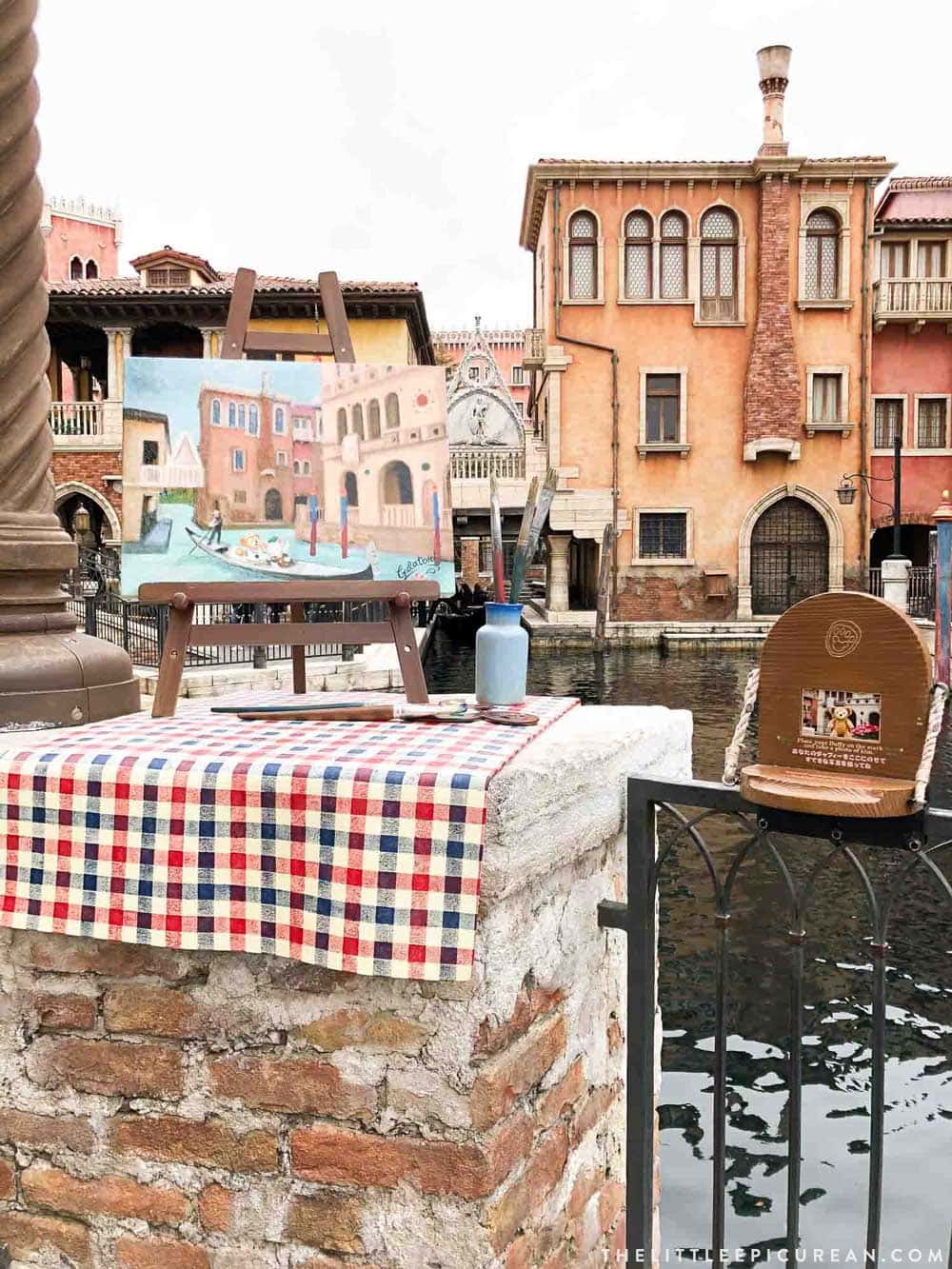 Duffy the Bear Photo Spots:
Throughout the various Port of Call areas around DisneySea, you will spot little cute vignettes like the painting set up photographed above.
If you look closely, you'll see that that Duffy is in the painting that was created by Gelatoni. Next to these little vignettes, you'll find a little chair where you can prop up your Duffy teddy bear for a photo opp!
You will find these all over the park! And yes, sometimes there is even a line of people waiting to have their Duffy bear photographed.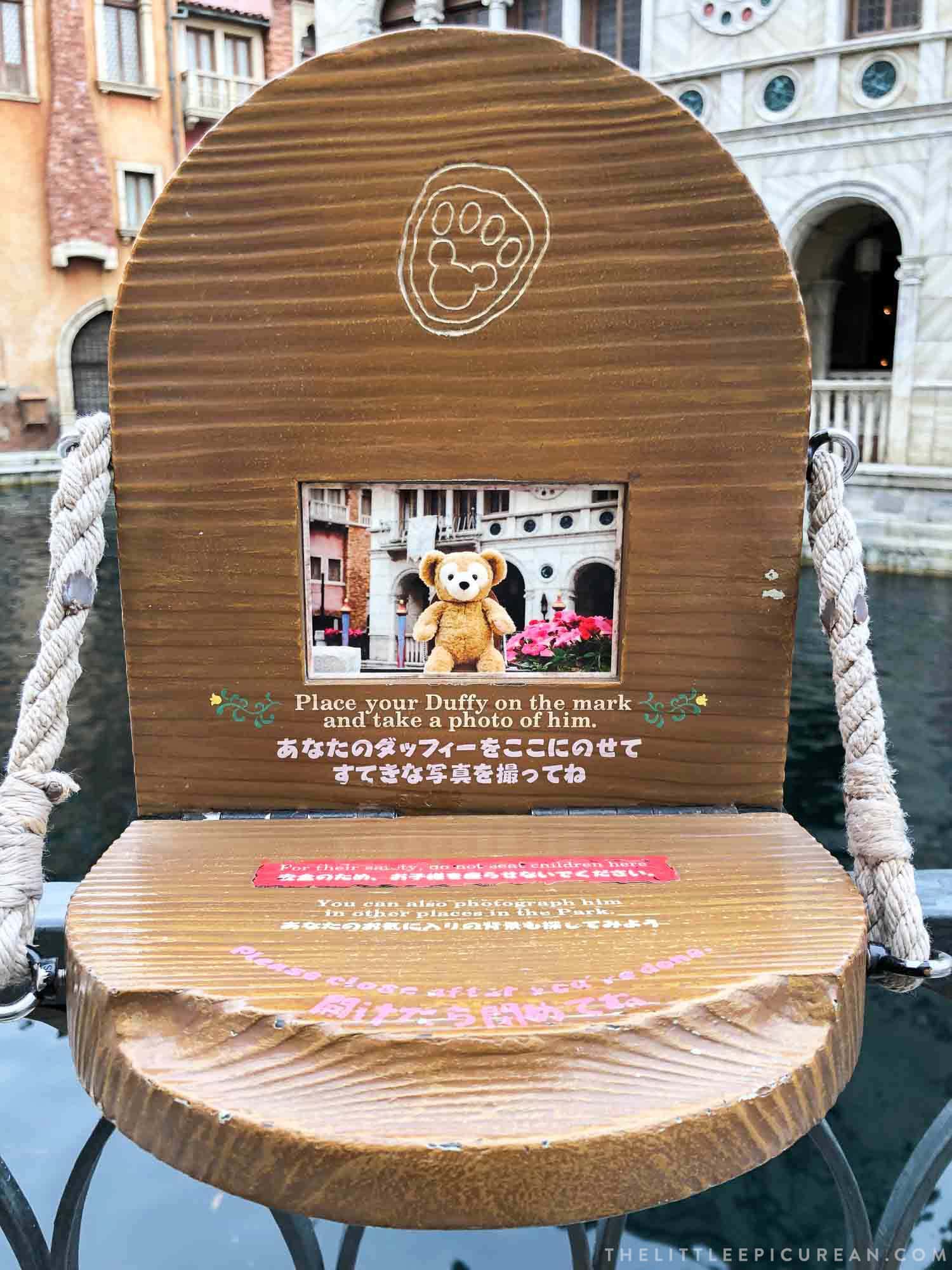 Related Disney Guides: