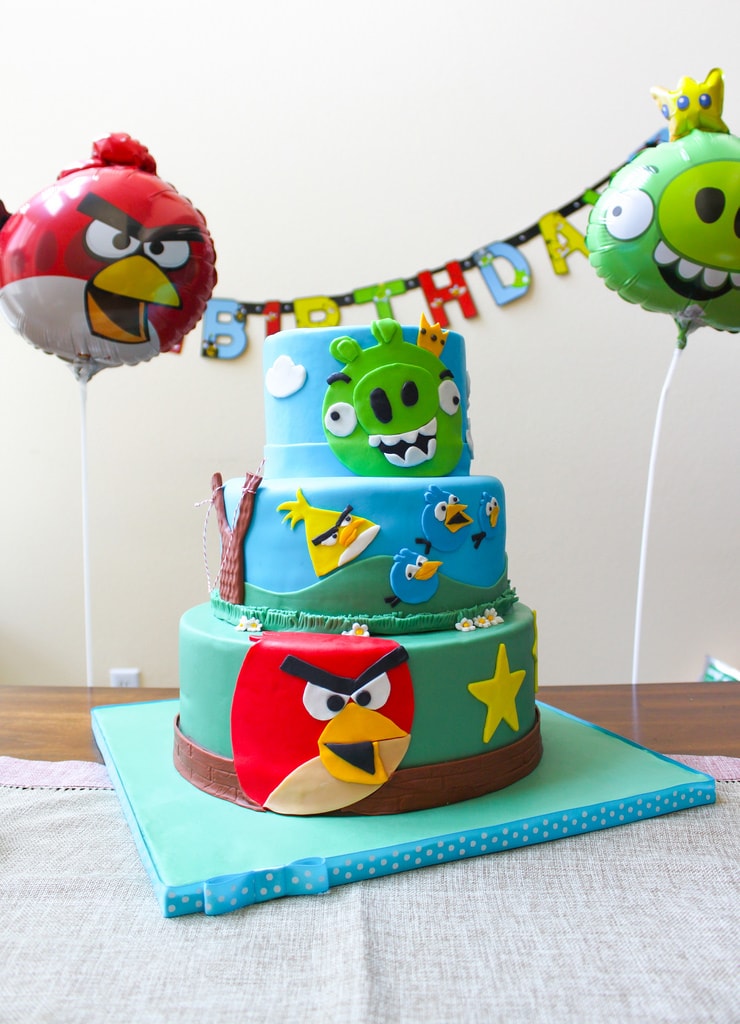 Do you know any Angry Birds addicts? I sure do. What kind of birthday cake do you make said fanatic? An Angry Birds red velvet birthday cake, of course!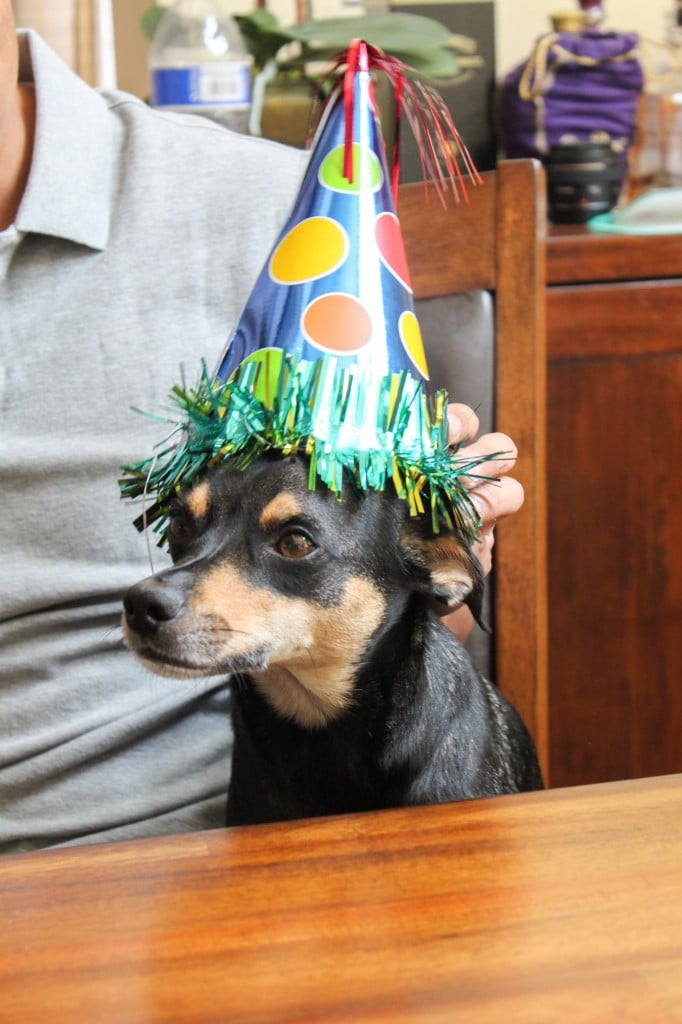 We had a little party yesterday to celebrate. Even Charlie was invited and included in all the festivities. He can be such a creeper, but his cuteness and adorable personality makes up for it.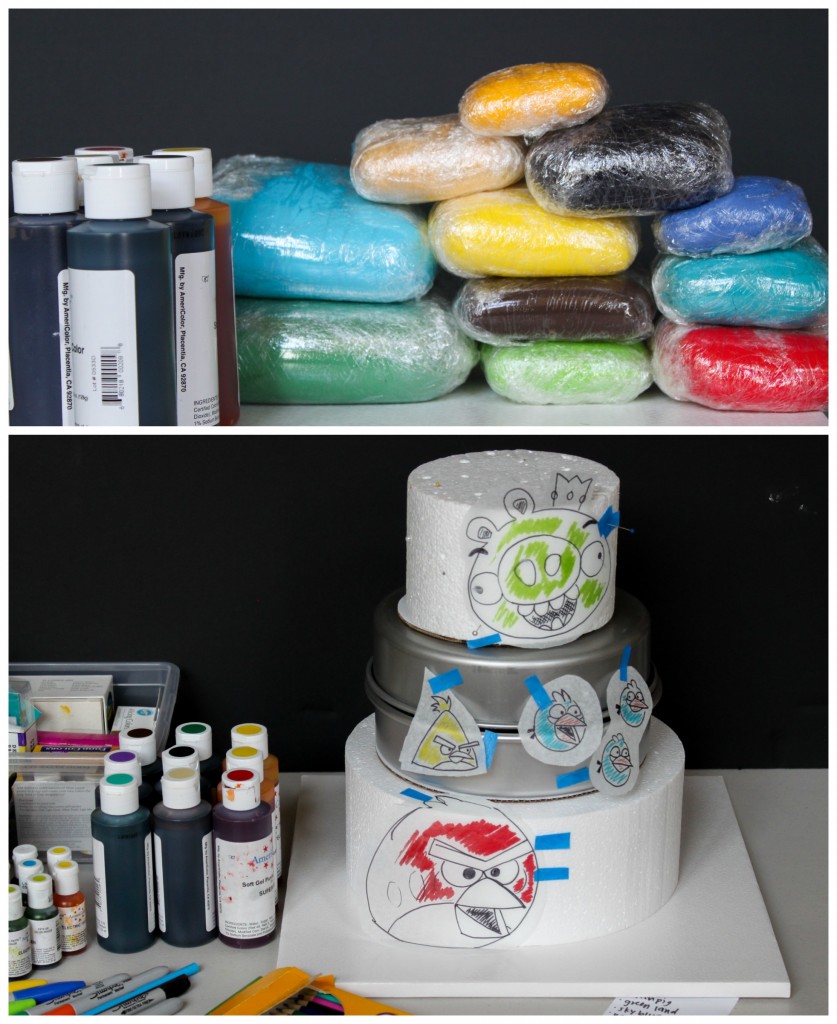 It took me two afternoons to make this cake. I begin every cake project by sketching a draft of the cake. Then I make a list of all the fondant colors I will be using. For much larger cakes, like wedding cakes, I also set a timeline to keep myself on track and on pace. I like to use cake dummies and cake pans to visual the size and feel of the cake. Sometimes, a design may look gorgeous on paper but translates poorly once its on a three-dimensional cake. Doing a set up like one above helps me visualize the final product and feel more confident in the design.
I usually color my fondant two days before construction. I have learned that certain food gel colors do not play well with certain fondant brands. There are times when my freshly colored fondant mutates into a completely different color overnight. For this reason, coloring two days before gives me enough time to color more fondant (or buy new gel colors) if such things happen.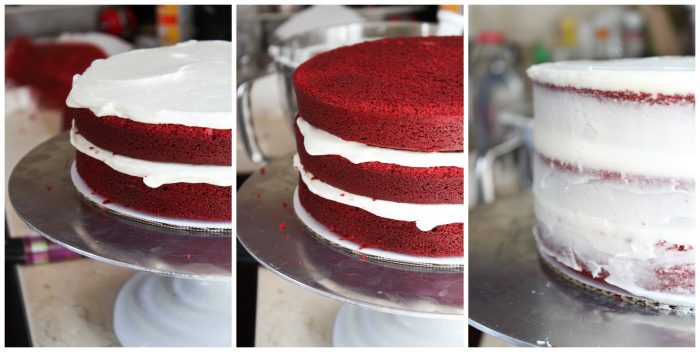 Decorating the outside of the cake is fun and all, but building the actual cake inside is what I look forward to the most. I find building and frosting cakes so relaxing. Some people play golf or go shopping to calm down, I frost cakes.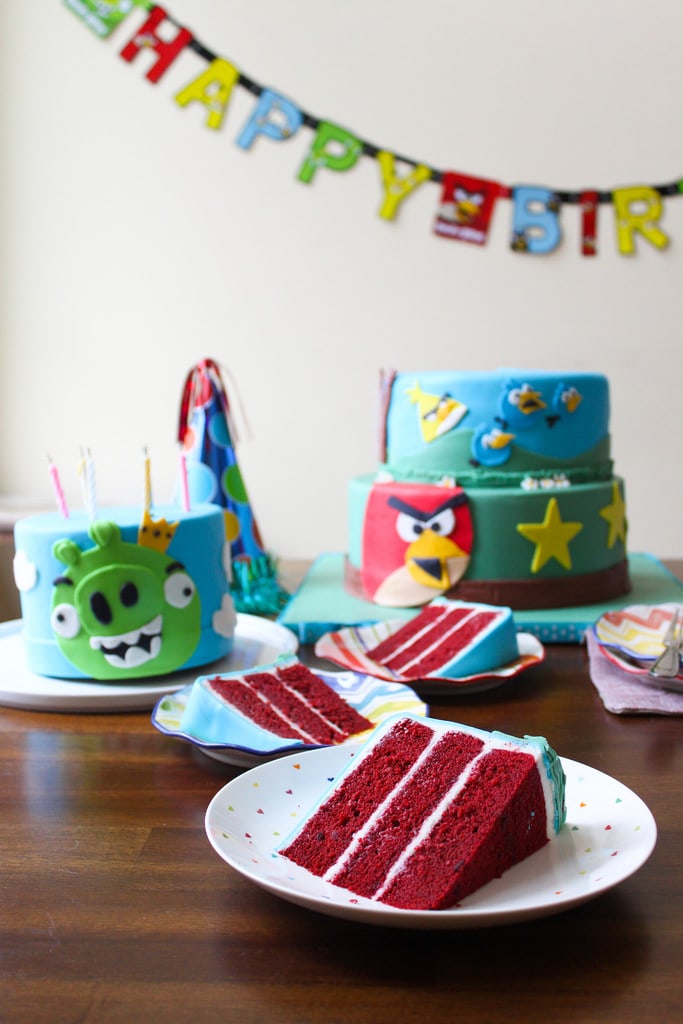 Everything on the cake is edible except for the string attached to the slingshot. All the exterior decorations are made with colored fondant.
I drew out the birds by hand and used a sharp knife to cut them out of fondant. I used water to glue the fondant pieces onto the cake and on to each other. To get the special design of the sling shot and wood panel pictured below, I used textured mats. As for the grass below the sling shot, I merely used scissors to cut the top portion of a band of fondant. The hardest part of this cake was making the birds, especially the small blue birds.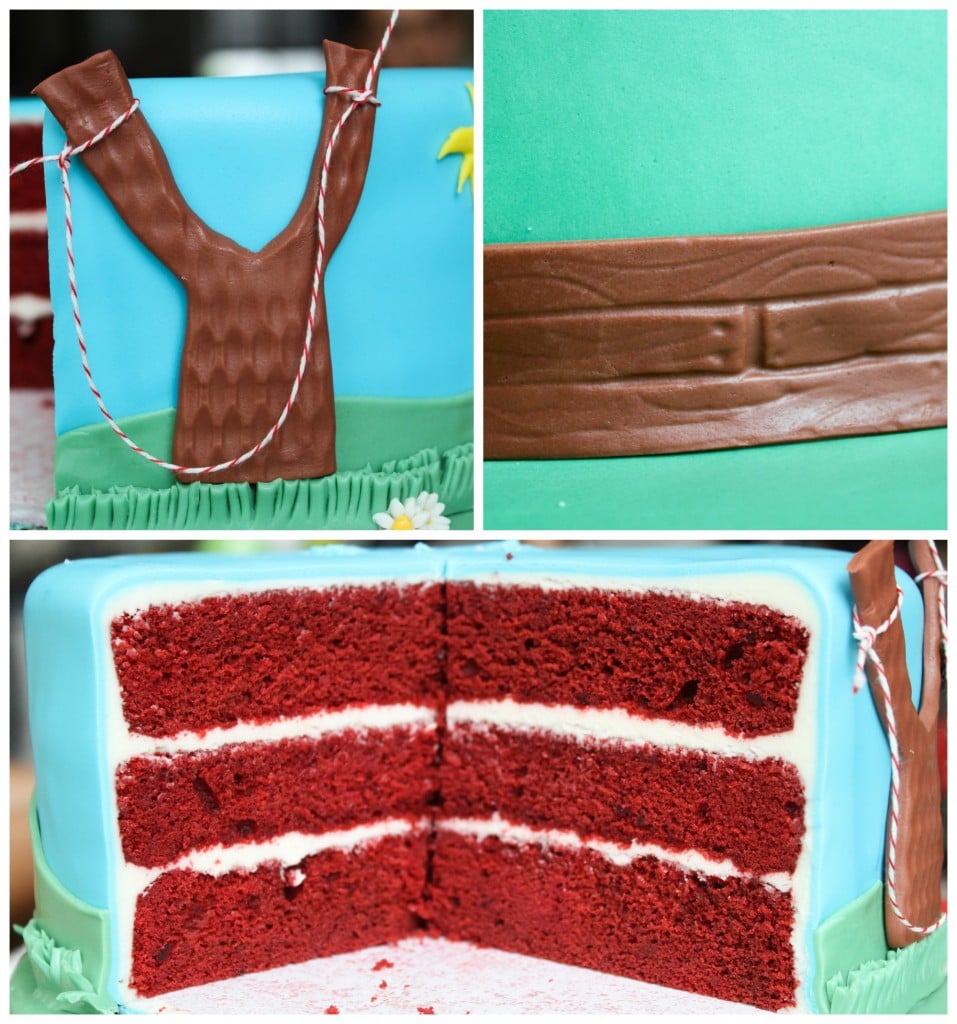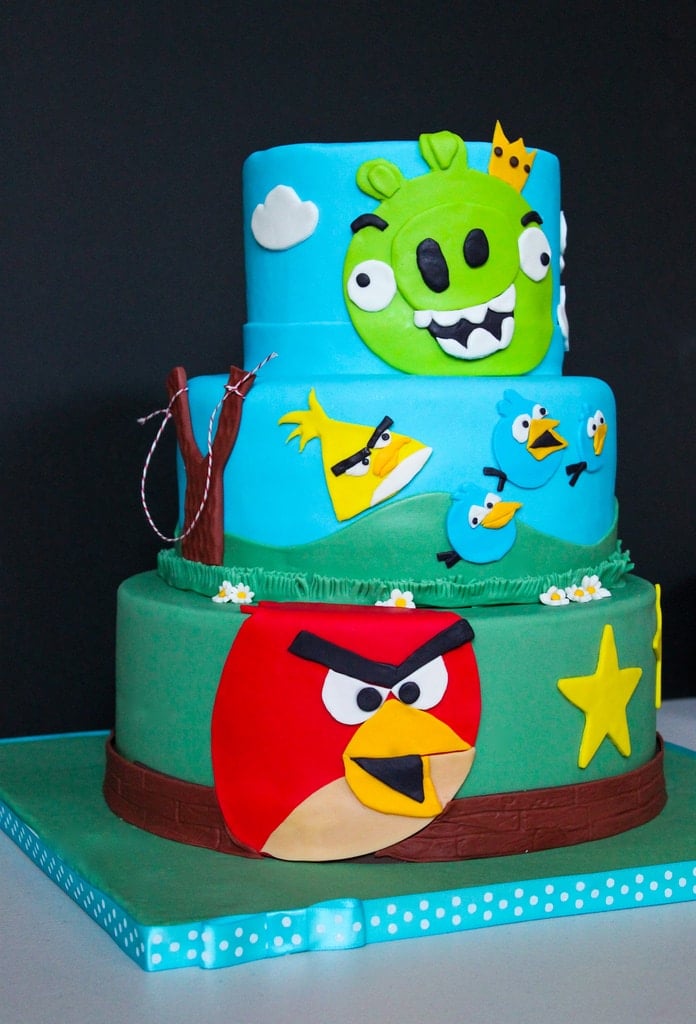 Red Velvet Cake
Yield: makes three 8-inch rounds
Ingredients
Red Velvet Cake:
2

cup

granulated sugar

12

Tbsp

unsalted butter

softened, room temp

1

teaspoon

kosher salt

3

large eggs

room temp

½

cup

unsweetened cocoa powder

2

teaspoon

pure vanilla extract

6

Tbsp

red liquid food coloring

3 ⅓

cup

all-purpose flour

1 ½

cup

buttermilk

1 ½

teaspoon

baking soda

5

teaspoon

distilled white vinegar
Cream Cheese Frosting:
8

oz

cream cheese

room temp

1

cup

unsalted butter

softened, room temp

5

cup

confectioners' sugar

sifted

½

teaspoon

kosher salt
Instructions
Cake:
Preheat oven to 350° F. Grease three 8-inch cake pans and line with parchment paper. Set aside.

In the bowl of a stand mixer fitted with a paddle attachment, cream together butter, sugar and salt until smooth. Add eggs one at a time and mix until incorporated.

In a small bowl, combine cocoa powder, liquid food coloring, and vanilla extract to make a thick paste. Add paste to mixing bowl. Mix on low speed until paste is incorporated into batter.

Alternate adding flour and buttermilk to mixture. Add 1/3 of flour, followed by half of buttermilk. Start and end with flour. Mix until batter is smooth.

In a separate bowl, combine baking soda and vinegar. Add mixture to batter and mix until combined.

Transfer batter evenly among bake pans. Level out batter to ensure even layers. Bake for 20-25 minutes, rotating pans halfway thru baking. Let cake cool in pan for 10 minutes before unmolding. Allow cake layers to cool to room temperature before using.
Frosting:
In the bowl of a stand mixer fitted with a paddle attachment, cream together cream cheese and butter until smooth. Add sifted powdered sugar 1 cup at a time, mixing on low speed until incorporated. Add salt and mix until smooth to desired consistency