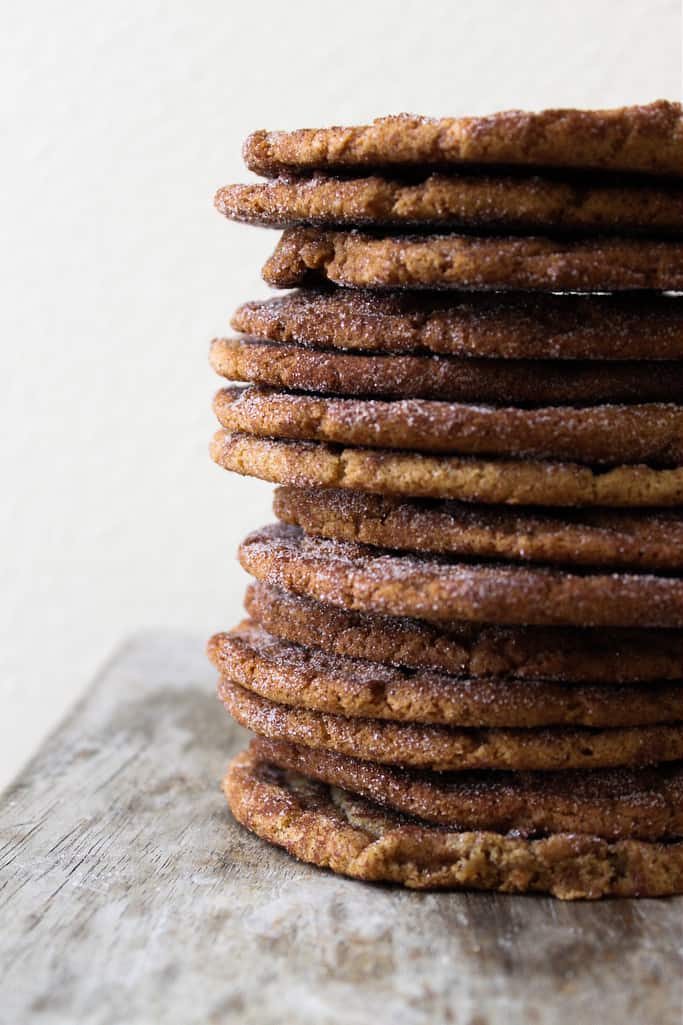 I have a long time love affair with cinnamon.  I think I inherited that from my dad.  When I was a kid, we would share Cinnabons at the mall food court while my mom shopped.  When my interest in baking started, he would often request I make cinnamon rolls.  Hence, my love for all things cinnamon.  Naturally, snickerdoodles would be one of my favorites.
What better than a sugar cookie rolled and coated in cinnamon sugar?  Sugar cookies made with brown butter and rolled twice in cinnamon sugar.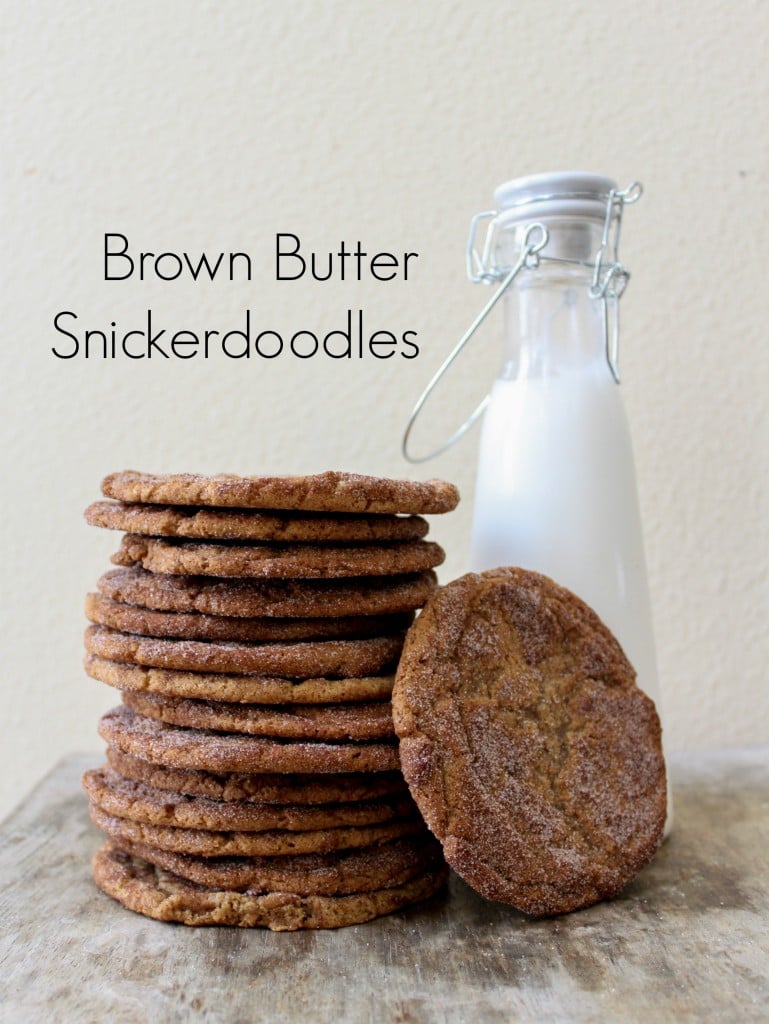 Don't be fooled by the appearance of these cookies.  Just because they look flat and thin, doesn't mean they are crispy and crunchy.  Oh no, these cookies are quite the opposite of that.  They are soft, chewy, and packed with more flavor than its height can manage.  These cookies stay soft for days, although they probably won't last that long in your kitchen.  I like to make big batches of this cookie dough and freeze them.  That way, I'll always have cookies on hand when I'm craving something sweet.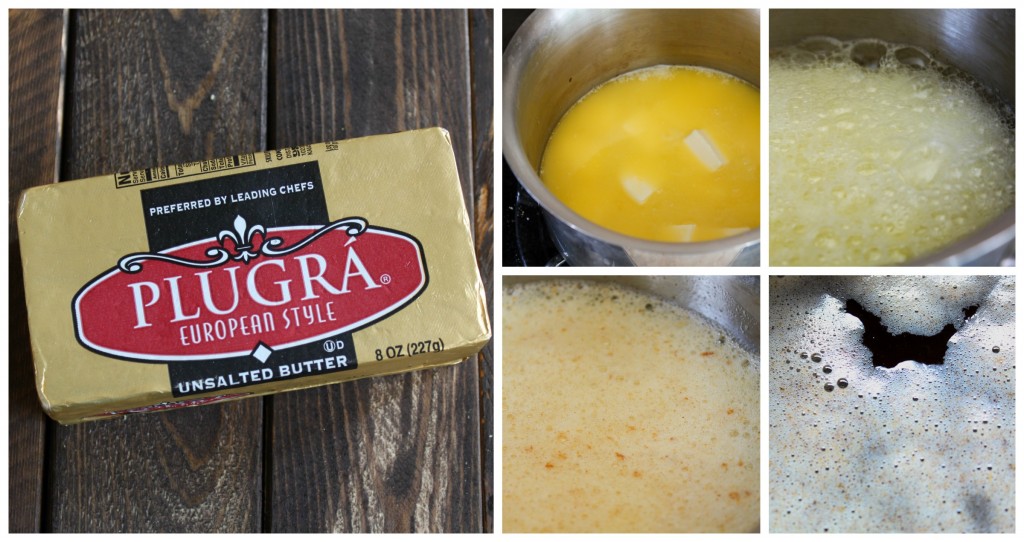 I'm sure you have all heard of brown butter.  It was the buzz word a couple of years ago and it seemed like everyone was browning their butter.  For good reason, too.  Brown butter is the magical ingredient that makes baked goods taste heavenly.
These cookies are super special because I used fancy butter.  Since my birthday is a couple of days away, its only fitting that I make something decadent.  I used Plugra European style butter.  European style butter is higher in fat, a little lower in moisture content, and a tad bit more expensive than its counterpart- American butter.  Traditionally, croissants are made with European style butter– hence all the flakey, buttery goodness we have come to associate with the perfect French croissant.
Brown butter is fairly simple to make.  Start off my slicing your butter into equal size cubes.  This allows butter to melt more evenly.  Melt the butter over medium heat.  Once butter had melted, continue to cook over medium-low heat.  The melted butter will foam up quite a bit during this time.  Be careful and use a pot that has sides high enough to accommodate all the foam.  At this point, you should start to smell the nutty aroma of the browning butter.  Brown specks will start to float up to the top once the foam has receded.  Carefully watch the butter because it can quickly burn and blacken.  Swirl the pan a little bit to see whether the bottom of the pan has browned too much.  Once the butter smells super nutty and fragrant, its time to remove it from the heat.  Pour the brown butter into another container and allow it cool to room temperature before using.
So now you have my secret to my addictive and delicious cookies.  These cookies are great and all, but you know what can make them even better?  Adding ice cream in between two cookies!  Who ever invented ice cream cookie sandwiches is my hero.  Its the perfect handheld dessert, especially when you a perfectly soft yet durable cookies held together with creamy, rich ice cream.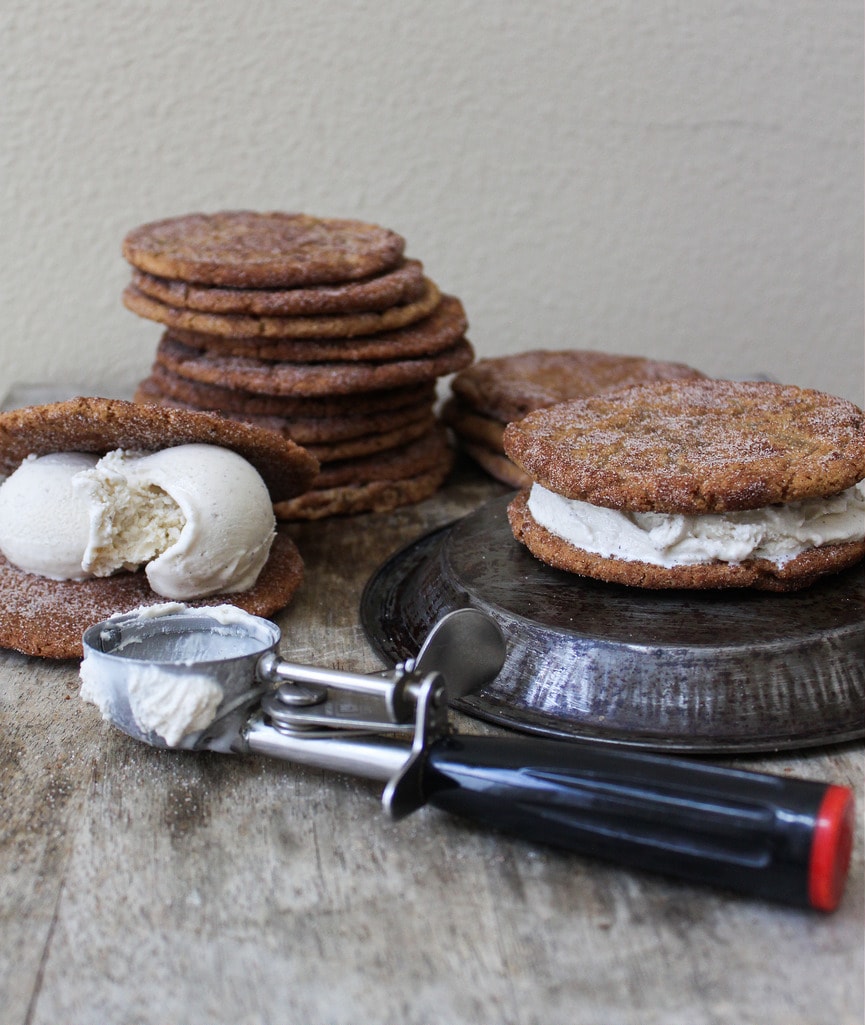 I'm not making myself a birthday cake this year.  These brown butter snickerdoodle ice cream sandwiches will do the trick.  I froze a couple sandwiches to enjoy when I return from my trip.  I'll stick a candle in it and call it day.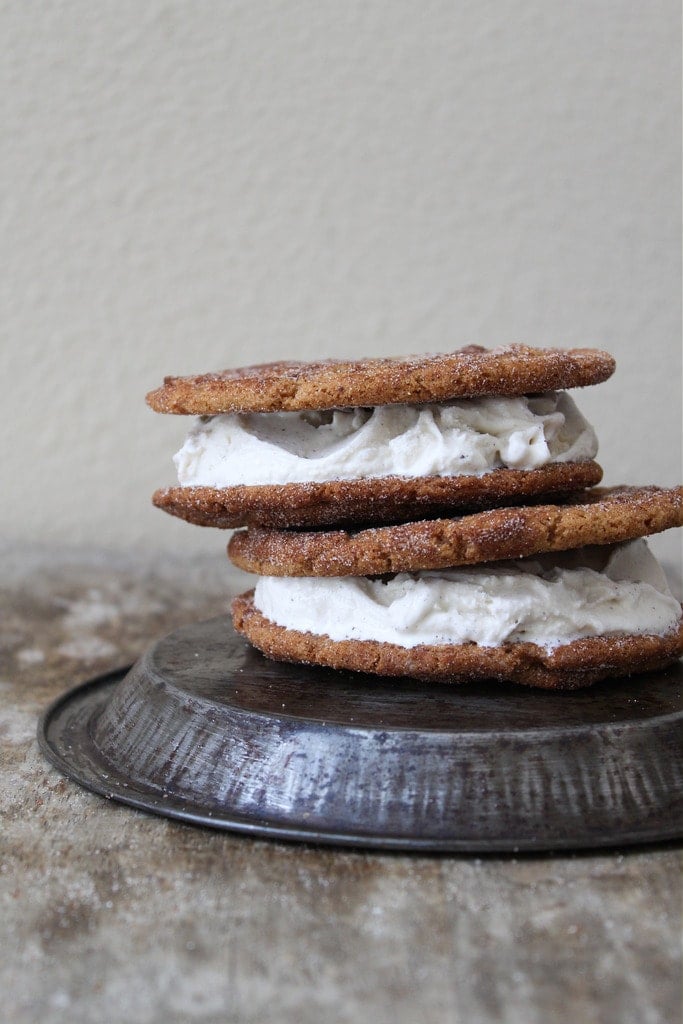 Brown Butter Snickerdoodles
Ingredients:
8 oz unsalted European style butter (ex. Plugra)
1 1/2 cup light brown sugar, packed
1 cup granulated sugar
2 large eggs, room temperature
2 large yolks, room temperature
1 tsp vanilla extract
2 1/2 cups all-purpose flour
2 tsp baking soda
1 tsp kosher salt
1/4 cup granulated sugar
1 Tbsp +1 tsp ground cinnamon
Directions:
In a medium sauce pot, add butter cut into large cubes. Melt butter over medium heat. Once butter is melted, continue to cook over medium-low heat until butter has browned and is fragrant (it should smell nutty). The melted butter will foam up quite a bit. Carefully watch the butter after this point. Cook the butter until you smell the nutty aroma. When the butter has browned, you will see specks of brown bites at the bottom of the pan. Be careful because the butter quickly burns and blackens. Remove from heat and pour into another container to cool to room temperature.
Once brown butter has cooled to room temperature, transfer to the bowl of a stand mixer fitted with a paddle attachment. Add brown sugar and granulated sugar. Mix until smooth.
Add eggs and yolks one at at time. Mixing until each egg is combined before adding the next. Mix in vanilla extract.
In a medium bowl, whisk together flour, baking soda, and salt. Add to mixing bowl in three additions, mixing on low speed until fully incorporated.
Using a cookie scoop/ice cream scoop, portion out cookie dough. Place scooped dough on a parchment lined baking sheet. Cover with plastic wrap. It is okay to place balls of dough right next to each other. Freeze or chill dough in fridge until firm.
Preheat oven to 325 degrees F.
In a small bowl, combine remaining granulated sugar and ground cinnamon.
Remove cookie balls from fridge and roll in cinnamon-sugar mixture. Place on parchment lined baking sheet, leaving about 2 inch between cookie balls to allow cookies enough space to spread.
Bake for 15-18 minutes, rotate pan halfway thru baking. Bake until the cookies have spread out and the edges of the cookies are golden brown. Let cool in pan for 10-15 minutes to allow cookie to firm up. Transfer cookies to wire rack to cool completely. Roll cooled cookies in cinnamon-sugar mixture once again.