This brown butter pecan pie uses melted brown butter to enhance the warm nutty flavors of this classic Thanksgiving pie.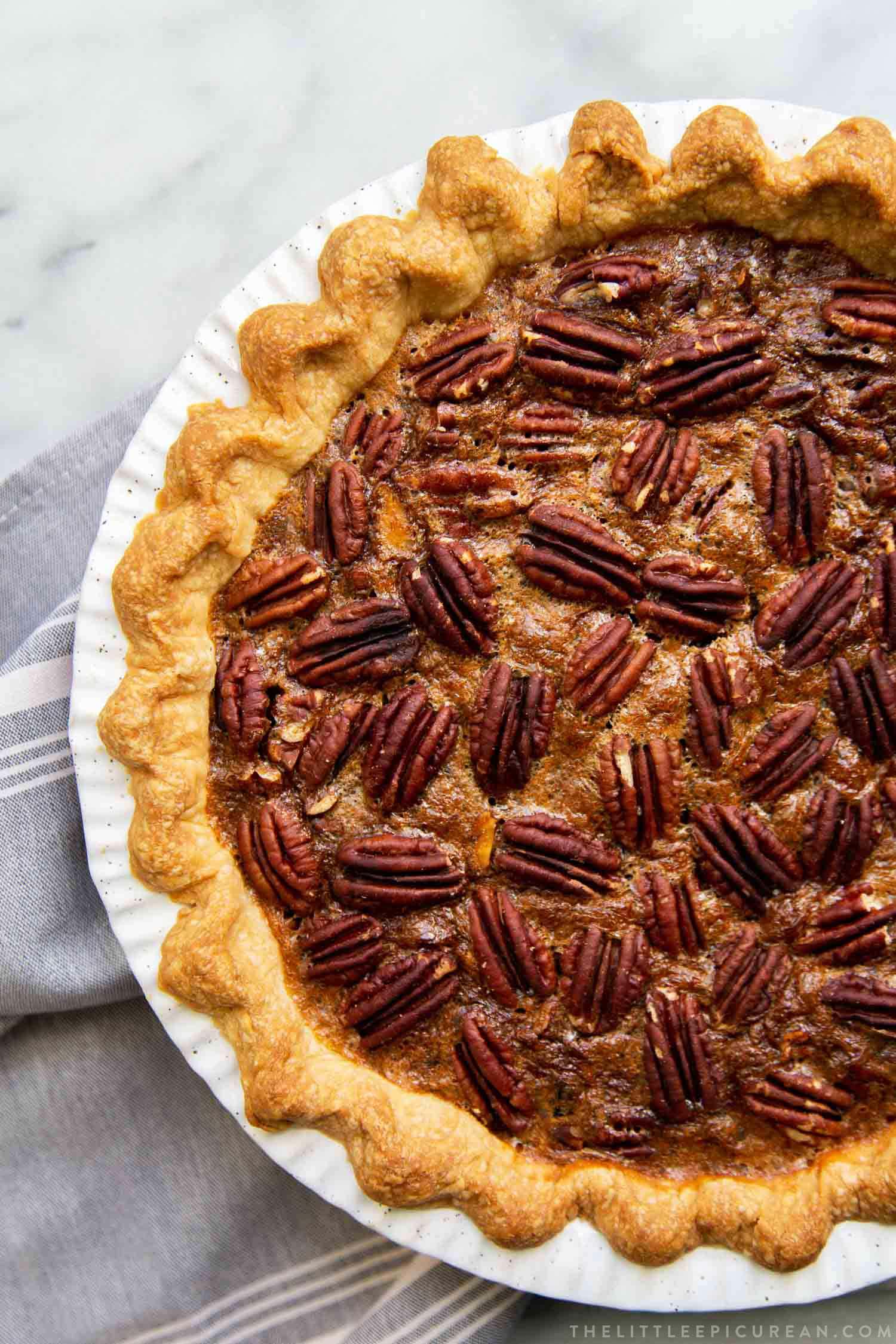 The countdown to Thanksgiving is on! For many families it's not a proper Thanksgiving without pumpkin pie or apple pie. For my family, pecan pie is our staple dessert!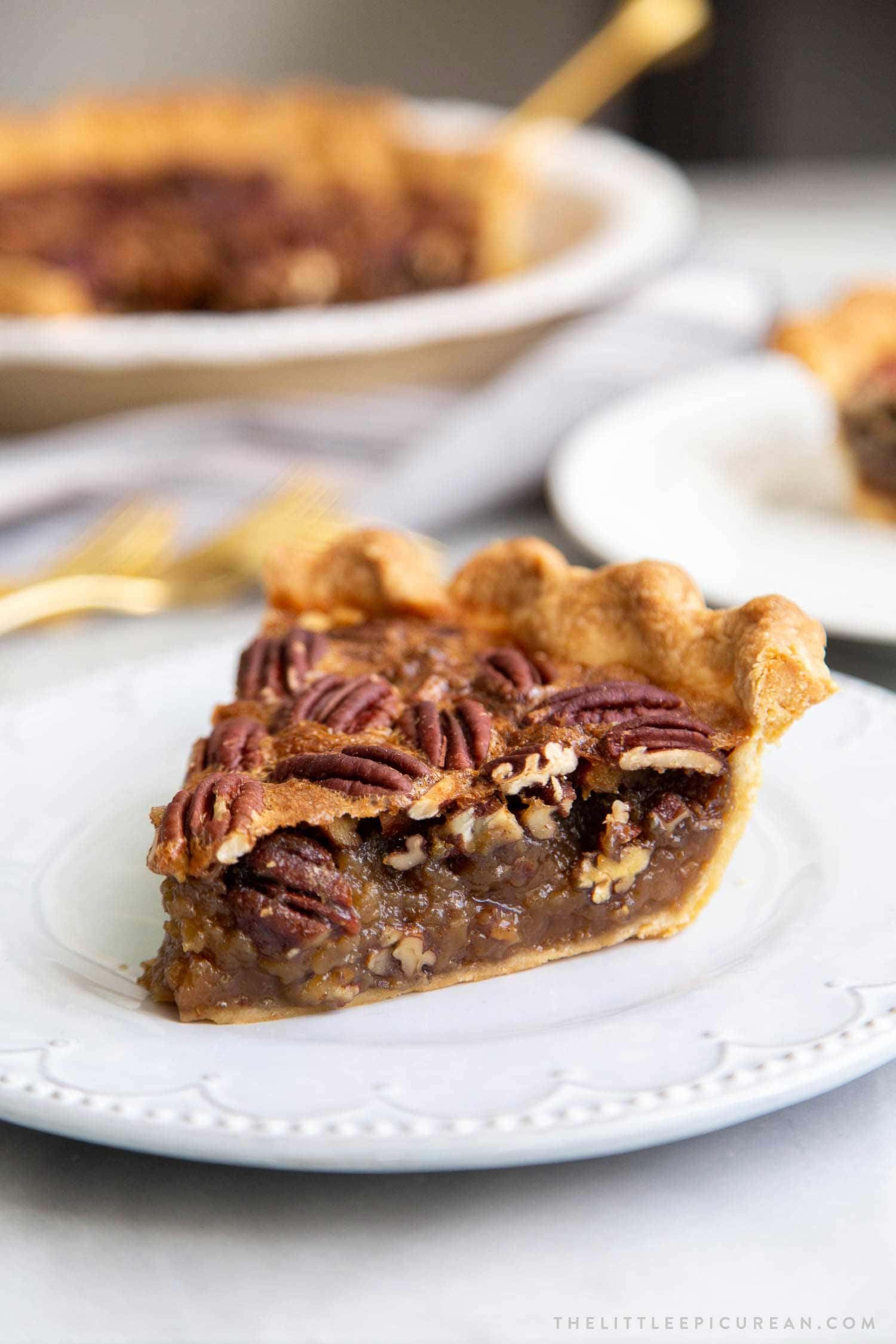 Why This Recipe Works
How can you possibly make pecan pie better? Amp up the flavors of classic pecan pie with the addition of melted brown butter in the filling.
First, use a homemade all-butter pie dough. Butter equals flavor.
And second, add melted brown butter to the sweet pecan filling. Brown butter is very easy to make. It's a simple step that packs a ton of warm, nutty, rich flavor.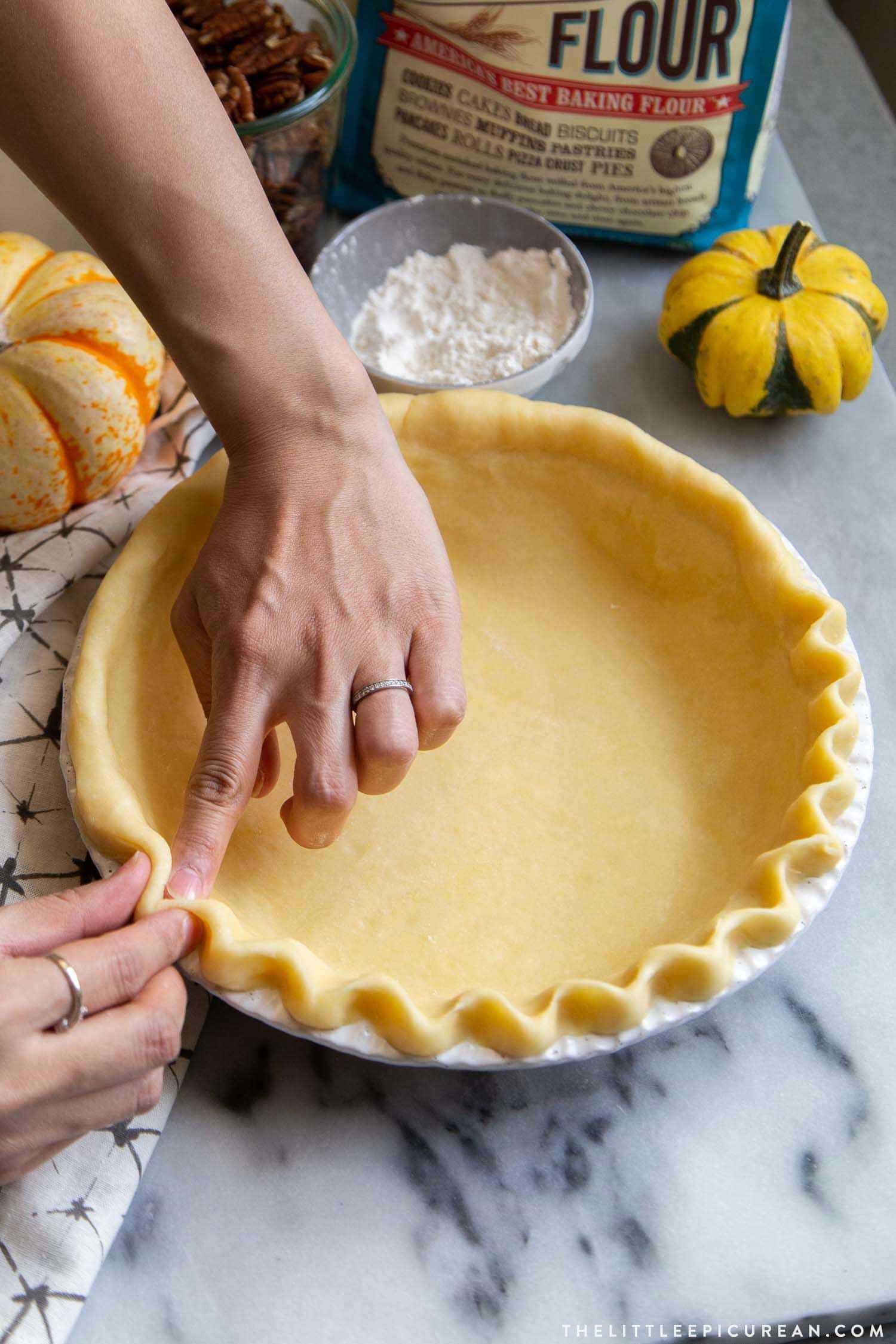 All Butter Pie Dough
Pie dough made with shortening is easier to work with. But in my opinion, nothing beats the flavors of an all butter pie dough!
All butter pie dough is great for sweet and strong flavored fillings. I prefer to reserve the shortening pie doughs for savory dishes or delicate flavored fillings.
The pie dough can be mixed in a food processor or by hand. Both methods will produce similar results.
The pie dough listed in this recipe is enough for two pecan pies. It's a double crust pie dough. Save the other half in fridge for later use, or store in freezer for up to a month.
Note: It's the same pie dough I used for my super popular strawberry pie.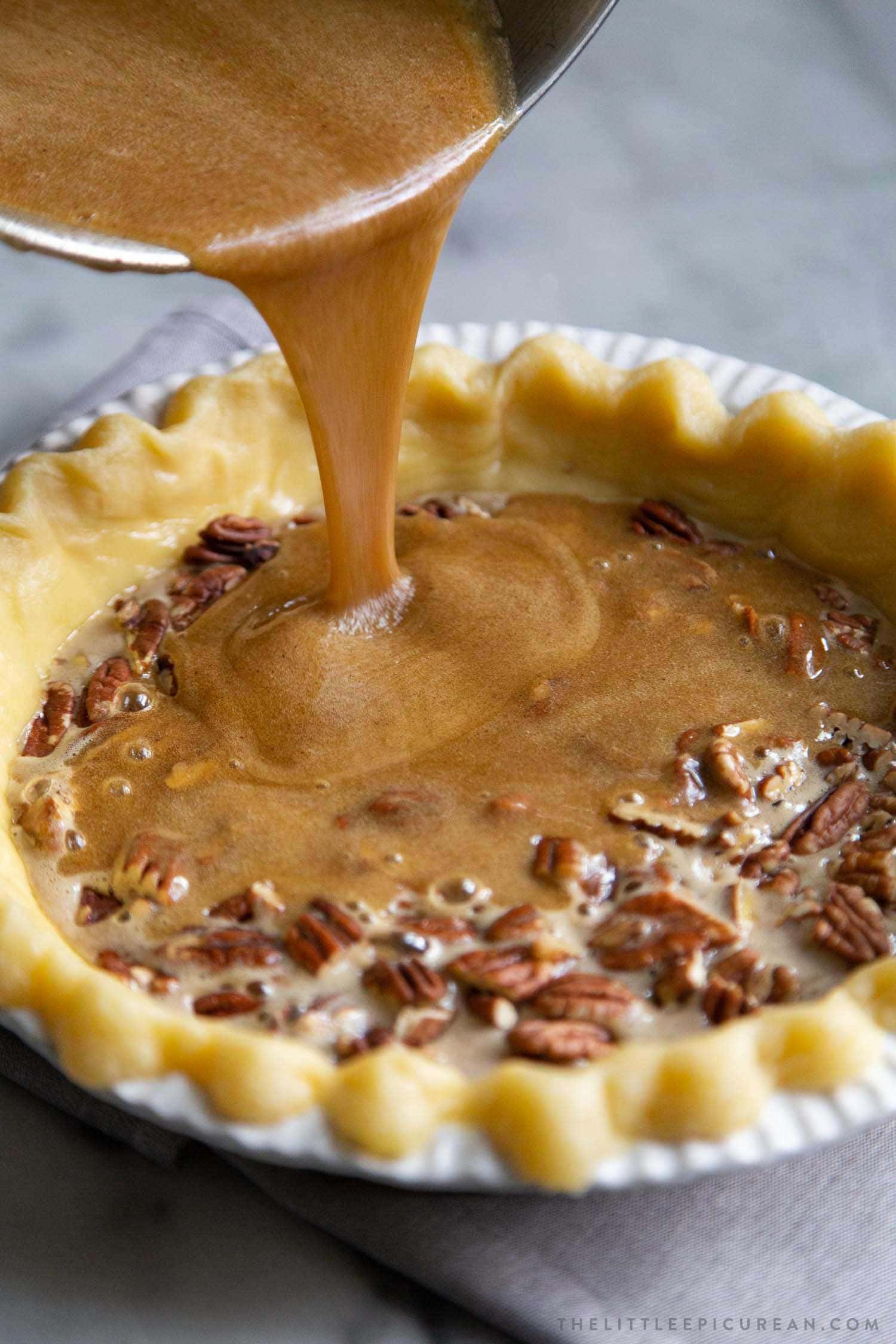 What is Brown Butter
Water, butterfat, and milk solids make up butter. To get the process started, butter is melted and heated. As the mixture heats up, water evaporates and the milk solids separate from the butterfat. This creates clarified butter or ghee.
The mixture is further heated allowing the milk solids to "cook" in the fat, eventually turning brown. Those little golden brown specks gives brown butter its iconic rich and nutty flavor.
Brown butter is created when the milk solid of butter is cooked until fragrant and golden brown.
Brown butter is super versatile. It's used in these chocolate chunk cookies, old fashioned donuts, and this pumpkin cake. And, it can even be used in savory foods like brown butter spaghetti!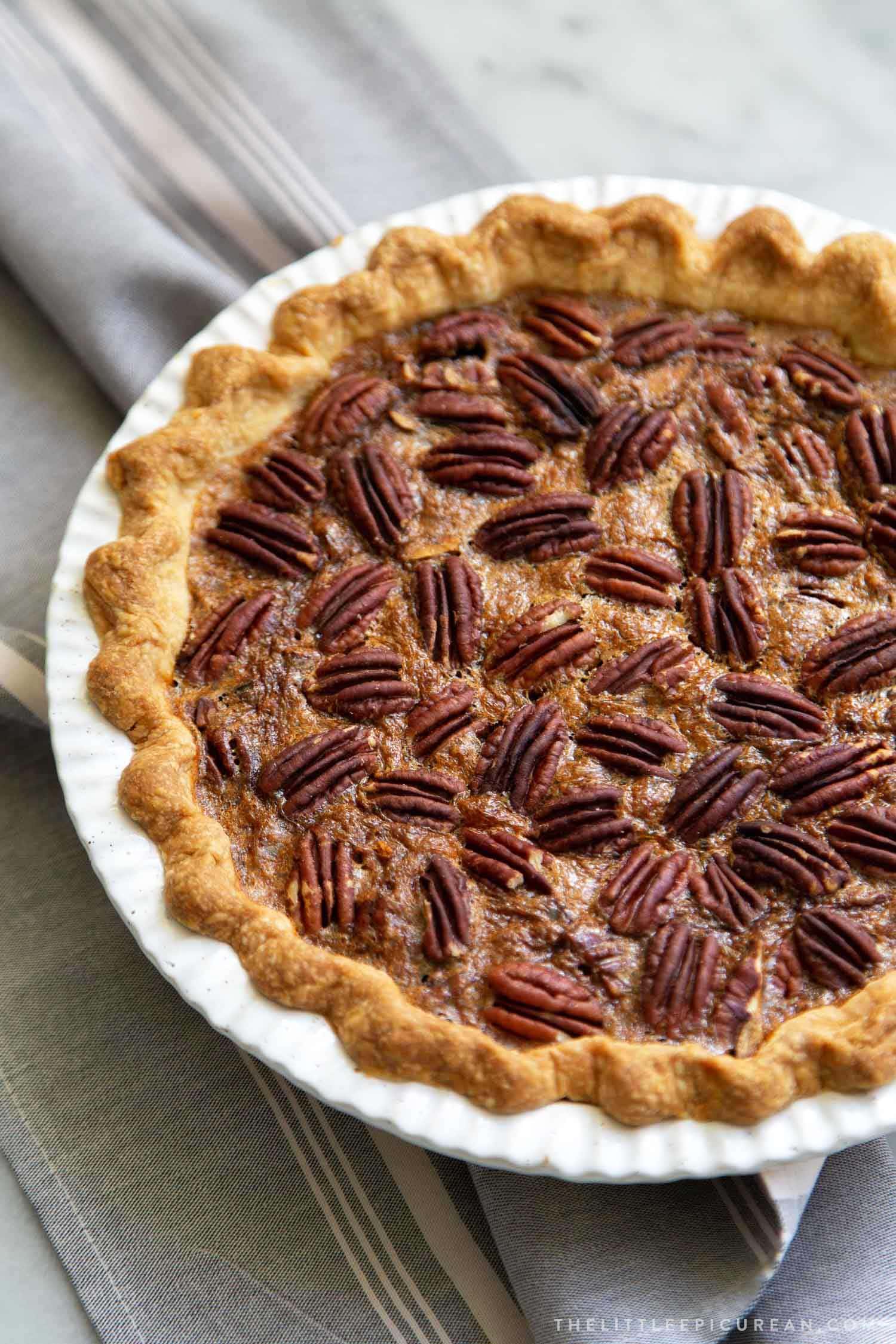 Corn Syrup vs. High Fructose Corn Syrup
Light corn syrup and high fructose corn syrup are not the same product! I'm not sure why light corn syrup has such a bad reputation.
Yes, they are both made from corn. But, structurally and chemically, they are two different products. Don't be afraid of light or dark corn syrup. It's fine in moderation.
Corn syrup is an invert sugar. It is a type of glucose syrup that prevents the formation of sugar crystals.
It allows ice creams and sorbets to be smooth and creamy. Corn syrup gives chocolate sauces and chocolate glazes luster and shine.
It is an important component of pecan pie because corn syrup prevents sugar crystallization. The corn syrup also allows the pie to be sliceable. It acts like a glue, holding the filling together.
While it's called "corn" syrup, it can be also be made from potatoes, wheat, or other starches.
High fructose corn syrup undergoes an additional process to make it much sweeter than the standard light corn syrup for sale at the market.
HFCS is often used by large food manufactures (think large scale sweets productions or fast food chains) because it is SO MUCH CHEAPER than straight up plain granulated sugar.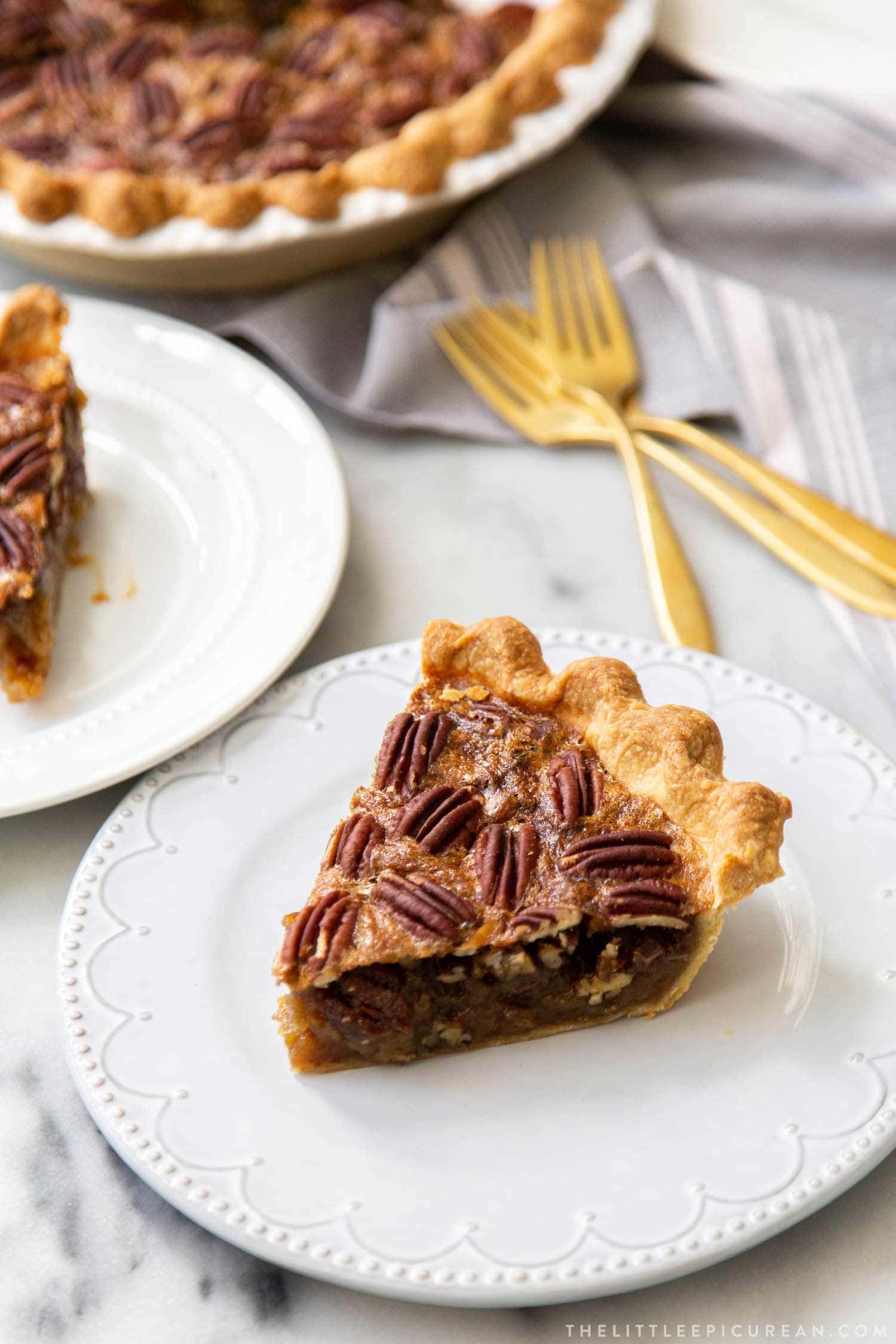 Tips and Troubleshooting
Why par-bake the crust?

Par-bake or pre-bake the pie dough in order to achieve a well-cooked flakey pie shell.
Line the pie dough with pie weight (like dried beans or rice) to prevent it from forming air bubbles or air pockets in the oven. 

The pie crust will be not fully cooked at this point. It will finish cooking with the pecan filling the second time around in the oven. Par-baking ensures that the bottom of the pie crust will not be soggy. It also gives you the chance to re-work the pie crust crimping should it shrink during par-baking.

Why did the pie dough shrink during par-baking?

Overworking the dough creates gluten. Gluten is a strong and stretchy protein that forms when flour and water is mixed.

Too much gluten formation leads to a tough dough. The dough will be harder to roll out. It will very elastic and shrink back.  Allow the pie dough to chill in the fridge and relax before rolling. If you notice that is still difficult to roll, let the dough sit in the fridge for a few hours to loosen up. 

Can I substitute another sweetener for light corn syrup?

For a deeper color, use dark corn syrup. Do not substitute other liquid sweeteners like agave or honey in this recipe!

The filling will not set and will be quite runny. You will not be cut clean slices.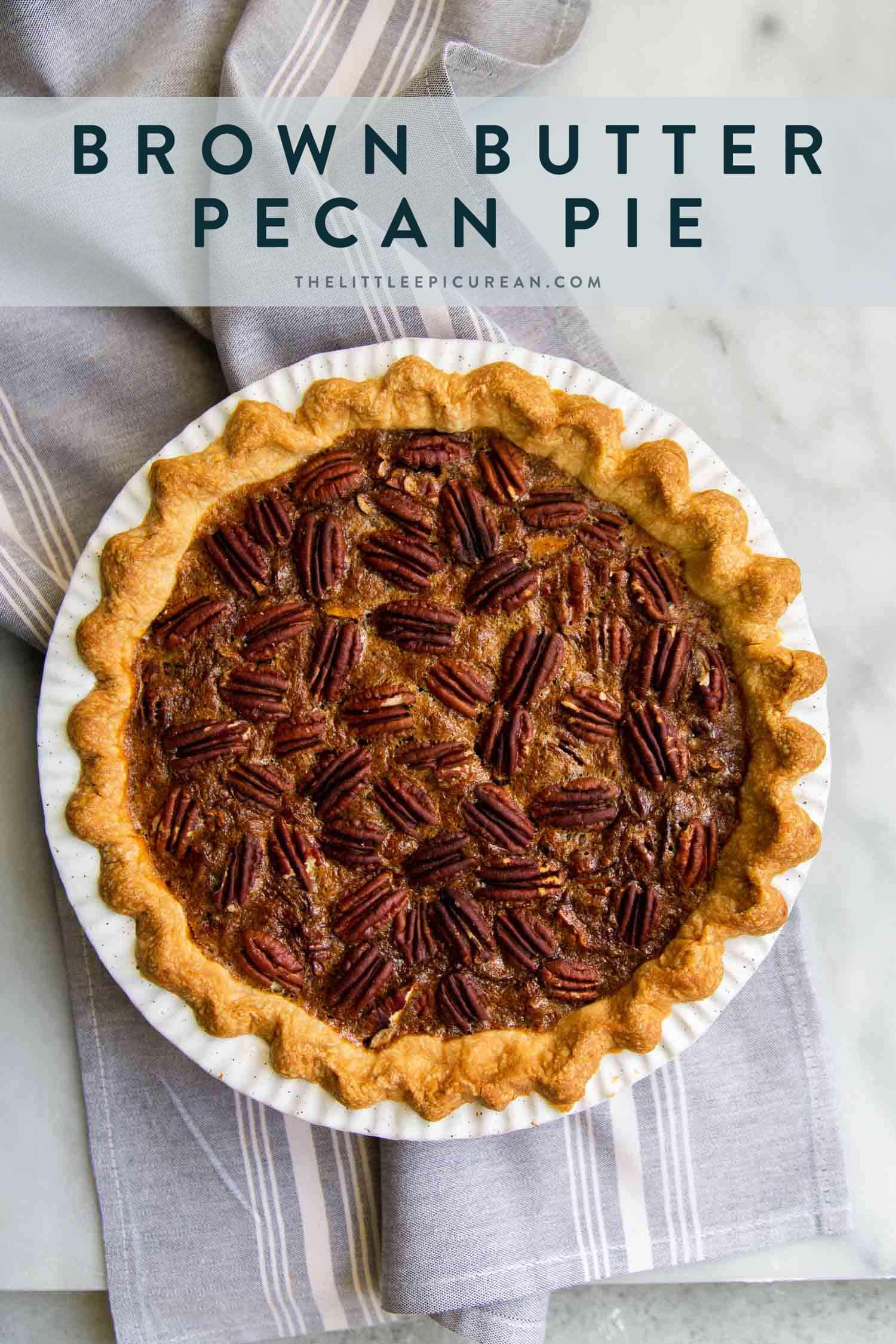 Serving Suggestions
Cool the pecan pie to room temperature before slicing into. The pie filling will be runny straight from the oven. It needs time to cool down and regain it's structure.
For best results, I suggest letting the pie cool overnight before serving. Serve pie at room temperature with whipped cream or ice cream.
Store leftovers in an airtight container at room temperature for up to two days. For longer storage, keep in the fridge for up to four days.
More Pecan Dessert Recipes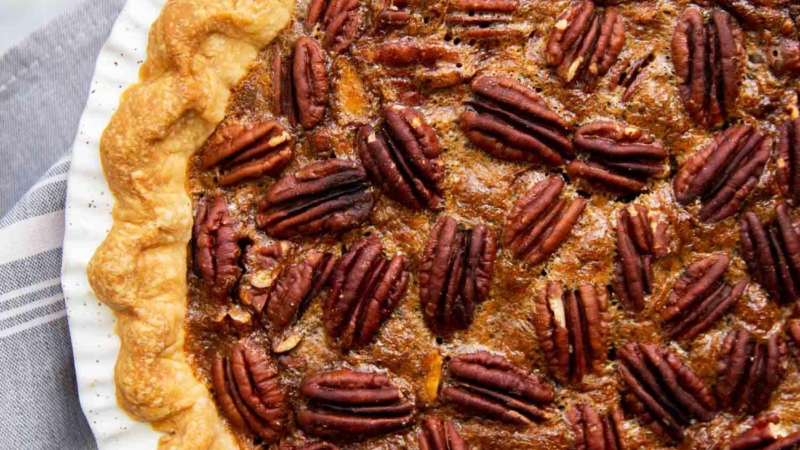 Brown Butter Pecan Pie
Traditional pecan pie with the added warmth and nuttiness of brown butter. This recipe includes a homemade butter pie crust. Perfect for Thanksgiving and beyond!
Yield: 9-inch pie
Ingredients
All Butter Pie Dough:
2 ¼

cup

all-purpose flour

1

teaspoon

kosher salt

¼

cup

granulated sugar

1

cup

unsalted butter,

cold

2

large egg yolks,

cold

5

Tablespoons

ice cold water
Brown Butter Pecan Filling:
6

Tablespoons

unsalted butter

1 ½

cup

pecan halves

½

cup

granulated sugar

¾

cup

dark brown sugar,

packed

½

cup

light corn syrup

4

large eggs,

room temp

½

teaspoon

kosher salt

2

teaspoon

pure vanilla extract
Instructions
Pie Dough:
Pulse together flour, salt, and sugar in a food processor. Add cold butter one tablespoon at a time with the food processor running. Stop the machine once mixture is crumbly and like coarse sand in texture.

Add yolks and water. Pulse for a few seconds until dough begins to come together. Remove shaggy dough from food processor bowl. Dump onto lightly floured surface and finish kneading together by hand.

Divide dough into two equal parts. Flatten into discs or rectangles. Wrap in plastic wrap. Cill in the fridge for 20 minutes or freezer for 10 minutes. Alternatively, store in the fridge for up to 2 days.
Assembly and Filling:
Brown Butter: In a heavy bottomed sauce pan, melt butter over medium heat. Once the butter has melted, continue to cook. Swirl pan occasionally to ensure even heating. Mixture will bubble and foam as it cooks. The bubbling will be vigorous at the beginning but it will subside. Continue to cook until butter smells nutty. The mild solids in the butter will turn rich brown in color. Remove from heat and pour into a heat-safe bowl. Be sure to scrape out as much of the browned milk solids bits. Set aside.

Pie Crust: Remove one portion of pie dough from the fridge. Place out on a lightly floured work surface. Roll dough to about 10 inches in diameter and ¼-inch in thickness. (Place pie plate upside over rolled dough to ensure it is correct size.)

Move dough into the pie plate and firmly press into the bottom and up the sides of pie plate. Trim the excess dough, leaving about ½-inch overhang all around. Crimp, flute, or decorate the edges of the pie as desired. Cover with plastic wrap and let pie dough chill in the fridge for 10-15 minutes while oven preheats.

Preheat oven to 375°F. Remove chilled pie from the fridge. Remove plastic wrap. Line pie with a parchment paper and fill with pie weights (or beans). Partially blind bake pie crust for 10 minutes. Remove parchment and weights. Return pie crust to oven and bake for another 5 minutes. Remove from oven and allow pie crust to cool as you prepare filling.

*NOTES: see blog post for pie dough troubleshooting.

Filling: Reduce oven temperature to 350°F.

Roughly chop 1 cup pecans. Scatter on the bottom of pie dough. Set aside.

In a large bowl, whisk together sugar, brown sugar, corn syrup, eggs, salt, vanilla, and melted brown butter until smooth and well combined. Pour over pecans.

Arrange remaining ½ cup pecan halves over filling.

Bake pie for 30 minutes. Remove from oven, place a pie curst shield to prevent crust from burning or browning too fast. (see notes) Return to oven and back for another 15-20 minutes until pecan topping is nicely toasted. Place on wire rack to cool.

Cool pie to room temperature before slicing and serving.
Notes
Pie dough recipe makes enough for two pies or 1 double crust pie. Other half of pie dough can be stored in the fridge for 2 days or kept in the freezer for one month. Defrost in the fridge overnight and use immediately. 
Use a store-bought pie crust shield to protect pie crust from over-browning or burning. Or, create a shield out of aluminum foil.