When I was in college, I practically lived off of sandwiches.  My roommates and I got pretty creative with the different sandwiches we would make using the same ingredients.  Over the years I have gotten more adventurous with my sandwich ventures- leaving behind my favorite sourdough and white bread for far more sophisticated ones.
I can never tire of sandwiches.  Be it a simple peanut butter and jelly or a fancy artisanal sandwich handcrafted with only the best local and seasonal harvest- a sandwich always make a great meal (or snack).
Focaccia is already good on its own, but its even better when made into a sandwich.  This grilled zucchini, crispy bacon, provolone, pesto and tomato sandwich is a winner!  There are so many flavors going on in this sandwich that I'm not really quite sure what to name it.  Any suggestions?  Any thoughts would be appreciated!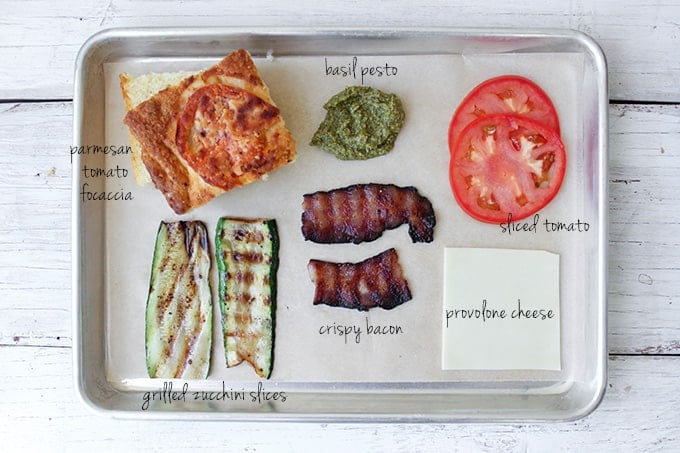 Parmesan Tomato Focaccia Sandwich
Ingredients:
Focaccia:
2 1/4 tsp active dry yeast
1/2 cup warm water, 90-110 degrees F
1/4 tsp granulated sugar
3 1/2 cups all-purpose flour
1/2 cup grated parmesan cheese
1/2 tsp fine sea salt
1/2 cup olive oil
1/2 cup warm water
4 tsp extra-virgin olive oil, divided
5 Tbsp grated parmesan cheese
1 tomato, thinly sliced
kosher salt and black pepper, to taste
Sandwich components:
basil pesto
sliced tomatoes
grilled zucchini slices
crispy bacon strips
sliced provolone cheese
Directions:
Dissolve yeast and 1/4 tsp sugar in 1/2 cup warm water. Let sit for 5-10 minutes until mixture is foamy.
In a large bowl, whisk together flour, 1/2 cup parmesan cheese, and salt.  Add in 1/2 cup olive oil and water.  Use a spatula to fold the ingredients together.  Dump out dough onto a clean working surface.  Using the heel of your hands, knead the dough together until smooth.
Place dough in a clean bowl and cover with plastic wrap.  Let rest for 15 minutes.  Knead dough for another 3 minutes until dough is smooth and tough.  Place back in bowl and cover with plastic wrap.  Let dough rest for 45-60 minutes until dough has doubled in volume.  Punch dough and roll back into a bowl.  Cover and let it rest for another 45-60 minute.  The dough will double again and it will have a smoother texture the second time around.
Preheat oven to 400 degrees F.  Lightly grease a 13 x 9-inch baking sheet with olive oil.  Line with parchment paper.
Remove dough from bowl and place on a clean working surface.  Cover with a damp towel and let sit for 5-8 minutes.
Place dough on prepared baking sheet.  Flatten and stretch dough to the size of the sheet tray using your hands and fingers.  Poke your fingers all over the top of the dough to make little indents.
Drizzle 2 tsp olive oil over dough.  Sprinkle 2 Tbsp Parmesan cheese over oiled dough.  Arrange sliced tomatoes over dough.  Lightly season with salt and pepper.  Drizzle remaining 2 tsp olive oil over tomatoes.  Sprinkle remaining 3 Tbsp parmesan cheese over tomatoes.
Bake for 40-45 minutes until dough has a nice golden brown color.  If dough is browning too much at 30 minutes, reduce temperature to 350 degrees F.  Let rest in pan for 10 minutes before serving.  Serve warm or at room temperature.  Slice in half to build sandwiches.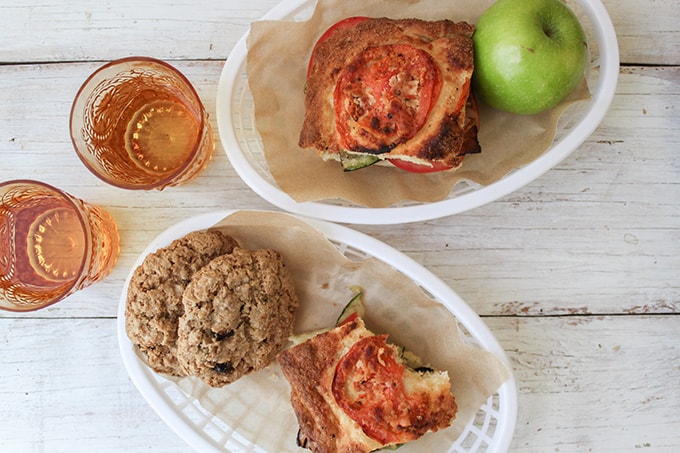 Plate the focaccia sandwich like a restaurant and serve it with a choice of an apple or a couple cookies.  I choose the cookie, assuming its a freshly baked chocolate chip cookie.
Summer may be over but al fresco dining is still thriving here in Los Angeles.  This sandwich is great grilled in a panini press, but it's also perfect at room temperature– making it a perfect takeaway meal.