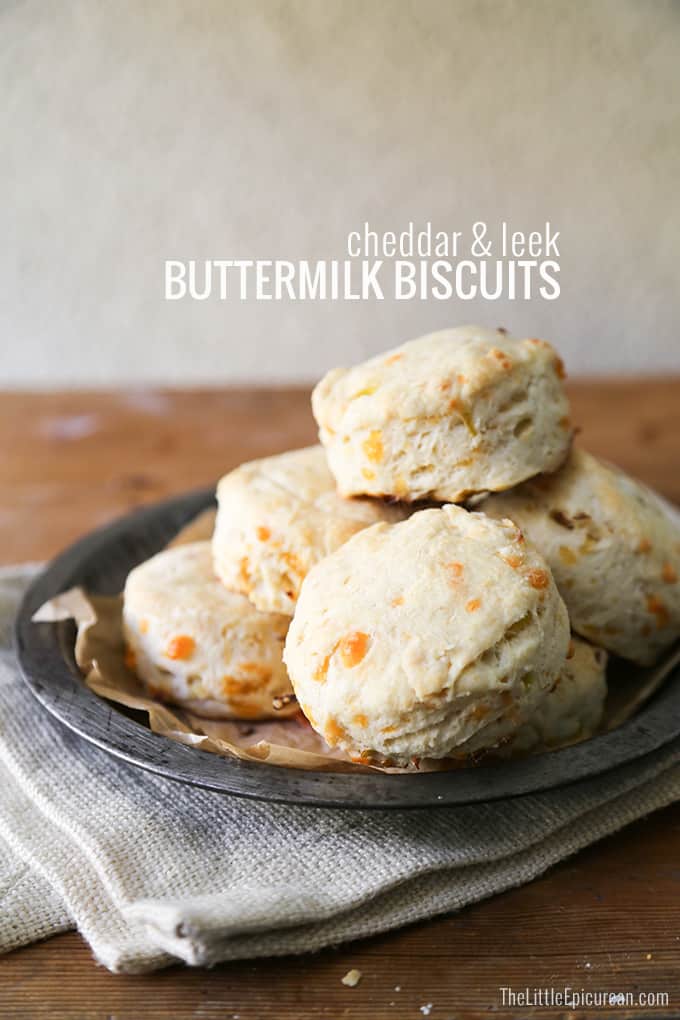 Once in a while I will wake up at the crack of dawn for no particular reason. It's not an alarm or the sunlight or that I've been sleeping for more than 8 hours. Sometimes I'll wake up before my alarm because I'm hungry, but that wasn't the case this particular morning.
I woke up and couldn't go back to sleep. I decided to go to the kitchen and make myself some biscuits. Perhaps I was already in biscuit mode because I was scheduled to make classic buttermilk biscuits for work.
I opened the fridge and found leeks. I opened the cheese drawer and there was a block of cheddar sitting on top. Cheddar and leek buttermilk biscuits it is then.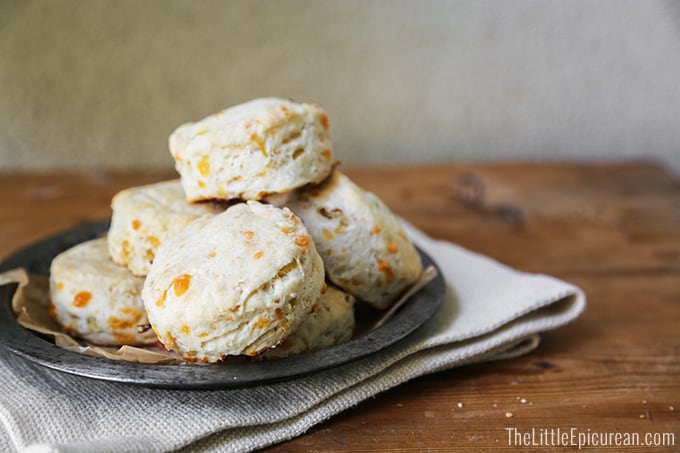 Cheddar & Leek Buttermilk Biscuits
I love, love, love these biscuits. They're an adaption of my previous swiss and caraway biscuits. I'm liking these new biscuits more.
Not only are they super savory and addicting, they're light and fluffy as well. (Confession: I ate 2 and half before I left for work.)
I like being awake when the rest of the house (and neighborhood, for that matter), is still sound asleep. I relish that silence and that promise of a brand new day. Its those few moments in the morning when it seems like anything can be possible.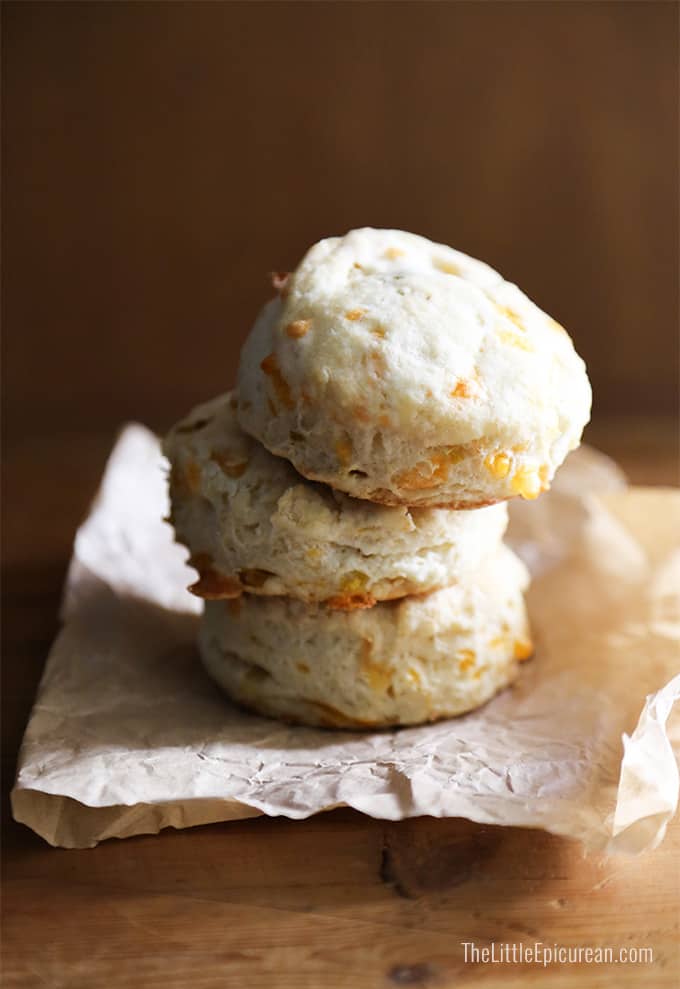 Another great perk of waking up before the sunrise– being able to take photos like the one above. I'm totally loving the light and shadows.
I have yet to play with much shadows in my photographs. Who knows, maybe this waking up early will become a habit so I can work on photography?
Cheddar and Leek Buttermilk Biscuits
Yield: makes 8 two-inch biscuits
Ingredients
1/2

cup

buttermilk

, cold

6

Tbsp

unsalted butter

, cut into cubes, chilled

1 1/2

cup

all-purpose flour

1/2

Tbsp

granulated sugar

1/2

Tbsp

baking powder

1/2

tsp

fine sea salt

1/3

cup

shredded sharp cheddar cheese

1/2

cup

sliced leeks

, cooked
Instructions
Measure out buttermilk and leave if fridge until ready to use. Keep cut butter in fridge until ready to use. Preheat oven to 400 degrees F. Line baking sheet with parchment paper and set aside.

In a small sauté pan, add 2 tsp of olive oil. Once warm, add sliced leeks. Cook until leeks have softened and are aromatic. Set aside.

In a large bowl, whisk together flour, sugar, baking powder, and salt. Cut in chilled butter using a pastry blender (or your hands or two forks) until flour mixture resembles crumbly, coarse sand.

Add shredded cheese and cooked leeks. Toss to combine.

Pour in cold buttermilk. Using a large sturdy spatula, fold together until dough forms.

Turn dough onto a lightly floured surface and knead together to form a ball. Roll or pat out to 3/4-inch thickness.


Cut biscuits using a 2-inch cutter dipped in flour. Arrange biscuits on prepared baking sheet. Gather remaining dough and roll out again.


Bake for 15-18 minutes until bottom of biscuit is a nice golden brown. Transfer to wire rack and let cool slightly. Serve warm.