Think vegetarian burrito without the tortilla. Top this red quinoa bowl with beans, corn, tomato, and avocado and toss in homemade lime cilantro ranch.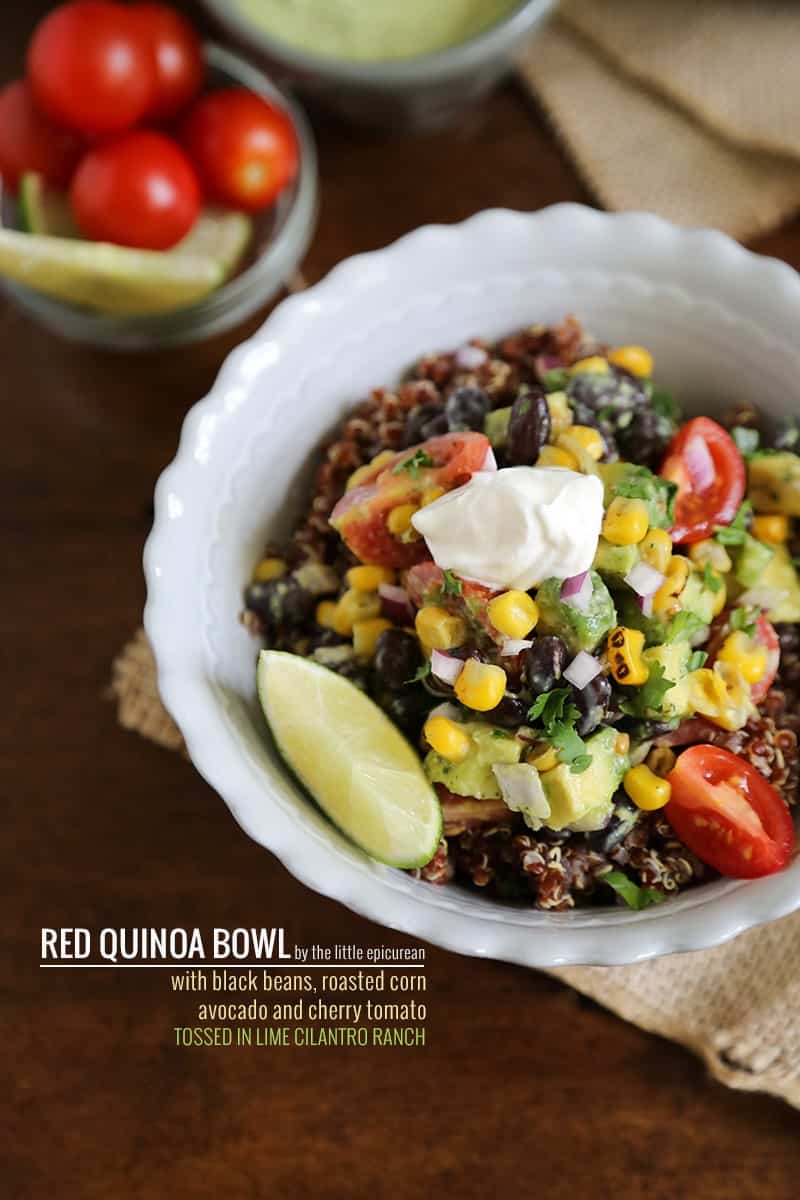 I believe if you make it known to the universe, said thought/dream/aspiration will magically manifest into reality. What can I say? I have so much faith that things will eventually fall into place. It's a mere matter of time.
That being said, I have always wondered who has the lucky job of developing the recipes that are found on the back of Trader Joe's products. And more importantly, where I do send in my resume to get that position? That's a job that I would happily do every single day.
While I love blogging and food photography, there's nothing that makes my brain tingle more than recipe development. So I'm putting it out there in the world, in case someone in the know happens to stumble upon me.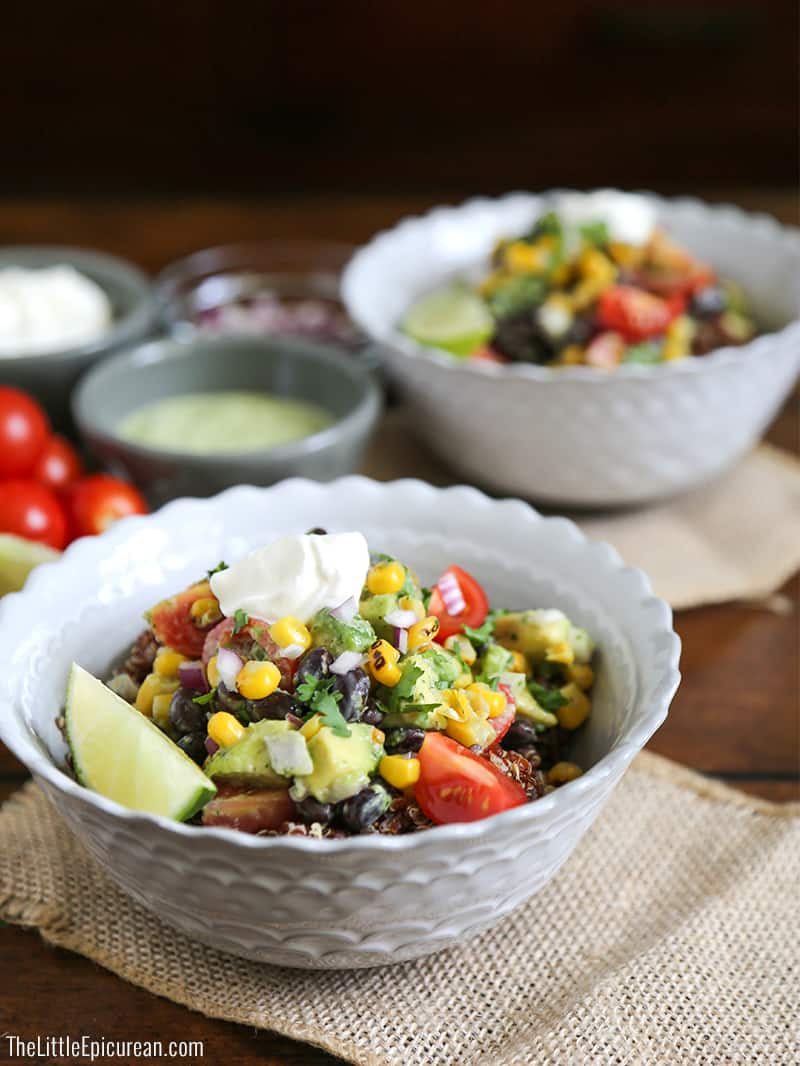 Red Quinoa Bowl with Lime Cilantro Ranch Dressing
Last week during my market run, I bought a bag of Trader Joe's red quinoa. On the back of the package, I found a recipe for Black Bean, Roasted Corn and Avocado Salad on a bed of Red Quinoa. I was sold. It sounded tasty so I decided to make it.
I really like quinoa. I'm so glad that it's so readily available these days. It is such a better and healthier alternative to rice.
I also can't say enough about the versatility of this grain. Eat it sweet, savory, hot or cold.  Any which way you prepare it, it's going to taste delicious.  (see: Yogurt Quinoa Parfait and Strawberries and Cream Breakfast Quinoa)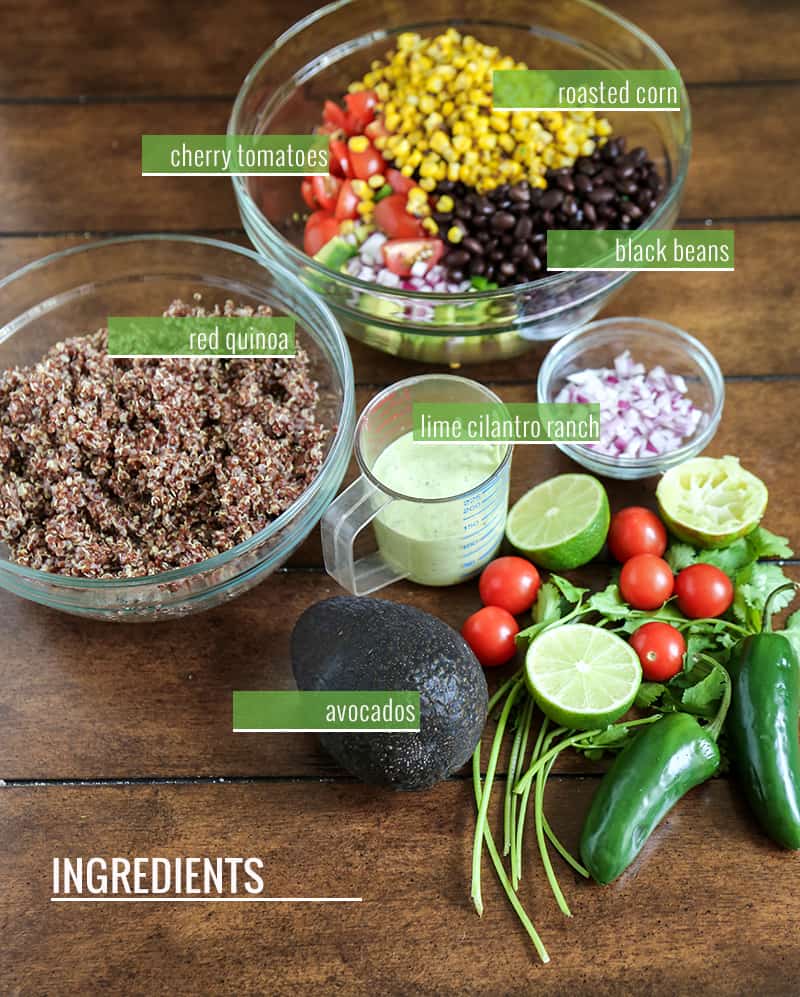 This dish is quite simple and easy to whip up. The most time consuming part for me was making the lime cilantro ranch dressing. Trader Joe's happens to sell a cilantro dressing, but I opted to make my own version.
You can't go wrong with this dish. It's like a vegetarian burrito in a bowl without the extra carbs of a tortilla. And it's gluten-free.
Not only is the quinoa bowl easy to make ahead of time, it holds up well in the fridge making a perfect lunch to bring to the office. Say hello to my designated lunch option for Meatless Mondays!
I'm not one to patiently sit around and wait. So while the universe does its thing, I will be doing my part by going out there and trying to make it happen. Give me time readers, one day that dream job will be all mine…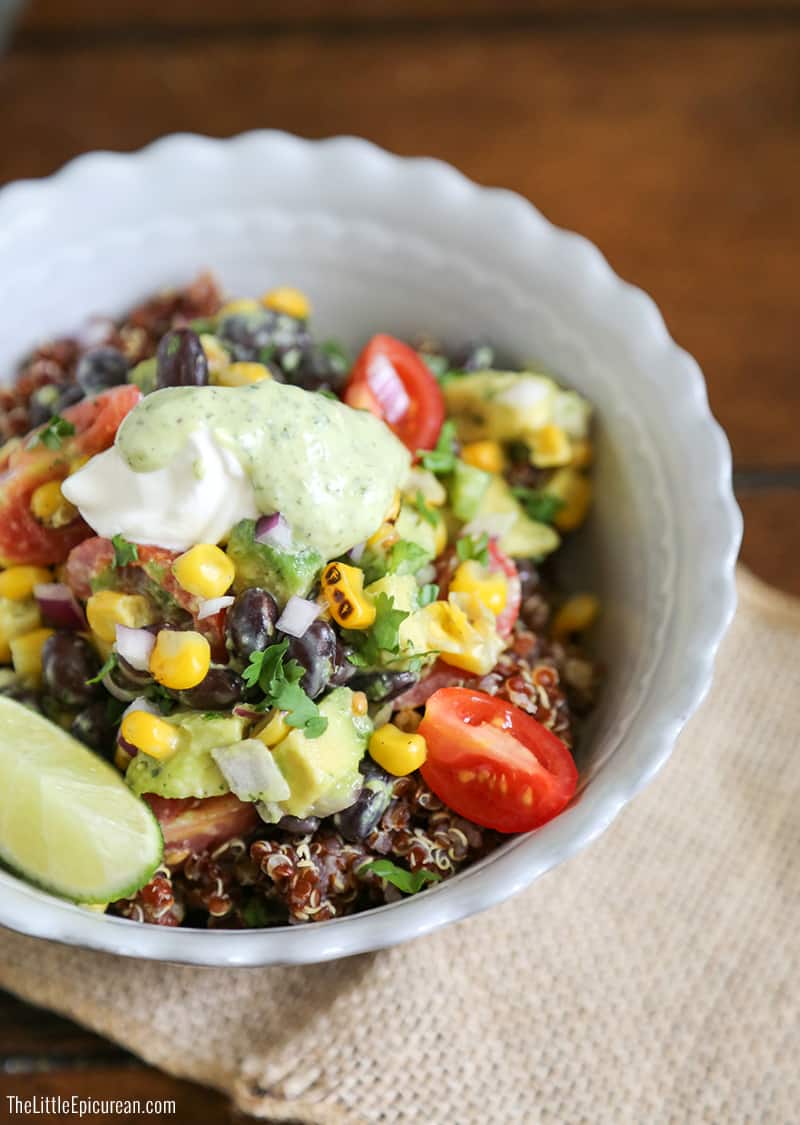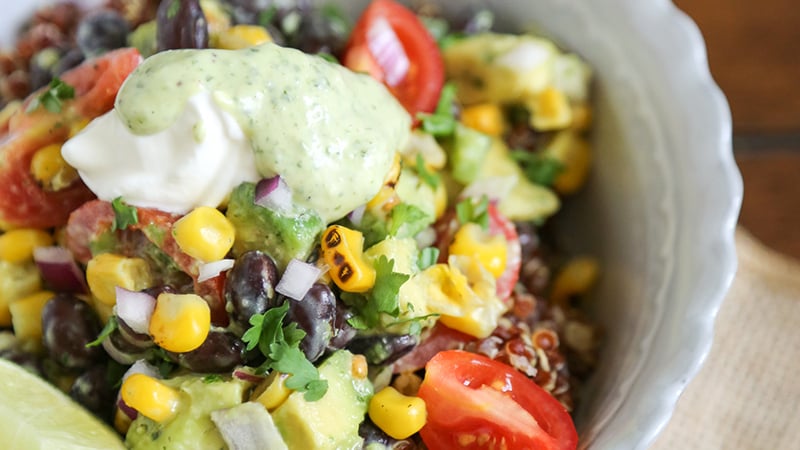 Red Quinoa Bowl with Lime Cilantro Ranch Dressing
Ingredients
Red Quinoa Bowl:
1

cup

red quinoa,

rinsed and drained

2

cup

chicken or vegetable broth,

reduced-sodium variety

1-15

oz

canned black beans,

drained and rinsed

1 1/2

cup

roasted corn kernels

1

avocado,

large dice

1

cup

cherry tomatoes,

halved or quartered

1/3

cup

chopped red onion

2

Tablespoon

chopped jalapeño,

deseeded if desired

sour cream,

to garnish

chopped cilantro,

to garnish

salt and pepper,

to taste
Lime Cilantro Ranch Dressing:
3/4

cup

cilantro

1/2

cup

sour cream

2

Tablespoon

fresh squeeze lime juice

1

Tablespoon

ranch powder

1

Tablespoon

chopped jalapeño

3

Tablespoon

extra-virgin olive oil
Instructions
Red Quinoa:
Cook quinoa according to package instructions using broth. Place 1 cup quinoa and 2 cups broth in medium sauce pot. Bring mixture to a boil and then reduce to a simmer. Cover pot and cook for 12-15 minutes until all the broth has been absorbed by the quinoa. Remove cover and fluff with a fork. Set aside.

In a large bowl, combine black beans, roasted corn, avocado, cherry tomatoes, red onion and jalapeño. Add about half of the lime cilantro ranch dressing. Season with salt and pepper. Toss gently to combine. Set aside.

To serve, distribute cooked quinoa between serving bowls. Top with bean, corn, avocado mixture. Garnish with a dollop of sour cream, a sprinkling of chopped cilantro, and a wedge of lime. Serve with additional lime cilantro ranch dressing on the side.

Lime Cilantro Ranch Dressing:
In a food processor, combine cilantro, sour cream, lime juice, ranch powder, and jalapeño. With the processor running, drizzle in olive oil. Pulse until mixture is smooth and homogenous. Keep chilled until ready to serve.