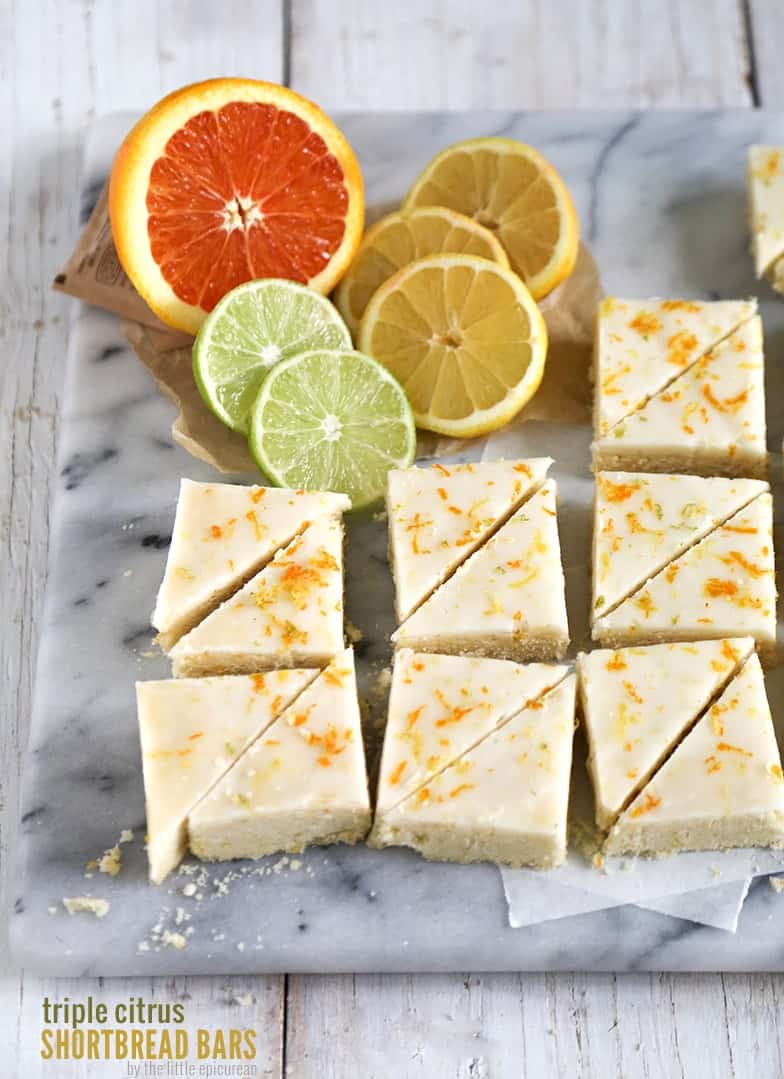 I keep hearing "Happy" by Pharrell Williams.  I've heard that song a bazillion times on the radio.  It seems like every time I get in my car, at one point during the drive, the song is bound to come on.  Luckily, I have yet to tire of it.
As soon as the chorus comes on, I'm clapping along and dancing in my car.
"Because I'm happy//clap along if you know what happiness is to you//because I'm happy//clap along if you feel like that's what you wanna do"
I often wonder what the other people around me think when they glance over and see me having a party in my car.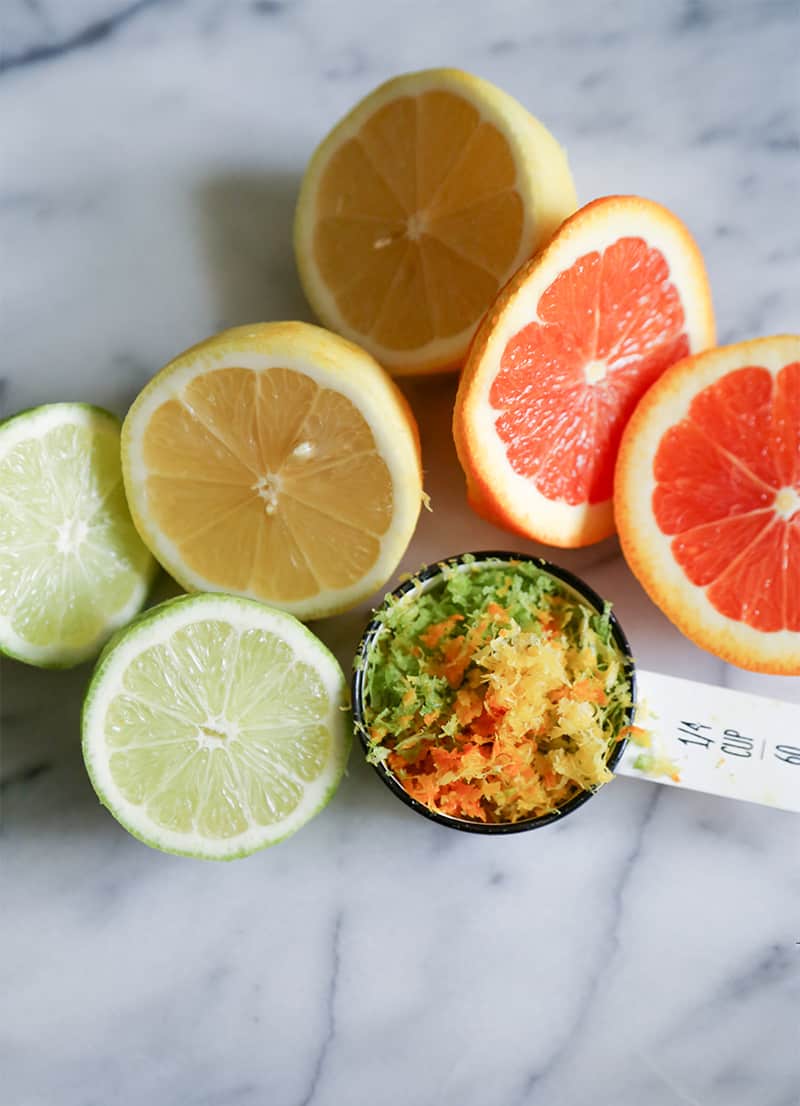 Asides from Pharrell, you know what makes me happy?  Citrus.  A squeeze of lemon juice in my water, a little lime juice on my chipotle braised pork tacos, and an orange for my old fashioned.  Without the sweet/tart/sour complexities of citrus fruits, a majority of foods and drinks would be pretty darn boring.
I found this recipe for lemon glazed shortbread bars from Better Homes and Gardens.  I'm not the biggest fan of lemon desserts, so I added lime and orange to make it more appealing to me.  I love the combination of lemon, lime, and orange zest.  It not only looks pretty and vibrant, the flavors and aroma is so fresh and alive.  The weather has been a bit blah these past couple of days, so this triple citrus shortbread bar is just what my sad kitchen needed.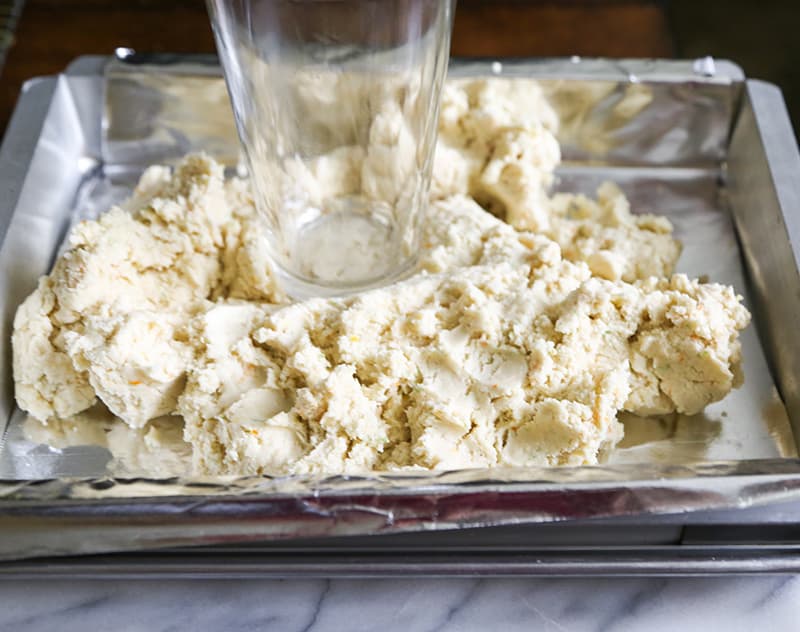 The shortbread dough is very simple to make; it's just like making cookie dough.  Make sure to line the baking sheet with a parchment or foil overhang.  Trust me, it makes unmolding bars and brownies a whole lot easier and cleaner.  I like to use the flat bottom of a drinking glass to pat down the dough into an even layer. However, fingers and hands work just as well.
As you pat the dough into the baking sheet, you will smell how amazing and fresh the dough is.  Do not eat the raw dough!  I know it's tempting, but do try to restrain.  Once the dough is baked, you can eat as much of the shortbread as your stomach can handle.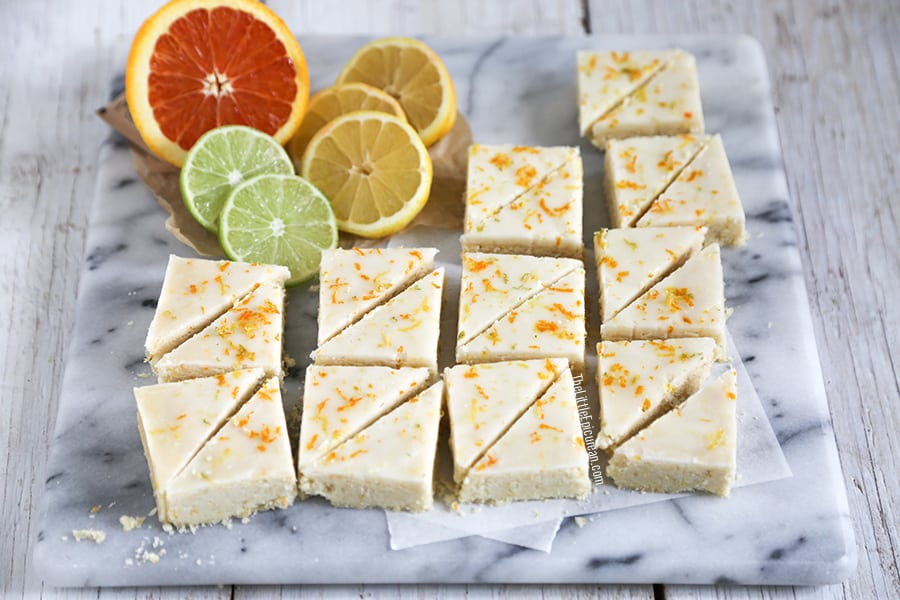 Immediately after the shortbread is removed from the oven, its time to pour the silky citrus glaze.  To make the bars even more fun, sprinkle additional citrus zest on top.  Let the glazed shortbread bars cool and set before slicing.  And once you're done baking, turn on the radio because Happy is bound to be playing.  Now its time to dance!
Triple Citrus Shortbread Bars
Ingredients:
Citrus Shortbread:
3 cups all-purpose flour
1/3 cup cornstarch
1/2 tsp fine sea salt
1 1/2 cup powdered sugar
1/4 cup combination for lemon, lime, and orange zest
1 1/4 cup unsalted butter, softened
1 Tbsp lemon juice
Citrus Glaze:
2 1/2 cups powdered sugar
1 tsp lemon zest
1 tsp lime zest
1 tsp orange zest
1 Tbsp lemon juice
1 Tbsp lime juice
1 Tbsp orange juice
1 Tbsp light corn syrup
pinch of salt
Directions:
Preheat oven to 300 degrees F. Line a 13x9 inch baking pan with foil or parchment. Allow the foil to hang over the edges. Set aside.
In a bowl, whisk together flour, cornstarch and salt.
In another bowl, mash the citrus zest into the powdered sugar. Continue to beat until sugar smells fragrant.
In the bowl of a stand mixer, combine butter and lemon juice. Beat until smooth. Add citrus sugar mixture. Mix until combined. Then add the flour in two additions and mix until dough forms.
Transfer dough to prepared baking pan. Use the flat bottom of a drinking glass (or your fingers) to press the dough into a even layer.
Bake for 35-40 minutes until the edges of the shortbread slightly begin to color. Immediately after removing from oven, pour citrus glaze over the top of the shortbread. Use an offset or the back of a spoon to spread glaze evenly. Sprinkle additional citrus zest over glaze. Let shortbread cool to room temperature and allow the glaze to set.
Lift the glazed shortbread out of the pan using the foil overhang. Cut in squares, triangles, or desired shape.
For glaze, in a medium bowl, whisk together powdered sugar, citrus zest, citrus juices, corn syrup and salt. Whisk until smooth.