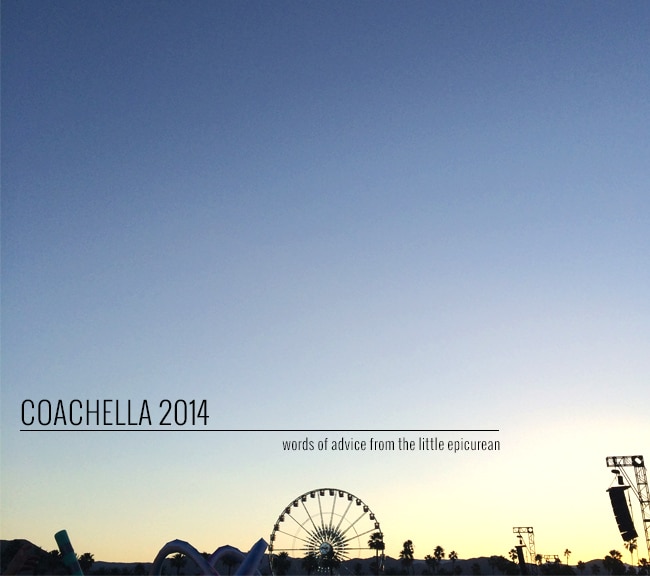 I feel like at one point in everyone's life, music plays such an important role.  A big chunk of my adolescent and college years revolved around music.  Music brings people together, starts friendships, and provides a soundtrack to countless memories.
If it wasn't for music, my bff and I would have never been.  One afternoon freshman year of high school, a lifelong friendship was born after realizing that we were listening to the same CD on identical Walkmans.
So this love for music, led me to attend the Coachella Valley Music and Arts Festival way back when I wasn't even old enough to drink.  Over the years Coachella has changed A LOT.  When I first attended, it only took place one weekend and you could buy single-day passes.  There were no fancy ticket wristbands, no VIP tickets, and no in-and-out privileges.  Back then, I still bought my paper tickets from Ticketmaster.   
Despite set backs, temperature, and age, I still look forward to Coachella every year.  No matter how much I complain about the awful heat or the dirty bathrooms, I can't wait for the line-up to be announced, for the tickets to arrive in the mail, and for the first day of the festival.  Words can't really explain what happens at Coachella.  It's just one of those things that you have to experience first hand to understand.
My best advice to first time Coachella attendees:
1. Wear comfortable closed-toed shoes.
I've worn sandals before.  Sure, it's much cuter, but you will get stepped on and you will break a toe nail.  Plus, you'll get dirt all over your toes and under your toe nails. Gross.  Just wear closed-toe shoes.
2.  Apply sunscreen, frequently.  (And bring a hat.)
You're going to be under the sun for three long days.  Sunburns hurt.  Prevent unwanted pain by applying sunscreen.  In my experience, this is the best spray sunscreen ever.  Bring a hat.  You'll want to cover up your face.  Sun damage and wrinkles are no good and no fun.
3. Stay hydrated.
Drink plenty of water.  Temperatures hover around 90 and often peak past 100 degrees F.  With the abundance of beer and alcohol (and other substances), you'll want to drink a lot of water.  Bring a large refillable water bottle.  I've been bringing this one for years.
4. Be open-minded (to people and music).
Thousands and thousands of music lovers flock to Coachella.  You will meet some of the most awesome people ever, and then you will also meet some of the rudest, trashiest, most unsavory people ever.  Regardless of which category they fall under, treat EVERYONE with respect.
There is a wide array of music each year played at the grounds.  While you obviously can't listen to everything, try your hardest to make your way around the different tents and stages.  You might surprise yourself and find new music you never knew you'd love.
5. Bring a bandana.
Bring a bandana, scarf, or anything to cover your face.  This weekend there happen to be crazy dust storm Saturday.  You definitely don't want to be inhaling all that dirt.  Bandanas can also be used as a headband during the hot afternoon to wipe off sweat.  And at the end of the night when you are walking back to the campsite/car/shuttle, you will be passing a dirt road.  When hundreds of people are walking on dirt, it is bound to get dusty.
6.  Have fun!
This one is obvious but sometimes it's easier said than done.  But seriously, go and have fun.  Forget about work, looming deadlines, problems back in real life.  For one weekend, soak up as much fun as possible to last you an entire year, until you come back.
I'm a planner.  Whenever I go on trips or vacations, I always have everything planned out.  I have restaurant options mapped out, shopping spots picked out, and everything I could ever need packed in my suitcase.  However, for Coachella weekend, I try real hard to let that go out the door.   I don't plan where to eat.  Don't plan when to wake up (although I will set an alarm for 1pm just to make sure I won't miss any music).  And I don't plan what bands to see.  I get to the grounds and let my ears direct me.
—
This year I was really thrown off by the crazy dust storm on Saturday.  Despite the sand in my ears, dirt in my eyes, my friends and I battled it to watch our favorite musicians play.  No amount of gusty winds or chilly weather is going to stop me from seeing Pharrell.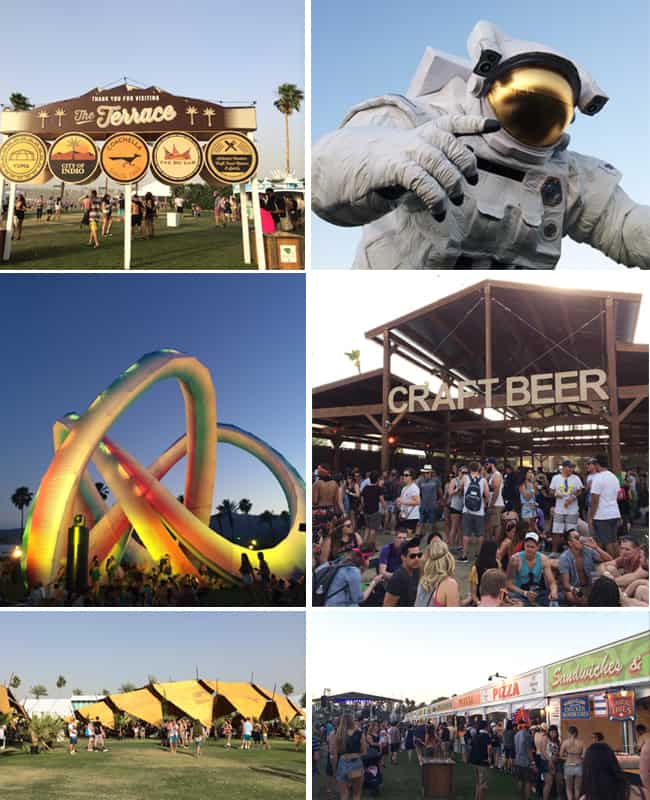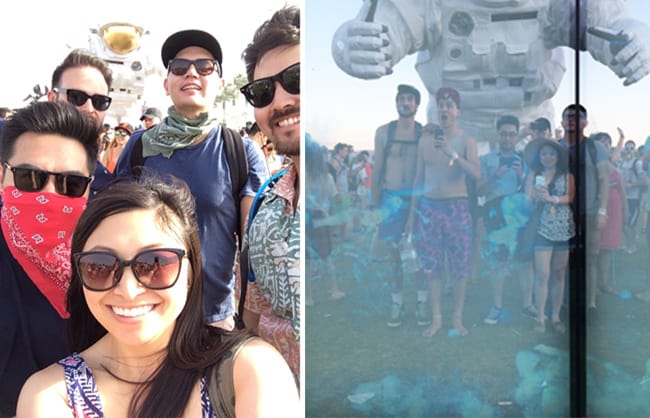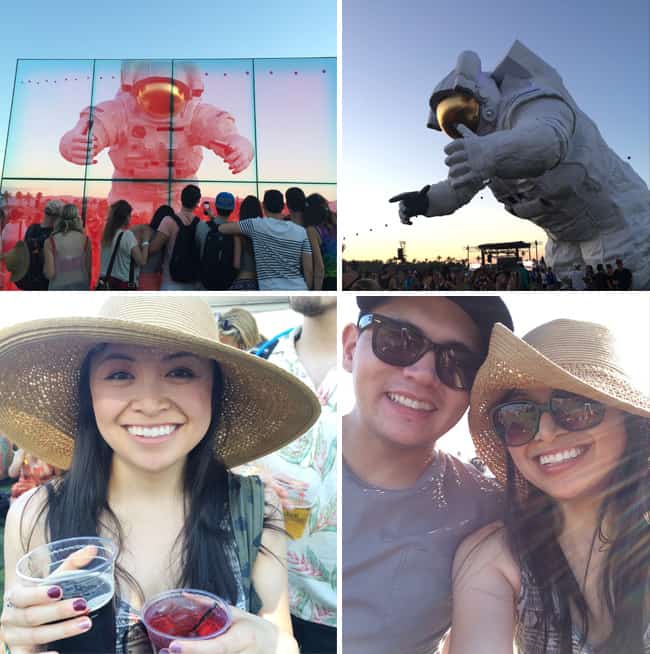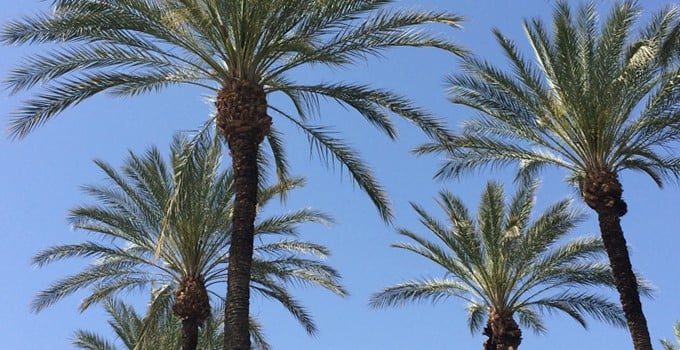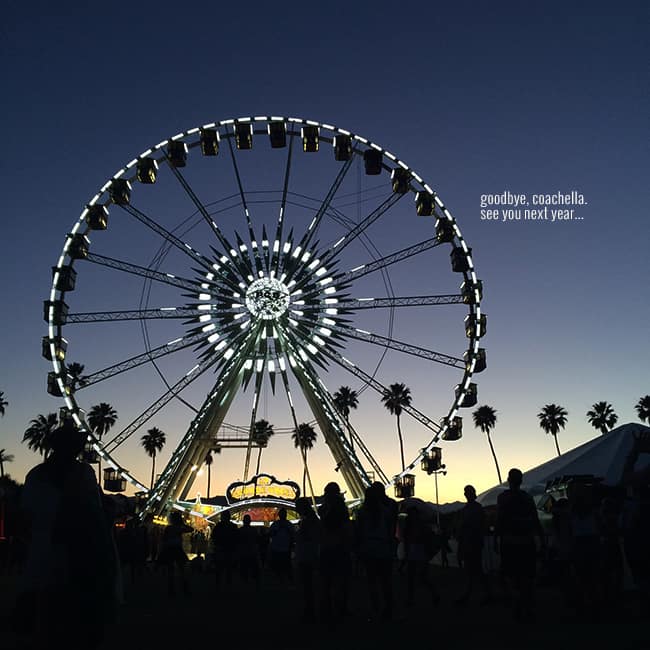 note: all photos were taken with an iPhone 5s.