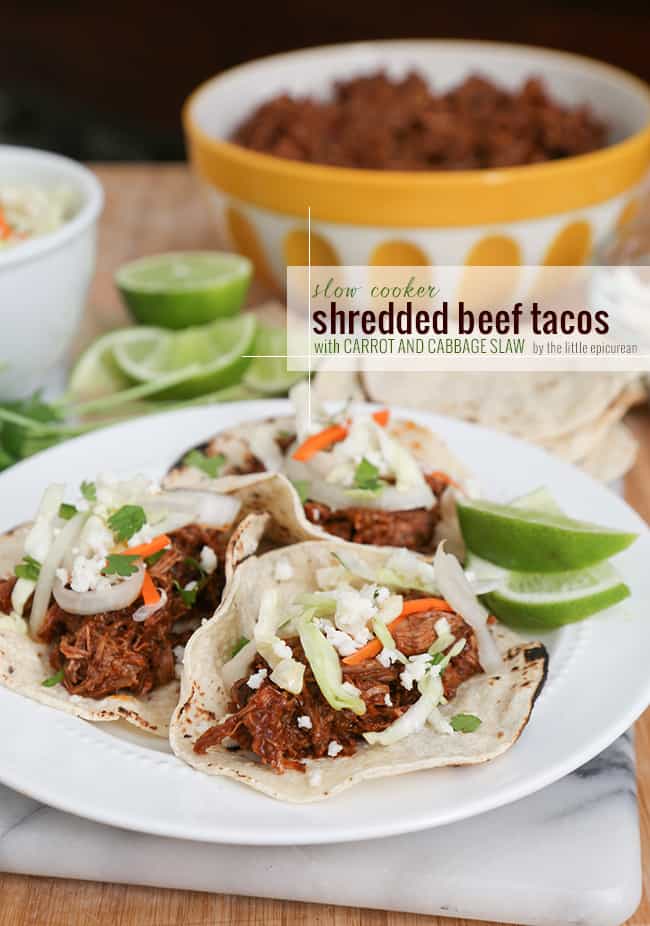 I love my oven.  It allows me to bake wonderful cakes, decadent brownies, and lovely apple pies.  However, when it comes to savory stews, braises and dishes of that nature, my oven becomes a source of frustration.
I have a large oven that produces a heck of a lot of heat.  It turns the entire house into a sauna.  Because of the way the house is laid out, the heat spreads everywhere.  I don't have enough windows to open to let all the steam out.  While my baked good take at most one hour, braises meats can take many hours…  That's hours of me sweating and feeling uncomfortable.  For that reason, I'm giving my oven a vacation and I'm turning these shredded beef tacos into an easy slow cooker meal!
I've make tacos only one other time.  Remember these Chipotle Braised Pork Tacos?!  They are one of my favorites.  Instead of pork, I wanted to tackle beef (and perhaps next month, I'll test out shrimp tacos!).  I found this terrific recipe for Carne Deshebrada from Cook's Illustrated.
The original recipe takes three hours to cook in the oven.  It takes roughly 4 hours in the slow cooker.  The original recipe calls for boneless beef short ribs, which can be pretty pricey.  I opted for the less expensive boneless beef chuck.  Although beef chuck roast is a tough piece of meat, it contains a great deal of connective tissues- which makes it great for braised dishes.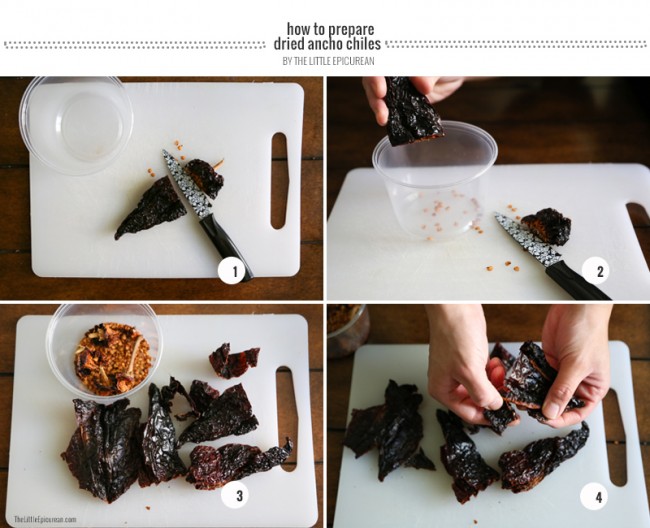 Since this was my first time dealing with dried Ancho chiles, Alex gave me a little tutorial.  Often when working with chile peppers, it is best to wear gloves.
Have a little trash bowl available.  Slice off the stem of the chile.
Invert the chile and shake over the trash bowl to dislodge any loose seeds.
Slice the chile open and remove the remaining seeds.  Be sure to also remove the center membrane where the seeds are attached.  That part of the chile pepper holds all the heat.
Once chile has been stemmed and seeded, tear the remaining skin into small 2-inch pieces.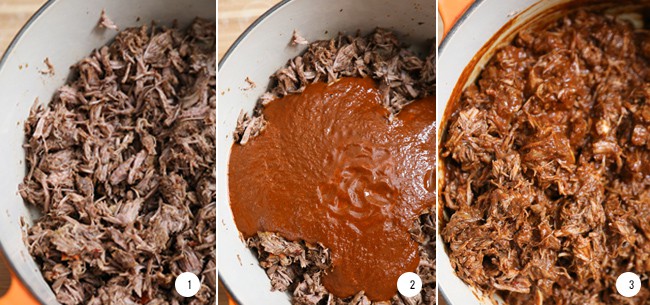 Remove cooked beef chunks from slow cooker pot and transfer to a large pot.  Use two forks to shred the beef.
Pour blended sauce over shredded beef. Toss to combine.
Season with salt to taste.  Get ready to build yourself some tacos!
Note: Shredded beef can be stored in the fridge for up to three days.  Gently reheat before serving.  You can also use leftover beef to fill empanadas, quesadillas, or use it to top nachos!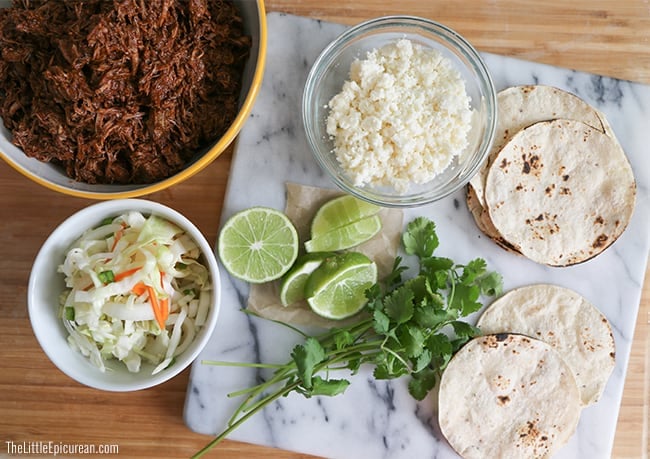 I'm happy with the results of this slow cooker shredded beef.  The beef is very flavorful.  The spices in this dish are unlike any beef taco I've tasted.  I really like the combination of cinnamon and cumin.  The vibrant slaw adds a nice touch of acidity and freshness that makes me crave more tacos!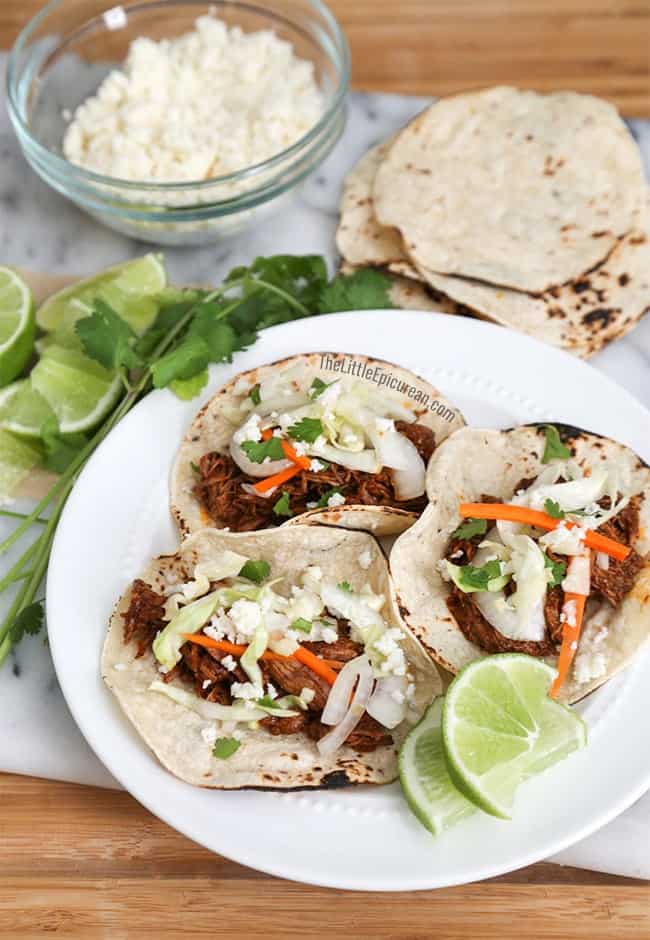 Slow Cooked Shredded Beef Tacos// Carne Deshebrada
Ingredients:
Beef:
1 1/2 cup full bodied lager/ale beer
1/2 cup apple cider vinegar
2 oz dried ancho chili, stem and seeds discarded
2 Tbsp tomato paste
6 garlic cloves, sliced
2 tsp ground cumin
2 tsp dried oregano
2 tsp kosher salt
1/2 tsp ground cinnamon
1 large onion, cut into 1/2-inch thick rounds
3 pounds boneless beef chuck, cut into 2-inch cubes
Carrot and Cabbage Slaw:
1 cup apple cider vinegar
1/2 cup water
1 Tbsp granulated sugar
2 tsp kosher salt
1/2 head cabbage, shredded
1 onion, thinly sliced
1 medium carrot, cut into matchsticks
2 jalapeños, seeded, minced
1 cup chopped cilantro
Other components:
small corn tortillas, as needed
crumbled queso fresco, as needed
lime wedges, for serving
Directions:
Shredded Beef:
In the slow cooker pot, whisk together beer, apple cider vinegar, torn anchos, tomato paste, garlic, cumin, oregano, salt and cinnamon.
Arrange sliced onion rounds in a single layer in the pot.  Place beef chunks over the onions.  The onions will protect the beef from the heat at the bottom of the pot.  If needed, gently push down the beef so it is covered with the sauce.
Cover slow cooker with lid and cook for 4-5 hours on low heat.  Cook until the beef is browned and tender.
Use kitchen tongs to transfer cooked beef to a large bowl.  Set aside.
Remove onion rings from slow cooker pot and discard.  Take remaining cooking sauce and transfer to a blender.  Puree until smooth.  Alternatively, use an immersion blender.  Reserve sauce.
Use two forks to shred cooked beef.  Pour reserved sauce over shredded beef.  Toss to coat beef in sauce.  Season with salt as necessary.
Carrot and Cabbage Slaw:
In a large bowl, whisk together vinegar, water, sugar, and salt until sugar has dissolved.
Add cabbage, onion, carrots, and jalapeño.  Toss to combine.  Cover with plastic wrap and let chill in the fridge for at least 1 hour (up to 24 hours).
Drain liquid.  Toss in cilantro.  Keep chilled until ready to serve.
Note: Shredded beef can be stored in the fridge for up to three days.  Gently reheat before serving.  You can also use leftover beef to fill empanadas, quesadillas, or use it to top nachos!