Let your tastebuds go on a tropical vacation with these sweet and flavorful coconut cupcakes.
Disclosure: Hamilton Beach is providing the hand mixer and stand mixer for this giveaway.  I was given the same mixers for review.  All opinions are my own.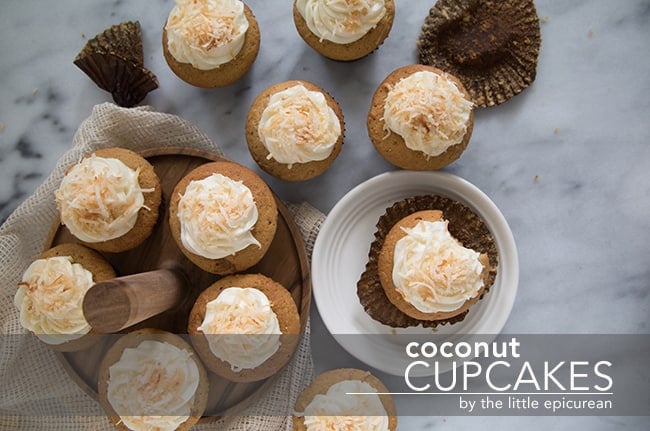 Growing up, I went to the Philippines every summer to visit my grandmother. During my stay, I'd eat my weight in coconuts. Coconuts can be found everywhere, from the roadside stand to your neighbor's backyard.
Coconuts are very versatile, producing a variety of products: coconut oil, coconut vinegar, coconut milk, coconut water, etc. But my favorite way to enjoy coconuts- coconut cupcakes!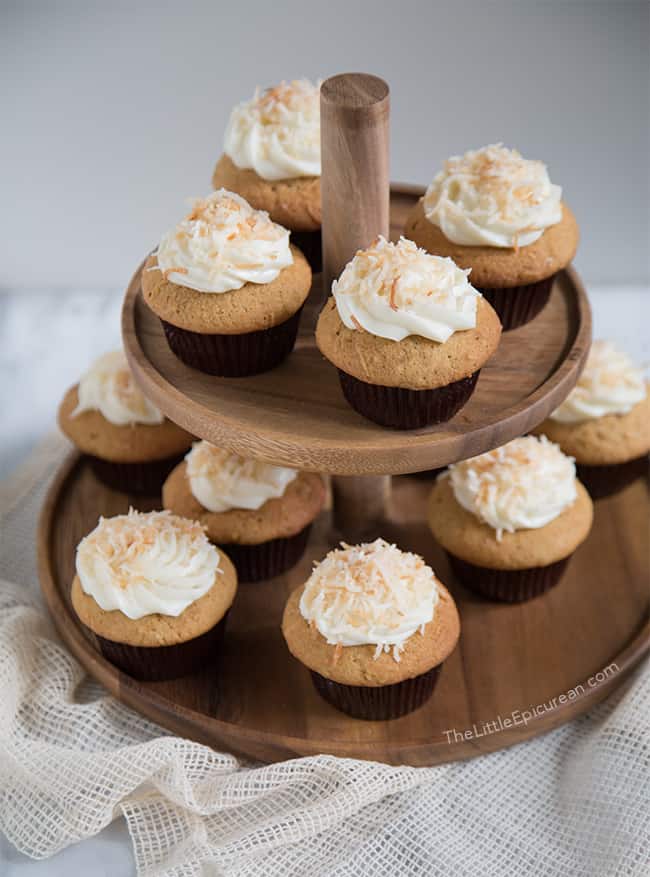 Coconut Cupcakes with Coconut Cream Cheese Frosting
These cupcakes get their flavor from coconut milk and toasted sweetened shredded coconut. I'm not a fan of coconut extract, as I think it tastes fake. I prefer canned coconut milk (mainly because that's what I grew up cooking with).
Canned coconut milk has a tad more fat because it includes coconut cream. Be sure to shake the can well, if not- you'll end up with a thick layer of cream on top.
I don't suggest using the boxed coconut milks found in the market along with almond milk and soy milk as those may be too watered down. You won't get the same flavor and richness.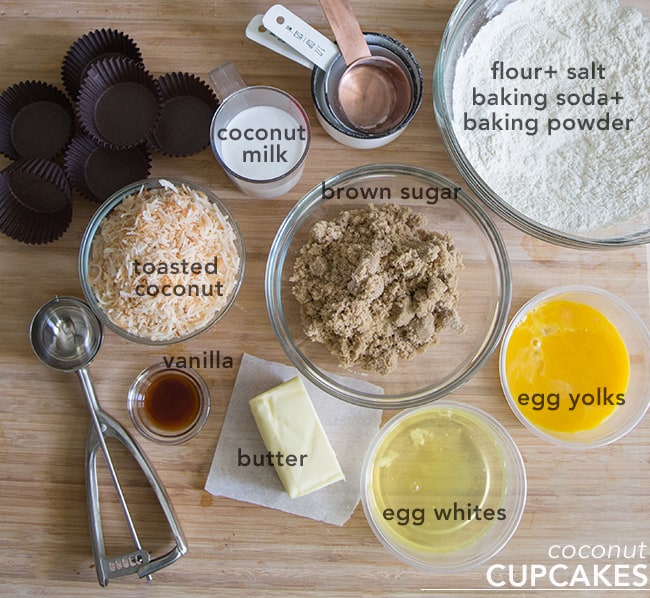 While you can certainly make cupcakes by hand, it's so much easier when you have mixer. I've partnered with Hamilton Beach to give one lucky reader a mixer set which includes this 6-speed soft scrape hand mixer and this 6-speed stand mixer. YES, you can win TWO MIXERS!
A hand mixer and a stand mixer are perfect for these coconut cupcakes. As pictured above, the eggs are separated in this recipe. In order to make the cupcakes a bit more fluffy, the egg whites are whipped separately and folded into the cupcake batter at the very end.
Since I don't like to whip egg whites by hand, this is where the hand mixer becomes my hero. While I have the rest of the ingredients mixing in the stand mixer, I can multi-task by whipping the egg whites at the same time. How easy is that?!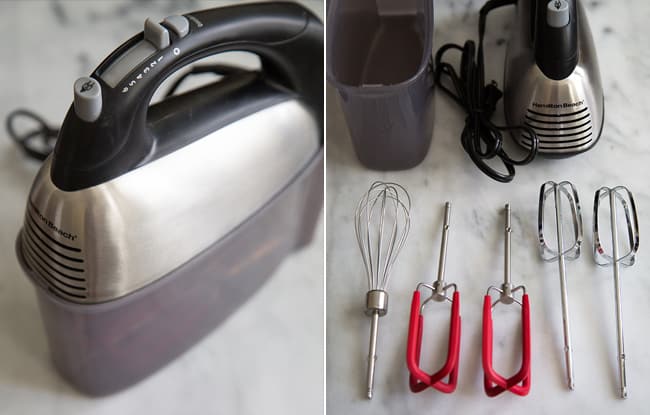 Hamilton Beach Hand Mixer:
Plus, a hand mixer comes in very handy when you want to whip up a bowl of fresh whipped cream! I'm really liking my Hamilton Beach hand mixer. It's so powerful and compact. And I absolutely love the snap on storage case that neatly holds all the attachments. No longer do I have to fumble through my kitchen drawer looking for that darn beater attachment.
I was quite surprised by the Hamilton Beach stand mixer as I've been using the same Kitchen Aid stand mixer for over 10 years. The stand mixer is quite strong. It can knead bread doughs with the same ease as cupcake batters. It comes with three attachments: a flat beater, dough hook, and whisk. But my favorite thing about this mixer, it has a special fold setting for gentle mixing!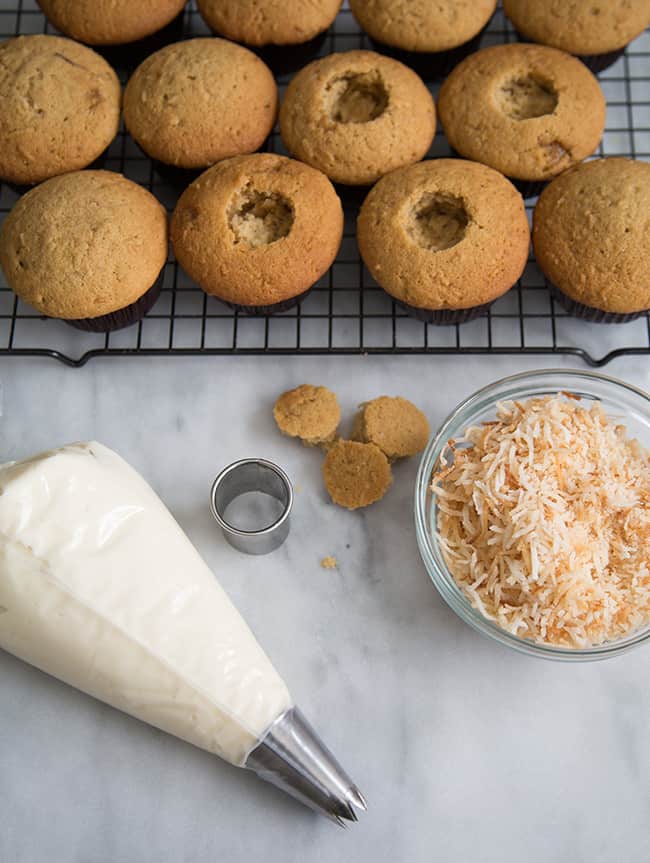 I like hide a little frosting inside the cupcakes for a sweet surprise. Take a small round cutter and punch out a little hole on the top of the cooled cupcakes. Fill the hole with frosting and then pipe a large rosette over the hole to cover it up.
Honestly, I like to do this because it leaves me with a pile of cupcake cutouts to snack on while I'm decorating.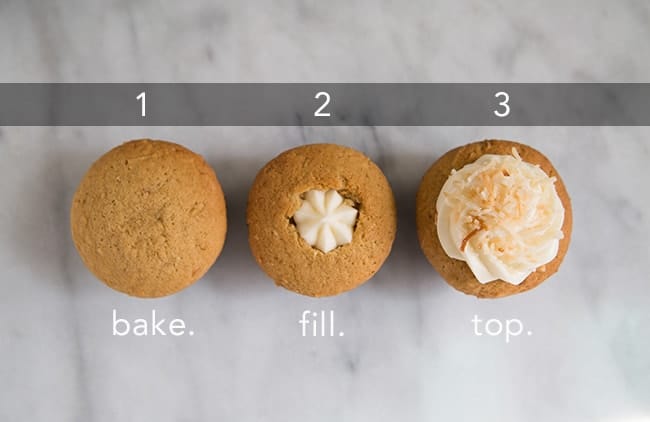 With summer on the horizon, these coconut cupcakes are the perfect little tropical treat for your tastebuds. While I could eat the cupcakes by themselves, they are completely transformed with the addition of the coconut cream cheese frosting.
I think coconut and cream cheese are meant to be best friends. Taste the frosting and let me know how you feel.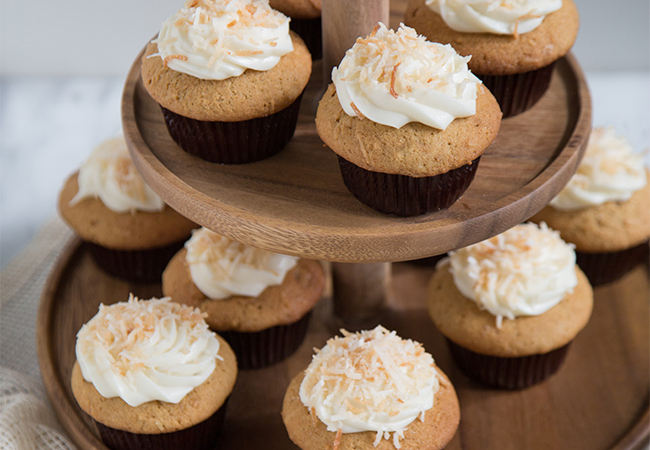 Coconut Cupcakes
Let your tastebuds go on a tropical vacation with these sweet and flavorful coconut cupcakes. Quick and easy to make, these cupcakes are perfect for summertime parties and picnics!
Ingredients
Coconut Cupcakes:
1 ¾

cup

all-purpose flour

(230 g)

1 ½

teaspoon

baking powder

½

teaspoon

baking soda

½

teaspoon

kosher salt

½

cup

unsalted butter, softened

(113 g)

1

cup

light brown sugar, packed

(210 g)

3

large eggs, separated

1 ½

teaspoon

vanilla extract

¾

cup

canned coconut milk, full-fat, well-shaken*

(180 g)

1

cup

dried sweetened shredded coconut, lightly toasted

(85 g)
Coconut Cream Cheese Frosting:
½

cup

unsalted butter, softened

(113 g)

4

oz

cream cheese

(113 g)

3

cups

powdered sugar

(340 g)

2

Tablespoons

canned coconut milk

½

teaspoon

vanilla extract

pinch kosher salt

½

cup

dried sweetened shredded coconut, lightly toasted

(40 g)
Instructions
Coconut Cupcakes:
Preheat oven to 350°F.  Line 12 muffin tin with paper liners and set aside.

In a large bowl whisk together flour, baking powder, baking soda, and salt. Set aside.

In the bowl of stand mixer, cream butter and brown sugar until smooth. Add egg yolks and vanilla extract. Mix on medium speed until lighter in color and thoroughly mixed.

Add half of flour mixture, then half of coconut milk. Repeat and mix until just combined. Add 1 cup of toasted coconut and fold to combine.

Using a hand mixer, whisk egg whites to soft-medium peaks. Add half of egg whites to batter. Fold to combine. Add remaining half and fold until combined. Do not overmix.

Divide the batter between prepared muffin tin. Bake for 18-20 minutes until toothpick inserted in center of cupcake comes out clean. Remove from muffin tin and allow to cool to room temperature on wire racks. Allow cupcakes to cool to room temperature before frosting.

Coconut Cream Cheese Frosting:
Using a hand mixer or stand mixer, beat together butter and cream cheese until smooth. Add sifted powdered sugar. Mix until combined.

Add coconut milk, vanilla extract, and salt. Beat on medium speed until frosting is smooth and creamy.

Transfer frosting to a piping bag fitted with a large star tip. Make little holes in center of cupcakes, if desired, and fill with frosting. Pipe frosting over hole to cover it up. Sprinkle remaining toasted coconut over frosting cupcake.

Notes
Chaokoh and Aroy-D are my favorite brands of canned coconut milk
To toast shredded coconut: spread shredded coconut over parchment lined baking sheet.  Toast in 350 degree oven for 8-10 minutes, stirring every 3 minutes to evenly toast coconut.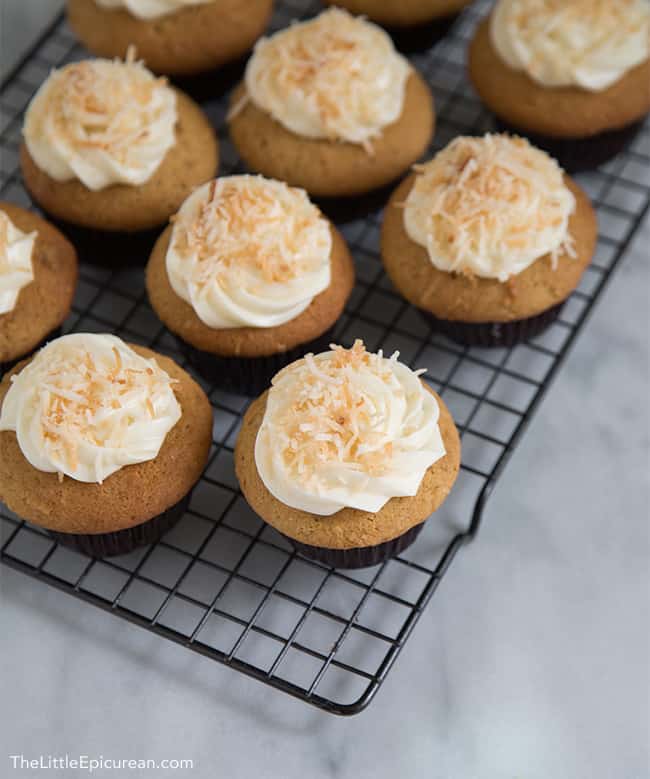 To enter giveaway leave a comment below.  Tell me what you would make with your new mixer! [CLOSED]