Dairy-free coconut ice cream tastes like a tropical vacation. Simply mix everything in a blender then process in an ice cream machine.
Reason to Make This Recipe
No cuts, no butts, no coconuts! Even without using any shortcuts, this is the simplest ice cream I've ever made.
You mix all ingredients in a blender and then pour it into an ice cream machine. Done. That's it.
It's the perfect ice cream recipe for beginners since it doesn't require pasteurizing eggs like in traditional ice creams.
Recipe simply requires a handful of ingredients: coconut milk, sugar, agave, and coconut oil. For added flavor, you can add in vanilla extract and a pinch of salt.
The sweet and creamy coconut ice cream is vegan and gluten-free. If you want more traditional ice cream with eggs and milk, try this coconut almond chip ice cream!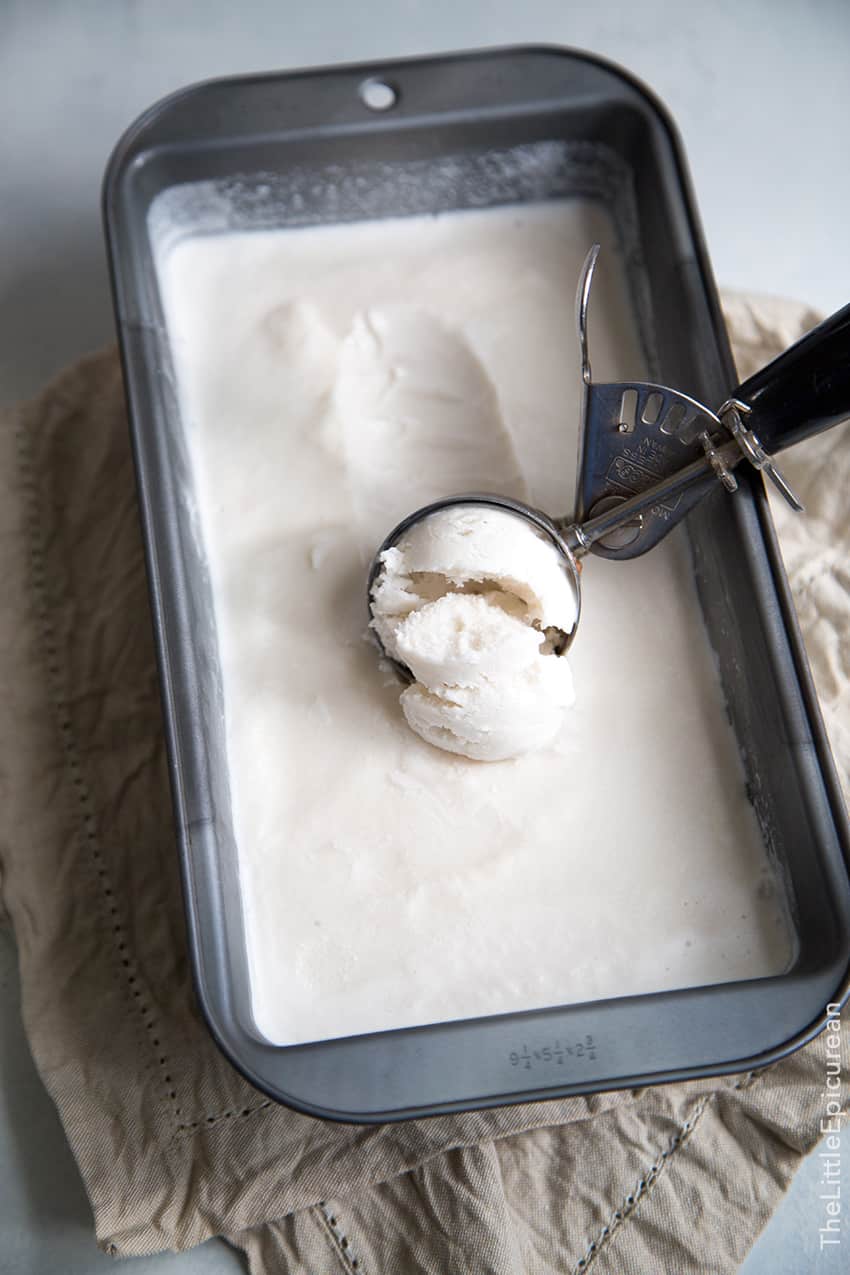 Ingredients and Substitutions
Coconut is a staple in Filipino cuisine. It's in nearly every dessert. Favorite coconut milk based Filipino desserts include: ginataang, biko (sticky rice cake) and bibingka.
If you're a fan of coconut milk, this dairy-free ice cream recipe is just for you!
Coconut Milk : Use full-fat canned unsweetened coconut milk. Check the label to ensure the first ingredient is coconut. Do not use light coconut milk or reduced fat coconut milk, which will not produce creamy results.
Sugar : White granulated sugar will result in a pure white ice cream. Or, use coconut sugar to create a creamy, tan colored ice cream.
Agave Nectar : Use agave or maple syrup for a vegan version. Or, use honey if you'd like.
Coconut Oil : The oil prevents the ice cream from freezing solid. It ensure the ice cream is easy to scoop. Refined coconut oil is nearly flavorless. Unrefined coconut oil will have a slight coconut flavor.
Recommended Ice Cream Tools
You will need a blender and an ice cream maker for this recipe. Any high-speed blender, stick blender (immersion blender) or food processor will work. As for ice cream maker, the options are endless.
I personally use this compressor ice cream machine. It is a bit pricier than other machines. However, I find it well worth since I make a lot of ice creams, sorbets, and frozen yogurts.
Most machines (such as the KitchenAid attachment or this popular Cuisinart machine) require you to freeze the churning canister ahead of time.
The compressor machine skips that step. Simply pour the chilled liquid mixture into the machine. Within 35 minutes, you'll have ready to eat ice cream!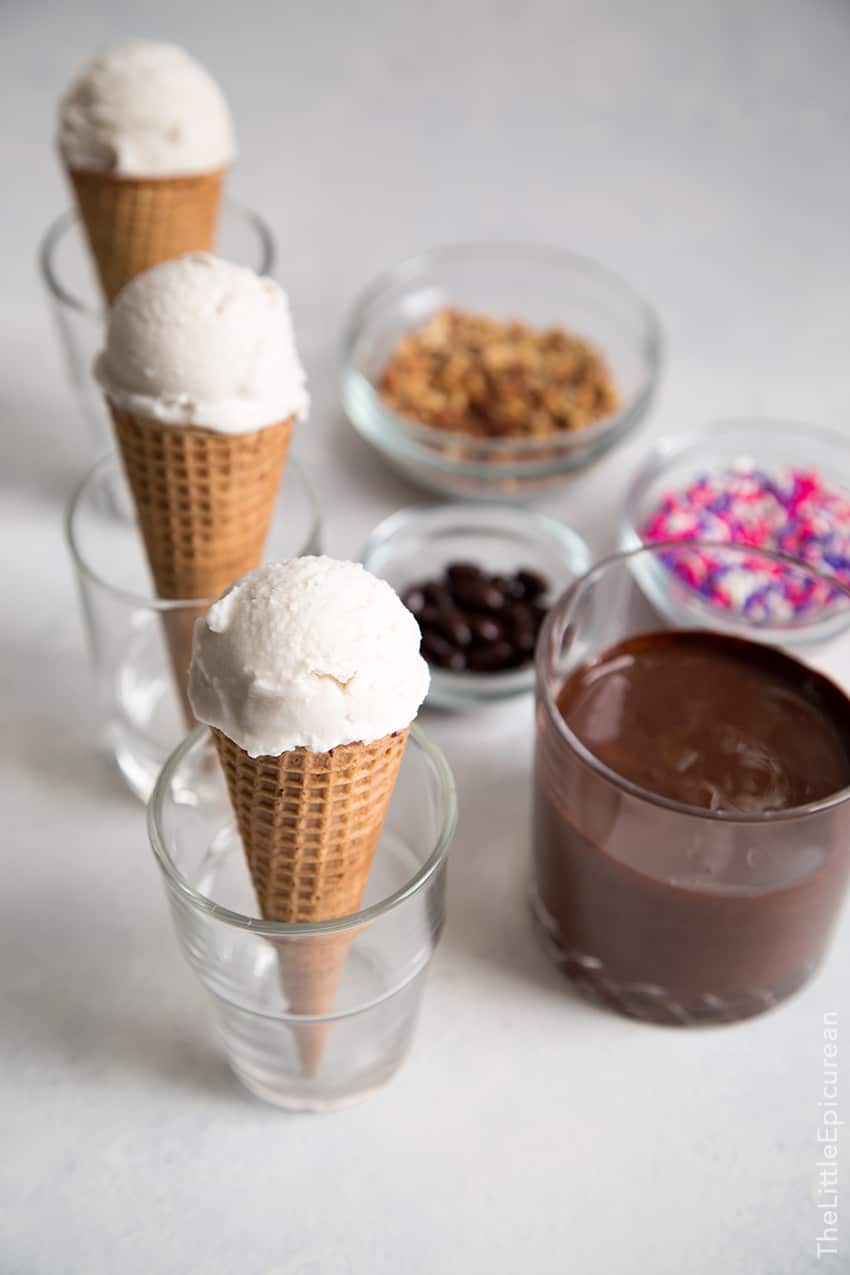 After churning, transfer ice cream to a freezer safe container. Spread into an even layer and tightly cover.
Freeze for about 2 hours to allow ice cream to thicken. The texture will be much better after it's had some time to settle.
Turn Homemade Ice Cream Into DIY Sundae Cones
Asides from my eternal love for coconut, the real reason I made this ice cream is to build coconut sundae cones! It's like a Drumstick but tastier, dairy-free, and totally customizable. Follow the link above for the recipe.
More Coconut Dessert Recipes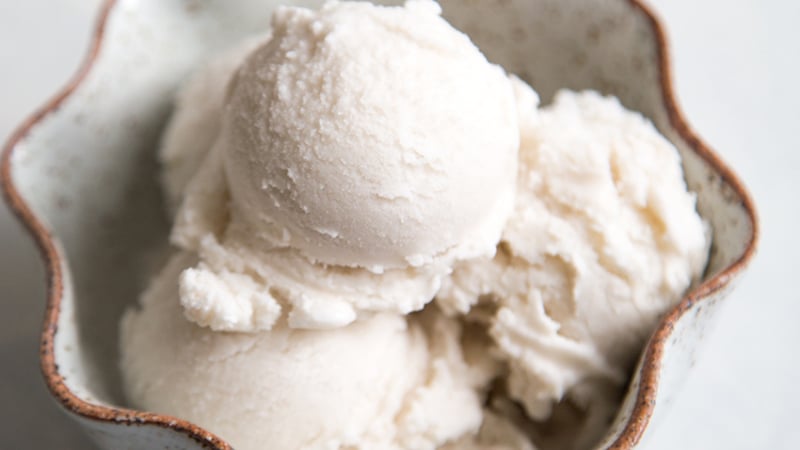 Coconut Ice Cream
Easy to make dairy-free coconut ice cream tastes like a tropical vacation!Yield: about 1 quart
Equipment
Blender

Ice Cream Maker/Machine
Ingredients
2

-14 oz canned coconut milk,

full-fat, unsweetened, well shaken

⅓

cup

+ 2 Tablespoons granulated sugar

3

Tablespoons

agave nectar

or honey*

3

Tablespoons

melted coconut oil

2

teaspoon

vanilla extract

pinch kosher salt
Instructions
In a blender, combine coconut milk, sugar, honey, coconut oil, vanilla and salt until sugar has dissolved.

Freeze mixture in ice cream maker according to your unit's instructions. Once the volume has increased by half and has a reached a soft serve consistency, transfer mixture into a freezer safe container. Let chill in the freeze for at least 2 hours before serving.

Notes
Ingredient Notes:
Be sure to use TWO cans of full-fat coconut milk. Do not use reduced fat/low fat coconut milk or coconut milk from cartons. These will result in icy ice cream. 
Use agave nectar to make this recipe vegan. 
Equipment:
All images and text ©The Little Epicurean