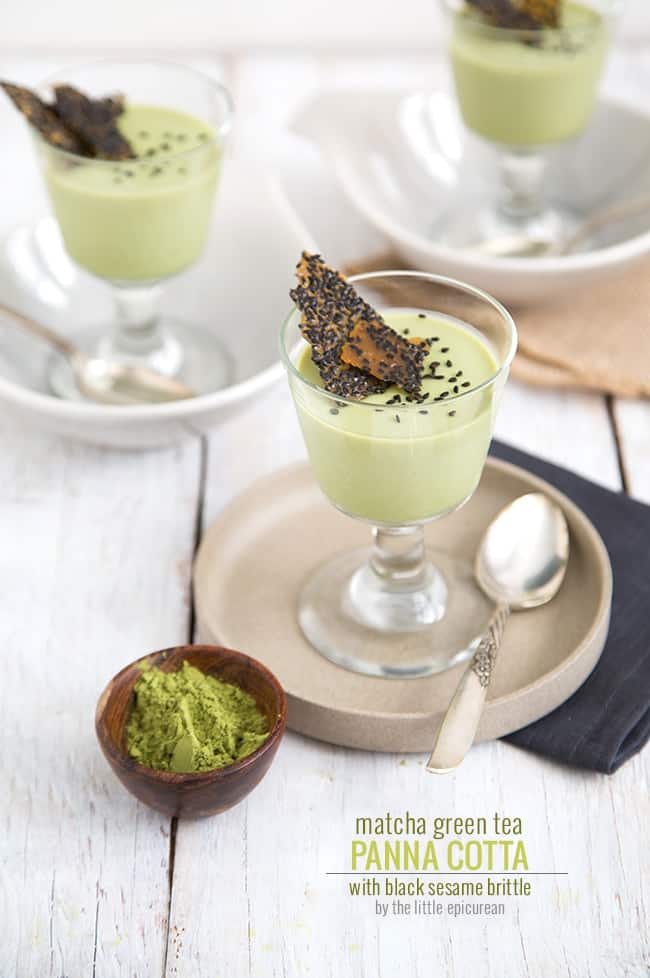 Restaurants love to serve panna cotta.  Not only is it an easy dessert to make, it is also one of the least expensive to produce.  Panna cotta keeps well in the fridge and can be made ahead of time.  This one restaurant I worked at always had some variation of panna cotta on the menu.  Every single week I would have to make hundreds of little mason jars filled with panna cotta.  My favorite version: matcha green tea panna cotta!
Panna cotta is Italian for "cooked cream."  Fittingly named, panna cotta is essentially a cooked mixture of milk, cream, sugar and gelatin.  You can play around with the combination of milk and cream to make the dessert super rich and creamy, or a tad bit on the lighter side.  I opted for the latter and I used 2% milk instead of whole milk.  Great thing about panna cotta, it can also be made dairy-free by using coconut milk.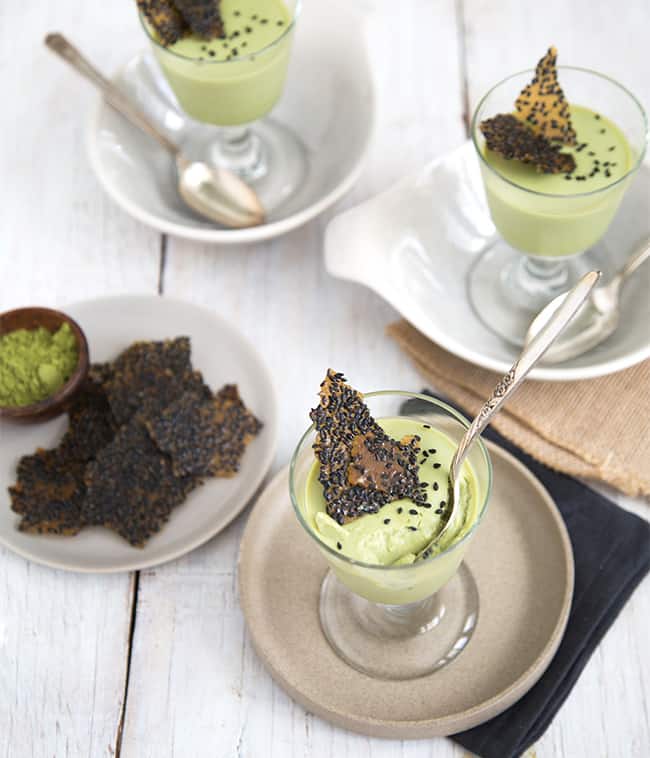 The flavor possibilities for panna cotta are endless.  Spices, herbs, and tea can be steeped in the cream to infuse flavor.
This week, I've been trying to cut back on my coffee intake.  You know your caffeine addiction is getting out of hand when you've had three shots of espresso before noon.  So as of today, I'm going to swap out that extra cup of coffee with green tea.  I love green tea.  I love its pretty hue of green, its intoxicating aroma, and the way it pairs so well with many dishes.  Its antioxidant properties and health benefits are also a plus.
My favorite aspect of panna cotta- you can use all sorts of different glasses, cups, and jars to serve them in.  These lovely little goblets that I used are courtesy of Alex's grandmother.  She had given us a bunch of stemware and plates that she no longer uses.  The little food stylist in me rejoices because I have new props to play with!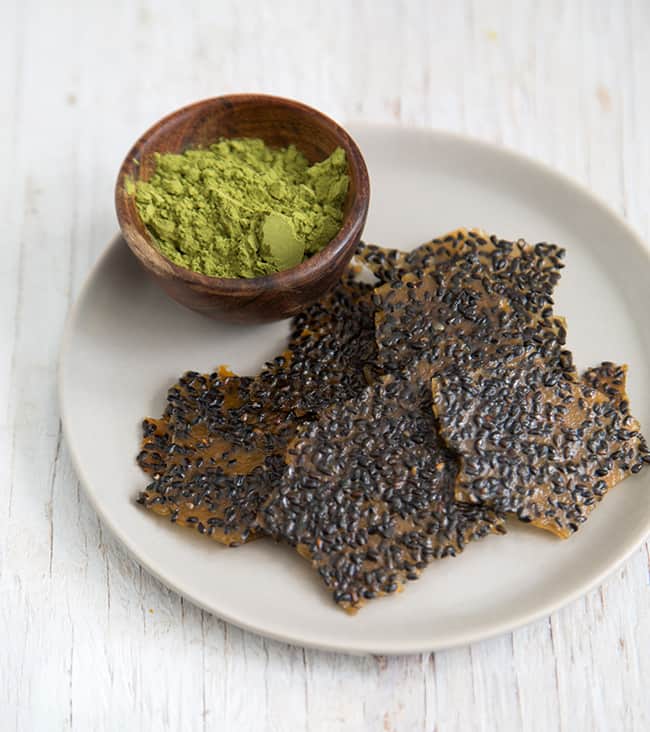 To go along with my matcha green tea panna cotta, I made this super easy black sesame brittle.  Green tea and black sesame taste amazing together.  See black sesame cupcakes with matcha cream cheese frosting for further proof.
I can only eat so much panna cotta because I get bored of the silky texture.  In order for me to finish a dessert, there must be contrast.  I need something different to keep my palate interested.  The black sesame brittle provides the perfect crunch.  It's like eating creme brûlée, except you can have as much of the burnt sugar as you'd like!
(Links to the matcha powder and gelatin sheets I used are in the recipe below.)
Matcha Green Tea Panna Cotta with Black Sesame Brittle
Yield: about 2 1/2 cups or 5- 4oz servings
Ingredients:
Black Sesame Brittle:
25 grams glucose, or light corn syrup
5 mL water
65 grams unsalted butter
pinch of salt
80 grams granulated sugar
50 grams toasted black sesame seeds
Directions:
In a small sauce pot, combine cream, milk and sugar.  Set over medium heat and cook until sugar has dissolved.
Place matcha powder in a small bowl.  Whisk in a couple tablespoons of heated cream mixture.  Mix until it becomes a smooth paste.  Add matcha paste to rest of heated cream.  Whisk until incorporated.  Remove sauce pot from heat and let cool slightly.
Bloom gelatin in a bowl of ice cold water for about 2-3 minutes.  Once soft, squeeze out excess moisture and add gelatin to sauce pot.  Stir until gelatin dissolves.
Strain mixture into a spouted cup.  Pour mixture into desired serving containers.  Let sit at room temperature for about 10 minutes then transfer to fridge to set.  Let panna cotta rest in fridge for at least 3 hours.
Black Sesame Brittle:
Preheat oven to 400 degrees F.  Line baking sheet with silicone baking mat.  Set aside.
In a small sauce pot, combine glucose, water, butter and salt.  Set over medium heat and cook until butter has melted.  Stir as needed to ensure even heating.
Once mixture is liquid, add sugar.  Bring to a boil.  Remove from heat and add sesame seeds.  Stir to combine.  Pour mixture onto prepared baking sheet.
Bake for 10-12 minutes until sugar is boiling and has turned amber brown in color.  Let cool to room temperature to allow brittle to set and harden.  Once cool, use your hands to break up the brittle. Serve alongside panna cotta.
*Note: Due to the small amount of brittle in this recipe, I used a kitchen scale to measure it out in grams.