Aloha, again!
This is part two of my Hawaii adventure with my family.  We spent the first three days in Maui and ended our trip in lovely Kauai.
What to see, do, and eat in Kauai:
Kauai is the oldest of the Hawaiian islands and by far the most beautiful.  It is so lush, so green, and so alive.
Called "The Island of Discovery," there is so much to see and do in Kauai.  Whether you seek adventures through hiking or kayaking, or simply want to relax on the beach all day, you can find it on this island.  And one interesting thing you'll find plenty of in Kauai are chickens.  Hundreds of chickens just roam Kauai. You'll find them crossing the street, hanging out at the airport, or even just wandering around the fields.
One thing to note: most places close very early in Kauai.  Plan accordingly.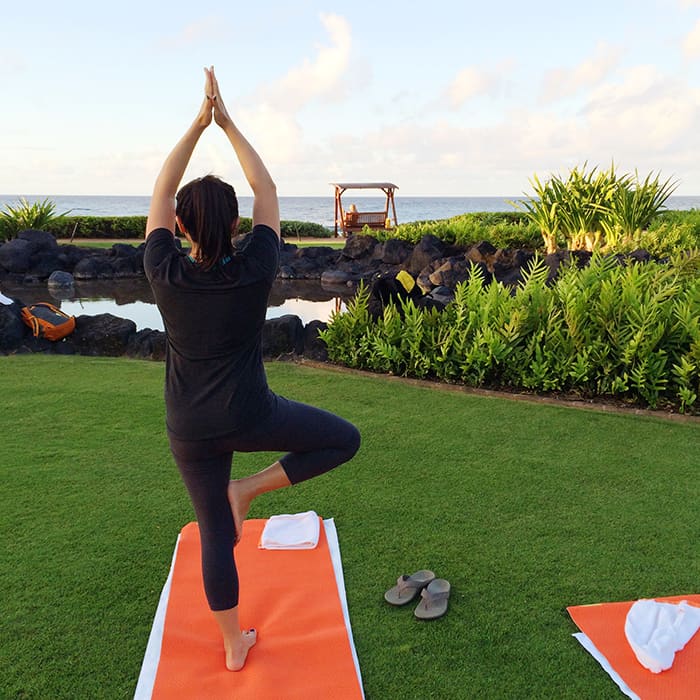 Accommodations:
I debated between staying in the North Shore (Princeville) or South Shore (Poipu) of Kauai.  After tons of research, I ended up choosing the Grand Hyatt Kauai in Poipu. While the luxury resorts of Princeville were very enticing, I didn't want to spend all my time in the hotel.  Since I wanted to explore, I chose Poipu because it is centrally located for most of the activities we wanted to do.
Grand Hyatt Kauai is a massive resort.  While there are over 500 guest rooms, you never feel crowded.  The way the resort is laid out allows for much exploration and there are plenty places you can claim all to yourself.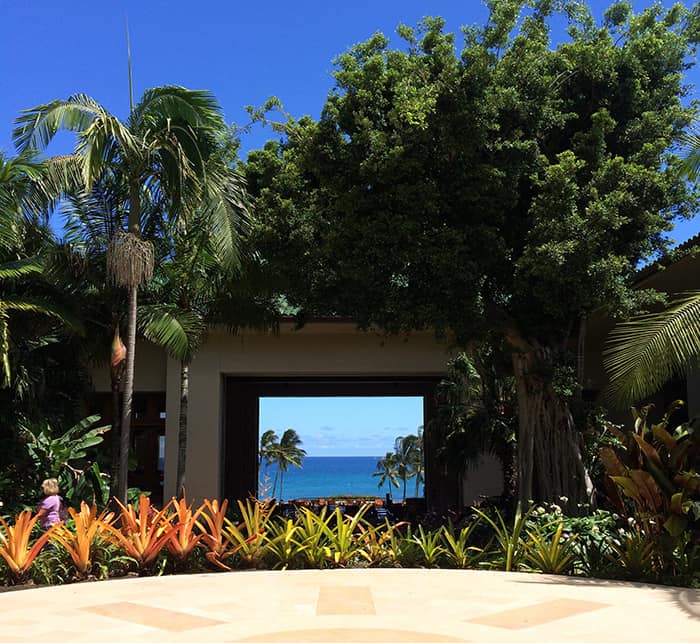 There are multiple pools and direct beach access from the hotel.  There is even a saltwater swimming pool large enough to kayak and learn how to scuba in.  I really enjoyed strolling through the gardens of the resort.  At night, I loved walking around and being able to see the stars so clearly.
Recently renovated, the Grand Hyatt Kauai is a well kept resort.  It is great for families and couples.  While they have plenty of eateries, we never ate at the restaurants located on the property.  The resort is centrally located and close to shops and restaurants.
Transportation:
Everything in Kauai is spread out.  If you're planning on exploring the island, you will need to rent a car.  Just like Maui, we reserved our cars through Costco Travel and rented the car through Budget.
Driving around Kauai is very relaxing and scenic.  I've never seen so much green!  However, be aware that speed limits are very slow (under 35 mph) and there are cops everywhere.  I saw so many cars being pulled over for speeding.  Drive the speed limit and enjoy the view.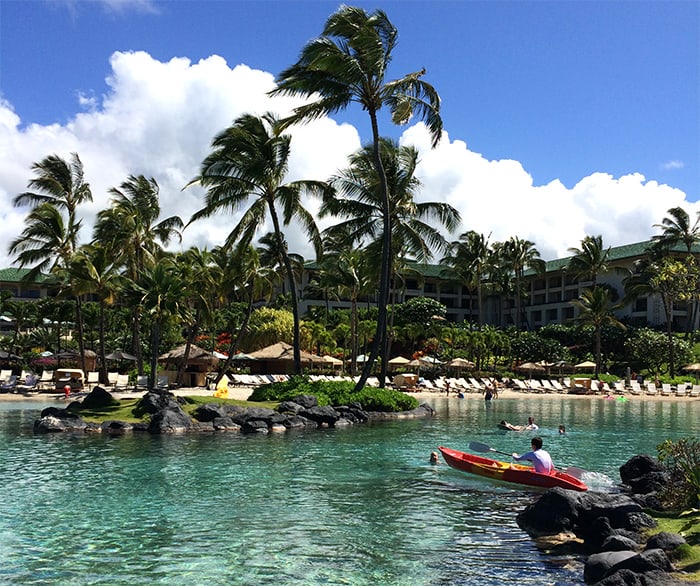 Highlights:
The Napali Cost is beautiful, breathtaking, and a must see when you visit Kauai.  There are three ways to experience this area: by air, on foot or by sea.   The helicopter ride was way too expensive.  The 11-mile hike was too time-consuming and a bit dangerous.  We chose to take a boat tour.
Capt. Andy's boat tours depart from Port Allen, about a 20-minute drive from our hotel in Poipu.  Reserve for Napali boat tours early as they sell out quickly.  The early morning tours are for the adventurous.  You can choose from cave tours, fishing excursions or kayaking expeditions.  The afternoon tours are more relaxing and romantic, think sunset dinners.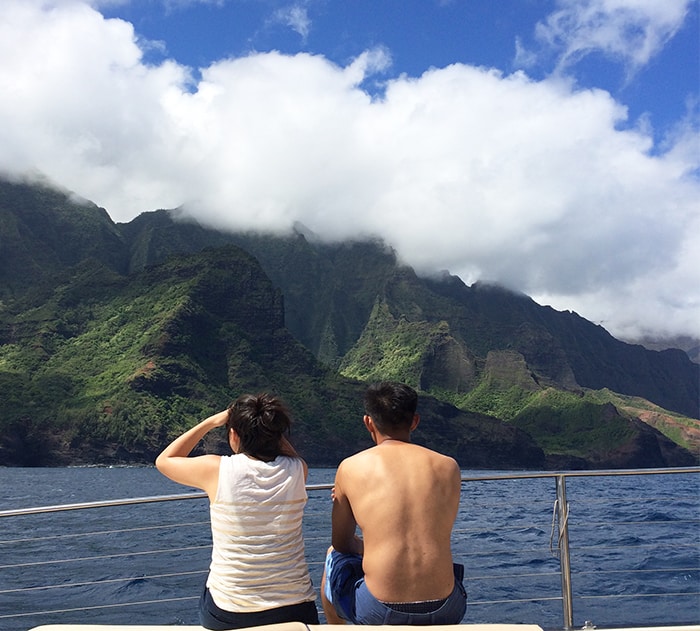 My brother, Alex, and I opted for the Napali Coast tour that included snorkeling.  After snorkeling, you get a bbq lunch and unlimited beer.  Yes…the open bar kind of won us over.
The tour was a lot of fun and well worth the money.  The captain was very entertaining, but also quite knowledgable and informative about the history of Hawaii.  The entire staff was incredibly friendly and hospitable.  As soon as we hit choppy waters, someone was there to ask if you needed ginger ale or sea sickness medication.
We saw a lot of dolphins and a handful of giant sea turtles along the way.  All the snorkeling gear is provided.  Be sure to bring sunscreen, sunglasses, and a hat.  There is no cover from the sun on the boat, unless you sit inside, which is boring.  Even if it looks cloudy out, you will get sunburned.  I did. Don't be like me, reapply sunscreen often.
Overall, Capt. Andy's boat tour was an amazing experience.  We were able to see things that we would have otherwise missed on our own.  Waters can be choppy.  I wouldn't suggest bringing a nice camera, bring a Go-Pro if you have one.   Pictures and videos don't do the Napali Coast justice.  Instead of trying to take as many photos as possible, just sit back and enjoy the vista.  Just absorb everything.  Memories far exceed photos.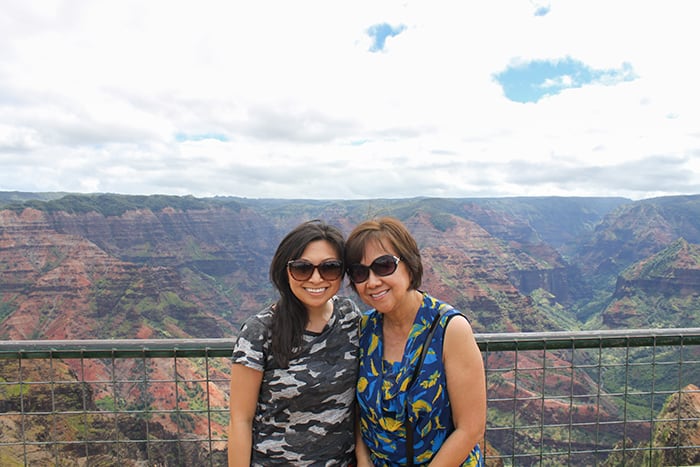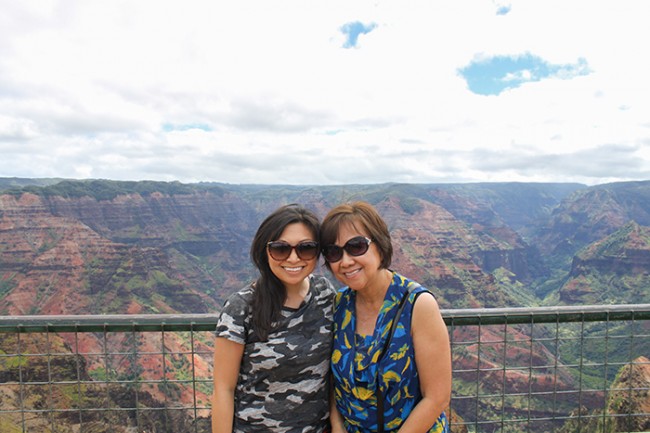 Often called "The Grand Canyon of the Pacific," Waimea Canyon is a stunning representation of nature's power and beauty.  Waimea is Hawaiian for red water and it refers to the red hued soil of the Waimea River and canyon.
There are numerous trails for hikers.  Maybe we'll try them next time.  There are various lookout points to view different angles of the canyons.  Be careful when driving up.  There are many winding roads and blind curves.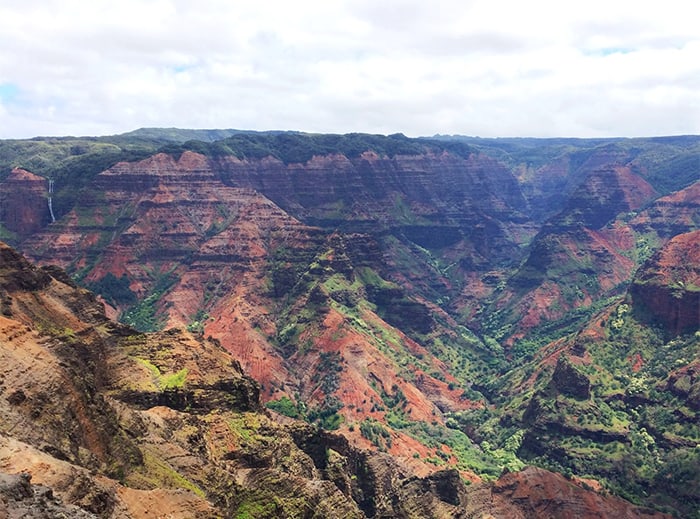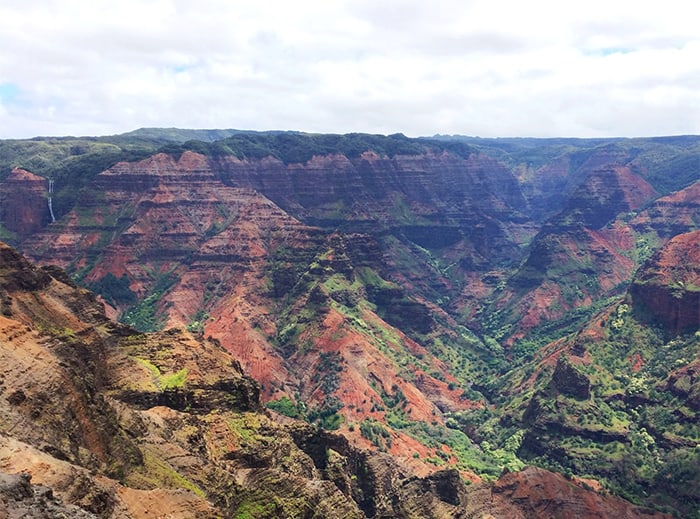 The Grand Hyatt Kauai boasts a 45,000 square foot spa, the largest on Kauai.  I couldn't resist.  I booked a relaxing lomi lomi massage.  Greatest thing about this spa, treatment rooms each have their own private tropical garden.
Attached to the spa is the hotel's 24 hour fitness center. If you are a guest of the hotel, they offer free fitness classes daily.  I convinced Alex and my brother to wake up at the crack of the dawn and join me for Sunrise Yoga on the beach.
After visiting Waimea Caynon, we drove to the town of Waimea for lunch.  Having read so many great reviews of Island Taco, we decided to give it a try.  Check out my Tastemade video above.  I recommend the cajun spiced mahi mahi tacos.  Word of warning, their tacos are huge!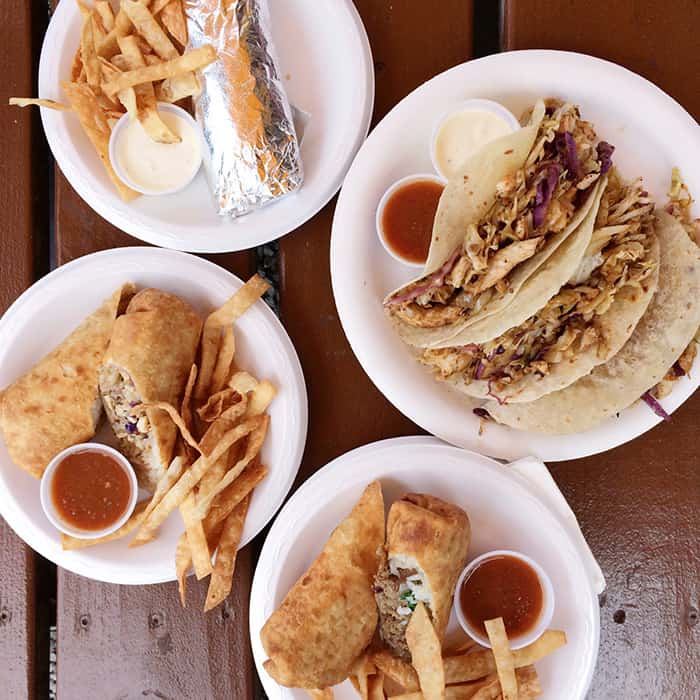 Bubba's has three locations in Kauai (Hanalei, Kapaa, and Poipu), making it convenient no matter where you choose to stay on the island.   Bubba's in Poipu is their newest location and it is an easy 5-minute drive from our hotel.  Bubba's serves old fashioned burgers using local Kauai grass-fed beef.  It's a nice chill place to grab lunch or a late meal.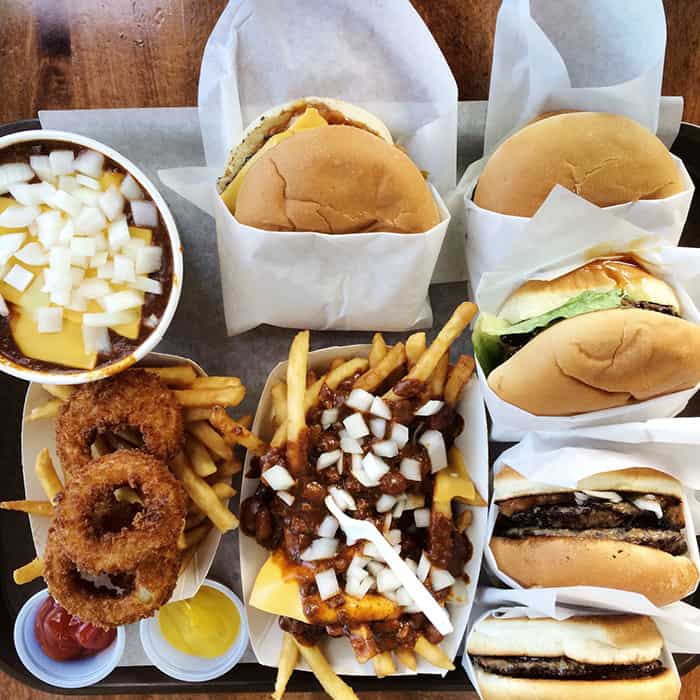 Mark's Place is a small eatery tucked away in an industrial park near the airport.  It's not a place you will just randomly stumble upon.  Finding food in Kauai is not the easiest task. For the most part, everything closes so darn early!  I had wanted to try Mark's Place when we first arrived in Kauai, only to find out they are closed on Sundays.  On our way back to the airport at the end of our trip, we made it to Mark's for an early dinner.
This tiny place gets packed!  Portions are huge, food is very tasty and decently priced.  I suggest getting Mark's Famous Mixed Plate and sharing it between two people.  It comes with chicken katsu, teriyaki beef and beef stew.  It's A LOT of food for one person. Oh, and it comes with a giant scoop of rice and macaroni salad.
Of course I couldn't travel anywhere without getting ice cream.  My dad and I got Lappert's ice cream two out of the three nights in Kauai.  Lappert's Hawaii has locations in Oahu and Maui as well, but the original is in Hanapepe, Kauai.  They have so many ice cream flavors (and sorbets) to choose from.  My favorites: Kauai Pie (Kona coffee ice cream swirled with fudge, coconut flakes, and macadamia nuts) and Banana Fudge.