Aloha!
Two weeks ago, my Instagram feed was bombarded with pictures of my Hawaii trip.  My family and I (and Alex) spent three sunshine filled days in Maui and three lovely days in Kauai.  It was our first time to both islands.  As a kid, my parents took us to Oahu but that way many, many years ago.
72 hours in Maui is TOO short.  I would have loved to stay there for weeks, months, heck, even an entire year.  But we decided to explore two islands, hence only three days in each place.  Here are the major highlights of our trip!

Accommodations:
When I travel, I'm used to staying at hotels.  One thing to note, I'm used to traveling alone or with just one other companion.  The last time I went on vacation with my entire family was some 10 years ago.  Rather than book multiple rooms at a traditional hotel, we opted to try something new.  I found a great deal on a time-share/condo/hotel.  It was a two-bedroom, two-bath suite complete with a giant living room, dining room, a full kitchen and an in-unit washer & dryer.  But the best part– a huge patio with amazing ocean views.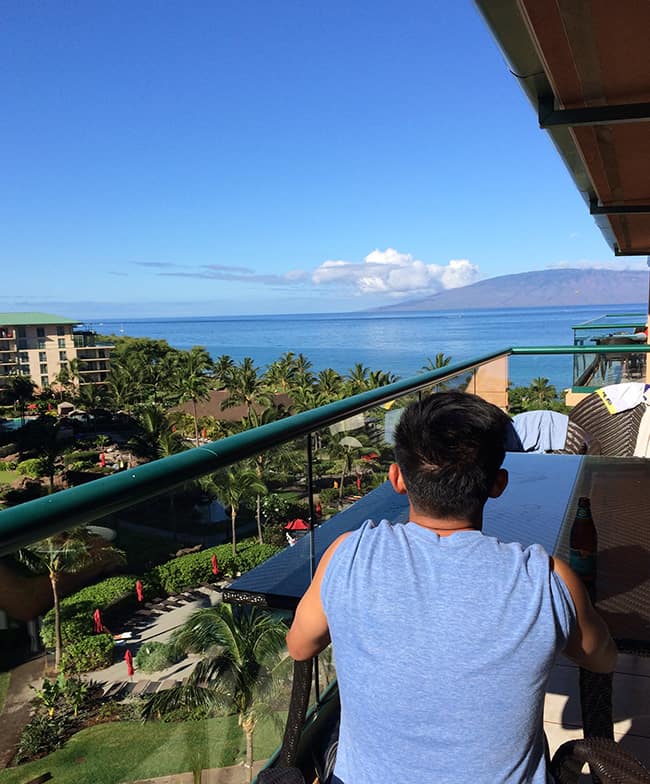 Transportation:
There is no way around it.  You need to rent a car on Maui (and on Kauai, but we'll talk about that in another post).  Although there is public transportation on the island, it may take you hours to get to your destination.
It's super easy to rent a car from the airport.  But if you want to play it safe (which I always try to do), reserve your car ahead of time.  For this trip, we set up our cars through Costco Travel and rented the car through Budget.  One great thing about booking through Costco, Budget has a special (and much shorter line) for Costco members.  And when you're on vacation, you want to start ASAP.  Who wants to wait around in a long line?
Trip Highlights:
I come from a Costco loving family (so does Alex).  Our first stop from the airport was to the nearby Costco (only 2 miles from the airport!).  We stocked up on water, juices, and alcohol to take to the hotel.  Once interesting thing to note about Hawaii Costco- they sell fresh poke and shrimp ceviche by the pound, as well as a selection of sashimi and sushi.  Also, a great place to refuel the rental car before returning it.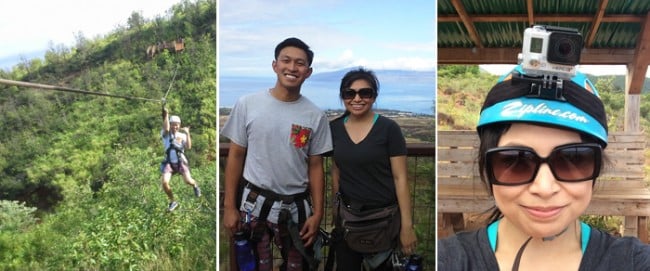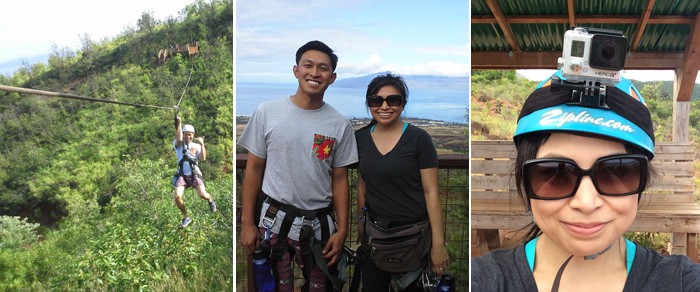 I'm afraid of snakes, bees, and tornados, but I can handle heights.  For those who seek a thrilling adventure, I highly recommend ziplining.  Skyline Eco Adventures was a short 10-minute drive from the hotel.  They offer two completely different zipline courses.  I chose the one in Ka'anapali because you get sweeping ocean views.  The other course in Haleakala is tucked away in a more forest-like environment.  Our guides Tony and Jordan were the best!
There were 10 people in our tour group.  Only person can zip at a time.  Tony and Jordan were very entertaining, making even downtimes enjoyable.  Not only did I have an exciting time, I laughed a lot.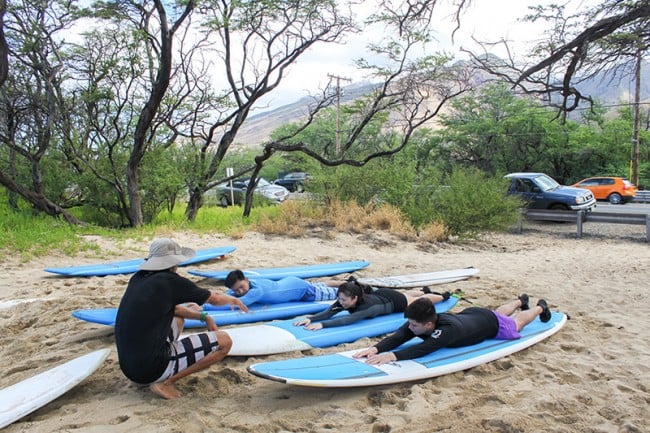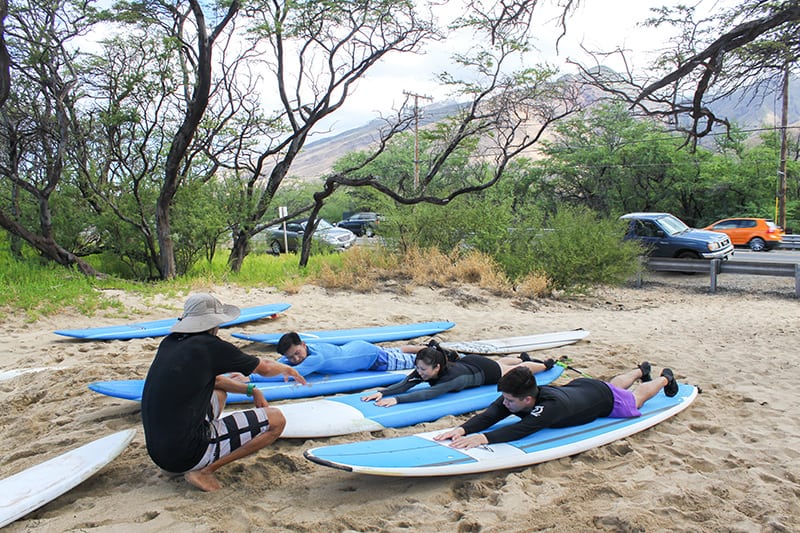 Surfing at Ukumehame Beach//Zack Howard Surf
You would think that since I grew up in Los Angeles/Orange County, that I'd go surfing all the time.  So not the case.  The waves in Los Angeles beaches don't compare to those in Maui.
My brother, Alex, and I booked a private session with Brett.  The surf school provides the boards, rash guards, and surf booties.  I've had other lessons in San Diego before, but Brett's instruction was by far the best I've ever had.  Not only was he very informative, but he was super encouraging and patient.  By the end of our lesson, all three of us were able to comfortably stand up on the board and ride a couple waves.


I thought all shaved ice was created equal until I tried Ululani's Hawaiian Shave Ice.  Most shave ice is coarse, grainy, and crunchy.  But Ululani's shave ice is silky, creamy and pillow-like.  It's unlike anything I've ever tried before.  They have this huge contraption that finely shaves ice into this amazingly fluffy and light treat. It melts when it hits your tongue like cotton candy.  Ululani has a bunch of flavored syrups that they make themselves.  After you order your flavors, they'll ask if you want a snow-cap.  The answer is YES, always YES.
On the last night of our Maui trip, we had a fancy dinner at Lahaina Grill to celebrate my birthday.  Lahaina Grill has numerous awards and recognitions.  They're continually voted best restaurant in Maui.  For good reason, too!  The meal we had here was hands down the best meal during our Hawaiian adventure.
Everyone that works there takes so much pride in the food and their job.  Never had I encountered a staff so dedicated to their craft.  If you ever find yourself in Maui celebrating anything of importance, reserve a table here.  You'll have a great and memorable meal.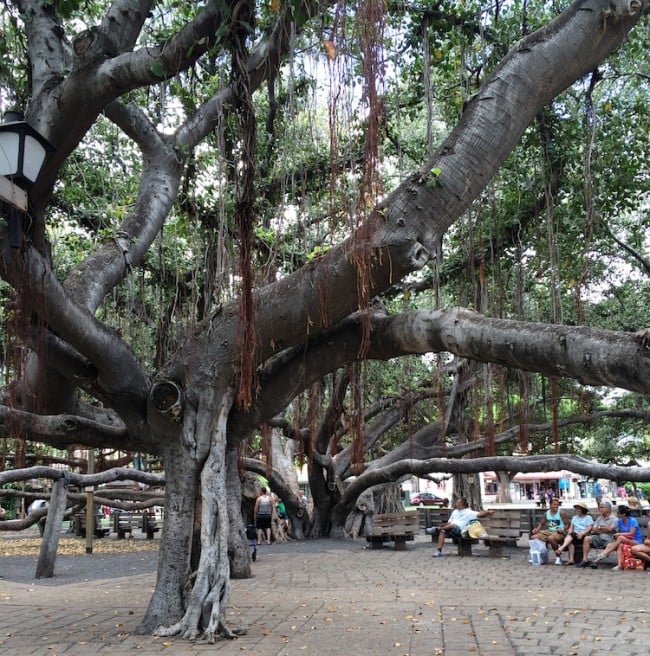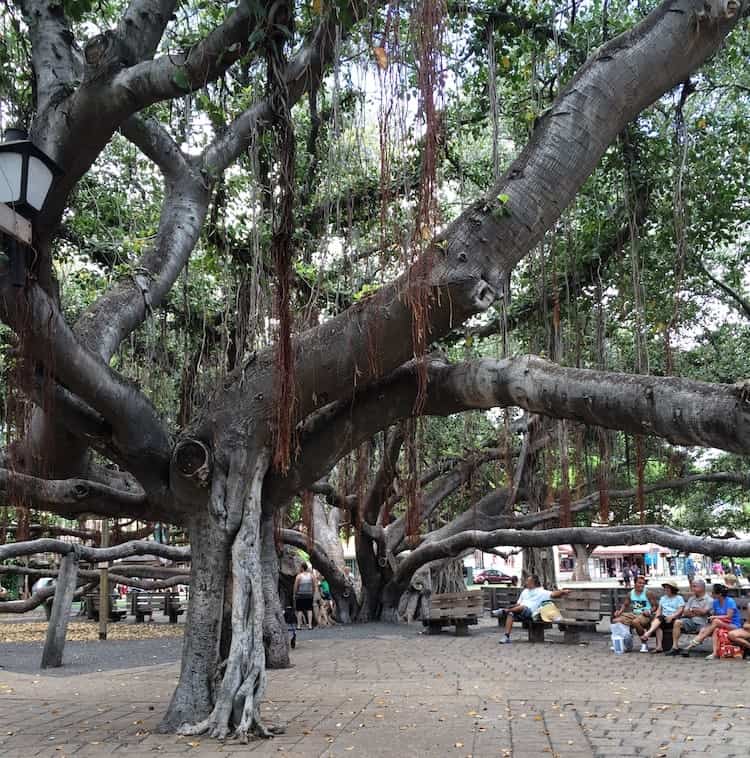 Banyan Tree and Front Street in Lahaina
Lahaina is the major town on the west side of Maui.  Front Street is filled with shops, eateries, and art galleries.  At the end of Front Street is this giant Banyan Tree.  It takes up an entire block.  It is quite an impressive sight.
There is so much more to Maui that I was unable to visit.  We mainly stayed on the west side of the island.  Friends that had visited Maui (or lived in Maui) before, all recommended I drive the Road to Hana.  After looking at the map and talking with locals, I decided not to do the drive.  My dad and I get super car sick and a three hour drive through winding and twisting roads does not add up to a good idea.  Plus, since we were there during peak season (meaning tons and tons of tourists and visitors), the Road to Hana would be packed.  The drive includes many bridges that only allows for one lane to pass at time.  We'd end up wasting too many precious hours.  I'll save the drive for the next time I am in town (when I remember to bring plenty of Dramamine).
Check out my Instagram account and search for #tletravels to see more of my Hawaii pictures!