No need to turn on the oven with this slow cooker creme brûlée recipe!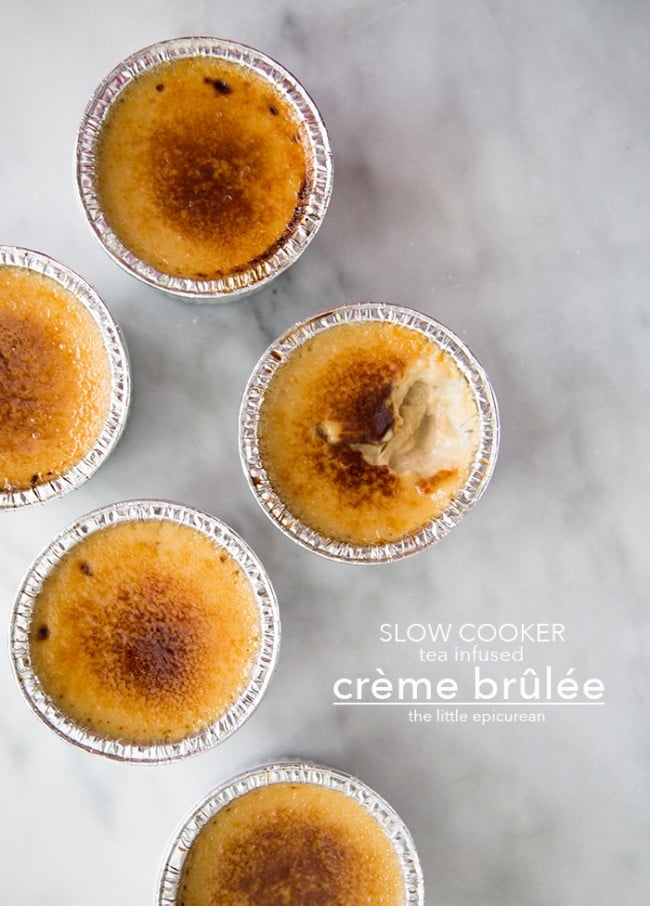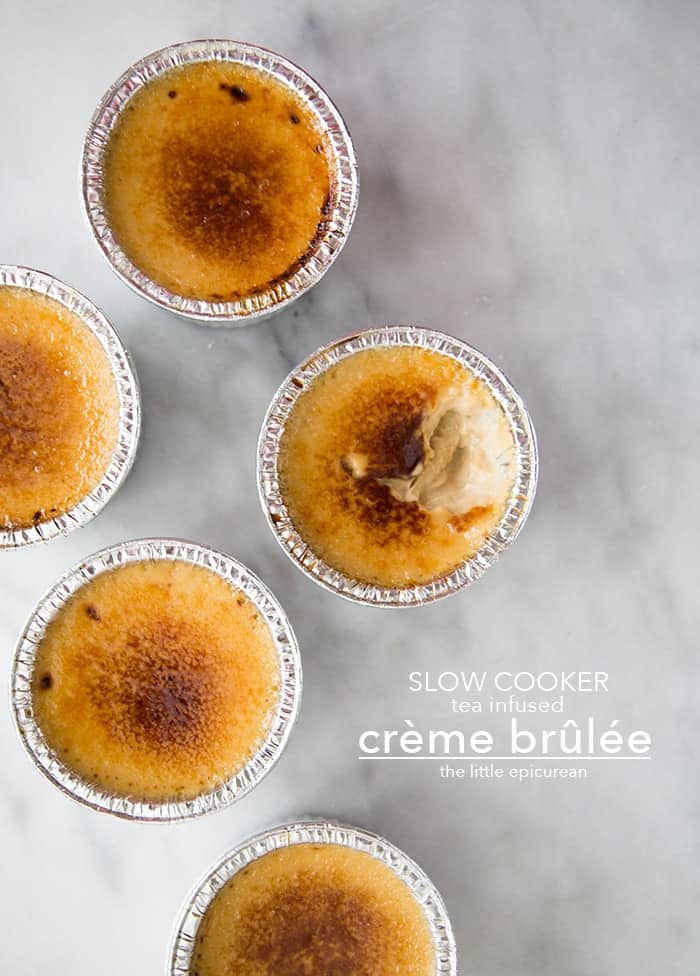 There are few things that scare me in the kitchen: breaking down and cooking fish, dull knives, and taking a water bath out of the oven.
On more than one terribly unfortunate occasion, I have spilled hot, hot, HOT water all over the floor and splashed it all over my legs. Yes, simmering hot water all over my legs. I'm just super thankful that I have never been badly burned.
Custards Cooked in Water Bath
For the longest time, I hated making crème brûlée–simply because I did not like removing the crème brûlée ramekins and water bath out of the oven.
Custards and other egg based desserts need to be cooked "low and slow" to prevent that unwanted eggy-taste. Don't try to cook crème brûlée without a water bath.
The custard needs to be gently heated so it doesn't turn into a rubbery, jello mess, which is the case when it is overcooked. Well, I'm happy to share with you my water bath alternative- the slow cooker!
YES, a slow cooker set on low heat turns into the ideal water bath for crème brûlée.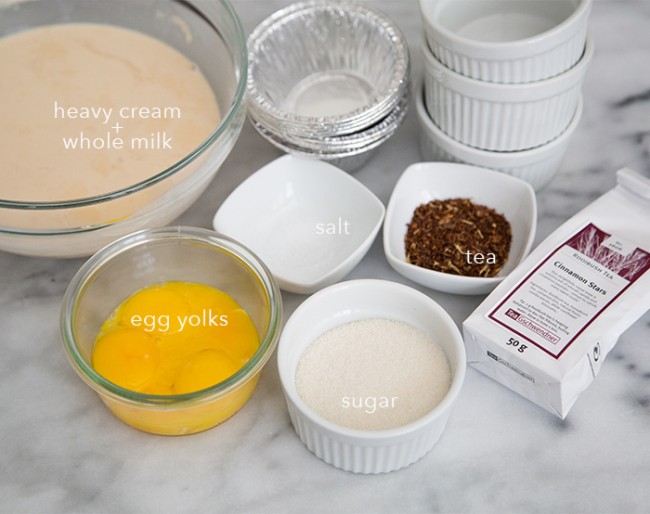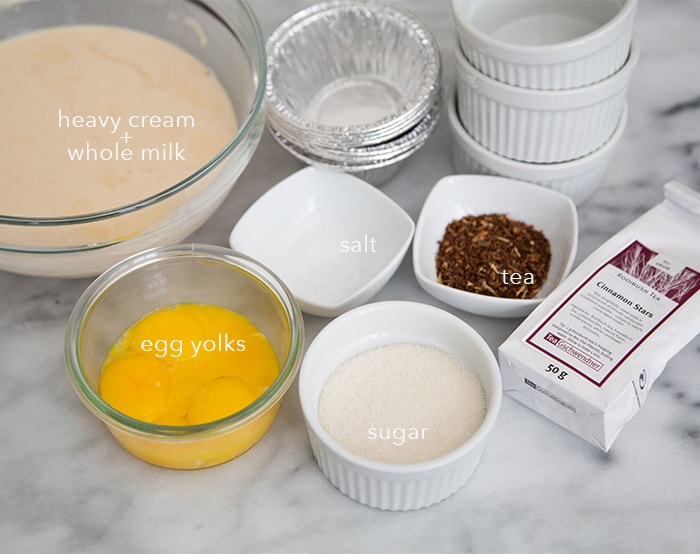 Ingredients:
Heavy cream and whole milk
Egg yolks
Salt
Sugar
Flavoring: vanilla, spices, herbs, or tea
Traditionally, crème brûlée consists of heavy cream, egg yolks, sugar and vanilla. I lightened this version a tad with the use of whole milk. Feel free to use all cream. You will end up with a creamier and silkier treat.
Instead of vanilla, I've infused my crème brûlée with tea!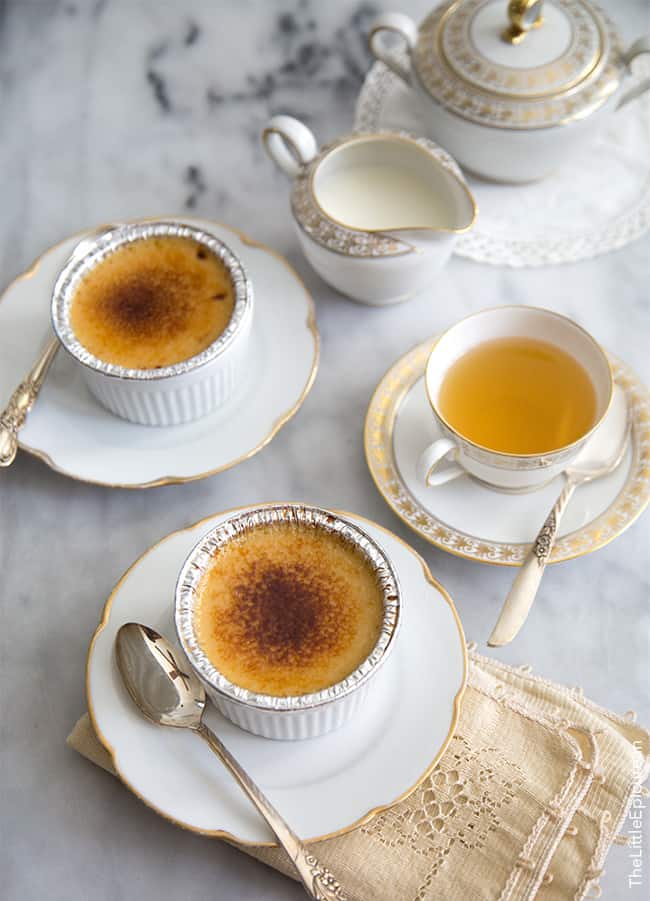 Tea flavored creme brûlée
My friends at TeaGschwendner sent me a couple bags of my favorite teas. All summer I've been sipping on cold brew Caipirinha tea.
But lately, I've been having a change of heart. I started a bit early with the fall flavors in the kitchen.
I used TeaGschwendner's Cinnamon Stars to make this tea-infused crème brûlée. Cinnamon Stars (made with Rooibos tea and honeybush tea) works wonderfully for desserts because it smells and taste like freshly baked cinnamon rolls wrapped in vanilla beans.
You can experiment with any of your favorite teas: earl grey, chai, peppermint. Any kind of tea or spice can be infused into cream. Simply bring cream to a simmer and add tea (loose or bag). Cover the pot and let tea steep until desired flavor is achieved.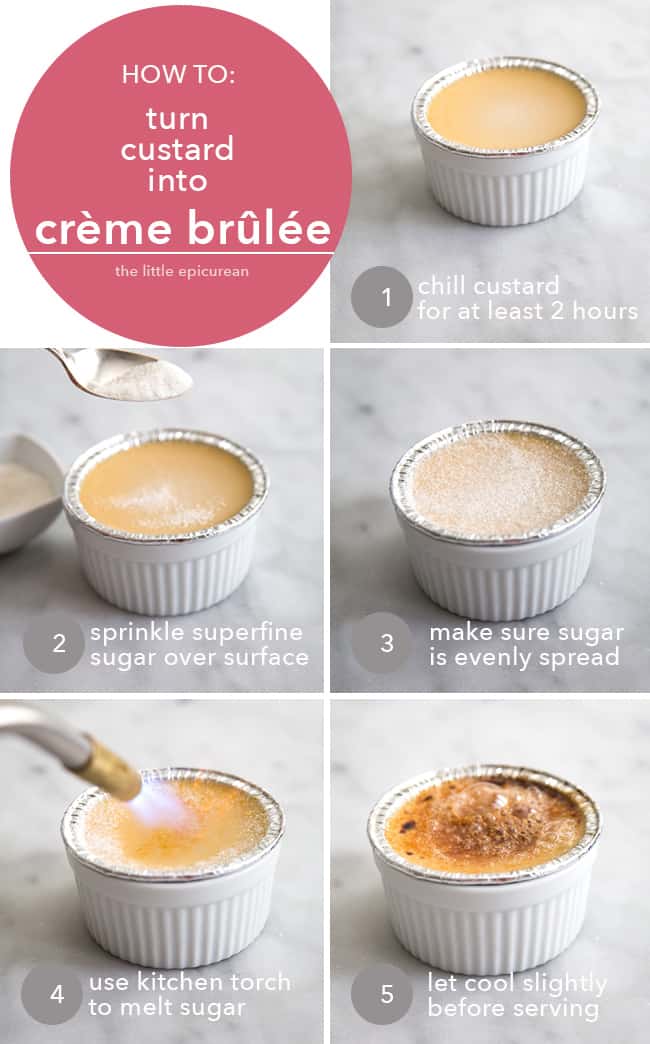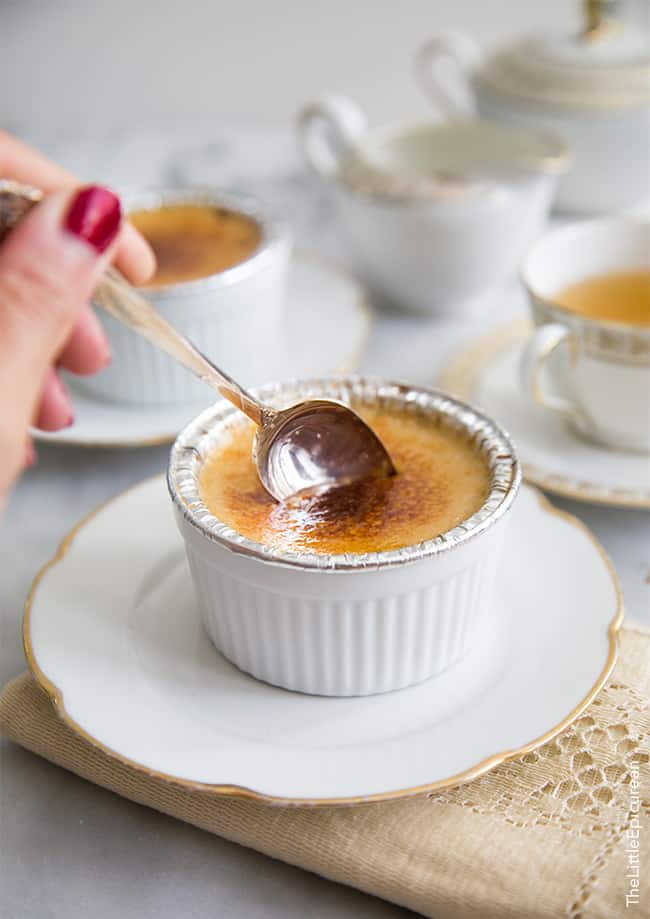 Every restaurant I've ever worked at has some sort of crème brûlée or custard/pot de crème on the their dessert menu. It is by far the easiest and cheapest dessert to make. And the best part, it can be made ahead of time in large batches.
Back in culinary school, crème brûlée was dubbed the "perfect" dessert because of its contrasting flavors and textures. Sweet silky custard encased by a slightly bitter burnt sugar crust. I like contrast. It keeps things interesting.
Slow Cooker Crème Brûlée
Crème brûlée is a dessert everyone should know how to make. It requires little ingredients and can be easily made in a slow cooker! Make it even more special by infusing tea into the custard.
Yield: makes four 6-oz ramekins
Ingredients
1 3/4

cup

heavy cream

1/4

cup

whole milk

1 1/2

Tablespoon

cinnamon star tea, or loose tea of choice

5

large egg yolks

1/4

teaspoon

fine sea salt

1/3

cup

granulated sugar

1/4

cup

superfine sugar
Instructions
Place cream and milk in a medium sauce pot. Set over medium heat and bring to a boil. Remove from heat and add tea leaves. Cover and allow to steep for 15-20 minutes. Strain out tea and discard.

Let tea-infused cream cool slightly. Transfer to a medium bowl. Add egg yolks, salt, and granulated sugar. Whisk until sugar has dissolved.

Add about 1 1/2 cups of water to slow cooker. Place four 6-oz ramekins (or disposable aluminum foil ramekin cups) in slow cooker. Fill cups with custard mixture. Make sure that the ramekins are at least half submerged in water. If necessary, add more water in the bath.

Cover slow cooker with lid. Set to cook on low heat for 2-3 hours until custard has set and registers 185 degrees F on a food safe thermometer.

Carefully remove ramekins from slow cooker water bath. Let sit at room temperature for about 10 minutes to cool. Then place in the fridge uncovered to cool, about 60-75 minutes. Once custard has completely cooled, cover with plastic wrap.

When ready to serve, remove chilled custard from the fridge. Let sit at room temperature for 15 minutes. Sprinkle about 1 tsp of superfine sugar over custard. Gently rotate ramekin around to ensure sugar is evenly distributed. Using a kitchen torch, melt and caramelize the sugar until a nice golden crust has formed. Let sugar cool slightly before serving.
Recipe Notes
Cooked and chilled custards can be kept in the fridge for up to 4 days.
Superfine sugar (also called baker's sugar) can be made by pulsing granulated sugar in a food processor. 
Note: I use this industrial propane torch with an attached trigger start. (You can easily find it at hardware stores.) It's kind of big and dangerous, but that's what I'm used to. It's great for large scale production or heavy use. However for more infrequent use, I recommend this safer compact kitchen torch.