Impress guests with this easy to make Cherry Clafoutis. It's a classic French dessert that can be made with a variety of different fruits.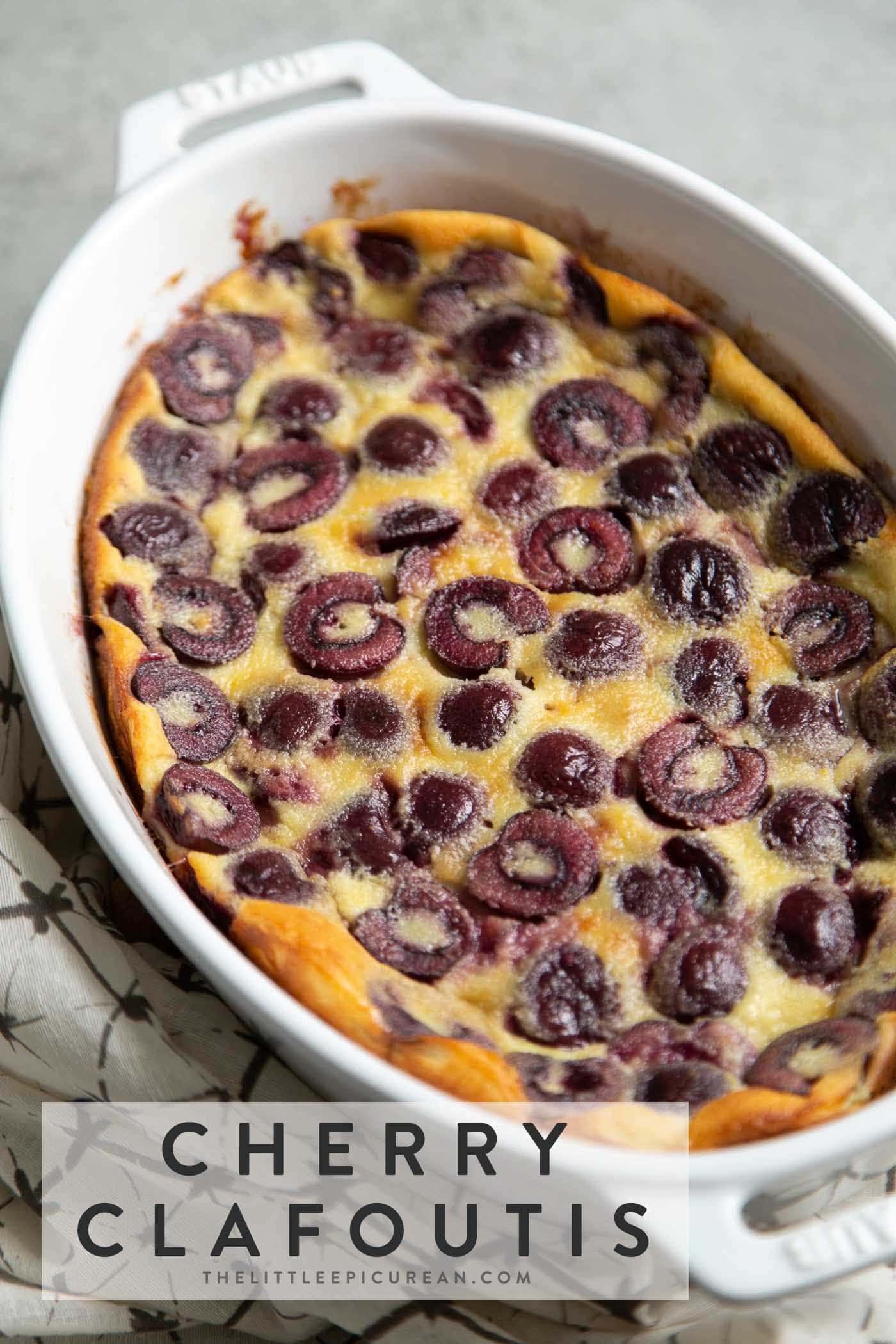 Delicious any time of day. This cherry clafoutis can be enjoyed from sun up to sun down. Serve it for brunch, afternoon snack, or after dinner dessert.
Clafoutis (pronounced klah- foo-tee) sure sounds fancy on a menu. However, I assure you, it's much easier to make than you'd think.
Clafoutis only requires a handful of ingredients and very little effort!
What is a clafoutis?
Clafoutis is a French custard based dessert that is traditionally made with fresh cherries.
The resulting baked good is a hybrid between crepes and bread pudding. It mixes the qualities of German pancakes (Dutch baby cakes) with custard/flan.
While most often made with cherries, clafoutis can be made with a variety of soft fruits. (More on that later in the post.)
Clafoutis is firm along the edges, yet soft and creamy in the center. The batter is slightly sweet with buttery notes.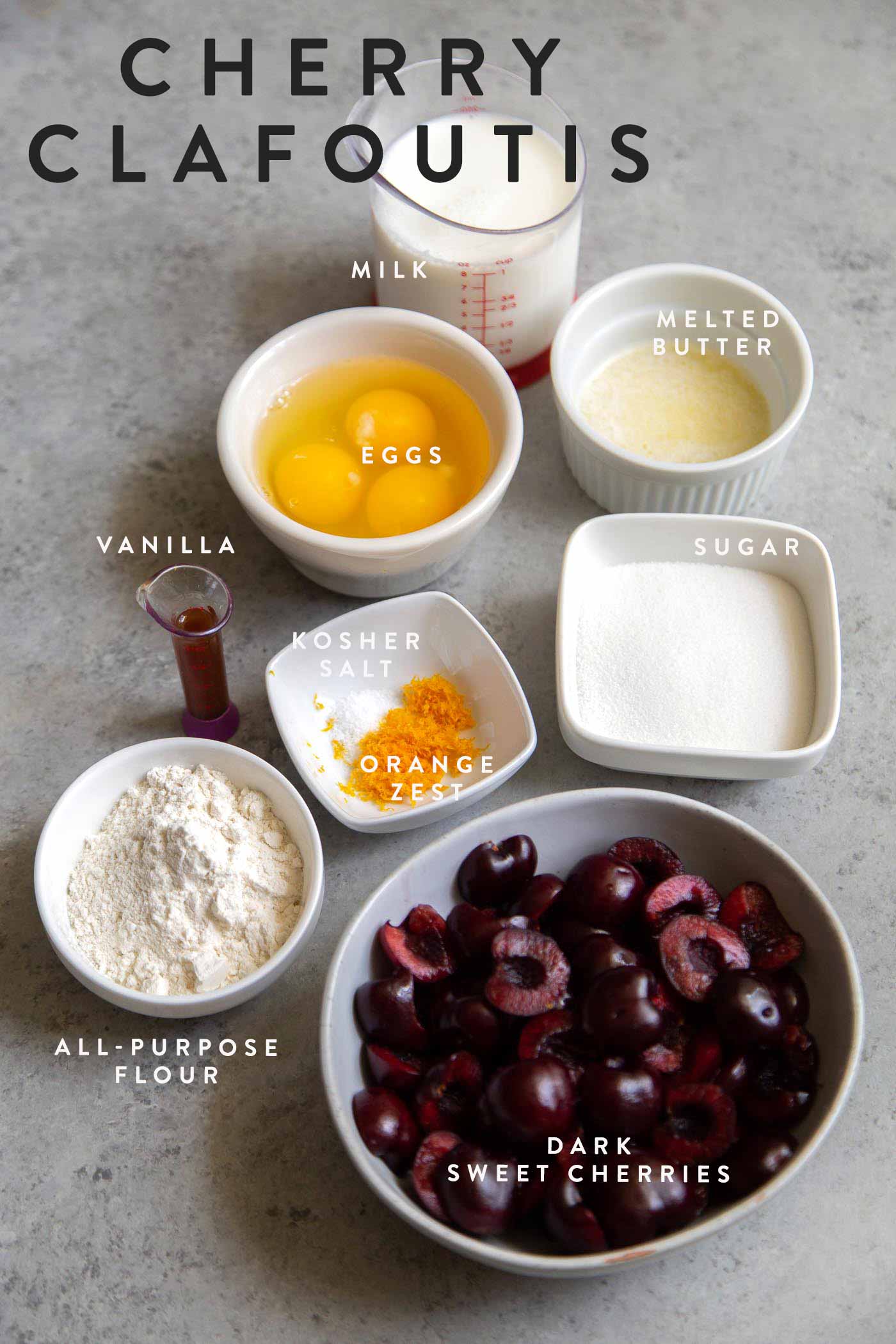 The batter is similar to that of pancakes and crepes. This version is flavored with vanilla and orange zest.
You may also use almond extract or other citrus peel. A touch of liquor or liqueur can also be added, like in this whiskey peach clafoutis.
Ingredients:
Milk
Whole milk or 2% milk are ideal. For a richer batter, go ahead and use heavy cream or half & half.
*I have not tested this recipe using non-dairy milk or alternative milks. However, I am working on a mango coconut clafoutis recipe that will use coconut milk and coconut oil. Stay tuned for that!
Eggs
For consistency, I always bake with large eggs. Use this egg conversion chart if you have different sized eggs.
Butter
This recipe calls for unsalted butter. Omit adding kosher salt, should you choose to use salted butter.
Sugar
Granulated white sugar will result in a pale yellow colored batter. Use of brown sugar will create a warmer colored batter. However, do not substitute honey or agave.
Flour
I have only tested this recipe using standard all-purpose flour. The flour acts as a binder, helping to keep the batter homogenous.
Vanilla, Salt, & Orange Zest
The clafoutis batter is lightly flavored with pure vanilla extract and finely grated orange zest. Kosher salt adds balance and additional flavor.
Almond extract may be used in place of vanilla. Zest may be omitted or replaced with other citrus zest.
Pitted Cherries
Fresh dark sweet cherries are best. DO NOT use frozen cherries. The frozen fruit will expel too much moisture during baking, resulting in a very soggy clafoutis.
However, if you don't have fresh cherries, you have several other fruit options. More on that later in the post.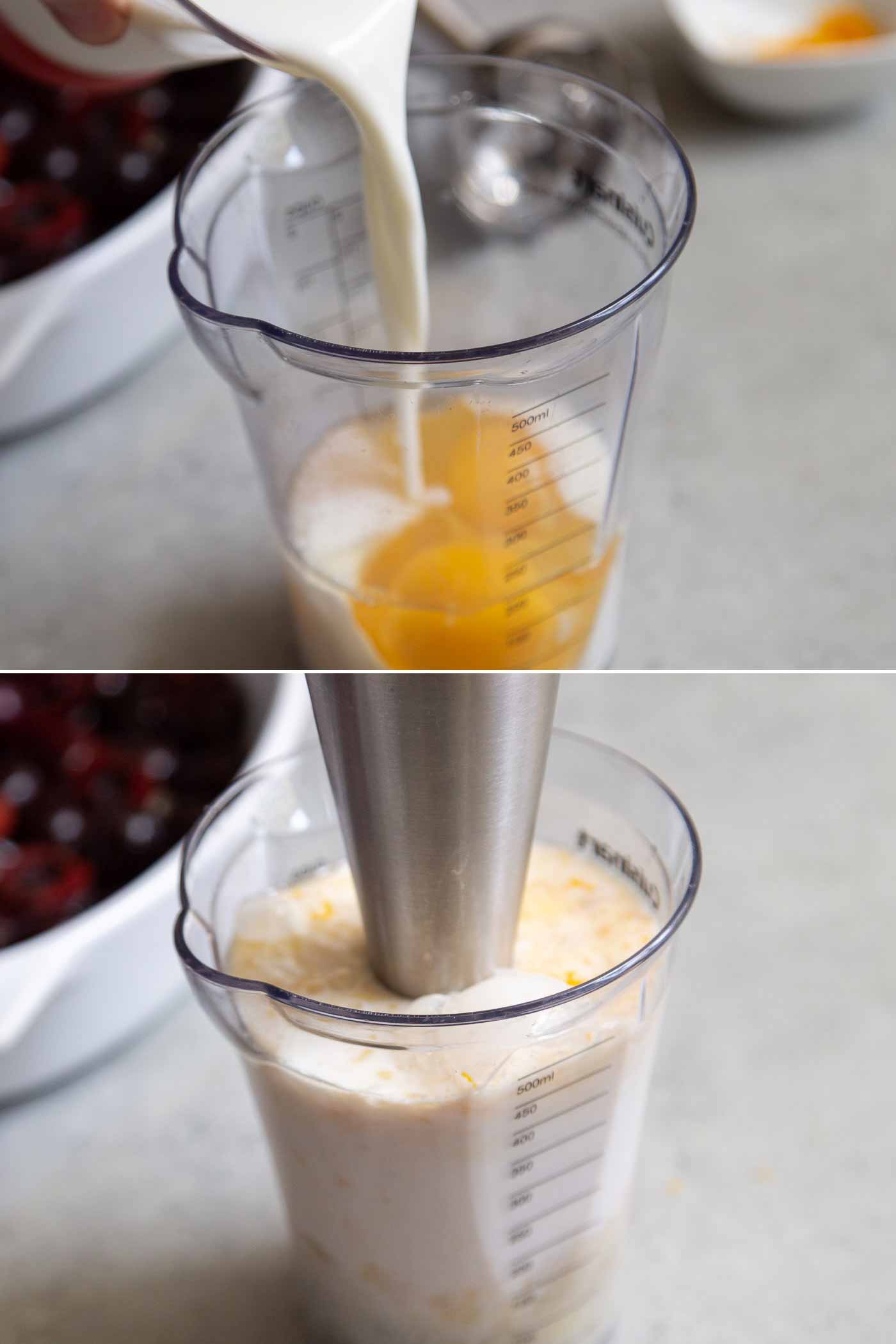 Easiest way to mix clafoutis batter
Use a blender or handheld immersion blender to quickly and easily mix together clafoutis batter!
Of course, you can also use a whisk to simply mix it all together.
Using a blender ensures the eggs are thoroughly broken up. You won't end up with any stringy baked egg white bits.
Best pans for baking clafoutis
Use whatever oven safe baking dish you've got! The dish photographed in this post is a shallow 2-quart baking dish.
The recipe also works with a cast iron pan ranging from 8-inches to 10-inches in diameter. A 9-inch pie tin or cake pan is another option.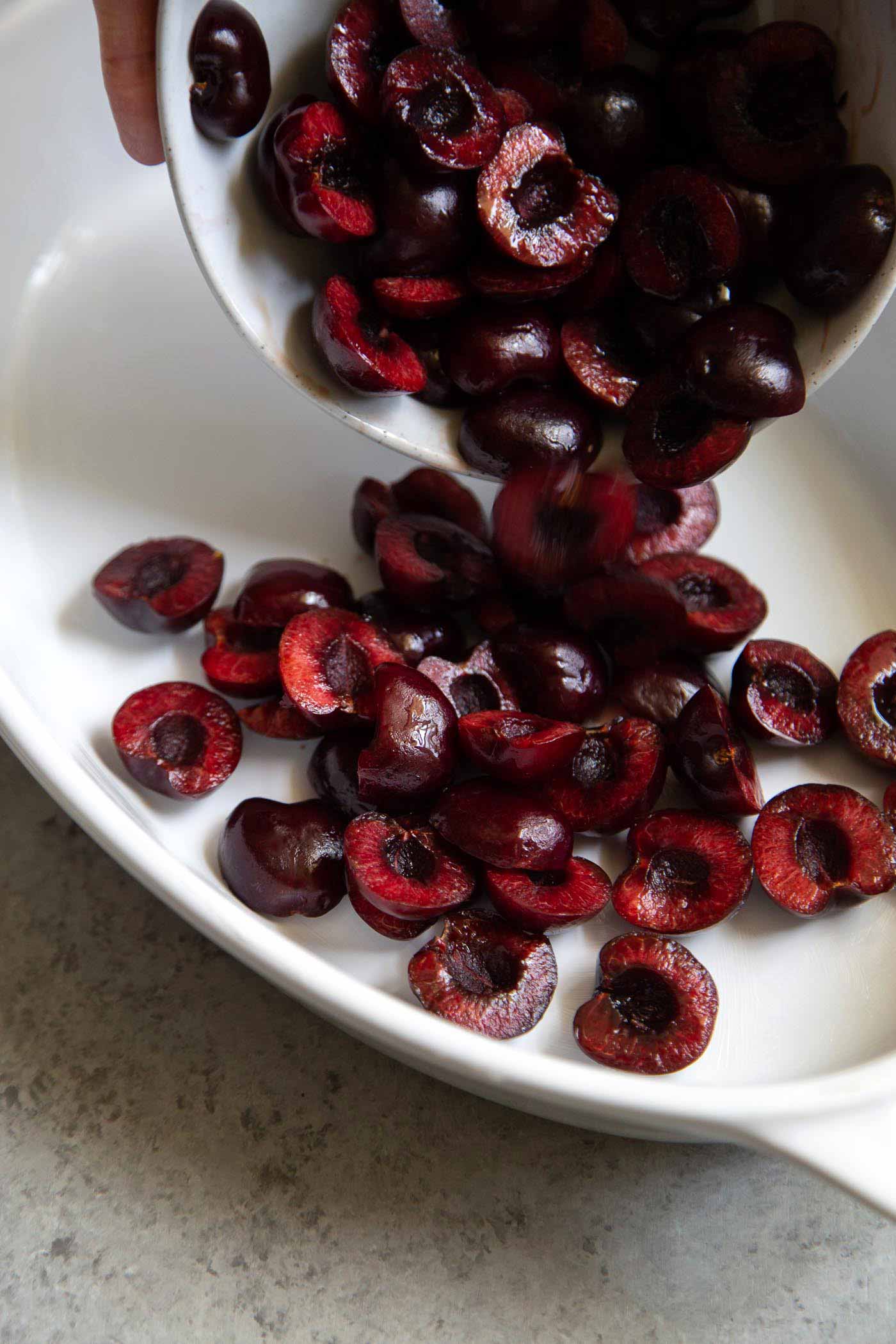 Pit Cherries or Slice in Half?
Ideally, you should use a cherry pitter to keep the cherries whole. That's one kitchen gadget I don't have.
Instead, I sliced the cherries in half and pulled out the pit. It's a bit time consuming and tedious.
I have come across several cherry pitting hacks, but have yet to try them. The Kitchn says you can use a piping tip to pit cherries. Chowhound shows you how to pit cherries using a paperclip. Kitchen Confidante teaches you to pit cherries with a metal straw or chopstick.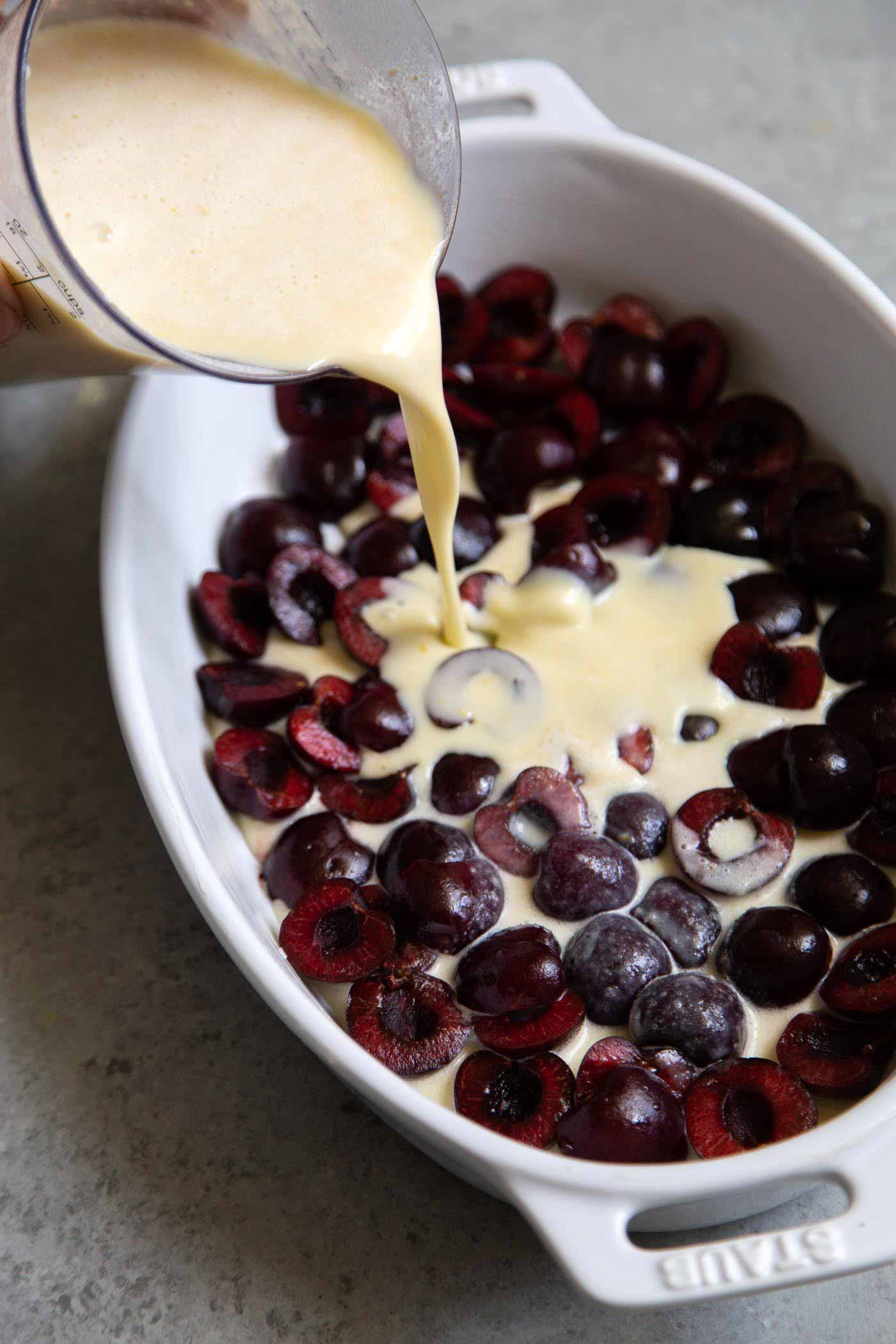 Place cherries on the bottom of a buttered baking dish. Slowly pour batter over fruit.
Pop in the oven for about half an hour. The batter will puff up and rise in the center. The edges will lightly brown and begin to pull away from the sides of the pan. But, the best part is the custard-like creamy interior.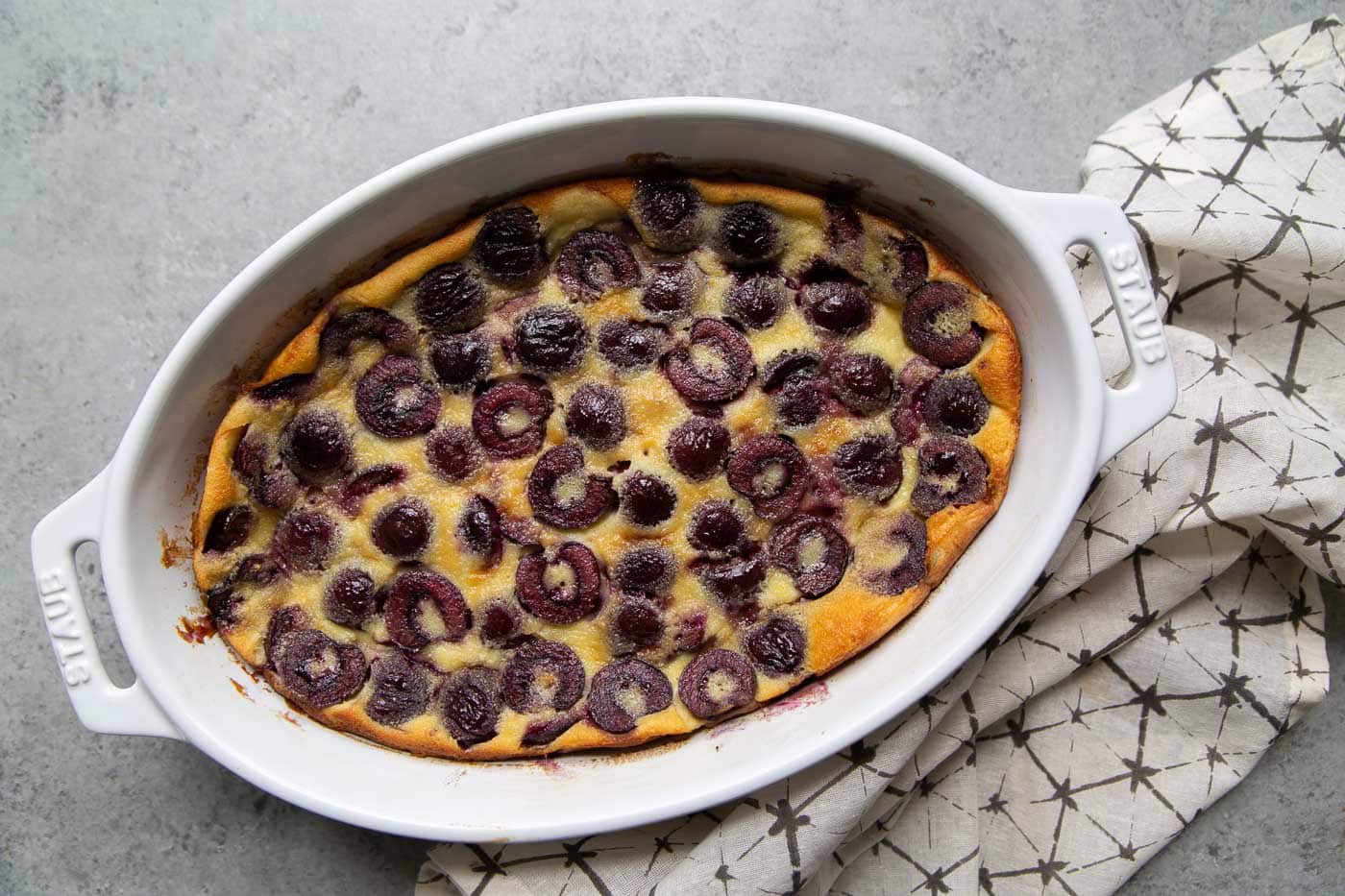 How to serve clafoutis
Clafoutis is best served warm, within 30 minutes of baking. It can also be enjoyed at room temperature.
For additional sweetness, dust with powdered sugar before serving. A dollop of whipped cream adds richness.
Store leftovers in an airtight container in the fridge for up to three days. Eat chilled or reheat before serving.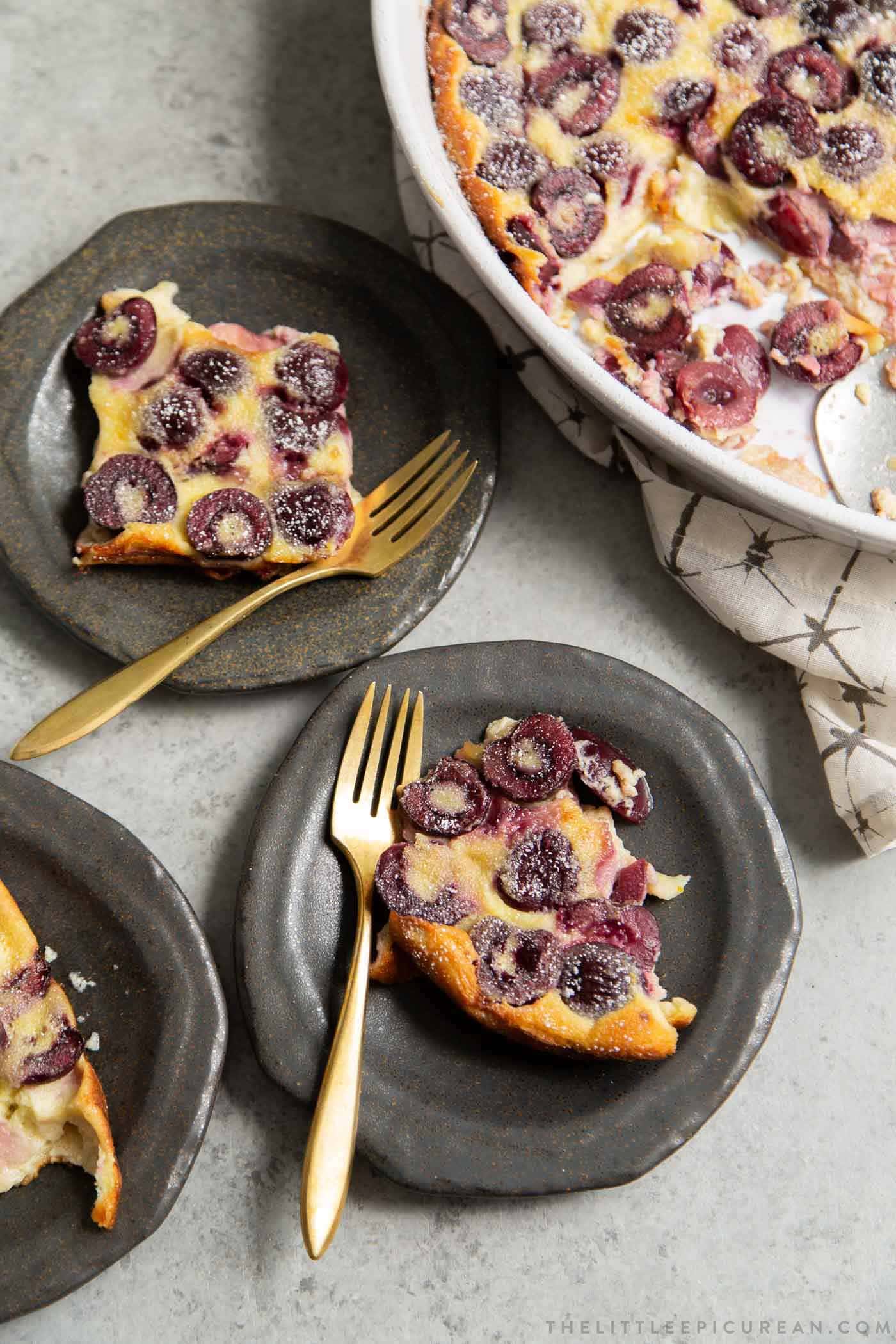 Best fruits to use for clafoutis
Cherries are the classic clafoutis fruit of choice. Stone fruits are a great option: peaches, apricots, plums, nectarines.
Soft fruits like berries (sliced strawberries, raspberries, blackberries), mango, and grapes work wonderfully.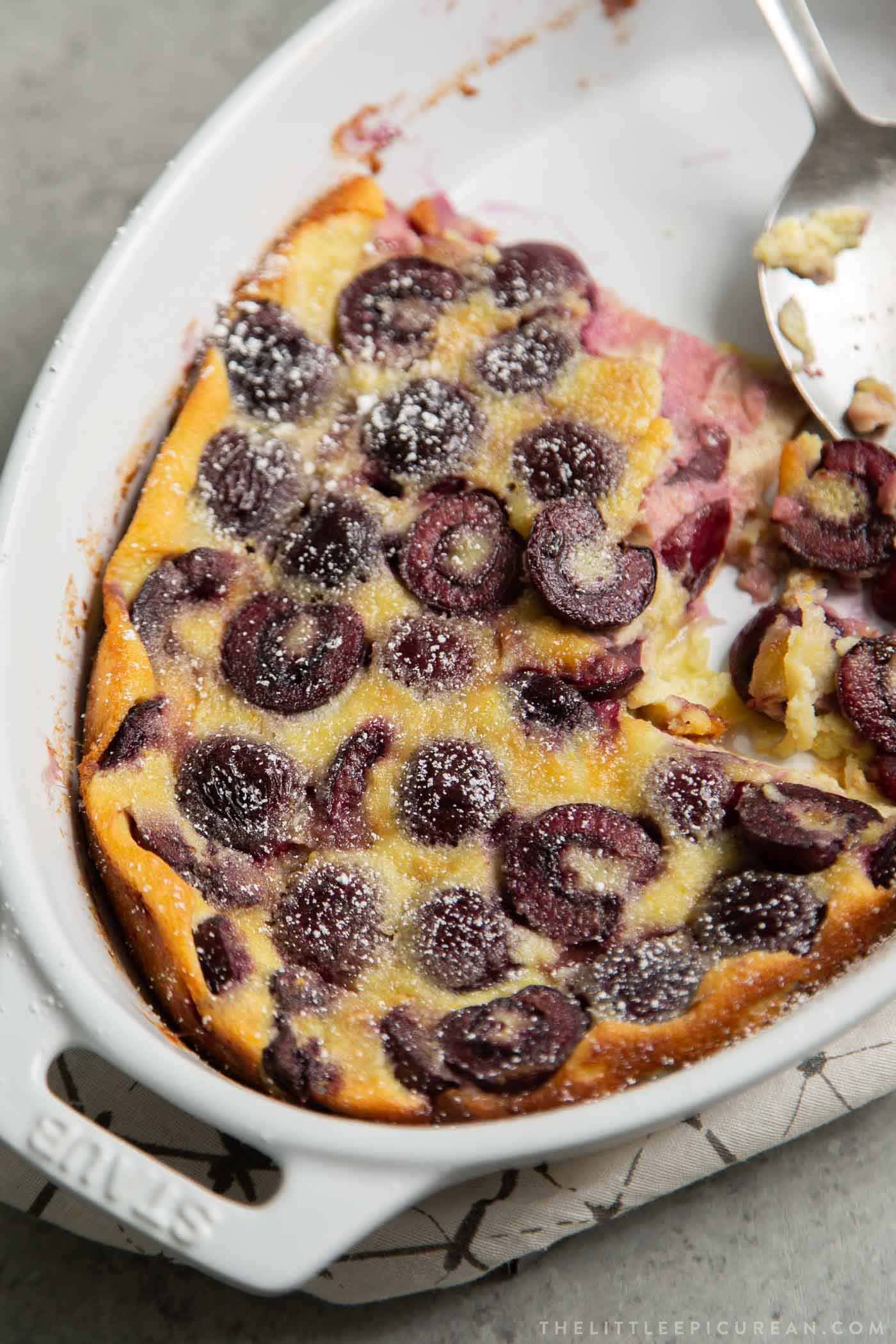 Cherry Clafoutis
Firm along the edges, yet soft and creamy in the center. Cherry clafoutis is a quick and easy dessert that can be enjoyed any time of day! Yield: 2 quart
Ingredients
280

grams

(about 2 cups) pitted sweet cherries

30

grams

(2 Tbsp) unsalted butter,

melted

150

grams

or 3 large eggs

room temp

227

grams

(1 cup) whole milk

room temp

75

grams

(6 Tbsp) granulated sugar

45

grams

(⅓ cup) all-purpose flour

1

tsp

finely grated orange zest,

optional

1

tsp

pure vanilla extract

pinch

kosher salt
Instructions
Preheat oven to 375°F. Generously butter a shallow 2-quart baking dish. Scatter pitted cherries on the bottom of dish in a single layer. Set aside.

NOTE: alternatively you may use an 8-inch or 9-inch cast iron skillet

Use an immersion blender to mix together melted butter, eggs, milk, sugar, flour, zest, vanilla, and salt until smooth. Alternatively, use a blender or simply whisk together by hand until smooth.

Gently pour mixture over cherries in prepared baking dish.

Bake for 35-40 minutes, until mixture has puffed up slightly and is lightly browned. Remove from oven and allow to cool slightly, about 5-8 minutes. Sift powdered sugar over warm clafoutis. Serve with additional fresh cherries, if desired. Serve warm or at room temperature.
Notes
Storage:
Cherry clafoutis can be baked one day ahead. Cool to room temperature then store in the fridge covered overnight. Serve at room temperature or gently reheat in the oven.
Store leftovers in an airtight container in the fridge for up to three days.