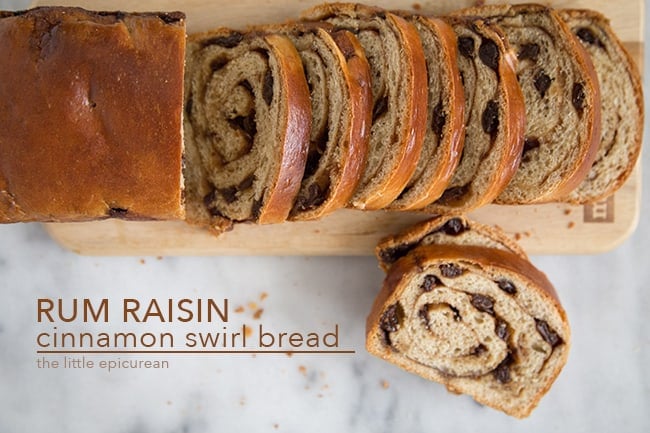 Normally, I hate raisins.  They're often too dry, too sweet, and sometimes they have seeds.  I especially hate the raisins found in boxed cereals.  Gross.
The only time I love raisins is when the word rum precedes it.  Rum raisin ice cream?  Yes, I'd like a double scoop please.  Rum raisin bread pudding?  Why, of course I'd like some more.  And now, rum raisin cinnamon bread.  I made two loaves so Alex and I wouldn't have to share.
Sure, raisin cinnamon bread is fine, but rum raisin cinnamon bread is BETTER.
In the past when I've made raisin cinnamon bread, I've had issues with the raisins.  The raisins don't taste very good.  I end up picking them out.  My rum raisin bread is a little different.  I soak the raisins in warm rum for a couple of hours until the raisins are plump, juicy, and super flavorful.  They taste amazing!  I could eat rum soaked raisins as is, but it'd probably get me drunk and is a terrible way to start the day.
Ever make raisin cinnamon swirl bread and end up with large gaps in the bread?  Or the raisins fall out as you slice the bread?  Yes, I've had that happen to me, too.  I found that by pressing the raisins into the dough and then covering them with a thick cinnamon sugar paste keeps the raisins in place.  See photo above.  Just look at those swirls!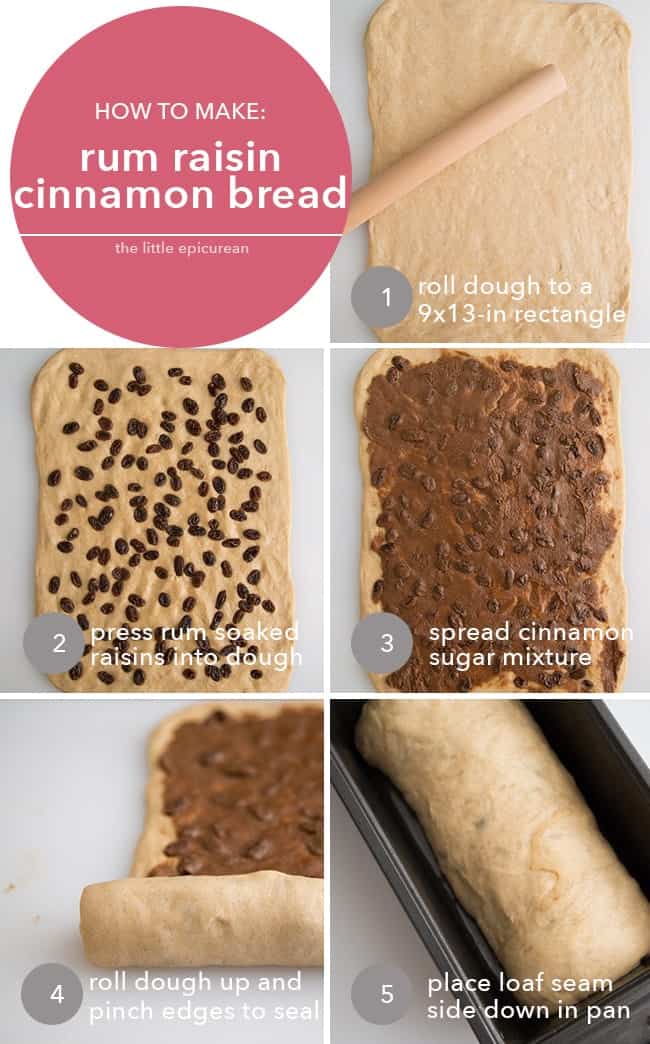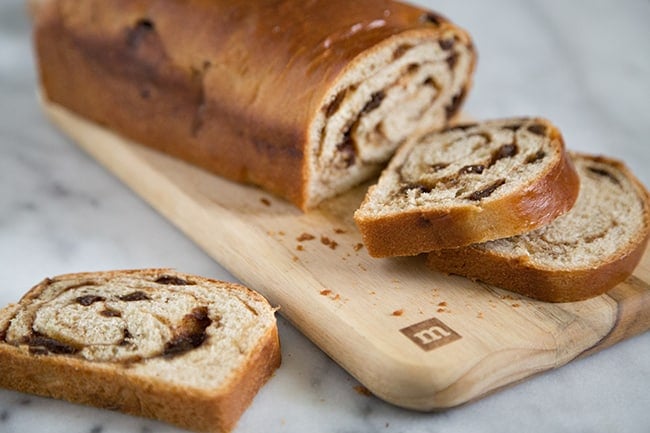 This rum raisin cinnamon bread sort of reminds of me the Sun Maid Raisin Bread I oh so loved as a child.  Once a upon a time, I accidentally devoured half the package in one sitting.  True story.  I felt sick afterwards but it was so delicious.  Thank goodness I've learned a thing or two about portion control.  Although, it is super difficult to just have once slice of this bread and it's way too easy to finish an entire loaf…especially when your entire house smells of fresh bread.
Eat it toasted with a pat of butter or a smear of cream cheese, make a fancy French toast, or simply eat it as is.  No matter how you choose to eat it, it's going to be awesome.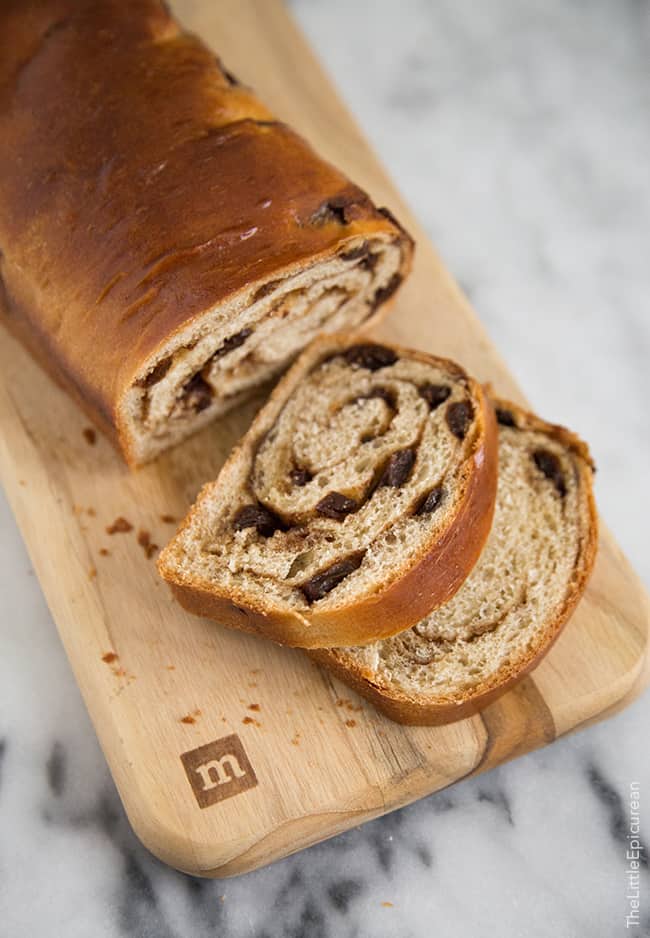 Rum Raisin Cinnamon Bread
Raisin cinnamon bread is good, but rum raisin cinnamon bread is BETTER! Eat it toasted with a pat of butter or smear of cream cheese, make a fancy French toast, or simply eat it as is. No matter how you choose to eat it, it's going to be awesome.
Yield: 2- 9"x 4" loaf pans
Ingredients:
1 cup raisins
3/4 cup dark rum
1 cup whole milk, warmed to 100-105 degrees F
1/4 cup + 2 tsp granulated sugar
2 1/4 tsp active dry yeast
4 Tbsp unsalted butter, melted, slightly cooled
2 large eggs, lightly whisked
4 cups all-purpose flour
1 1/2 tsp ground cinnamon
3/4 tsp fine sea salt
Cinnamon Sugar Filling:
4 Tbsp unsalted butter, room temperature, softened
3/4 cup dark brown sugar, packed
1 Tbsp ground cinnamon
2 tsp orange zest
Egg Wash:
1 large egg
1 1/2 tsp water
Directions:
Place raisins in a medium bowl.  Heat rum in small sauce pot until it begins to simmer.  Remove from heat and pour over raisins.  Let sit for 2-3 hours until rum has cooled to room temperature and raisins have plumped up.  Strain raisins and discard rum.  Set aside.
In a large cup, add warm milk, 2 tsp sugar, and active dry yeast. Stir to combine.  Let sit for 5-8 minutes until yeast has activated and mixture is foamy.
In a large bowl, whisk together flour, cinnamon, and sea salt.  Set aside.
Pour yeast mixture into the bowl of stand mixer fitted with a hook attachment.  Add  remaining sugar, cooled melted butter, lightly whisked eggs.
With the mixer running on low speed, add the flour mixture in three additions.  Once all the flour add been added, increase speed to medium.  Continue to mix until dough comes together to form a smooth, soft ball.
Remove from mixing bowl and transfer to a lightly oiled large bowl.  Cover with plastic wrap and let dough rise in a warm area for 1 hour.  Punch dough down and divide the dough into two equal parts.
Mix together filling.  In a small bowl, combine softened butter, dark brown sugar, cinnamon and orange zest until smooth.
Working with one piece of dough at a tie, roll dough into a rectangle about 9"x13" in size. (Have the shorter side of the rectangle facing you.)  Sprinkle half of the rum raisins over the dough.  Using the palms of your hands (or a rolling pin) gently press raisins into the dough.  Take half of the filing mixture and spread it evenly over the raisins and dough.
Roll up the dough tightly and pinch the seams together.  Tuck the ends of the roll under.  Place loaf seam side down in a lightly greased 9"x 4" loaf pan.  Cover with plastic wrap and let rest for 30 minutes.  Repeat with other half of dough.  Preheat oven to 350 degrees F.
Whisk together egg wash.  Brush egg wash over the top of the loaves.  Bake for 35-40 minutes until the tops of the bread are golden brown.  To ensure doneness, check the internal temperature of the bread using a kitchen thermometer.  The internal temperature should be above 185 degrees F.  Let cool in pan for 5 minutes before unmolding. Allow to cool to room temperature on a wire rack. Do not slice into bread until it has cooled down.