Easy to scoop homemade rum raisin ice cream. This recipe features golden raisins soaked in dark rum for over 72 hours!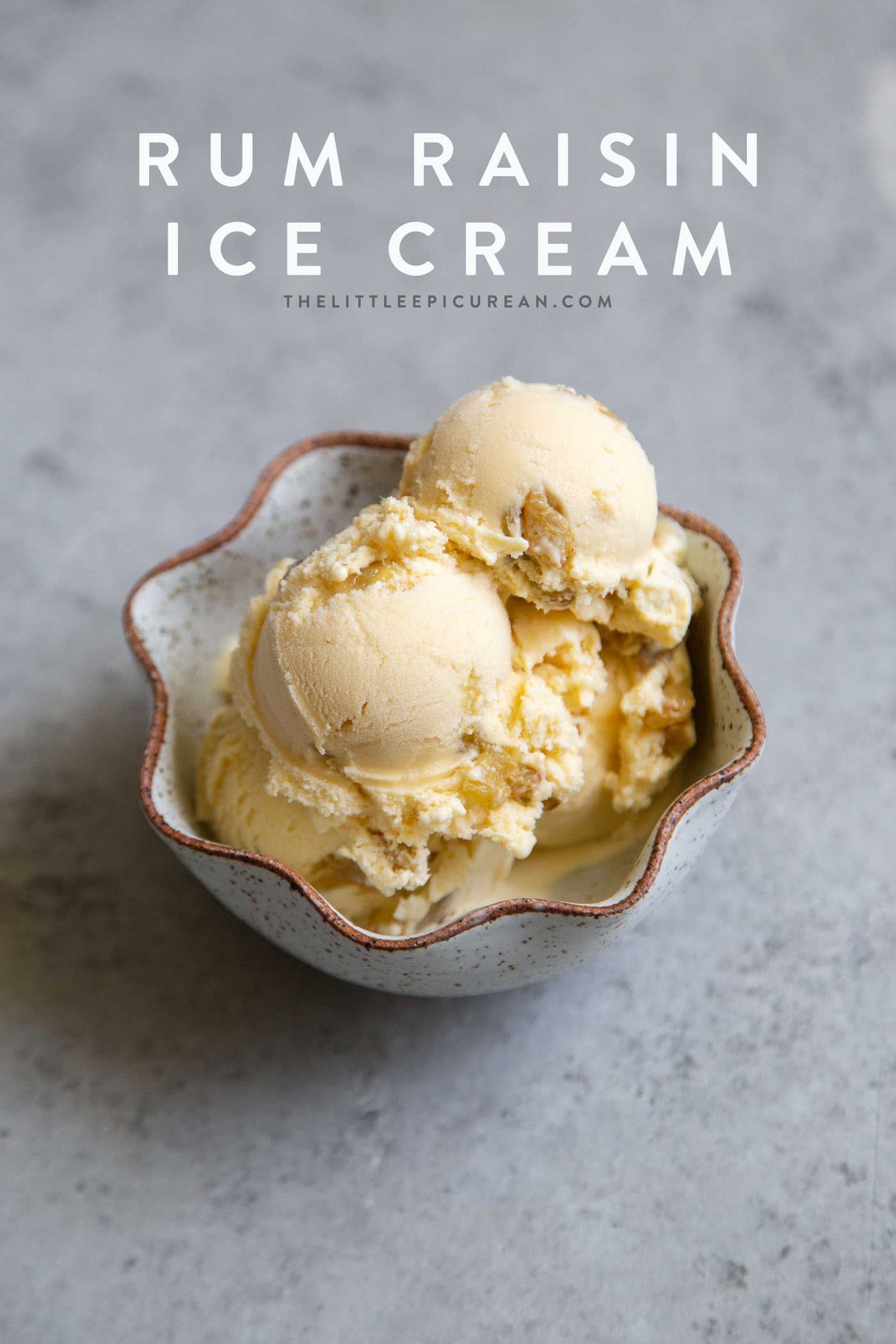 Whoever first decided to steep raisins in rum is a pure genius.
The notion of rehydrating dried fruit in alcohol (be it wine or liquor) is utterly brilliant and oh so delicious.
Raisins in baked goods and desserts adds a nice burst of sweetness. But, when you soak the raisins in a little booze ahead of time, it adds such a powerful and flavorful impact.
Proof: the raisins in this rum raisin cinnamon twisted rolls are made with raisins soaked in rum and vanilla liqueur for 5 days!
Homemade Rum Raisin Ice Cream
Rum raisin was not my favorite flavor as a kid. Growing up, I preferred mint chip ice cream, chocolate chip ice cream, or cookies and cream. Basically, anything with a hint of chocolate.
Nowadays, a well made rum raisin is a top 5 ice cream flavor contender in my book!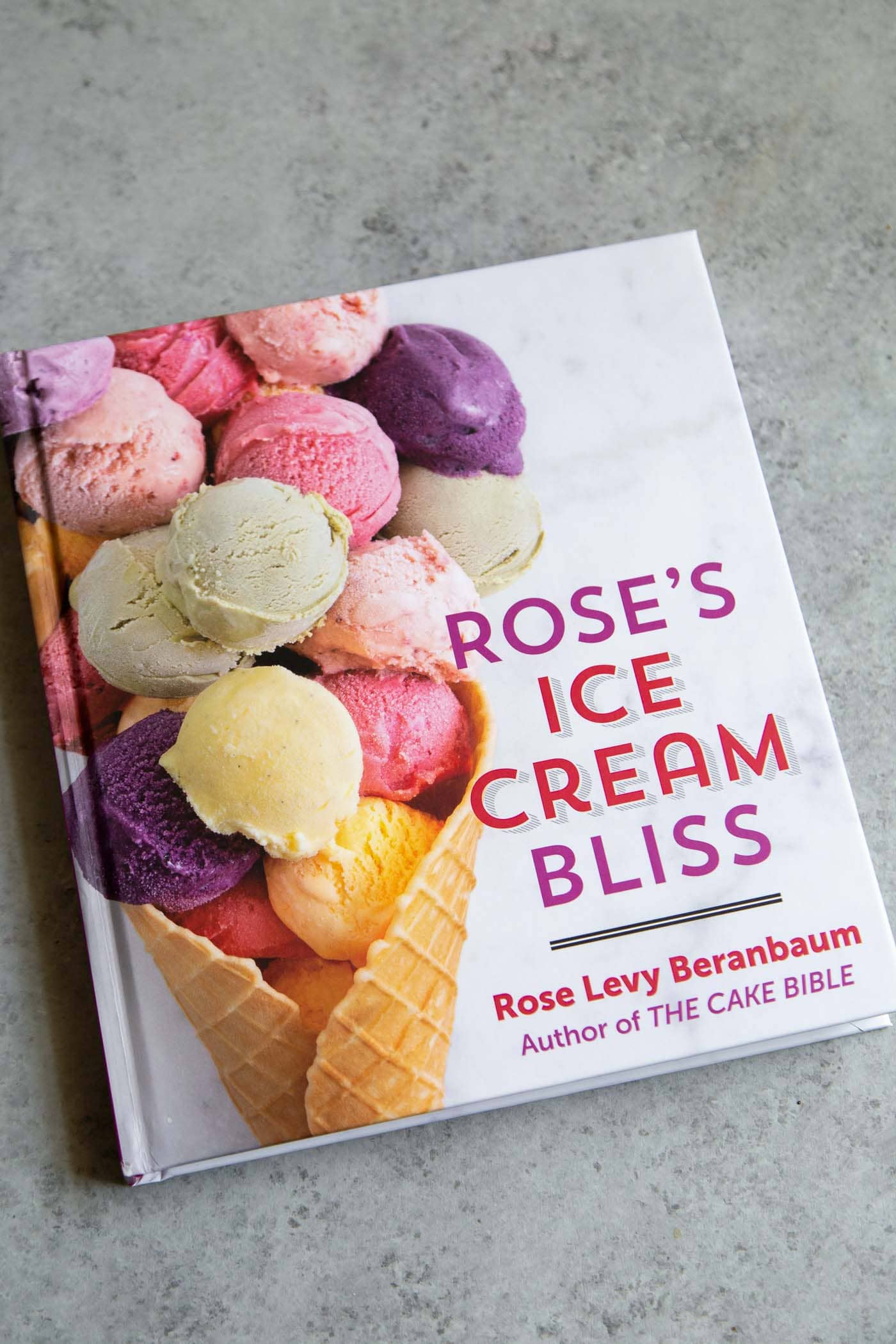 New Cookbook: Rose's Ice Cream Bliss
I received a copy of Rose's Ice Cream Bliss from the publisher earlier this summer. As a fan of Rose's award-winning cookbooks like The Cake Bible, I had to have my hands on her new ice cream cookbook.
It's the perfect cookbook for novice as well as experienced ice cream makers. I have been making ice cream and sorbets for years and still learned a ton of new tricks from Rose's Ice Cream Bliss!
She introduces new, easier methods for cooking ice cream custard bases (sometimes, no tempering needed!). Many recipes come with variations to further your ice cream repetoire.
But the biggest and most important tidbit I learned from the cookbook- YOU CAN MAKE GLUCOSE IN THE MICROWAVE!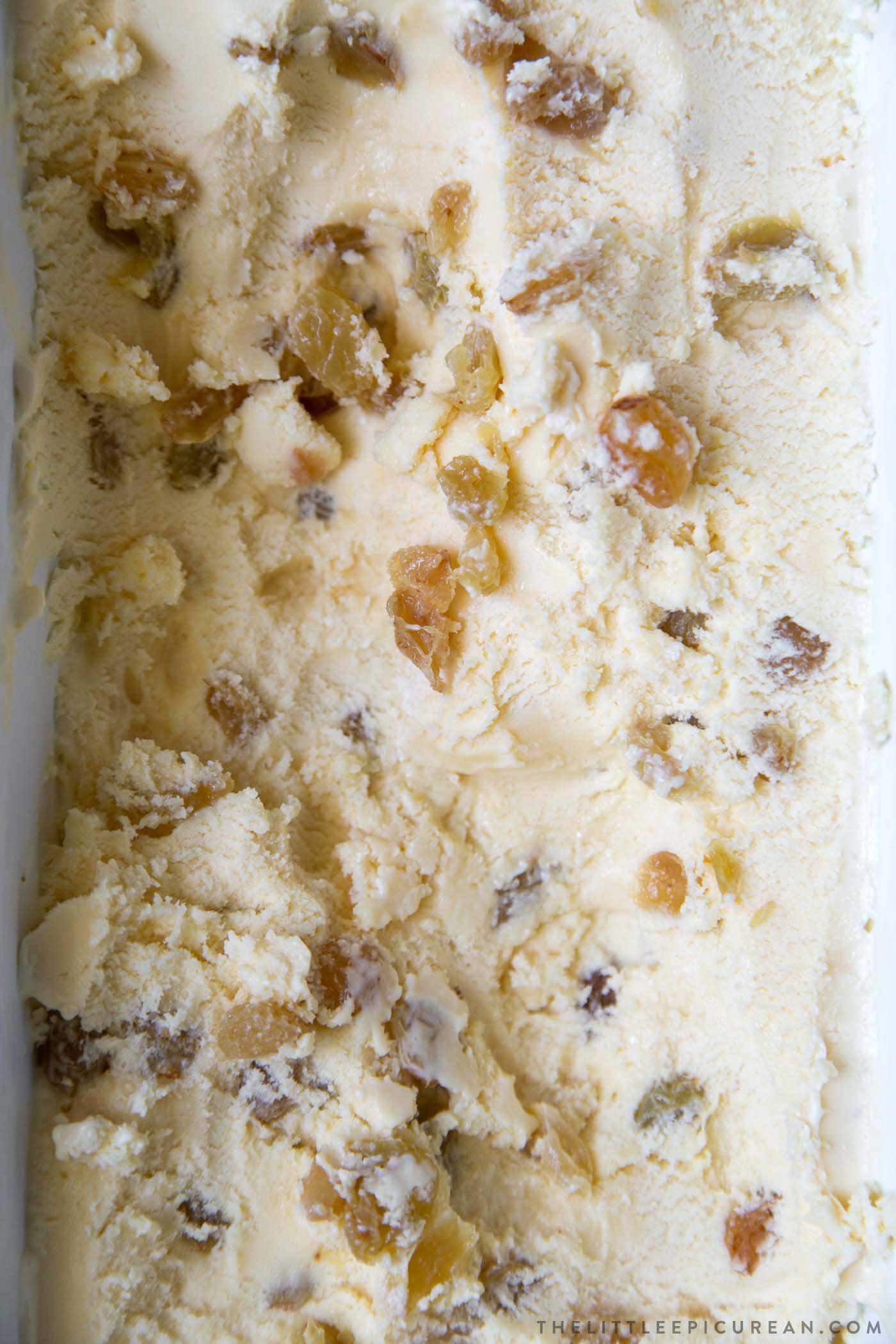 Homemade Glucose Syrup Alternative
Yes, you read that correctly. You can make a homemade version of glucose syrup in the microwave using corn syrup.
Bring one part light corn syrup to a boil in the microwave (or over a stove). Remove from heat and add another one part light corn syrup.
The resulting mixture will have the same consistency as glucose!
What is glucose? Why is it necessary in ice cream making?
Glucose is an invert sugar. It makes ice cream and sorbets softer, creamier, and "scoopable."
Glucose is an important component because it minimizes the formation of large ice crystals.
It is used in a wide range of applications for baked goods and desserts. When used in chocolate sauces or ganaches, it gives luster and shine. In candy making, it prevents the formation of sugar crystals.
Glucose purchased at candy and cake decorating supply stores come in large containers. It's not suited for infrequent home use.
Homemade glucose or reduced corn syrup is a great alternative!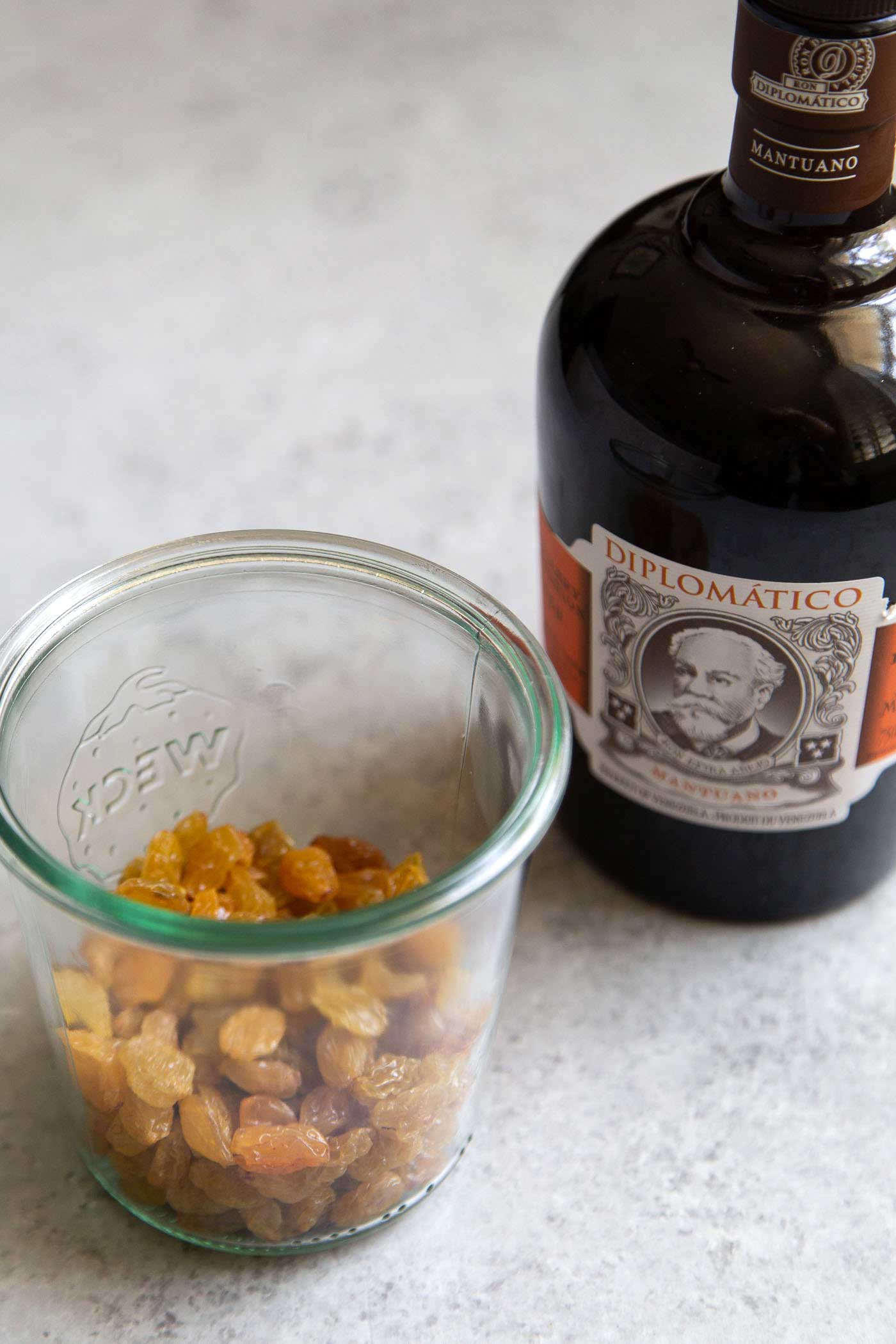 Rum Soaked Raisins
Rose recommends using golden raisins for this recipe. However, you can certainly use dark raisins or a mixture of the two, if preferred.
I suggest using quality dark rum. Since you only need 1/4 cup for the recipe, go ahead and splurge on the good stuff.
I highly recommend this Mantuano Diplomatico Rum. The rum itself has lingering notes of dried fruit and vanilla- perfect for this ice cream!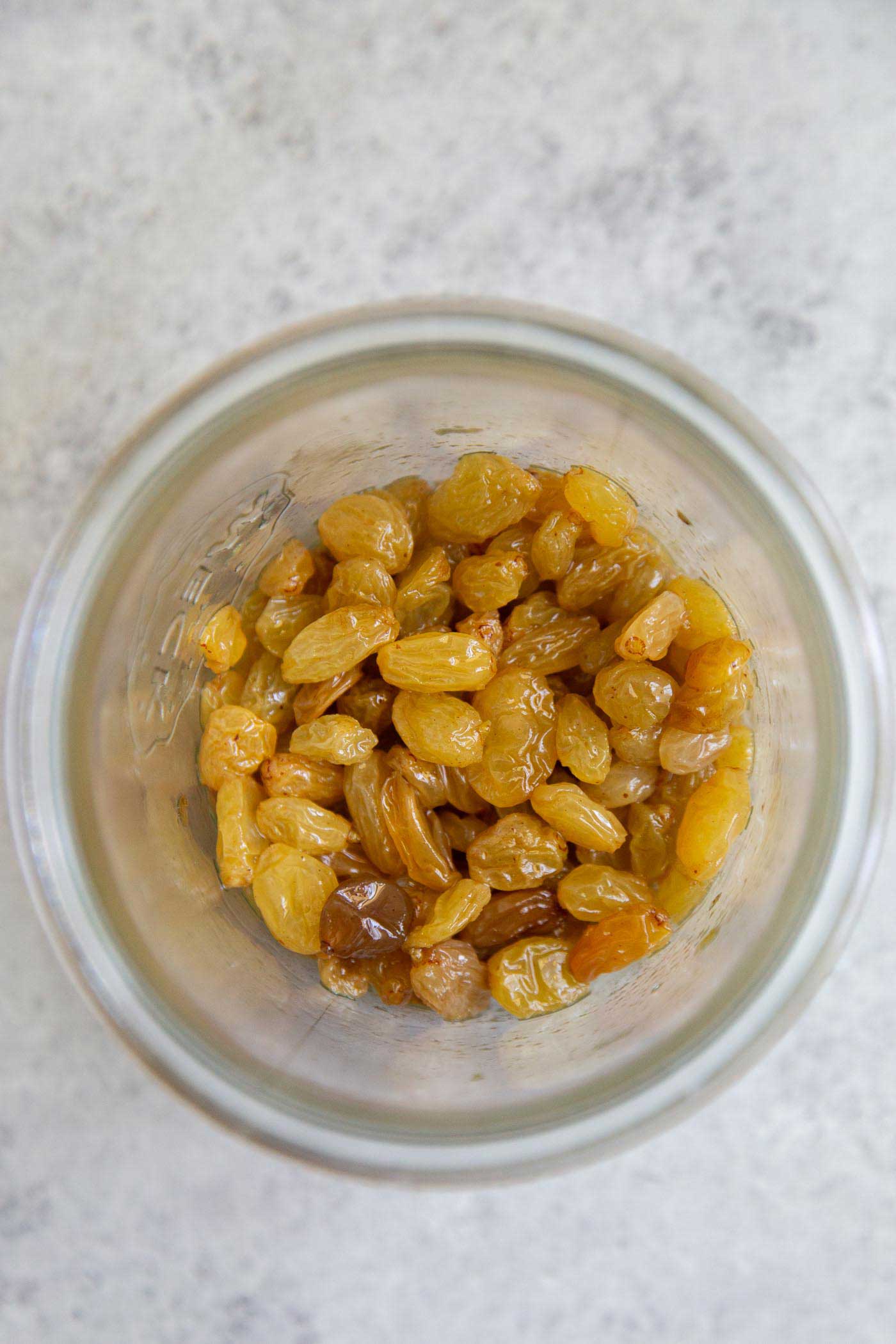 The raisins are soaked in dark rum for at least 48 hours, or until the raisins have absorbed all the liquid.
It took three days for these golden raisins to drink up all the rum. Take the time to allow the raisins to rehydrate. It really makes a world of a difference.
NOTE: If the raisins are not soaked long enough, the excess rum will soften the finished ice cream.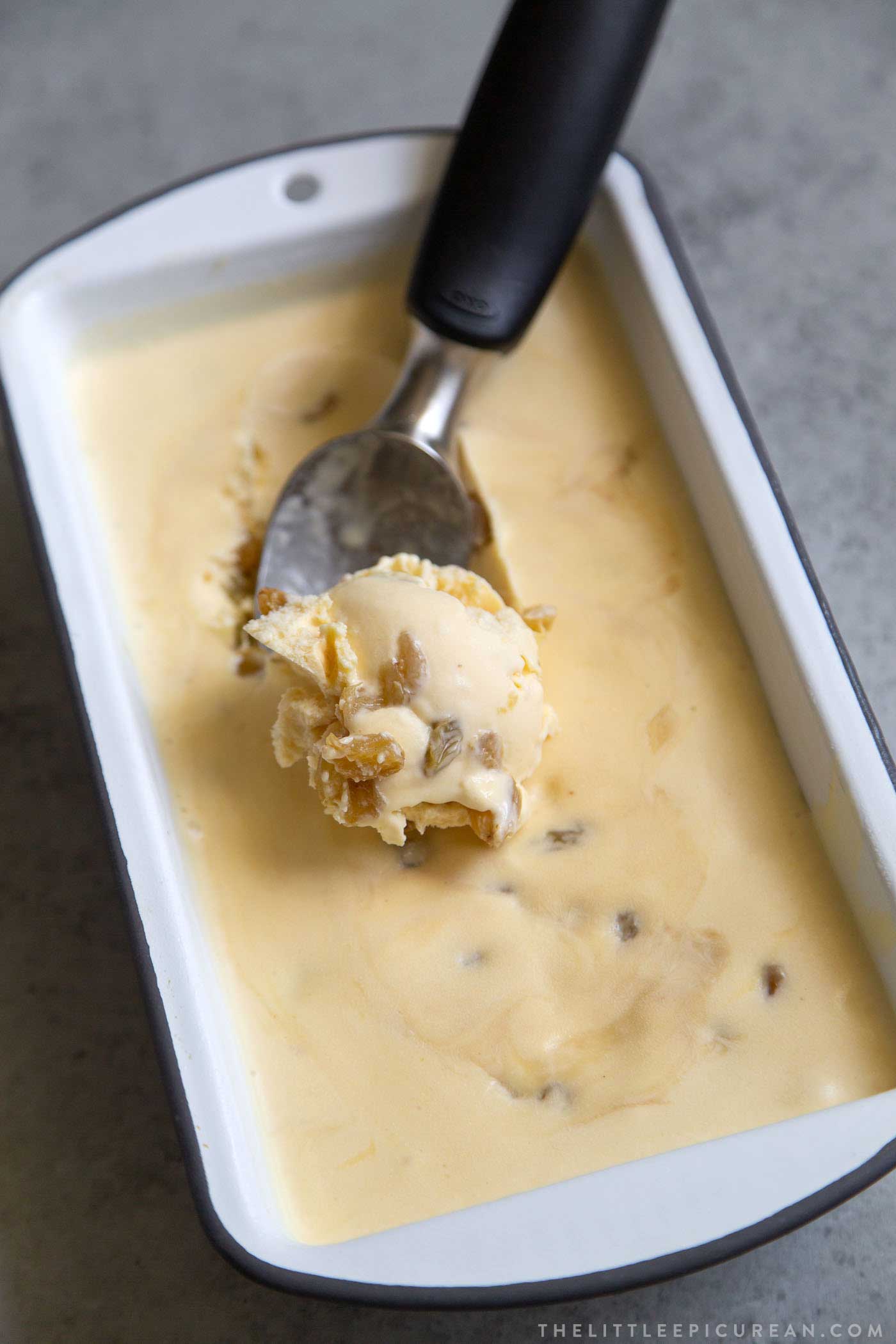 Easy to scoop consistency
See how creamy, smooth, and silky the ice cream is in the photograph above? It doesn't take much effort to scoop this rum raisin ice cream.
Thank you, glucose (reduced corn syrup) for giving this ice cream the perfect texture!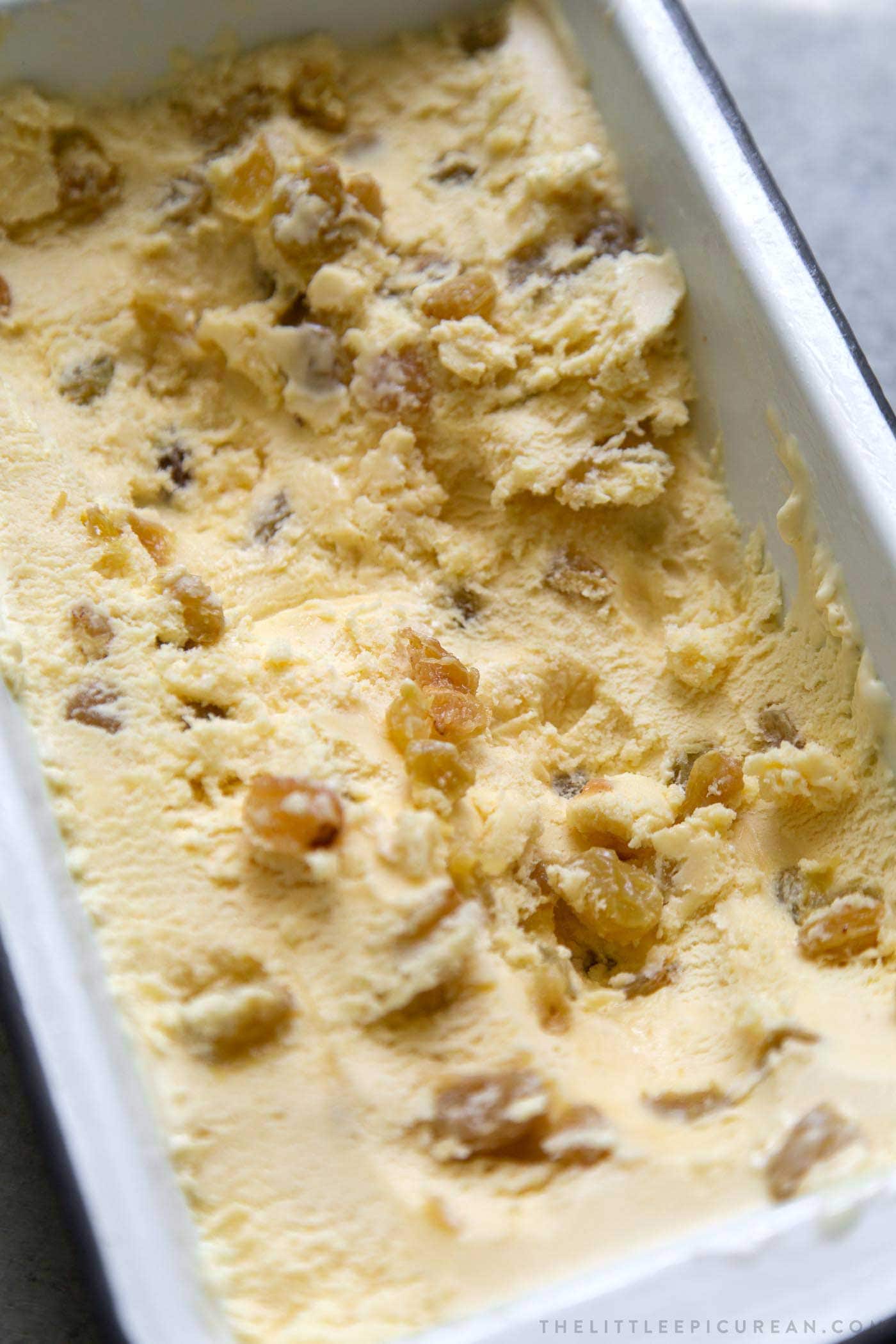 Another reason why the ice cream is so creamy? EGG YOLKS!
Ice cream has very few ingredients: yolks, sugar, cream, and milk. The egg yolks play an important part in creating ice cream's creamy texture.
Egg yolks act as part thicker, part stabilizer, and part flavor. It is recommended you use weight for this recipe since egg yolks vary in weight. The proper amount of yolk will achieve the best ice cream results.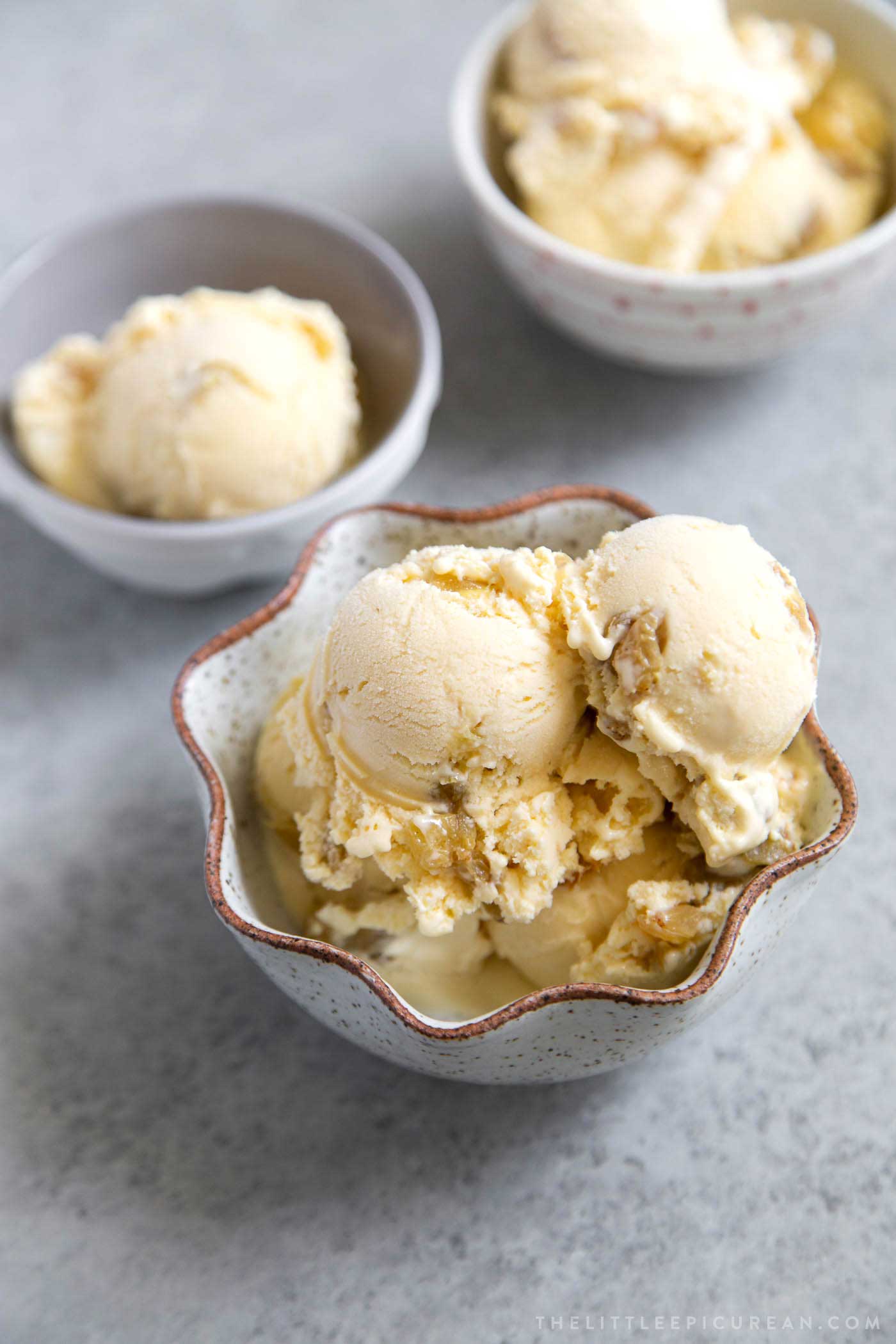 The sugar and rum in the raisins prevent them from freezing solid. The little bits of rum raisins will remain soft and chewy in the sweet ice cream.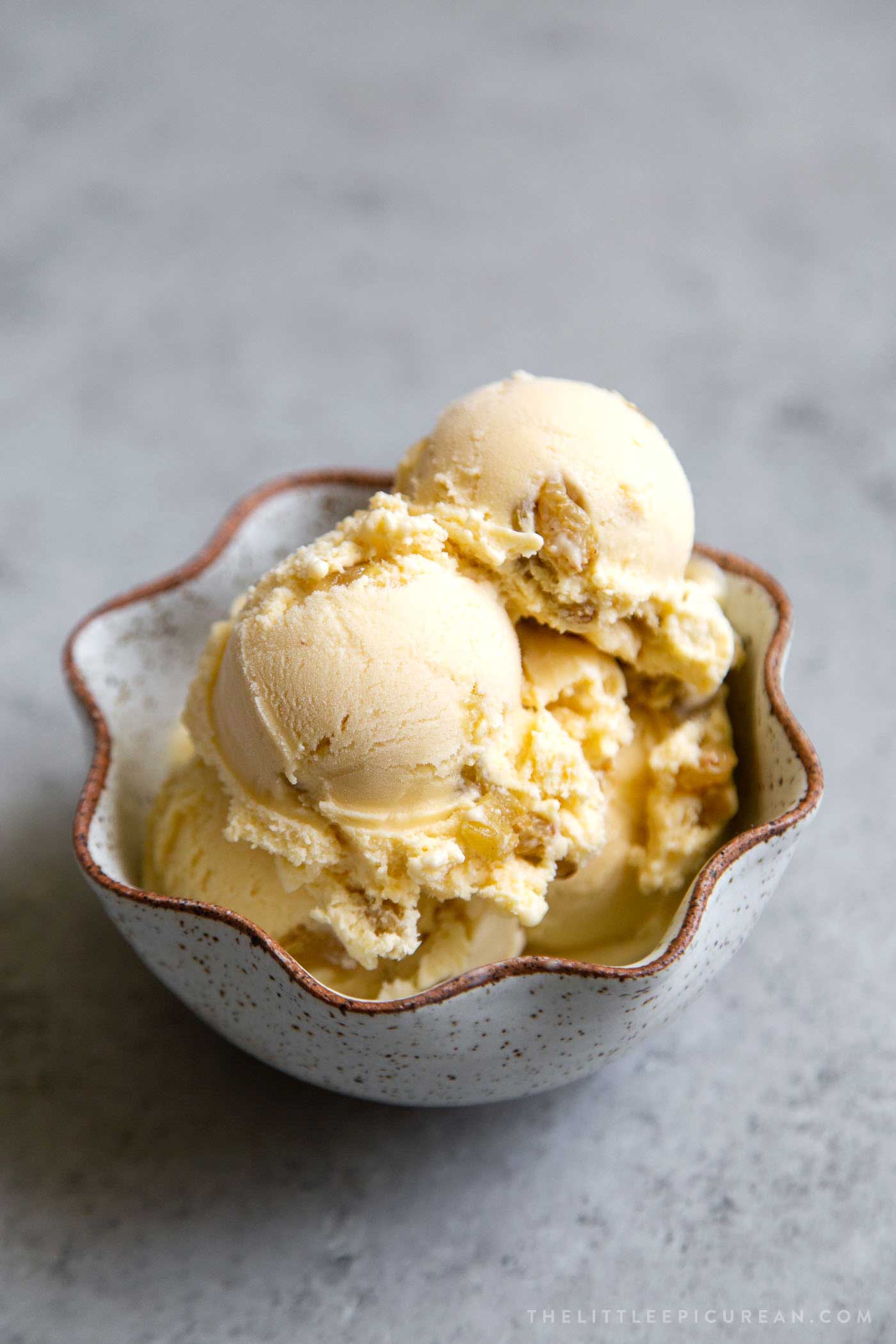 Recommended Ice Cream Machines:
I personally use this compressor ice cream maker. It is a bit pricier than other ice cream machines, but well worth the price if you make ice cream often.
Most ice cream makers require you to freeze the churning canister ahead of time. The compression machine doesn't need any extra prep. Simply pour the chilled ice cream mixture into the machine. Within 35 minutes, you'll have real deal churned ice cream!
Prior to purchasing that ice cream machine, I used to use this ice cream maker. This version requires you to chill the freezer bowl for at least 24 hours before use.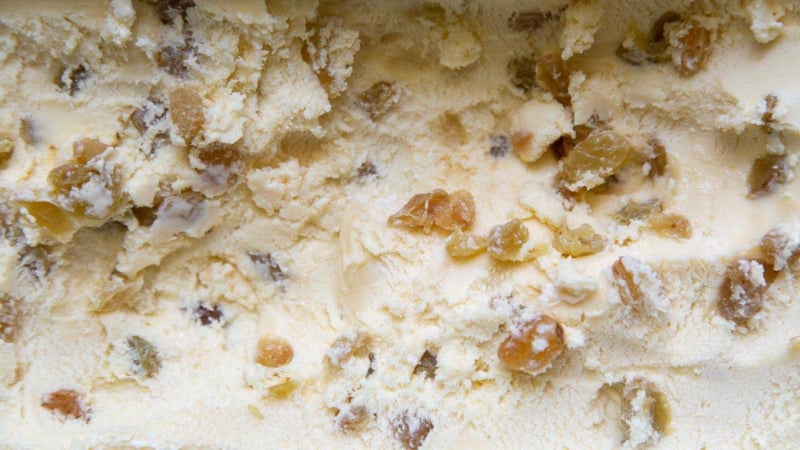 Rum Raisin Ice Cream
Easy to scoop homemade rum raisin ice cream. This recipe features golden raisins soaked in dark rum for over 72 hours.Yield: about 1 quart
Ingredients
Rum Soaked Raisins:
108

grams

(¾ cup) golden raisins

55

grams

(¼ cup or 59ml) dark rum
Ice Cream Base:
112

grams

(¼ cup + 3 Tbsp) egg yolks

160

grams

(⅔ cup) milk

464

grams

(2 cups) heavy cream

120

grams

(½ cup + 1 ½ Tbsp) granulated sugar

42

grams

(2 Tbsp) glucose or reduced corn syrup*

(see notes)

pinch

kosher salt

163

grams

(1 cup) Rum Soaked Raisins
Instructions
Rum Soaked Raisins:
Set raisins in a 2 cup canning jar or jar with a tight fitting lid. Add rum.

Let the raisins soak in the rum at room temperature for a minimum of 48 hours to absorb all the rum. Invert the jar a few times to help distribute the rum. (If the raisins are not soaked long enough, any rum that doesn't get absorbed will soften the churned ice cream if it is added.)
Ice Cream Base:
Note: Have ready a fine-mesh strainer suspended over a medium bowl before you begin recipe.

In a medium saucepan, with a silicone spatula, stir together the egg yolks, milk, and 174 grams (¾ cup) of the cream until well blended. Stir in the sugar, glucose (reduced corn syrup), and salt until the sugar has dissolved.

Heat the mixture of medium-low, stirring, until slightly thicker than heavy cream. When a finger is run across the back of the spatula, it will leave a well-defined track. An instant-read thermometer should read 170° to 180°F (77° to 82°C).

Immediately pour the mixture into the strainer, scraping up the thickened mixture that has settled on the bottom of the pan. Press it through the strainer and scrape any mixture clinging to the underside of the bowl.

Stir in the remaining cream (290 grams/ 1¼ cup). Cover and refrigerate for a minimum of 8 hours or until no warmer than 43°F/6°C. Set a covered storage container in the freezer.

Churn the custard in a prechilled ice cream maker. Transfer the ice cream to the chilled storage container. Press a piece of plastic wrap on the surface of the ice cream, cover the container, and allow the ice cream to firm in the freezer for 30 minutes to an hour.

Stir in rum soaked raisins*. Replace plastic wrap, cover, and return to freezer for at least 4 hours before serving.
Notes
I added the rum soaked raisins during the last 3 minutes of churning. 
TO MAKE REDUCED CORN SYRUP: Pour 80 grams (1/4 cup or 59 ml) light corn syrup into a glass measure with a spout. Bring to full boil in the microwave. Remove from microwave and stir in an equal weight or volume of corn syrup. This will result in the same consistency of glucose.
I used a 1100W microwave to heat the light corn syrup on high power for 3o second intervals until boiling. 
Storage: Ice cream will keep in the freezer for 3 days.
NOTE: Recipe has been reprinted with permission from Houghton Mifflin Harcourt.