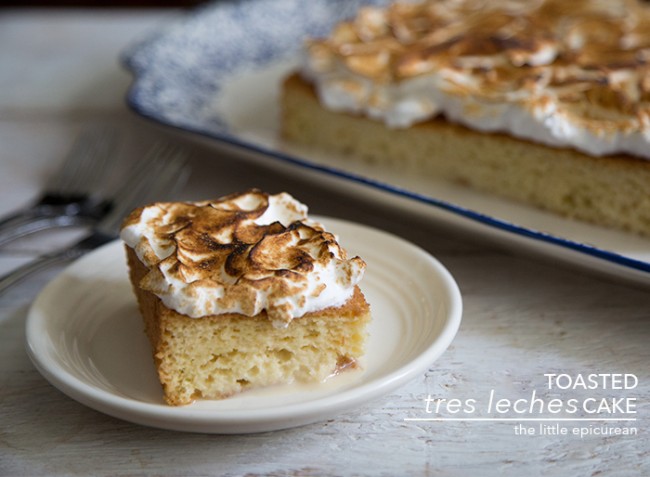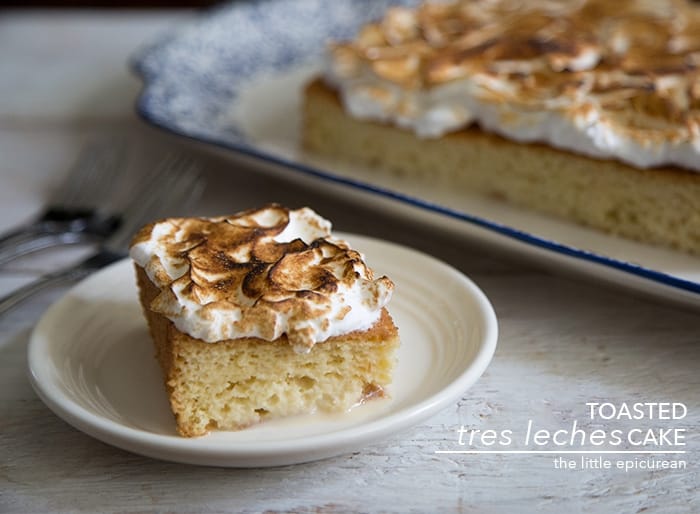 No matter how much fun I have traveling and exploring other places, there really isn't any place quite like home.  The familiar smells, my oh so comfortable couch, and my closet.
And usually after about day three, I miss my kitchen terribly.  (And let's not even talk about how much I missed my dog Charlie.  At least I know he was in good hands.)
I arrived back in LA late last night.  I had a terrible time trying to fall asleep and then I woke up way too early this morning.  My body must still think I'm on the East Coast.  I woke up at 4am ready for breakfast.  After eating, it was already way too hot to go back to sleep.  So I got dressed and made cake.
I have been wanting to make tres leches cake for the longest time.  However, I have been pushing it off because I feared it would difficult to photograph. I wasn't sure how pretty or appetizing I could make a soaked white cake look.  And then I thought…I could add a meringue topping and torch it!
Confession. I love my kitchen torch.  I am constantly finding a reason to use it.  So far I only have three recipes that require use of a torch: creme brûlée, s'mores fudge bars, and mini cheesecake brûlées.  I want that list to be longer.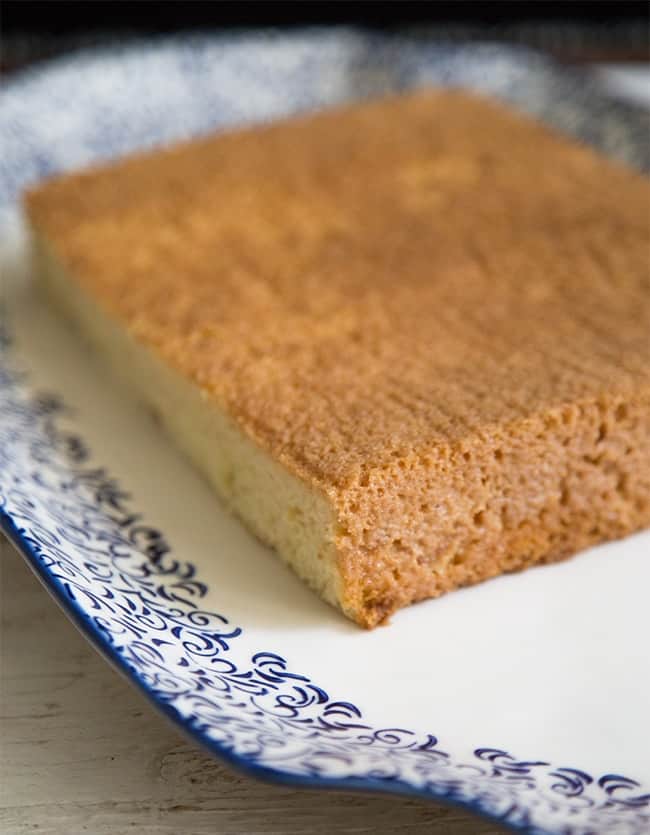 Toasted Tres Leches Cake
Toasting the meringue topping not only adds a pop of color, it also brings a nice contrasting flavor to this otherwise very rich and very sweet cake.
Tres Leches translates to "three milks."  For this recipe, I used a combination of whole milk, evaporated milk, and sweetened condensed milk.  Many recipes use heavy cream (or half and half), but I decided to use whole milk to lighten it just a tad.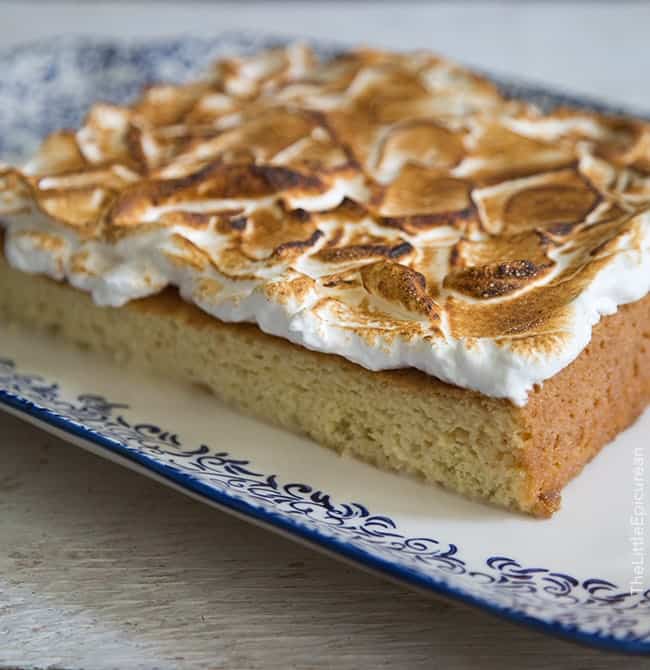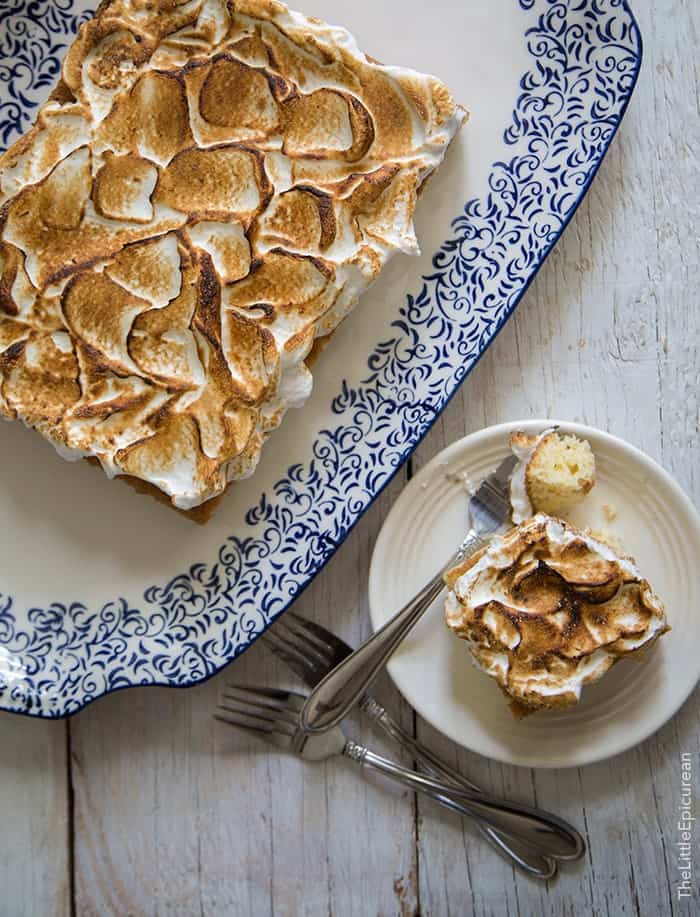 Tres leches cake is easy to make.  The only negative- it doesn't keep for very long.  It is best served the day it is made, especially because of the toasted meringue topping.
When stored in the fridge for too long, eventually the meringue will separate and you'll end up with a puddle of a mess.  I suggest planning ahead and making this fabulous dessert when you know you'll have people over.
If you made the cake on a whim (like me), make friends with your neighbors and give them a giant piece.  Having this large sheet cake all to yourself is dangerous and highly not recommended.
Now that I've overcome my tres leches cake photo phobia, I think I'll be making this again during the holidays.
I wouldn't mind splashing a little rum or coffee liquor to the milk soaking mixture to spike up the flavors.  I can't wait until December because I really, really, really want to make a spiked eggnog tres leches cake.  YES.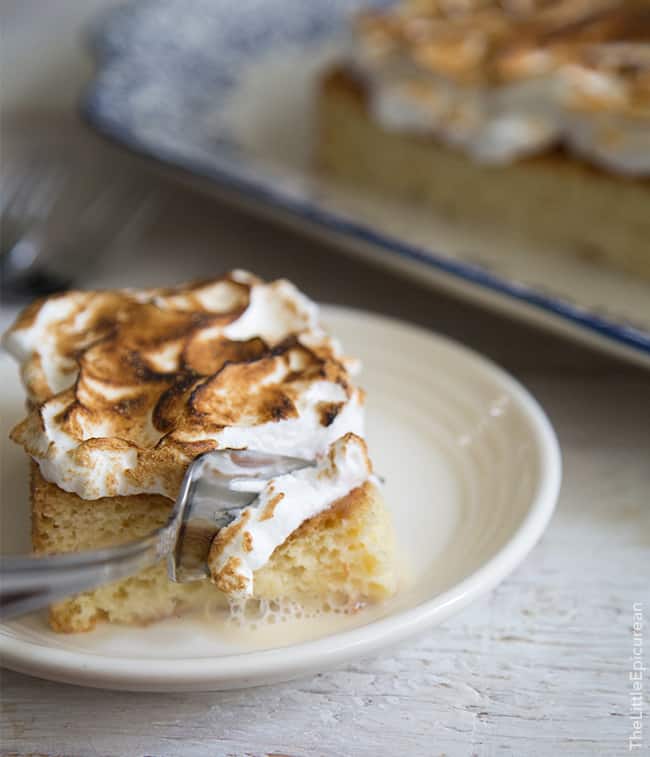 Toasted Tres Leches Cake
Tres leches cake is a white cake soaked in "three milks." Adding a toasted meringue topping not only adds a pop of color, it also brings a nice contrasting flavor to this otherwise very rich and very sweet cake.
Yield: 1- 9''x13'' cake pan
Ingredients
Sponge Cake:
1

cup

all-purpose flour

2

tsp

baking powder

1

tsp

baking soda

1/8

tsp

fine sea salt

4

large eggs,

separated

1

cup

granulated sugar

1/4

cup

whole milk
Tres Leches:
3/4

cup

whole milk

14

oz

can sweetened condensed milk

12

oz

can evaporated milk
Meringue Topping:
1

cup

granulated sugar

1/3

cup

water

4

large egg whites

pinch

cream of tartar

1/2

tsp

vanilla extract

pinch

fine sea salt
Instructions
Cake:
Preheat oven to 350 degrees F. Butter a 9"x13" baking pan and line with parchment paper. Set aside.

Whisk together flour, baking powder, baking soda, and salt. Set aside.


In the bowl of a stand mixer fitted with a paddle attachment, beat together egg yolks and sugar on medium speed until mixture has thickened and is pale in color. Add milk and mix until incorporated.


Add dry flour mixture and mix until combined.


Whip egg whites to medium peaks and gently fold into batter until there are no longer any white streaks.


Transfer cake batter to prepared baking pan. Spread into an even layer. Bake for 35 minutes until top of cake is golden brown. Leave cake in pan and let cool to room temperature.

Tres Leches:
Using a fork (docker or skewers), poke holes throughout the cooled cake.

Whisk together milk, condensed milk, and evaporated milk. Pour a little bit at a time over poked cake. Once all the milks have been added to cake, let cake stand for about 30 minutes until all the liquids are fully absorbed.

Meringue:
In a small sauce pot, combine sugar and water. Set over medium-high heat and cook to 238 degrees F.

Meanwhile, the bowl of a stand mixer fitted with a whisk attachment, beat egg whites and cream of tartar on low speed. Once mixture is foamy, increase speed slightly and whisk to soft peaks. By this time, the sugar syrup should have reached its desired temperature. With the mixer running on medium speed, slowly pour in the hot sugar syrup.


Once all the sugar syrup as been added, increase speed and beat until shiny, stiff peaks. Add vanilla and salt and whisk until incorporated.


Spoon meringue over milk soaked cake. Use the back of the spoon to evenly distribute meringue. Use a kitchen torch to brown and toast the meringue. Slice and serve immediately.