Quick and easy no-bake s'mores fudge bars are an elevated version of the classic campfire treat! This is a fun recipe to make with children.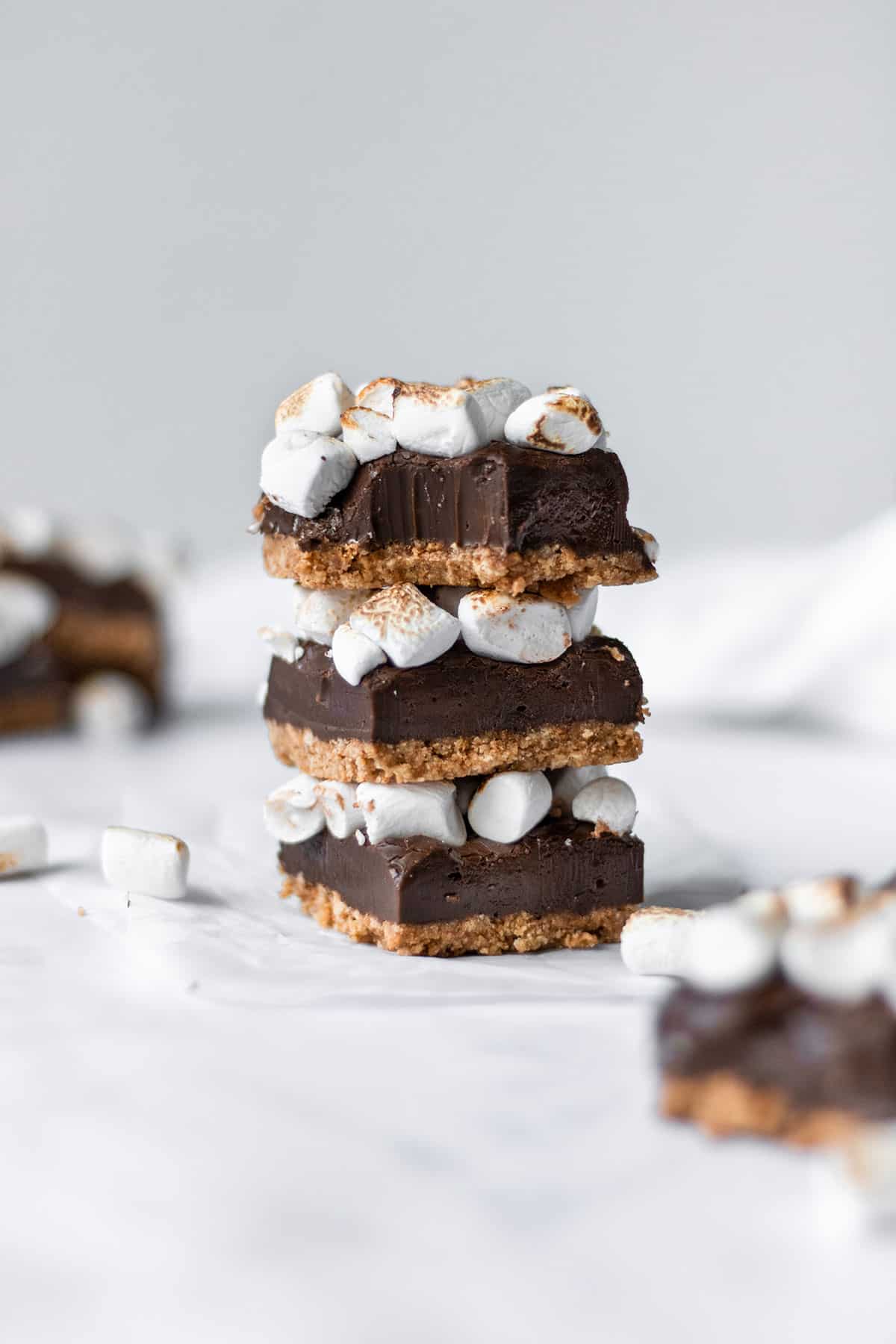 No need to wait for summer. Enjoy s'mores all year long with these s'mores bars!
All the components and flavors of s'mores in a convenient easy to eat bar.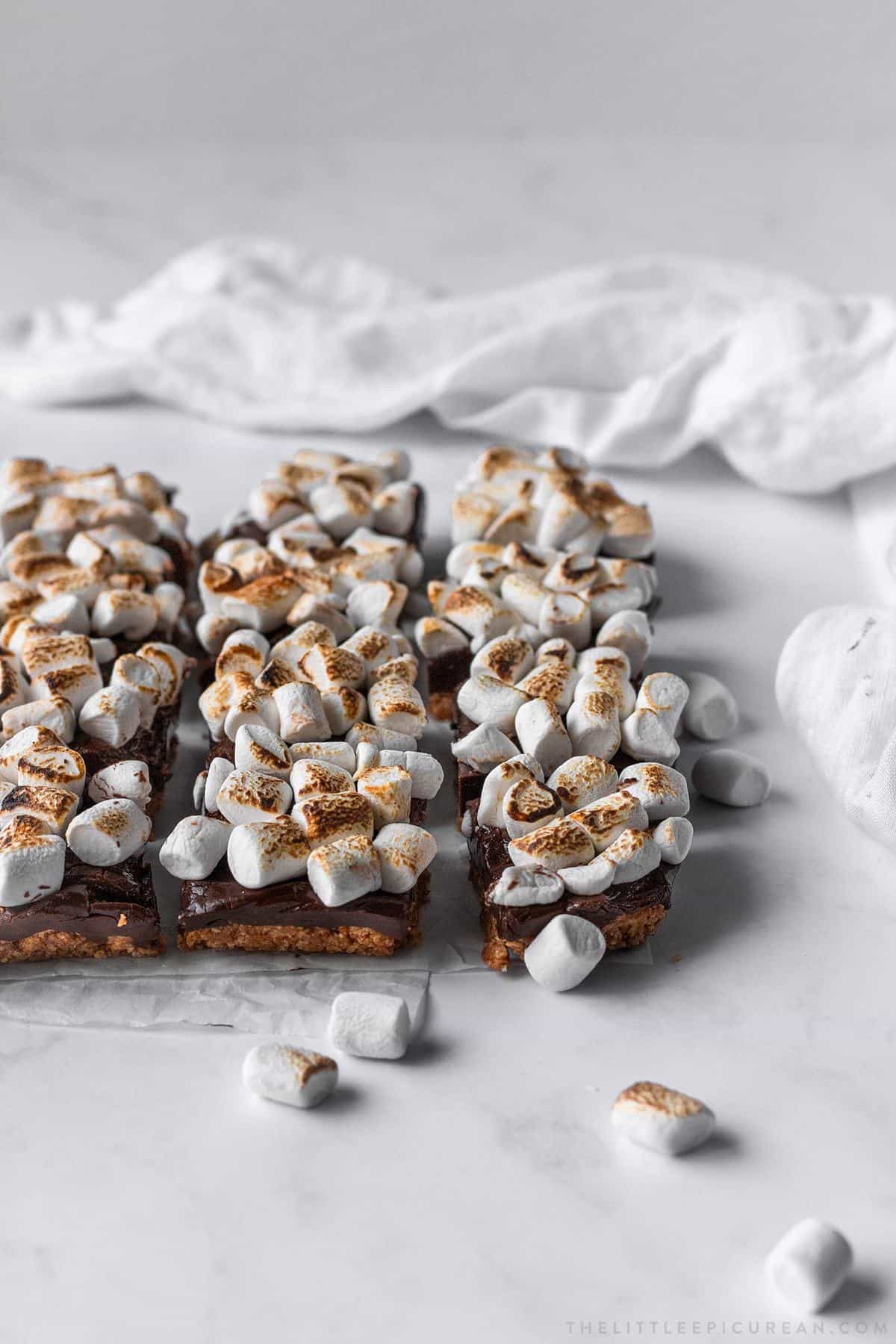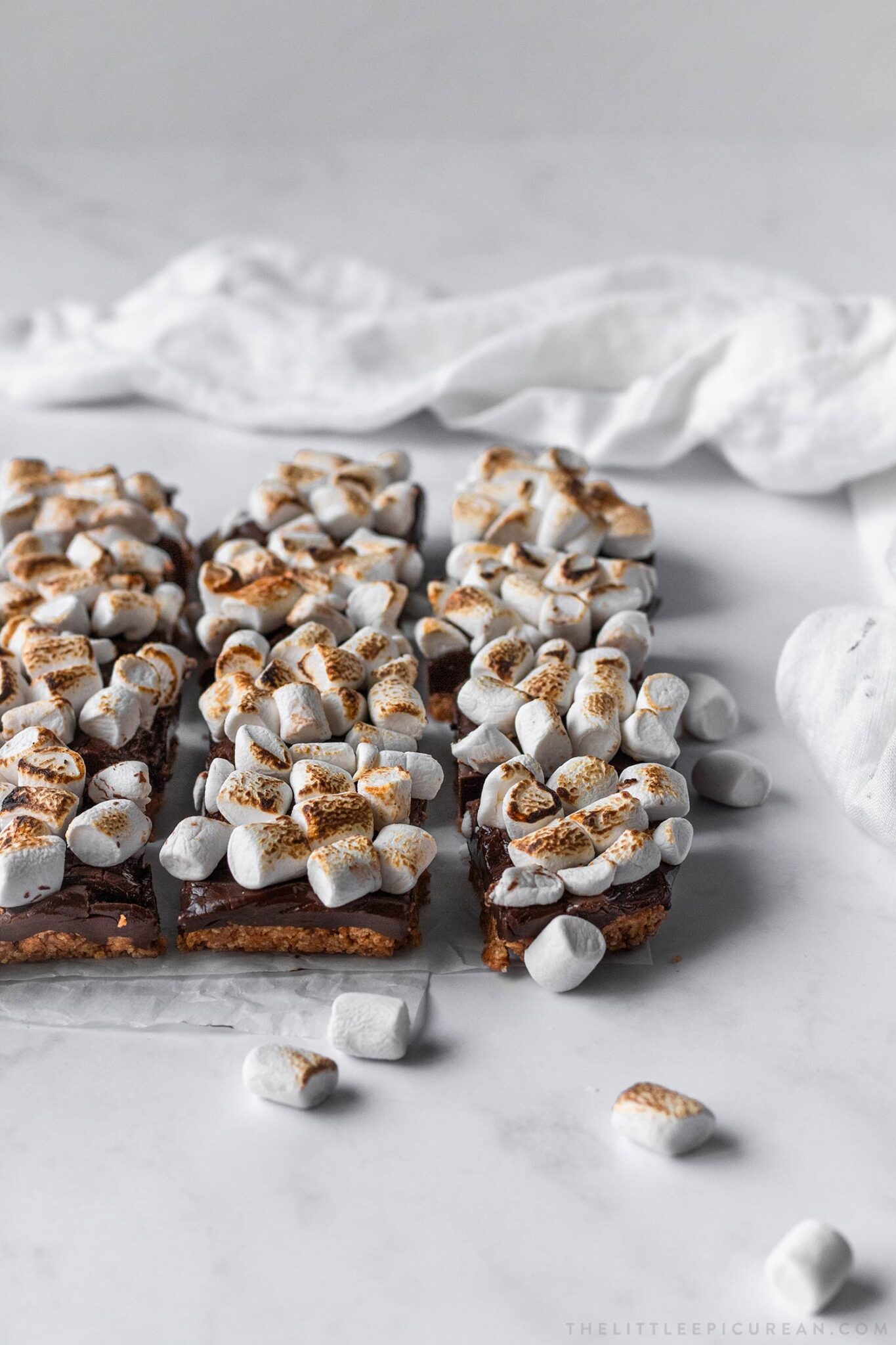 S'mores Bars
Buttery and crumbly graham cracker base. Creamy chocolate fudge. Ooey-gooey toasted marshmallows.
Yes to all of the above.
These s'mores bars are an updated version of the classic childhood favorite.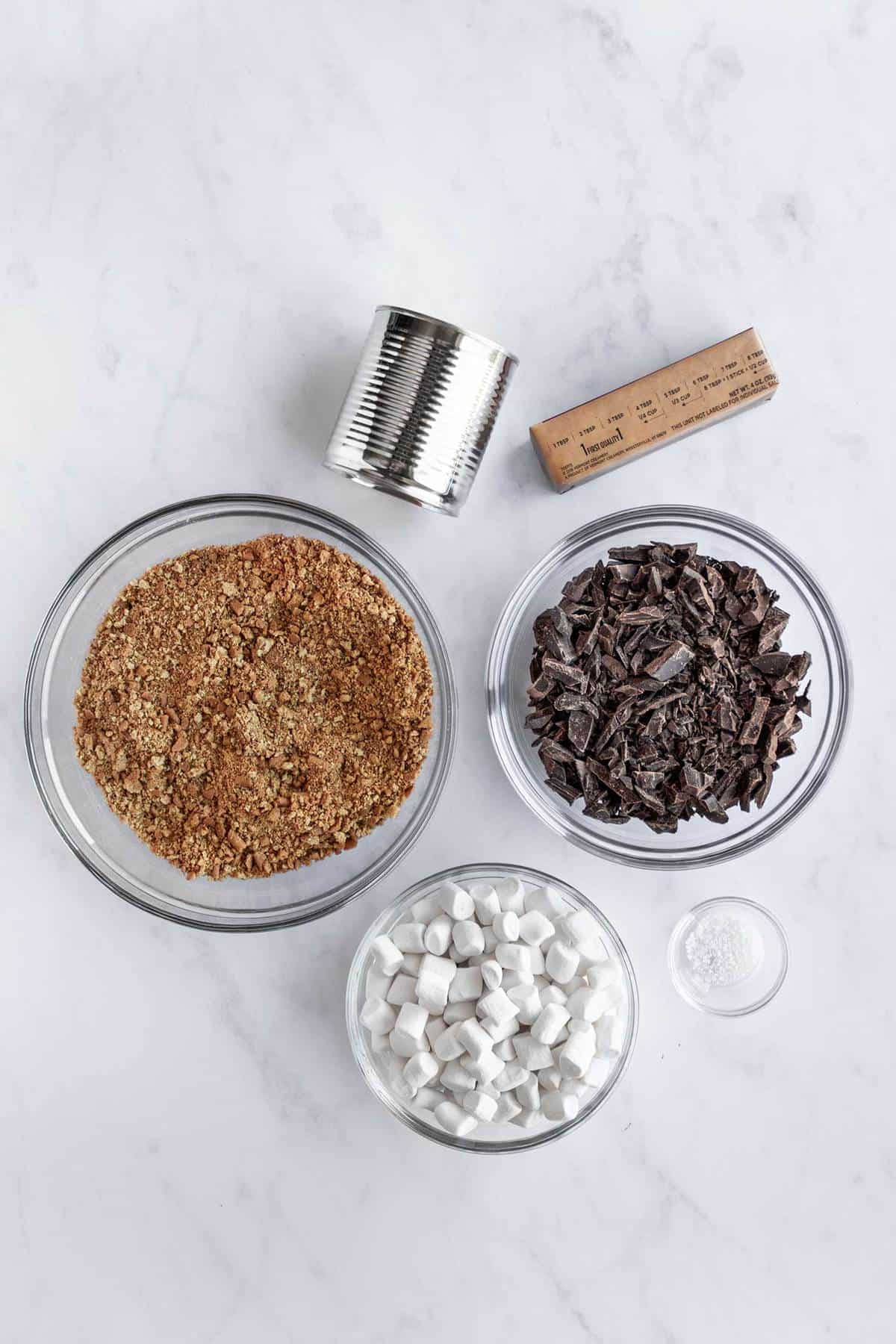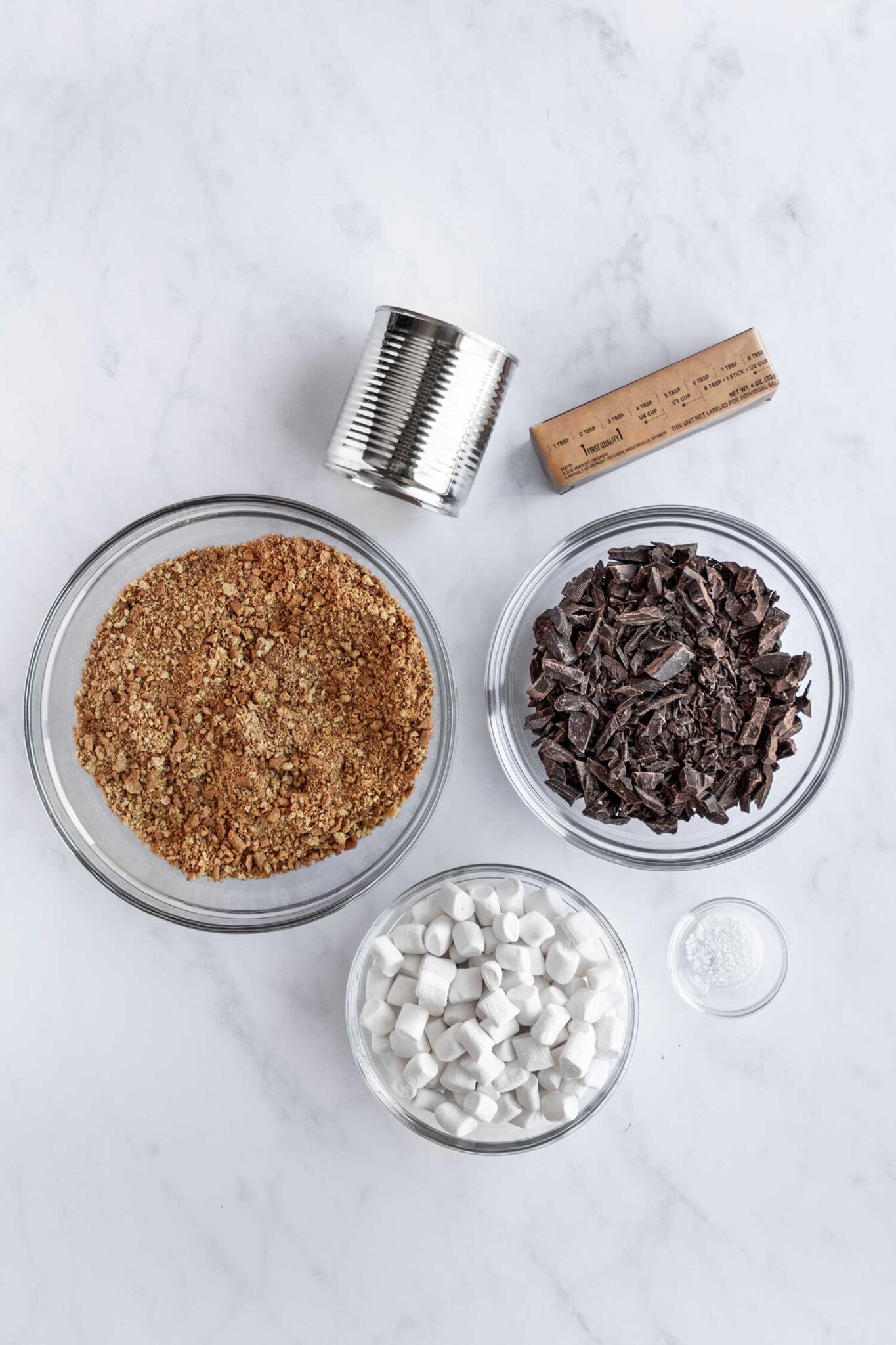 Ingredients and Substitutions
Traditional s'mores are made with graham crackers, Hershey's milk chocolate bar, and a big marshmallow. This s'mores variation is made with:
Ground graham crackers
Butter
Dark chocolate
Sweetened condensed milk
Small marshmallows
The crust layer can be made with your choice of crunchy cracker. Instead of graham crackers, you could use: animal crackers, Ritz crackers (or other butter crackers), Oreo cookies, Nilla wafers, or shortbread cookies.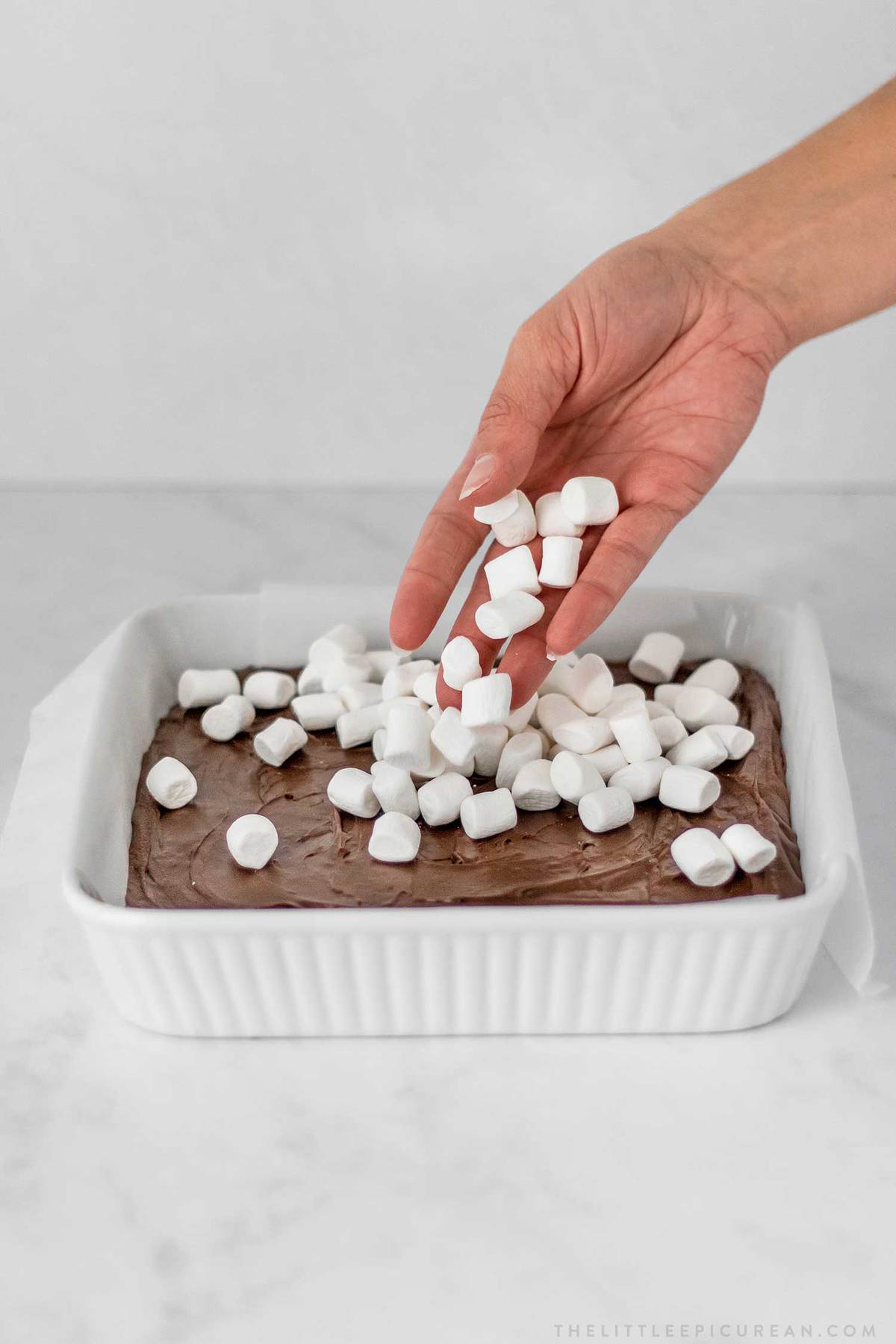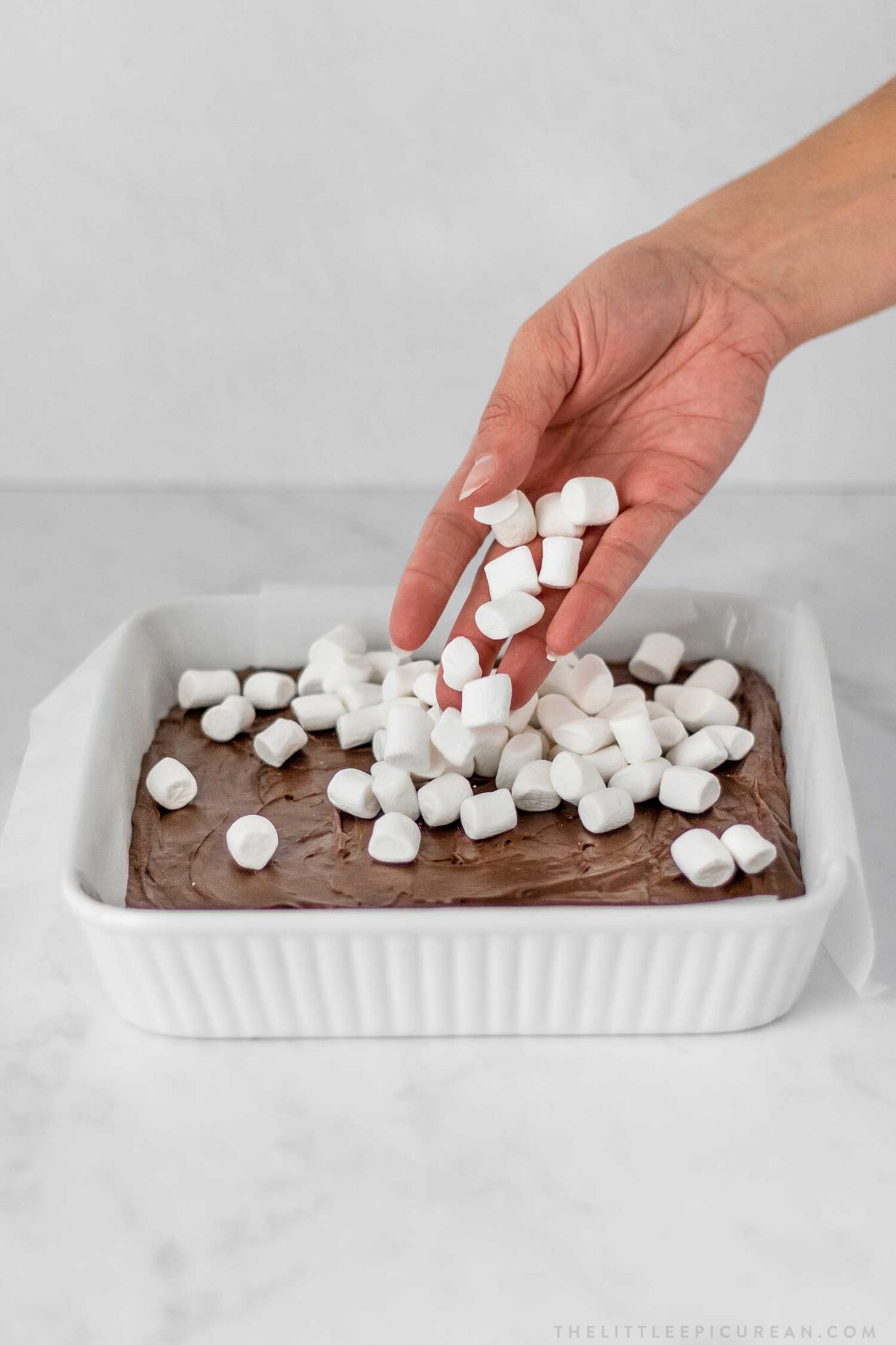 You MUST use dark chocolate for this recipe. Preferably, 72% dark chocolate.
Why is dark chocolate a necessity? Milk chocolate mixed with sweetened condensed milk with result in a VERY SWEET filling.
Any bitterness of the dark chocolate will be mellowed out by the sweetened condensed milk.
The recipe works best with small or mini marshmallows. Make sure the marshmallows completely cover the chocolate filling later.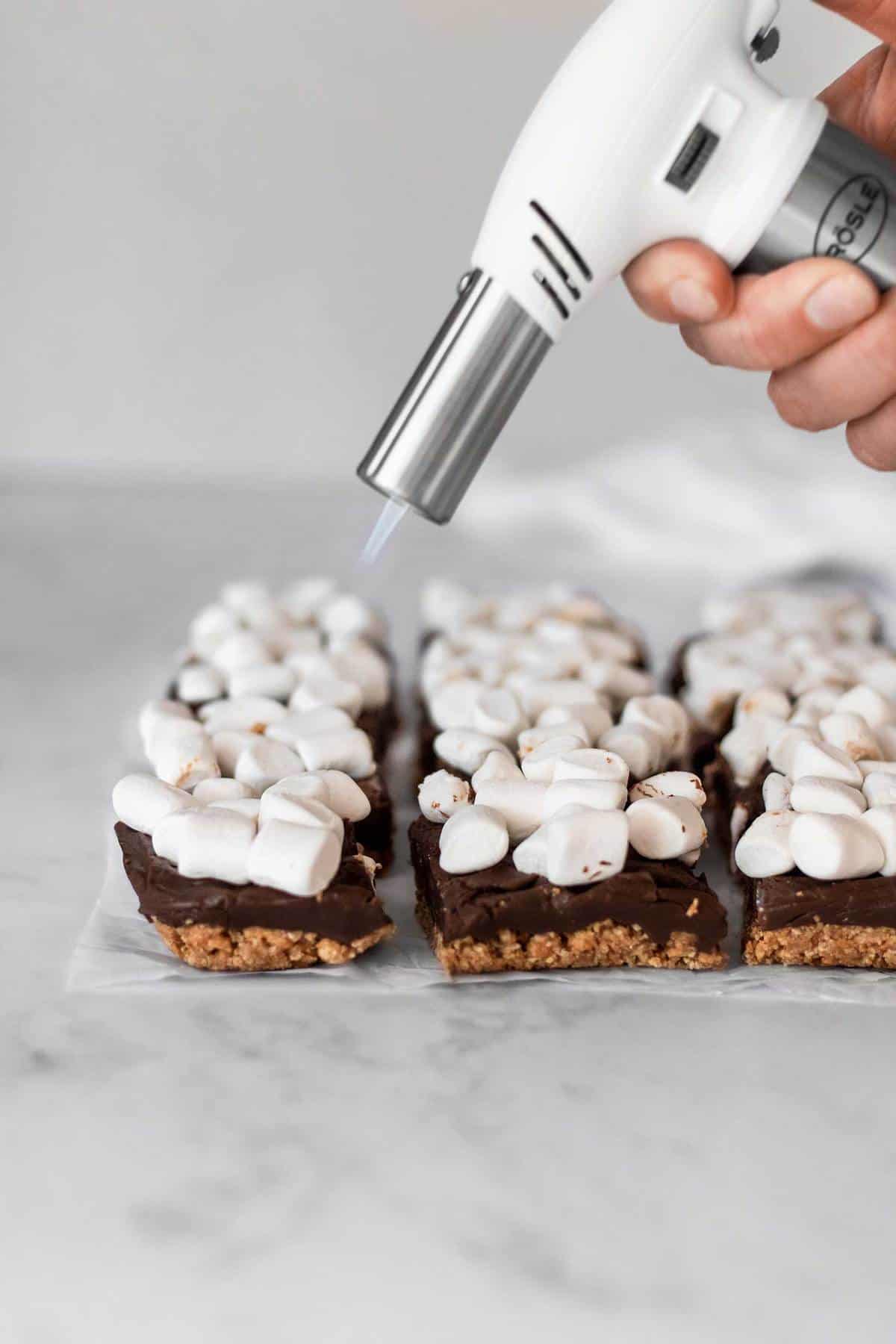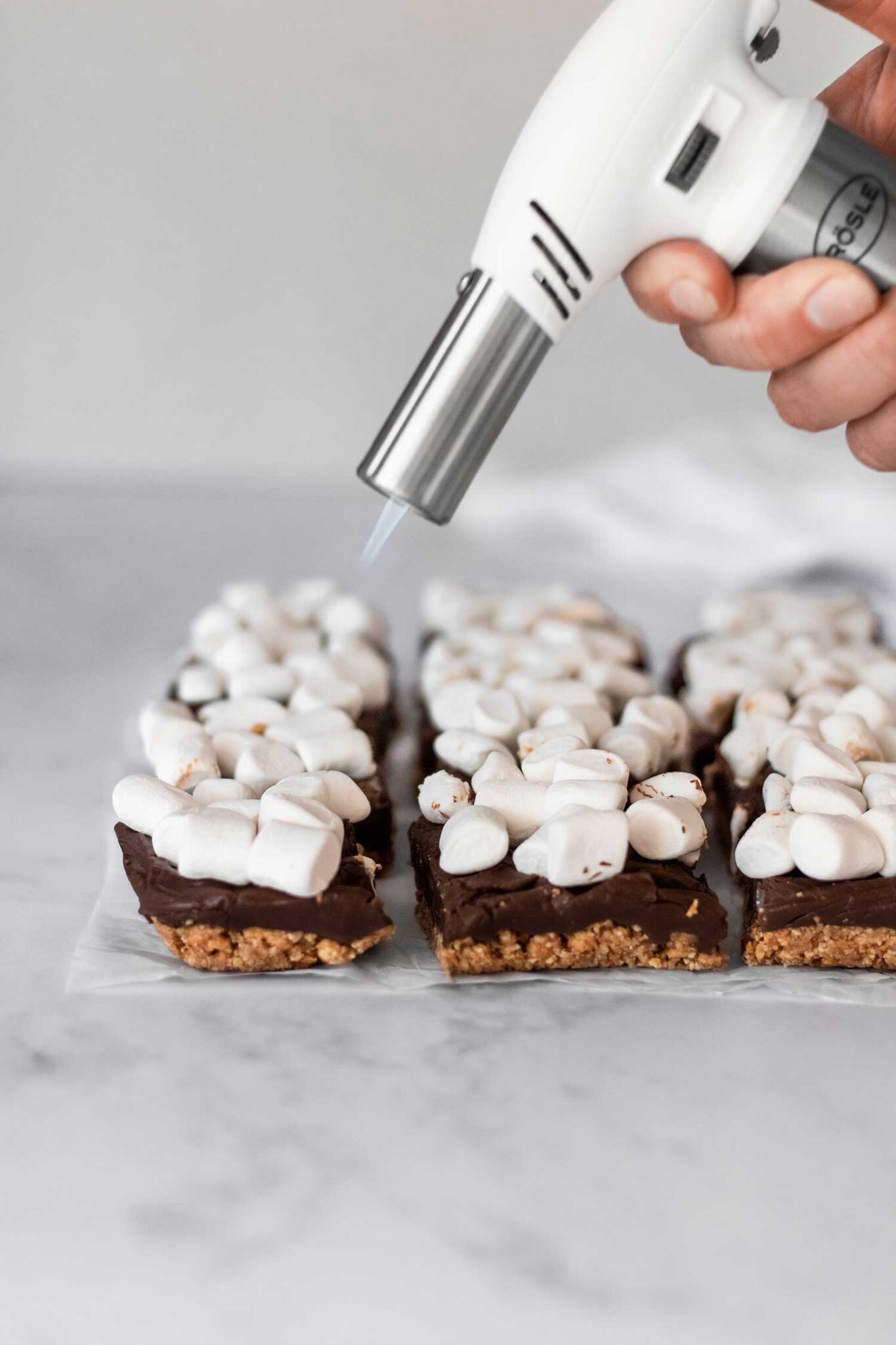 Toast Marshmallows Using a Kitchen Torch
Here comes the BEST part (besides eating the s'mores): toasting the marshmallows!
Having worked in commercial kitchens, I am fond of this industrial propane torch with an attached trigger start. This torch is available at hardware stores.
It's a bit big and bulky and rather dangerous. It's best for large scale production or heavy use.
I recommend this much safer compact kitchen torch. It's the perfect size for stowing away in the kitchen drawer. Plus, it's equipped with a safety lock.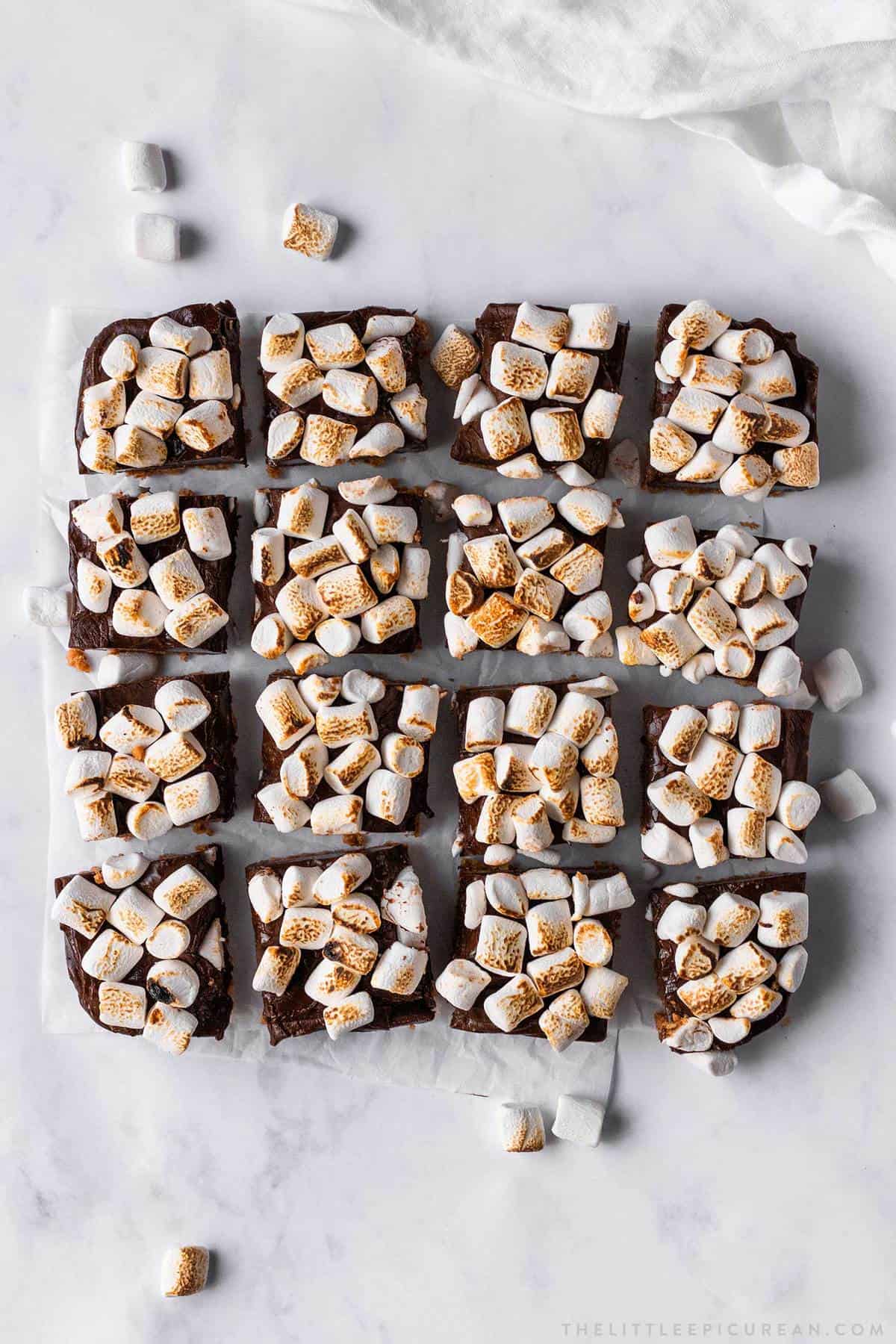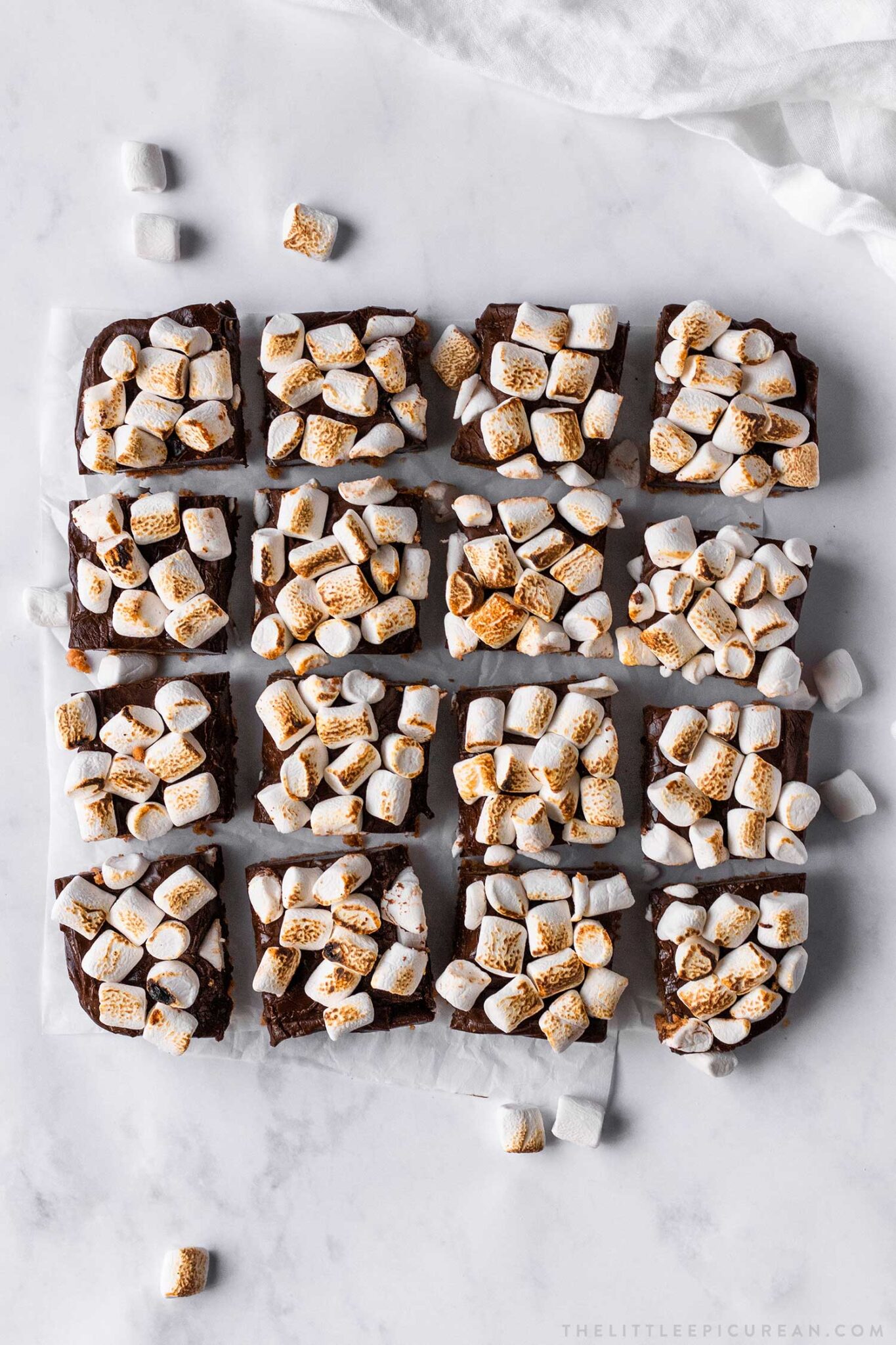 Kitchen Torch Safety Tips
It is important to have a safe workspace!
Place the s'mores bars on a non-flammable heat-safe tray, like a baking sheet tray.
Ensure there are no plastic, wood, paper, or other flammable items nearby.
Always aim the torch away from your body and away from any other person (pet or houseplant).
Use a slow, sweeping motion to evenly char the marshmallows.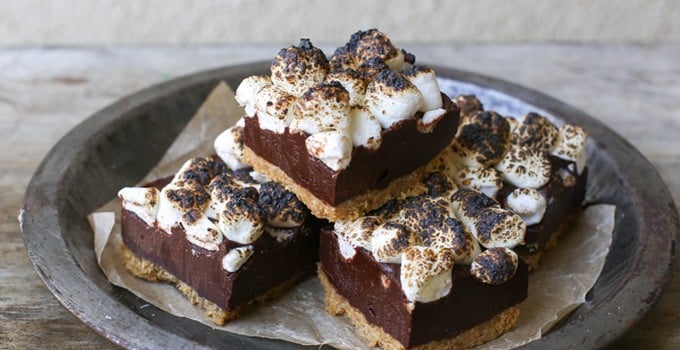 S'mores Fudge Bars
Quick and easy no-bake s'mores fudge bars are an elevated version of the classic campfire treat! It's a fun way to enjoy s'mores year round!
Ingredients
1 ½

cup

ground graham crackers

¼

teaspoon

kosher salt

½

cup

unsalted butter,

melted

2

cups

(11 oz) chopped dark chocolate

14

oz

can sweetened condensed milk

2

cup

small marshmallows
Instructions
Line a 9-inch square pan with parchment paper. Lightly grease with cooking spray. Set aside.

In a medium bowl, combine ground graham crackers and salt. Add melted butter and fold together until mixture is moistened. Transfer mixture to the prepared square pan. Press into an even layer. Keep chilled in the fridge while you melt chocolate.

Melt together chopped chocolate and sweetened condensed milk in a medium metal or glass bowl over a small pot filled with an inch of barely simmering water. Stir together until chocolate is melted. Be careful not to overheat the chocolate.

Once chocolate has melted, remove from heat and pour chocolate over graham cracker crust. Sprinkle 2 cups of small marshmallows over chocolate. Press to ensure marshmallows adhere to chocolate. Place in fridge for at least 20 minutes for chocolate fudge to set.

Remove from pan. Cut into desired portions. Use a kitchen torch to toast the marshmallows.
Notes
Ingredient Notes:
Do not use milk chocolate. Mixed with the sweetened condensed milk, it will be extremely sweet. I suggest 72% dark chocolate.
Storage and Leftovers:
Store leftovers in airtight container either at room temperature or keep chilled in the fridge. Leftovers should keep for a week (longer in the fridge).
More s'mores dessert recipes