Cheddar bacon twice baked potato is the ultimate comfort food side dish. It's impossible to feel sad while eating this combination of savory flavors.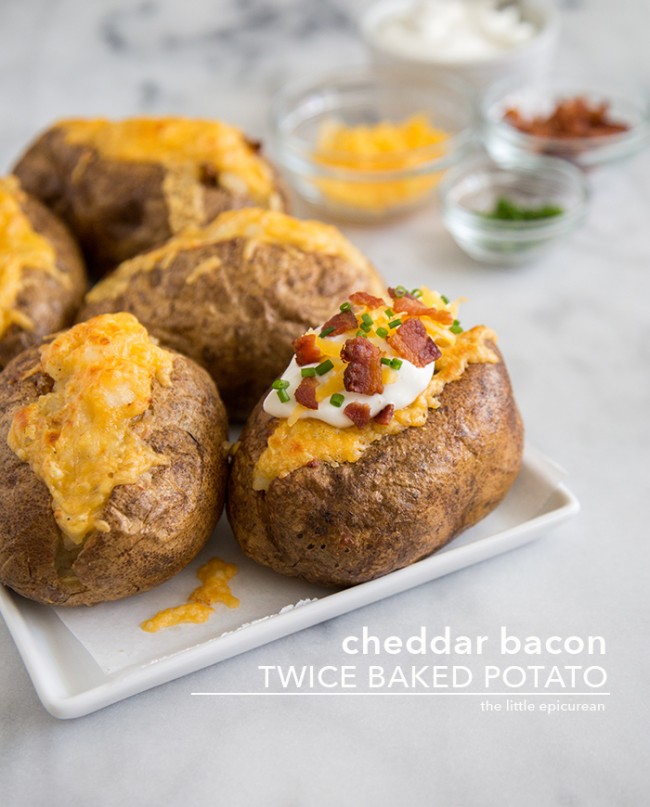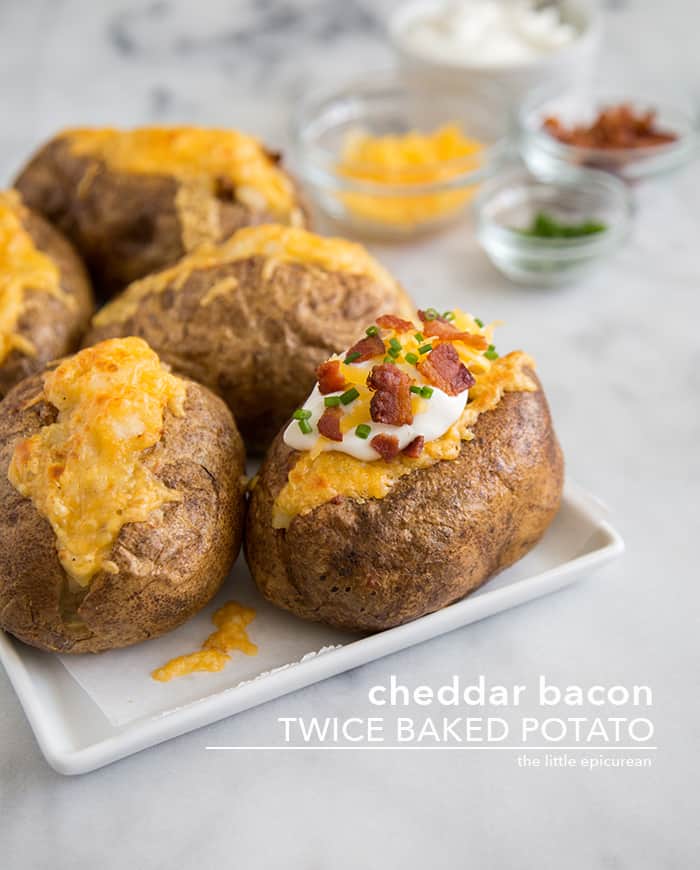 Ever have one of those days when everything seems to go awry?
Earlier this week, I accidentally washed a brand new bright red shirt with a bunch of light colored clothing.  I don't need to explain what happened there.
Then, I forgot that I had a pitcher of cold brew coffee that was supposed to be strained a day ago.  To top it off, a new cake recipe didn't work out.
Those kind of rough days require a ton of bacon, cheddar, and potatoes.  That's where these cheddar bacon twice baked potatoes come into play.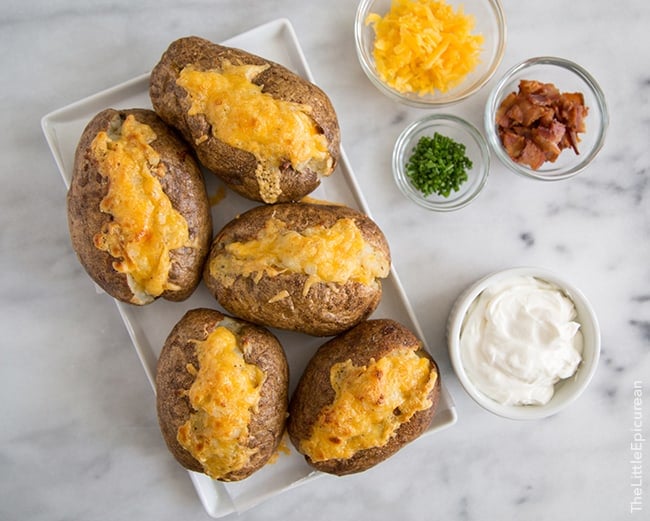 Cheddar Bacon Twice Baked Potato
There is something so comforting about potatoes.  It's nearly impossible for me to be sad while eating potatoes (baked, fried, mashed, etc).
No need for me to explain my love of twice baked potatoes, have a look at my mom's famous twice baked ranch potatoes.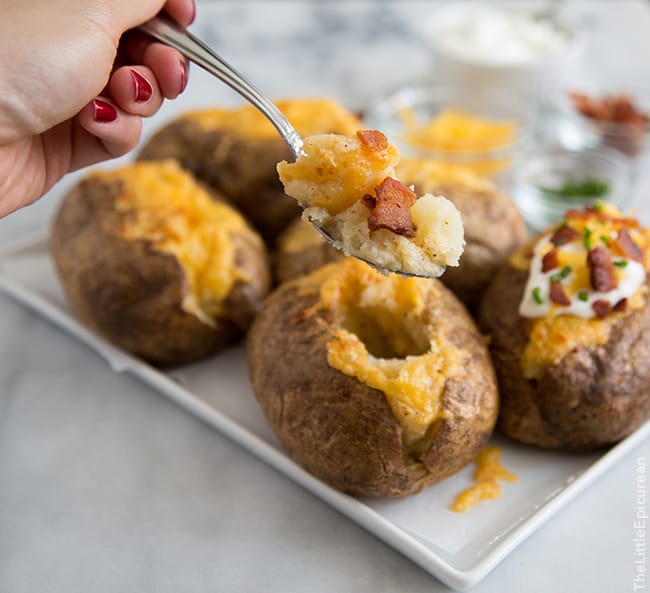 Once the potatoes are stuffed, they can be kept frozen for longer storage or kept in the fridge until ready to reheat to serve.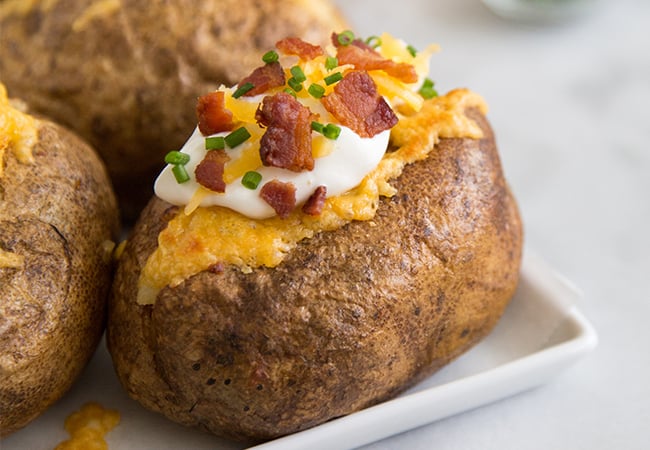 Cheddar Bacon Twice Baked Potato
Ingredients
3

pounds

Russet potatoes,

scrubbed and washed clean

2

Tablespoon

olive oil

kosher salt,

as needed to season potato skins

4

garlic cloves,

minced

3

Tablespoon

unsalted butter

1/4

teaspoon

kosher salt

1/4

teaspoon

freshly ground black pepper

1/4

cup

half & half

1/2

cup

shredded sharp cheddar cheese

4

thick slices bacon,

cut into 1-inch pieces
Instructions
Preheat oven to 450 degrees F. Line baking sheet with parchment paper. Set aside.

Scrub and rinse potatoes clean. Pat dry. Place potatoes on prepared baking sheet. Rub potatoes in olive oil. Season generously with kosher salt. Pierce potato with a fork, to allow steam to escape during cooking process. Bake for 50-60 minutes, until potatoes are tender and can easily be pierced with a knife.

While potatoes are baking, cook bacon in a large skillet over medium heat until crisp. Transfer cooked bacon to a paper towel lined plate. Crumble cooked bacon and set aside. Reserve 2 -3 tablespoons of bacon fat and discard the rest.

Remove potatoes from oven and allow to cool. Lower oven temperature to 350 degrees.

Once potatoes are cool enough to handle, cut a slit lengthwise on each potato. Be careful, as potatoes will steam. Spoon out contents of potato and place in a large bowl. Gently smash into smaller pieces, but no need to make mashed potatoes.

Add reserved bacon fat, butter, salt and pepper, half & half, and about 3/4 of shredded cheddar cheese to potatoes. Fold to combine.


Spoon potato mixture back into empty potato skins. Sprinkle remaining shredded cheese over stuffed potatoes. Place stuffed potatoes back into the oven for another 15-20 minutes until potatoes are warm and cheese has melted on top. Remove from oven and garnish with sour cream, additional cheese, and crumbled bacon bits. Serve warm.