These brown butter apple cider donuts taste like autumn. Enjoy it with a cup of coffee or a mug of cider.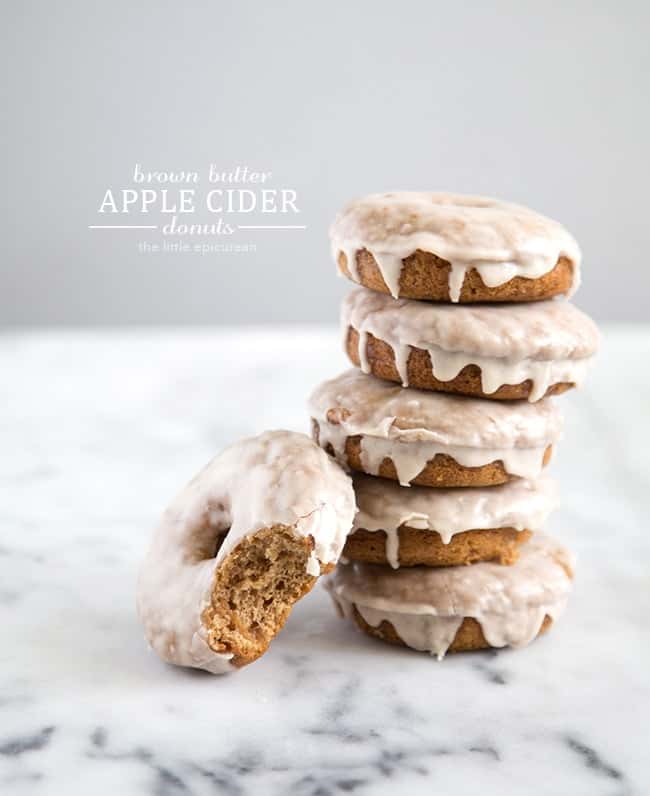 I've hidden my running shoes long enough.  It's time I lace them back up and start training for my next half marathon.
Not only does that mean waking up at the crack of dawn to log my miles, but sadly, it means cutting back on my beloved donuts.
If I can't have fried donuts, you bet I'm eating baked donuts!  Brown butter apple cider baked donuts with cider glaze, to be exact.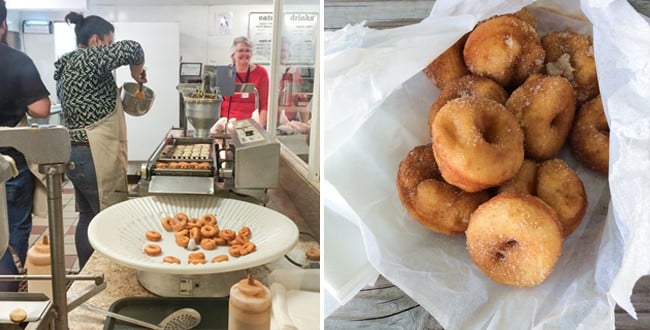 Every fall, I try to visit Oak Glen to go apple picking.  Before I leave the orchards I stock up on fresh cider and stuff my face with mini cider donuts.
Snow-Line Orchards makes my favorite cider donuts.  They have this nifty machine that pumps out the freshly made treats.
Too bad that I don't have one of those fancy machines.  Because if I did, man oh man, I would eat donuts every single day.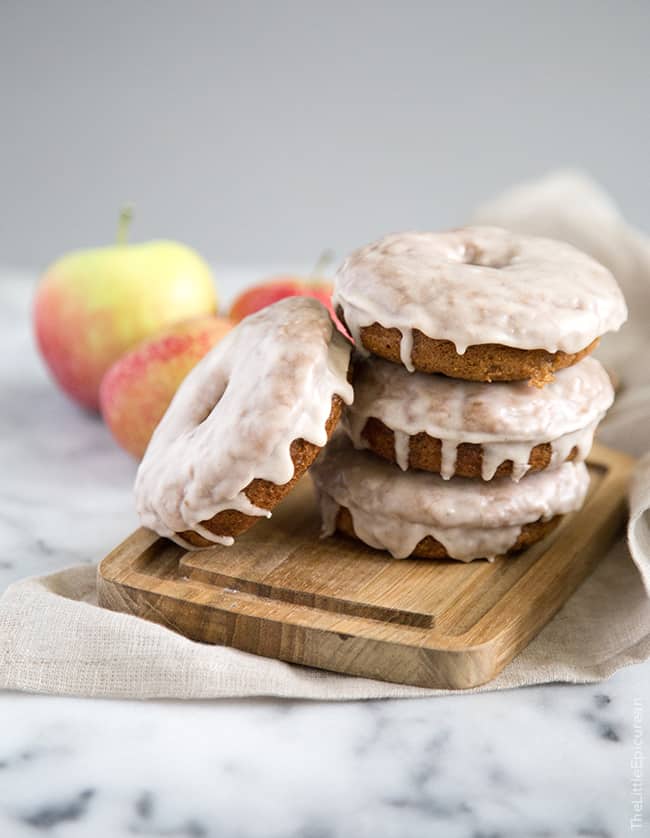 Brown Butter Apple Cider Donuts with Cider Glaze
Using the apples I picked and the cider we bought, I sought out to make the best apple cider donuts.  I failed…TWICE.
First time, I put way too much cider and the batter was too runny.  Second time, I forgot to add the egg and the batter was gummy and dense.
And then, I looked to one of my favorite baker in the blogging world, Joy the Baker.  I adapted her apple cinnamon baked donuts recipe.
I swapped out the buttermilk with apple cider.  Once the donuts were finished baking, I knew I had hit the apple cider donut jackpot.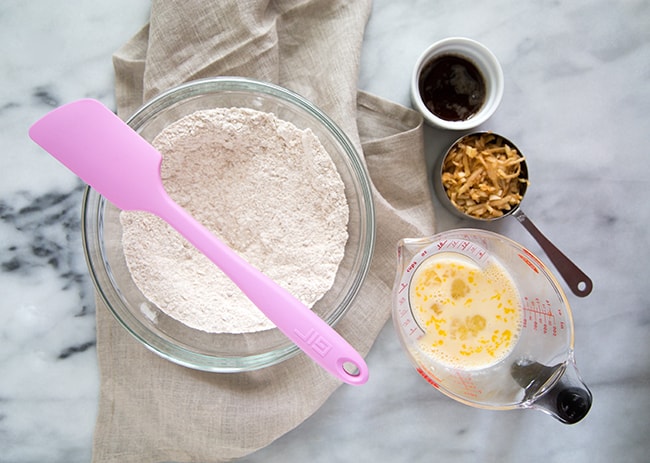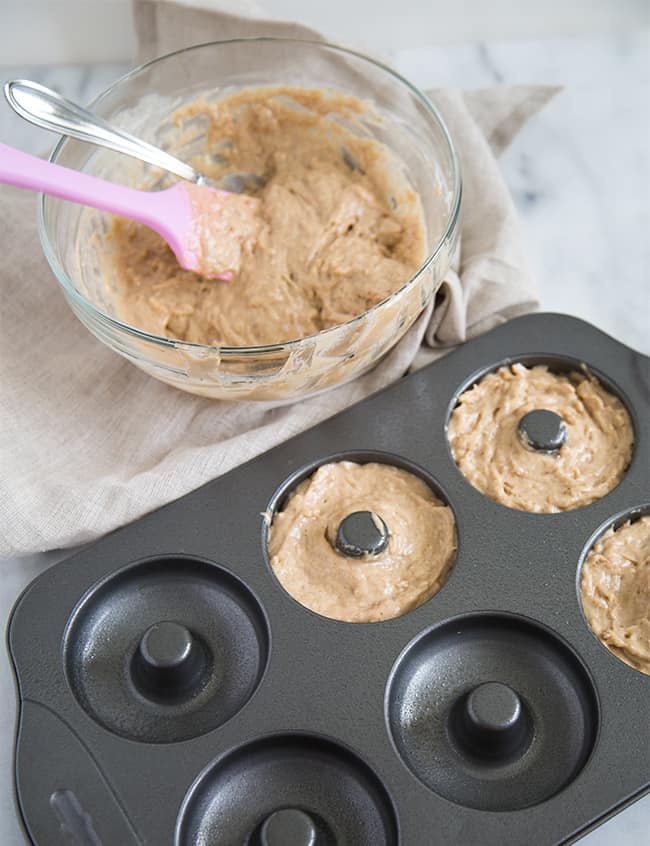 The great thing about this recipe, it only makes 6 donuts.  That's just the perfect amount to have tempting me in the kitchen.
Another great thing, you don't need a mixer.  A sturdy spatula is all you need.
Unlike the mini donuts I've made in the past, this larger donut pan doesn't require the use of a pastry bag.  You can easily use a spoon to fill the donut cavities with batter.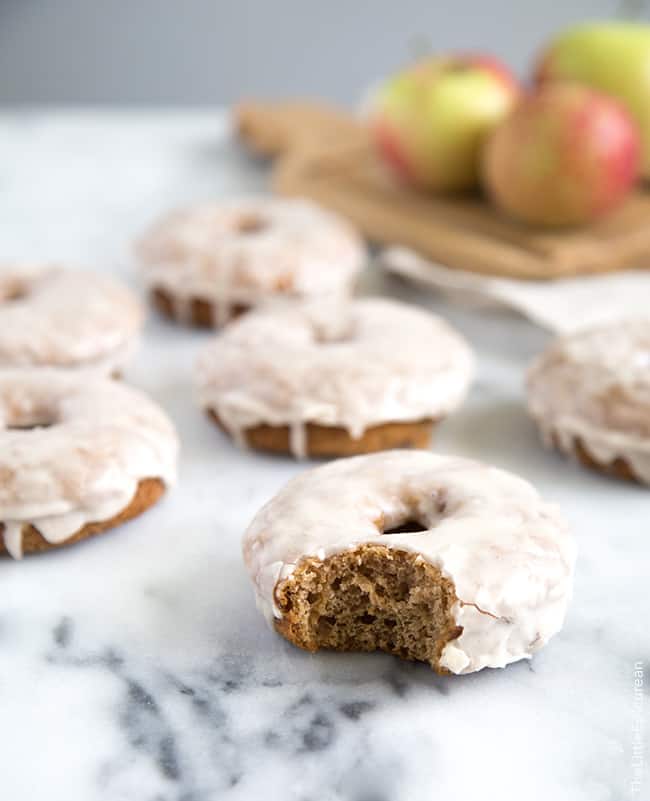 I love everything about this donut.  It smells like the apple orchards.  It tastes like autumn.  It's perfect with a cup of coffee or a mug of cider.
Plus, it's a motivating factor during my long runs knowing something sweet and tasty is waiting for me back home!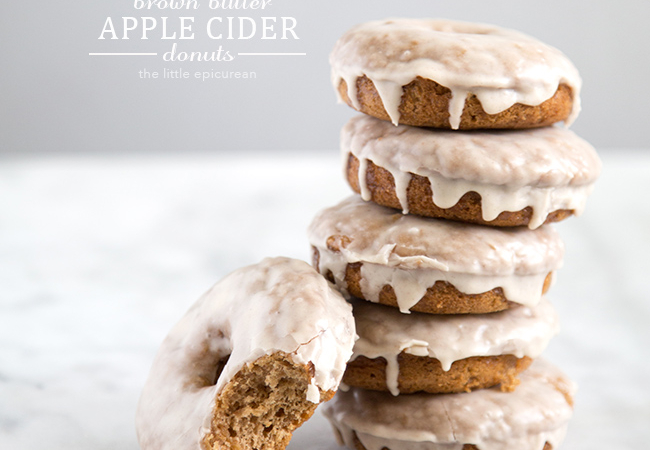 Brown Butter Apple Cider Donuts with Cider Glaze
Yield: 6 baked donuts
Ingredients
1

cup

all-purpose flour

1/2

teaspoon

baking powder

1/2

teaspoon

baking soda

1/2

teaspoon

fine sea salt

1/2

teaspoon

ground cinnamon

1/4

teaspoon

ground nutmeg

1/3

cup

dark brown sugar, packed

2

Tablespoon

unsalted butter, browned and slightly cooled

1

large egg

1/4

cup

apple cider

1/4

cup

whole milk

1/2

cup

peeled and shredded apples
Apple Cider Glaze:
2

cup

confectioners' sugar

1/4

teaspoon

ground cinnamon

1

Tablespoon

whole milk

2

Tablespoon

apple cider
Instructions
Preheat oven to 350 degrees F. Lightly coat donut pan with cooking spray. Set aside.

In a large bowl combine flour, baking powder, baking soda, salt, cinnamon, nutmeg and brown sugar.


In a small saucepot, melt butter over medium heat. Continue to cook until butter until butter smells nutty and fragrant. The milk solids in the butter will turn rich brown in color. Remove from heat and allow to cool in small bowl.


In another bowl, whisk together egg, apple cider, and milk. Add wet mixture to dry flour mixture. Pour in cooled butter. Follow with grated apples. Stir to combine but until there are no more dry streaks of flour. Do not overmix.


Spoon batter into prepared donut pan. Fill molds almost to the top with batter. Bake for 8-10 minutes until donuts have puffed. Remove from oven and allow to cool in donut pan for 3 minutes before inverting and unmolding. Allow donuts to cool to room temperature on wire rack


To make cider glaze: whisk together confectioners' sugar, ground cinnamon, milk, and apple cider until smooth. Allow to sit for 3-5 minutes to thicken. Stir before using. Dip cooled donuts into glaze. Place glazed donuts on wire rack to allow glaze to set.

I used this 6-count nonstick donut pan.